Two recipes in one week? What's happening?! Well, my friend, Valentine's Day is happening and I've been really inspired to make Valentine's Day themed recipes so here is yet another one!
If you don't celebrate Valentine's Day don't run away yet! You're still gonna like this recipe because let's be real, who'd say no to chocolate cookies?? Raw chocolate covered cookies, or, more specifically, HEALTHY raw chocolate covered cookies — that's the dream right there! And if that wasn't enough, you only need 4 ingredients to make these (plus salt and cinnamon, but who doesn't have those)!
You can either roll these into balls, flatten them to make them look more like regular cookies or use silicone chocolate molds to make pretty shapes and then you dip everything in chocolate.
Chocolate does make everything better. Especially when it's raw chocolate and you know you're eating something delicious that's actually really good for you!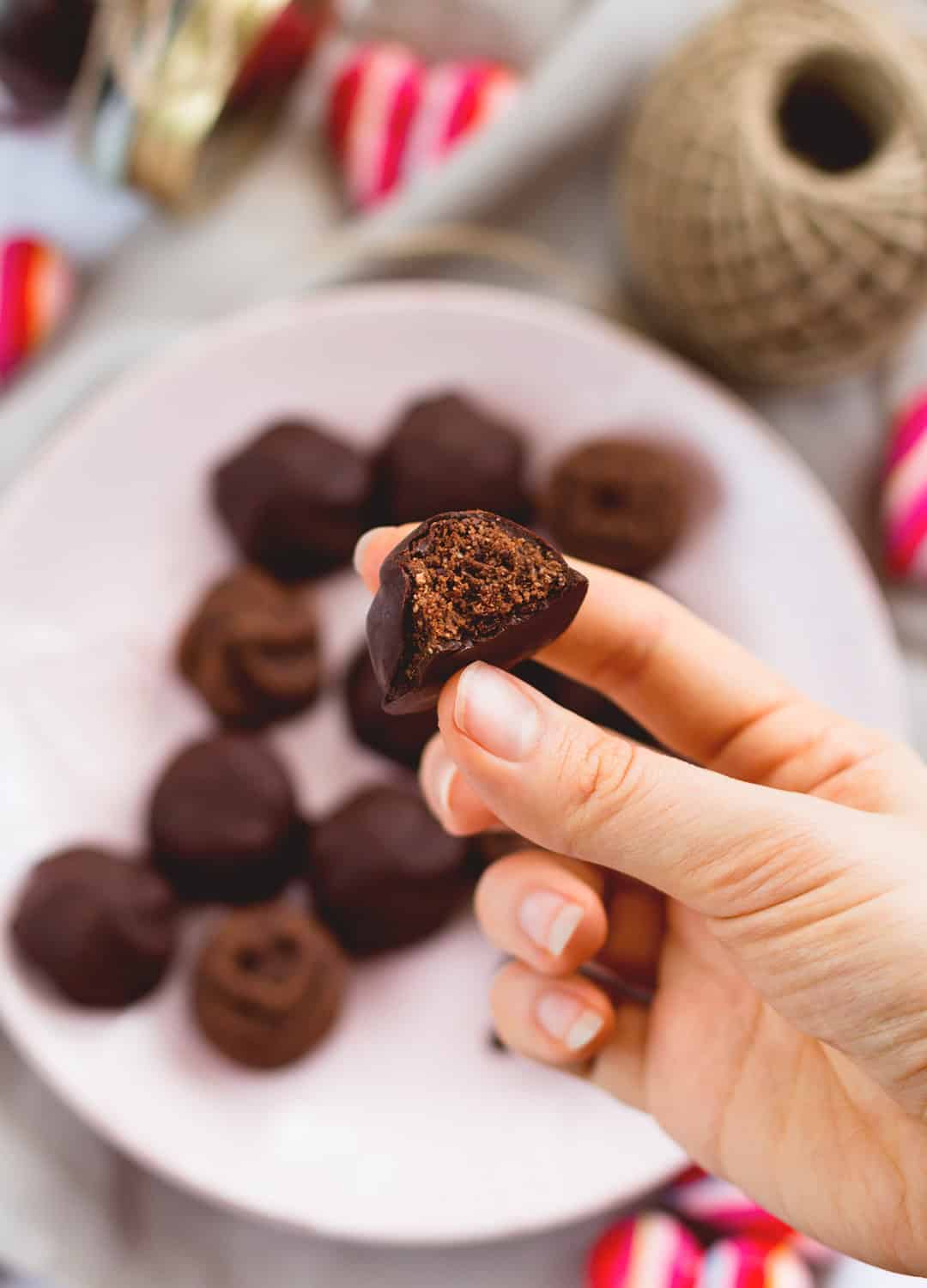 Apart from these delicious cookies/chocolates, my favorite Valentine's Day themed recipe is the Pink Raspberry Acai Oatmeal I posted on Monday. It's probably one of my most favorite recipes I've ever posted to be honest. I love all the toppings I added and it was just so delicious I can't wait to make it on Sunday!
The other recipe I posted are these Simple Chai Spiced Muffins. They aren't exactly Valentine's Day themed, they aren't filled with chocolate or anything, but they're really delicious and I do think they'd make a great Valentine's Day gift! :)
When I was making these cookies and tasted the dough, it reminded me of these chocolate nutty sweet wafers I used to eat as a kid (Karlovarske oplatky for those who live in the Czech Republic, otherwise you can google them). The dough is pretty dry and crumbly and when I tasted it, it tasted literally the same and it brought back so many memories. The original wafers are made with flour and sugar and other not so healthy ingredients while these cookies are made with only a handful of healthy ingredients, but they're equally delicious — winning!
If you want to know more about the benefits of chocolate, you can check out my Top 10 Superfoods to Add to Your Diet I posted a while back. I talk there about cacao powder, the difference between cacao and cocoa, and all the benefits cacao has.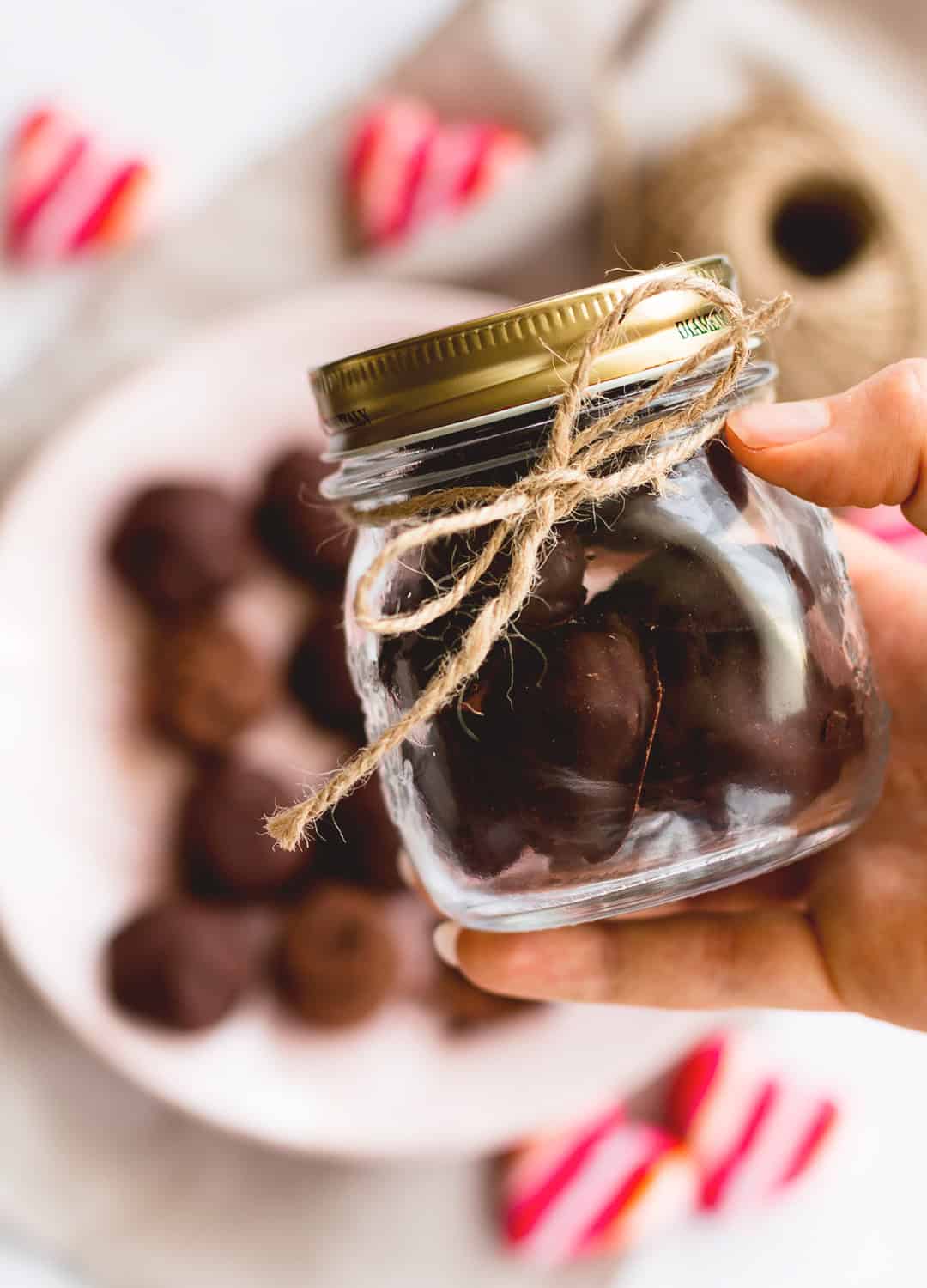 I tried this recipe a couple times and at first, I thought I'd call them cookie dough truffles because they pretty much looked and tasted like cookie dough. The second time I made them, I decided to add less maple syrup to make them more like actual cookies. They aren't as sweet as they were the first time, but I like them this way. If you want them sweeter, add the amount of maple syrup the recipe suggests, taste the dough and then add more sweetener if you want.
Yes I know the title says RAW cookies and I know maple syrup isn't technically raw. If that's a problem for you, you can use raw coconut nectar or even dates! (if you add dates the texture may be completely different) If you choose coconut nectar, you'll probably want to add less of it than you would maple syrup because it tends to be sweeter. You'll then have to either add some water or plant milk to help it stick together. I haven't tried adding any other sweetener other than maple syrup so I don't know how these turn out without maple syrup. I called the recipe raw because calling it just Chocolate Covered Cookies would be even more misleading since I'm not baking anything here.
Everything in the recipe is raw except the maple syrup. I personally love maple syrup and I don't really care that it's not raw, but if you only eat 100% raw, add a different sweetener.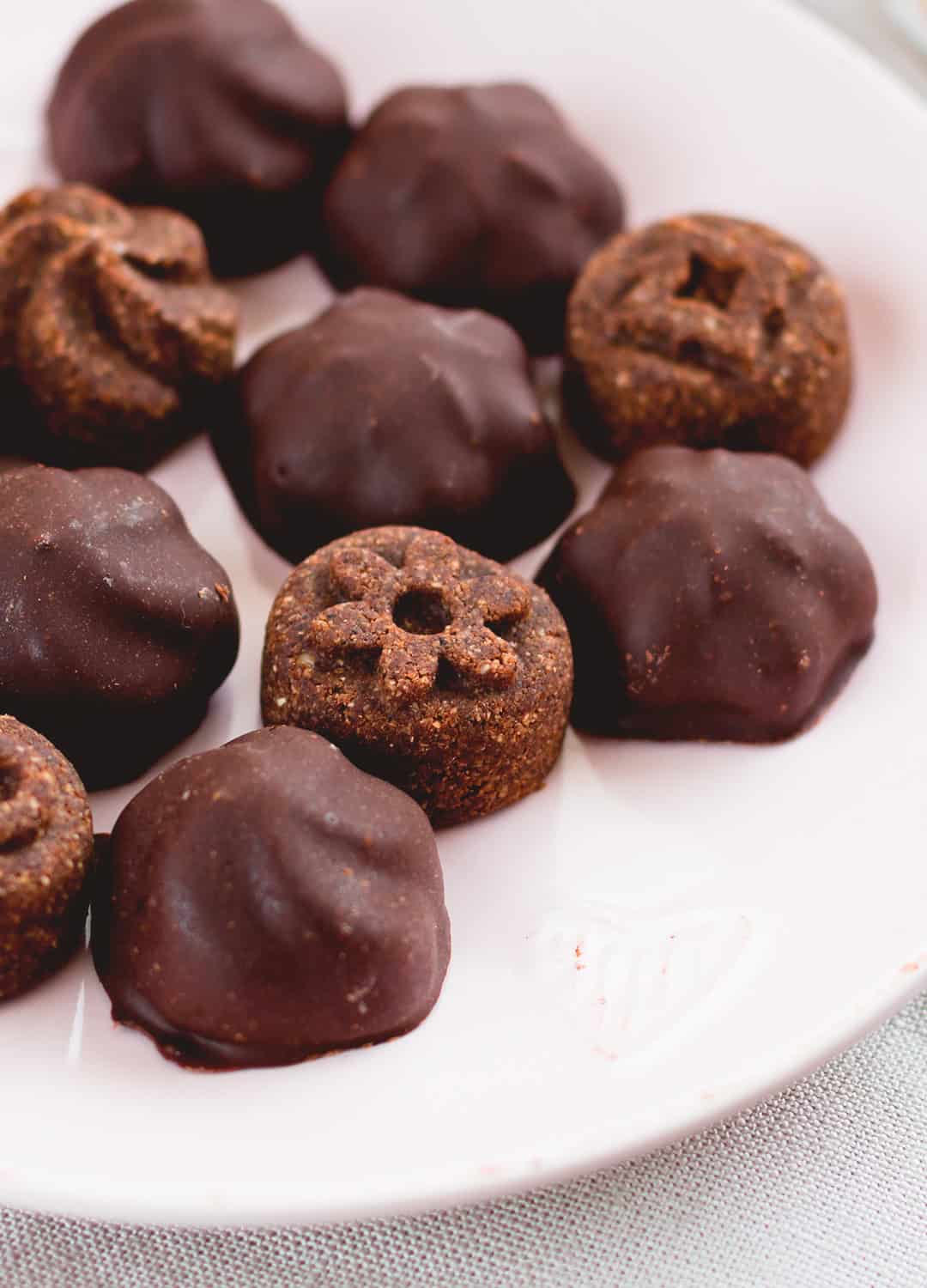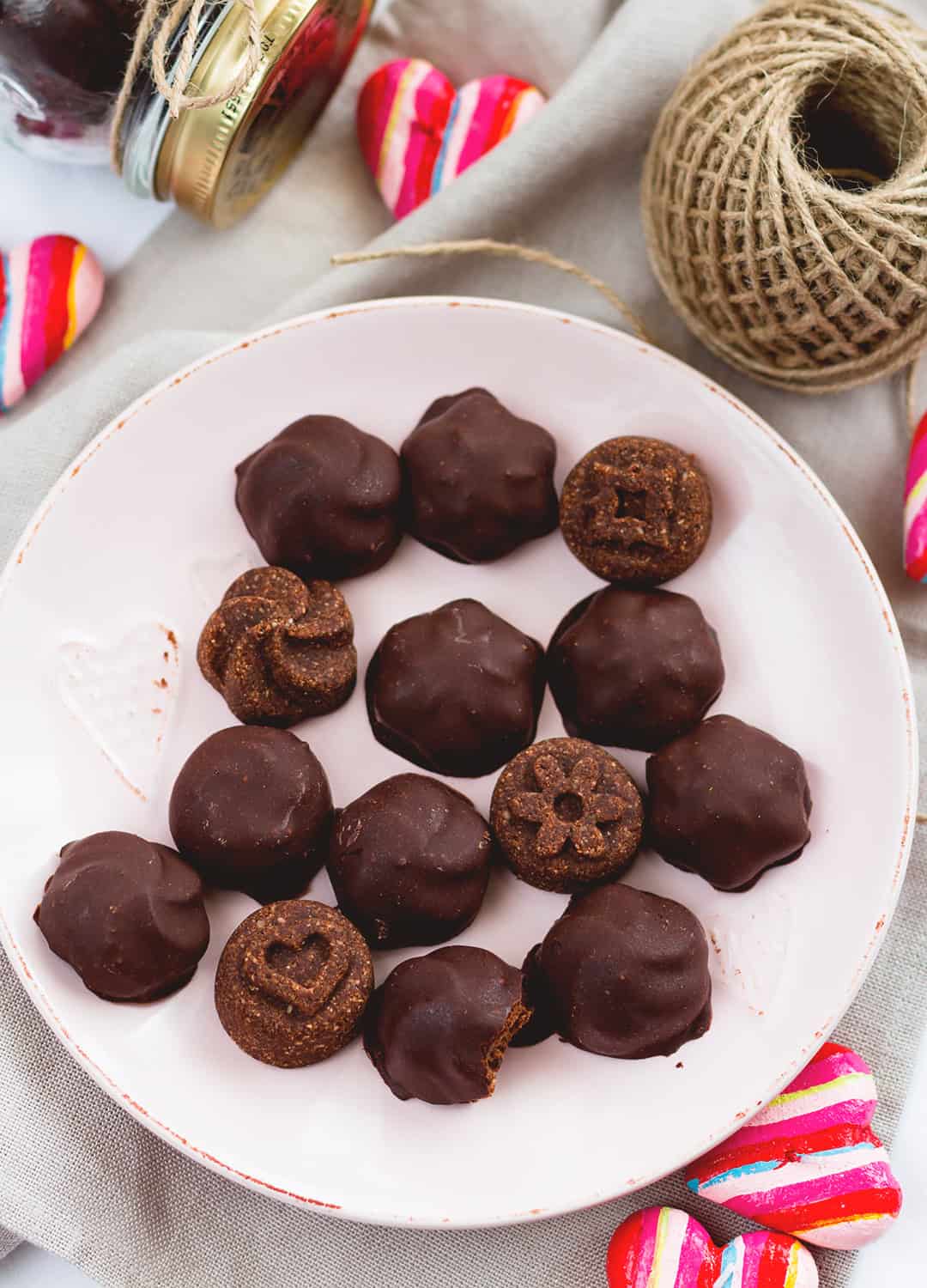 Print
📖 Recipe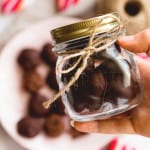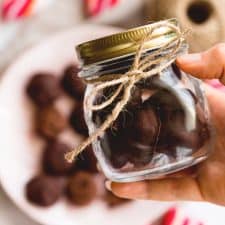 Raw Chocolate Covered Cookies
---
Raw Cookies:
1 ½ cup

almond flour or almond meal

1 cup

coconut flour

½ cup

cacao

3 tbsp

acai (optional)

1 tsp

vanilla bean powder (or

2 tsp

vanilla extract)

½ tsp

cinnamon

¼ tsp

sea salt

½ cup

+

2 tbsp

maple syrup
Chocolate*: (see notes)
½ cup

cacao butter

½ cup

cacao mass

2 tbsp

coconut sugar

¼ tsp

vanilla powder

¼ tsp

sea salt

½ cup

cacao powder
---
Instructions
Add all the dry ingredients into a food processor and pulse a few times to mix everything together.
Add the maple syrup either all at once or gradually while the food processor is running and process until it forms a crumbly dough.
It should stick together when you form a ball with your hand but it doesn't form a sticky ball in the food processor. You can add more maple syrup if you want more of a cookie dough consistency.
Transfer the dough into a bowl and start forming small balls with your hands or press the dough into silicone molds for chocolates if you have those on hand and want various shapes.
You can also make balls and then flatten them out into cookie shape.
Place them in the freezer for 10-30 minutes while you make the chocolate.
Chocolate:
Start by preparing a bain marie. That means bringing a small amount of water almost to a boil in a small/medium pot and placing a glass bowl over it, making sure the bowl doesn't touch the water. Then you can lower the heat to minimum or turn it off.
Add the cacao butter and keep stirring it until it melts almost completely. Add the cacao mass, coconut sugar, vanilla powder, and sea salt and let it melt while stirring occasionally. When melted add the cacao powder and mix well to get rid of any lumps. (I like using a spoon, not a whisk)
Take the cookies out of the freezer and dip them in chocolate. Let them harden on a flat surface, preferably also on baking paper.
Store in the fridge for a about a week.
---
Notes
If you don't want to make the chocolate yourself you can just melt a vegan chocolate bar and dip the chocolate in that.