Dear raw buckwheat porridge, I'm so glad I discovered you. No, but seriously, if you follow me on snapchat you probably already know how much I've been obsessed with raw buckwheat porridge lately. I've been trying so many flavors and I do intent to share them all with you because you definitely need something this delicious in your life.
It's been really nice outside lately (except today, it's been cloudy pretty much all day) and it's made me want to eat more raw meals, hence my obsession with this raw refreshing porridge. That's one of the things I love about summer, it makes you want to eat more fresh fruits and vegetables instead of big bowls of pasta, and hey I'm all for that.
This recipe can act as a canvas for you and you can add basically any fruit you like instead of the blackberries. It's so versatile!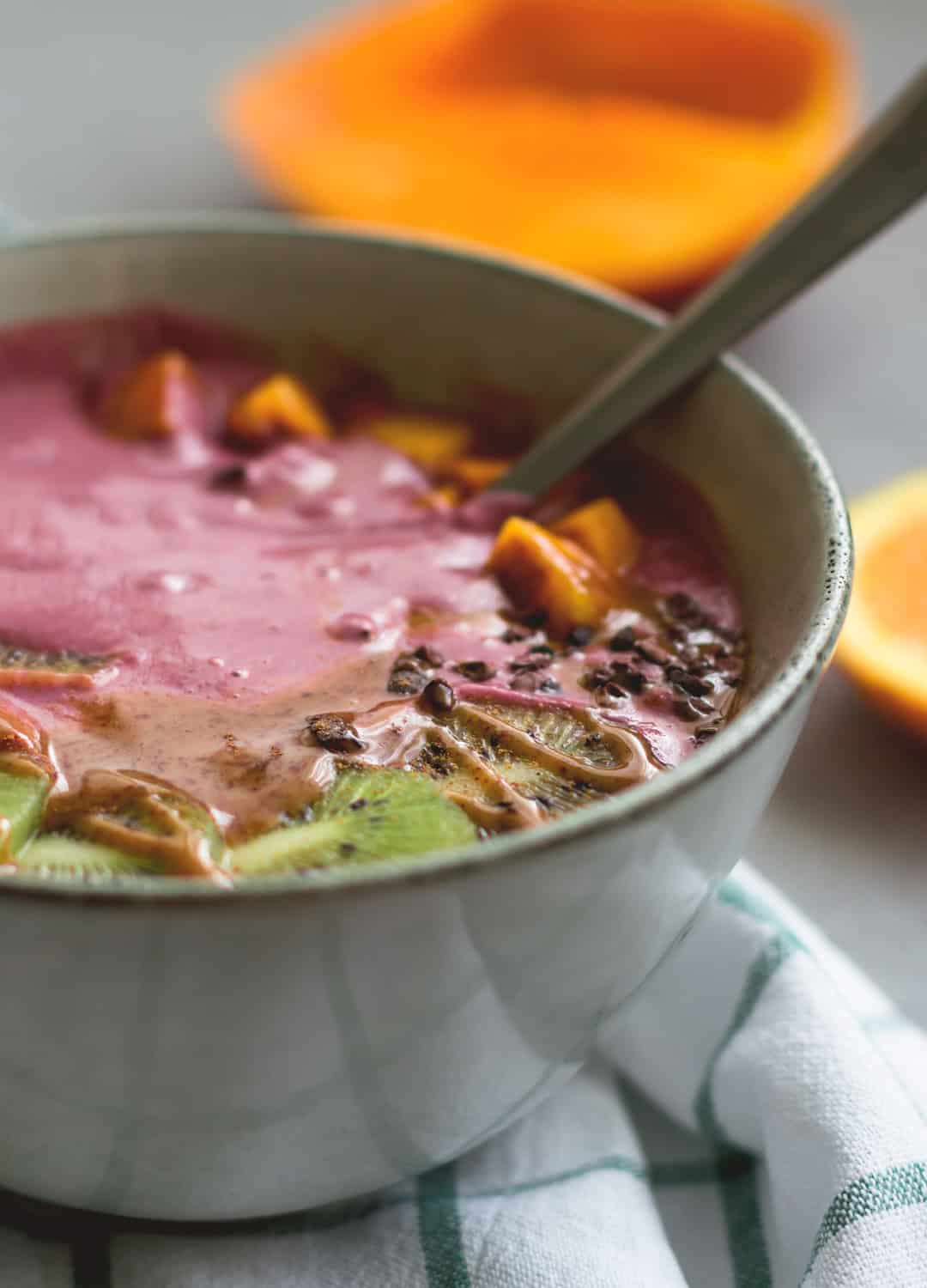 The cardamom-blackberry-orange combination is a match made in heaven. If you don't believe me, make it, it's delicious!
There are so many combinations and flavors to try and discover it's ridiculous, and I'm not only talking about buckwheat porridge, I'm talking about food in general. If I were to look back to what I used to eat for breakfast, it's crazy to me how my eating habits changed. I used to eat chocolate yoghurt with chocolate cereal every single morning for like two years straight. I kid you not, I literally ate the same thing every single day. You can probably tell chocolate was my favorite. I always had that for breakfast because it was quick, easy, and because I genuinely liked it. And well, also probably I didn't know any better. After I stopped eating dairy and changed my diet, it was pretty scary at first but then I started discovering all these delicious vegan breakfast recipes and I never looked back. Do I miss yoghurt? Not really, no. I ate enough of it to last me a lifetime and it makes my stomach feel weird. What I do miss is this one brand of coconut yoghurt I discovered in New York and I've been craving it ever since I came back home. Oh, how I wish they were selling coconut yoghurt here!
Anyways, who needs yoghurt when you can have this creamy bowl of raw fruity porridge, right?
Side note: as you probably noticed, I changed my logo! I spent probably way too much time on photoshop making it yesterday, but I'm really happy with the result! I wanted something simple and I eventually agreed (with myself) on a black & white logo. Do you like it? I'd love it if you told me your opinions! :)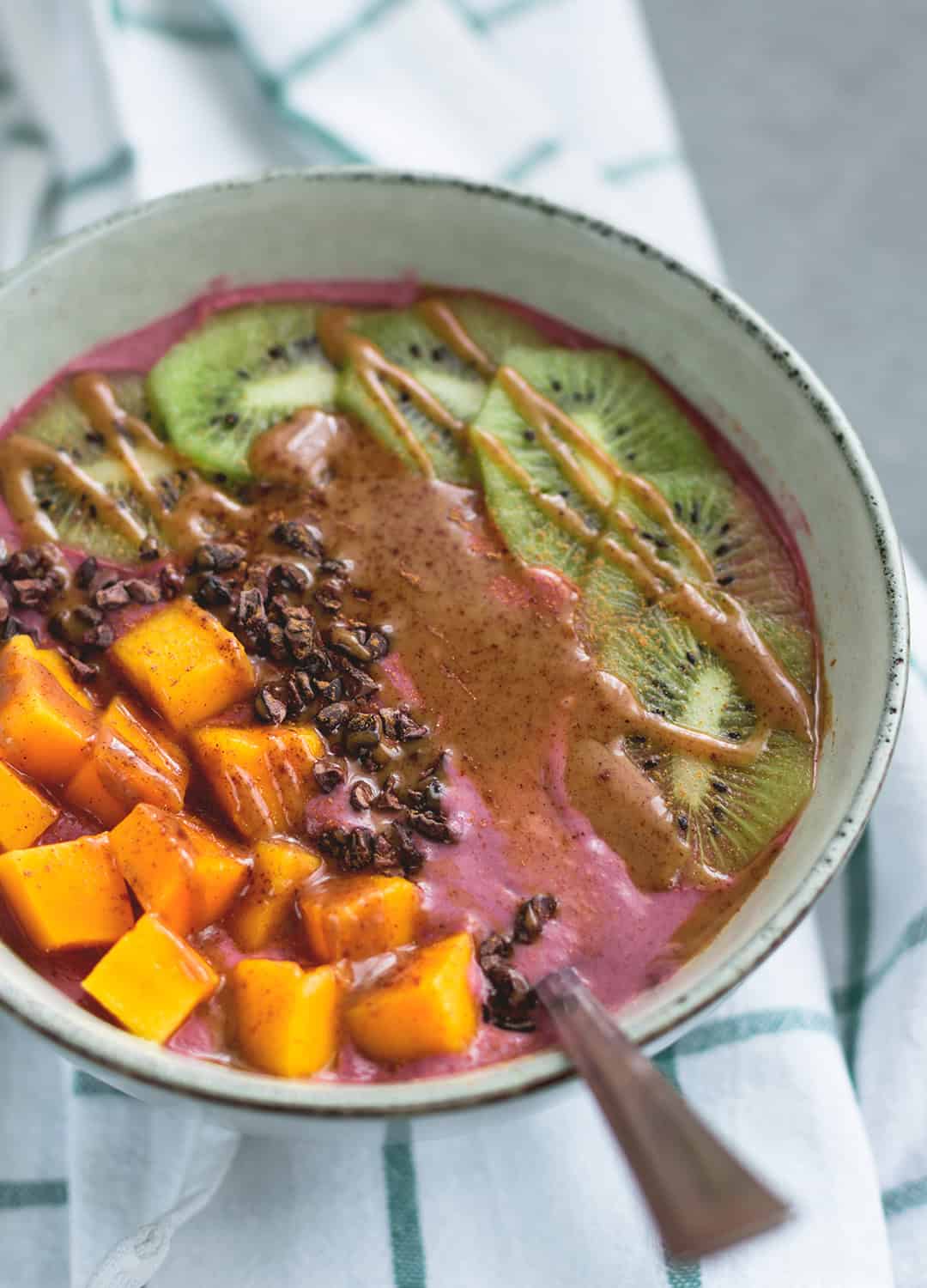 Why should you soak the buckwheat?
Soaking the buckwheat makes the porridge creamier. It's the same as cashews basically. If you blended dry buckwheat with fruit, you'd probably end up with clumps and if not, you'd have to refrigerate it for an hour or so to allow it to soak up the moisture and become more creamy. Who has time for that in the morning? Let it soak while you sleep so that it's ready for you when you wake up! So easy.
Also, soaking the buckwheat gets rid of enzyme inhibitors naturally present in grains, nuts and legumes. Again, it's the same as nuts — when you soak it, it becomes more easily digestible. This is also why you should never use the water you soak your grains or nuts in. You just got rid of all those nasty enzymes, you don't want to be blending them back in!
I've always been a little intimidated by soaking stuff. Do you put it in the fridge? Do you just leave it on the counter? I just didn't know. But it's actually really easy. I simply rinse the buckwheat, put it in a bowl cover with water (give it enough, it's gonna absorb some of that water), and add 1 teaspoon lemon juice or apple cider vinegar for every 1 cup. I still haven't looked up why there has to be something acidic, which I probably should've (such an amateur *sigh*), I just know I saw it on several recipes so I went with it. If you do know why you're supposed to add lemon juice, comment below!
After you soak it for a couple hours, ideally overnight, you rinse it again — it's gonna be quite slimy, don't freak out that's normal. I like to rinse it, set aside, place all the other ingredients into the blender, then rinse the soaked buckwheat one more time, add it into the blender, and blend on high.
I always go crazy with toppings and more often than not,  it get really messy too. I usually top everything with berries, nut butter, cacao nibs, goji berries, maybe some more nut butter, or wild peanuts (much better for you than regular peanuts! I actually heard people with peanut allergies aren't actually allergic to wild peanuts! Don't take my word for it, though.)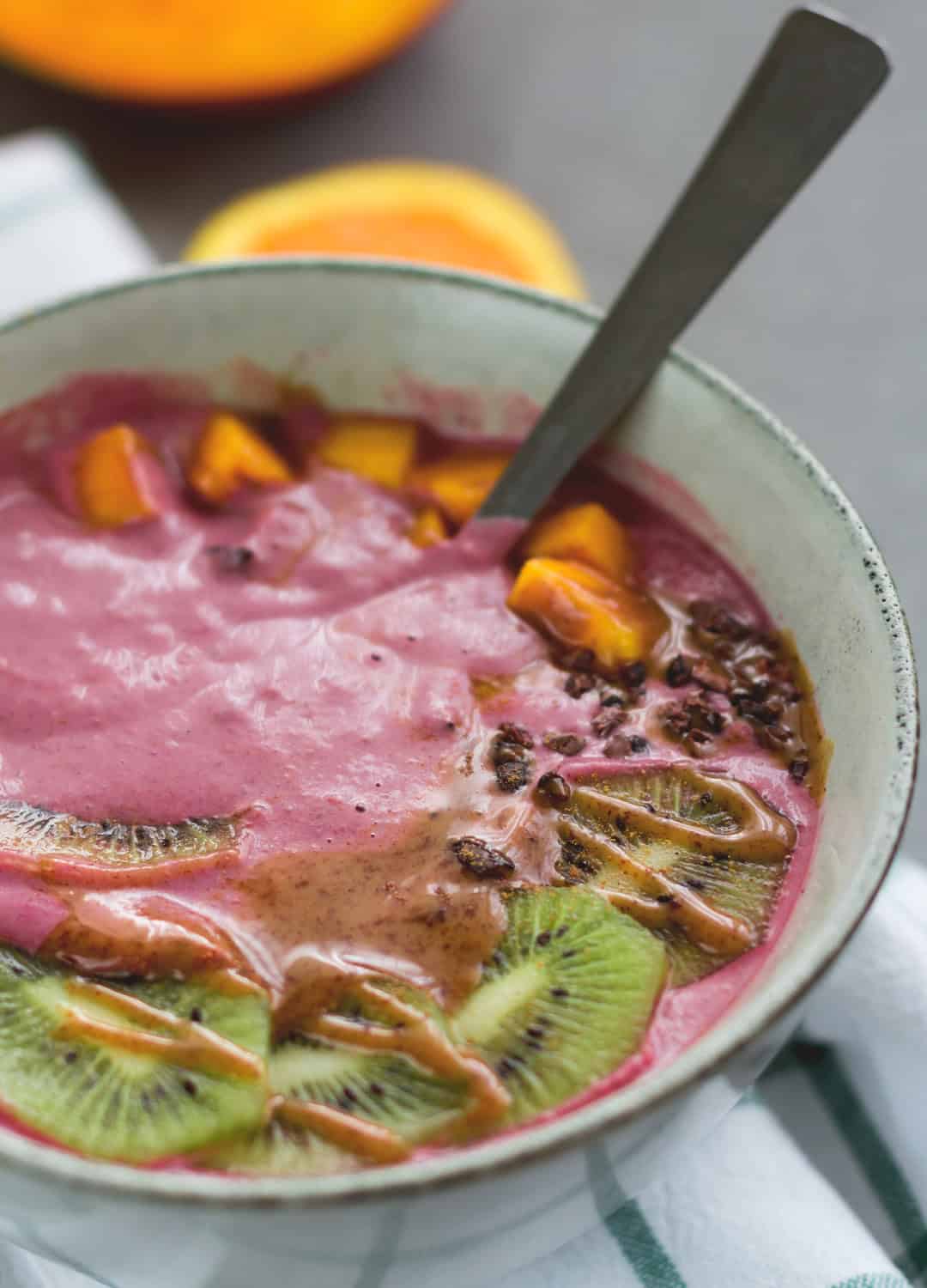 Print
📖 Recipe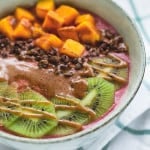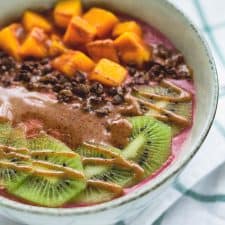 Raw Blackberry Orange Buckwheat Porridge
Author:

The Healthful Ideas

Prep Time:

8 hours

Cook Time:

5 mins

Total Time:

8 hours 5 mins

Yield:

2

1

x

Category:

Breakfast
---
1 cup

buckwheat groats

1 tsp

lemon juice

1 cup

plant-based milk

1 tsp

orange zest

1

orange, peeled and diced

1 cup

blackberries (fresh or frozen)

1 tsp

cardamom

1 tsp

cinnamon

1 tsp

vanilla powder
pinch of sea salt

2 tsp

almond butter

1 tbsp

maple syrup (or to taste, use coconut nectar if you want to keep it raw)
toppings: berries, mango, banana, kiwi, cacao nibs, goji berries, shredded coconut, nut butter, etc.
---
Instructions
Start by soaking the buckwheat the night before. Rinse the buckwheat well, transfer it into a bowl, cover with water and add 1 teaspoon lemon juice to it. Cover with a kitchen towel and let it soak at room temperature overnight or at least for 4 hours.
In the morning, rinse the buckwheat really well again and place into a high-speed blender along with the rest of the ingredients on high until smooth.
Serve in bowls topped with your favorite fruit or other toppings of choice.
---