Breakfast has always been my favorite meal of the day.
I never understood people who didn't eat breakfast. After not eating all night, I'm always excited to have a big, nourishing breakfast to start the day right.
Of course, every day isn't Sunday morning and you don't always have time to make good breakfast. That's when these overnight oats come in handy! Your breakfast is ready before you even wake up!
I love having chia pudding and overnight oats for breakfast when I have to get up really early. You just roll off your bed and take it out of your fridge—what's easier than that?
I often like to try new flavors and make parfaits with different fruits and smoothies (instead of yogurt). That being said, I am a creature of habit. Once I find a combination I REALLY like, I'm going to eat it everyday for at least a week. And that's exactly what happened with this bowl of goodness! It really is good. Divine even. Tasty. Yummy. Sweet. Heavenly. Exquisite... Okay, I think you get the point.
It combines my three favorite things— oats, berries, and chocolate. Plus my new favorite—acai!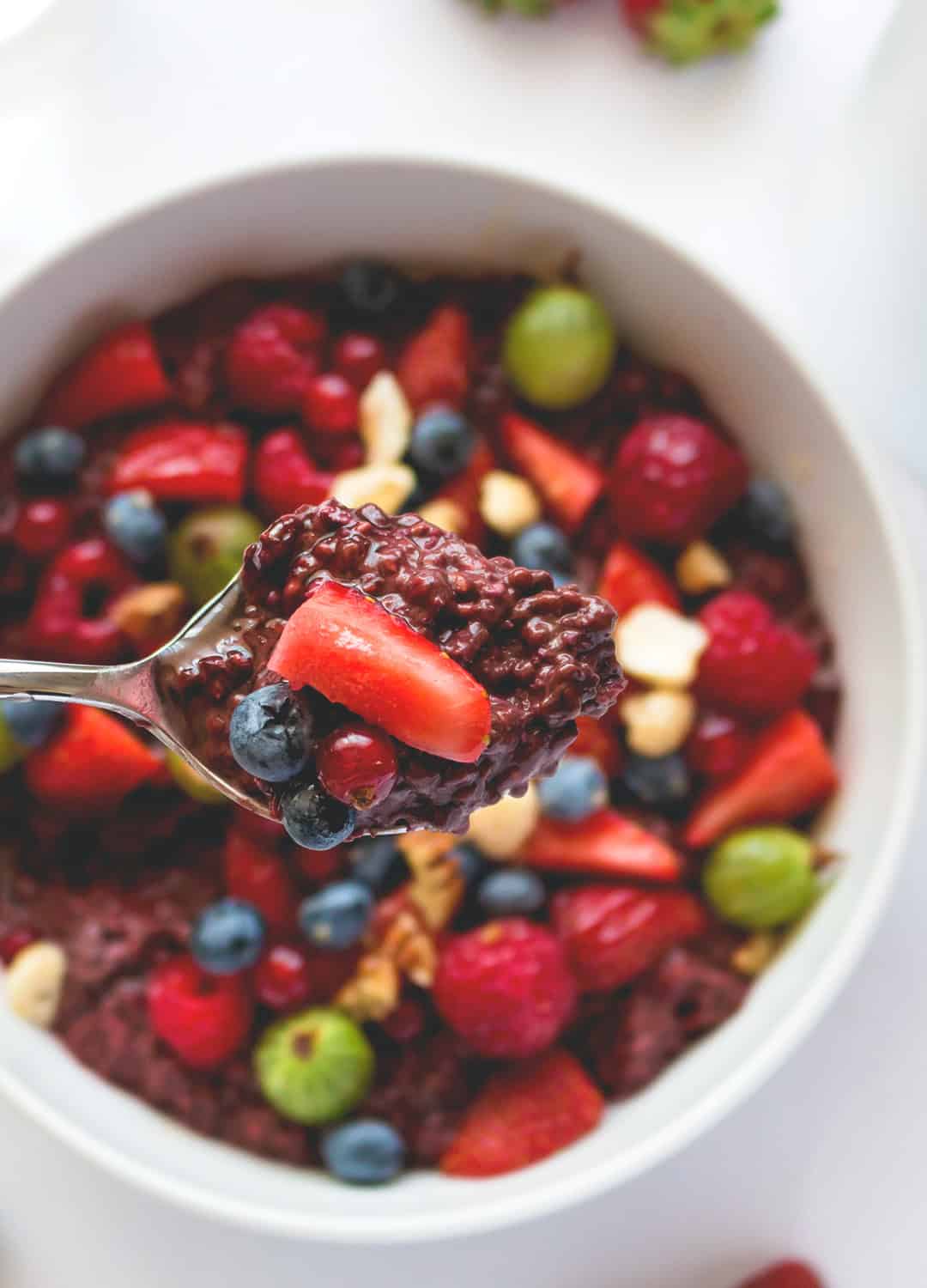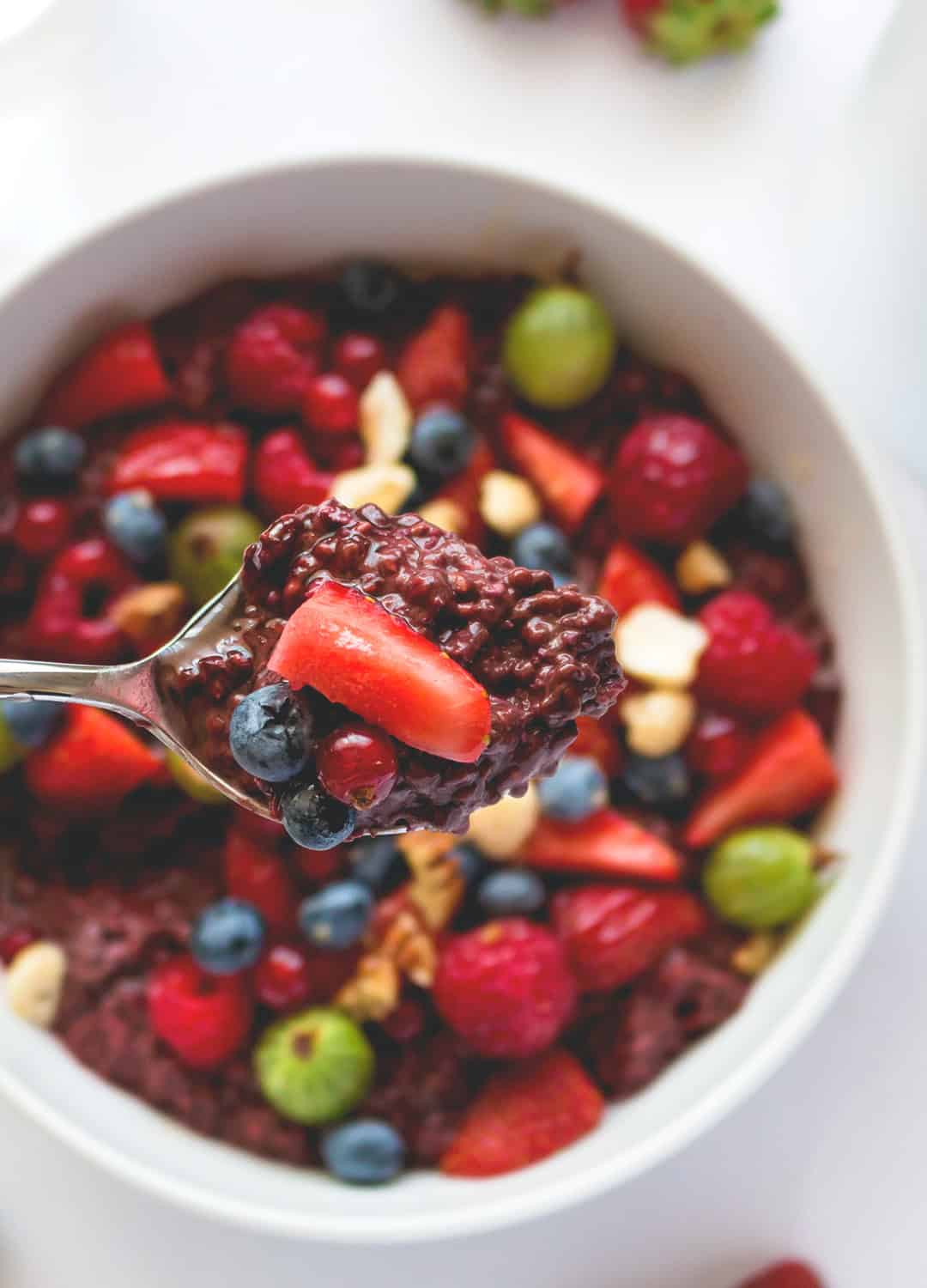 Acai
It's not like I hadn't known Acai before I tried these overnight oats for the first time. I've known about its existence for more than a year. And it has been lying around in my fridge ever since. I tried to sneak small amounts of it into my smoothies from time to time. I knew about the antioxidants, the vitamins, and how overall good it is for your body. I just never really had a taste for it. I still don't like it on its own. It's somewhat sweet, bitter, and tangy at the same time. It's like blueberries, blackberries, and black currants combined.
I also never tried the famous "Acai bowl". I mean, it's just a smoothie in a bowl? I tend to avoid food everyone eats and things everyone does, mostly out of stubbornness. I do love smoothie bowls because you can top them with even more fruit and granola, but I don't see why I should call something an Acai bowl, only because there's a teaspoon of Acai added? Why not a Mango bowl? Banana bowl? Berry bowl?
ANYWAYS.
A year later, I, too fell in love with the famous Acai. When you combine it with berries and sweeten it with honey or maple syrup it's actually delicious. I went all out and added 2 teaspoon of Acai into my chia pudding the first time I made this and I'm glad I did. If I were to use only ½-1 teaspoon of it, there would be a hint of its taste but it wouldn't be anything special. If you want the raspberries to be the main event, add less Acai, but I highly recommend you add 2 tsp.
And the cacao. Oh boy.
Acai + Cacao + Raspberries = HAPPINESS
Let's talk health benefits for a moment.
Acai is known mostly for it's a great source of antioxidants. Its dark blue to purple color is the source of those antioxidant. Another similar source of these antioxidants is acai's brother blueberry. However, acai has one of the highest ORAC values on the planet, much higher than blueberry. That is why acai deserves to be called a "superfood".
What I think most people don't know, is that acai also contains essential fatty acids (omega-3 and omega-6). Acai is about 50% fat, and most of it are omegas. But remember, it's the good kind of fat!! I wasn't aware of this until recently. It's good to know this amazing berry doesn't only give you a good dose of antioxidants, but also omega-3s, omega-6s, and even omega-9s.
It also contains 19 different amino acids (out of 22), which are needed for building protein in the body. There's about 8g of protein in 100g of acai powder!
Acai is a great source of fiber, which is great for digestion.
Acai is rich in vitamin A, B¹, B², B³, C, and E. It's also rich in minerals such as beta-carotene, calcium, potassium, and zinc.
Acai has low GI, which means it's low in sugar (YAY!).
To sum it up, it's a pretty jam-packed berry!
If you want to try another recipe containing acai powder, try my Cherry Blueberry Oatmeal with Acai I made recently. I'm still convinced it's the best breakfast ever. Along with these Raspberry Chia Overnight Oats with Acai of course.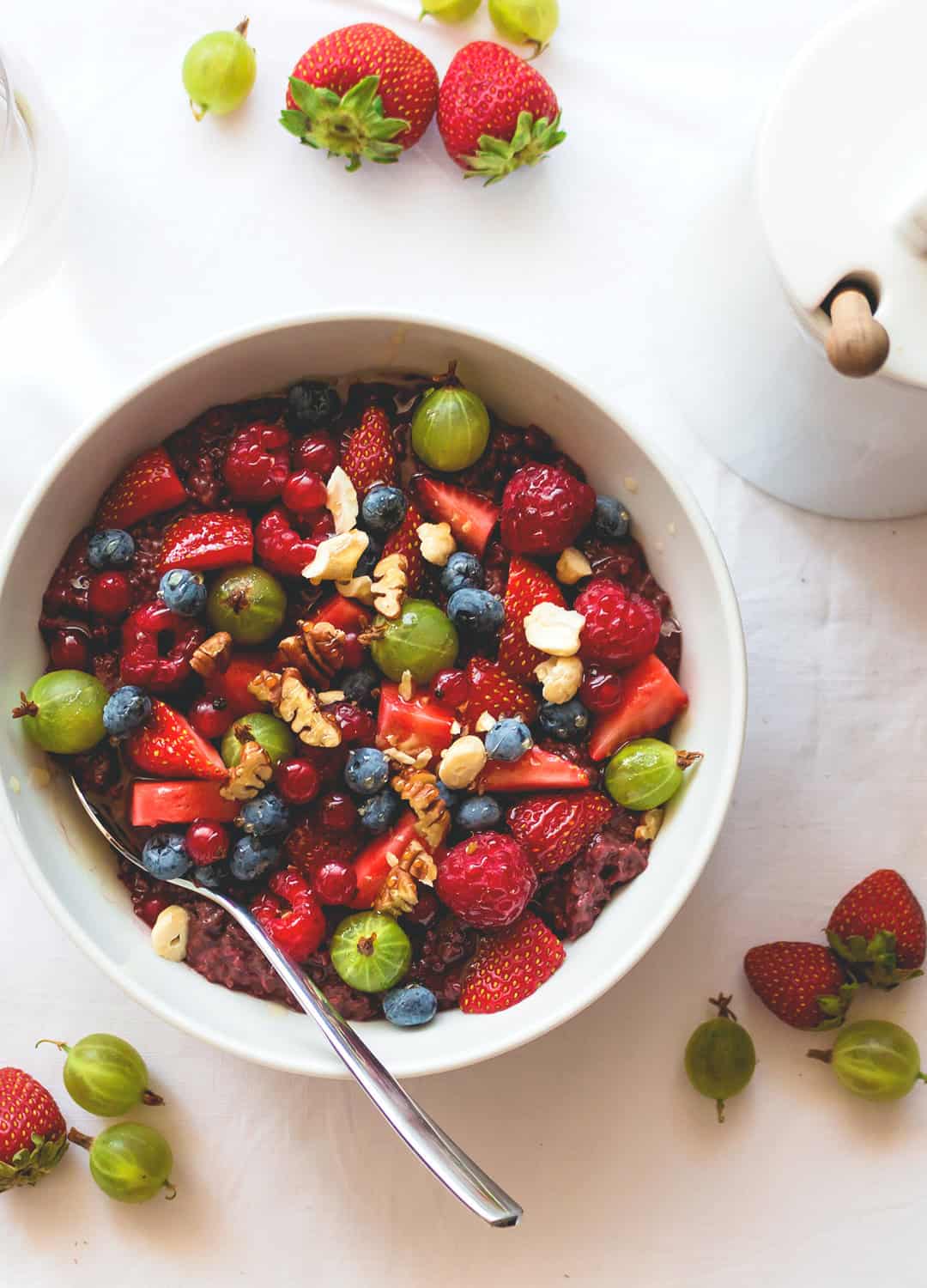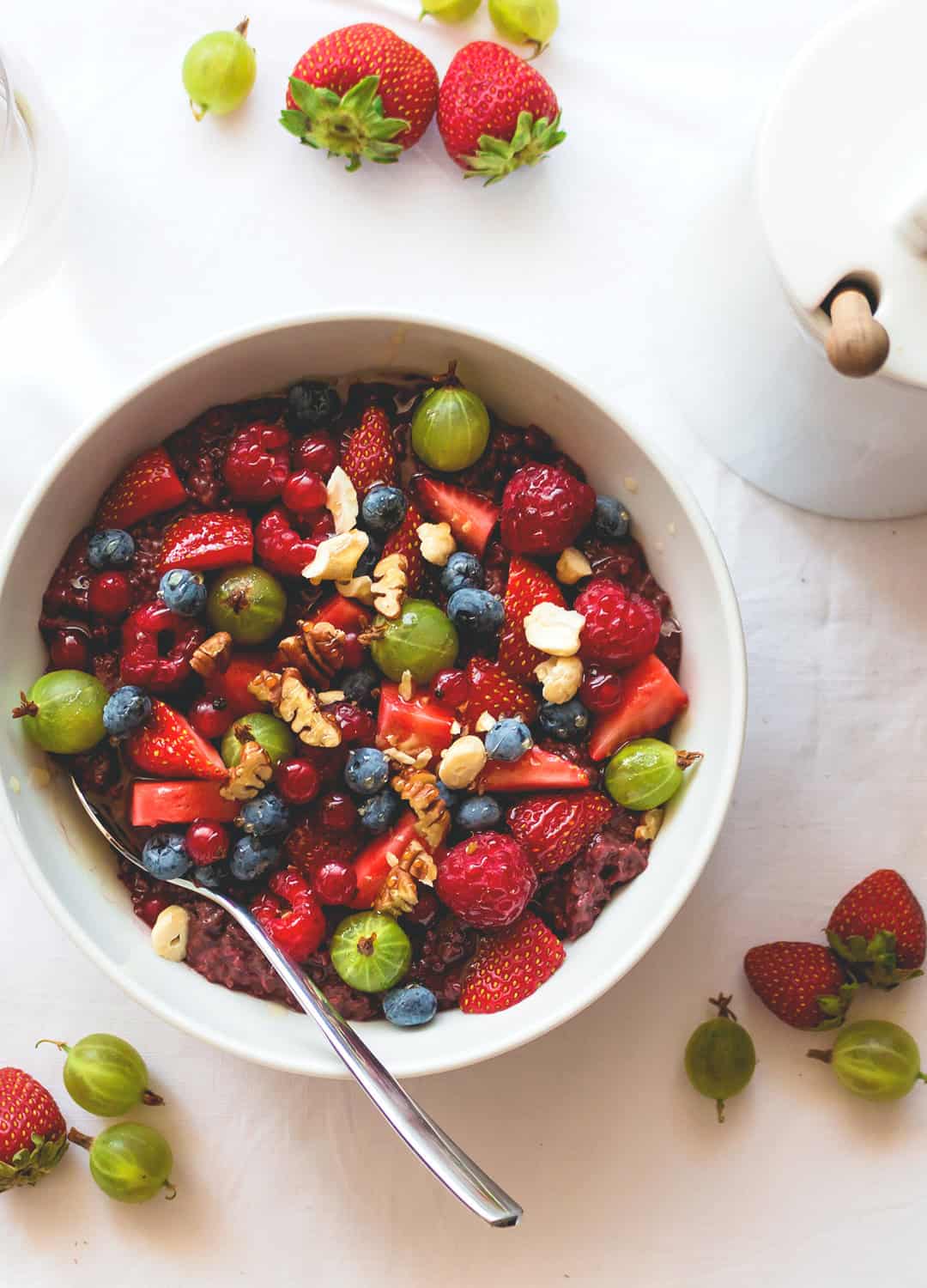 In the recipe, there's also a teaspoon of maqui berry powder which you can omit if you don't have it on hand. Maqui berries are similar to acai but taste a little more like blackberries. Personally, I like maqui berry much more than acai berry. I love pairing it with raw cacao in banana ice cream. SO good. I need to make that again soon.
Maqui is more expensive than acai, and it's not necessary for the taste of the overnight oats. If you don't want to spend the money on both acai, and maqui, get only acai—you get the same benefits. However, if you can afford it, try it, it really is worth it!
cacao powder + maqui berry powder + frozen bananas = heavenly ice cream
I'll save my maqui ice cream praise for another time. Right now, let's focus on this tasty looking bowl of overnight oats. If you try it, don't forget to let me know on social media, I'm pretty much everywhere! Add me on snapchat at "healthfulideas"! :)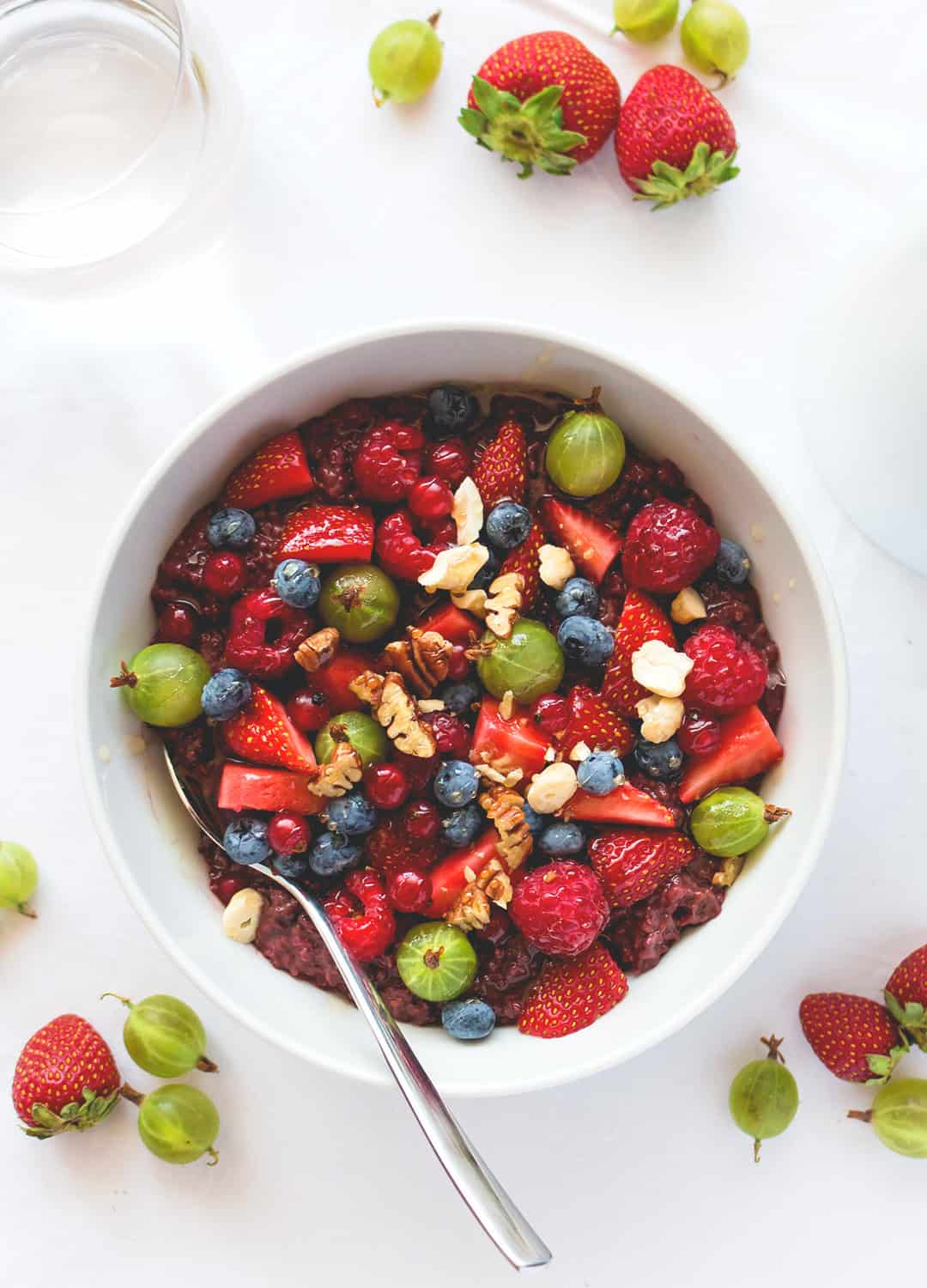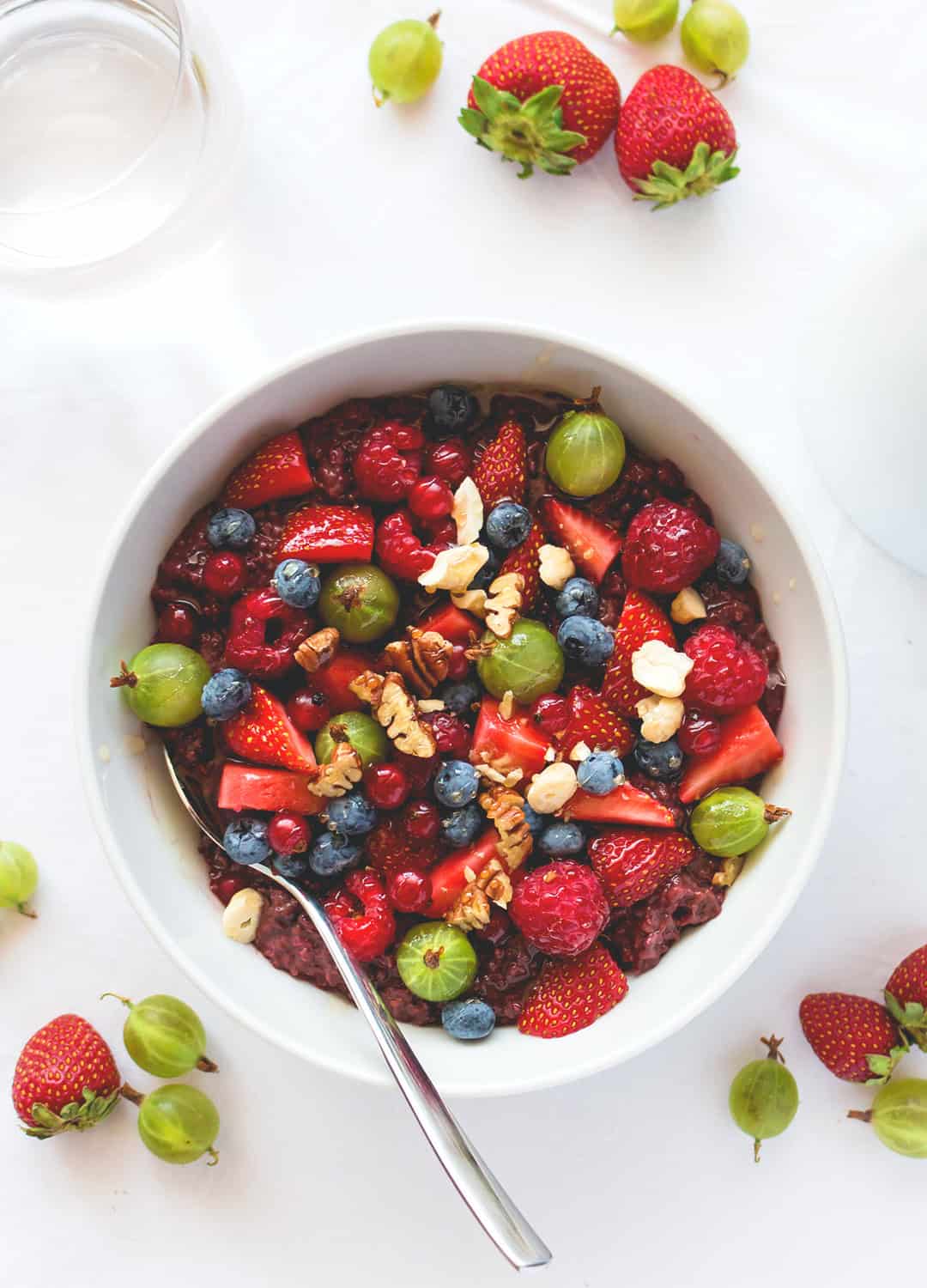 Print
📖 Recipe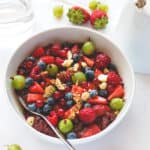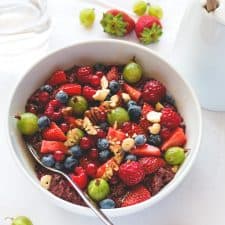 Raspberry Overnight Oatmeal with Chia Seeds and Acai
Author:

The Healthful Ideas

Prep Time:

10 mins

Cook Time:

3 hours

Total Time:

3 hours 10 mins

Yield:

1

1

x
---
1 cup

raspberries

3 tbsp

chia seeds

5 tbsp

oats

2 tsp

raw cacao powder

2 tsp

acai powder

1 tsp

maqui berry powder (optional)

½ tsp

cinnamon
a pinch of sea salt (NOT table salt)

1 tsp

maple syrup or honey (or to taste)

1 cup

dairy-free milk of choice (oat, almond, cashew, coconut, rice)
---
Instructions
Wash the raspberries and mash them with a fork and set aside.
Into a jar or anything else with a lid, add the chia seeds, oats, cacao, acai, maqui, cinnamon, and salt.
Cover the jar with a lid and shake until everything is well incorporated.
Add the milk, maple syrup, and the raspberries.
Stir thoroughly with a spoon until well mixed.
Cover with a lid and refrigerate overnight or for at least 3 hours.
Top with your favorite berries, nuts, and drizzle with maple syrup/honey.
---