This Pineapple Pico de Gallo is a tropical twist on the classic fresh salsa. It's quick, easy, and perfect for summer. Serve it with tortilla chips, in tacos, burritos, or as a side.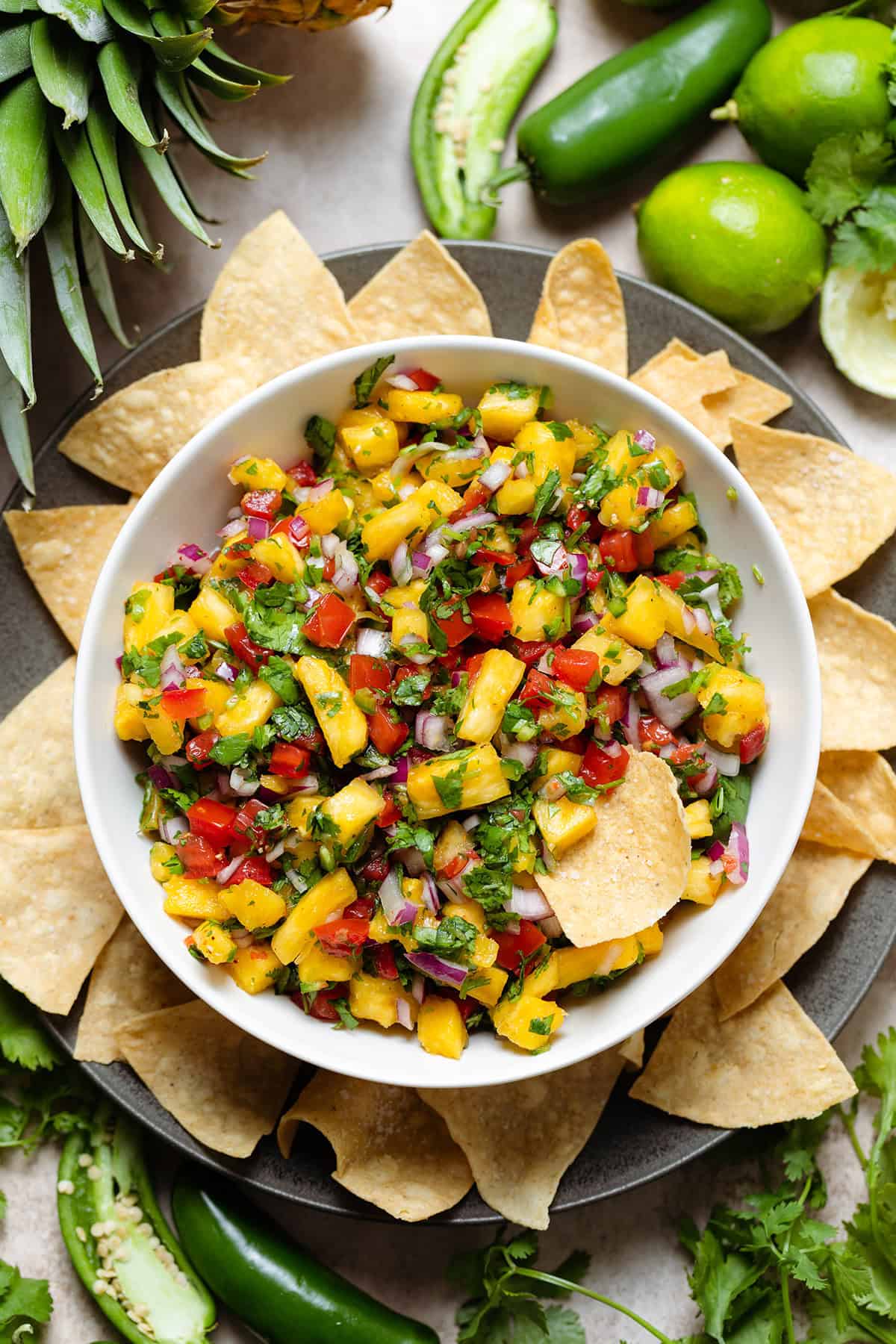 Jump to:
Why This Recipe Works
Quick and easy - This recipe comes together really quickly and requires very basic ingredients. You can make it ahead of time or right before serving. The recipe is also easy to multiply for a bigger crowd or cut in half to make a smaller batch.
Tropical twist - Pineapple is not what you find in your normal pico de gallo but it's a fun tropical twist on the classic fresh salsa. If you've had mango salsa before, definitely give this one a try too!
Sweet and spicy - The combination of sweet pineapple, fragrant cilantro, and spicy jalapeno just works here. If you like classic salsa fresca, you'll love this pineapple version! It's fun, different, and great for summer!
Great in tacos - This salsa is delicious served as an appetizer with tortilla chips and even better in tacos! Try it in Baja tacos, or anything spicy or creamy!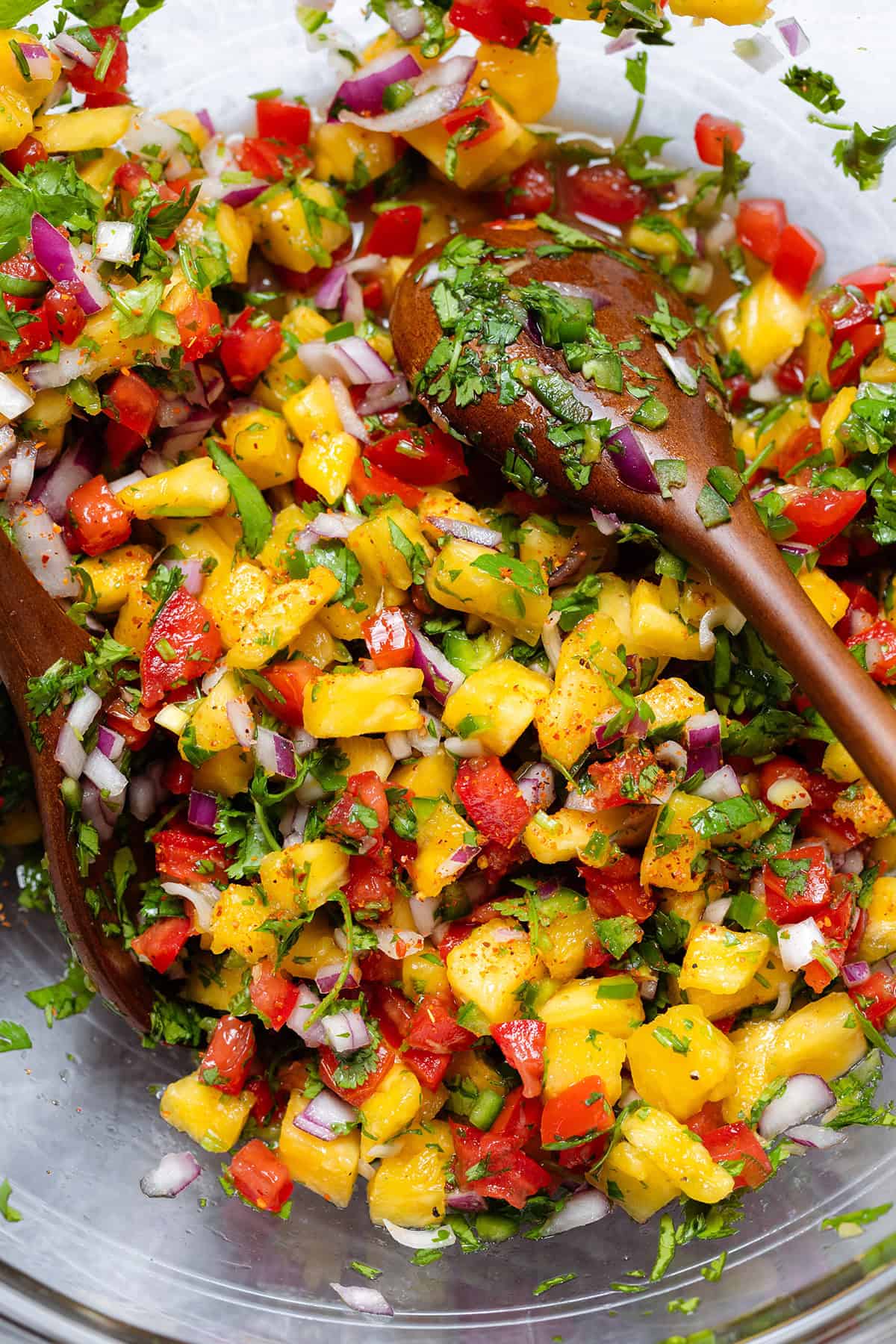 Ingredients
Pineapple - The better the pineapple, the better the salsa. Always choose a pineapple that's more yellow/orange than green with no visible brown or wilted leaves. A good ripe pineapple should smell sweet on the bottom. If it doesn't, it's not ripe enough. If it has a fermented smell, it's too ripe and will go bad soon. A pineapple that is too green is also not ripe enough and won't be very sweet.
Roma tomatoes - You can use any tomatoes you have for this salsa but Roma tend to be the best option because they are large which makes them easy to dice and they keep their shape well.
Red onion - This is the best choice for this pico de gallo but you can also use shallots, spring onions, or white onion if necessary.
Cilantro - Fresh cilantro adds a ton of flavor to this salsa. Dried cilatro can do the job when absolutely necessary but won't give it the same amount of flavor a fresh herb would. If you're not a fan of cilantro, you could potentially use fresh parsley but it will change the flavor a lot.
Jalapeno - You can keep the seeds in or remove them depending on your heat preference. I usually like to remove them.
Lime - Freshly squeezed lime juice is always your best option and will add the most flavor. You can use bottled lime juice when in a pinch but try to go for ones that are made with real lime juice and not concentrate.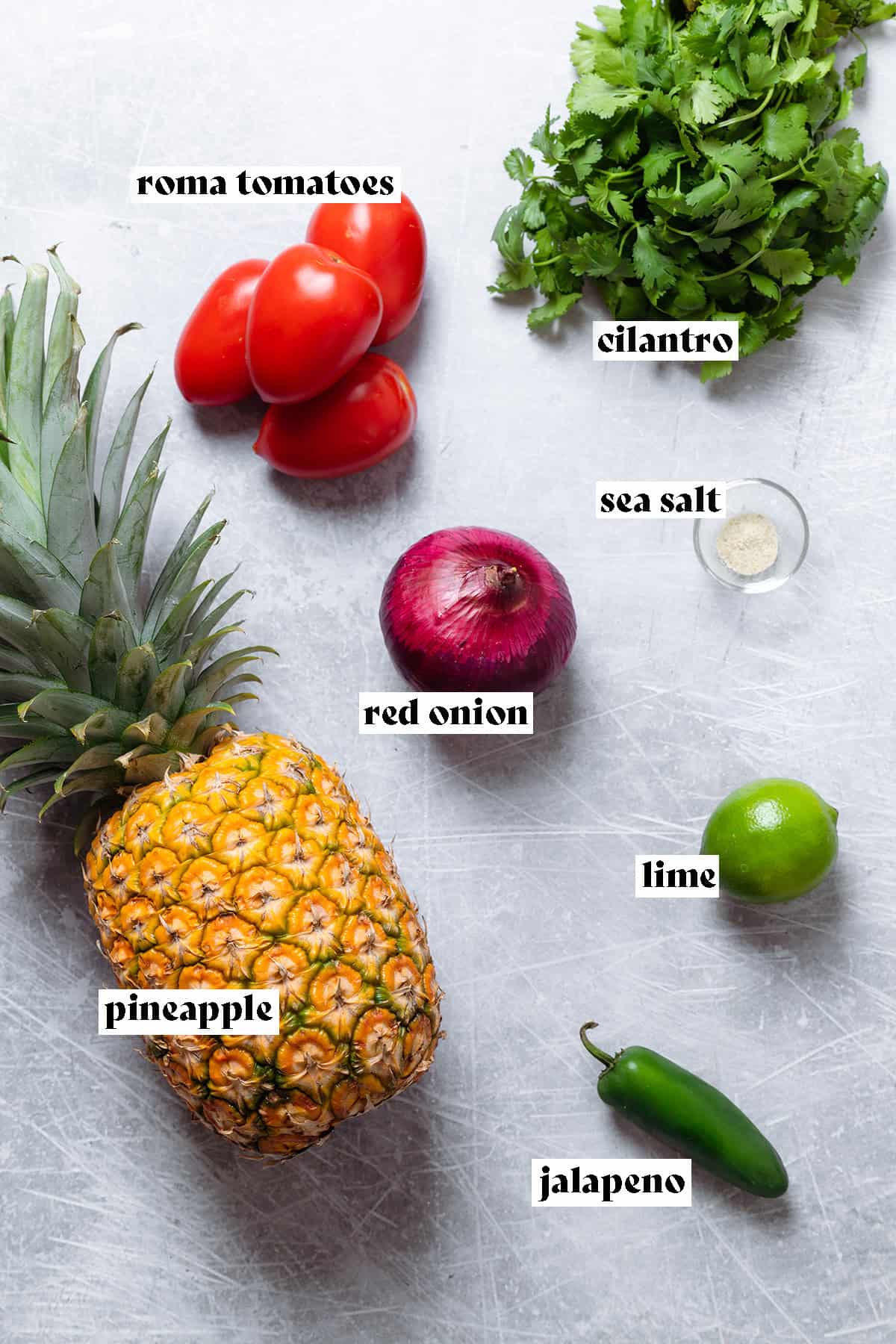 Step-by-Step Instructions
The making of this pico de gallo is very straightforward. All you have to do is chop everything well and add lime juice.
Dicing Tomatoes
I highly recommend removing the seeds from your tomatoes before dicing them. This helps you avoid watering down the salsa. Simply quarter your tomatoes and cut out the seeds. This should be very easy to do by running your knife carefully along the inside of the tomato.
Dicing Pineapple
To peel and dice the pineapple, place your pineapple sideways on a cutting board and cut off the top and bottom. I usually cut off about an inch on both sides. Next, stand the pineapple upright on one of the flat sides.
Slice the peel off in strips going from top to bottom, making sure to not slice off too much of the pineapple with it. If you slice off too little, you might be left with a few "eyes" in the pineapple where you can still see the peel. They are hard to chew and should be removed. It's very easy to do, though. You can either pull them out with your fingers if there are only a few or carefully cut them out using a sharp knife. They're always in diagonal lines which means it's easy to remove more of them in one cut. Line up your knife on one side of the "eyes" and slice in a 45-degree angle along the side of them, and repeat on the other side of them to cut them out.
Finally, to dice the pineapple. Set it upright again and cut along the middle tough part from top to bottom on one side, turn the pineapple, cut again, and repeat on all sides. The middle part of a pineapple is very tough so it should always be removed. It's possible that certain pineapples aren't as tough in the center and you don't have to do this but most often you do.
Next, simply slice the pineapple into thin slices and then dice it into small pieces. The smaller the pieces, the easier the salsa will be to scoop and eat.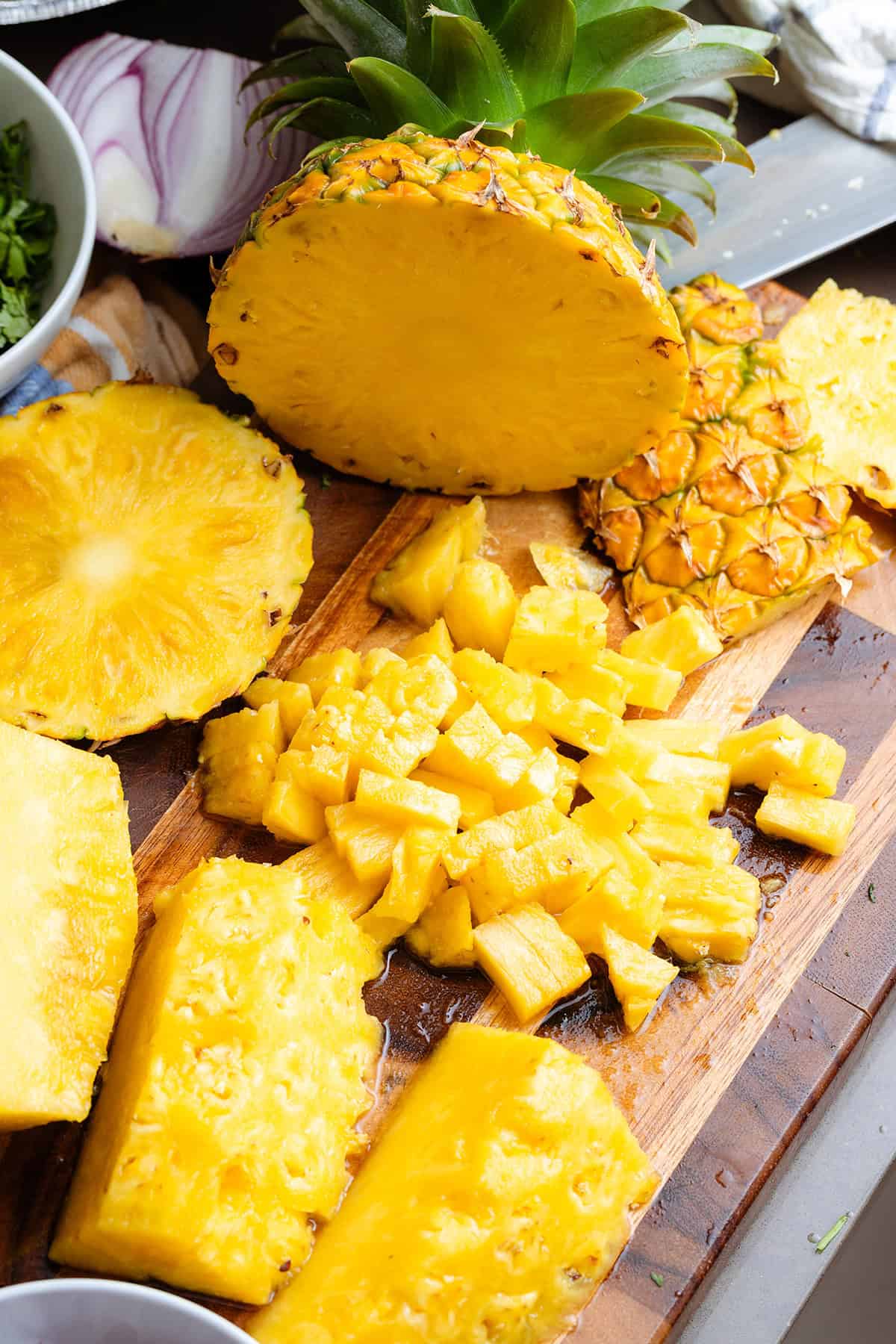 When you're ready to mix everything together, add your diced tomatoes, pineapple, jalapeno, finely diced onion, and fresh cilantro to a large mixing bowl. Toss everything together, add freshly squeezed lime juice and sea salt to taste, and toss again. You can add a sprinkle of tajin for extra flavor but this is optional.
Serve it as an appetizer with tortilla chips, as a side, or in tacos or burritos. Try it in these Spicy Shrimp Tacos with Creamy Cilantro Sauce!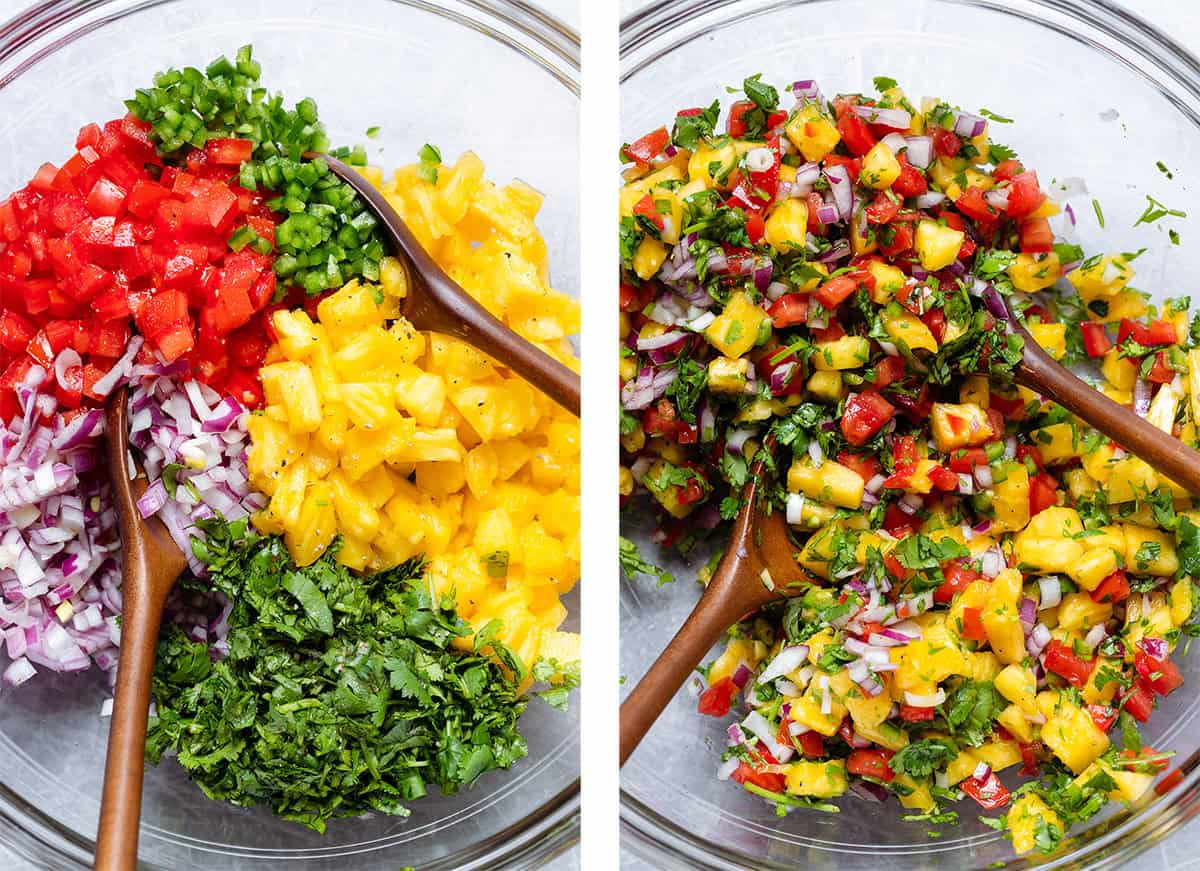 Serving and Storing
This salsa is best served right away. In general, it's true that if you let any salsa sit in the fridge for a few hours, all the flavors will marinate and blend together nicely but this one releases a lot of water once you add salt and lime juice so it's important to keep that in mind.
If I know I'm going to serve it in a few hours instead of immediately, I'm going to store the salsa in the fridge without the salt and lime, and then add those right before serving.
You can store the finished salsa in an airtight container in the fridge for 2-3 days, you'll just have to spoon it into a different bowl for serving to avoid the extra water the pineapple and tomatoes released. There's nothing wrong with it, tomatoes will always release lots of water after you add salt to them.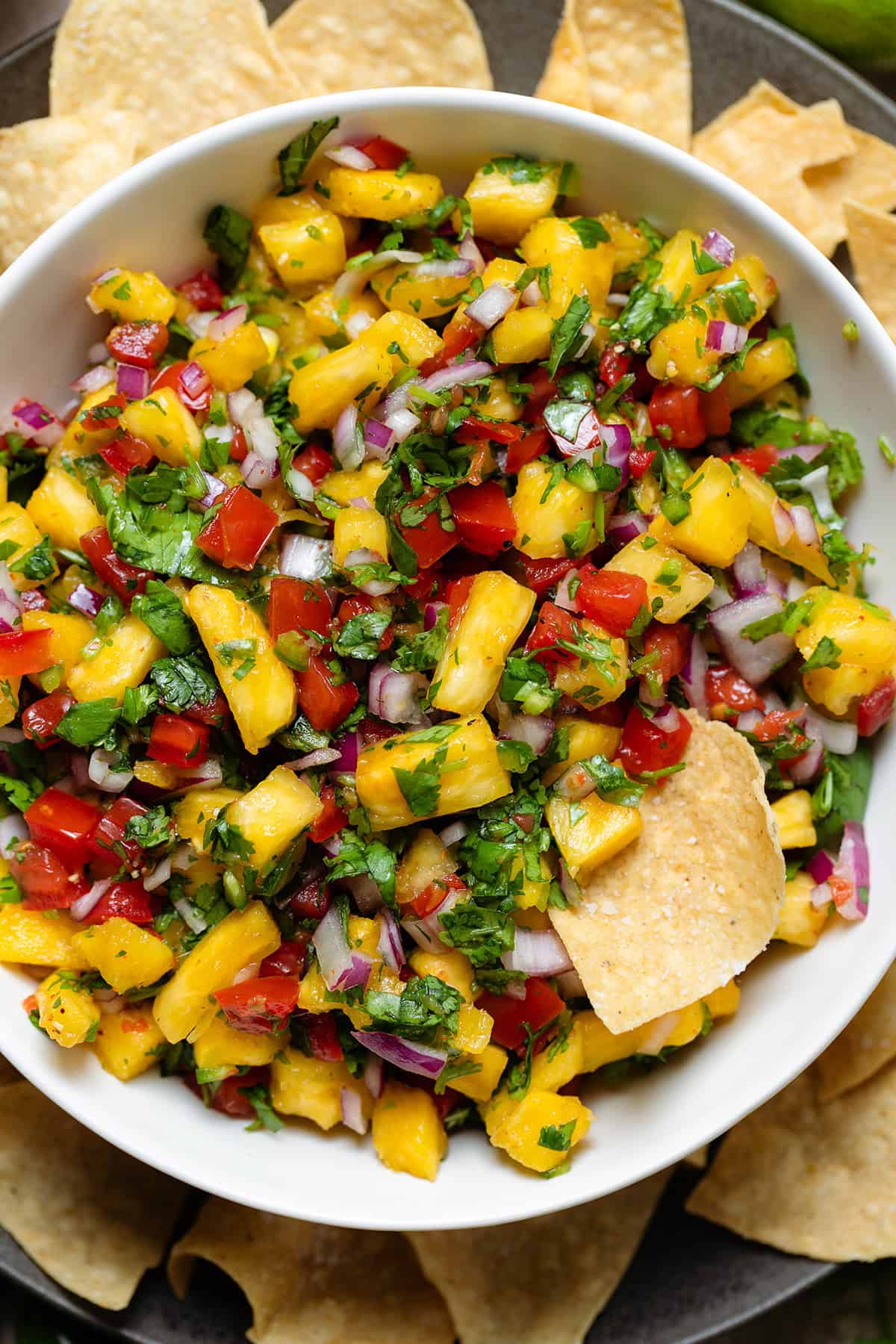 FAQs
Is salsa the same as pico de gallo?
Pico de gallo, also known as Salsa Fresca or fresh salsa, is a type of salsa made with fresh uncooked tomatoes and other vegetables. Or in this case, pineapple.
Can I make this salsa the night before?
Yes but I recommend not adding the lime juice and salt the night before. It will draw out the water out of the tomatoes and pineapple and will turn very watery. Add the salt and lime right before serving.
Is pico de gallo healthy?
Yes! It's basically a finely diced salad made with fresh fruits and vegetables you use as a side so it is very healthy and good for you!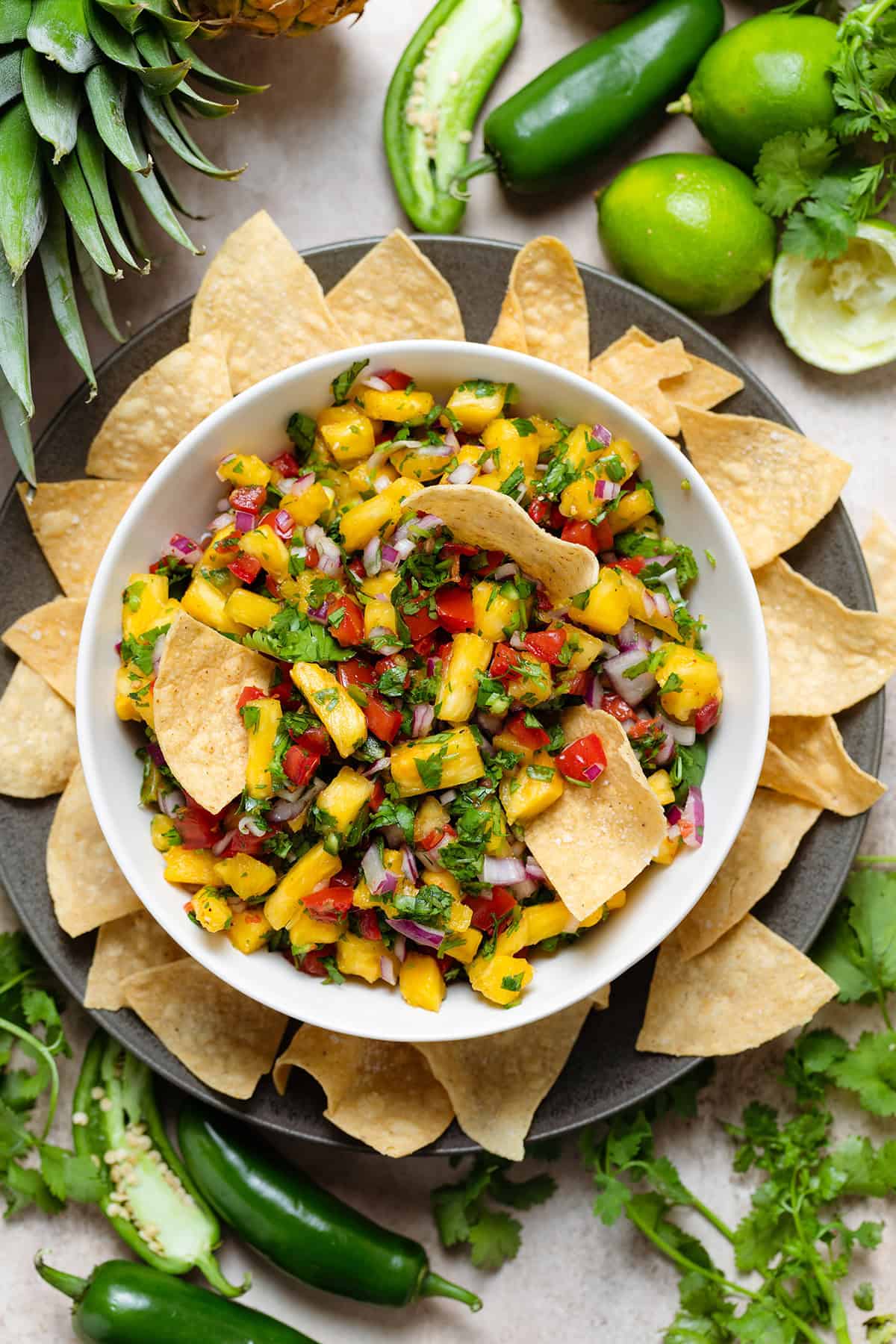 More Salsa Recipes
If you're looking for more salsas, definitely check out the four recipes linked below! The Chipotle-inspired roasted corn salsa is especially my favorite! You can either serve these with tortilla chips or in tacos, burritos, or bowls. To see all appetizers, check out the Appetizers category.
Print
📖 Recipe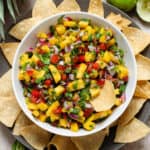 Pineapple Pico de Gallo
Author:

Veronika | thehealthfulideas

Prep Time:

20 mins

Total Time:

20 minutes

Yield:

4

-6

1

x

Category:

Appetizer

Method:

No cook

Cuisine:

Mexican

Diet:

Vegan
---
Description
This Pineapple Pico de Gallo is a tropical twist on the classic fresh salsa. Try it with tortilla chips or in tacos!
---
1

pineapple, diced

4

Roma tomatoes, seeds removed, finely chopped (

2 cups

)

1 cup

packed finely chopped fresh cilantro

1

medium red onion, finely chopped (

1 cup

)

1

jalapeno, finely chopped (remove seeds or leave them in based on heat preference)

2

limes, juiced (approx.

3 tbsp

juice)

½ tsp

sea salt
Black pepper to taste
Tajin (optional)
Tortilla chips for serving (optional)
---
Instructions
Add chopped pineapple, tomatoes, cilantro, red onion, and jalapeno to a large mixing bowl.
Add lime juice, sea salt, black pepper, and tajin if using, toss, and serve.
Serve the pico de gallo with tortilla chips as an appetizer or in tacos, burritos, bowls, salads, or as a side with protein.
---
Notes
Storing: Once you add the juice and salt, the tomatoes will release a lot of water so I recommend adding them right before serving. If you're planning to store the salsa and serve it in a few hours instead of right away, I recommend storing it without the lime juice and salt. It's ok to be stored with them, it will just release a lot of water. The salsa will keep in an airtight container in the fridge for 2-3 days.
Keywords: pineapple pico de gallo, fresh salsa