Delicious creamy Maqui Berry Oatmeal with Wild Blueberries. Make your breakfast special with this delicious superfood oatmeal. It's easy to make and full of nutrients!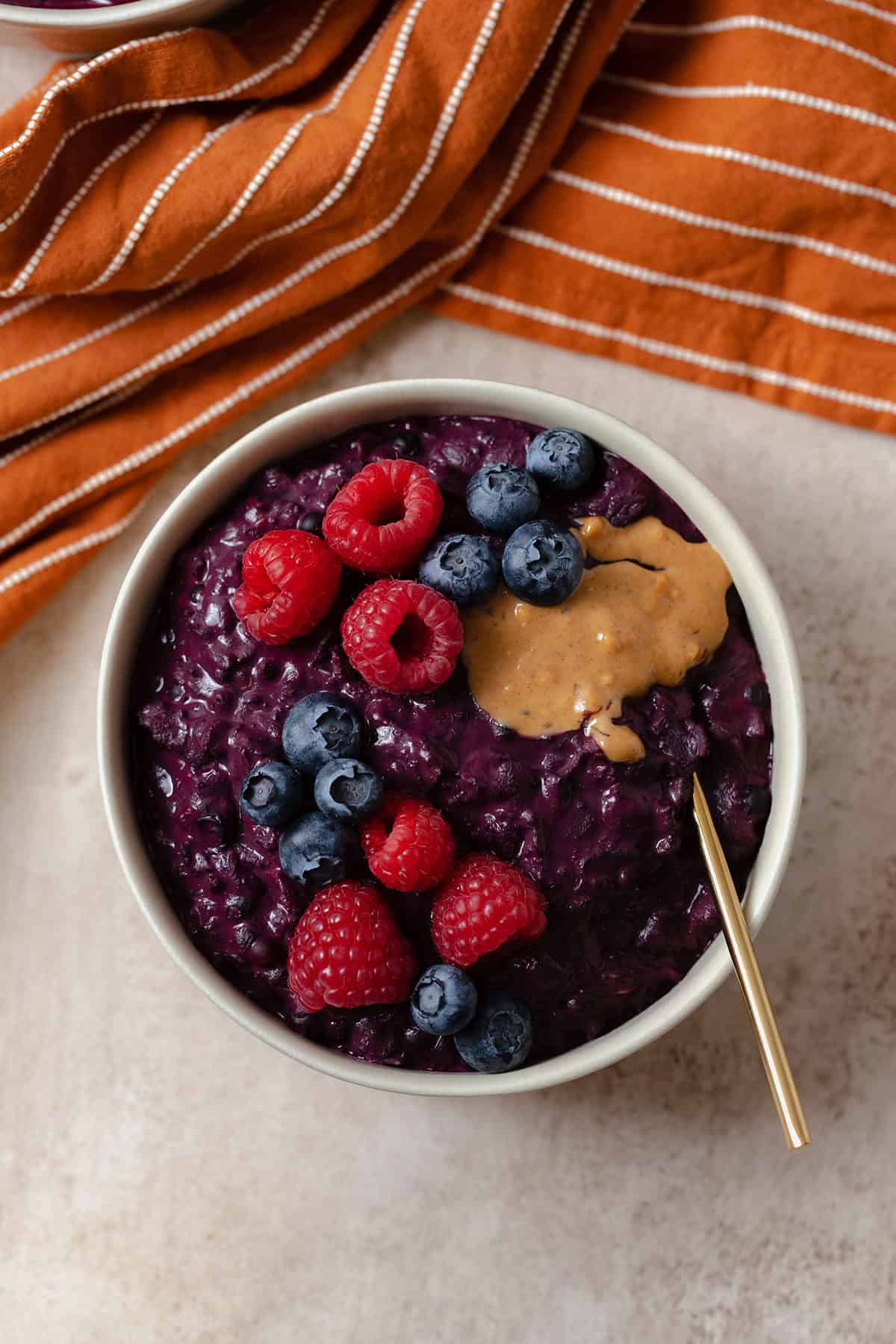 What's special about this oatmeal?
Maqui berry is very similar to Acai berry. I actually prefer Maqui over Acai.
Maqui is a superfood with loads of health benefits which is what makes this oatmeal so great!
Maqui berry has a little brighter color than acai, though they're both very similar. If you love Acai but you've never tried Maqui berry powder, you'll definitely love this oatmeal!
It's creamy, not too sweet, and packed with antioxidants!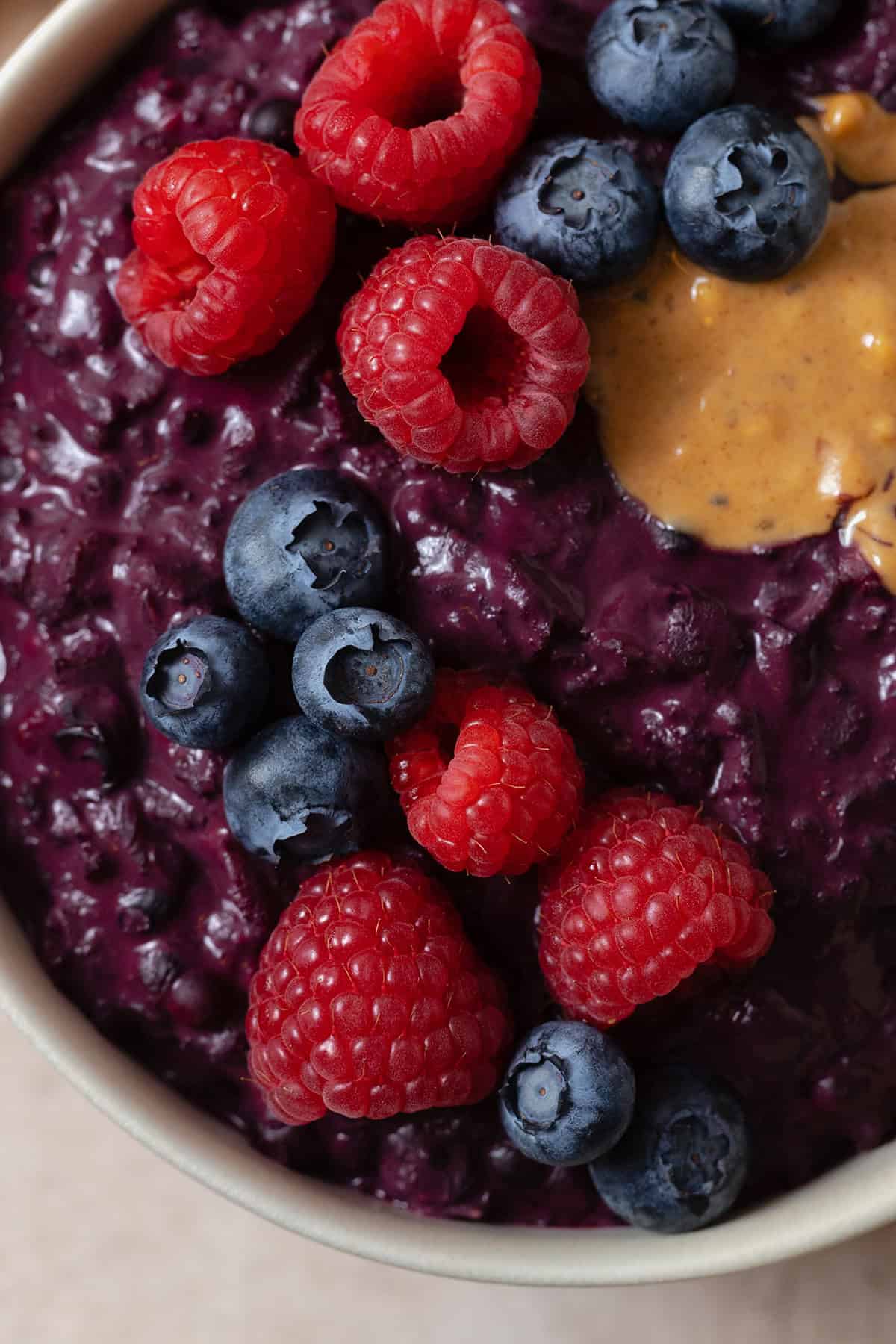 What ingredients do you need to make Maqui Berry Oatmeal?
All you need are 6 simple ingredients.
plant-based milk + water - yields the creamiest oatmeal, more about that below!
rolled oats - my personal favorite oat variety. Learn more about the different types below.
frozen raspberries - You can use fresh but frozen melt well into the oatmeal and give it a great raspberry flavor.
frozen wild blueberries - Same as the raspberries. You can use regular Canadian blueberries if you can't find wild ones.
maqui berry powder - The star of the show! Use Acai berry powder if you can't find Maqui.
raw cacao powder (or cocoa powder) - Cacao goes great with maqui, I highly recommend it!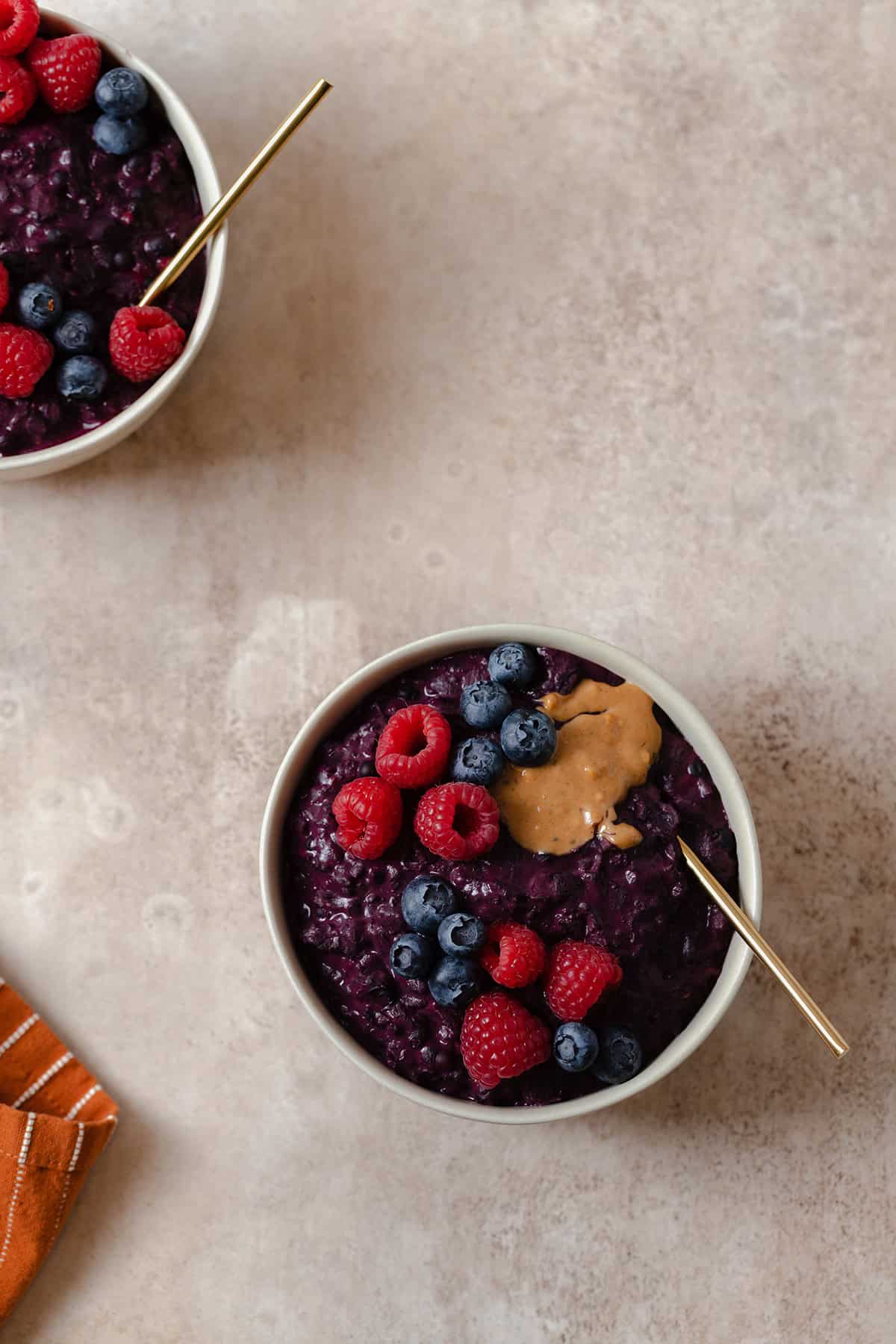 How to make the best oatmeal?
Oatmeal is the easiest breakfast but there are a lot of version and cooking styles. Learn how to make your oatmeal incredibly creamy, not overly sweet, and definitely not boring!
There are three main versions of oats.
Old-Fashioned Rolled Oats - the most common version and the one I recommend for this recipe
Quick Oats - these are rolled oats ground into smaller flakes, therefore they cook almost instantly. Great when you want to save time but won't have much texture.
Steel-cut Oats - Whole oats cut into halves or thirds. They kind of look like rice. These have the most fiber of the three and the best texture but they take much longer to cook (at least 30 minutes).
How to cook oatmeal
Use 1:1 milk to water ratio. If you're using 1 cup of liquid, use ½ cup milk (plant-based or regular) and ½ cup water.
Using too much water will yield bland and not creamy oats. If you use only milk, the oats tend to get too thick and become gummy if you let the oatmeal sit for 10-15 minutes.
Bring your liquid to a soft boil before you add the oats. This helps the oats to retain their texture and yields overall tastier oatmeal.
When your oats are almost done and creamy, add some fruit. Frozen berries are the best because they add liquid and prevent the oatmeal from thickening too much. Chopped banana, pear, or apple are also great!
Plate and enjoy immediately!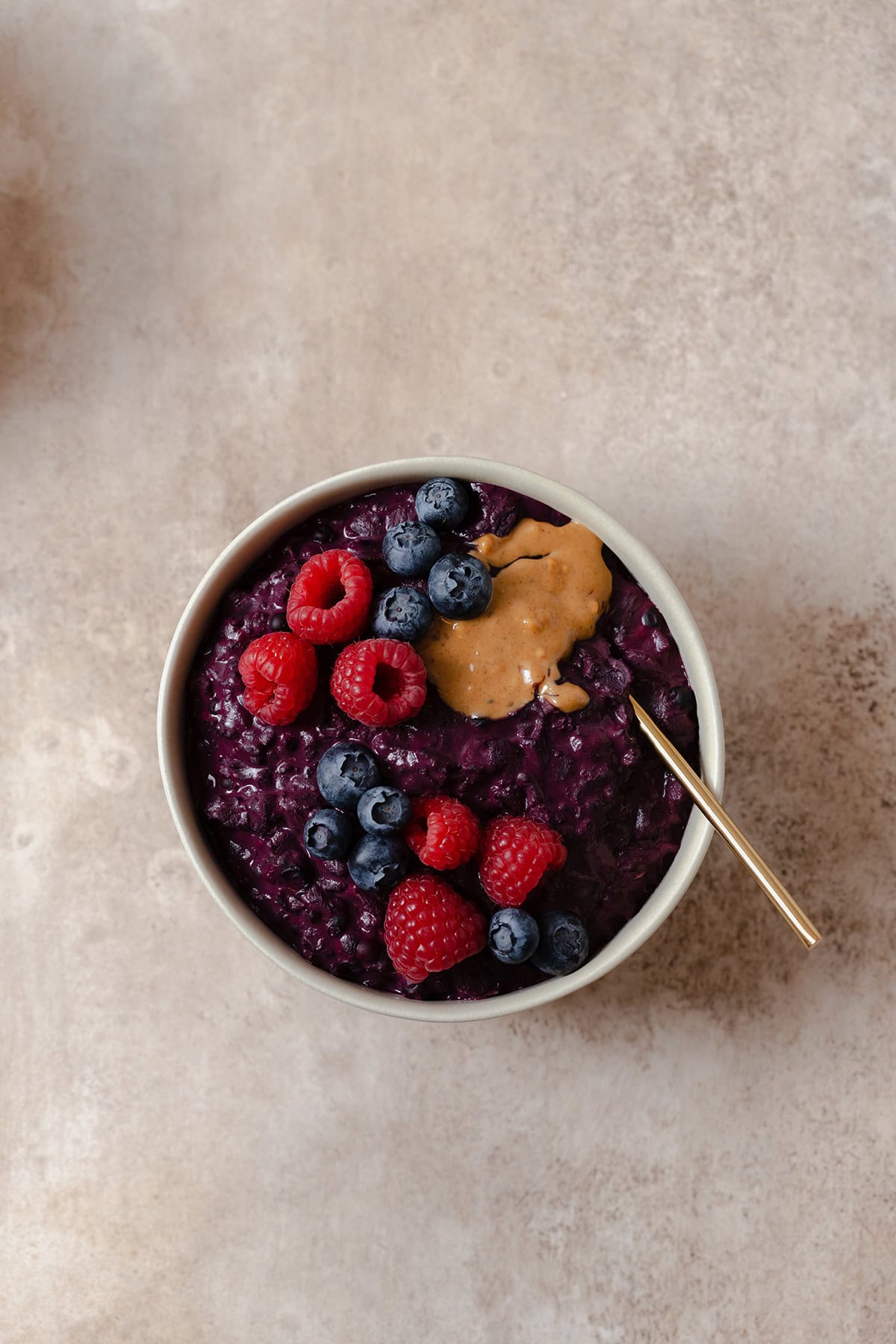 Maqui Berry Q&A:
What is a good substitute for Maqui Berry Powder?
Acai powder is a great substitute. The taste and color of the two are almost identical so if you can't find Maqui powder, go with Acai!
What are the benefits of Maqui berries?
Maqui berries are great for general health and well-being. Maqui berries are said to be helpful for inflammation, weight loss, diabetes, heart disease, eye health, to increase energy, and other conditions. (This is not medical advice, always consult your doctor before changing your diet.)
Are Maqui Berries a superfood?
Yes. They're loaded with antioxidants, especially anthocyanins (which give these berries their deep purple color). Because of that, they can help with inflammation, aging, blood sugar levels, and all the other conditions mentioned above. This is why I would consider them a superfood.
Where to buy Maqui berry?
You can buy Maqui berries in powder or capsule form. I prefer the powder because it makes it easy to add it to your meals.
My favorite brands include Sunfood, Navitas, and Organic Traditions.
How do Maqui berries grow?
According to this article on Wikipedia, Maqui berries grow on the Maqui berry tree called Aristotelia Chilensis. Maqui, also known as Chilean wineberry is native to South America in the Valdivian temperate rainforest of Chile. The trees can reach 4 to 5 meters in height. A small number of them have been cultivated in gardens but most of the products you can buy are made from wild Maqui berries.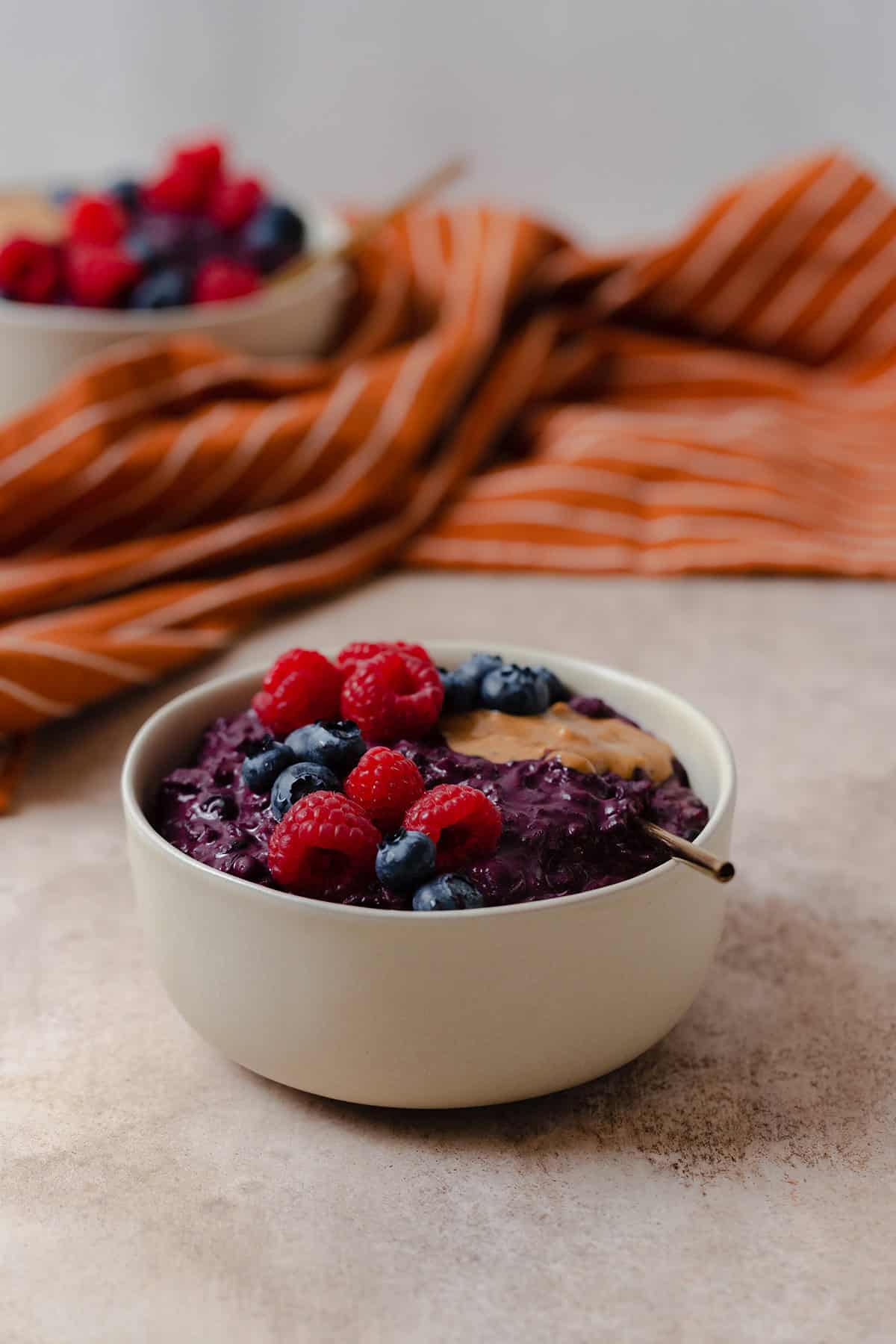 More oatmeal recipes:
Print
📖 Recipe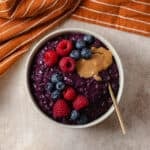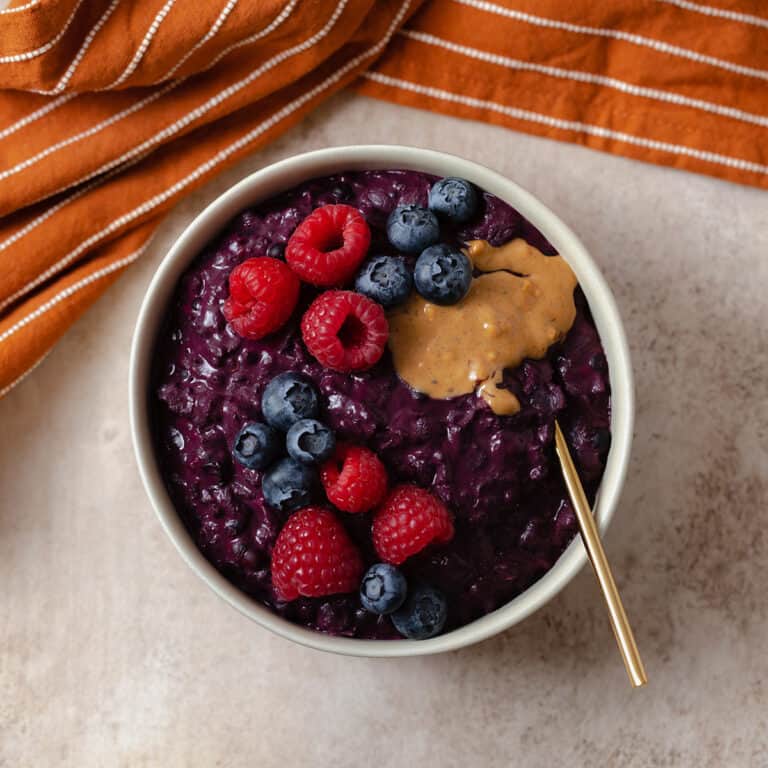 Maqui Berry Oatmeal with Wild Blueberries
Author:

Veronika | thehealthfulideas

Prep Time:

5 mins

Cook Time:

10 mins

Total Time:

15 minutes

Yield:

1

1

x

Category:

Breakfast

Method:

Cooking

Cuisine:

American

Diet:

Vegan
---
Description
Delicious creamy oatmeal with superfood Maqui Berry Powder.
---
½ cup plant-based milk (cashew, almond, coconut, or oat are great)
½ cup water (or more if needed)
½ cup rolled oats
¼ cup frozen raspberries (frozen melt into the oatmeal better than fresh but both are ok)
½ cup wild blueberries (fresh or frozen, or sub regular blueberries)
2 tsp maqui berry powder (add more or less to taste)
1 tsp cacao powder (optional)
---
Notes
If you don't have maqui, substitute it with acai.
Keywords: oatmeal, maqui, berry, breakfast, superfood