Well, to say this post is long overdue would honestly be an understatement. I initially wanted to post this salad recipe in January but then I didn't have the pictures ready so I put it off, then I couldn't get myself to write the actual post... Anywayyy, long story short — life happened, still is happening, and although my thoughts are still partly elsewhere, I decided to finally get myself to write this post.Yay!! (though it's 11:30PM right now and I'm super sleepy so I can't be held responsible what I talk about)
This French Lentil Broccoli Salad is totally incredible so I'm happy I finally pushed myself to publish it.
The combination of fresh mint, parsley, marjoram, and toasted hazelnuts is absolutely incredible! And when you add the feta cheese to it (if you're not vegan), it's even more amazing, I'm not even kidding.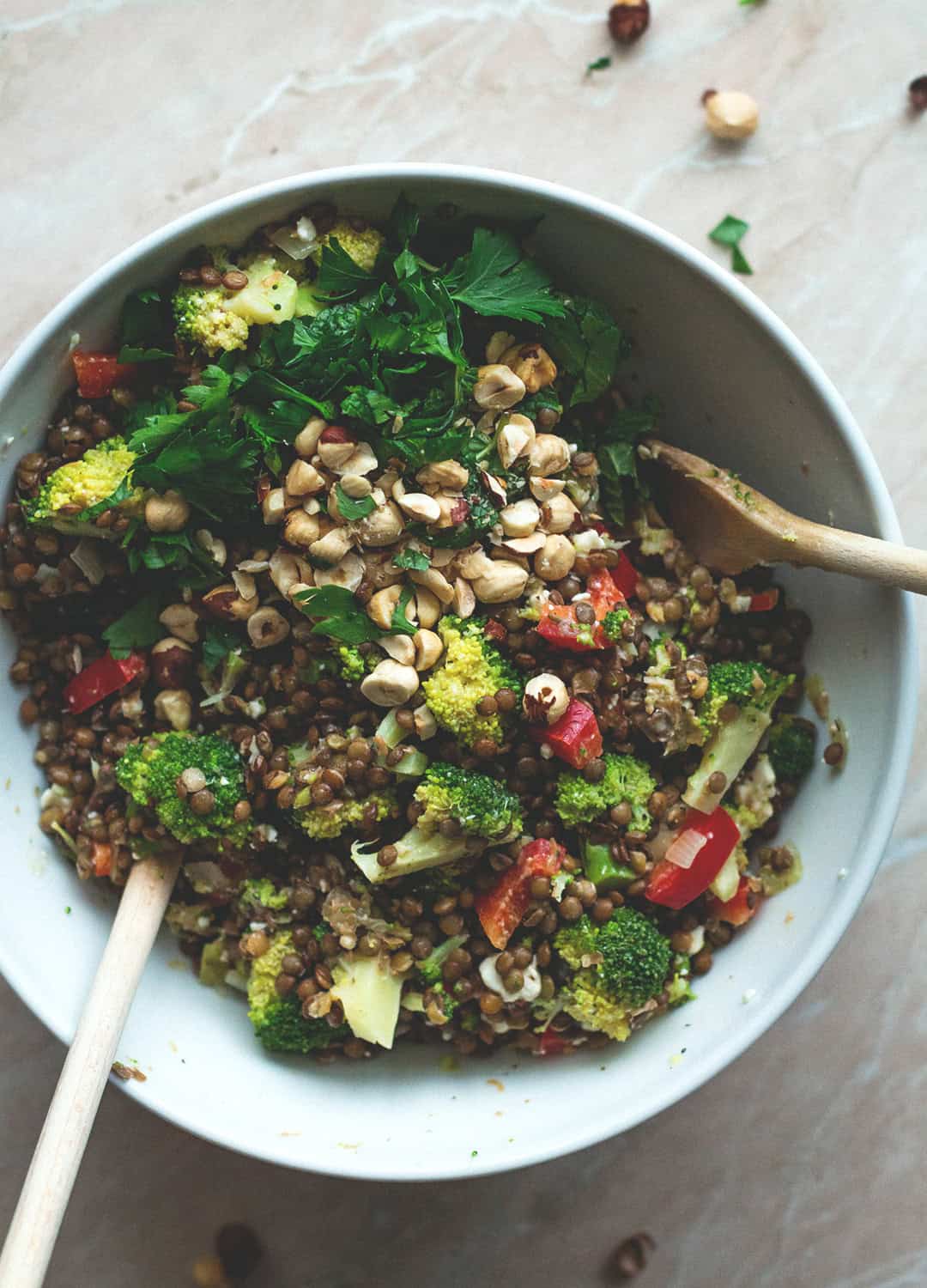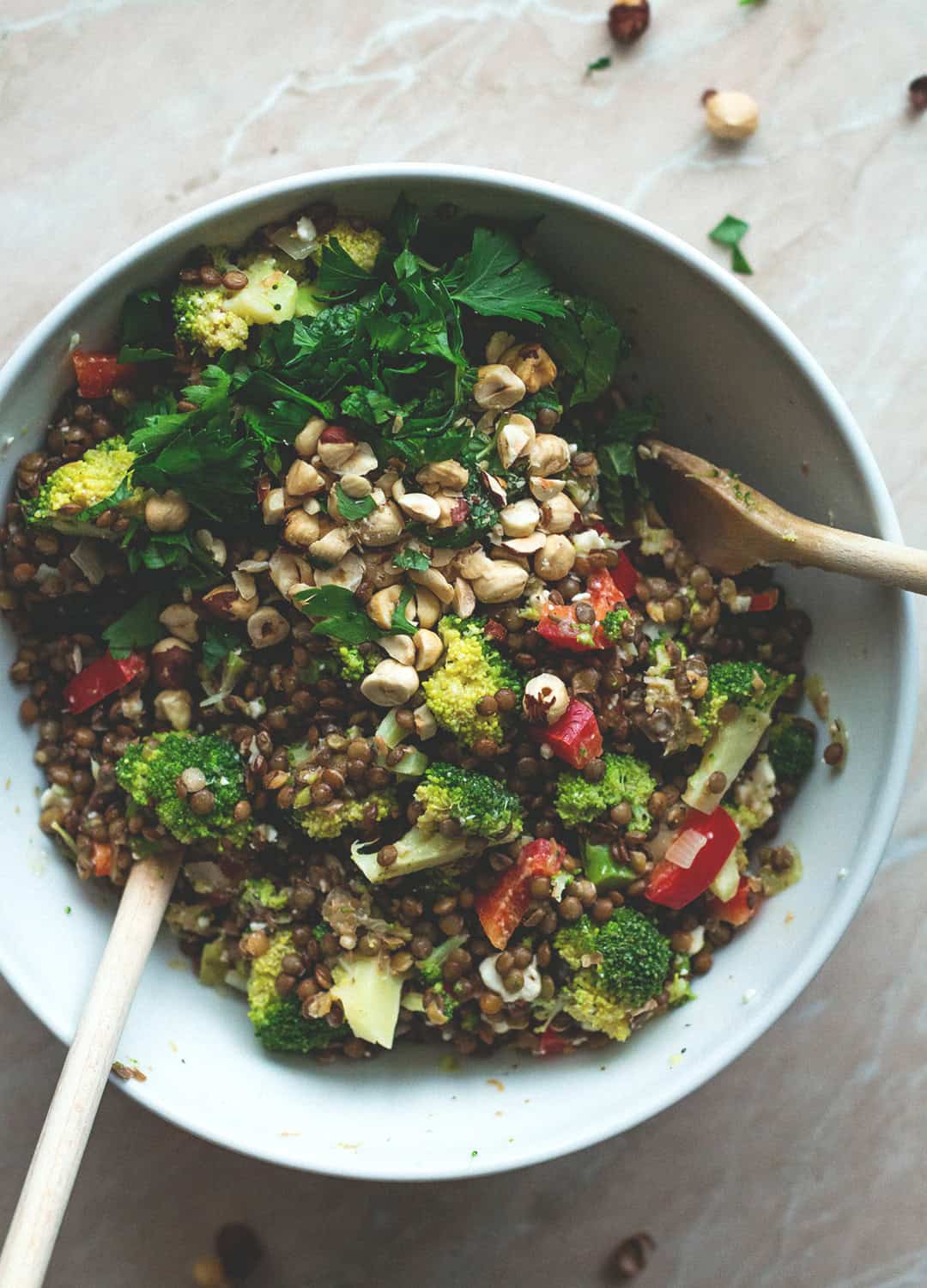 I was planning to talk about how amazing this French Lentil Broccoli Salad is but I also really want to talk to you about life and things. You know, the way you update your friend on what's new in your life. Yes, I consider you my friend. The only problem is I can't share with you the food I make as I would with real life friends. That kind of sucks but hey, at least I share with you how to make it.
On a different note, I posted a new video on Youtube!! You can check it out HERE. It's a quick and easy recipe for Tahini Chocolate Sauce which you absolutely need in your life.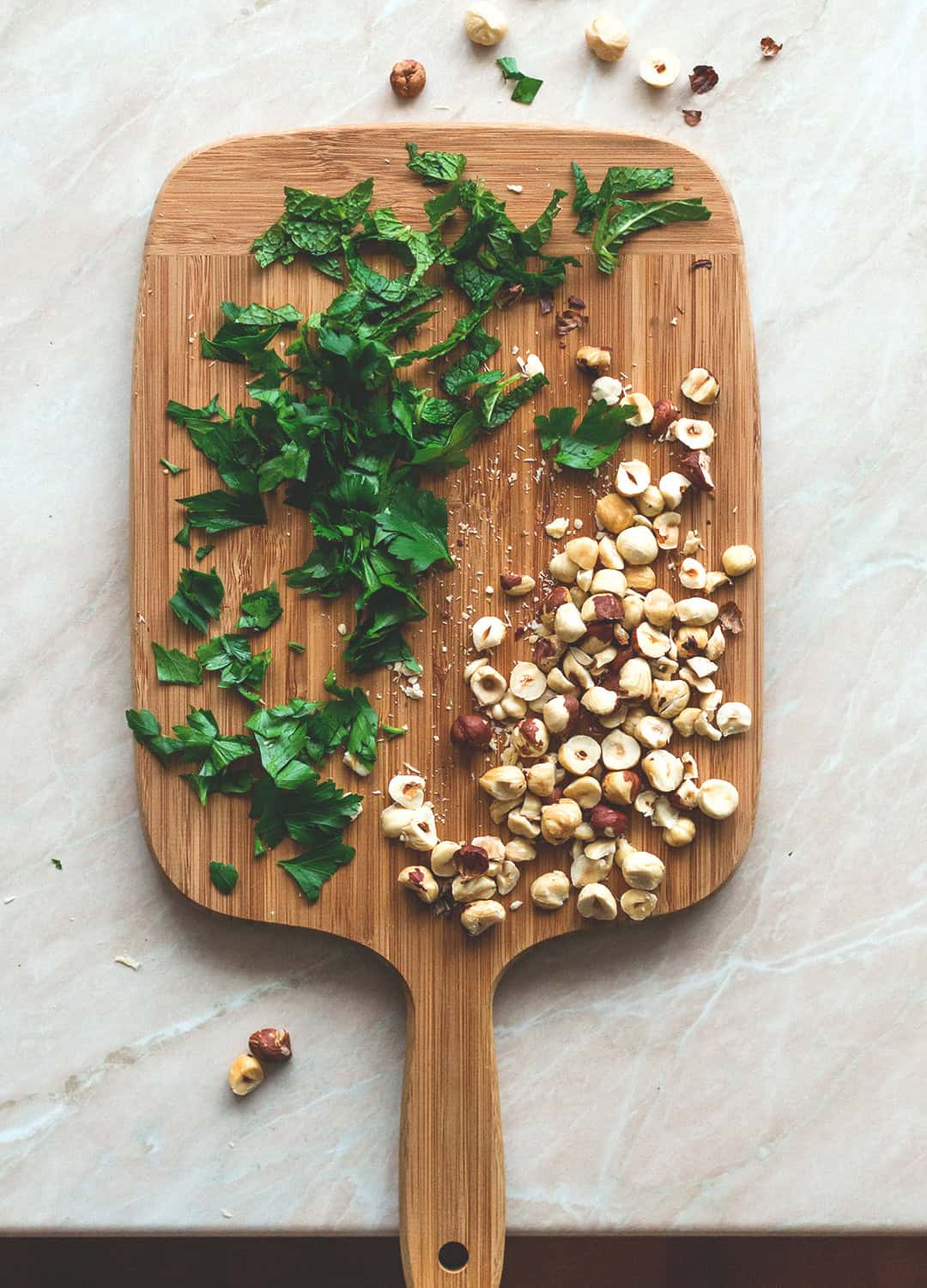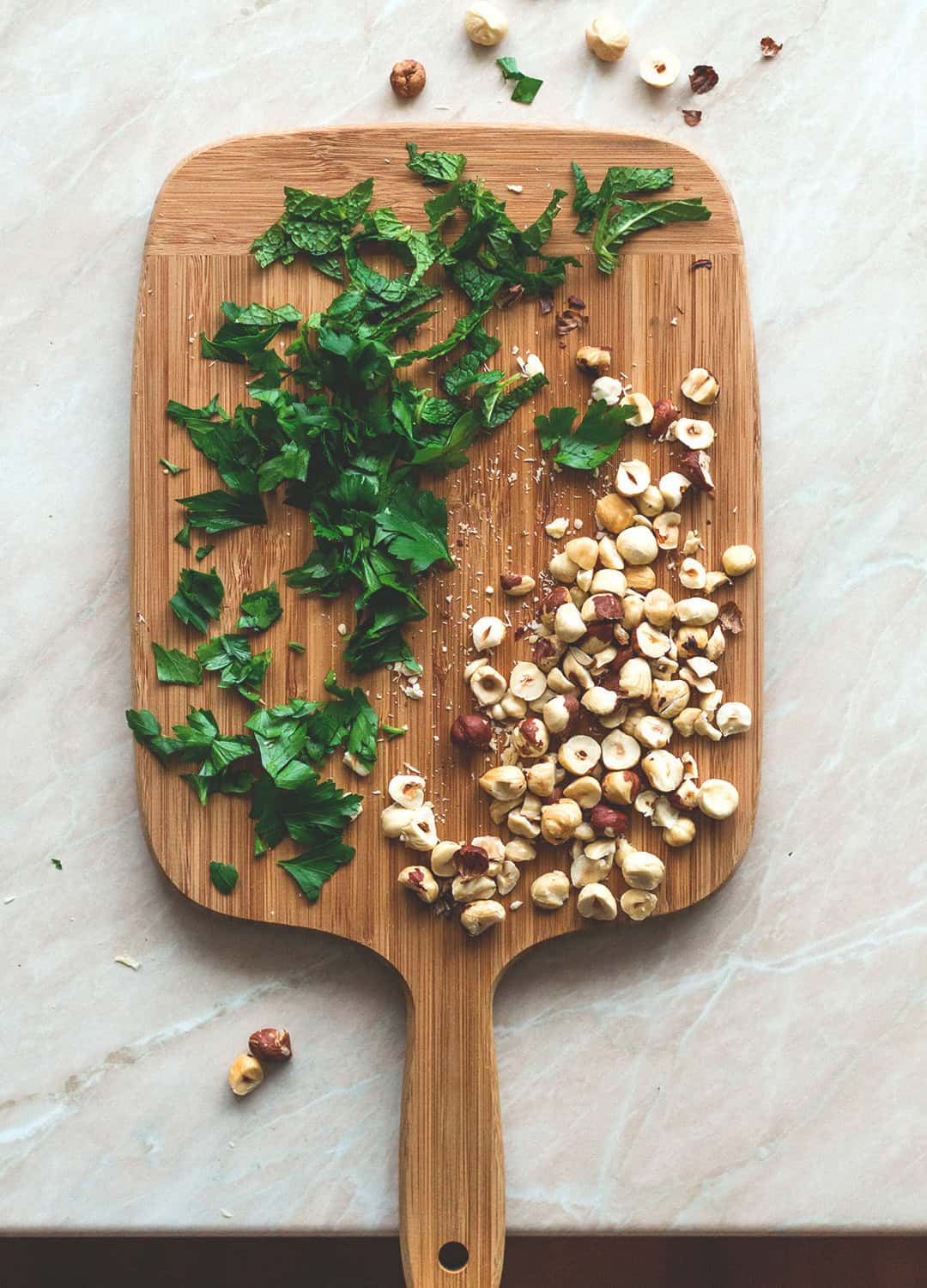 I've been in quite the rut lately, in all areas of my life. I have been desperately trying to get out of it but it just hit me hard and procrastination's been getting the best of my at times. I love blogging, I really do. I love coming up with recipes, I love taking the pictures, editing, them and then sharing both with you along with personal stories. It's such a joy, yet lately, I've been struggling to bring myself to do it. Why? Frankly, I have no idea. It may be a quarter life crisis, lack of creativity, or dare I say mild depression? (I'm not going to elaborate on the depression part, at least not right now. It's a controversial topic and I'll talk about it when I have more meaningful things to say)
I feel like my blog is lacking something but I don't know what it is yet. From the start, I wanted this space to be more than just recipes. I love sharing new, fun, and healthy recipes but I also I want to share my love for travel, my favorite restaurants in different cities of the world, reviews of natural cosmetic products, as well as to talk about nutrition and superfoods more (I still want to go to nutrition school, hopefully IIN). I'm going to sit down and figure out how to incorporate all this in a way you'd like and how to make the posts the most valuable to you. Basically, I want to transform The Healthful Ideas from a strictly recipe blog into a space where you go to find healthy plant-based recipes and valuable information about anything related to the topic. My message from the beginning has been sharing my weight loss journey and knowledge of healthy eating with others to help them reclaim their health and become the best version of themselves. I lost my way somewhere between homemade chocolate and creamy oatmeal but I'm back on track, ready to focus on what's important and take my blog to the next level.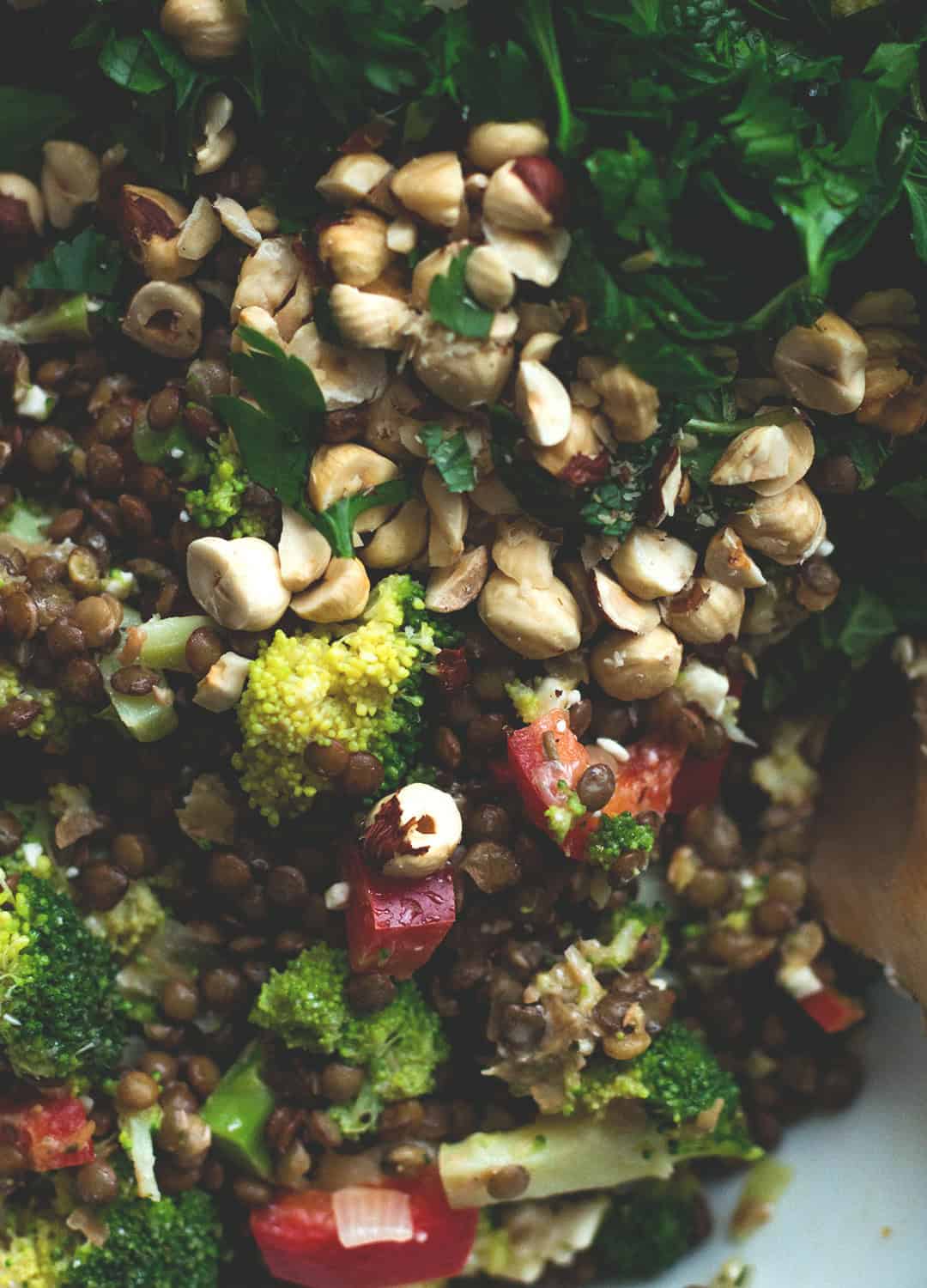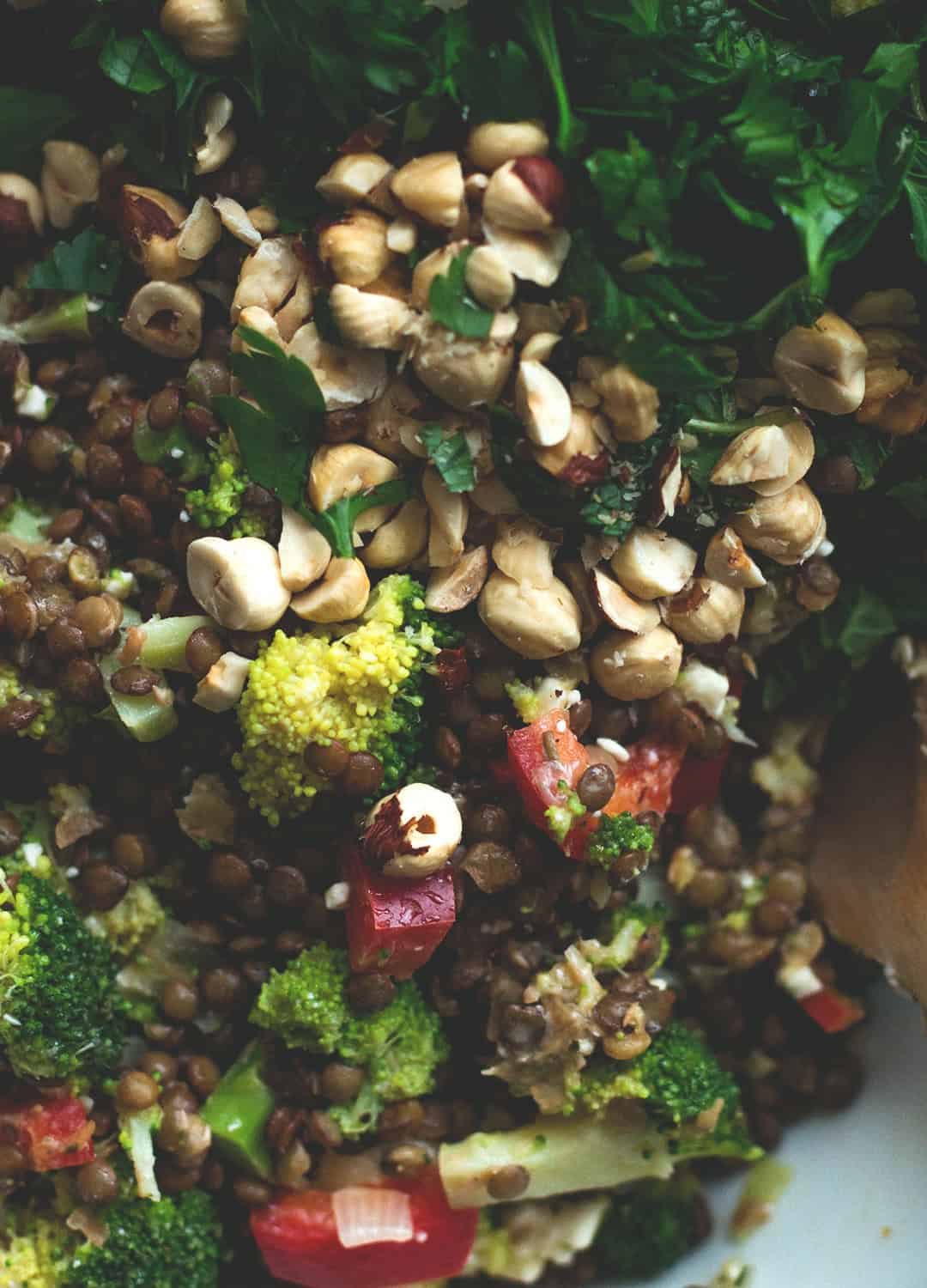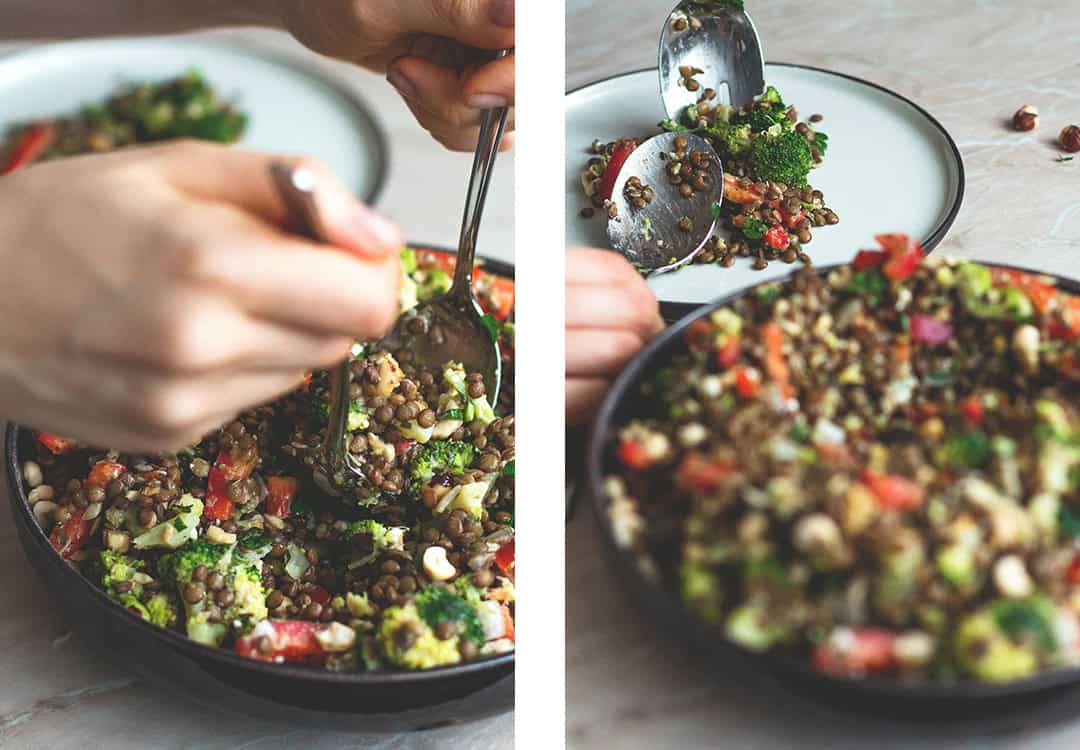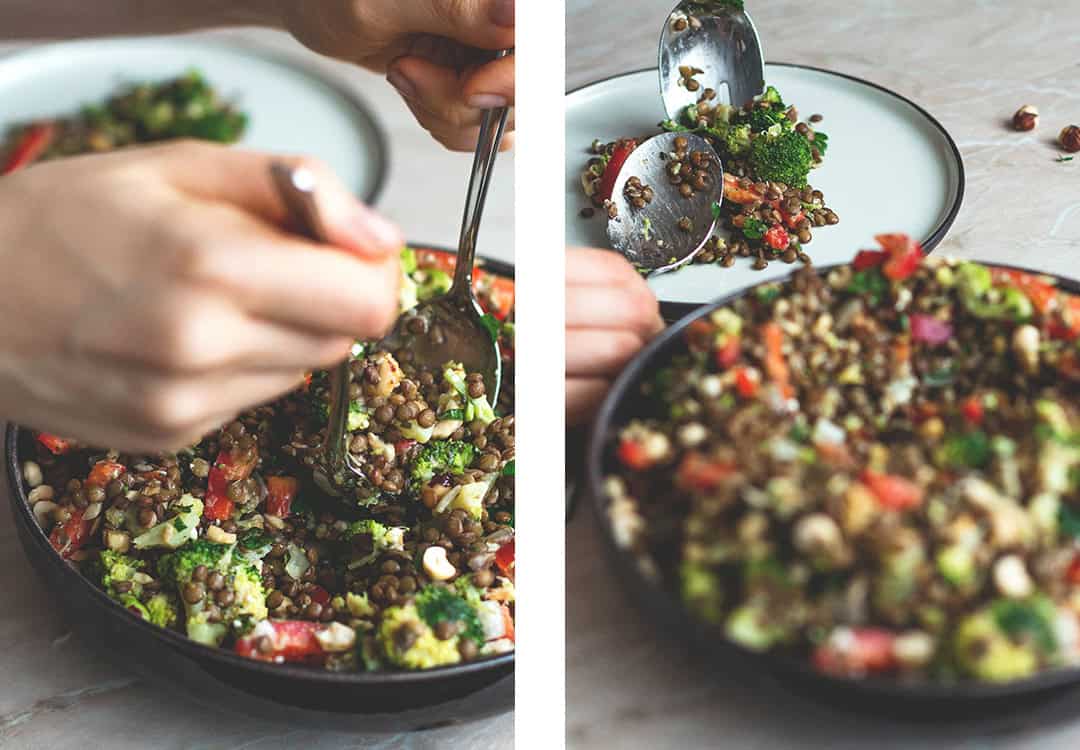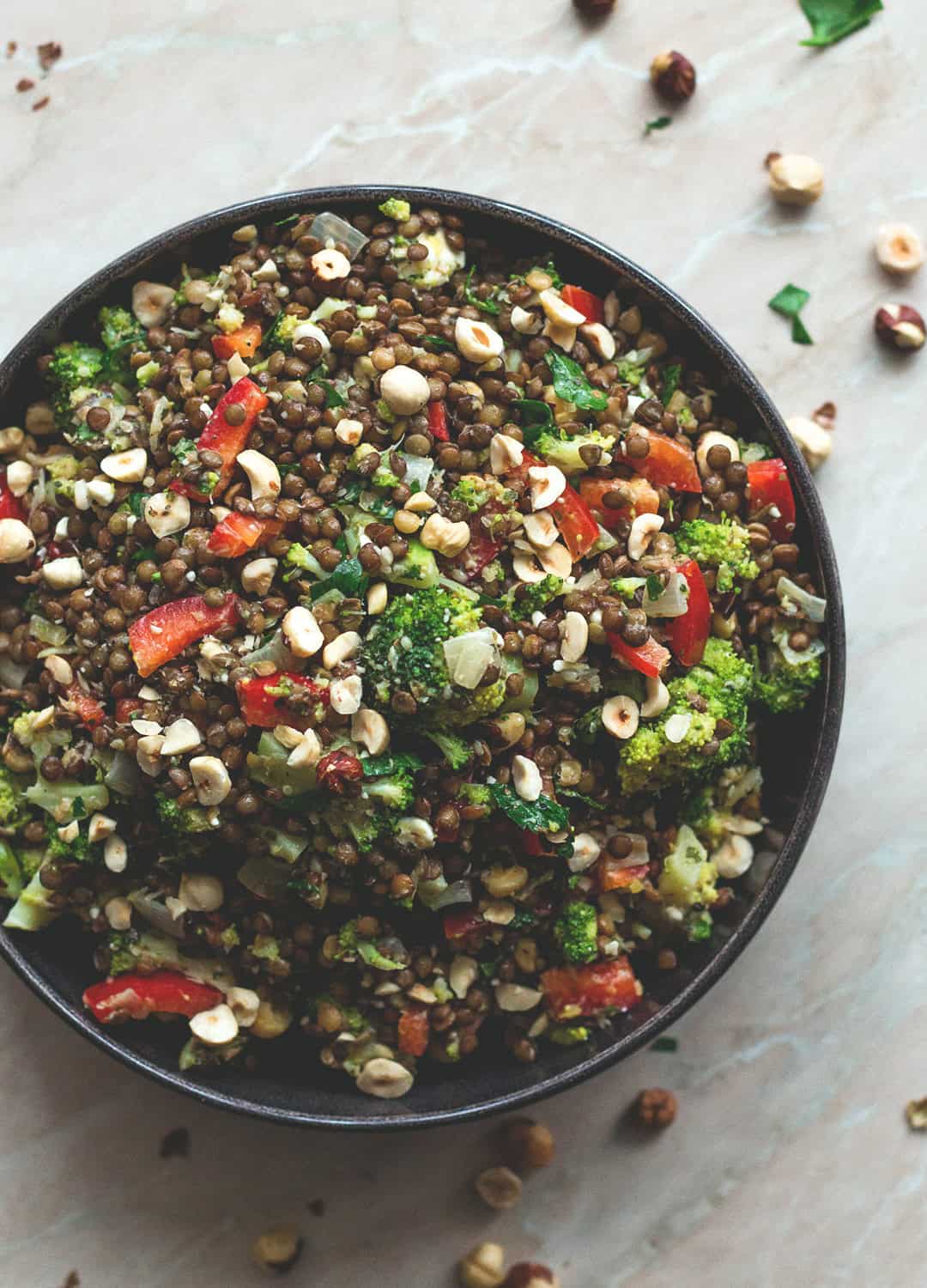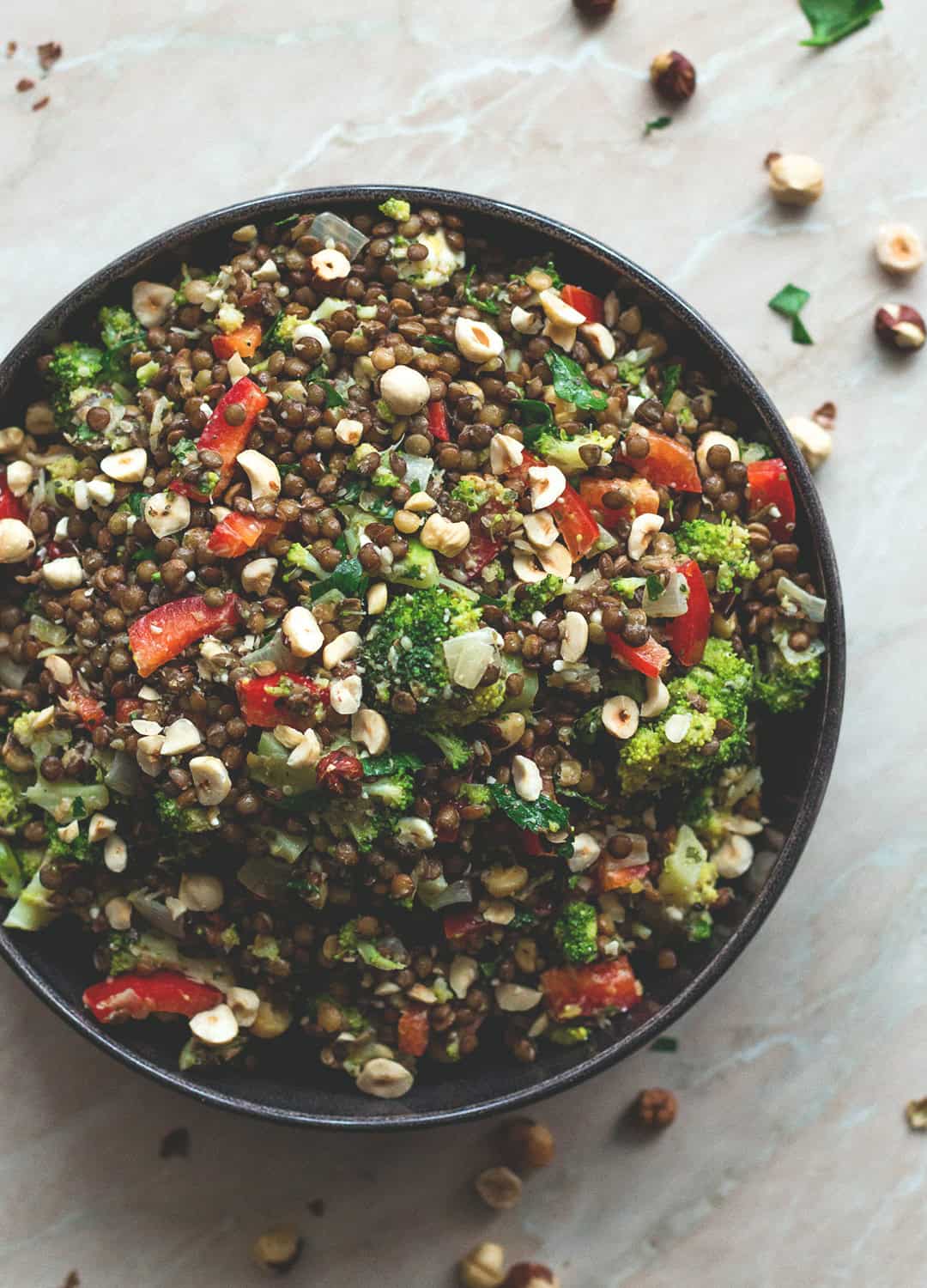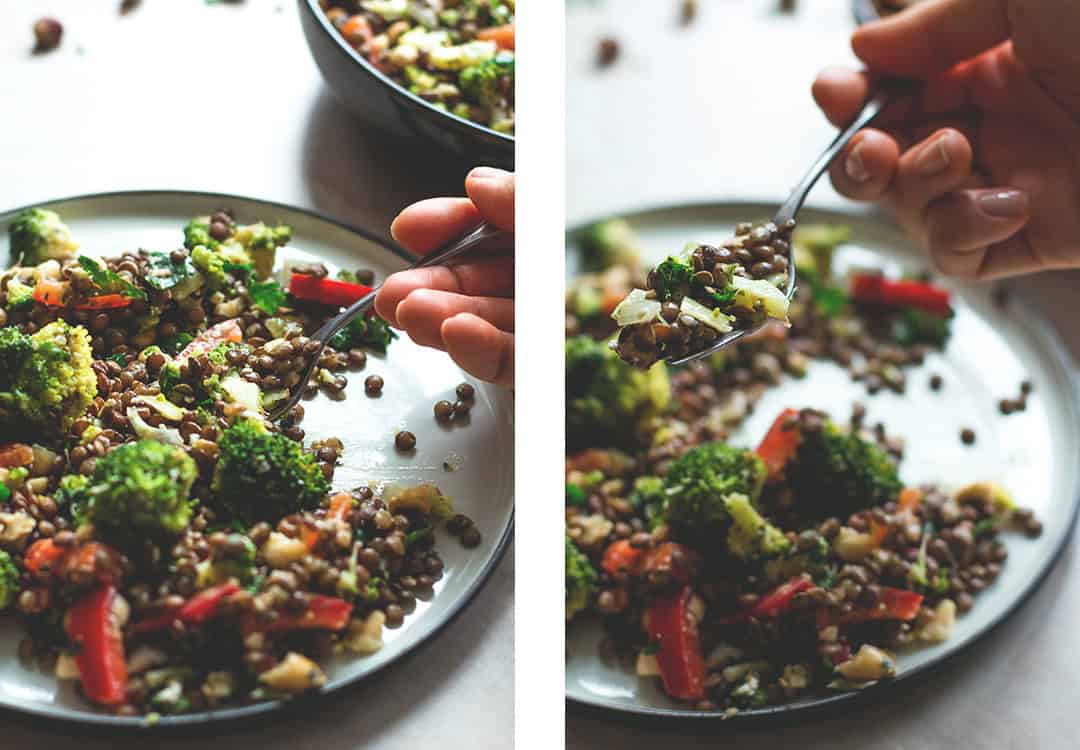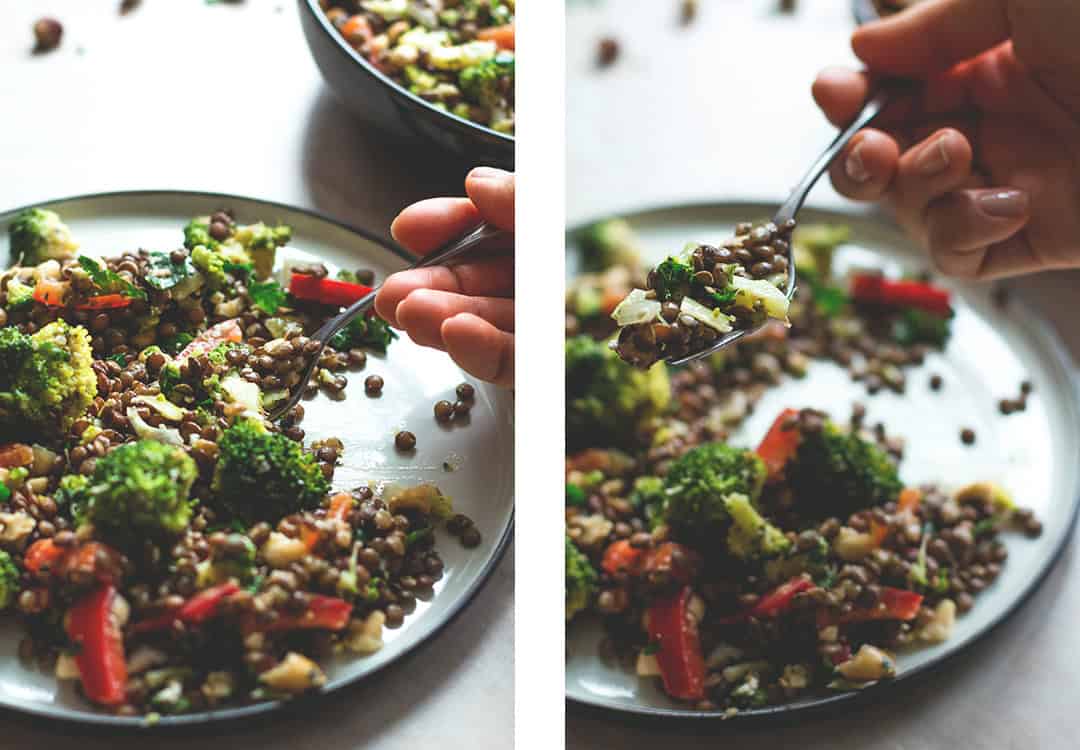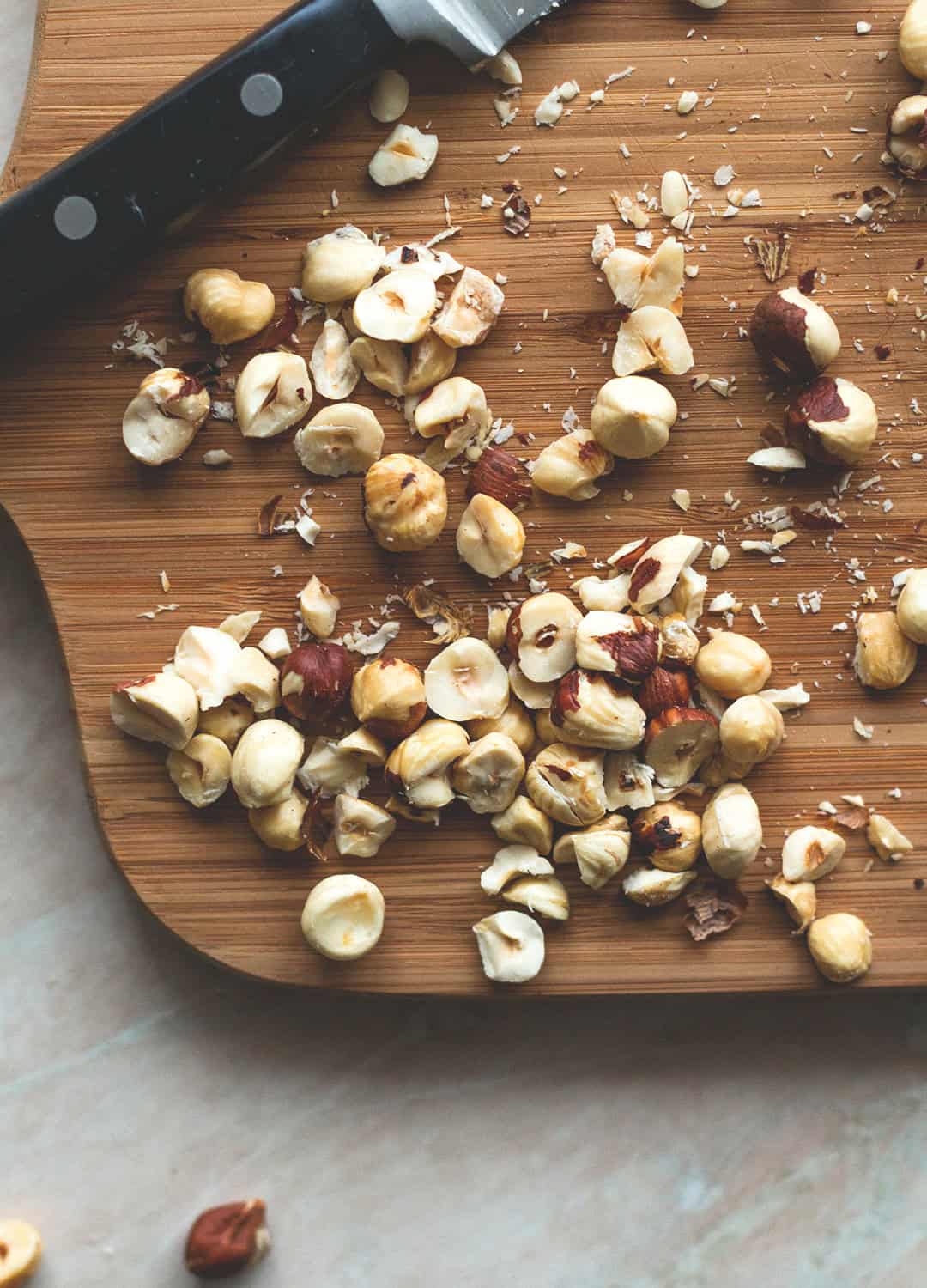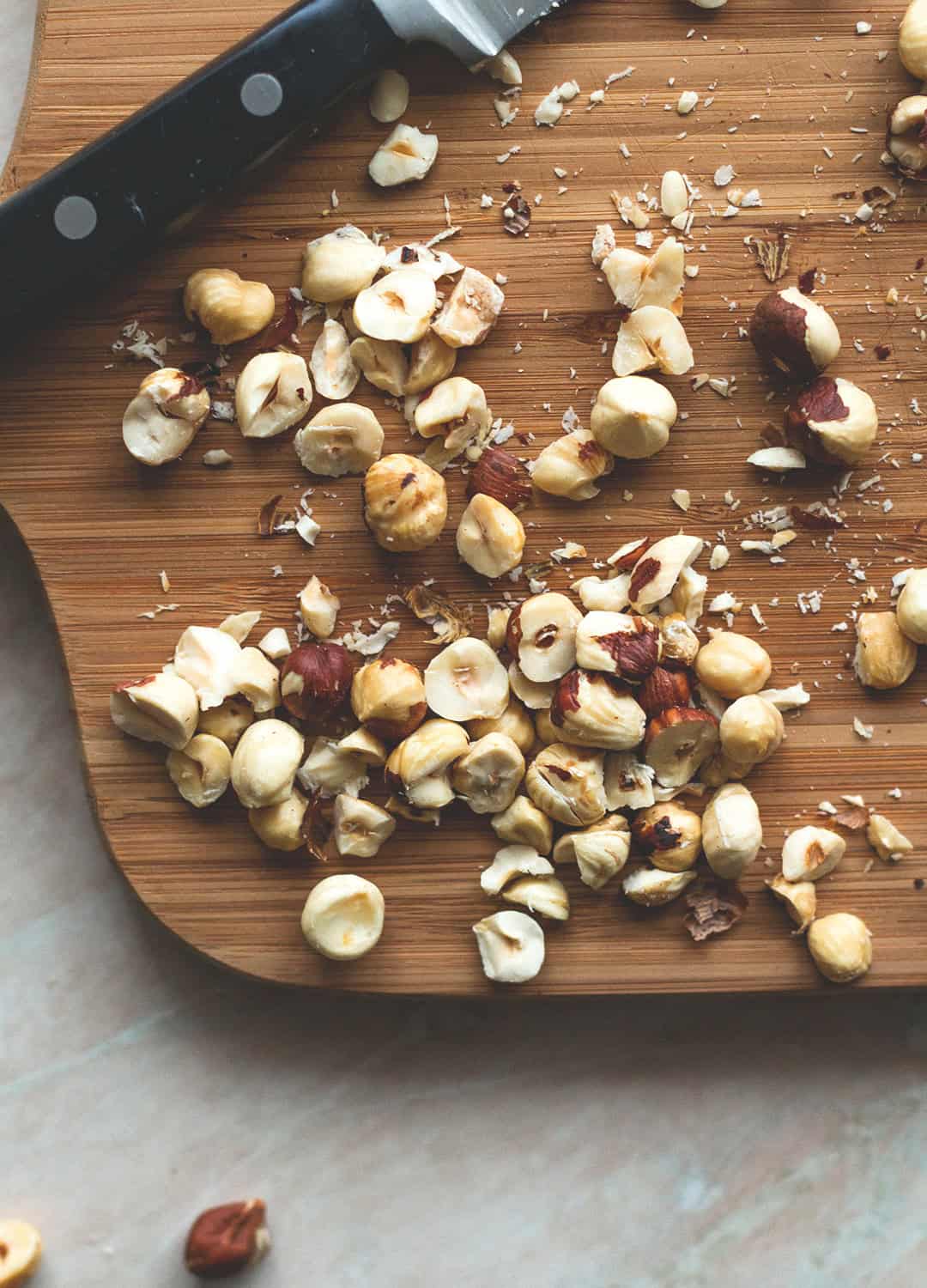 Print
📖 Recipe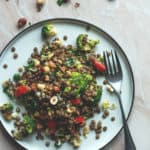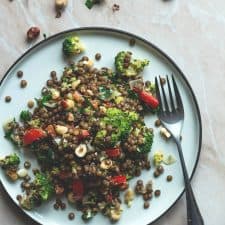 French Lentil Broccoli Salad with Toasted Hazelnuts
Author:

The Healthful Ideas

Prep Time:

2 hours

Cook Time:

30 mins

Total Time:

2 hours 30 mins

Yield:

2

-4

1

x

Category:

Salad
---
½ cup

hazelnuts

1 cup

dry french (du puy) lentils, soaked for 2 hours prior to cooking

1

broccoli, cut into florets/bite-sized pieces (about

3 cups

)

1 tsp

coconut oil

1

shallot, chopped (finely chopped or sliced, depends on your preference)

1

red bell pepper, diced

½ cup

crumbled feta (optional, skip to keep it vegan)

3 tbsp

chopped fresh parsley

3 tbsp

chopped fresh mint

3 tsp

dried marjoram (or

2

-

3

tablespoon fresh but I only had dried)
DRESSING:
5 tbsp

extra virgin olive oil

2 tbsp

maple syrup

4 tsp

apple cider vinegar
sea salt and pepper to taste
---
Instructions
Preheat your oven to 170C (325F). Toast the hazelnuts in the oven for 10 minutes. Let cool down and using a paper towel, rub off as much skin off the hazelnuts as you can. Set aside.
In a medium pot, bring the lentils to a boil and cook for 15-25 minutes until tender. Drain and pour into a big mixing bowl.
While that's cooking, steam the broccoli for 10 minutes or until tender. Add the broccoli to the lentils and set aside.
Heat the coconut oil in a small pan and sautée the shallot for 5-7 minutes or until glossy and starting to get brown. Add it to the bowl along with the chopped bell pepper, feta (if using), parsley, mint, and marjoram. Season with salt and pepper and toss to mix everything. Roughly chop some of the hazelnuts and add 3-4 tablespoon to the salad.
Drizzle with the dressing, toss again and serve sprinkled with more hazelnuts or herbs if desired.
Store in the fridge in an airtight container for 2-4 days (it'll probably stay fresh longer if you're not using the feta).
---