Crunchy Chickpeas!
Savory spiced-to-perfection crunchy chickpeas. Doesn't that sound like the best thing ever? Okay, chocolate might be the best snack ever, but these are really close to perfection too.
I do like snacks and I know you do too. (I mean, who doesn't like munching on delicious food?!)
BUT when you're extremely "hangry" (hungry + angry, duh) it's challenging to chose the RIGHT snacks that are good for you. I know I'm guilty of eating something that's bad for me when in an emergency (sort of—more like when I'm too lazy to make anything fancy).
The good news is, crunchy chickpeas are here to save the day! They're full of protein and they'll keep you energized for a busy day! I like to make a bigger batch of these and keep them in an airtight container in case of an emergency laziness. It's a fancy snack you can serve at a party but not so fancy that you spend all day making it and cleaning up afterward (nobody likes that, obviously).
There are so many ways to season these, you guys! I like them savory, but feel free to make a sweet version if you like, it's entirely up to you!
Herbs, cumin, cayenne, garlic, and onion powders are usually my go to spices.
And as a bonus, when you make yourself a bowl of salad, no need for croutons anymore! Just sprinkle some crunchy chickpeas on top! Not only does it add the crunchiness croutons do, but you also get the protein so you can skip the eggs, chicken, etc.! That's pretty convenient if you ask me! :)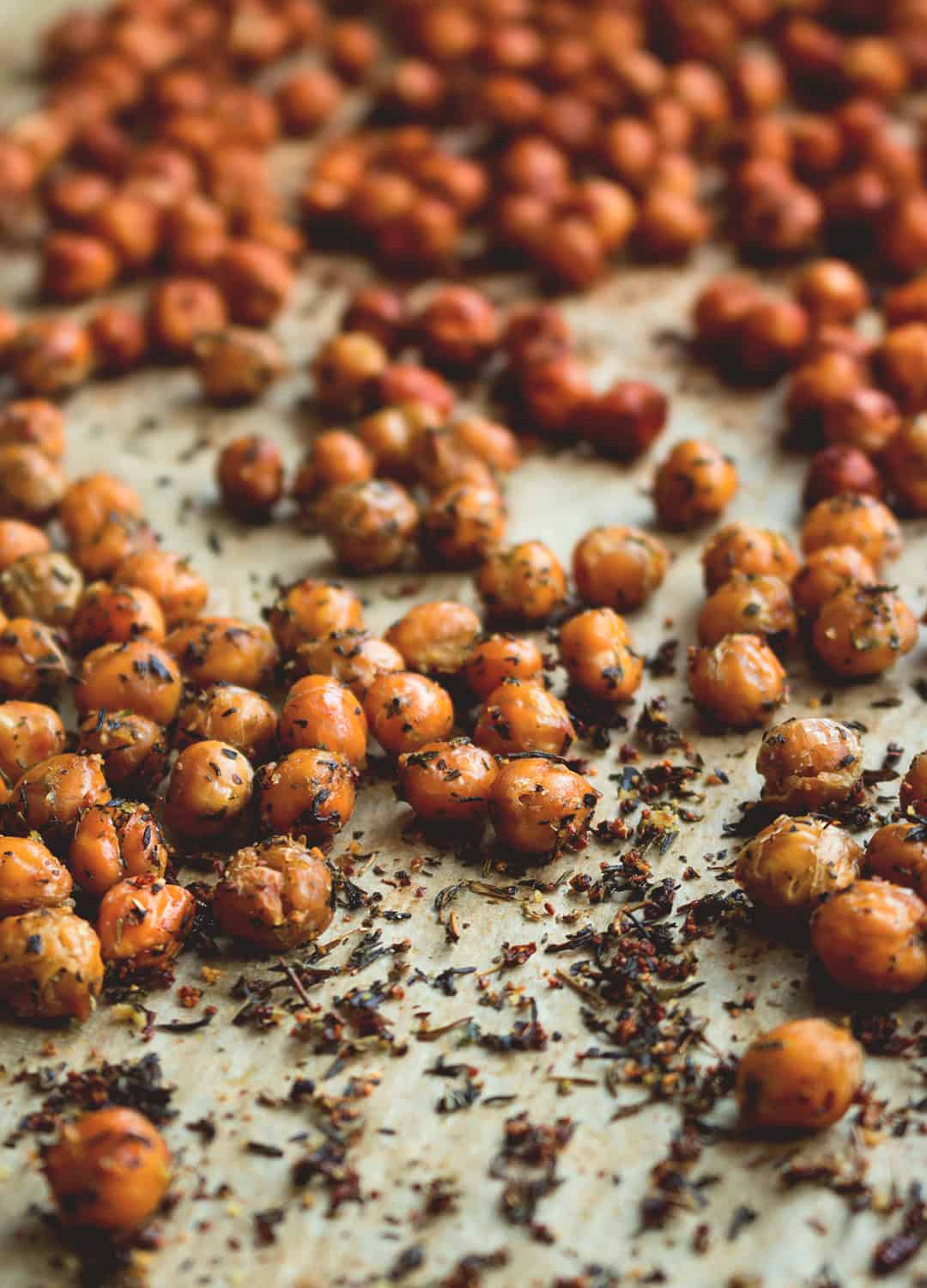 I know that when you're hungry and looking for a snack, you want something that's quickly done. These might not seem like an easy-to-make snack, but they are! The truth is, if you wanna be healthy, you have to put some effort into it. Open-a-package-food isn't your healthiest option. The healthiest option is something you cook yourself at home. That being said, you definitely don't have to soak and cook the chickpeas for this to be healthy. I like to use canned cooked chickpeas because it's convenient and because I'm a lazy person who doesn't think about a snack 5 hours before eating it. Make sure to look for cans that contain only the chickpeas and water. Some also include sea salt which is also fine — you don't have to add salt to the seasoning since they're already salty. Stay away from table salt, though!
To make these, you only need canned chickpeas and seasoning of choice. That's it.
First you drain and rinse the chickpeas.
Pat them dry a little with a paper towel and put in a bowl.
Add the seasoning you're in the mood for and mix.
Spread the coated chickpeas on a baking tray lined with parchment paper and bake till crispy!
That's it. You only have one bowl to clean and the chickpeas are done in no time! (okay, it takes 35-40 minutes for them to get crispy, but it's worth it! you can whip up a delicious salad while you wait)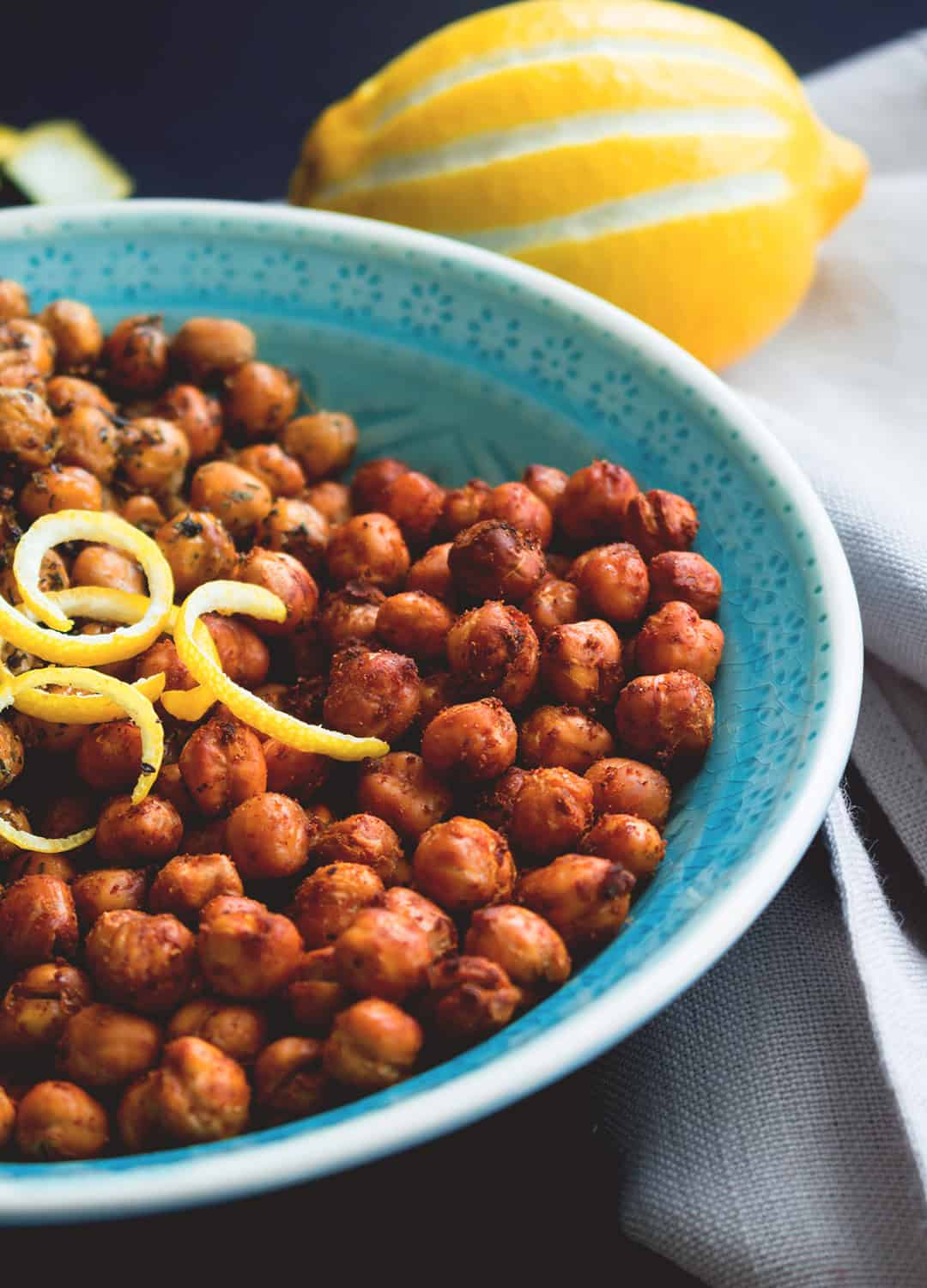 As I said, I like to make a bigger batch of these so I can snack on the for a few days, but keep in mind they don't stay crispy for more than two days. However, that doesn't mean they aren't still delicious the following days! They're not soggy, chewy or anything like that, they're just not so crispy. They're so good I don't really mind whether they're crispy or not.
Make sure to let me know either here or on any social media if you make them! Happy snacking! :)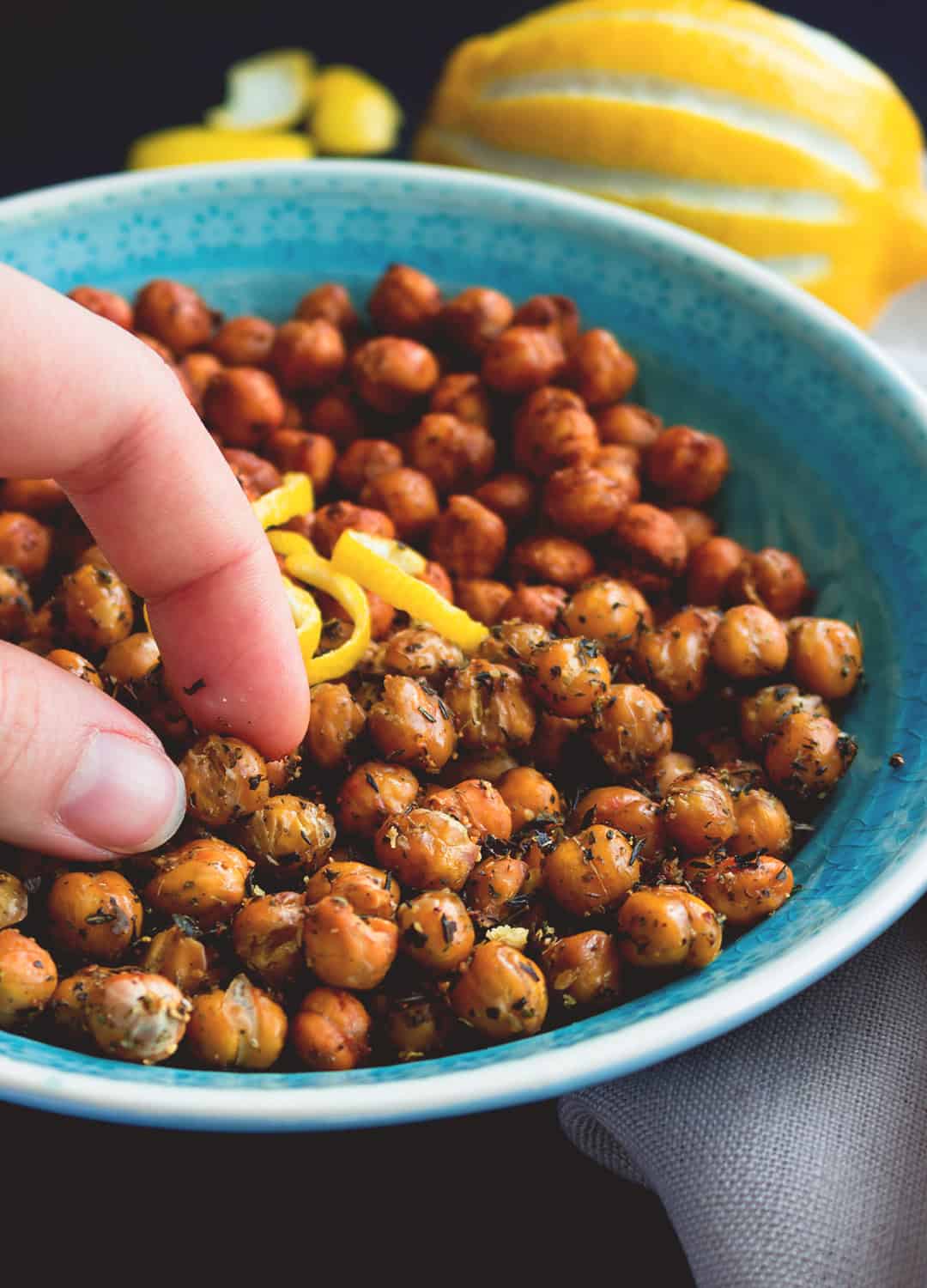 Print
📖 Recipe Crunchy Chickpeas 2 Ways — Spicy with Paprika and Herbs & Lemon Peel
---
2

cans of chickpeas, drained and rinsed (keep them divided
SPICY PAPRIKA CHICKPEAS:
1 ½ tsp

paprika

½ tsp

cumin powder

¼

-

½

teaspoon cayenne powder*

¼ tsp

garlic powder

¼ tsp

onion powder

¼ tsp

sea salt
pepper to taste (optional)*
WITH HERBS AND LEMON PEEL:
½ tsp

garlic powder

1 tsp

mixed herbs (rosemary, thyme, basil, oregano, parsley - any type of mixed herbs seasoning you have that's without any salt)

1 tsp

thyme

½ tsp

dried rosemary

½ tsp

dried basil

½ tsp

dried parsley

1

lemon, wax-free (

2 tsp

lemon peel)
---
Instructions
Preheat your oven to 200C (400F).
After you rinse the chickpeas, pat them dry a little with a paper towel and put them into two separate bowls.
SPICY PAPRIKA CHICKPEAS:
Add all the seasoning into a small bowl and mix together with a spoon to combine.
Sprinkle the seasoning onto the chickpeas in one of the bowls and mix with a spoon until well coated.
HERBS AND LEMON PEEL CHICKPEAS:
Wash your lemon thoroughly and grate the peel using a fine grater.
Add 2 teaspoon of the lemon peel into a small bowl along with the rest of the seasoning and mix well with a spoon.
Sprinkle the seasoning in the other bowl with chickpeas and mix well so that they're all well coated.
Prepare a baking sheet lined with baking paper and spread all the chickpeas onto the paper.
Bake for 35-40 minutes or until golden and crunchy.
Keep an eye on them and stir every ten minutes or so, so they cook evenly and don't burn.
Take them out of the oven and let them cool for a couple minutes before serving.
Store them in an airtight container in the fridge for a week.
---
Notes
* Depending on how much you enjoy the heat. I went for a little over ¼ teaspoon and it was just enough for me as I don't like when food is too hot.
* I add pepper to everything but you can totally skip it since there is already heat from the cayenne. I didn't measure anything, I just sprinkled on some freshly cracked black pepper.