If there's one thing you should know about me is that breakfast food is my absolute favorite<3 I could literally eat it all day long! Pancakes, oatmeal, smoothies, parfaits, you name it. By the way, yes, I do like savory breakfasts too but it's safe to say sweet breakfasts have my heart. This one in particular, is my fave. It's a chocolate chia parfait with strawberry jam and cashew cream and it's ABSOLUTELY delicious — like oh-my-god-I-can't-believe-it's-this-good delicious. AND it's 100% good for you. I'm all for breakfasts that look like desserts while they're in fact healthy and really nutritious. Winning!
I'm all for breakfasts that look like desserts while they're in fact healthy and really nutritious. Winning! And in case you're thinking "but come on, it has to be sweetened with something and the cashews are full of calories, etc.", like,  okayyy, I may have sweetened it with a bit of maple syrup and it may be very calorie dense BUT a little bit of maple syrup never killed anyone, right? When I say I could eat this every day, it doesn't mean I actually do — it's a treat! And lastly, who counts calories these days anymore?? I count blessings<3 I know, so cheesy.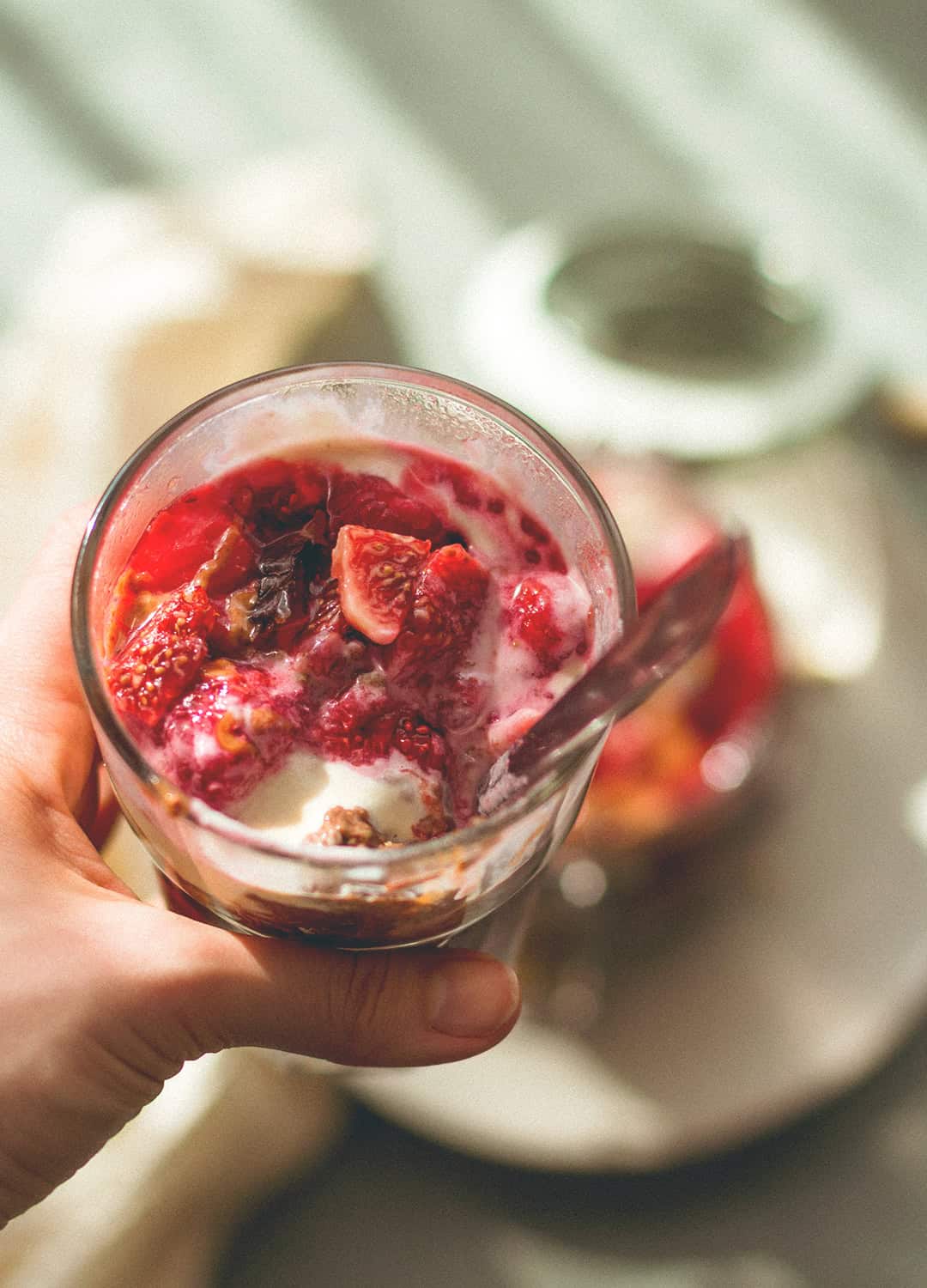 I've been home with a flu the last couple of days so I've been trying to steer clear of anything with sugar because bacteria and viruses feed on that. Yes, that includes even maple syrup, coconut sugar, dried fruit, and even too much fresh fruit (I don't ever eat the white stuff). Sooo you probably get my frustration when I look at these pictures because for the last few days I've been using Luo Han Guo Sweet Fruit drops as my main sweetener and it hasn't been the best. I like it more than stevia (I personally hate stevia) but it's no coconut sugar. I say I've been
I say I've been trying not to eat sugar because I failed at my attempts a few times (shhhh). I got my vegetables & fruits & other groceries delivery an hour ago and I totally forgot I ordered roasted hazelnut butter but I was so happy I did. Needless to say, I immediately mixed some with raw cacao powder and coconut sugar to make "nutella" and spread it on a piece of toasted buckwheat bread. I may or may not have eaten more straight from the jar with a spoon after that... All that being said, I'm actually really craving a green juice right now. Like full on hardcore green juice. Parsley, cilantro, kale, spinach, celery, and lemon. What I would do to be able to transport myself to New York right now to be able to buy a green juice from my beloved Juice Press.
What are you craving? I bet it's this chocolate chia parfait because these pictures are making me crave it too and I have to brace myself not to run to the kitchen right now.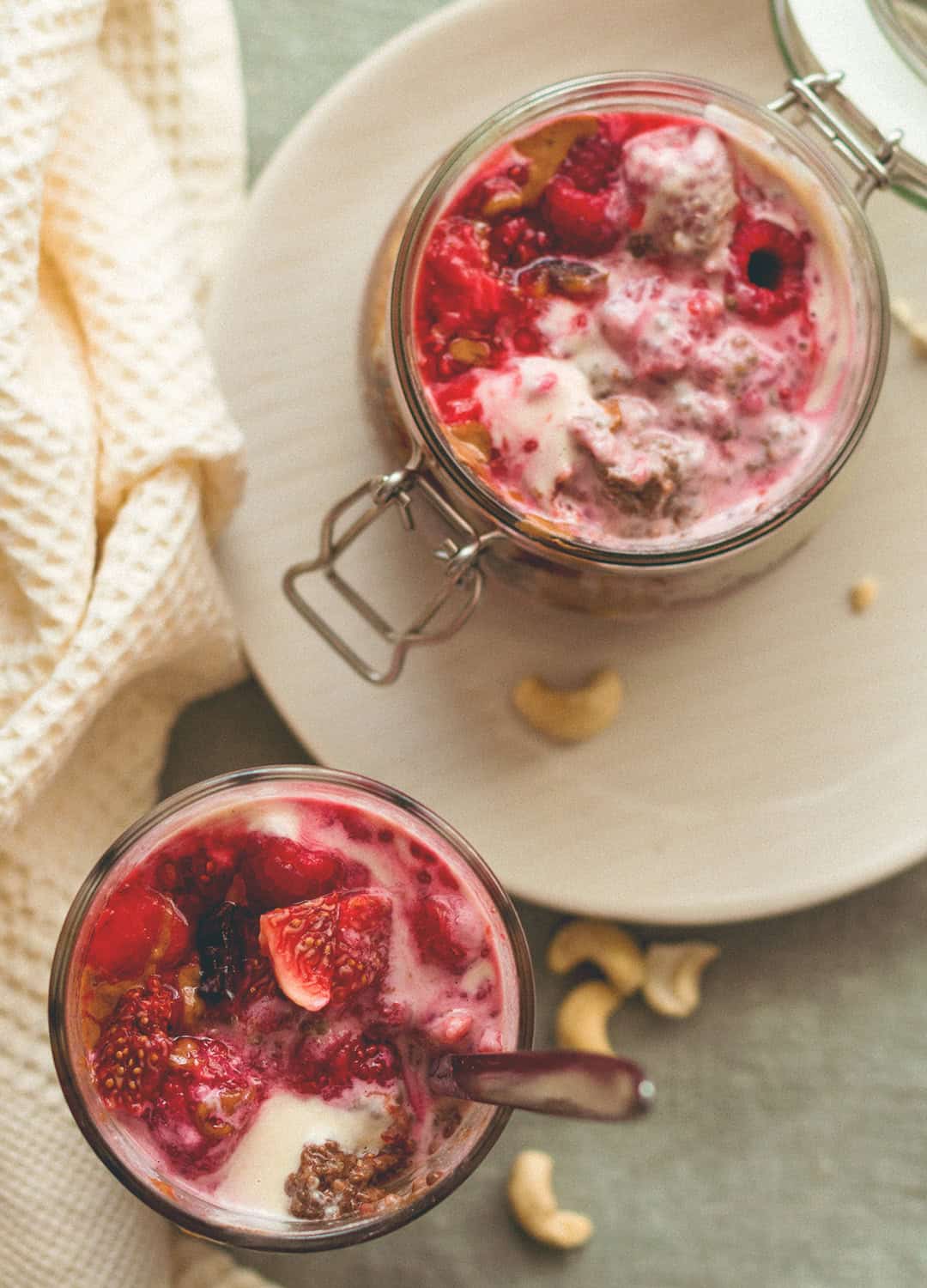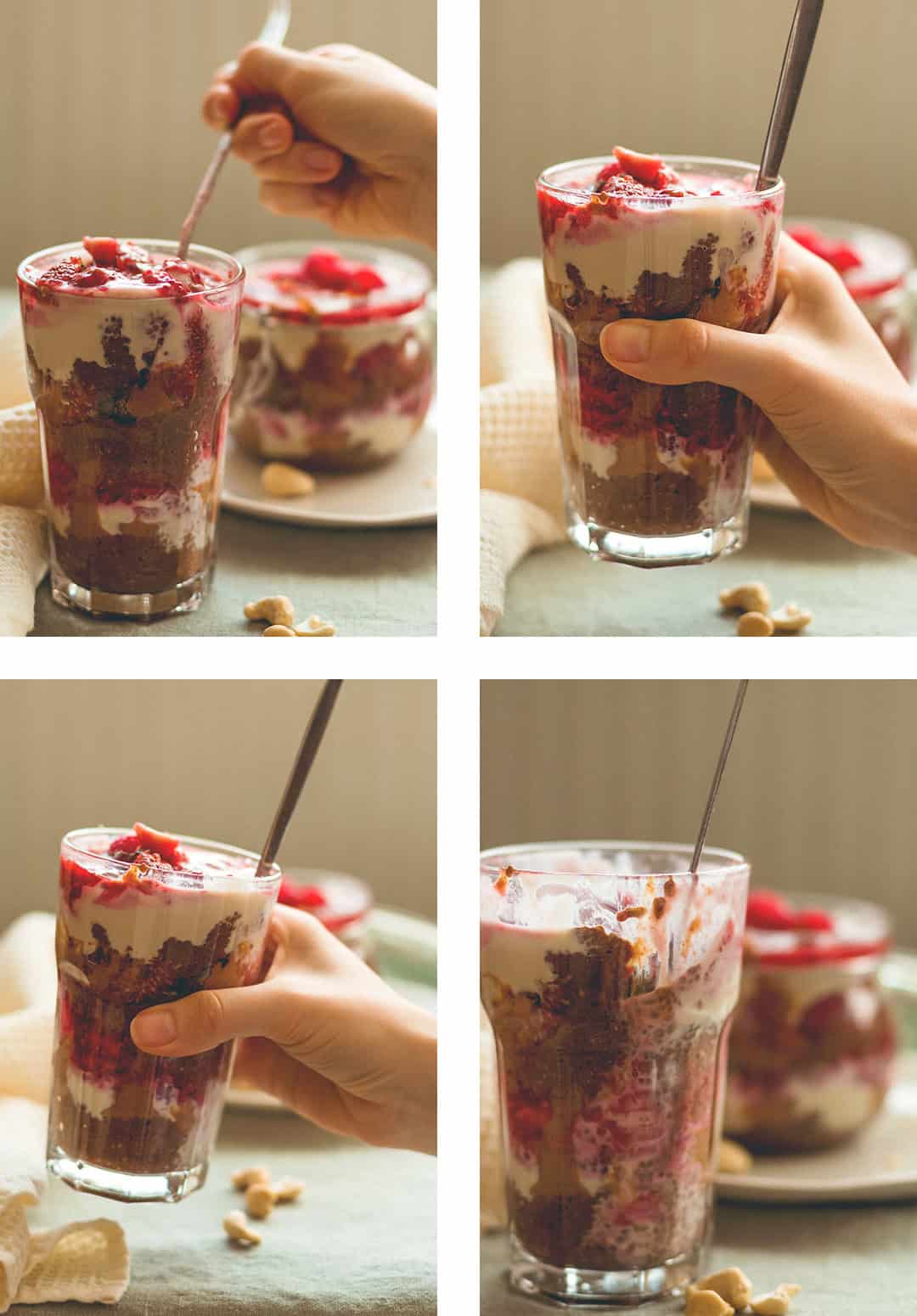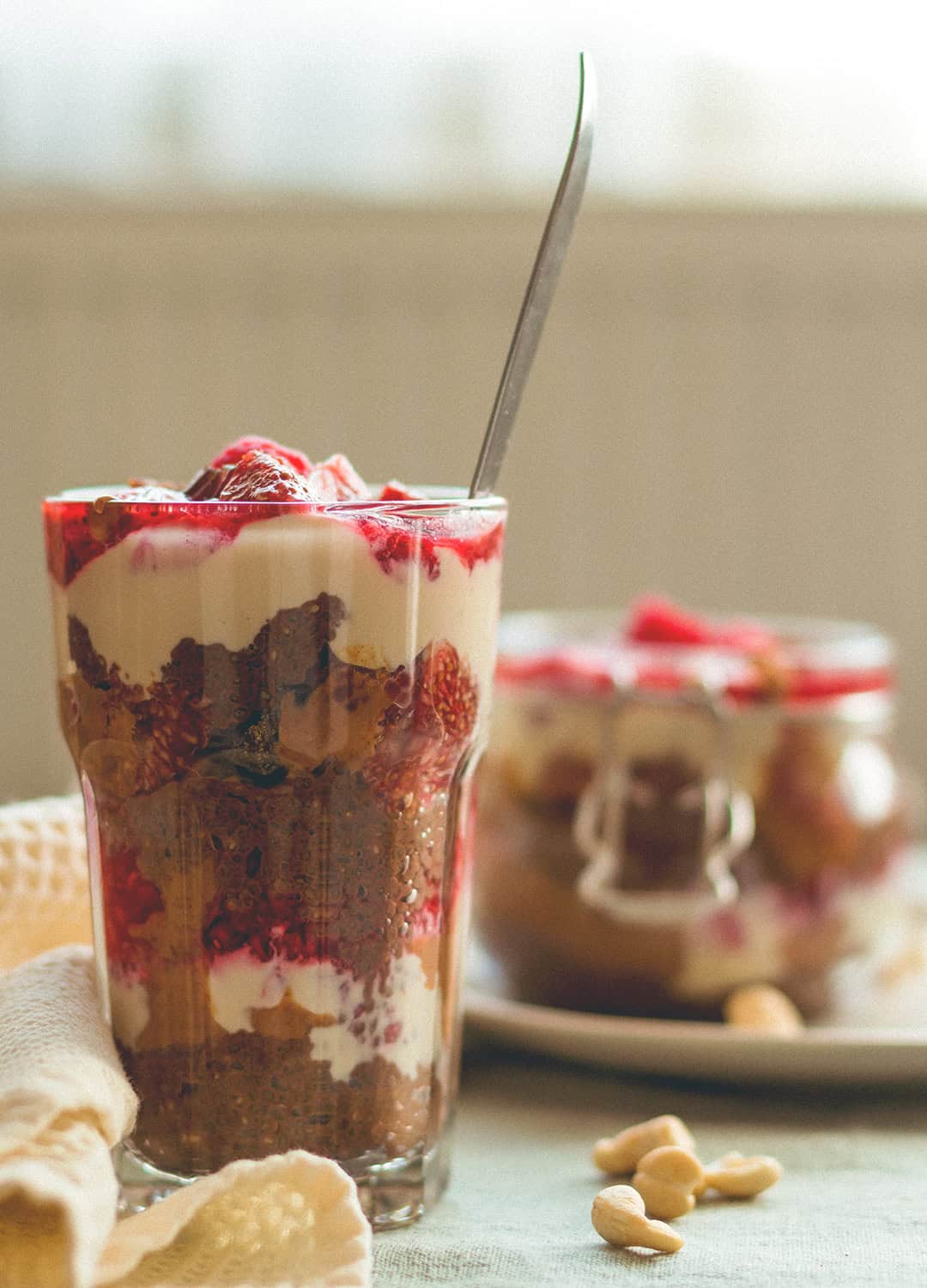 Print
📖 Recipe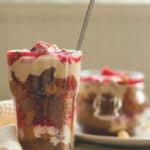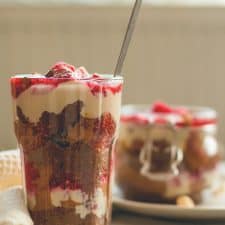 Chocolate Chia Parfait with Cashew Cream
Author:

The Healthful Ideas

Prep Time:

35 mins

Cook Time:

5 mins

Total Time:

40 mins

Yield:

2

-3

1

x

Category:

Breakfast
---
Description
It's best to prepare everything the day before so that you can just layer the parfait in the morning. You can also put everything into a bowl if you don't have time to make an actual parfait in a glass. This can be either a breakfast for 2 or a dessert for 3-4 people.
---
CHIA PUDDING:
6 tbsp

chia seeds

1 ¼ cup

almond milk

2 tbsp

maple syrup

2 tbsp

cacao powder

1 tsp

maca powder

1 tsp

lucuma powder (optional)

1 tsp

mesquite powder (optional)

½ tsp

cinnamon
pinch sea salt
BERRY SAUCE:
1 cup

chopped strawberries (fresh or frozen)

1 cup

raspberries

1 tsp

maple syrup (or honey if no vegan)

1 tsp

chia seeds
---
Instructions
Start by making the cashew cream. While the nuts are soaking, make the chia pudding and the berry sauce, and then finish the cashew cream recipe.
CHIA PUDDING:
In a glass jar mix the chia seeds, milk, and maple syrup. Stir to combine and let soak for 10 minutes, stirring every so often to avoid lumps.
When the chia seeds start turning into a pudding, add the powders and stir until well incorporated.
Place in the fridge to chill and allow to soak for at least 20 minutes.
Store in the fridge for 2-3 days.
BERRY SAUCE:
Put the berries and maple syrup in a small saucepan with a splash of water and bring to a soft boil.
Simmer for 2-3 minutes or until the berries soften a little. The time may vary depending on whether you use fresh or frozen fruit.
Turn off the heat and stir in the chia seeds. Set aside to soak.
Pour into a glass jar and store in the fridge for 2-3 days.
Make the cashew sauce and put it into the fridge to cool.
When you're ready to put it all together, start layering the chia pudding, cashew cream, and berry sauce evenly into two glasses.
Additionally, you can add fresh figs, dates, nuts, seeds, nut butter, or more berries in between the layers. Top with fresh berries or chocolate sauce and devour!
---