New Year's is almost here!! How is this real? December literally flew by this year, don't you think? I'm not gonna talk about New Year's resolutions yet because there's still one post to go till the end of the year but oh my, 2017 is coming! If you're deciding on a snack for New Year's eve, these chipotle roasted nuts are your perfect choice. In fact, they're so good my batch didn't even last one week. I should definitely make more! Though, it's not like I'm throwing a massive party for 100 friends. I'm more of a stay-at-home-chill-with-the-fam kind of person but hey, that doesn't mean I can't call it a party, right? I actually call staying at home fun. I might even bake! God, I'm so old.
What are your plans for New Year's? Please tell me I'm not the only one baking cookies and watching movies.
I'm curious to see how my 2017's New Year's eve will look like... (yes I'm talking about next year's New Year's eve) I mean, if everything goes well I'll have been living in Toronto for 8 months at that time! Wow, that's exciting but also kind of scary. Have I told you about that? Yep, I'm not just moving across the country, nope. I'm moving half across the WORLD. When normal people move out from their parent's house, it's either into a small apartment close by or in a different city but nope, I'm moving from Europe to Canada. Crazy doesn't even begin to explain it. Long story short, I've always wanted to live in New York but since moving to the US is so freaking hard, I applied for a Canadian working visa instead and got it! I'm moving there for a year sometime in the spring next year and after that, we'll see if I stay or move back to Europe or even to New York. You never know and that's exciting and nerve-wracking at the same time but that's what makes life fun, right?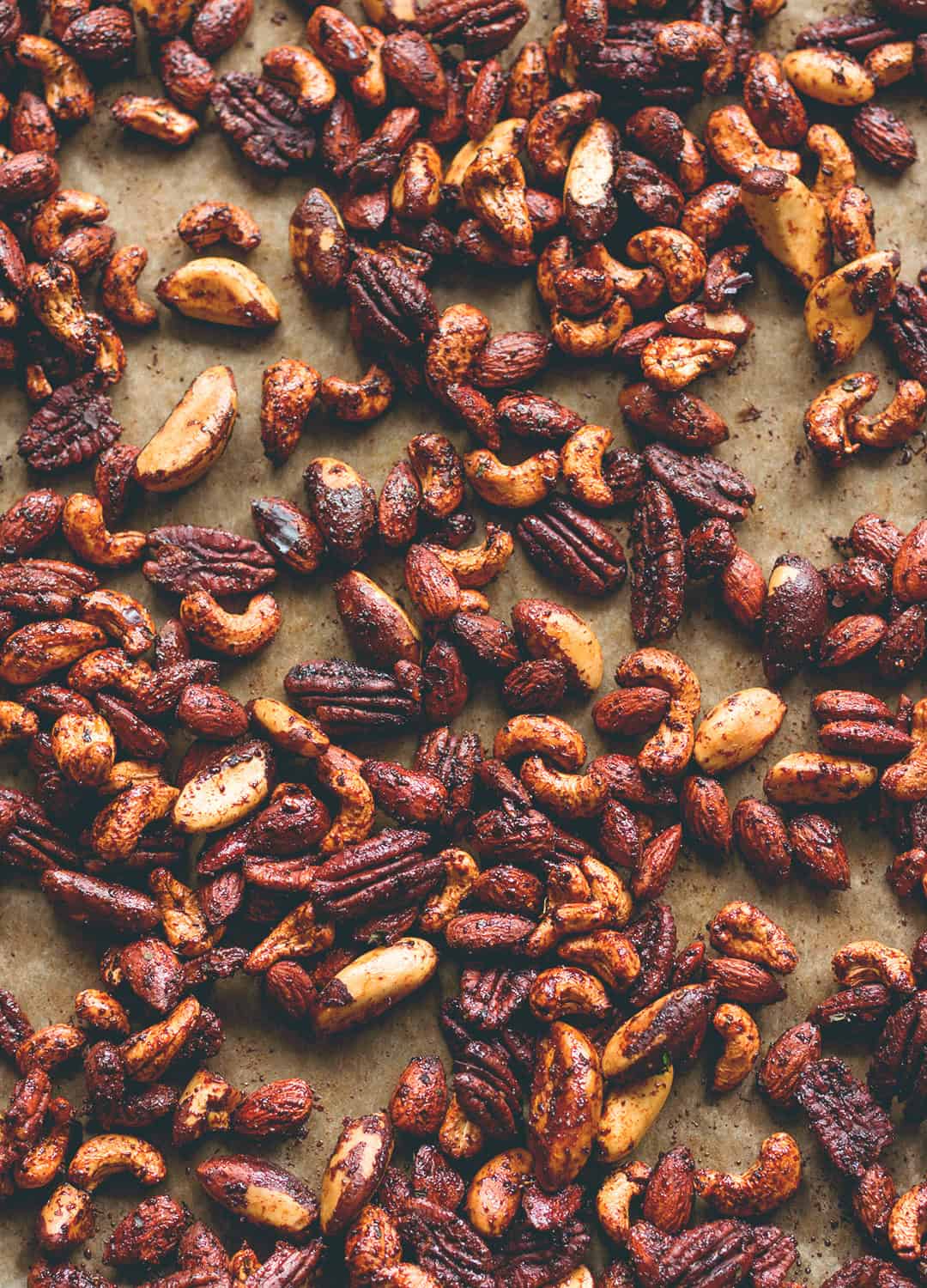 Anyway, how did you enjoy Christmas? Any funny family stories? I'm all ears! This year I cooked my own meal and made everyone taste it even though they had their own traditional fried fish and potato salad. And surprise! They said my vegetarian meal was actually tasty! Who would have thought?! I made a butternut squash red lentil curry soup (that isn't on the blog yet), this Roasted Potato Salad, these Quinoa Stuffed Bell Peppers, and served it with a simple mixed salad and hummus. So delicious! The only thing missing was a dessert but I made some raw chocolate the next day so that definitely satisfying the sweet tooth I apparently have 24/7. On the 25th we did nothing but eat, relax, and watch movies and we were having the best time ever (don't pretend you didn't do the same).
I hope you're enjoying Christmas if you're celebrating! Relax and enjoy it es much as you can before most of us get back to work. I'm actually starting at 7am tomorrow which is less than fabulous but hey, I still have all day today to enjoy at home.
I hope you're having a great day and if you're craving something spicy, savory, with a hint of sweet, try these Chipotle Roasted Nuts. I promise you you'll love them! ;)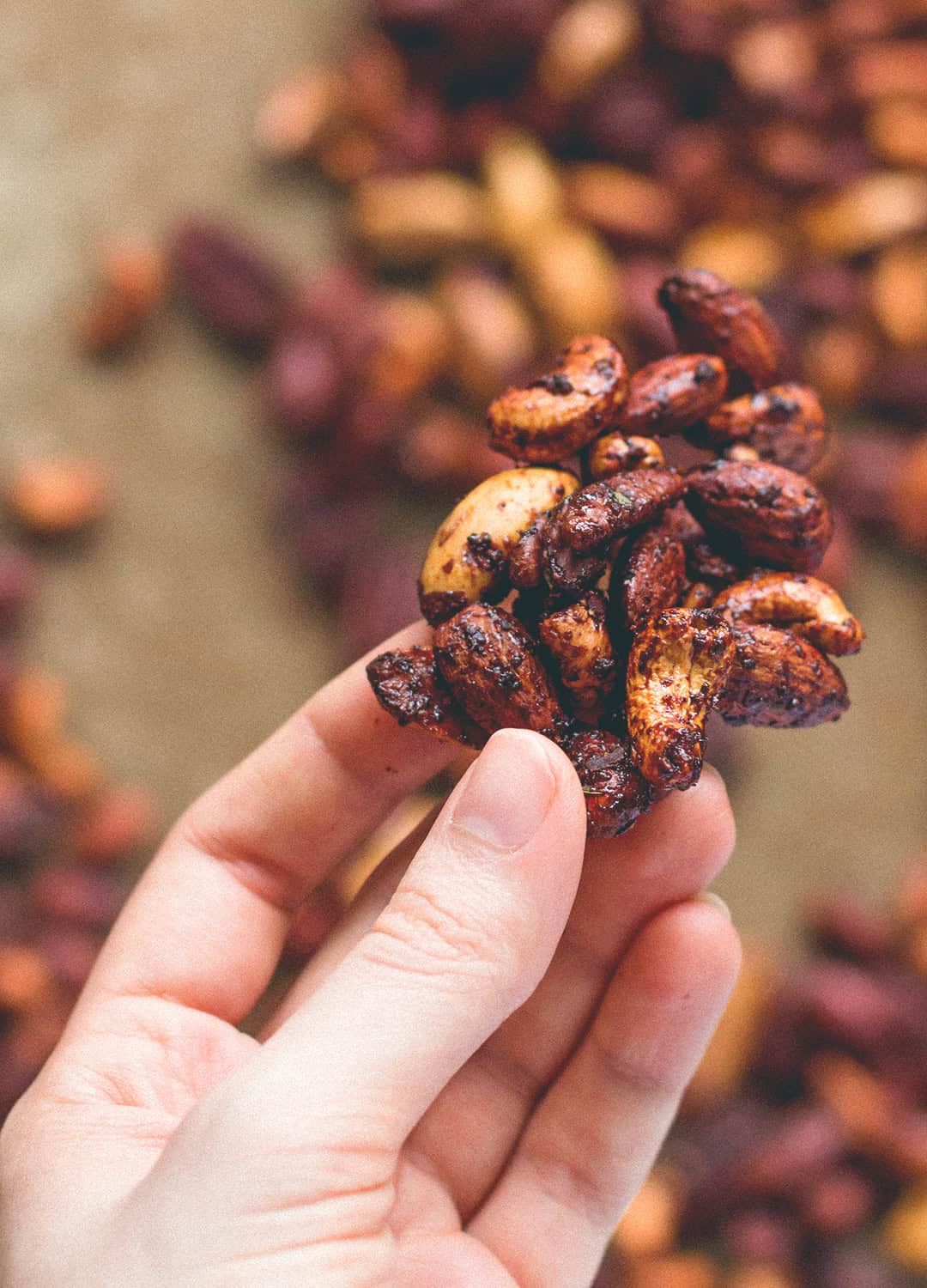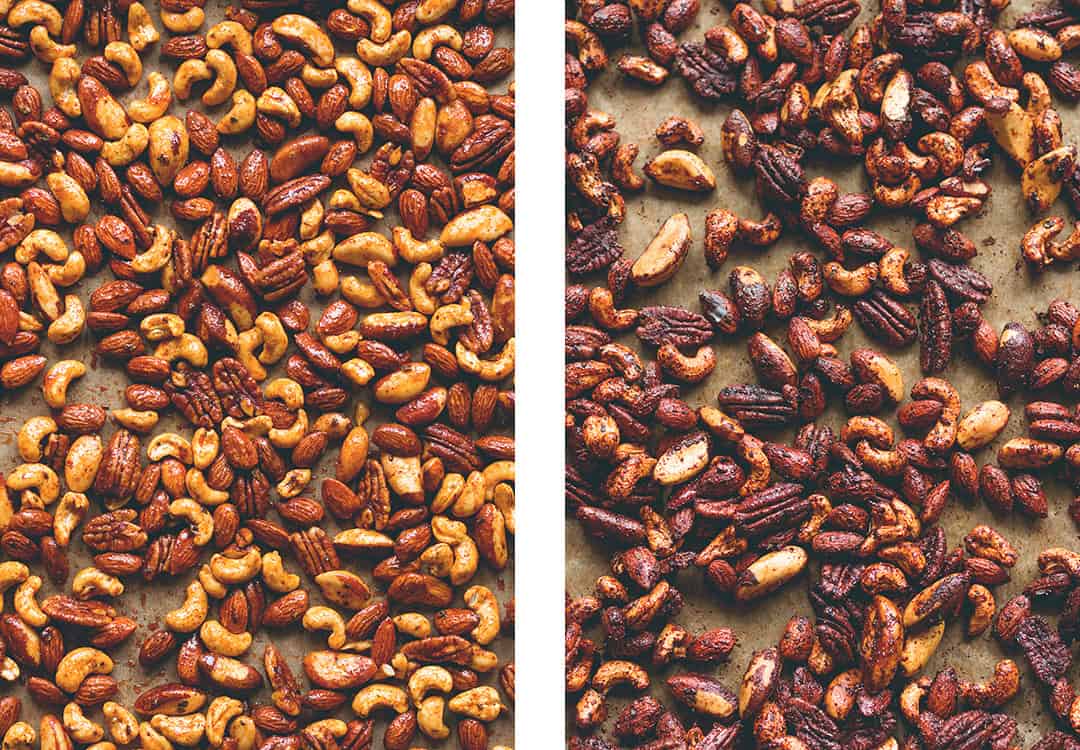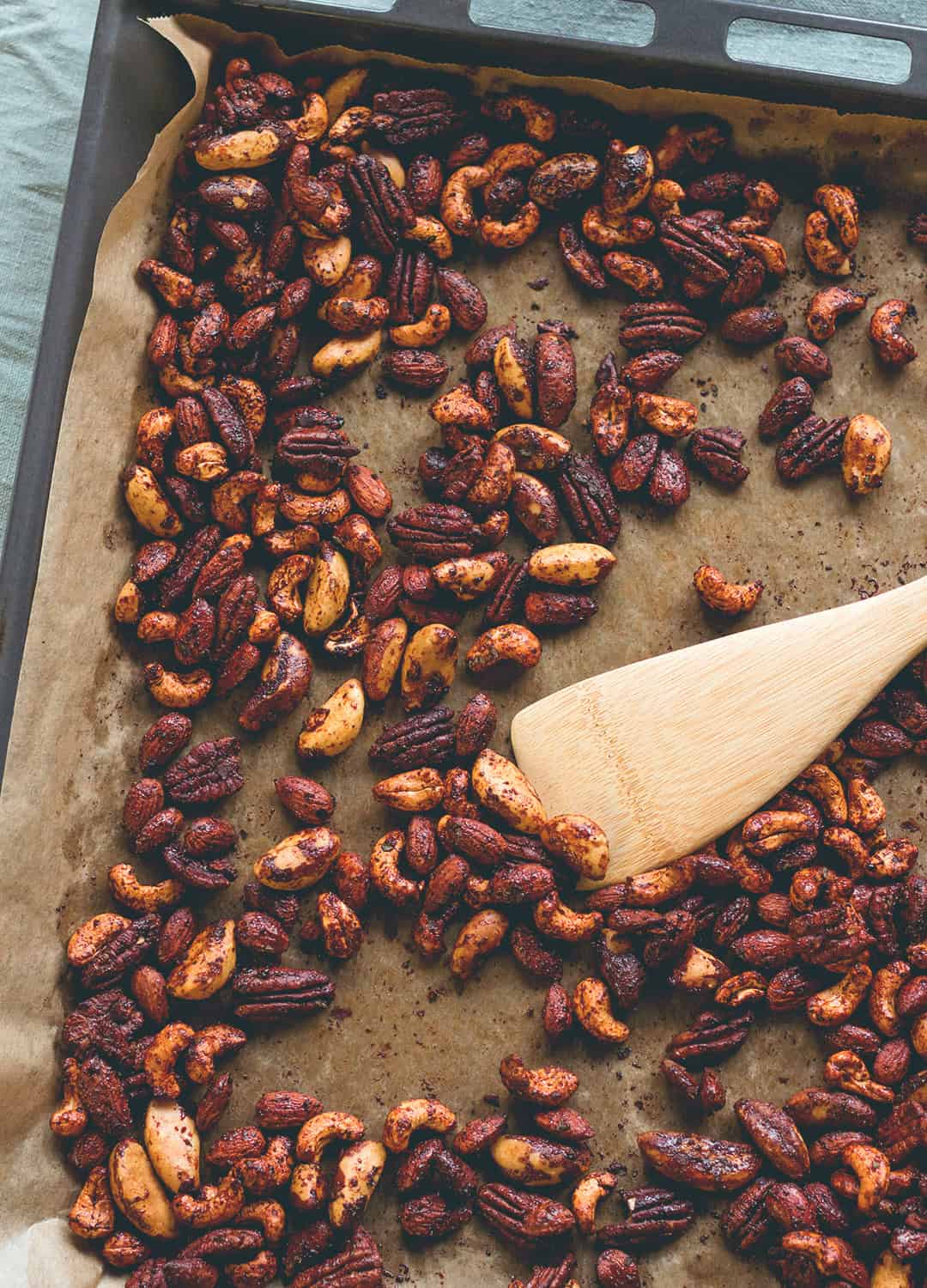 Print
📖 Recipe
---
1 cup

cashews

1 cup

almonds

1 cup

brazil nuts

1 cup

pecans

3 tbsp

maple syrup

1 tsp

coconut oil

1 tsp

tamari

1 tsp

apple cider vinegar

½ tsp

smoked paprika

½

-

1

teaspoon chipotle (I added only

½ tsp

because I wanted them to be only a little spicy but add more if desired)

¼ tsp

onion powder

¼ tsp

garlic powder

¼ tsp

sea salt
---
Instructions
Preheat your oven to 160C (320F).
Add all the nuts into a bowl and mix.
In a small bowl combine all the liquids and seasoning and mix well.
Pour the mixture over the nuts and mix well until all the nuts are evenly coated.
You can let them soak up the flavors for 5-10 minutes but it's not necessary.
Line a baking tray with parchment paper (the paper is necessary as the nuts get VERY sticky) and spread the nuts on it.
Roast for 17-20 minutes, tossing halfway through.
Allow to cool completely before transferring into a big mason jar or another airtight container. Store at room temperature for 1-2 weeks.
---