Do you want to know a secret?
Okay, here goes. Are you ready?
Until about a year ago, I had NEVER had a crumble of any kind. That's almost 21 crumble-free years. *GASPS*
Okay, it's not that big of a secret but I feel like this is one of those moments when someone goes "I've never actually tried Nutella." and everyone just stares in disbelieve. I mean, it's apple crumble! It's easy, simple, and one of the best desserts I've ever made so why on Earth haven't I made it sooner???? (Too many question marks? Maybe, but I really wanna know, you know?) Well, it's most likely because apple crumble isn't the type of dessert people tend to make in the Czech Republic so I had to do some digging on my own to even find out about its existence. I don't think most people even know what it is here. (!) Isn't it sad how much people are missing out? Apple crumble is SO tasty, and it gets even more delicious when you realize you don't have to feel bad about eating this dessert — it's actually good for you! Give me aaaaaall the apple crumble, please.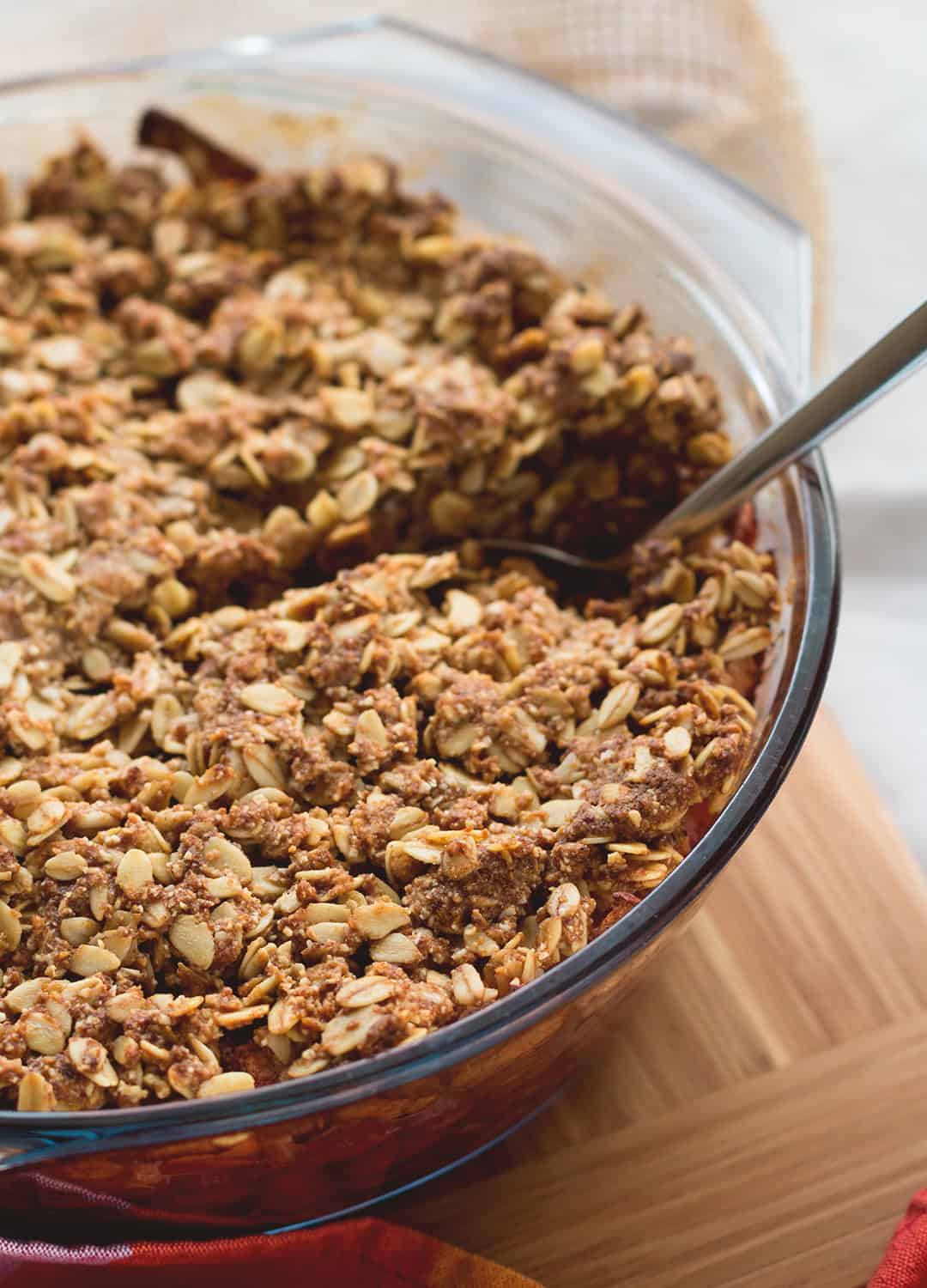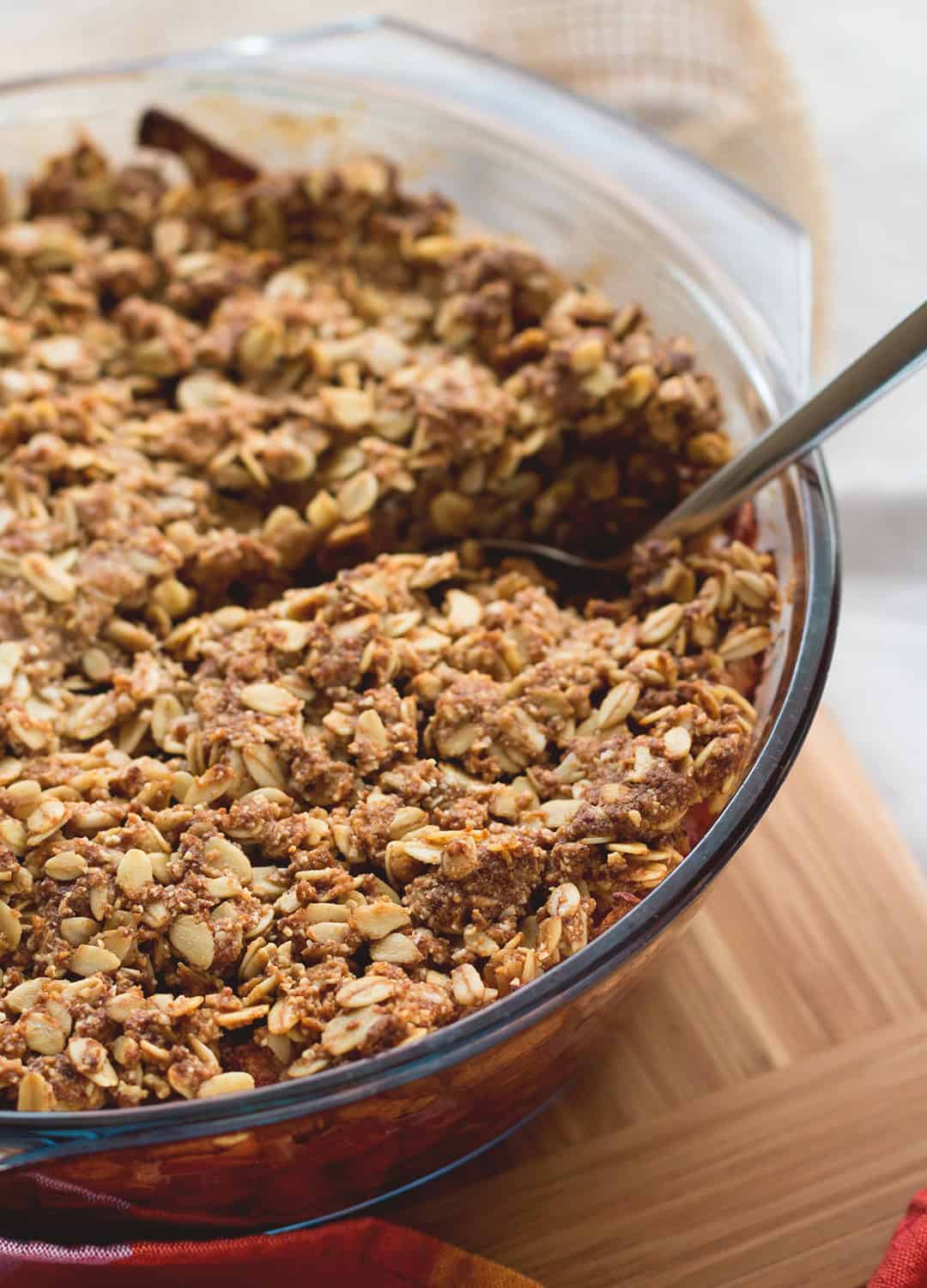 Story timeeee!
If I had to translate "apple crumble" into Czech, I have actually no idea what I'd say. It'd probably have to be a couple more words; something like "baked apples with crumble on top" or something like that. Some people don't seem to have that problem, though.
The other day, I came across this Czech cookbook which actually had a recipe for apple crumble inside, BUT they didn't even bother translating it. They still called it crumble although the cookbook wasn't in English. That would be completely fine if they put the word "crumble" in quotation marks but nope. I  it was spelled phonetically. Yep, they completely butcher the word. 
There actually were the words "Apple Krambl" big and bold at the top of the page. Nonononono no. I actually laughed out loud. Was that their way of saying "hey! it's called 'crumble' in English so let's create a new Czech word for it! How about 'Krambl'? That's how it sounds anyway so let's go with that!"
I'm all for using foreign words for movie titles, music, brands, and generally anything you can't really translate. What I don't like is when you create a new word — a weird new word; because that way, not only do you butcher the original English word, but also the Czech language. I mean, WHY. I'd happily call it apple bake with crumble on top, thank you very much.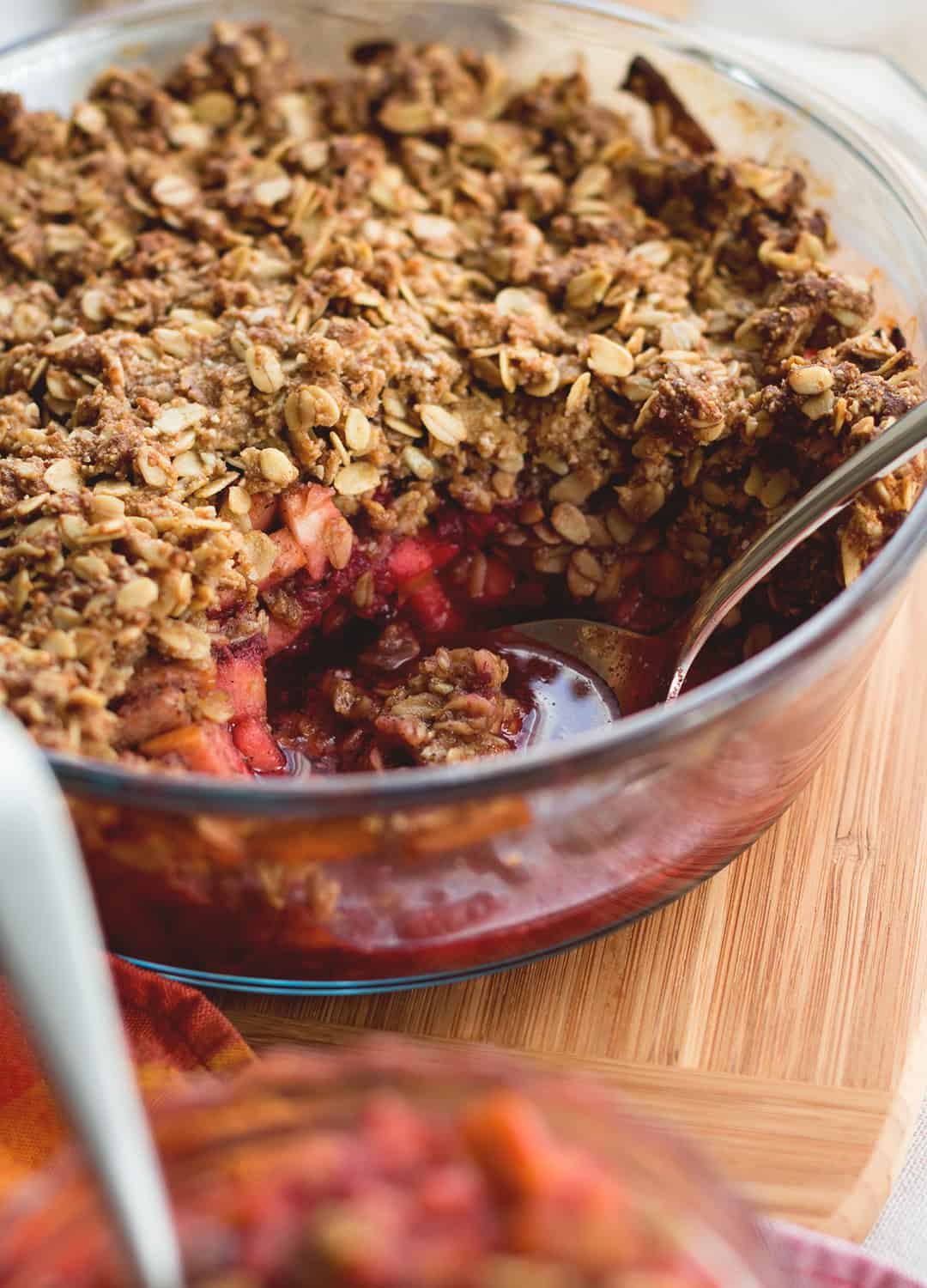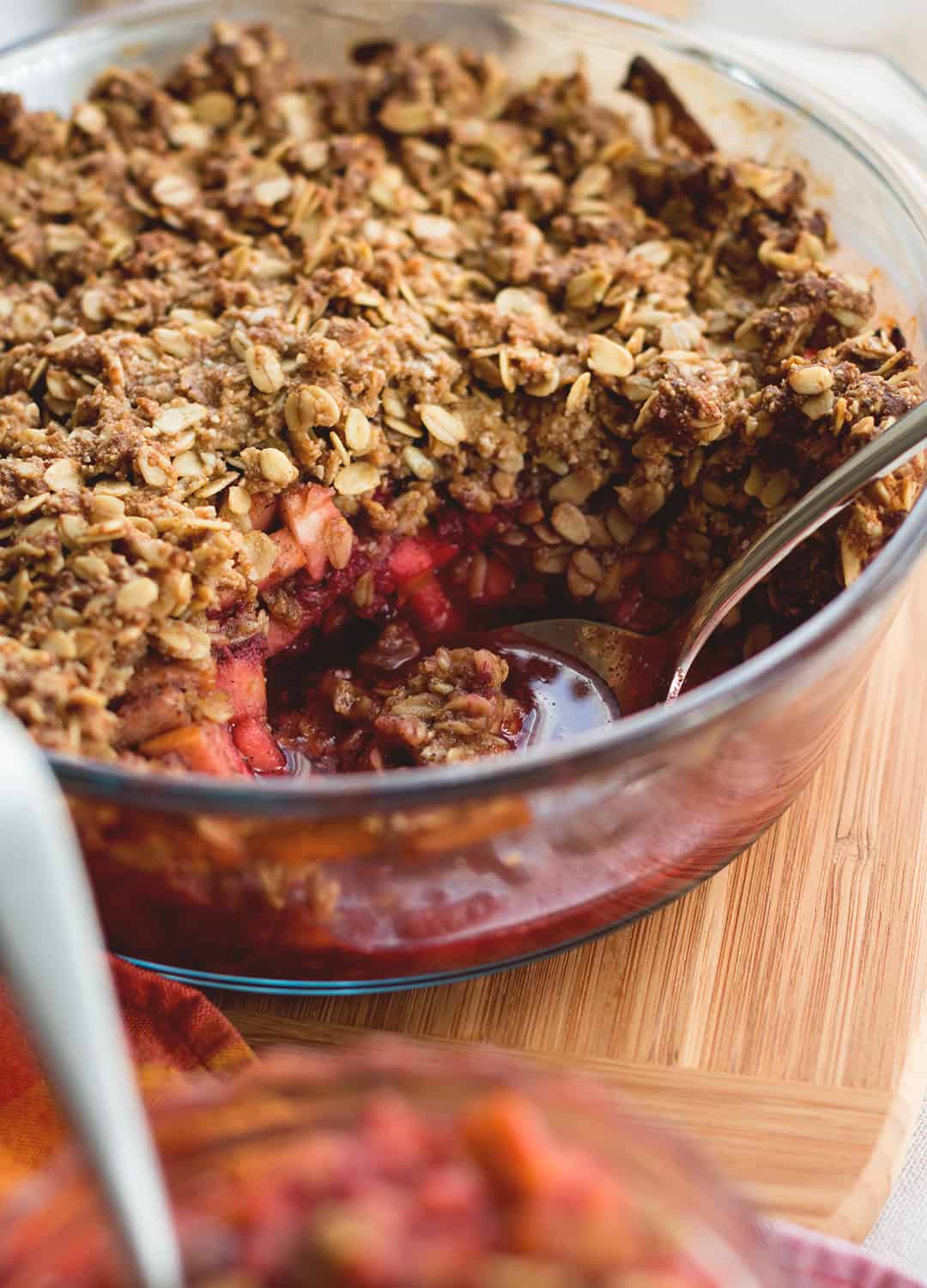 Now that my little "krambl" rant is over, it's time to tell you more about how good this cardamom raspberry apple crumble really is. By the way, I'm sorry if you can't get the word kraml out of your head now. OOPS! I just had to share it in this post, it was asking for it. Sorryyy! *hides under the table*
This dessert is a bit autumn-themed but we can look past that, right? It's always a good time to have a delicious dessert, why should we wait till autumn for it? Besides, we still have tons of apples in the house so this crumble is my great excuse to use them up.
Now I'll give you a moment to stare hungrily at the picture below. It's heaven in a bowl that is.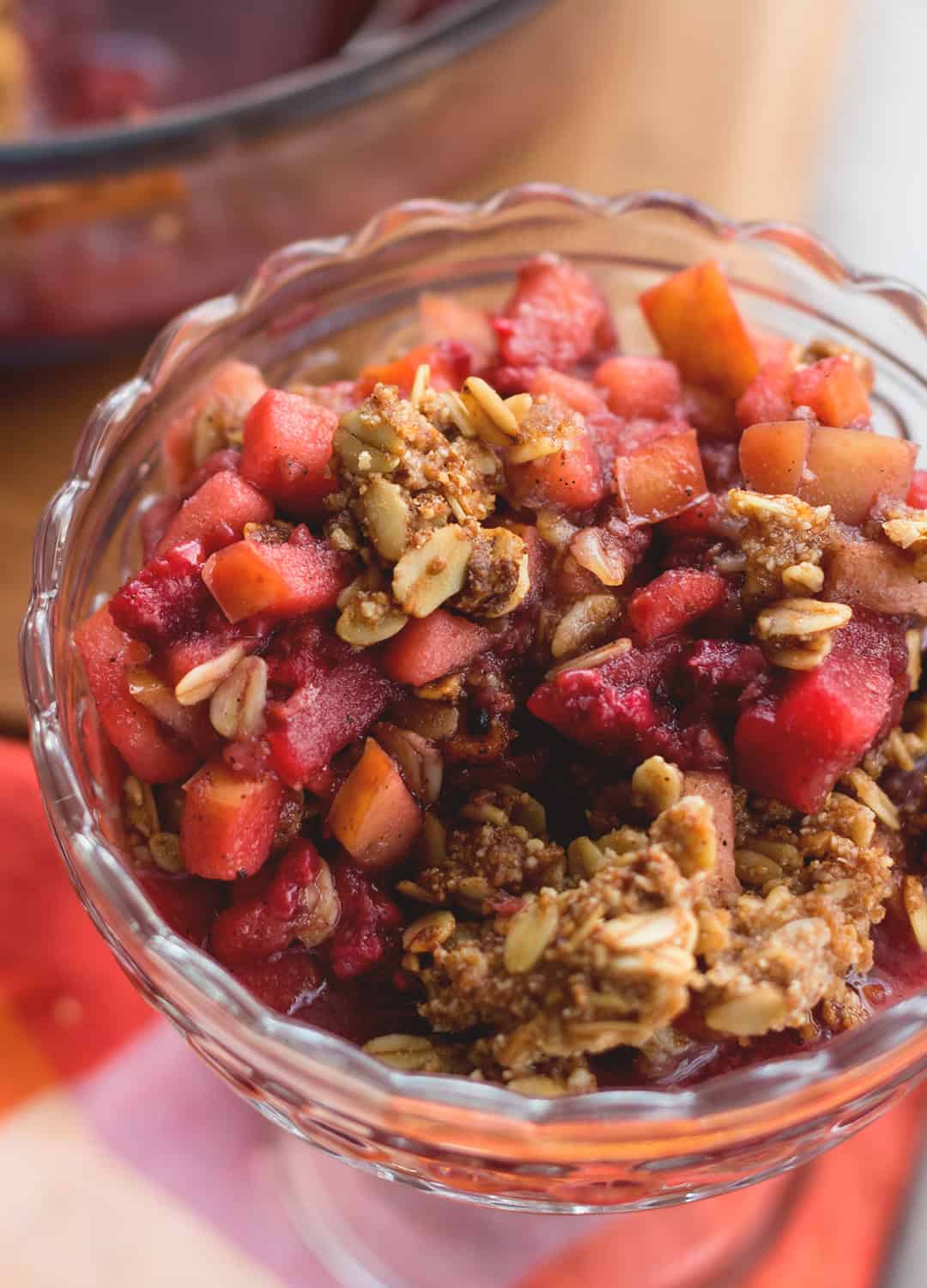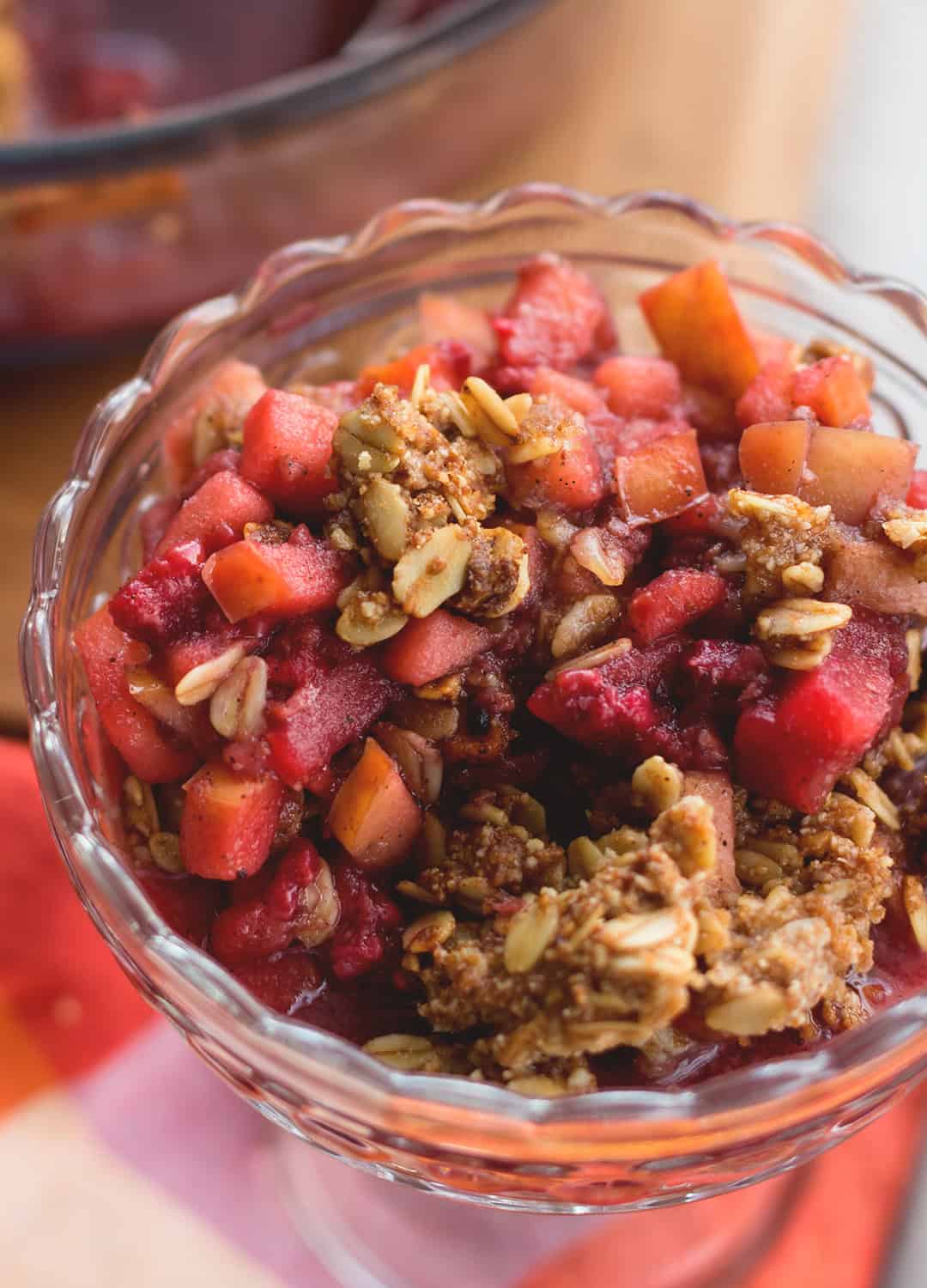 The cardamom adds the crumble an unexpected flavor and with the combination of raspberries and apples, it's to die for. Apart from cardamom, there's also ground ginger which I've been adding to anything and everything lately if I'm being honest. It makes it a little spicy, but just the right amount. For the actual crumble on top, I used oats, almond flour, coconut sugar, coconut oil, and some cinnamon and it turned out perfectly crunchy and crumbly — just the way you want it to turn out and without any flour, processed sugar, or butter. YAY!
Now, enough of my rambling, let's get cookin'! What's your favorite crumble to make? :)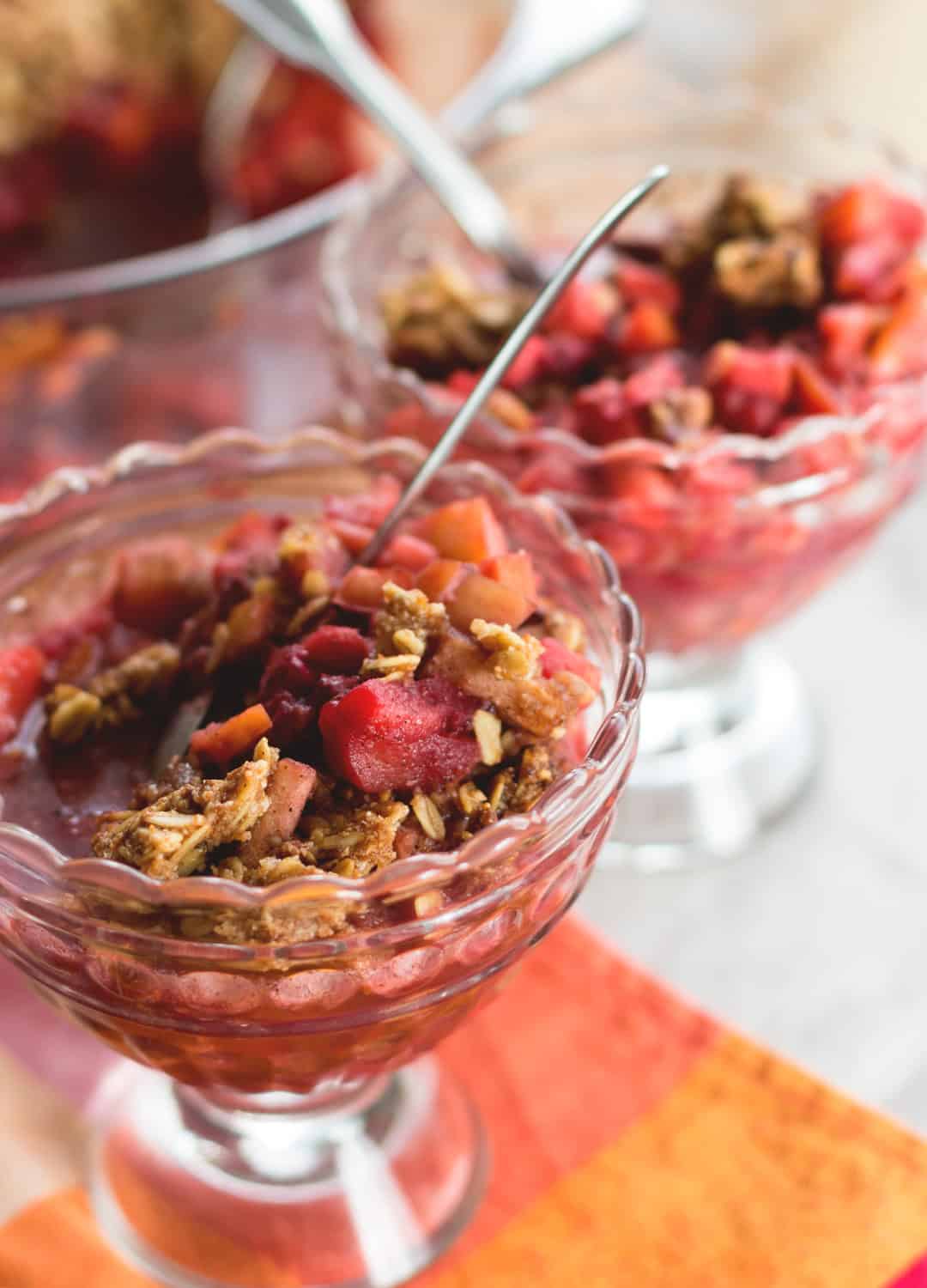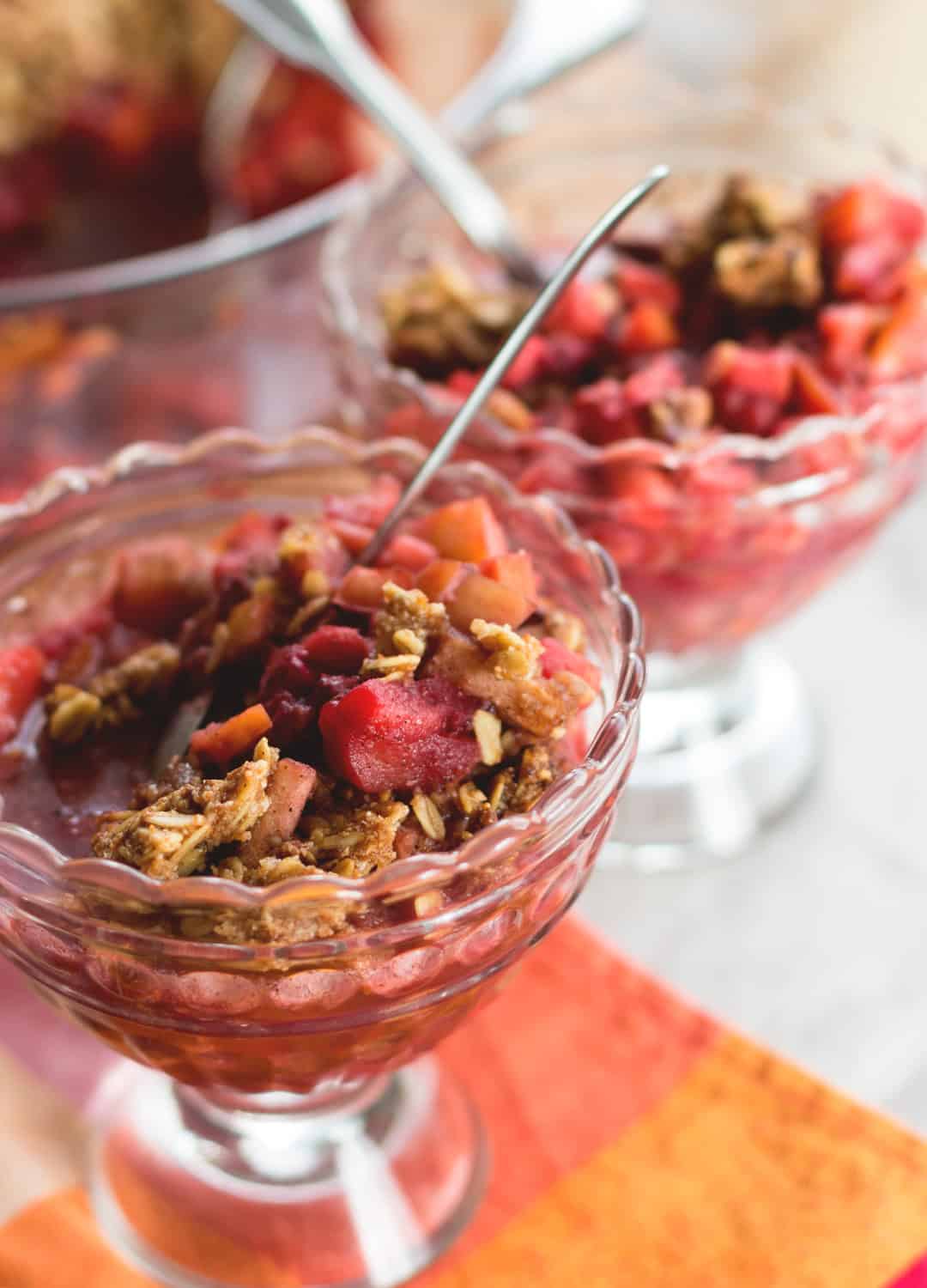 Print
📖 Recipe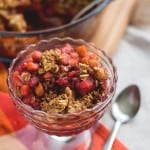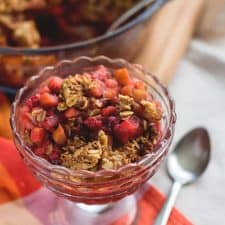 Easy Apple Crumble (GF, Vegan)
Author:

The Healthful Ideas

Prep Time:

15 mins

Cook Time:

45 mins

Total Time:

1 hour

Yield:

4

-5

1

x

Category:

dessert
---
1 tbsp

coconut sugar

½ tsp

ground cardamom

⅔

-

1

teaspoon ground ginger

1 tsp

vanilla bean powder

5

apples, peeled if not organic (I peeled

two

and left the skin on the rest)

2 cup

raspberries (frozen or fresh)

⅔ cup

rolled oats

½ cup

+

1 tbsp

almond flour

2 tbsp

coconut sugar

1 tsp

cinnamon
pinch salt

3 tbsp

coconut oil, melted

2 tbsp

maple syrup
---
Instructions
Preheat your oven to 180C (356F).
Start by dicing the apples into small pieces. You can either leave the skin on or peel it. I like to do it half and half so that some of the apples are peeled but there's still some color.
Place the apples and the raspberries into a big bowl or the baking dish you're using (if it's big enough to mix all of that in it) and set aside.
In a small bowl mix the 1 tablespoon coconut sugar with the cardamom, ginger, and vanilla*. Sprinkle the mixture on the apples and raspberries and mix with a spoon so that everything is evenly coated. Set aside.
Make the crumble.
Into a medium bowl add the oats, almond flour, coconut sugar, cinnamon, and salt and mix well with a spoon.
Add the melted coconut oil and maple syrup and mix well.
Put the fruit mixture into a baking dish and top with the crumble. Place into the oven and bake for 40-45 minutes until golden brown on top.
Best served warm. Store in the fridge for 2-3 days.
---
Notes
*if you don't have vanilla powder, you can use vanilla extract but use 2tsp and add it straight to the apples, not to the dry spices.