Deliciously creamy soup.
Does all the roasting and blending and cooking and mixing seem challenging to you? Well it totally isn't.
In fact, it's really simple.
All you need is a butternut squash, onion, garlic, some plant based milk, water, and seasoning. I didn't even use broth in this recipe because I didn't have any on hand and I was too lazy to cook it.
This soup is freezer friendly—as most soups are, so you can freeze any leftovers and enjoy them later! Or you could double the recipe to have even more leftovers because it's always nice to have soup in the freezer when you're hungry and don't feel like making anything. I actually wish I did that the last time I cooked this, because then I'd have soup ready for me right now, which I don't. On the other hand, there's a butternut squash on my kitchen table waiting to be cooked, so that migh happen. Speaking of food on my kitchen table, there's delicious cookies I made last night. The recipe for those will be up in the near future so get ready, they're devine.
But enough about cookies, let's get back to the soup.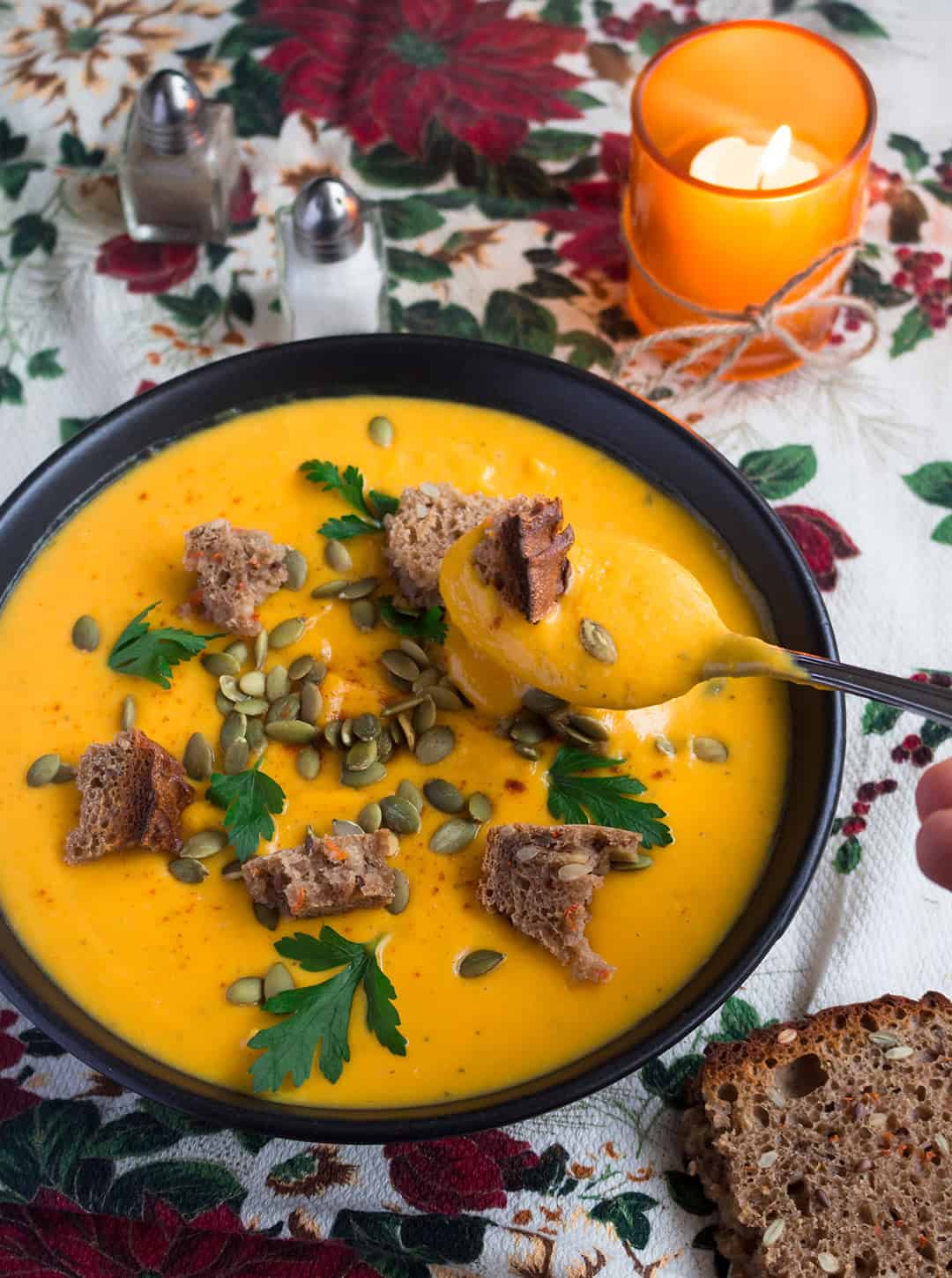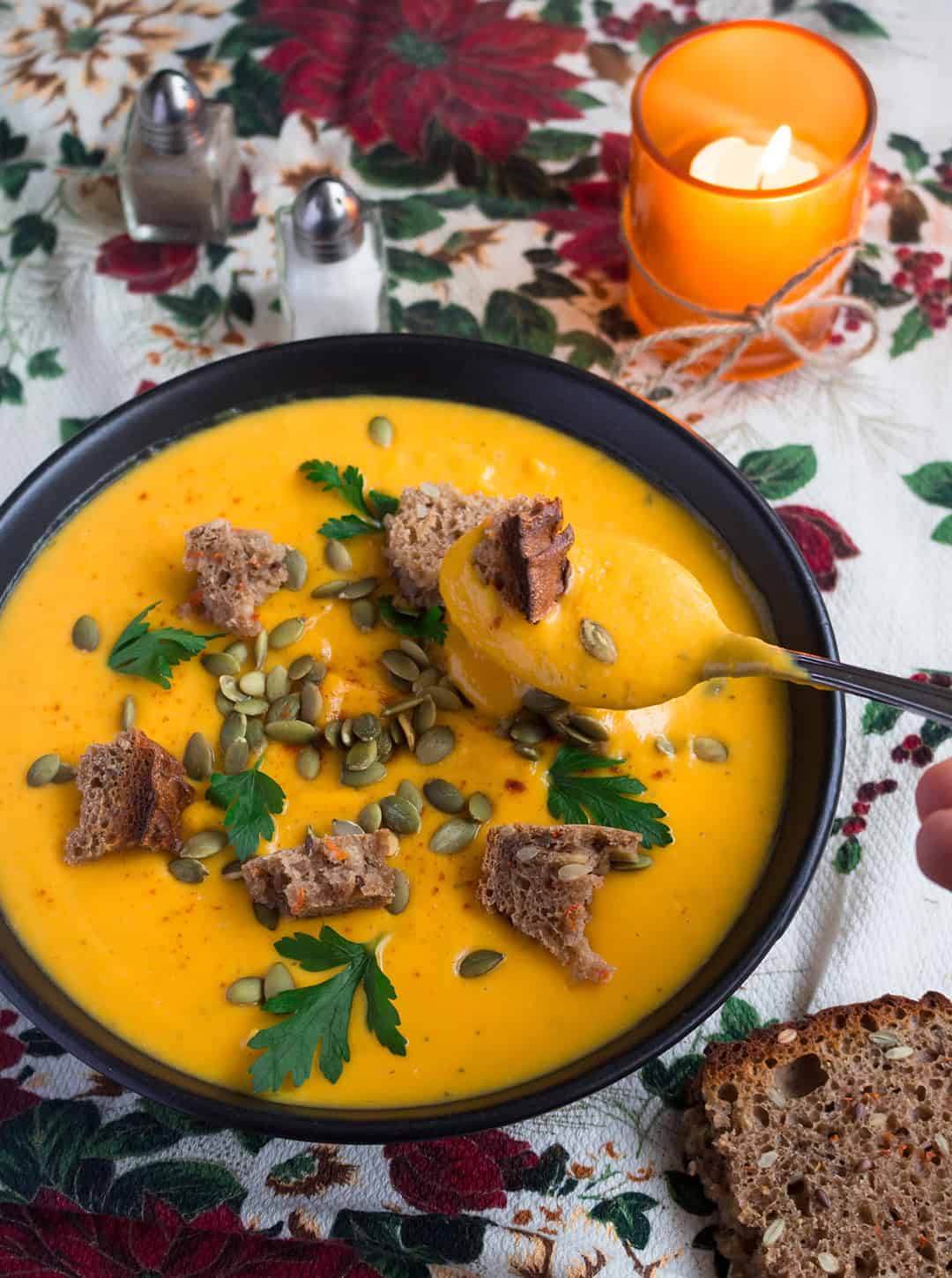 Plant-based milks.
I love creamy soups.
But I used to get a stomach ache after eating them due to the presence of dairy. Since I no longer eat dairy, I decided to make my own vegan version.
Why do I stay away from dairy? Well, I used to be allergic to dairy a tiny bit which went away after limiting my dairy consumption. but even though I didn't eat it as much as before, I still didn't feel good. I used to get random stomach aches at different times of the day and not even immediately after eating dairy. It wasn't before I hadn't eaten dairy for a few weeks that I realized my stomach aches went away completely. I learned that if you have problems with digesting dairy, you might get a stomach ache as far as a week after consuming anything that contains dairy. That's crazy! If you want to know if a certain type of food is causing you problems, the best way to find out is to not eat it for 2-3 weeks. It's a pretty long time, but knowing how I feel now and how I felt before... I would never go back.
Did you know that you're naturally supposed to not be able to digest the protein present in cow's milk? That's how you should function because let's be real, if you think about it, it's really weird that we're human adults drinking the milk designed for calves to drink so they can grow up. After multiple generations of people drinking cow's milk, the body adjusted (mutated, if you will—don't freak out) to us drinking it and learned to make use of it as best as possible. I'm pretty bad at describing this kind of stuff so I'll just share a link to a movie about milk I watched recently. Got the facts on Milk? it's a funny and really interesting movie. You should definitely watch it if want to know more about milk!
Well to sum it up.. Why don't I drink milk?
First, I feel better when I don't.
Second, there's nothing in that I can't get from anywhere else.
And third, I've always hated the taste of milk, with passion.
---
Now that we have dairy covered. Let's talk about how delicious and nutritious this soup is!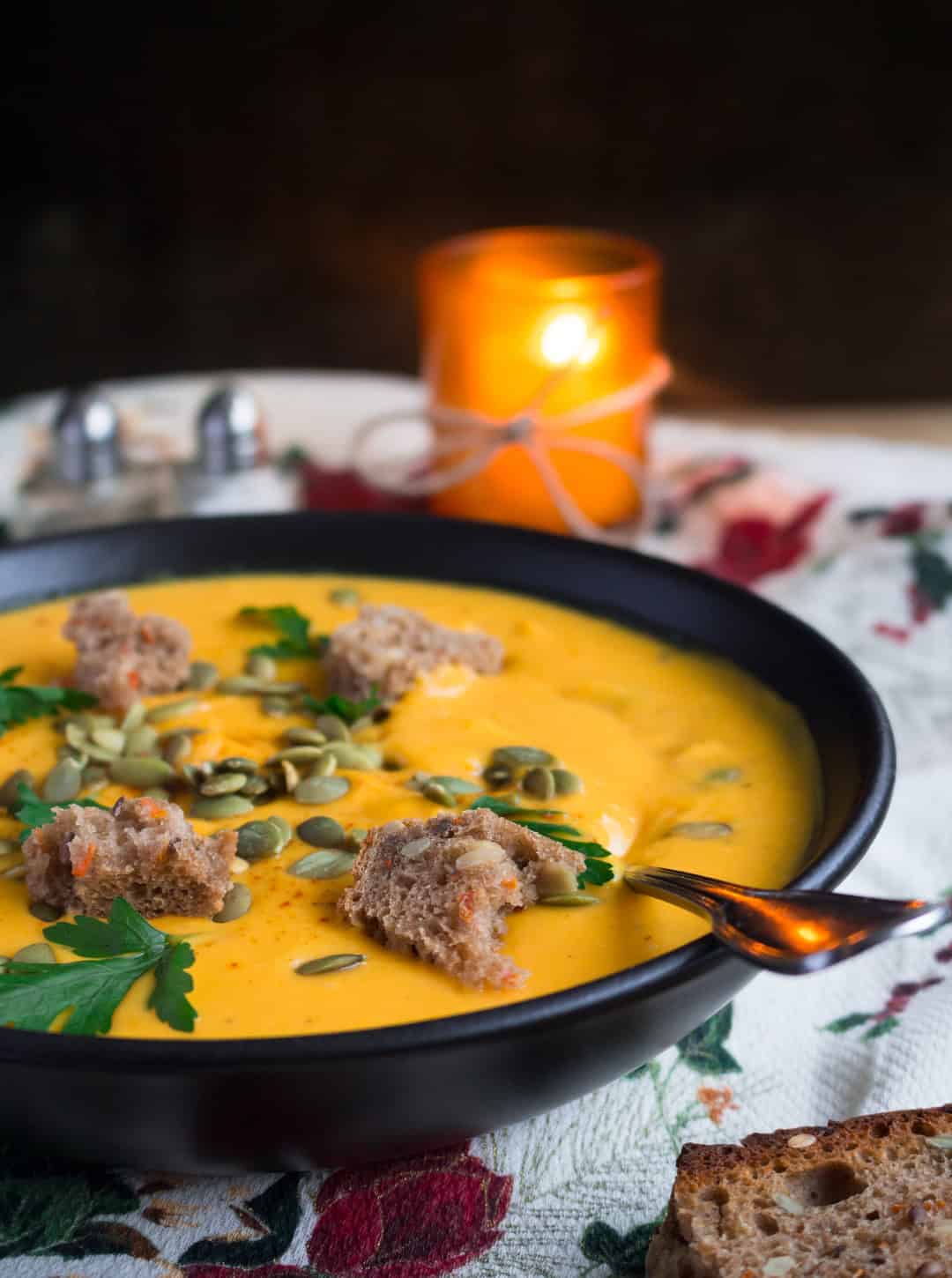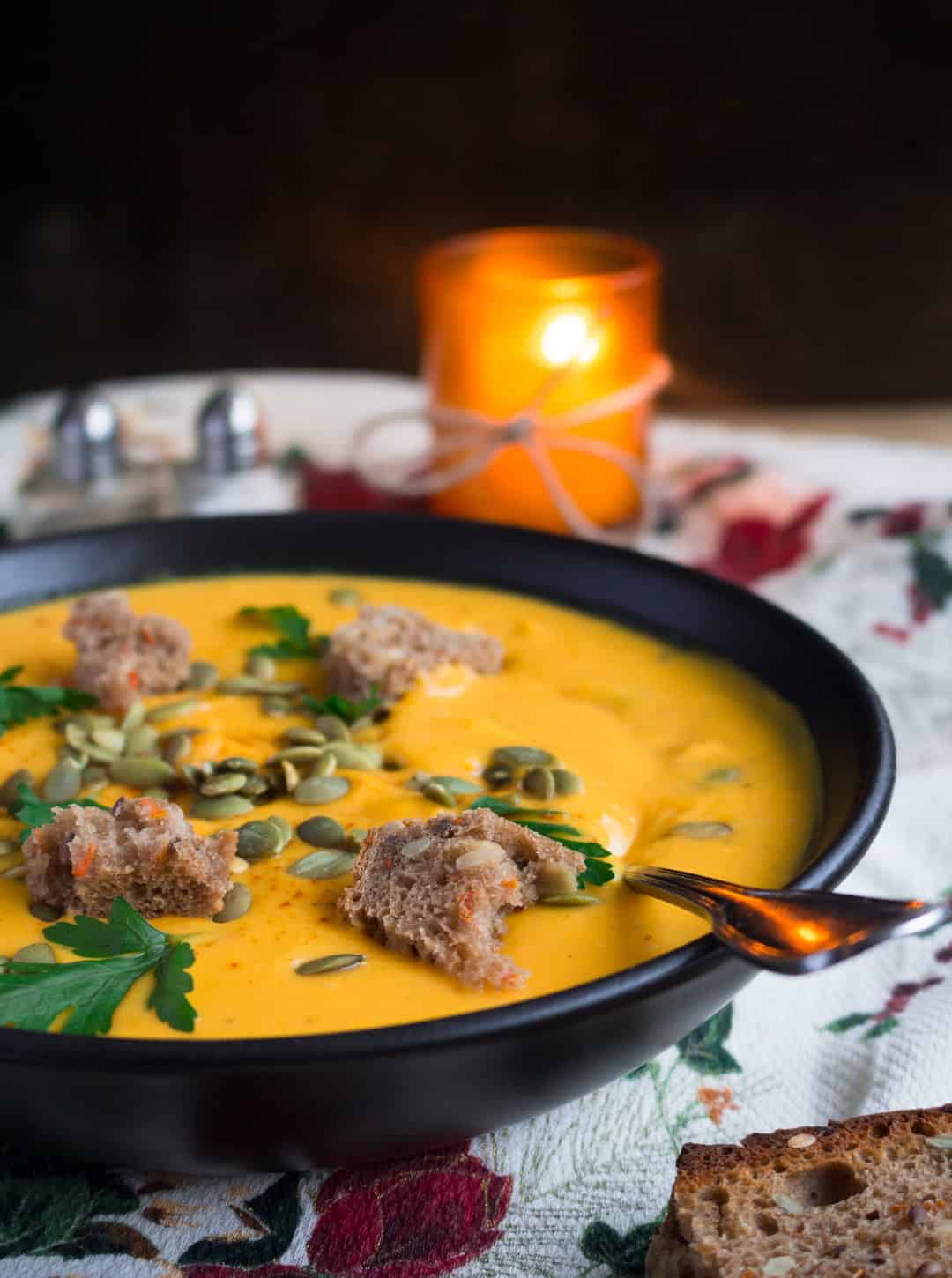 No broth? No problem!
I made my first ever butternut squash soup last fall. I had a recipe from my favorite cookbook so I decided to give it a try. I roasted the squash and then blended it up with vegetable stock, which I made from scratch too. I probably put too much celery into it because that's all I could taste. The soup wasn't too bad but I didn't add much seasoning so it was kind of dull. I still enjoyed it because, duh, I love vegetables, but it definitely needed an upgrade.
This year, I decided not to bother with cooking vegetable broth. It's not something I'm good at and I don't want to cook something for an hour only to find out it's not very good.
Also, as I said earlier, I love creamy soups and I added a lot of milky goodness to this soup. It doesn't get better than that.
There's oat milk, coconut milk, and some water to balance it. You could substitute the oat milk for any other plant based milk. I'm a fan of oat milk, but feel free to add almond, rice, or other nut milk. I'm not a big fan of soy milk, not even the non-GMO organic kind. Soy tends to mess with your hormonal balance so it's better to stay clear of it. It has nothing exceptional to offer you anyway.
When buying non-dairy milk, make sure to read the ingredients list. It shouldn't contain anything other than the oats (or almonds, rice, etc.), water, and some sea salt. My favorites are Oatly (make sure to buy the plain version, though, with no added calcium), Rude Health's Coconut Drink (water, rice, coconut butter, sea salt) and also their Ultimate Almond milk which I have yet to try but it looks really good (it only contains water and almonds, no sunflower oil⇒thumbs up from me).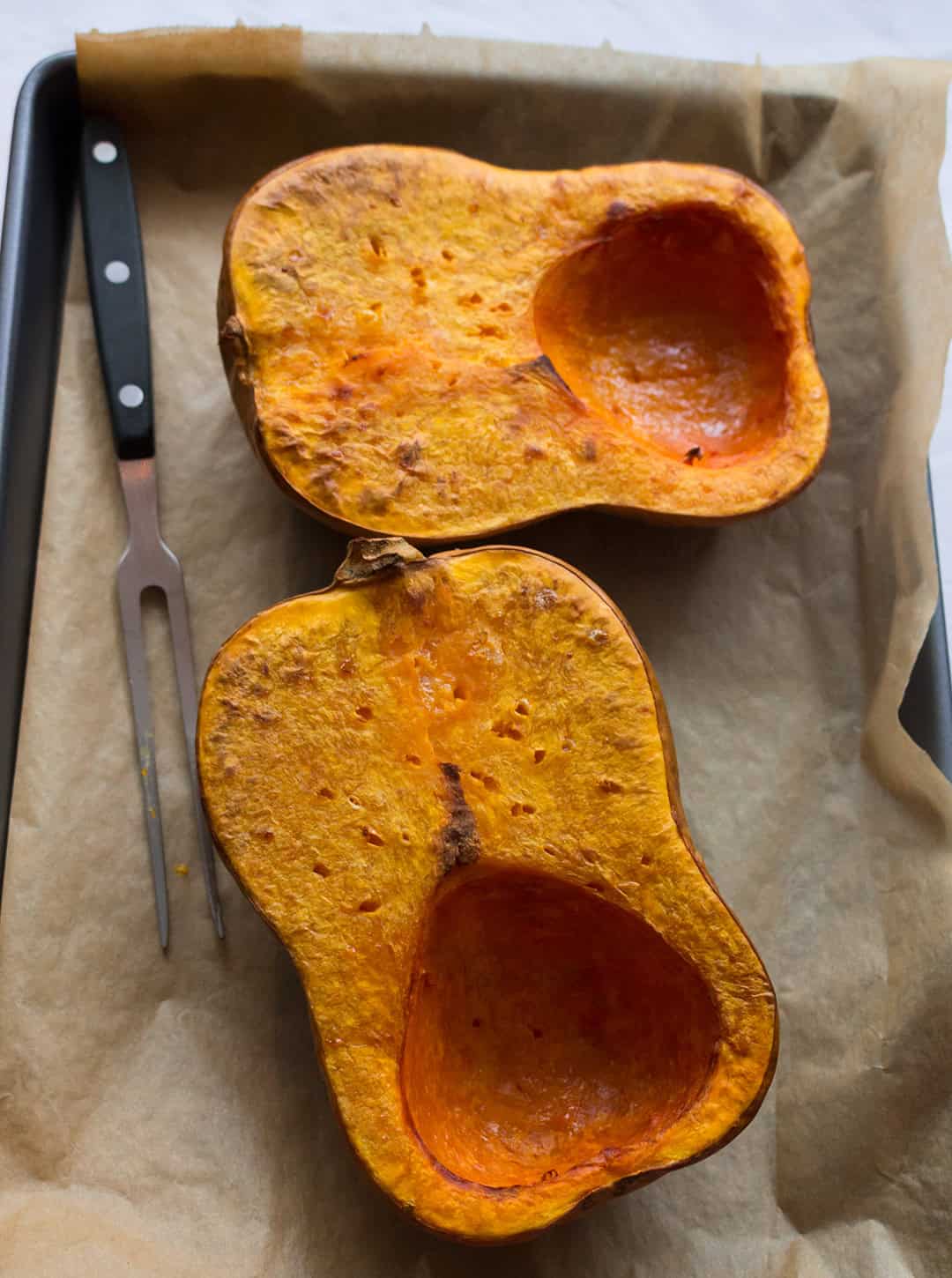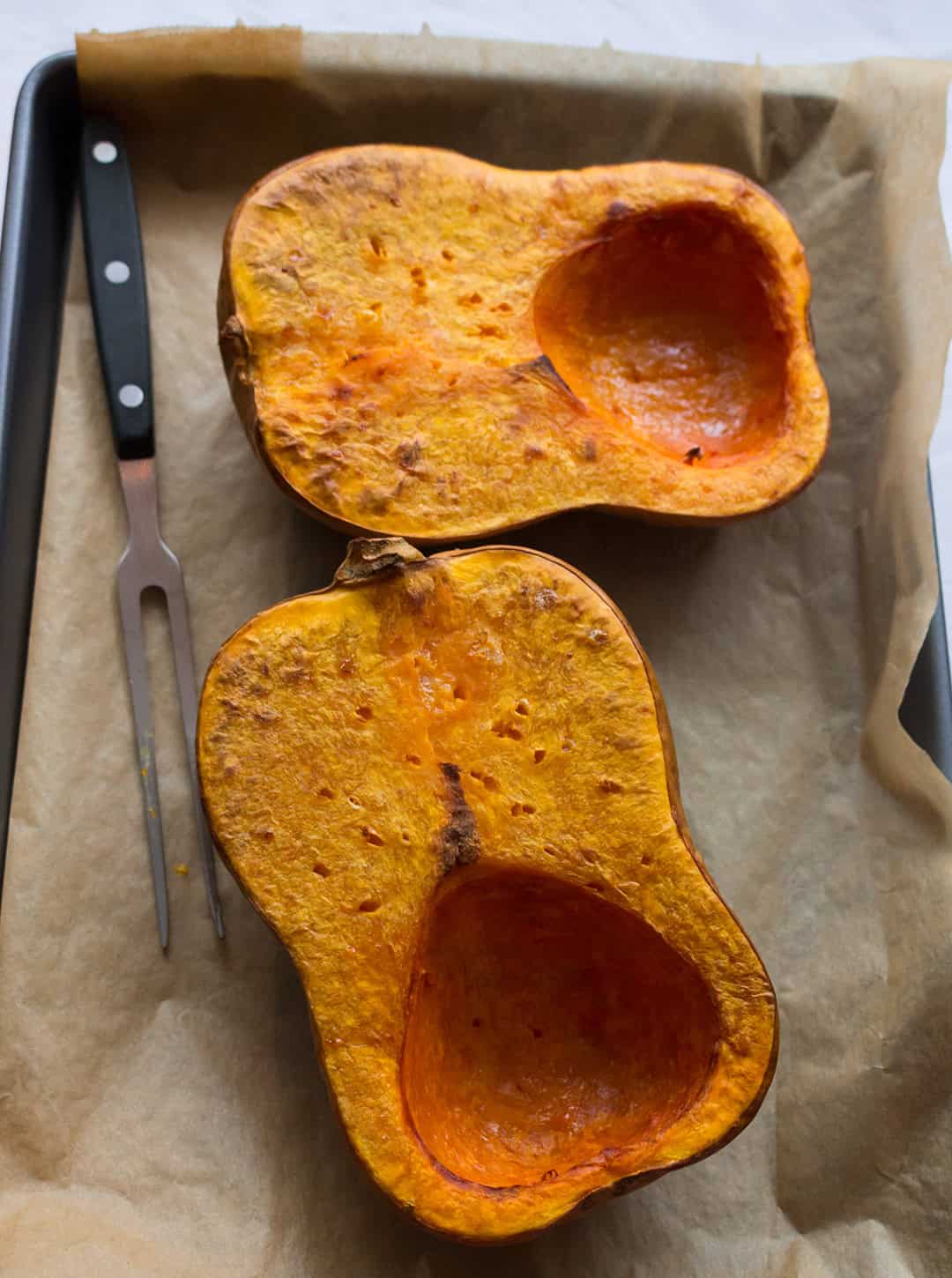 My butternut squash was pretty big (almost 2000g!) so I made A LOT of soup with it. Make sure to check how big and heavy your squash is, you might have to adjust the roasting time accordingly. I know some recipes say roast it for 30 minutes, but I roasted mine for an hour and kept checking it every so often how soft it is with a fork. It should be tender and the fork should slide through the flesh easily. Be sure not to undercook it, it'd be hard to blend and it just wouldn't work. It's better to have it overcooked and kind of mushy then hard.
When you take it out of the oven, let it rest for a couple minutes and then peel the skin off. It should be pretty easy to peel if it's cooked all the way through. Use a knife if you can't peel some parts of the skin with your fingers.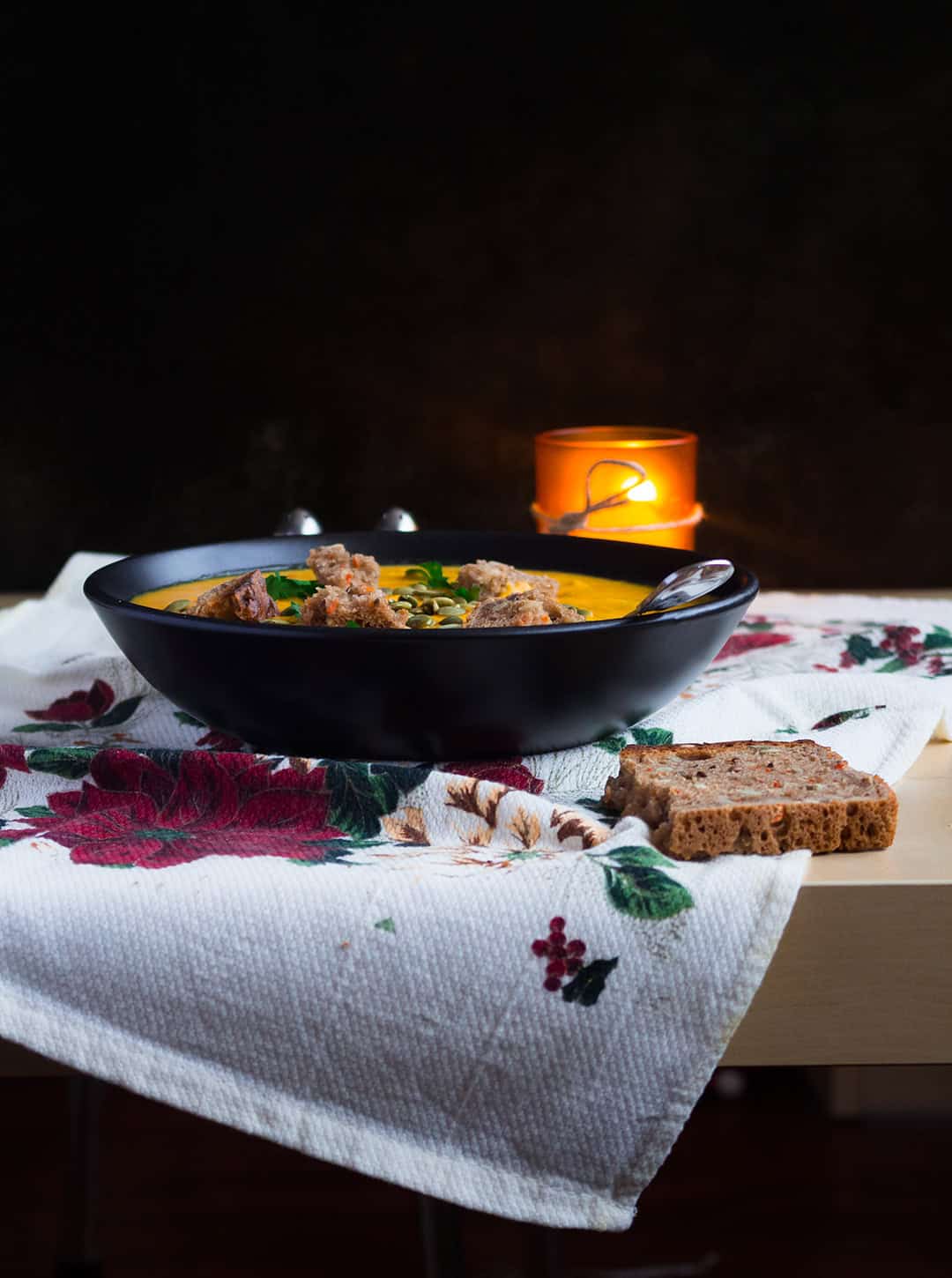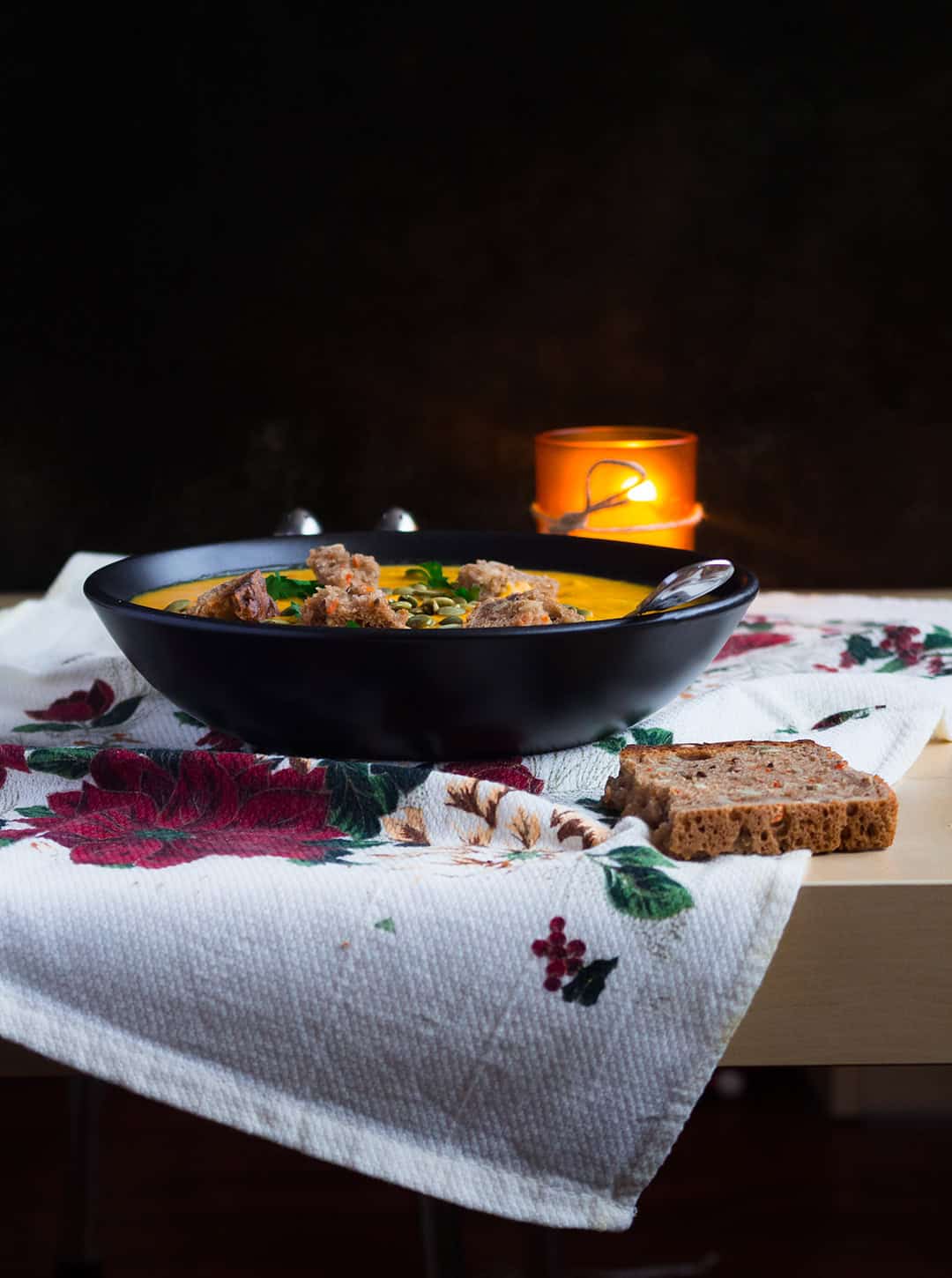 Did I choose too many pictures for this post? I just couldn't help it , you know. When there's a beautiful bowl of soup in front of you, you gotta take pictures and share them all with the worlds.
Nah, there's no such thing as too many pictures of delicious soup!
Did you notice the bread? Well, of course you did, who wouldn't? It's a slice of toasted carrot rye bread. It perfectly completes this bowl of goodness. I love breaking the bread into bite size pieces and adding them to the soup. I've done that since I was a little kid. Only then it was a white bread roll and now it's a delicious slice of toasted dense rye bread with carrot and seeds. YUM.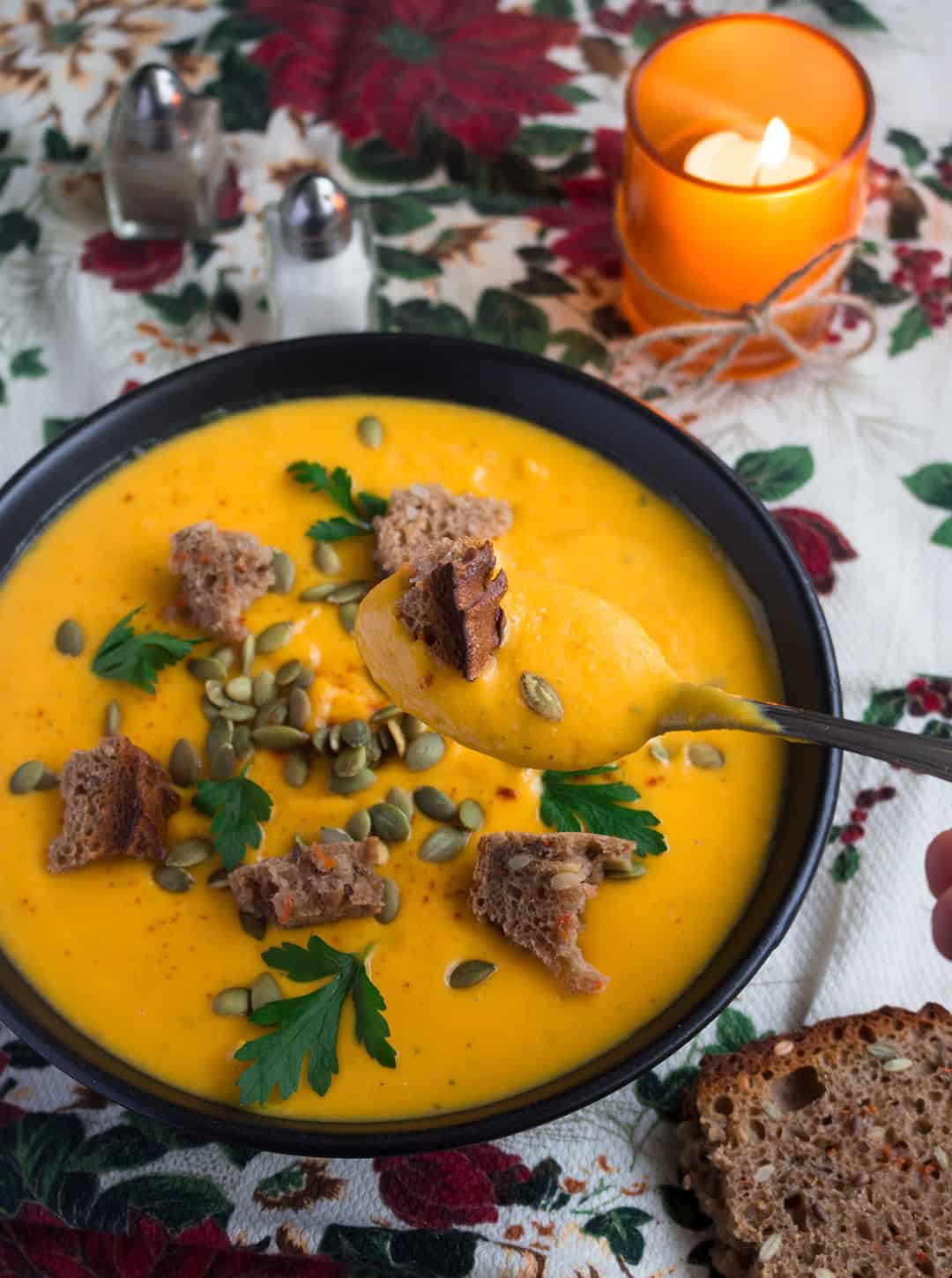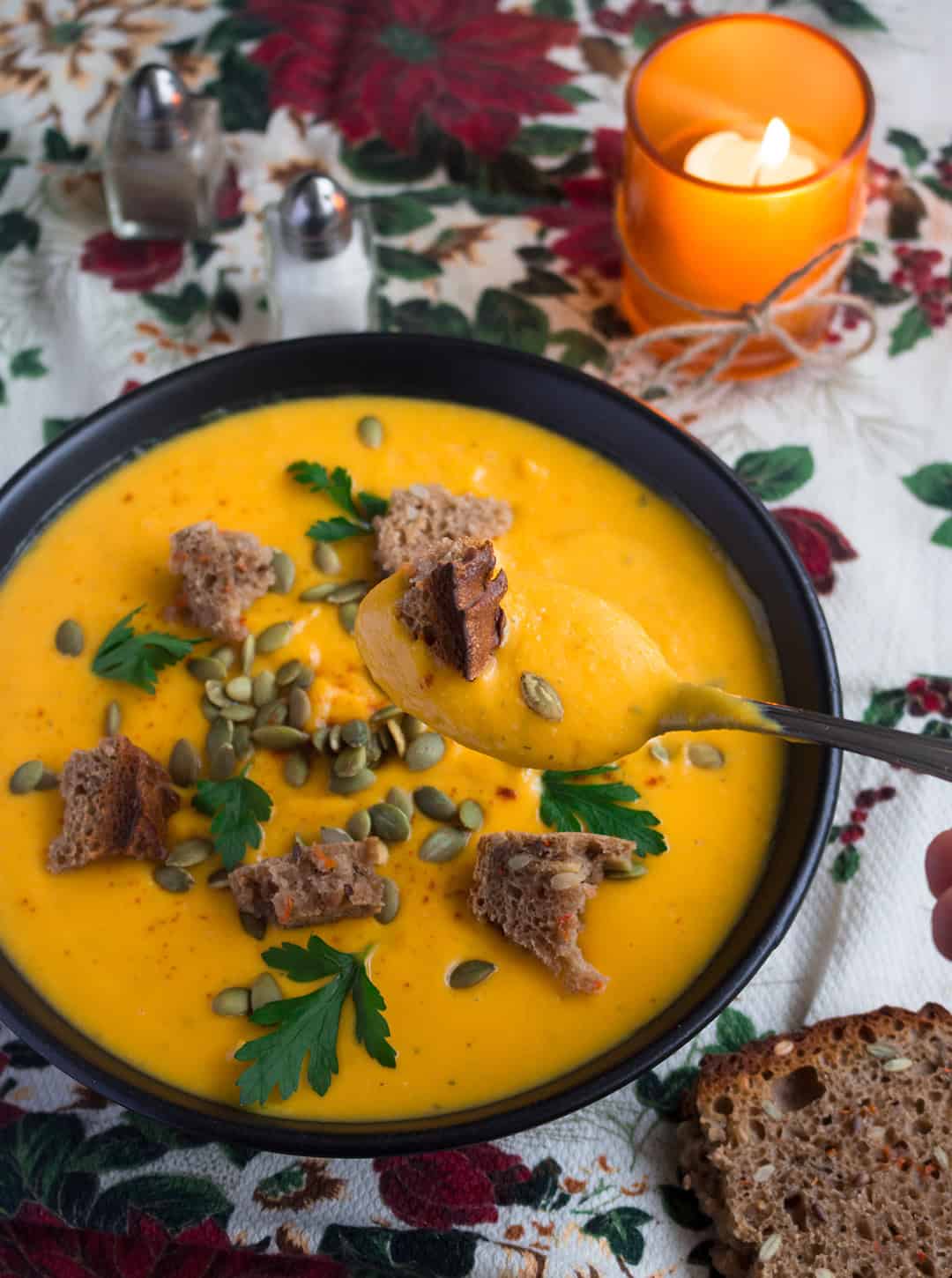 Look how pretty the parsley looks on top. And the bread. And of course, pumpkin seeds. — and then I sprinkled all of it with cayenne pepper to add some heat. Perfection.
Can we take a moment for how creamy it looks?! If there's one thing you should know about me, it's that I love my soups thick. It doesn't matter if it's cream of broccoli or chicken soup. It's always thick. I always liked when my mom went overboard with noodles—the more the better!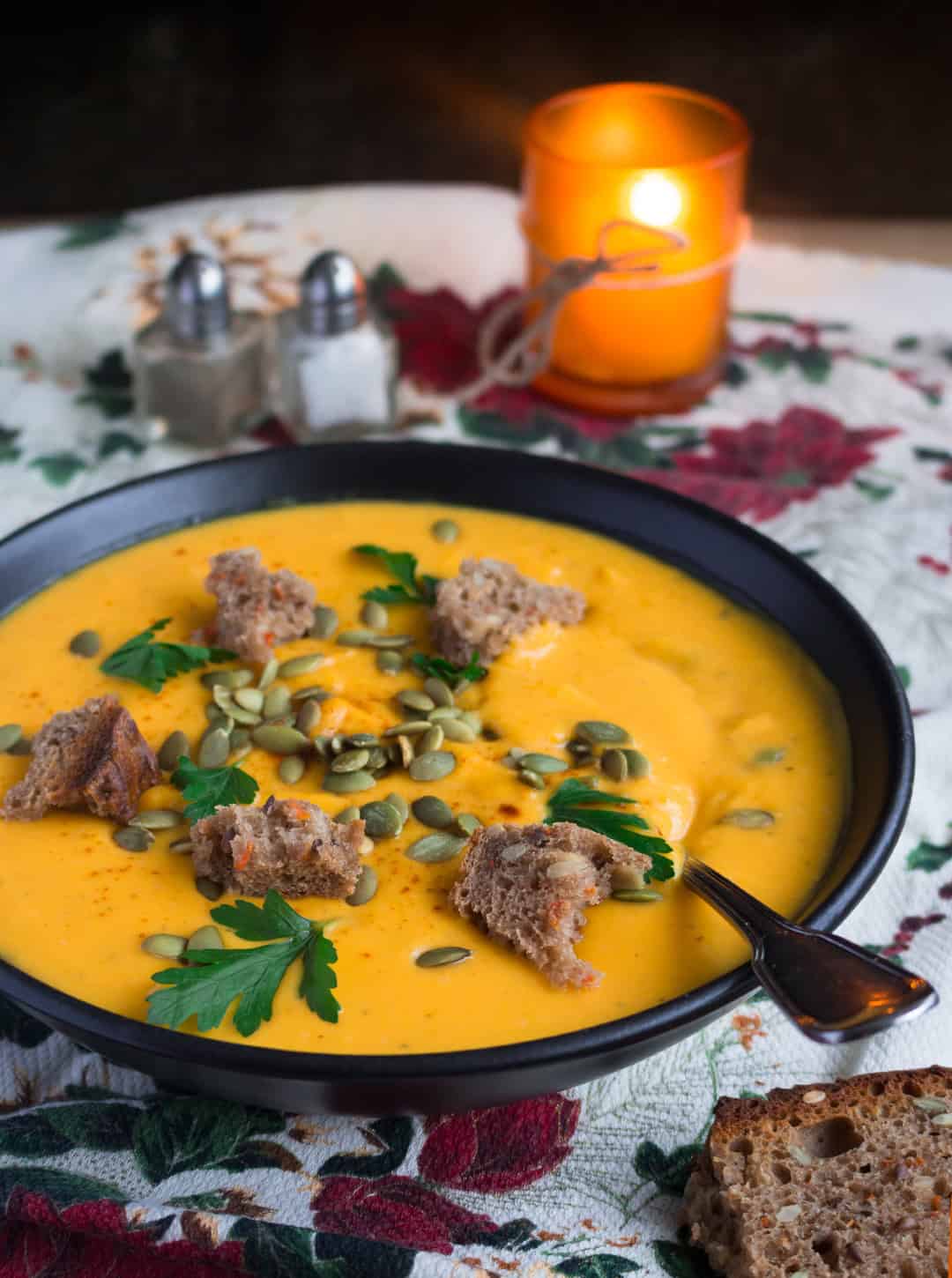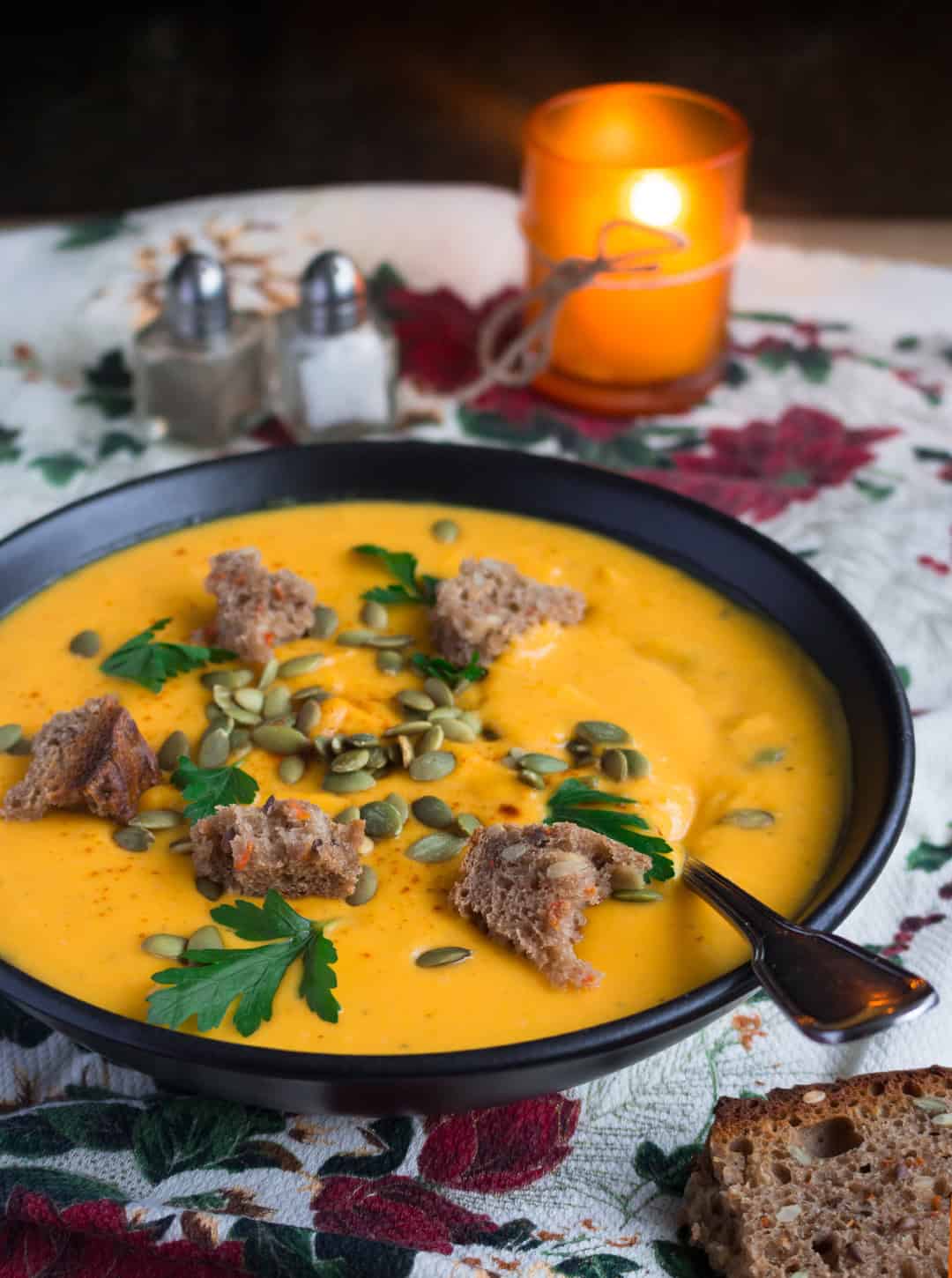 If you don't like your soups this creamy (why????), you can totally add more water! Add 1-2 cups more water, you'll get more soup that way! More soup means more happiness! YAY!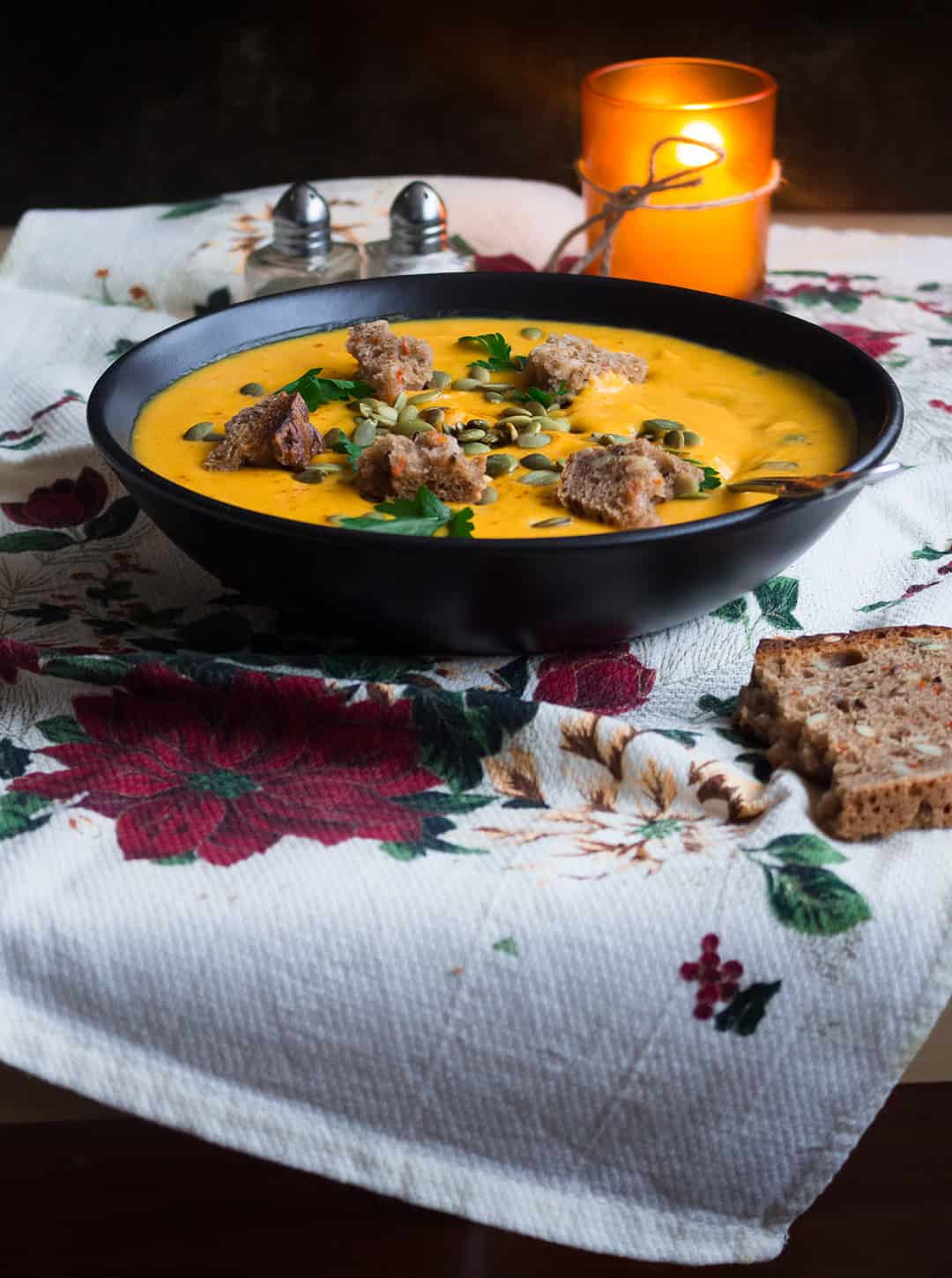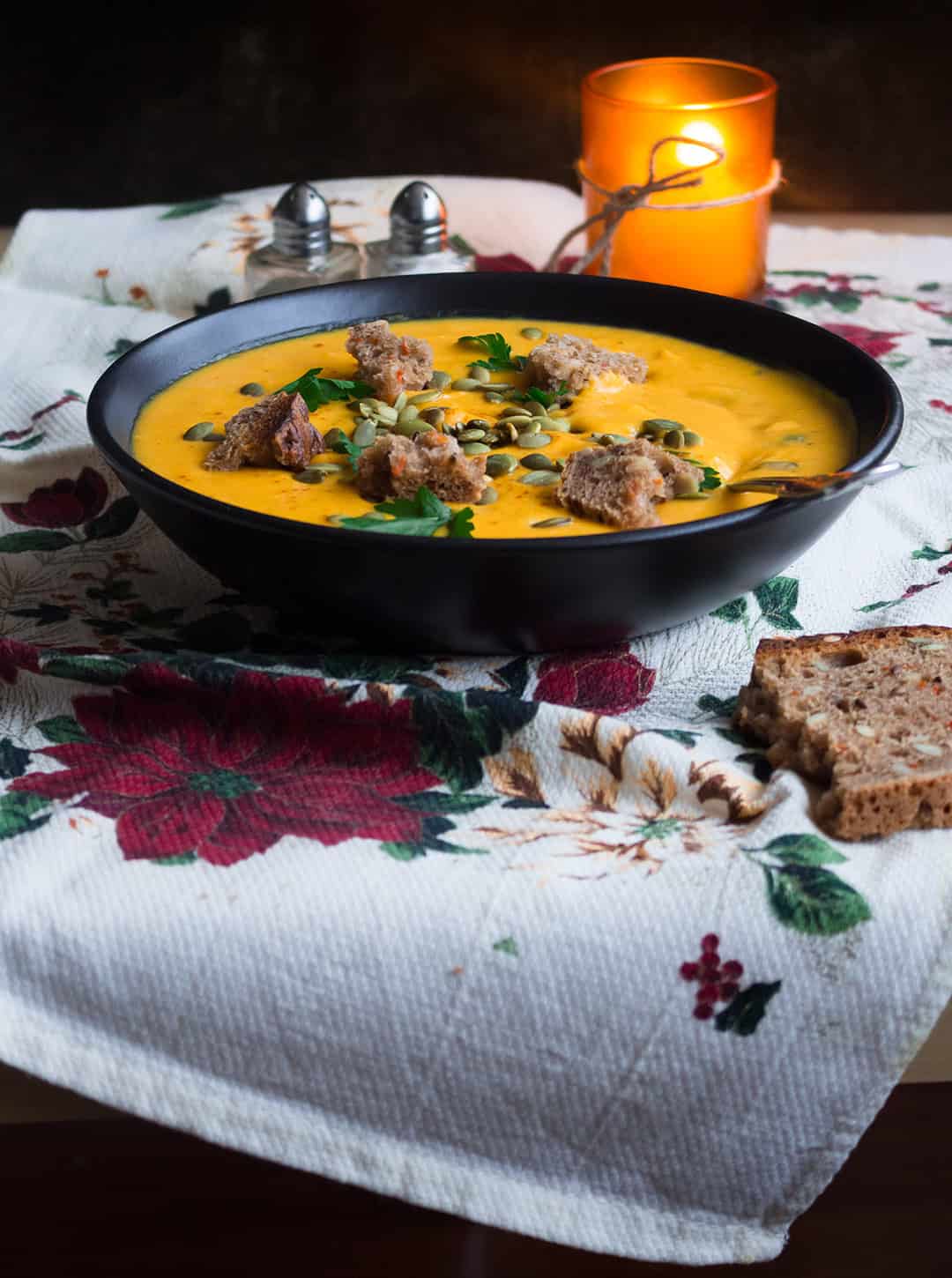 I love that orange candle, by the way. It smells like fall and it's so cute and little. The Christmas-themed cloth beneath the bowl is also my favorite. I literally dug it out from our dishtowel cupboard recently. I was looking for pretty props for my food photography and it caught my eye. I had no idea we had it, I'm sure it's ancient, but it's still in pretty good condition and it looks all cute with the candle. And let's be real, the bowl of soup makes everything look fancier.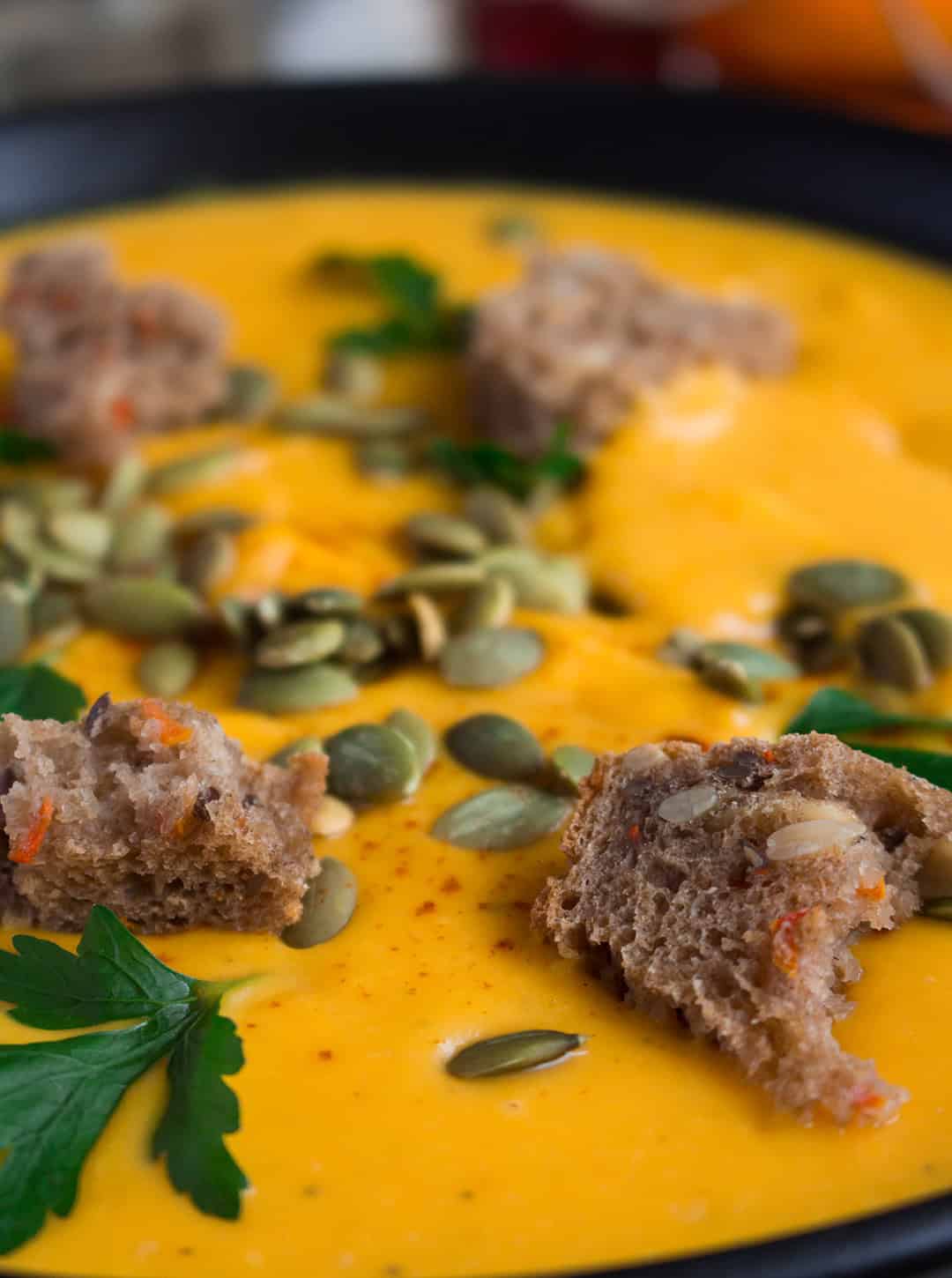 HERE, please enjoy the close-up shot. You're welcome.
Look at the pumpkin seed in the front kind of sinking into the soup but not really because it's SO CREAMY AND THICK. YES YES.
Do I get too excited about food? Maybe. But who doesn't?! It's food! We all love food!! Or at least I assume you do, since you're here, on my blog, staring at this close up.
Go buy a butternut squash and make the soup. IT'S DELICIOUS.
Remember how I said in the beginning of this post that I wish I had more of this soup left in my freezer, well it turns out I still have enough for one in there! YAY!!
Now, FINALLY, after staring at what seems like a thousand photos of this delicious butternut squash soup, let's get to the recipe! I hope you like it and if you try it, don't forget to let me know on social media or here in the comments bellow! Happy cooking! :)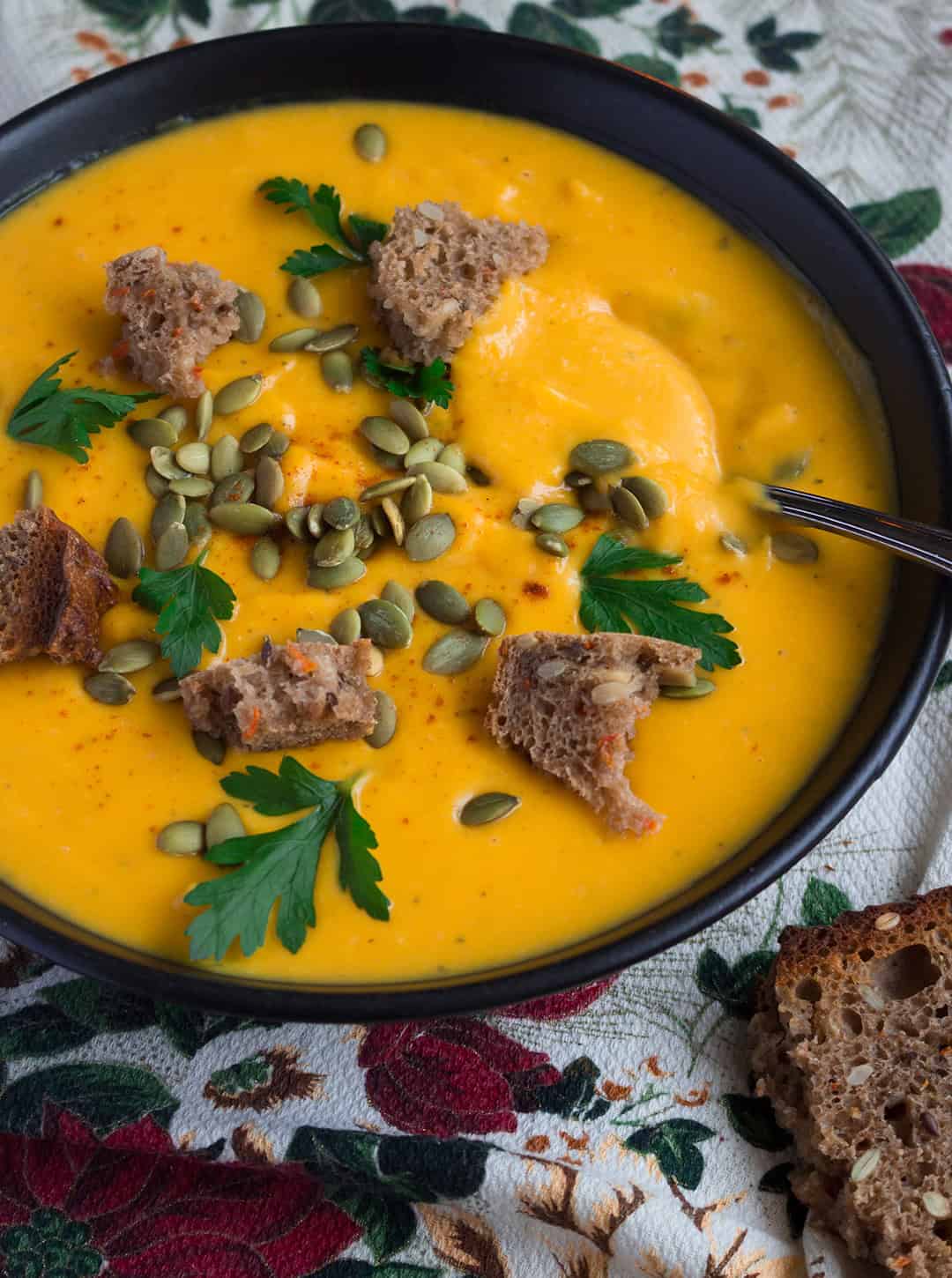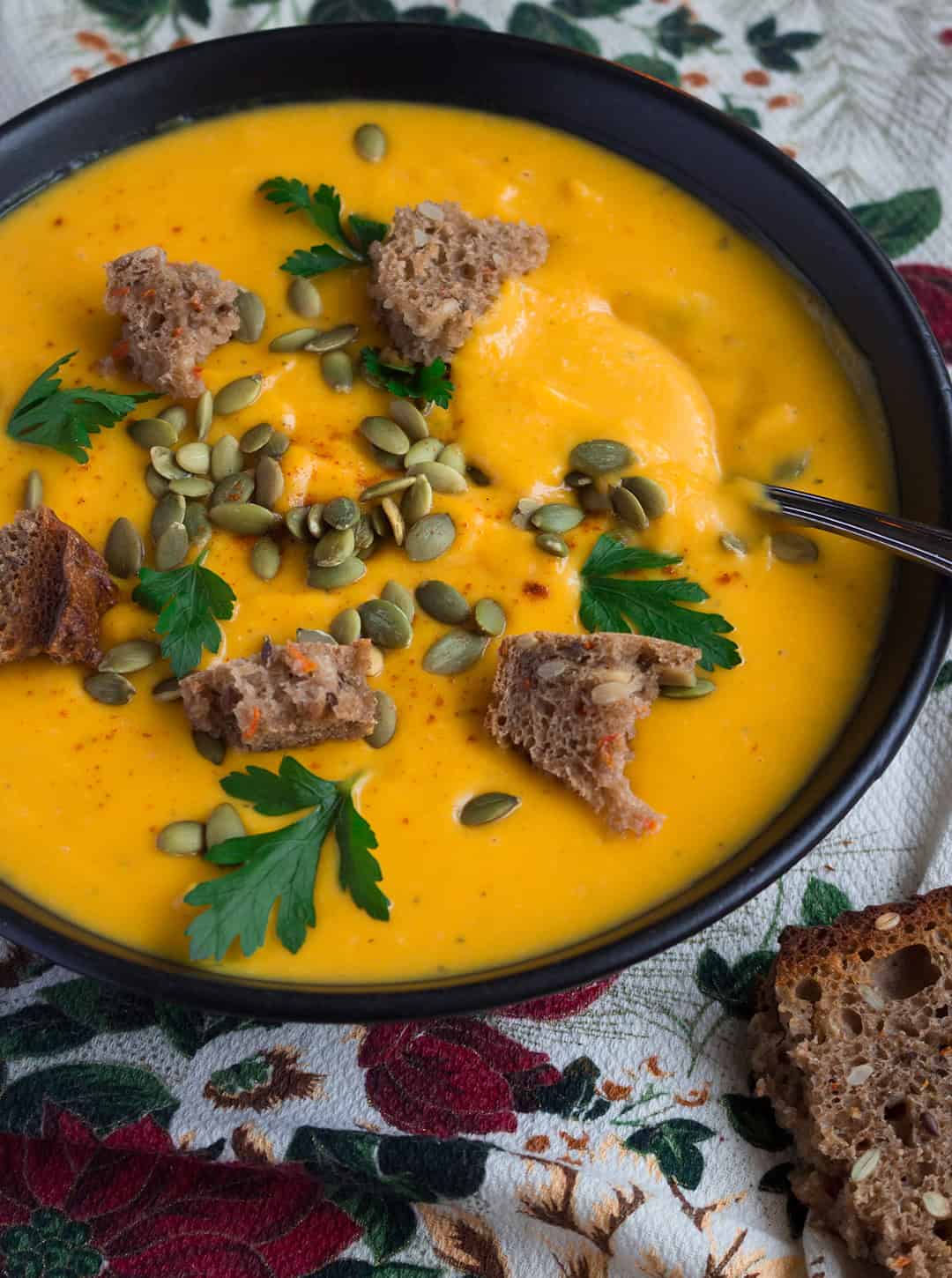 Print
📖 Recipe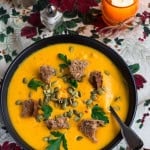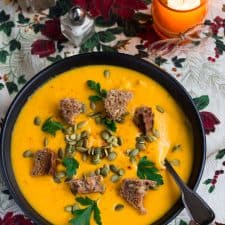 Vegan Roasted Butternut Squash Soup
Author:

The Healthful Ideas

Prep Time:

15 mins

Cook Time:

65 mins

Total Time:

1 hour 20 mins

Yield:

5

-6

1

x
---
1

butternut squash (

2000g

)

1 tsp

coconut oil + some for roasting the butternut squash (ca

½ tsp

)

1

medium yellow onion

4

cloves of garlic

½ tsp

cumin powder

1 tsp

dried cilantro

¼ tsp

curry powder

⅙ tsp

ginger powder

¼

-

½

teaspoon cayanne pepper (or to taste)

1

can coconut milk

3 cups

oat milk (or other plan-based milk of choice)

3 cups

water
sea salt, pepper to taste
---
Instructions
Preheat your oven to 200°C (392°F).
Wash the butternut squash and cut it in half.
Scoop out the seeds and lay the squash on a baking sheet lined with parchment paper (inner side of the squash up).
Rub the inside of the squash with a little bit of coconut oil and place it into the oven.
Roast for 55-65 minutes or until tender in the thickest parts.
Take it out of the oven and let it cool a little.
While it's cooling down, peel and chop your onion and garlic cloves.
Heat a teaspoon of coconut oil in a small pan over medium high heat and add the onion and garlic.
Sautee for a couple of minutes until the onion starts to brown a little on the edges.
Add cumin, cilantro, curry, and ginger and cook for 1 more minute.
Take off heat and set aside.
Peel your squash and roughly chop.
Place the chopped squash and the onion and garlic into a big pot. Pour in the coconut and oat milk and add the cayenne pepper.
Blend with a hand blender until smooth.
Add the water, 1 cup at a time, and blend until you reach desired consistency.
Add more water if necessary.
Season with sea salt and pepper. Taste and add more if needed.
Heat up and serve topped with pumpkin seeds, sprinkled with cayenne pepper.
It's also delicious with toasted rye bread on the side!
---
Notes
The soup freezes well so if you have too much leftover, pour it into a plastic container and keep it in the freezer. It's always great to have some soup on hand when you don't feel like cooking.