Happy New Year! Wow. It's actually 2017! It's a bit ridiculous that on the 31st everything is the same and then a few hours later everything changes — we change our diets, change our careers, move to a different city, start working out all of sudden, etc. But it feels good, doesn't it? It feels great to draw a line between the previous and the present year and say hi to new beginnings and new opportunities.
If I had to sum up last year in one word, it'd have to be crazy. It's been surprising, fun, sad, exciting, devastating, hopeful, depressing, amazing, horrible, rewarding, and full of lessons — I know I'm all over the place with these adjectives but that's what 2016 was — all over the place. 2016 taught me so many things, I achieved a lot but also went through some tough stuff. And yes, it was necessary to go through all of it and I'm glad I did but man was it a crazy ride! Today I want to share with you the best of last year and some of my plans and goals for the blog for next year as well as a few personal resolutions. If you want, you can share with me some of your plans and goals for this year so we can support each other. Remember, there's no such thing as a goal that's too big!
Yesterday I made my first "happiness jar" for which I got the inspiration from the Dear Diary 2017 planner. Every day you write down something that made you happy, something exciting, or whatever you're grateful for that day on a small piece of paper and put it in the jar. I really hope I stick to it because it'd be great to look back at all the good moments of 2017 at the end of the year.
Making New Year's resolutions is such a cliche but I really like setting goals for myself at the beginning of the year so I know what to strive for. Most people make their resolution to do or accomplish something huge, which isn't a bad thing, but it's not a good idea if you're planning to accomplish it all in the first week of January. It just never works out. You make your goal to lose X amount of weight so you go to the gym 5 days a week and tire yourself out so much you don't go again for 5 months. Sounds familiar? That just isn't sustainable. I'm all about setting goals and resolutions at the beginning of the year and slowly working towards accomplishing them. It's all about baby steps, you guys.
So what are your goals for this year? I have a few blog/business related goals but one of my personal ones is being more grateful for everything I have because so often we complain about irrelevant things instead of being grateful to even have a roof over our head. Seriously, though! You may say you don't have anything to be grateful for but that's so not true, there's always something you can be grateful for. There's a snow storm outside my window right now. Think about how amazing it is that you have a warm place to stay and a bed to lay down at night. Not everyone has that. Think hard about something you're grateful for every day and I promise you'll instantly feel better about your life.
I'm grateful for my home, my family, I'm grateful to have a job and food on my plate. I'm grateful for my internet connection and my computer which gives me the ability to share this post with you today. I'm grateful for YOU, I'm grateful that you care enough to read through this post, I'm grateful for all the comments on my posts, and all the love on social media and I really really hope you like what I share and that it brings you joy.♥
Another goal of mine is to meditate every day even for just 5-10 minutes. I've been hearing good things about meditation from everywhere lately and it's something I really want to incorporate into my daily routine. It's always good to stop for a few minutes and just breath. I don't believe meditation has to be complicated. You can sit, lay down, or even go for a quiet walk and be aware of your breath for a few minutes.
I also want to read more. I'd love to be able to read 3-4 books a month but that seems almost impossible so my goal is 1 book a month which is a goal I think I'm able to achieve. Another one is that I want to take a better care of my body, stretch every day, work out, eat better, and most importantly learn to love myself which is something I still struggle with tremendously.
---
As for blog related goals, my aim is to keep posting two posts a week and start sharing other things than just recipes. I'd love to incorporate more travel related posts, as well as posts about nutrition, well-being, lifestyle, and anything in between. A big goal of mine is also to start making videos on Youtube and I'm super excited about that! I'd also love to publish another e-book but that's very early days right now so stay tuned for more info later on in the year. Last year I created my first ebook called How to Make the Best Healthy Vegan Popsicles and I enjoyed the process so much that I want to make a hundred ebooks now! Honestly!
---
I really hope this year is your best year yet and that you accomplish everything you want in life.♥
And now let's get to the recipes! All the links are below the photos ⇓ Which one is your favorite?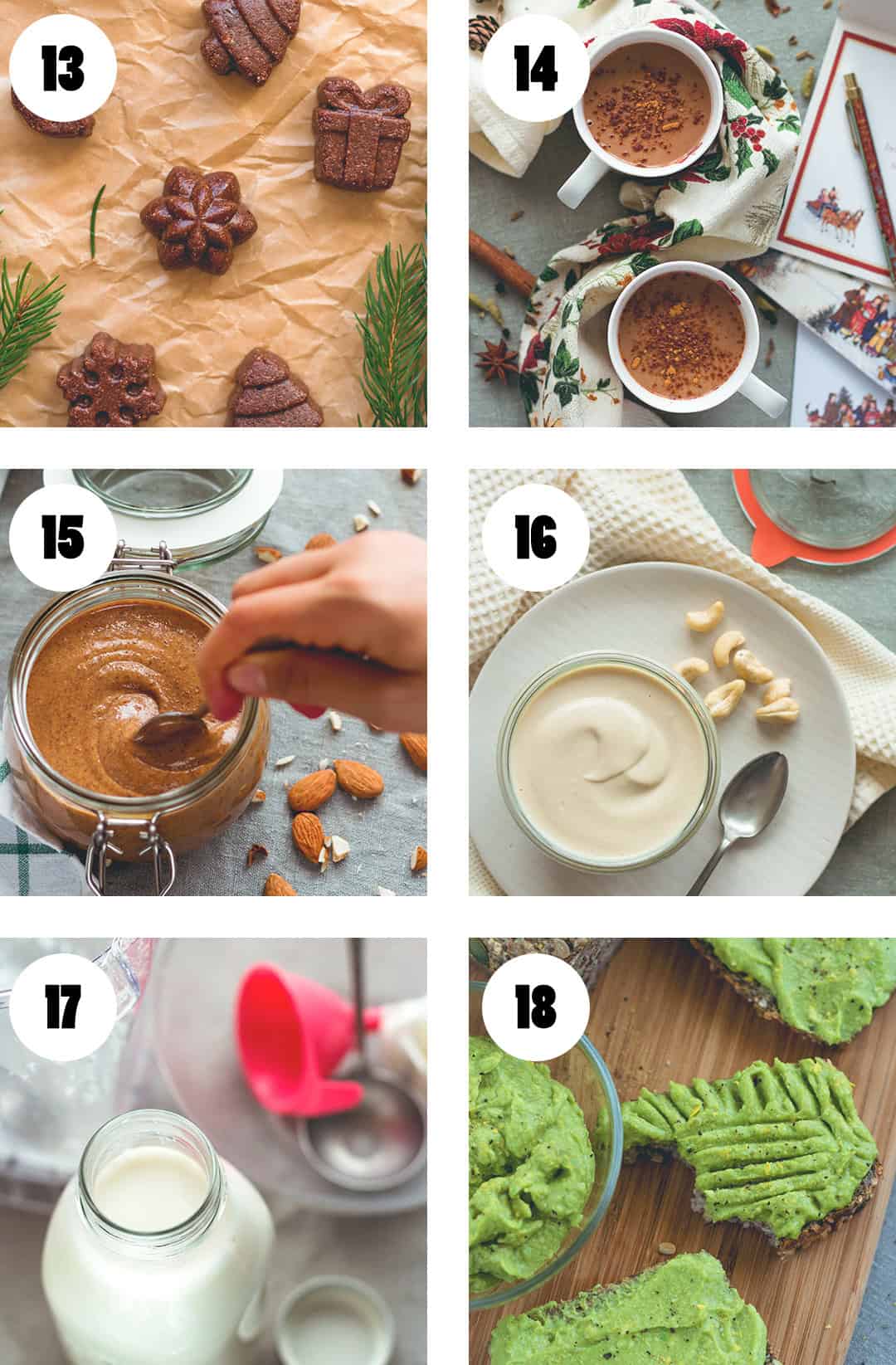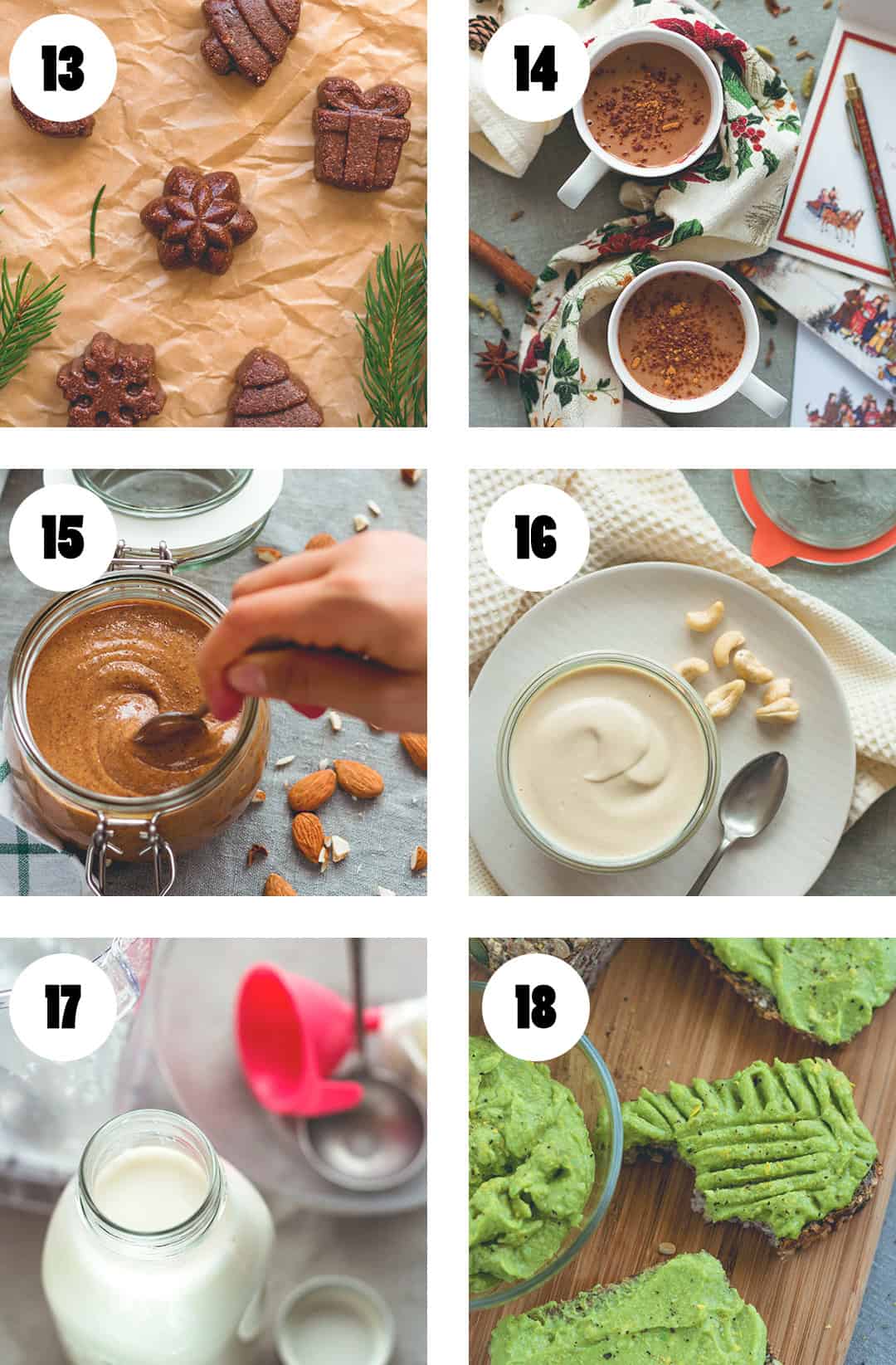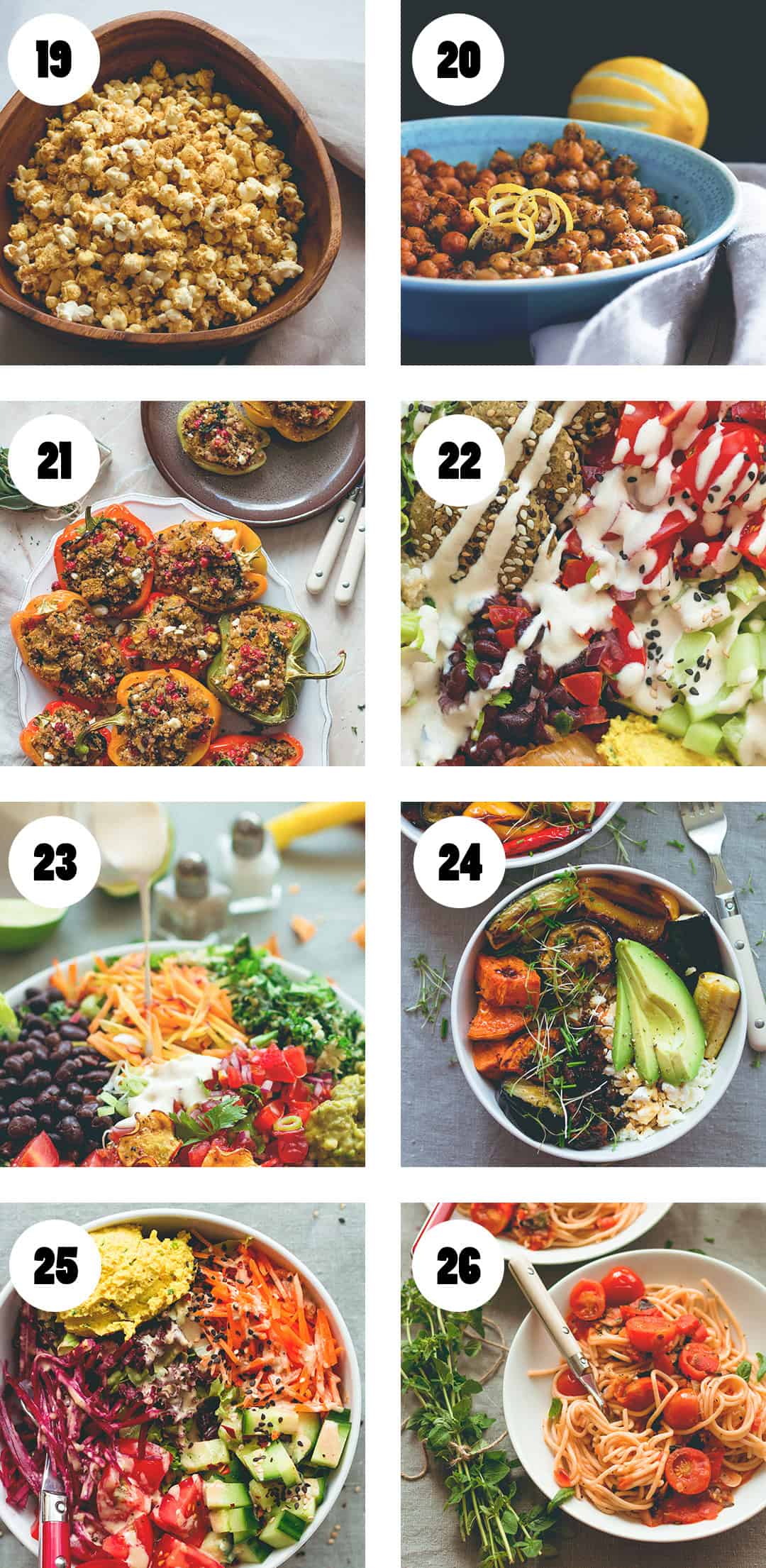 // 1. Raw Chocolate Orange Energy Bars // 2. Spiced Christmas Bread with Nuts and Dried Fruit // 3. Cardamom Raspberry Apple Crumble // 4. Strawberry Coconut Sugar Cookies // 5. Chocolate Oatmeal with Orange Zest // 6. Blackberry Baked Oatmeal // 7. Chai Spiced Pancakes with Cashew Cream // 8. Creamy Vegan Carrot Cake Oatmeal // 9. Strawberry Rhubarb Breakfast Oat Bars // 10. Chocolate Chia Parfait with Cashew Cream and Strawberry Jam // 11. Gingerbread Banana Bread // 12. Tangerine Chocolate Chia Pudding // 13. Chocolate Hazelnut Fudge Bites // 14. Almond Chai Hot Chocolate // 15. How to Make Almond Butter // 16. Sweet Cashew Cream // 17. How to Make Almond Milk // 18. The Best Cheesy Vegan Avocado Spread // 19. Cheesy Vegan Popcorn // 20. Crunchy Chickpeas - 2 ways // 21. Quinoa Stuffed Bell Peppers with Squash and Cranberries // 22. Baked Falafel Buddha Bowl // 23. Mexican Kale Salad with Cashew Dressing // 24. Brown Rice Salad Bowl with Roasted Veggies and Tamari Dressing // 25. Black Rice Salad Bowl with Tahini Dressing // 26. Fresh Tomato Pasta with Herbs