I wanted to talk all about this Thai Bowl with (the most delicious) peanut butter dressing but to be honest, the thing I'm most excited about today is the fact that I might FINALLY have home internet soon. Yes, THAT'S RIGHT. It's been exactly three months since I moved here and exactly two since I've been without the internet (apart from the few GB on my phone - but who are we kidding that's nothing).
A little backstory - I was staying at an Airbnb the first month which had wifi but then I moved into my own place and getting internet was a much bigger struggle than I thought it was going to be. I actually ordered it within the first few days of living here but they cancelled it saying it's not available in my building after all and I couldn't get it from anywhere else because everyone needed me to have a Canadian credit card which I didn't have. Then I asked the bank but it turns out I can't get a credit card if my Visa is shorter than one year which it would be even if I applied for the credit card the very next day I arrived in Canada. What a pickle. At the end, I found a company that doesn't need a credit check and that was available in my building - bingo! They're coming by to install it on the 29th and I believe me I couldn't be more excited about it - it's been WAY too long and being on the hunt for wifi 24/7 is not fun I tell you.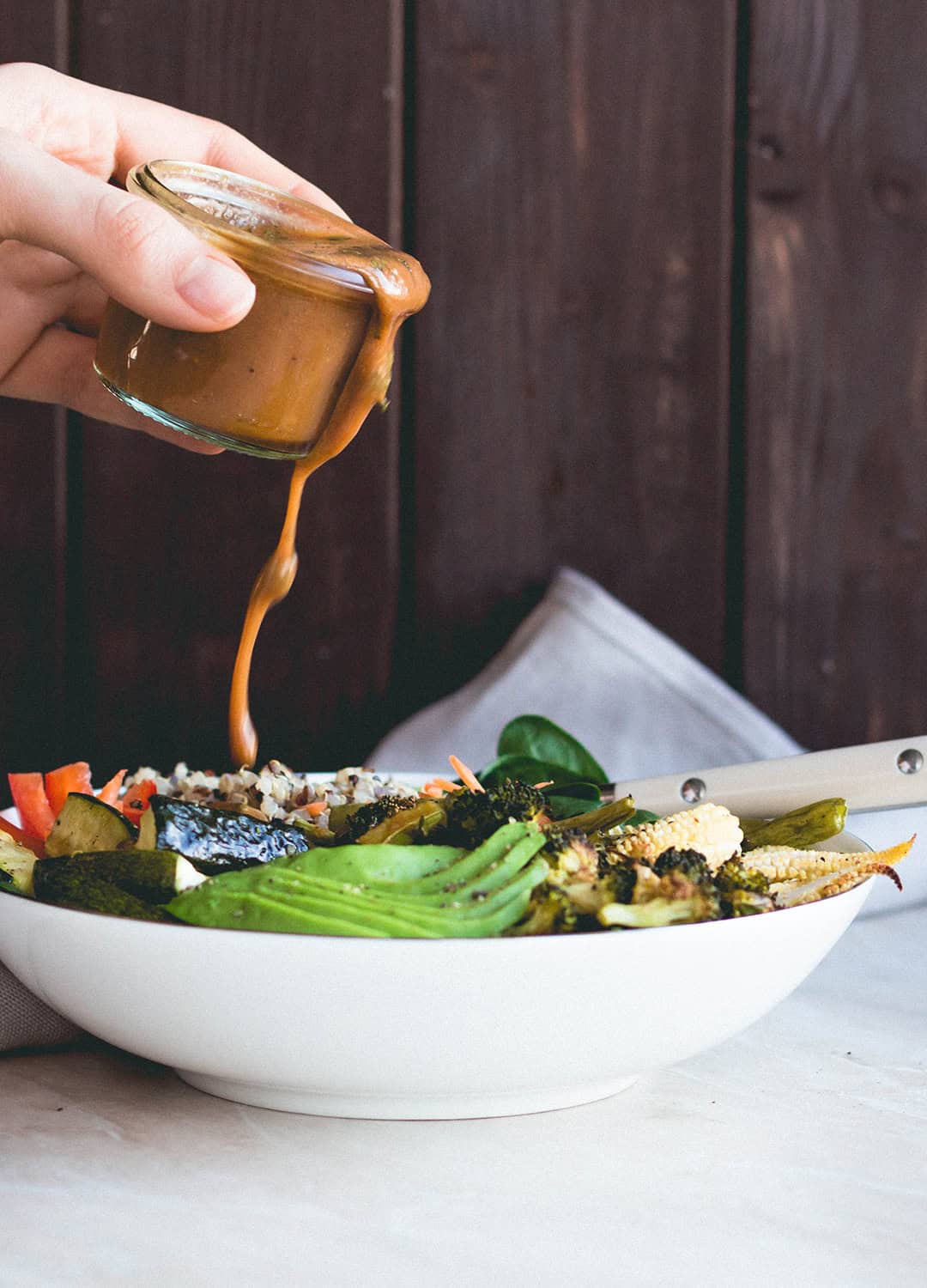 Anywayyys, enough about internet connection let's talk about this peanut butter dressing.
I made it using this Wild Peanut Butter I shared a while back and it's the most amazing dressing ever. I chose to use wild peanuts over regular peanuts because I feel like I'm allergic to the regular ones. Not because I'm allergic to the peanuts themselves, I think it's the invisible molds the regular peanuts so easily develop. That's why a lot of people who are "allergic" to peanuts actually aren't and can normally eat the wild variety. Don't eat them if you're really allergic to peanuts though!
I combined it with Tamari, dried herbs, a touch of maple syrup, and lemon juice and it was oh-so-delicious. I actually really want to make this dressing again and use it for a stir fry like this one. Oh man, I really need to buy a big wok to make a stir fry in.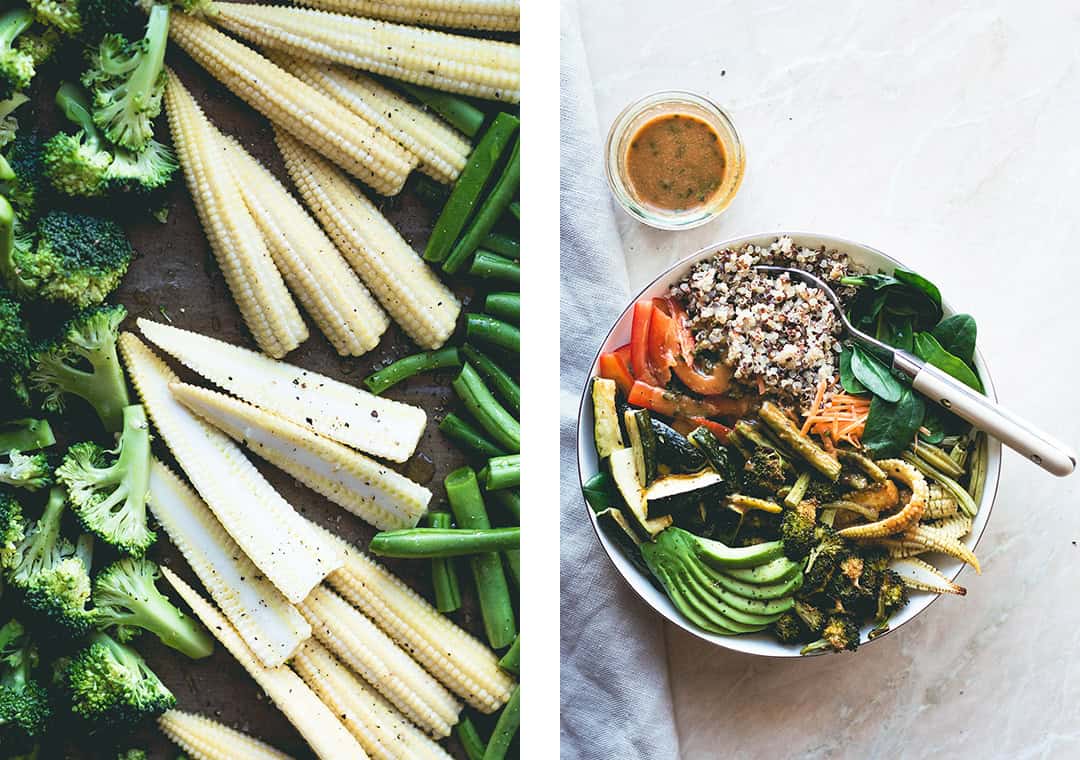 I've been buying lots of things for the kitchen lately to make my apartment more homey and also so that I can cook like I'm used to. I actually shared how I styled some open shelves in my kitchen the other day on Insta Stories. You can follow me @thehealthfulideas to catch the tour of my whole studio once I finish decorating it (*wink wink* self promo). It's my first apartment and I love decorating it, only I wish it wasn't all so expensive lol.
I hope you love this recipe and if you end up trying it please tag me on Instagram or tell me in the comments to let me know how it was, I'd love to know! I'll talk to you next week with hopefully, home wifi. ;)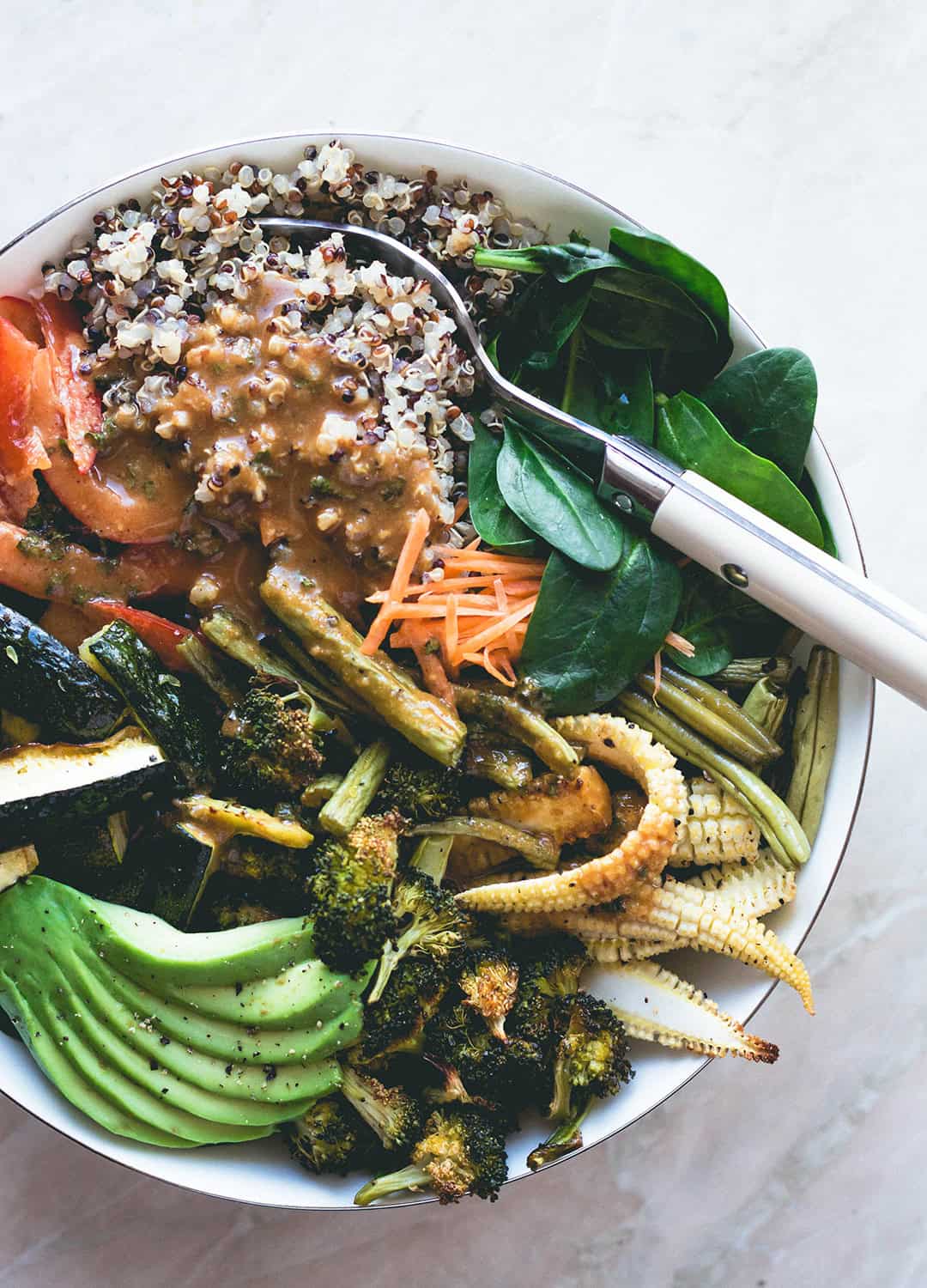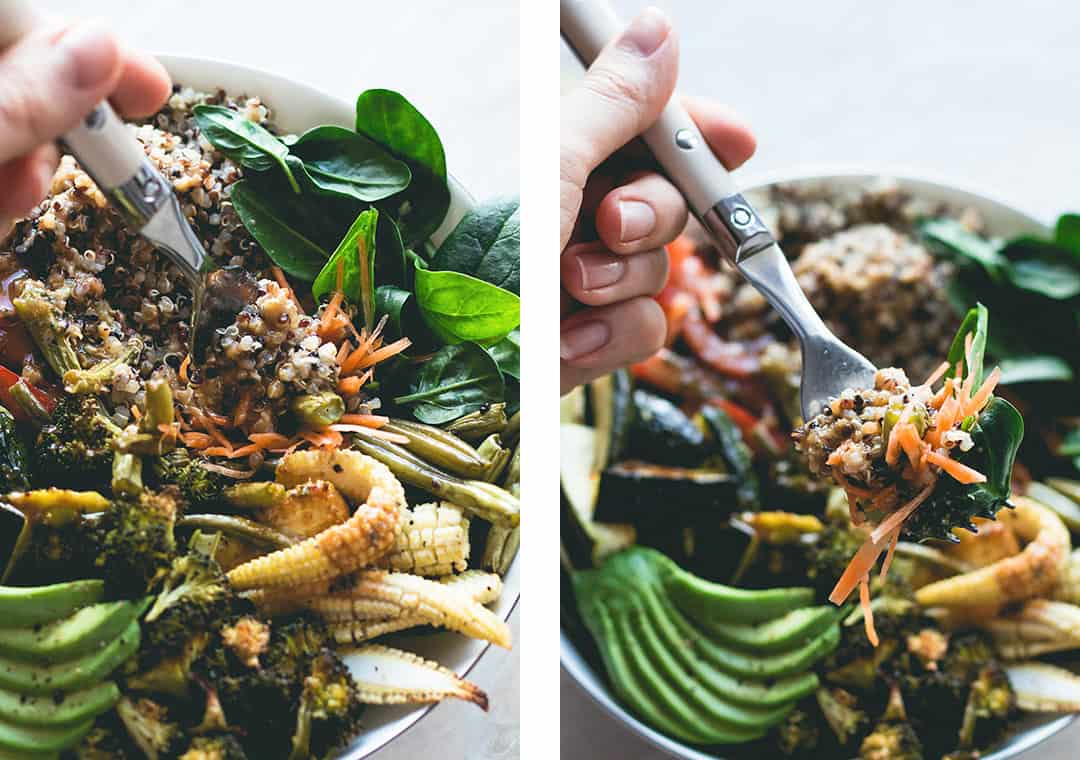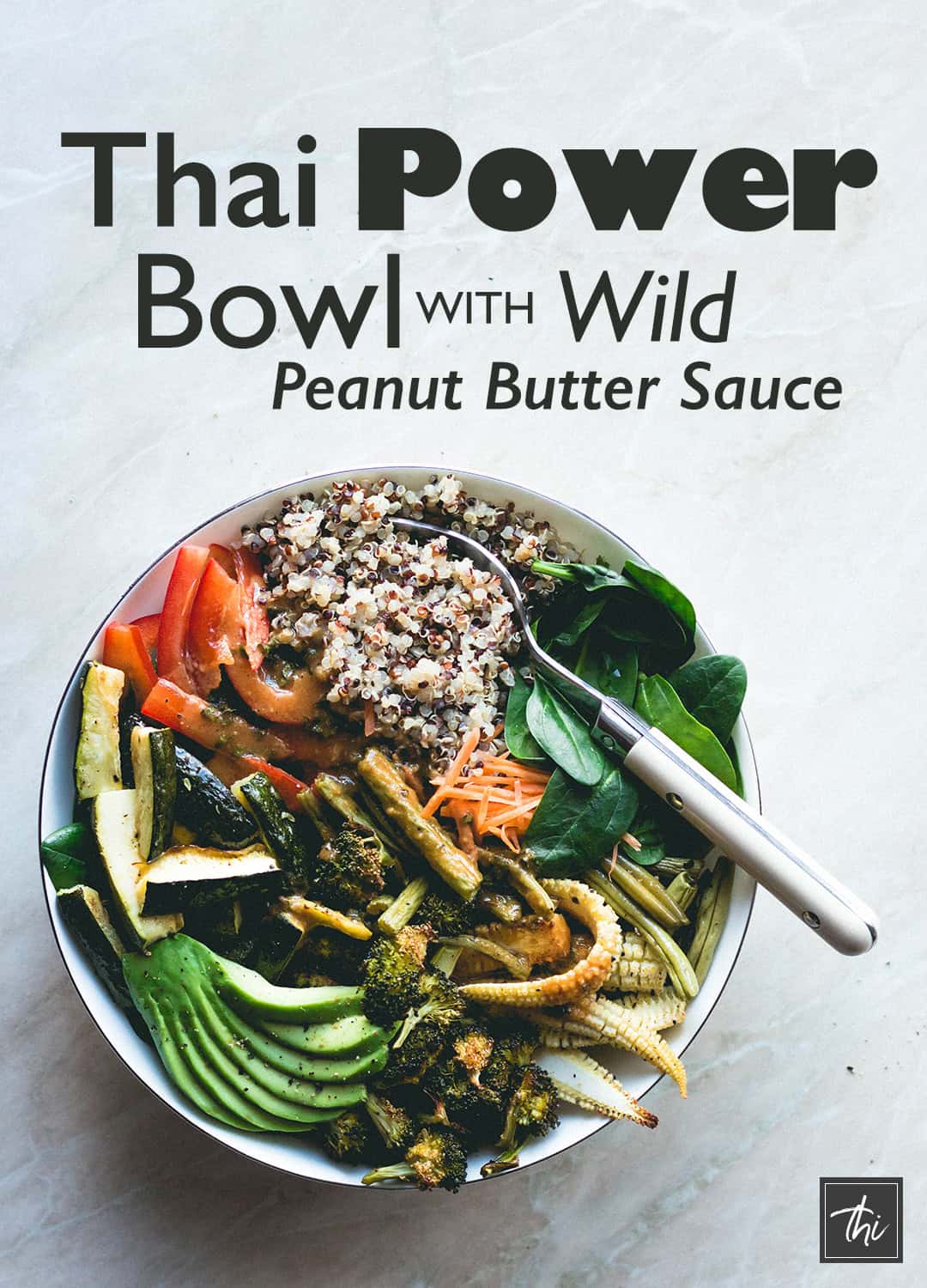 Print
📖 Recipe Thai Power Bowl with Wild Peanut Butter Dressing
Author:

The Healthful Ideas

Prep Time:

10 mins

Cook Time:

25 mins

Total Time:

35 mins

Yield:

1

-2

1

x

Category:

main dish
---
Peanut Butter Dressing:
2 tbsp

wild peanut butter (or regular peanut butter)

2 tbsp

tamari

2 tbsp

sesame oil

1 tbsp

maple syrup

2 tbsp

freshly squeezed lemon juice + more if desired

1 tsp

dried parsley

1 tsp

dried cilantro

¼ tsp

garlic powder

¼ tsp

onion powder
freshly cracked pepper to taste
Power Bowl:
1 cup

cooked quinoa (about

½ cup

dry)

1

zucchini, chopped or diced

1

head broccoli, chopped into small florets
handful baby corns, halved

1 tsp

melted coconut oil or olive oil*
sea salt, pepper to taste

2

packed cups baby spinach

½

bell pepper, thinly sliced

1

carrot, grated

⅓

-

½

avocado
---
Instructions
Wild Peanut Dressing:
Put everything into a glass jar or a small bowl and mix until smooth. Set aside or into the fridge while you make the salad.
Power Bowl:
Preheat your oven to 200°C (400°F).
Cook the quinoa according to package instructions and set aside.
Chop your vegetables, spread them on a baking sheet lined with baking paper, drizzle with the oil, season with salt and pepper and roast in the oven for approx. 25 minutes, tossing once.
To put together the power bowl, first add the baby spinach (you can roughly chop it so it's easier to eat), then make it pretty with the quinoa, bell pepper, carrot, roasted veggies, and the avocado. Drizzle with the Wild Peanut Dressing and enjoy!
---
Notes
*Olive oil doesn't have a high smoke point so it shouldn't really be used in high-temperature cooking. It can be carcinogenic when heated up above it's smoke point. I hardly ever cook with it at all and only add it to salads but I added a small drizzle this time because it adds a different flavor to it and I figured it's fine if I cook with it once every couple of months.