Hi, guys! It's time for some fries with guacamole! I mean, who doesn't like fries?—I know I do. I'd always loved regular french fries with ketchup until I learned about the havoc they cause inside your body. Let's just say it's not cute with all the modified oils and starchy potatoes. Luckily, there's a better option available, and maybe even more delicious!
Sweet potatoes are such a diverse vegetable. You can eat them sweet or savory, blend them into desserts or make pasta sauce out of them. The options really are endless. Today, I decided to prepare them the most simple way—as fries. Wait for it...
HEALTHY FRIES!
Without the frying that is. These babies are roasted in the oven and broiled to perfection.
In this recipe, I'm giving you the basics, how to roast the actual sweet potatoes, but the seasoning is totally up to you. I like to season them with either salt, pepper, and some dried herbs, or spice them up with cayenne pepper. They're great with only salt and pepper as a side of roasted salmon with lemon pepper.
Sweet potato fries with guacamole is a winning combo. A classic. It hits the spot every time, and if you've never tried sweet potatoes, these fries are a great start.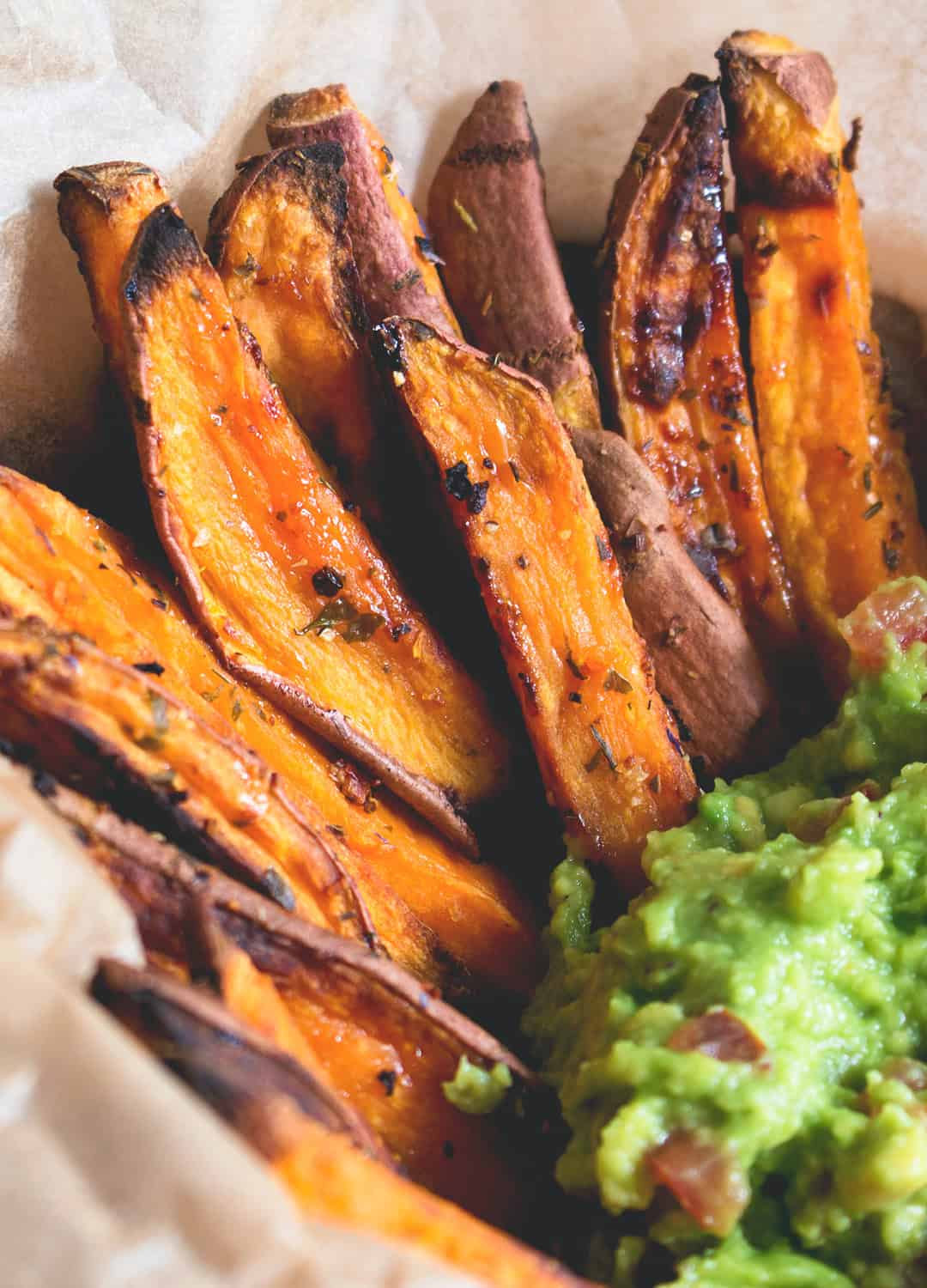 You could even cut these up into smaller fries or into wedges and throw them into your salad! Along with some beans, quinoa, avocado, and maybe some cilantro with a squeeze of lime, it'd be a delicious nutrition-packed lunch.
I also like having these on their own as a main course, as they are very filling. They're full of good carbohydrates, fiber, vitamins and even minerals.
They also taste good with a sprinkle of cinnamon and coconut sugar. It might seem strange and it's definitely something new, but it's really good.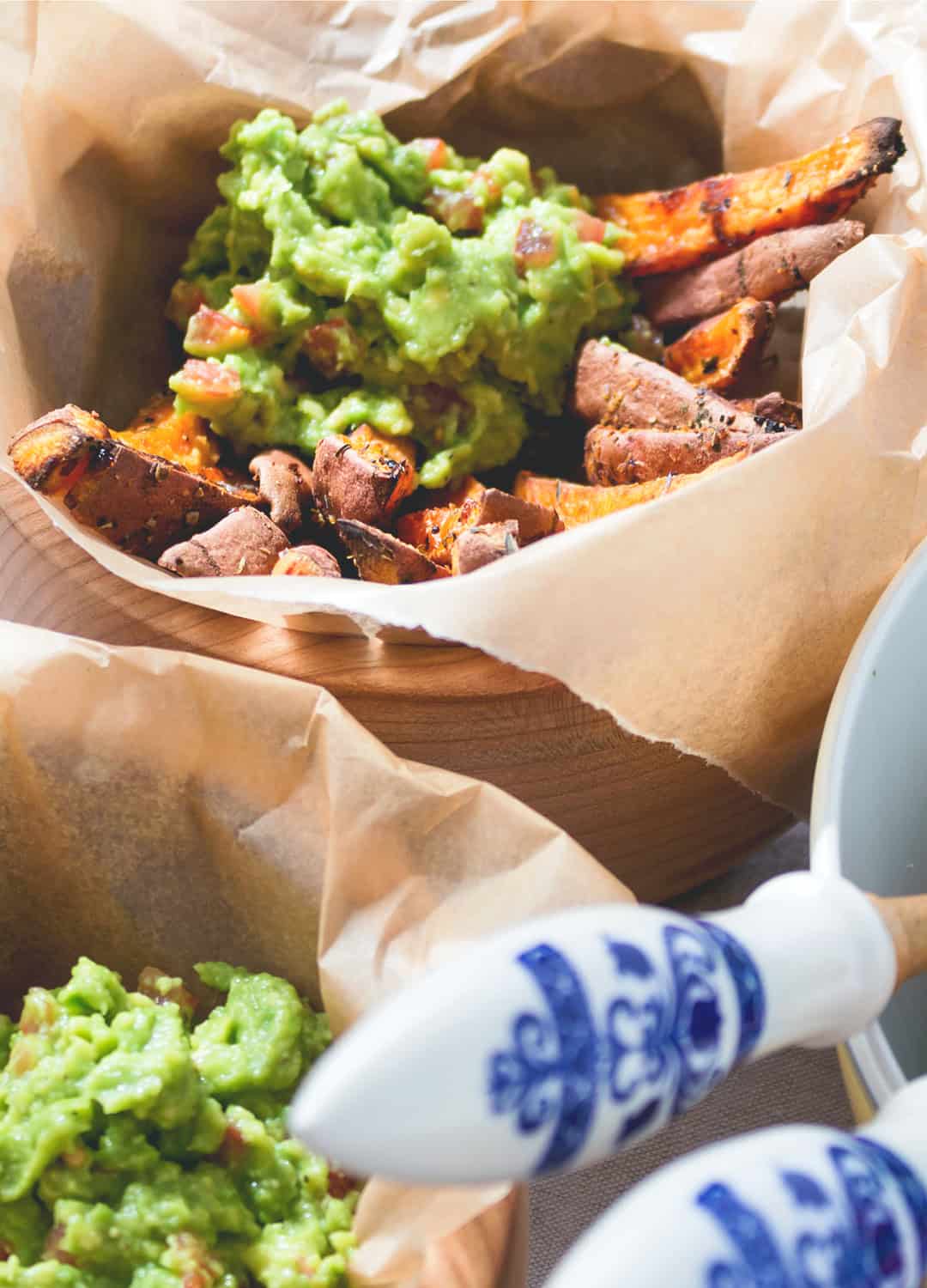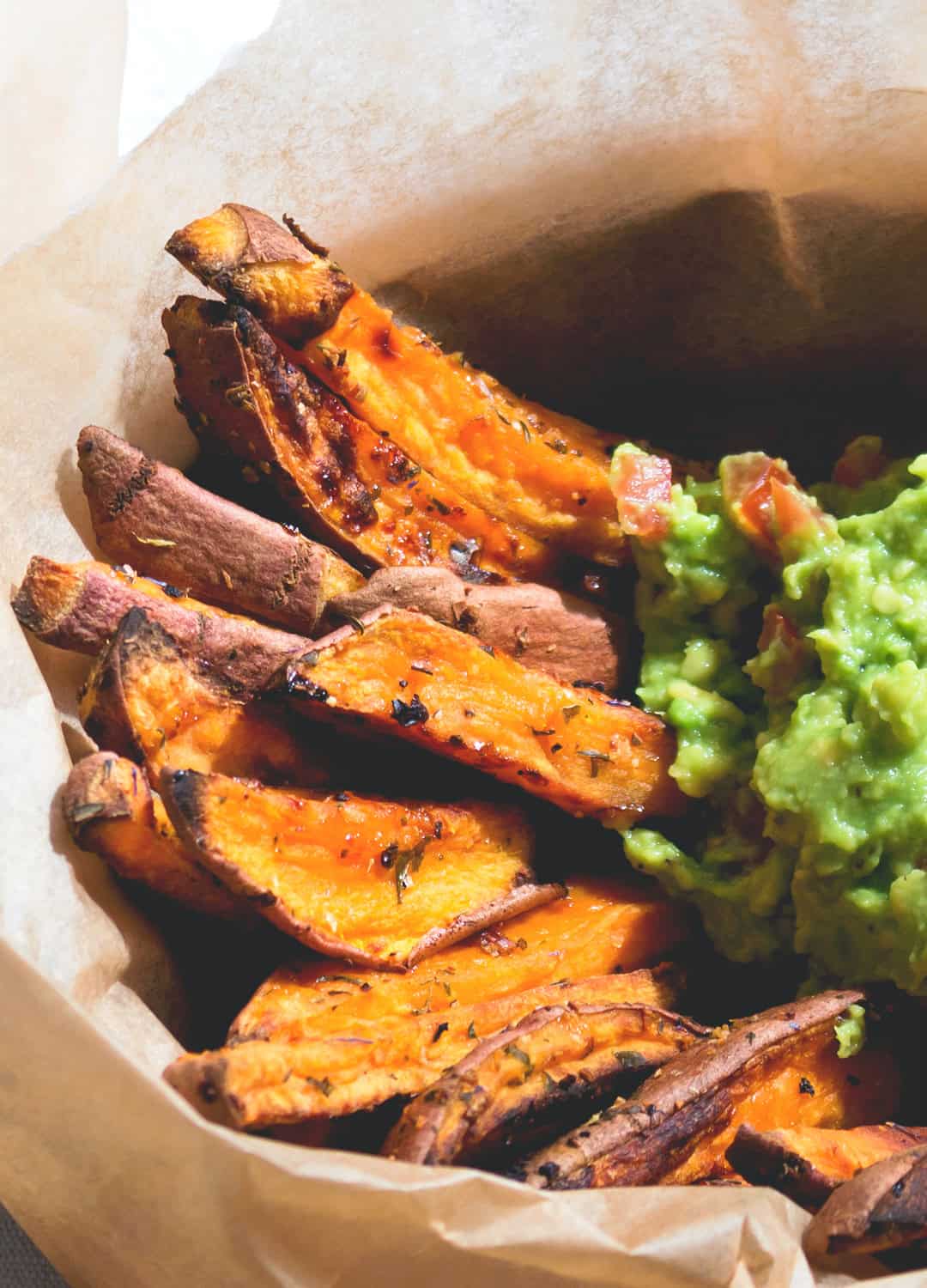 Print
📖 Recipe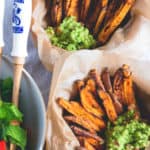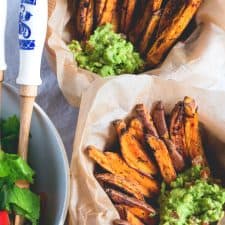 Sweet Potato Fries with Guacamole
Author:

The Healthful Ideas

Prep Time:

5 mins

Cook Time:

25 mins

Total Time:

30 mins

Yield:

2

1

x

Category:

Sides
---
Description
Sweet potato fries are a great healthy substitute for regular potato fries. They're easy to make and can be a great addition to any meal or a salad! Goes great with a serving of wild salmon or tuna!
---
2

sweet potatoes
coconut oil for roasting
dried herbs of choice

½ tsp

garlic powder

1

avocado

½

lime

3

cherry tomatoes
sea salt, pepper
---
Instructions
Preheat your oven to 200C/400F.
Wash your sweet well and dry with a paper towel. You can either peel them or leave the skin on. I like to peel them because the skin always stays a little chewy.
Slice them into thin fries and rub them evenly with the coconut oil. Sprinkle on the garlic powder, (dried herbs if using), sea salt, and pepper*
Spread onto a parchment paper on a baking tray.
Roast them for 25 minutes.
While they're roasting make the guacamole.
Cut the avocado in half and scoop out the flesh. On a small plate, mash the avocado with a fork and squeeze some lime over it and mix.
Cut the cherry tomatoes into quarters and take out the seeds. Cut them into tiny pieces and add to the avocado and mix well.
Add sea salt and pepper to taste and set aside.
After the 25 minutes, flip them and turn on the grill on medium heat and grill in the oven for 10-12 minutes or until crisp. (If you don't have the grill option, roast at 200C for 10-15 more minutes)
Take them out of the oven, season with a little bit of sea salt and pepper, and serve immediately.
Enjoy!
---
Notes
*If the coconut oil is hard you can add a teaspoon of it in the middle of the baking tray (after the cut up sweet potato) and put it in the oven for a few minutes, then take it out and toss with two wooden spoons so they're all evenly covered.