Chocolate. Everyone loves chocolate—or I assume so. I'm always weak when it comes to chocolate, especially raw quality chocolate. It's SO good.
Here I have a recipe for raw vegan chocolate that's similar in taste to my most favorite brand of chocolate called Pana Chocolate. It's from Australia and it's quite expensive but so delicious. There isn't one chocolate bar that tastes better than Pana chocolate I'm sure of it.
Anyways, this recipe is quick and easy to make. It's a great thing to have in the fridge when you're craving something sweet so you don't reach for an unhealthy option.
I love the sour cherry pecan chocolate combination. It's inspired by Pana's sour cherry vanilla chocolate. It's divine.
Cacao is a great source of minerals especially iron, magnesium, and zinc. Coconut oil is an amazing source of good fat and it's great for the immune system and has antibacterial properties.
It's sweet, chocolatey, and it immediately melts in your mouth. SO GOOD.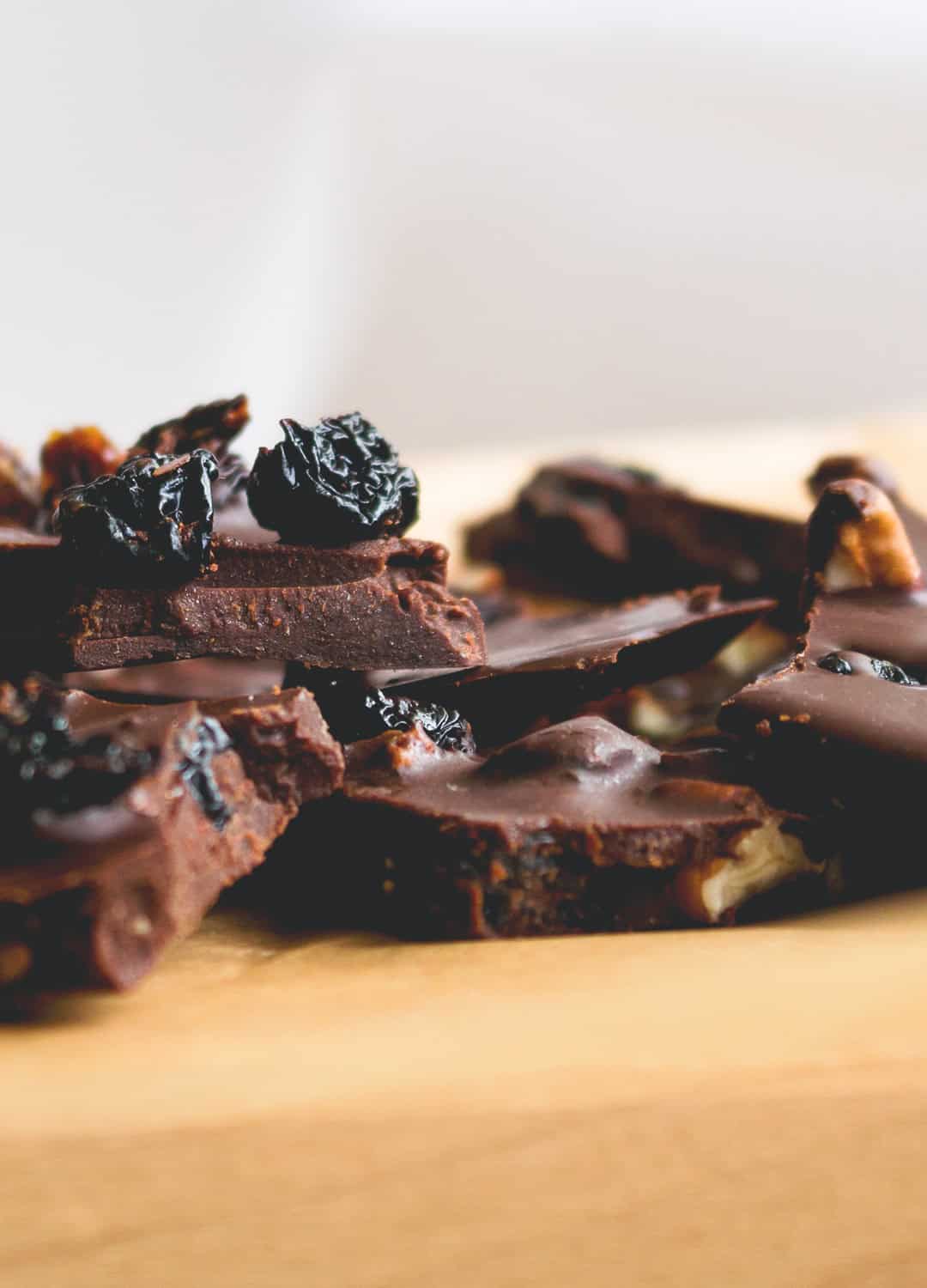 How to make sour cherry pecan chocolate bark?
Apart from cacao powder and cacao butter, I added cacao paste to this recipe to boost the chocolate flavor and for extra nutrients. Cacao paste is cacao beans ground up at a low temperature until it forms a paste and then it's dried into solid form again. It's widely added into chocolate bars as it enhances the flavor.
I use ½ cup coconut oil and ⅓ cup cacao butter in this recipe but you could totally do it the other way around or skip coconut oil altogether. I simply didn't have enough cacao butter, so I opted for coconut oil, but you can use cacao butter in the place of coconut oil for harder  chocolate that doesn't melt so easily.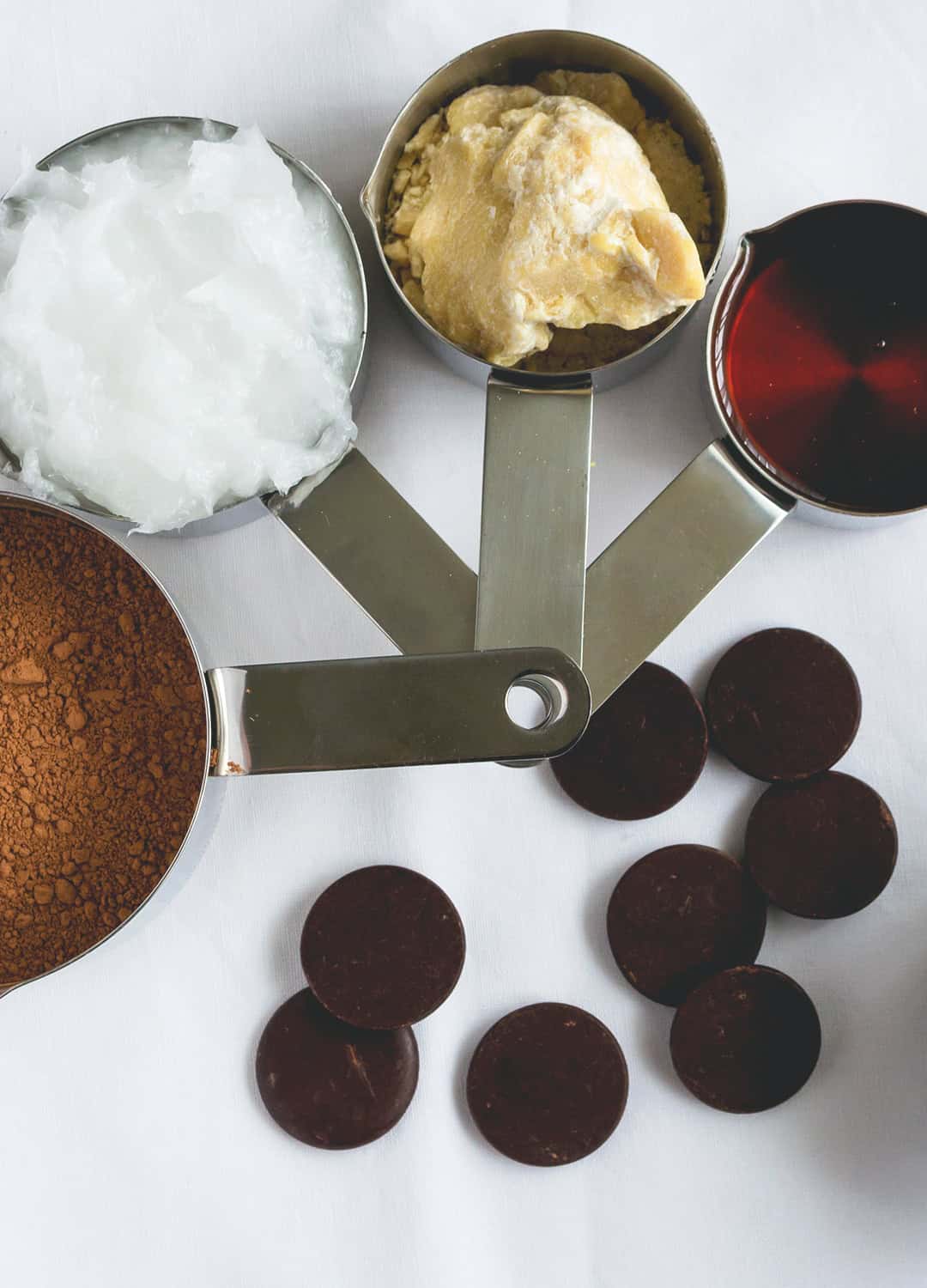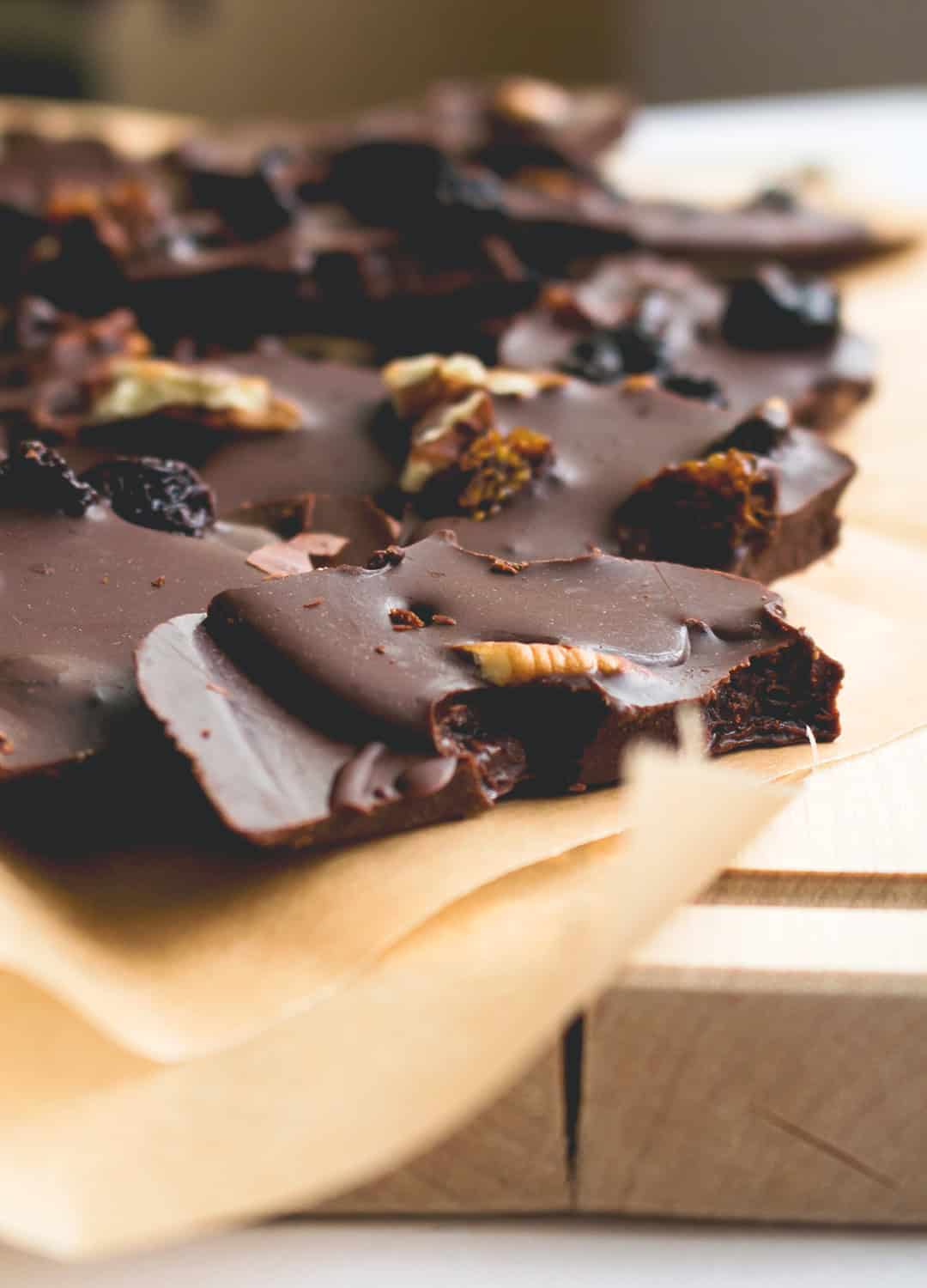 When you're melting the cacao butter, coconut oil, and cacao paste, make sure you do it over VERY low heat. You don't want to burn it and you shouldn't heat it up too much so you don't lose the nutrients! I like to start with cacao butter since it's the hardest to melt along with cacao paste. When those two are melted, I add the coconut oil which melts immediately.
After you mix in all the cacao is mixed in, you can either add the nuts and dried fruit into the mixture before pouring it into the dish or just sprinkle it on top afterward. It's really up to you. I personally like to sprinkle it on top to prevent all the dried sour cherries from sticking together and so that the nuts & cherries are visible when it's done.
Enough chocolate talk, let's get to the recipe!
Oh, before I go, I'm just gonna leave the link to my Raw Chocolate Sauce here which it basically a melted version of this minus the cacao butter. This chocolate bark is basically a fancier version of my chocolate sauce. Both are super delicious and in case you haven't tried the chocolate sauce poured over banana ice cream—what are you waiting for?!
Anyway, check out the recipe below and make sure to post a picture and tag me on Instagram if you make it! I'd love to see your creations! :)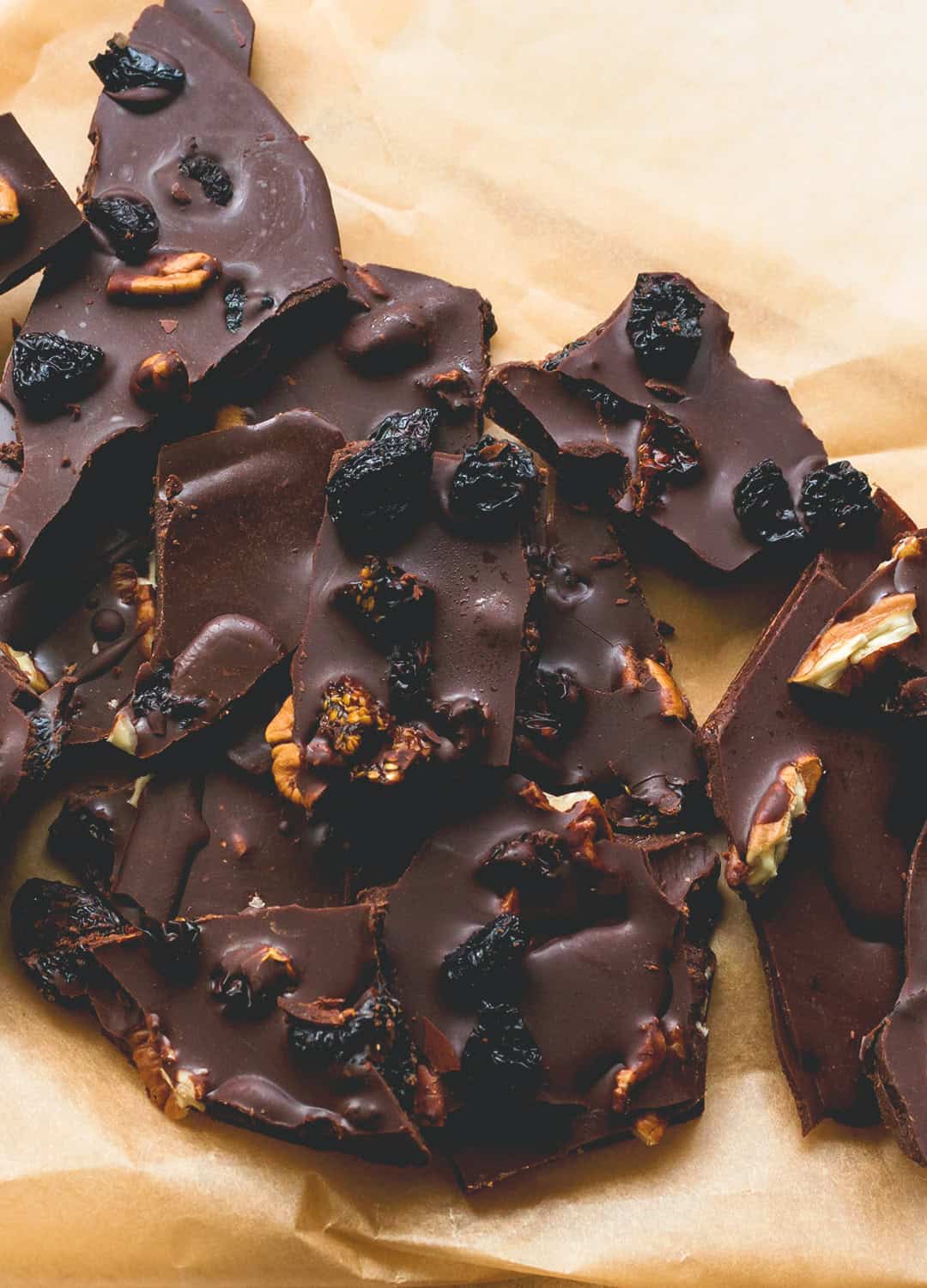 Print
📖 Recipe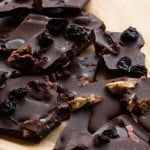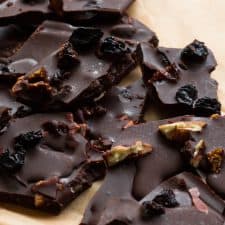 Cherry Pecan Chocolate Bark
Author:

The Healthful Ideas

Cook Time:

20 mins

Total Time:

20 mins

Category:

Chocolate

Cuisine:

dessert
---
Description
This Cherry Pecan chocolate bark is an absolutely divine and easy treat when you need something sweet! It's vegan, GF, and healthy! Give it a try, you won't regret it.
---
⅓ cup

cacao butter

¼ cup

cacao paste (optional)

½ cup

coconut oil

¼ cup

maple syrup

½ cup

cacao powder

½ tsp

vanilla powder (or

2 tsp

vanilla extract)

1 tsp

carob powder

½ tsp

cinnamon

¼ tsp

sea salt

1 tsp

lucuma powder (optional)

¼ cup

pecans

¼ cup

dried sour cherries
---
Instructions
Cut the cacao butter and cacao paste into smaller pieces so they melt easier.
Put both into a small pot and melt over very low heat.
Once almost melted, add the coconut oil which will melt immediately.
Turn off the heat.
Add the maple syrup and mix well with a spoon.
Add all the powders and mix for a minute or two so it's well combined.
When combined, pour it into a medium baking dish or something that fits into your freezer.
Sprinkle with crushed pecans dried sour cherries.
Put it into the freezer for 20 minutes or so until it firms up. Then break it into smaller pieces and store in an airtight container in the fridge.
---