A few posts back I mentioned I'm trying out possible side dishes for our Christmas Eve. dinner and that I have more than one up my sleeve. (You should make at least one of them and bring them to your Christmas family dinner to show how delicious vegetables can be, just saying.) The first one I posted were these delicious Roasted Sweet Potatoes and Brussels Sprouts, next up are Sauteed Mushrooms with Green Beans.
I know what you're thinking. Green beans on Christmas Eve? Well, I admit it may not be the fanciest of meals, but it's really delicious easy side dish that doesn't take too much time to make. Who wants to stand in the kitchen cooking all day anyways when you could be watching Christmas movies and having fun with your friends/family? The mushrooms are seasoned with thyme and rosemary which goes really well with fish. We've always had fried fish with mayonnaise potato salad so I think it would be a nice change for us to change it up and have oven roasted fish with vegetables for a change. Not everyone in my family is happy with that, though. People freak out, say that it's tradition, how can I not have it for Christmas dinner when it's tradition??? I guess we'll end up with some fried fish on the table anyways, but I'll be happy even if everyone just tastes my vegetables. I'm simply bringing my delicious healthy dishes to the table for everyone to try along with their meal. And you should too!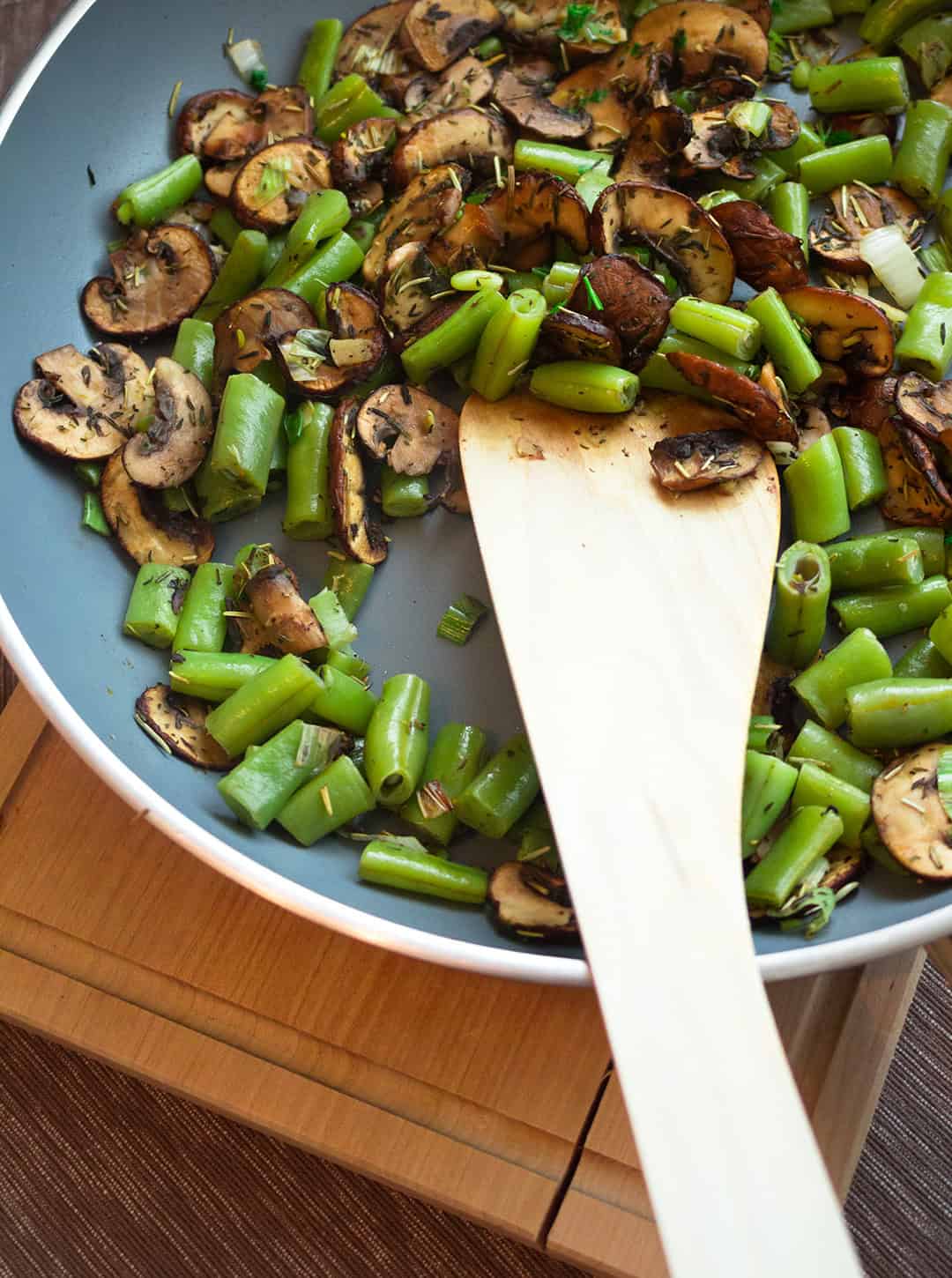 Green beans weren't always my favorite kind of vegetable. Quite frankly, they still aren't but when you combine them with the right spices, mushrooms, or roasted vegetables, they're delicious and I really enjoy them! Most kids don't like green beans. They're probably on their "I will never eat this" list along with spinach, broccoli, and brussels sprouts. Granted, those aren't the most appetizing veggies, but it's all about the preparation. Nobody likes steamed brussels sprouts (well maybe someone does) that no one even bothered to cut up so it's like chewing a golf ball with no seasoning whatsoever. It's so much different when you cut your brussels sprouts into quarters, season them with various herbs, sea salt, and pepper and roast them to perfection so they're crispy on the outside and tender on the inside. The same goes for green beans. Forget all those tasteless school lunches. Make these delicious green beans and you'll actually enjoy eating them!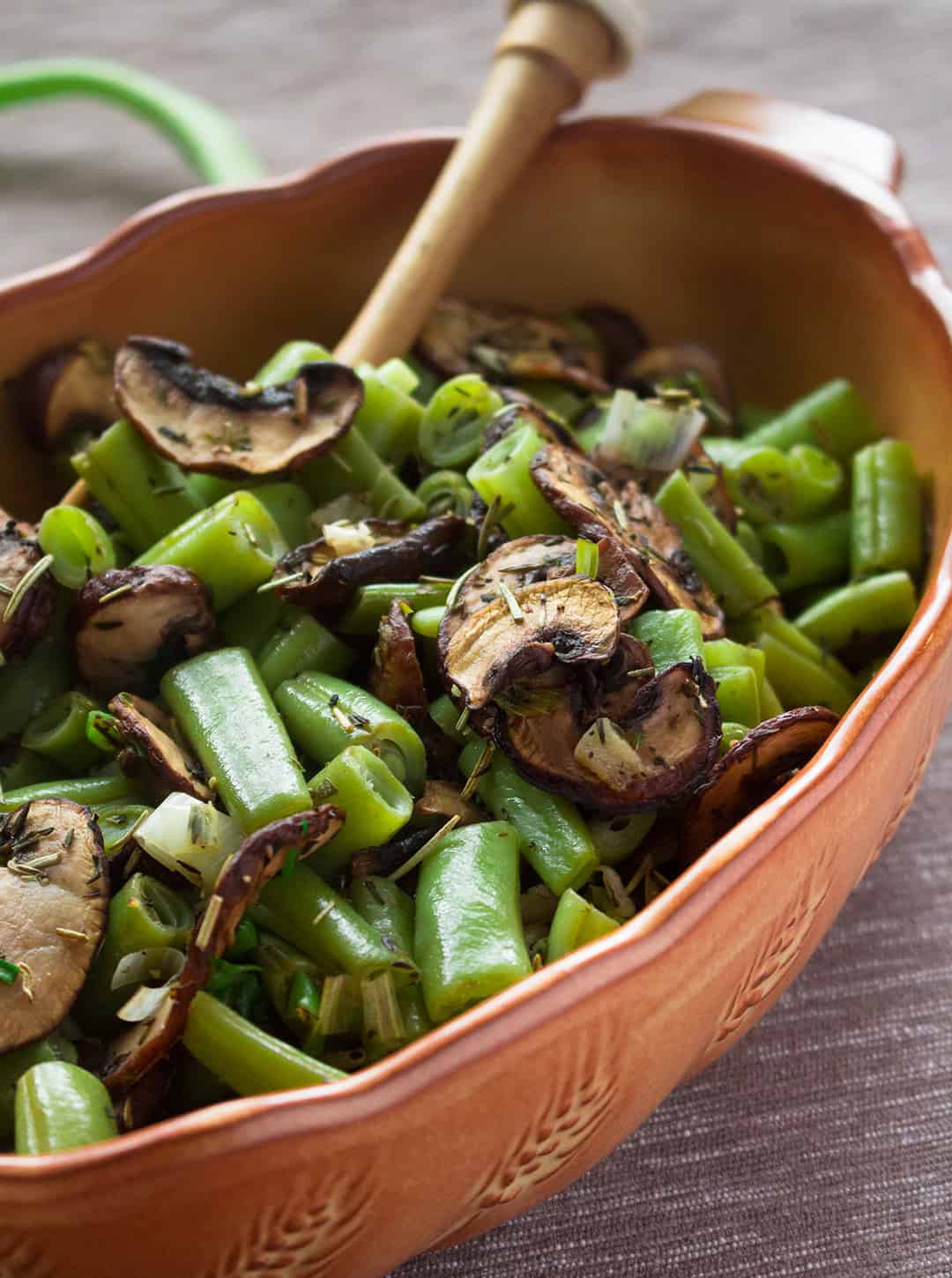 Rosemary and thyme are my two favorite herbs for seasoning Cremini mushrooms. It's a match made in heaven, seriously. The garlic and spring onion also add great flavor to the whole dish.
And if you don't want to pair this with anything, feel free to eat it as a main course!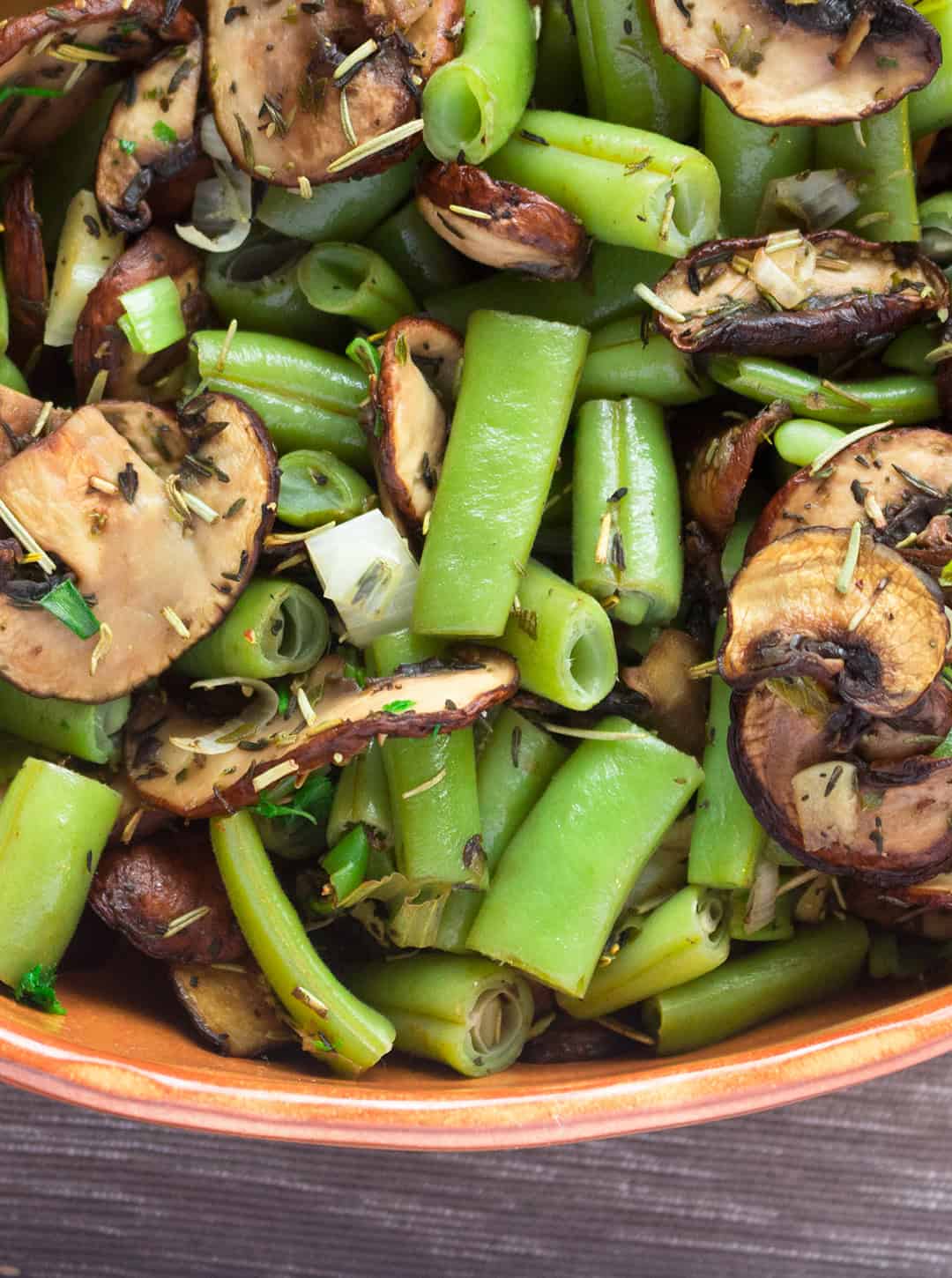 I've always liked mushrooms. I know so many people who hate mushrooms, though and it's crazy to me as I've always loved them. Even when I was small I used to like this national (I think it's a Czech thing?) dish made from local mushroom we picked in the forest, onion, and eggs. I don't think I'd eat it now but it's a great memory of a delicious dish.
I think any kind of food you like or don't like initially stems from what your family likes. You dislike what your mom dislikes because you once asked how it tastes and she said she didn't like it. In result, you don't like it either, even if you hadn't tried it before. That's just how it is. I used to have this problem with goat cheese, always avoided it because my mom said she doesn't like it because it has a weird smell. Then, one time I ordered a beet carpaccio in a restaurant and it was served with goat cheese even though it didn't say so in the menu (kind of a low blow, what if I was a vegan, huh?). I tried it, afraid it was cow cheese, because I don't eat dairy. After my mom tried it, she said it's definitely goat cheese and I couldn't believe it—it was really good! I've loved goat cheese ever since! I never really liked cheese, hated drinking milk, and couldn't swallow plain yoghurt with no fruit or granola. Goat cheese has a completely diffent taste, though. It's very different from dairy cheese and I guess that's why people don't like it. But since I don't actually like the taste of dairy, goat cheese is delicious to me!
Speaking of goat cheese, you should totatally put some on these green beans! That'd make the dish even better. YUM!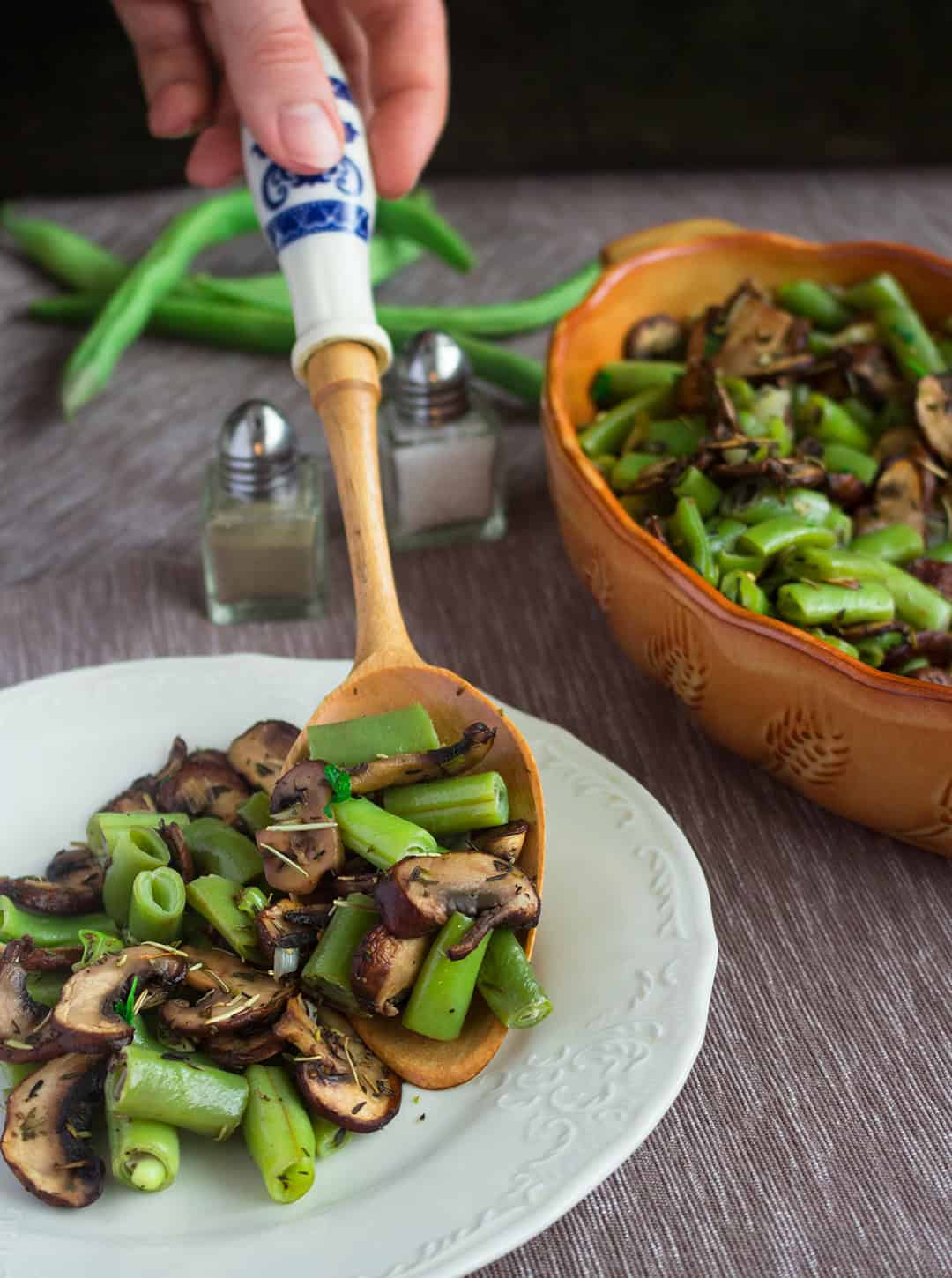 I got a little carried away with the goat cheese, haha. Anyways, back to the recipe. I steamed the beans and then added them to the pan with the mushrooms. You could also try to roast them instead of steaming them if you wanted to. I haven't tried that yet but I'm sure it'd be delicious. All crispy and golden brown on the outside. Yes, yes that'd be tasty. Yep.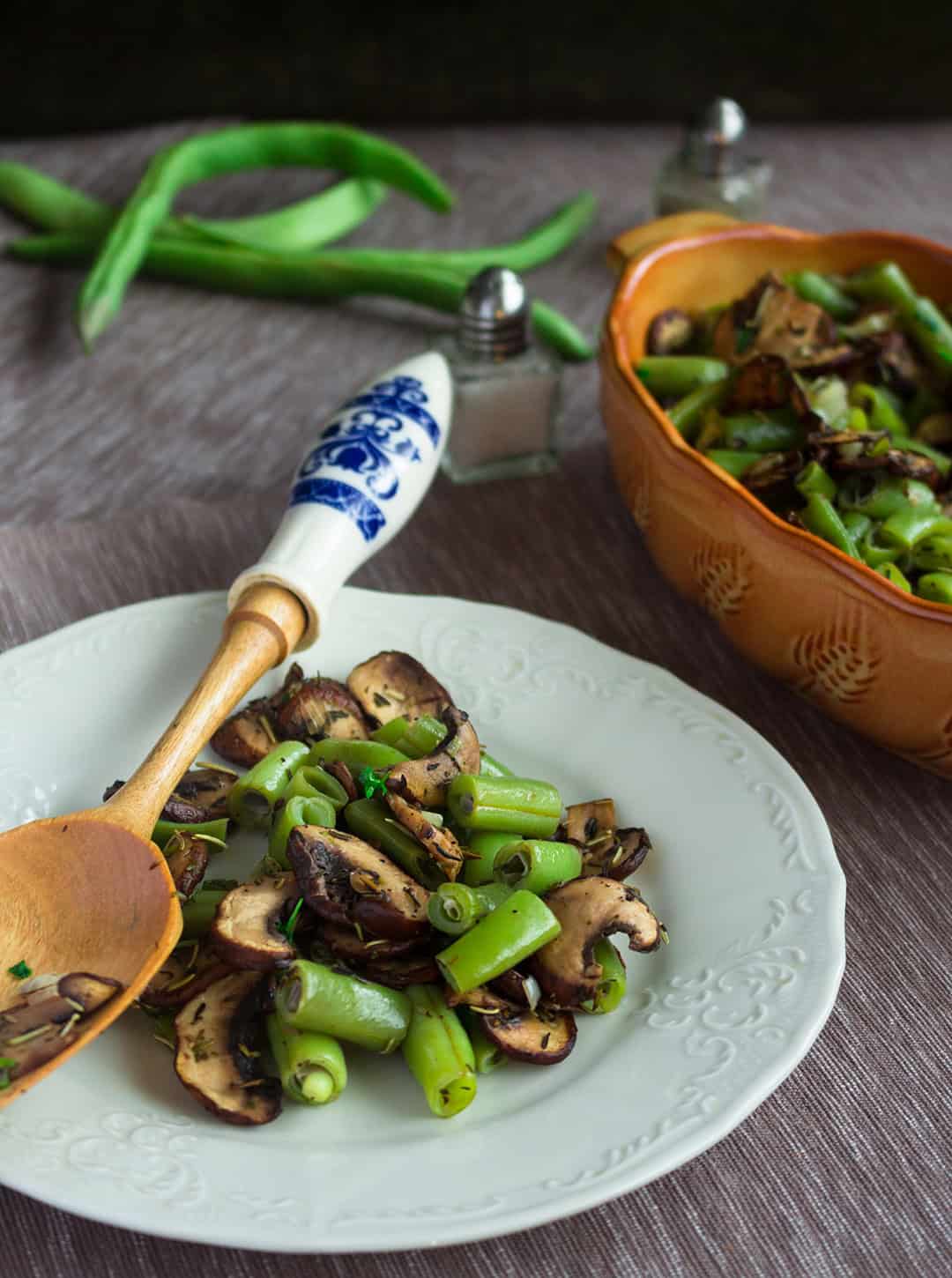 If you had leftovers from dinner, this would be a great addition to a plate of savory breakfast! Eggs, mushrooms and green beans, avocado on toast, and some fresh tomatoes. Speaking of avocado on toast, you should try one of my recipes here Avocado Toast (4 ways). Choose one of those delicious avo on toast ideas for your next snack or breakfast! I promise they're really good, one of them includes mushrooms too!
I feel like I've been adding so many pictures to every post lately, but I just can't help it. I love when recipe posts have a lot of pictures from a lot of different angles because when I like a meal, I'm never satisfied with just one picture. My favorite is the close up a few pictures back. Anyways, I hope you enjoy the recipe and if you make it, let me know how you liked it! :)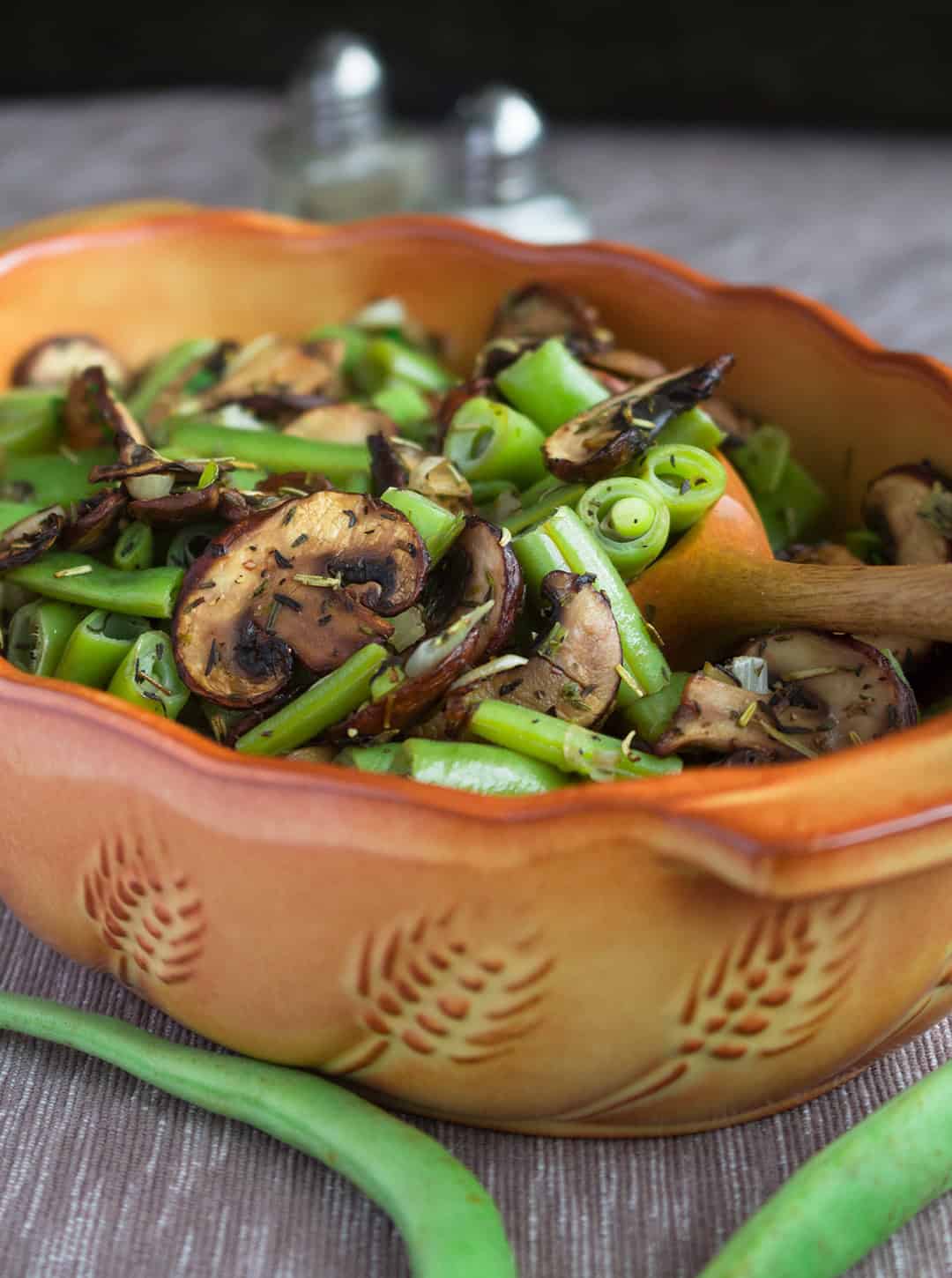 Print
📖 Recipe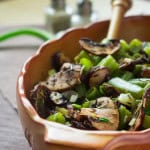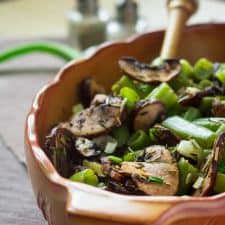 Sautéed Mushrooms and Green Beans
Author:

The Healthful Ideas

Prep Time:

10 mins

Cook Time:

30 mins

Total Time:

40 mins

Yield:

2

-3

1

x

Category:

Sides
---
approximately

20

-

25

green beans

8

-

10

medium cremini mushrooms

1 tsp

coconut oil

2

spring onions, chopped

2

garlic cloves, chopped

1 tsp

dried or fresh rosemery

1 tsp

dried or fresh thyme

½ tsp

dried or fresh oregano

1 tbsp

fresh parsley, chopped
sea salt, pepper
---
Instructions
Wash the beans and cut off the ends on each side (ca. 0,5cm).
Cut them into bite sized pieces (ca. 1cm) and set aside.
Clean any dirt off the mushrooms with a paper towel and cut off a bit of the stems to get rid of the dry ends.
Cut them into thin slices and set aside.
Heat a pot with a steamer over medium heat and add the green beans.
Cover with a lid and steam them for 15 minutes.
Heat a frying pan over medium high heat with a teaspoon of coconut oil.
Add the chopped spring onions and garlic and sautee for a few minutes until frangrant and glassy.
Add the mushroom and spread them evenly so they touch the surface of the pan as much as possible.
Add the herbs and sautee for 10 minutes. Stir every few minutes.
Add the steamed beans to the mushroom and combine with a wooden spoon.
Cover with a lid and cook for 5 more minutes.
Add the chopped parsley, salt and pepper to taste and serve.
Enjoy as a side with roasted fish, pasta, or more vegetables!
---