It's Rhubarb season everyone!! I admit, I get way too excited about seasonal fruits and veggies. But everything tastes better when it's in the season, so who could blame me.
I bought lots of rhubarb about two weeks ago and it was all just lying in my fridge with no purpose so I decided to make jam. I imagined how good it would taste for breakfast in combination with chocolate and man, was I right.
And it looks good too.
The texture is awesome, the taste is just right, and it goes with everything. From pancakes, oatmeal, to ice cream, or cake. And last but not least, it's quick & easy!
I didn't know how to call this, but eventually I went with 'jam'. 'Sauce' would probably be more fitting because I basically just pour it on stuff. Initially, I wanted to call it a 'compote' but decided that it'd be misleading since it's quite smooth with no big pieces of rhubarb. The struggle. I'm such a perfectionist. Moving on. I may not be sure what I want to call it, but there's one thing I know for sure—it's delicious and you should definitely try it!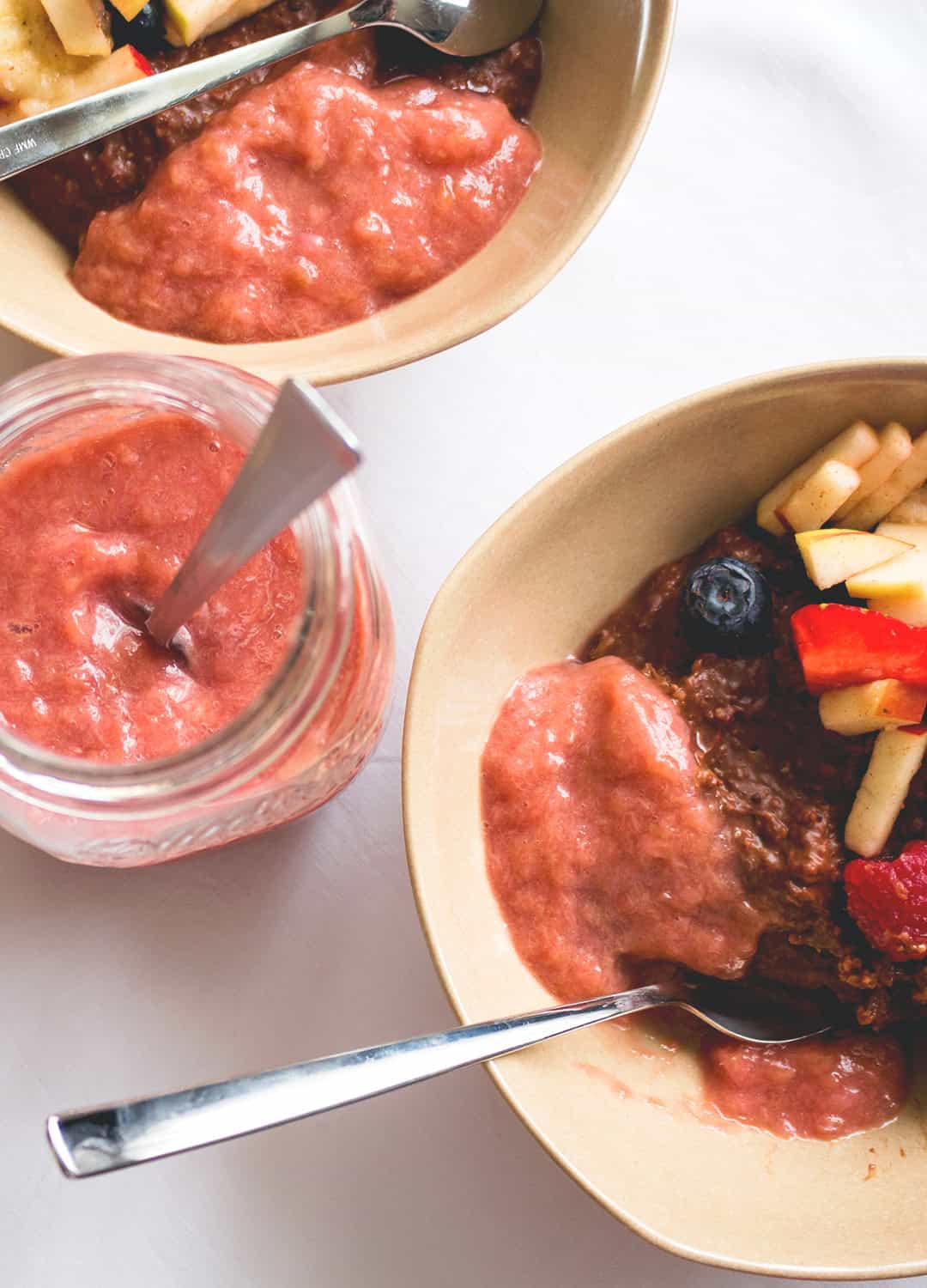 Rhubarb is another thing on my I-never-used-to like-it-as-a-kid-but-now-I-love-it list. I remember eating rhubarb cake of some sort a couple times as a kid and I never liked it. It was sweet but not enough and too tart for my taste. It had a vanilla flavor to it (which I disliked too, believe it or not) and it was just a big NO for me.
People tend to like different foods when they're small and as adults, fall in love with foods they used to loathe. For me, that's rhubarb, olives, oatmeal, brussels sprouts, and any type of greens, really.
Anyways, I love the tartness of rhubarb jam with a combination of something sweet, preferably with chocolate. (by chocolate I mean raw cacao)
In these pictures, I combined the jam with regular chocolate oatmeal and mixed fruits. If you want the recipe for the chocolate oatmeal, please let me know in the comments below or on social media!
It also tastes amazing with banana "nice cream" (either with cacao, carob, or simple only with vanilla) along with maybe coconut whipped cream or my chocolate sauce. Ah, that always hits the spot.
Or you could heat it up a bit and pour it over banana pancakes.
The options are endless, really. You could even serve it with a savory dish of some kind. Try it out and be creative!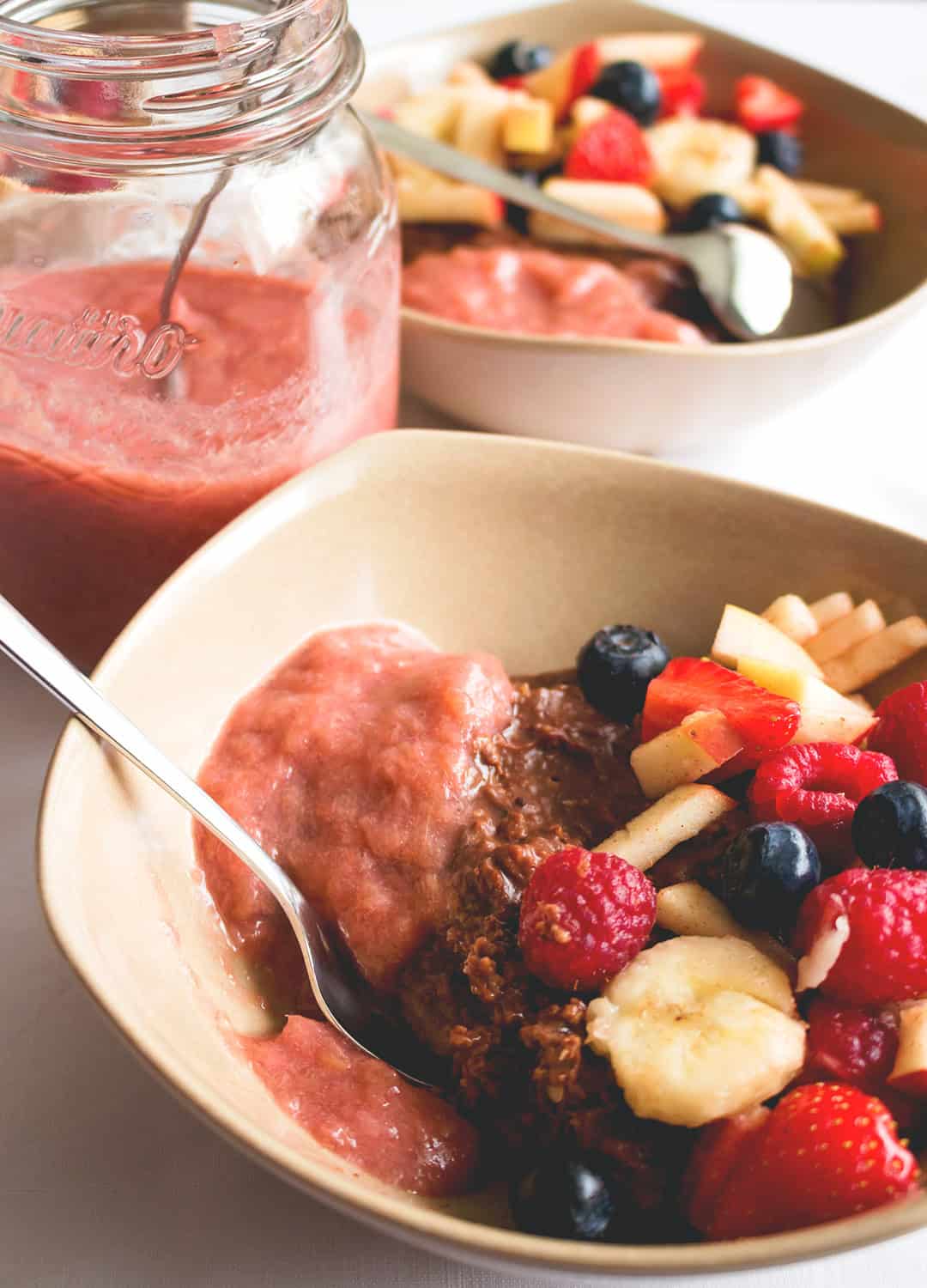 I always take so many pictures of each meal I post and then struggle so much when deciding which ones to post. And yes, that may be a reflection of my pink sweatpants in those spoons.. haha. What do you mean you don't walk around your house in pink pants with penguins??? Priorities—comfy pants and oatmeal come first and you know it.
ANYWAYS. When cooking the rhubarb, I added a teaspoon or so of water in the beginning so it wouldn't stick to the saucepan. But don't add too much, it shouldn't even cover the bottom. It's only to add a bit of moisture. You don't wanna create a soup. The rhubarb releases almost immediately its juices so it's gonna get runny eventually anyways.
There really isn't anything hard about this. You simply cut it all up, dump it in a saucepan over medium heat and let it simmer until it turns to jam. At the end, you sweeten it with honey to taste and you're done!
If you try it, don't forget to let me know! Tag me on Instagram, I'd love to see your pictures. :)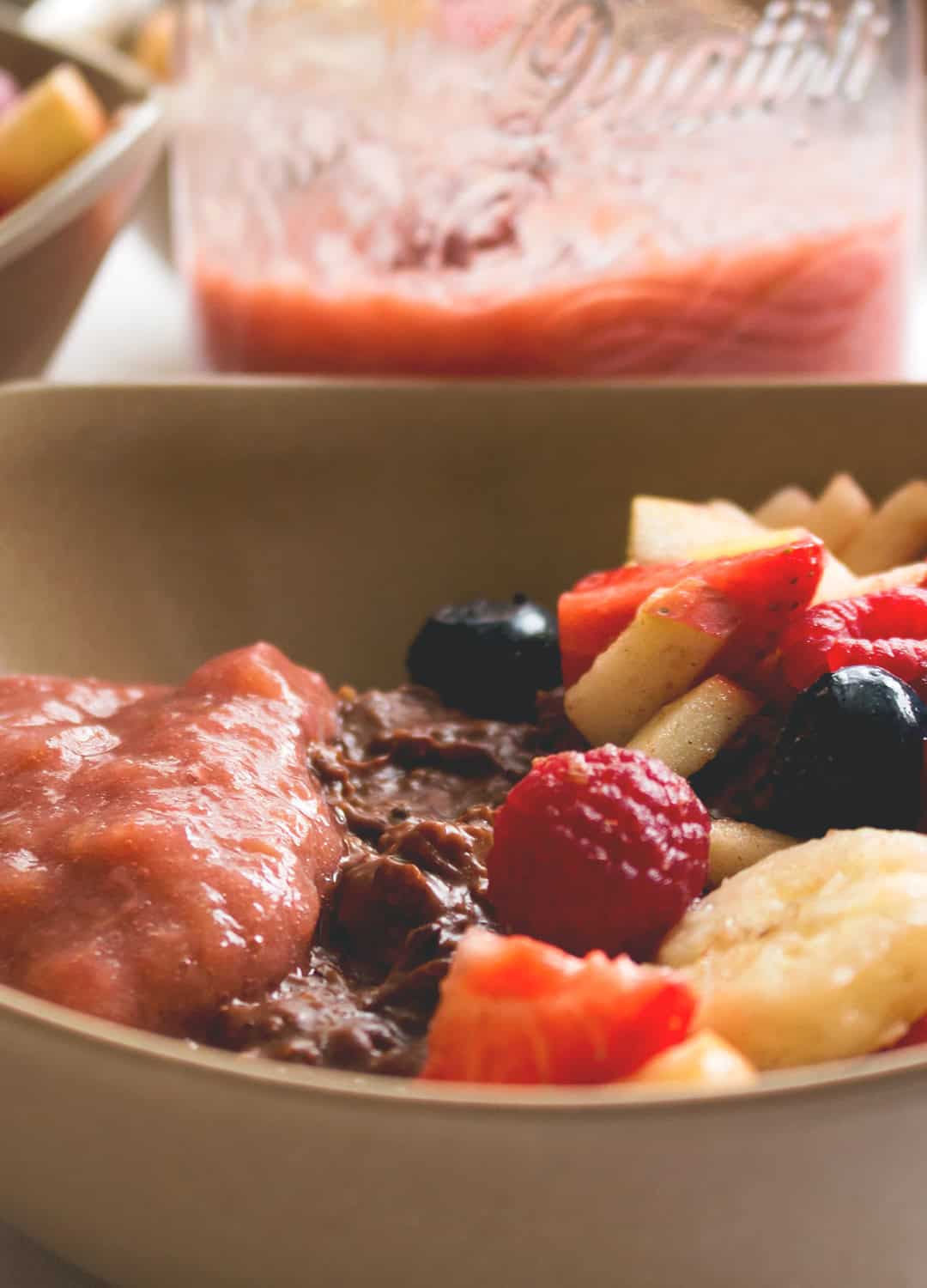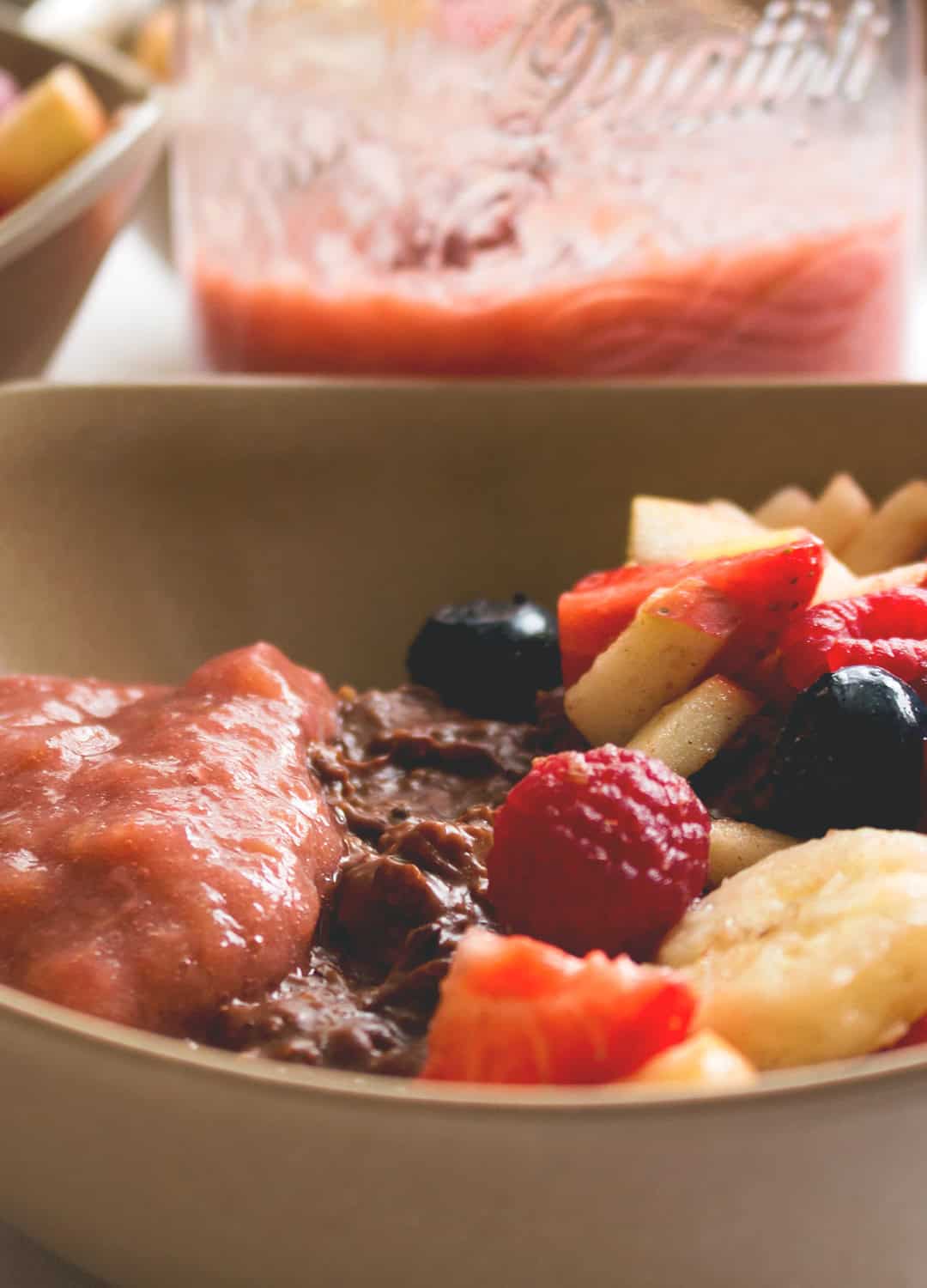 Print
📖 Recipe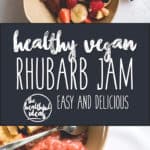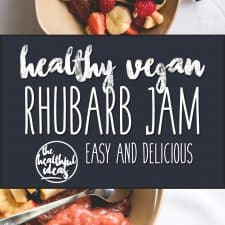 Rhubarb Jam
Author:

The Healthful Ideas

Prep Time:

5 mins

Cook Time:

5 mins

Total Time:

10 mins

Yield:

1 cup

1

x

Category:

Jam
---
Description
Rhubarb Jam Recipe Type : jam Author: The Healthful Ideas Prep time: 5 mins Cook time: 10 mins Total time: 15 mins Serves: 1 cup Tart rhubarb jam with a hint of sweetness goes great with sweet breakfasts or desserts. I like to serve mine with chocolate oatmeal, pancakes, ice cream, or cake! The sweet & tart combination is divine! Double the recipe to make a bigger batch.
---
4

rhubarb stalks

1 tsp

water

2 tbsp

maple syrup (or honey if not vegan)

1 tbsp

coconut nectar or more maple syrup (optional)
---
Instructions
Wash the rhubarb and cut into small pieces (1 cm thick)
Heat a small saucepan over a medium heat and add the rhubarb and a teaspoon of water so it doesn't stick to the bottom.
When it starts cooking, make sure to keep stirring so it doesn't burn. When the rhubarb releases juices, you can lower the heat a bit and cover it with a lid.
Cook for 5 minutes and stir occasionally.
When it turns into a sauce and you can't see many pieces of rhubarb, add the honey.
Taste and sweeten with more honey if needed, but I like mine quite tart—it goes great with sweet breakfasts.
If you want a few pieces of rhubarb in the jam, take it off the heat. If you want the jam smoother, keep cooking for a few more minutes until you reach desired consistency.
Cool completely and store in a glass jar in the fridge for a week.
---