I wrote a How to Make the Best Healthy Vegan Popsicles ebook you guys and I couldn't be more excited!
I dedicated a separate page to this ebook which you can check out HERE :)
Initially, I wanted to write a breakfast recipes ebook but then I came across a popsicle recipe I wrote down a couple months ago and writing a popsicle recipes book sounded like an awesome idea. I'm probably still going to write the breakfast recipes ebook, but this past two months, this Healthy Vegan Popsicles ebook was my main focus. I had so much fun coming up with the recipes, taking pictures, and creating it! I'm so happy I can finally share it with you.
In this ebook you fill find:
16 healthy 100% vegan and absolutely delicious popsicle recipes
1 bonus recipe for Raw Chocolate Sauce (with different measurements than the one that's already on my blog, you'll be able to coat 10 popsicles with it and I mean, chocolate covered popsicles = heaven!!)
information about the ingredients used in this ebook: benefits, how to use, what to choose when buying
tips & tricks to make the perfect popsicles
equipment you'll need and some recommendations of what I use
What kind of popsicles can you expect?
6 100% fruity popsicle recipes most of which aren't sweetened with anything but fruit (perfect for summer if you ask me, I want nothing but fruity popsicles when it's boiling hot outside)
5 creamy fruity popsicles (mostly fruit but with added plant-based milk to make it extra creamy, satisfying, and delicious)
5 creamy chocolatey popsicle recipes which are all my absolute favorite (you need the Cookie Dough Popsicles in your life—they are life changing!)
A few of the recipes you will get:
Orange & Strawberry Sunrise Popsicles
Sparkling Lemonade Popsicles
Mexican Mango Lime Popsicles
Balsamic Roasted Strawberry & Charentais Melon Popsicles
Blackberry Cardamom Popsicles with Lucuma Drizzle
Raspberry Almond Butter Sorbet Popsicles
Cookie Dough Creamsicles (you really do need these in your life, I mean, it's HEALTHY cookie dough! Mind = blown)
Chocolate Chia Pudding Creamsicles
Sour Cherry Chocolate Popsicles
Caramelized Banana Popsicles with Chocolate & Roasted Almonds
and more!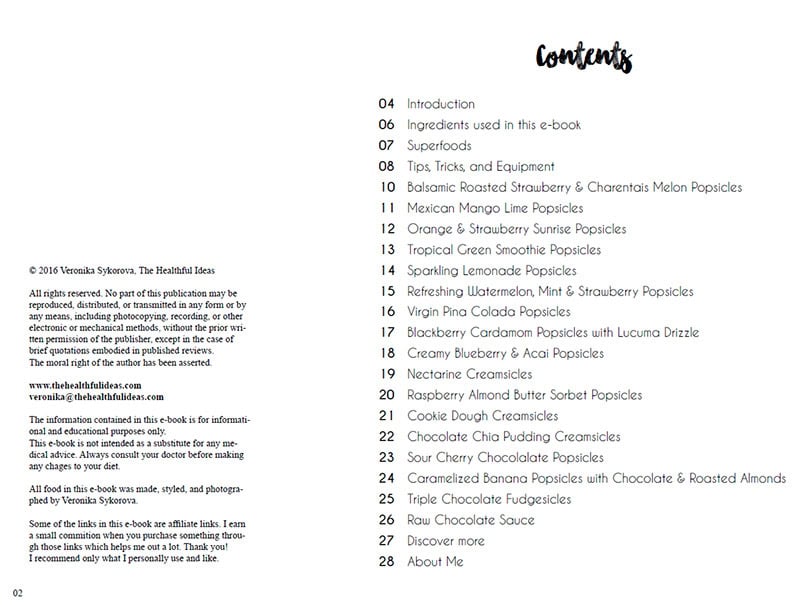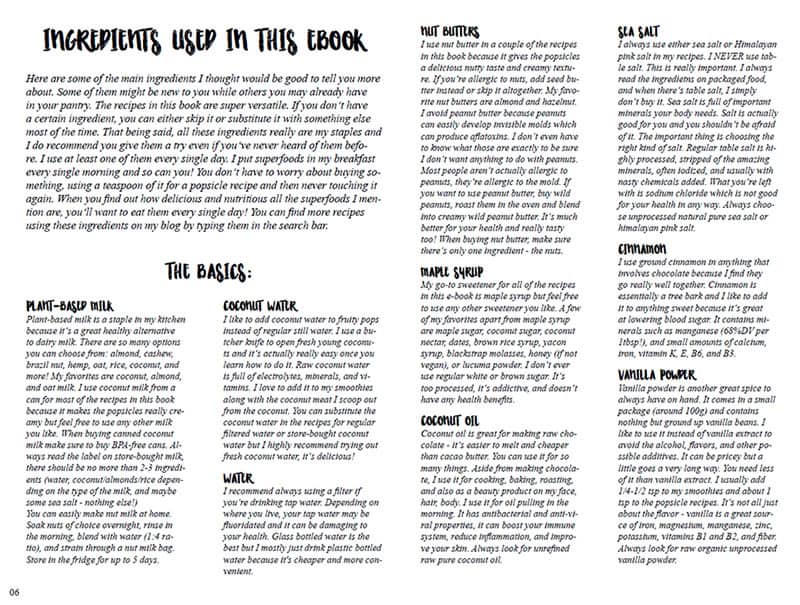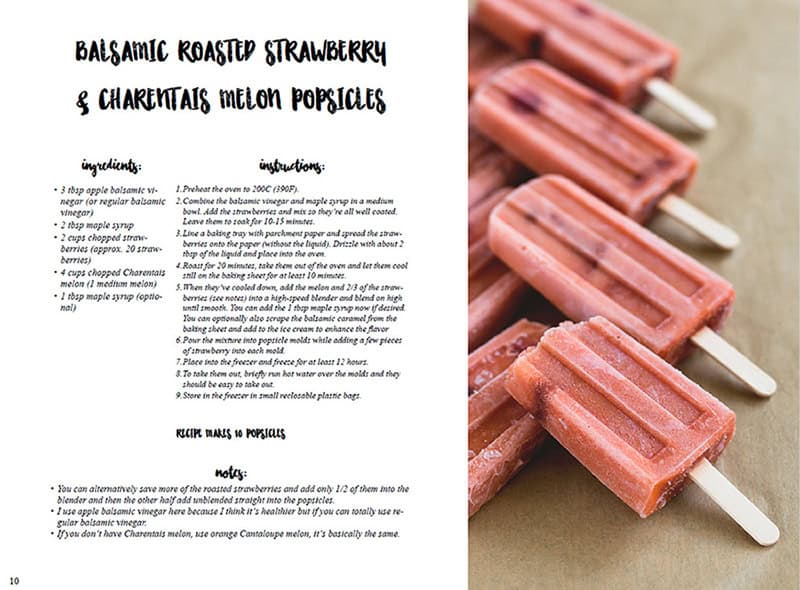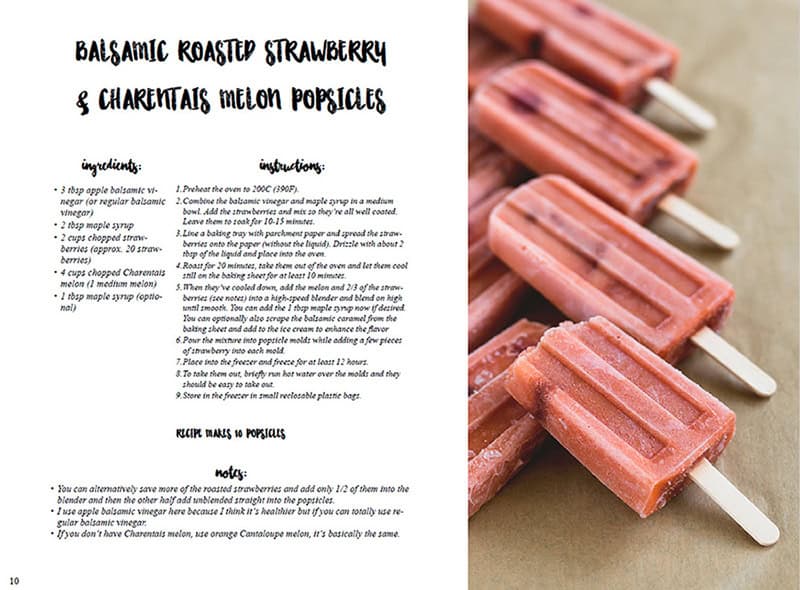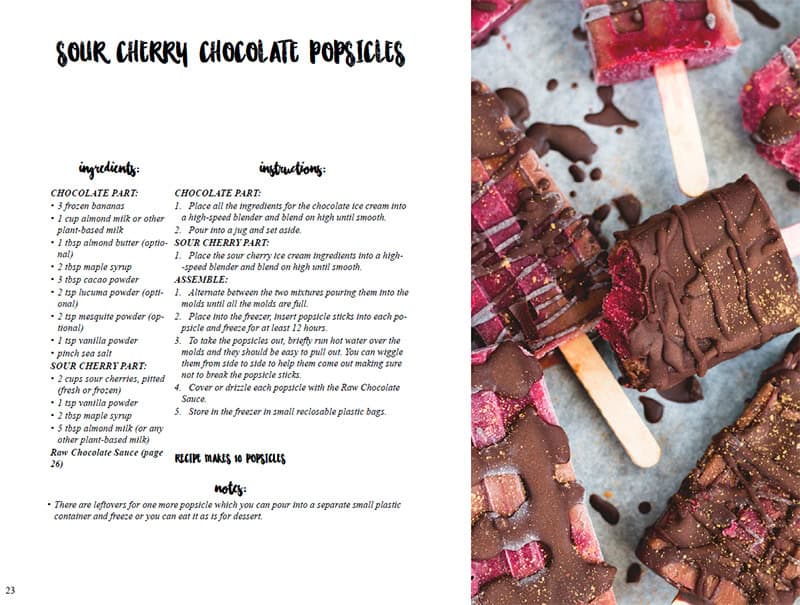 Click HERE to learn even more information about this ebook or click the link below if you're ready to buy How to Make the Best Healthy Vegan Popsicles ebook. Hope you love it! If you have any questions about the ebook, please just ask! :)