Delicious Gluten-Free Crepes served with homemade blackberry jam. These crepes are easier to make than you think and they're the perfect weekend breakfast or an addition to brunch.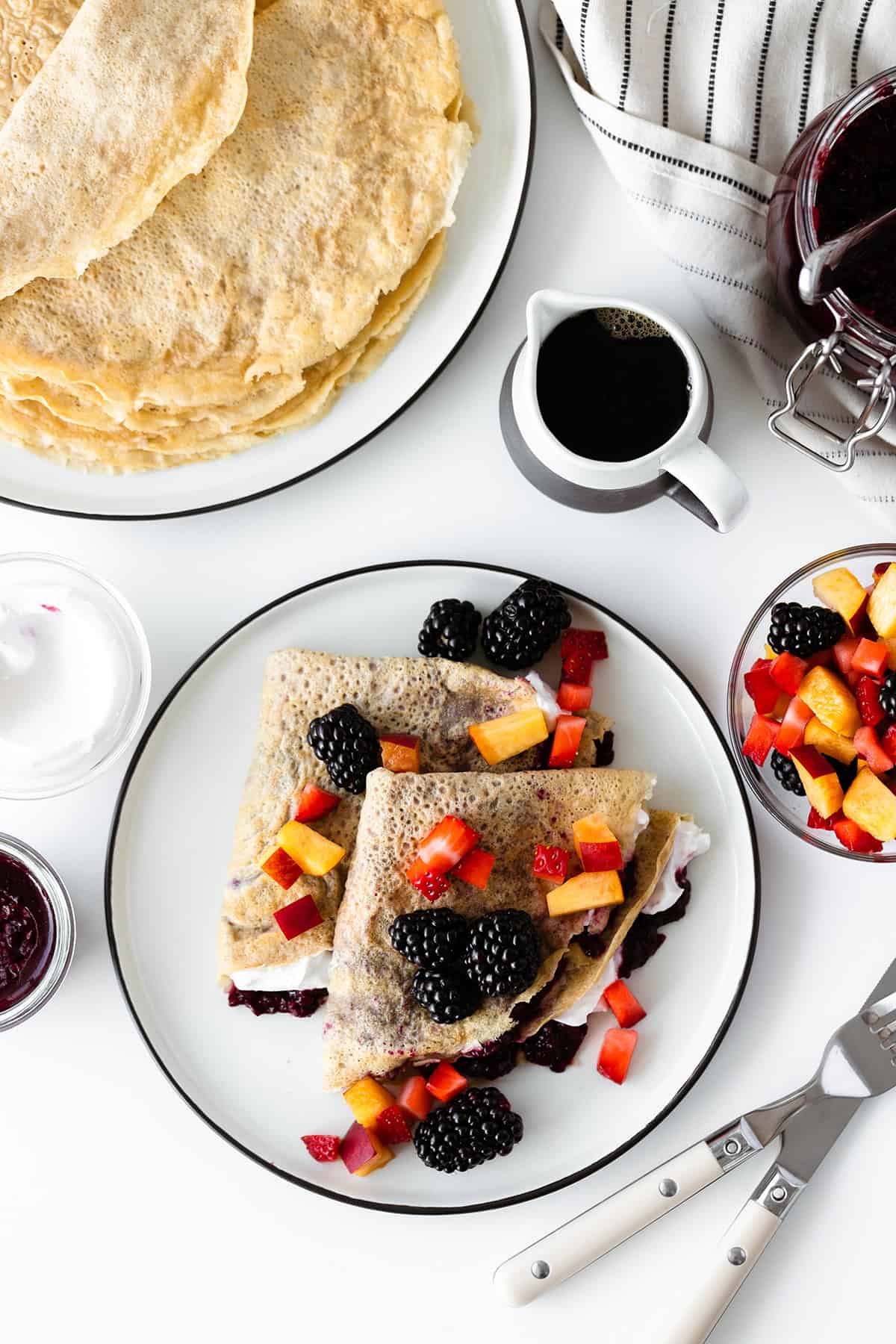 The Perfect Sunday Breakfast
What's your perfect Sunday morning breakfast? For me, it's definitely crepes. I always loved making them with my mom when I was little. Of course, those were made the traditional way with whole milk, white flour, eggs, oil, and sugar.
This recipe is an updated version of those crepes from my childhood - gluten-free crepes with homemade blackberry jam! So good, you won't believe they're gluten-free.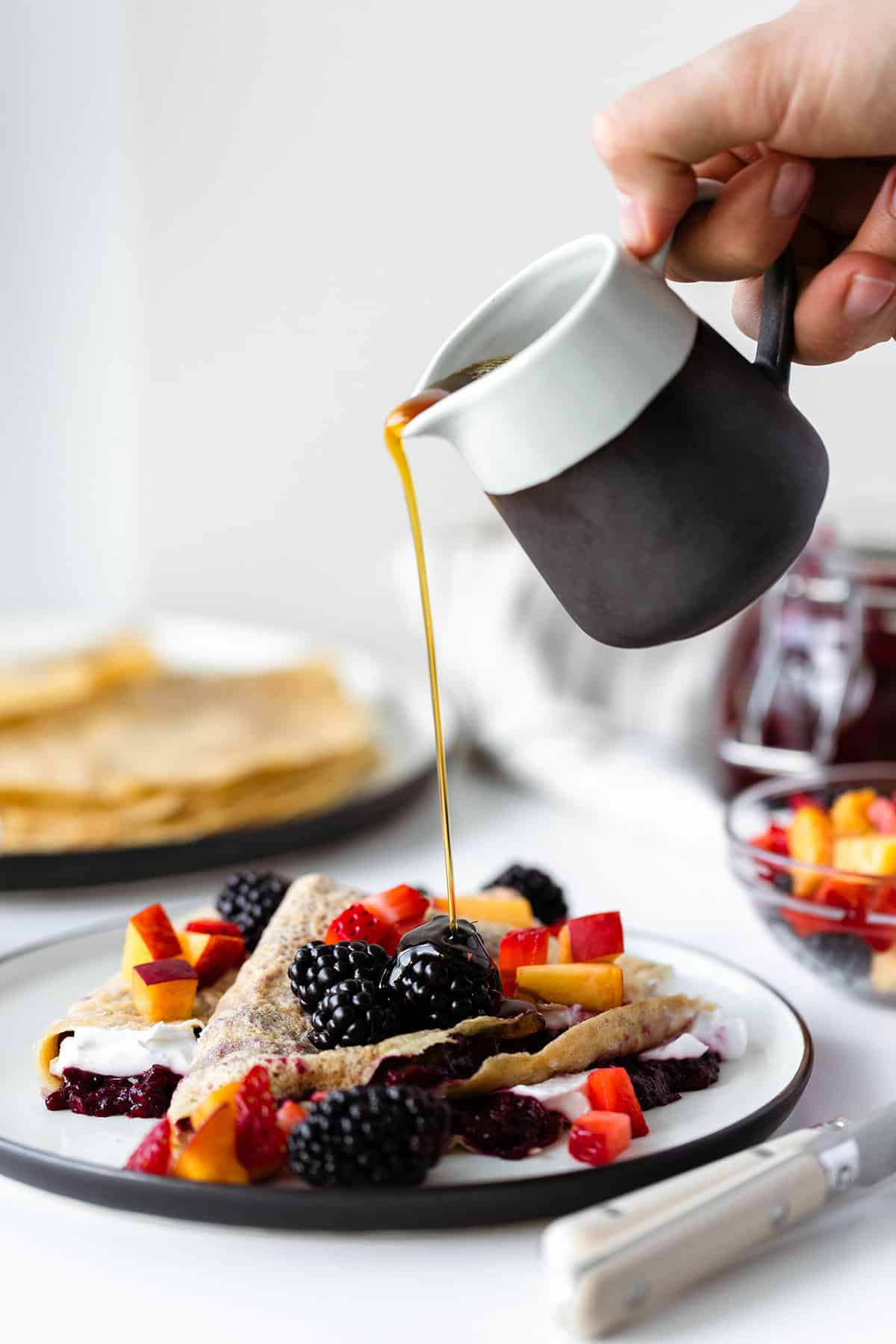 To make these resemble the crepes I enjoyed so much as a kid, I smear them with the Lavender Blackberry Jam I posted on Monday along with my favorite local creamy thick coconut kefir I buy and fold them into triangles. To make them even more fun, I top them with fresh berries and drizzle with, my now beloved, maple syrup. I also ended up dusting them with some powdered erythritol/monk fruit sugar to make them extra pretty without using white sugar.
What is Erythritol and Monk Fruit?
Erythritol is a sugar alcohol made from fermented corn or cornstarch so it's important to always choose organic to avoid GMOs. Erythritol has virtually almost no calories and doesn't raise blood sugar or insulin in the body. It easily replaces sugar 1:1 in recipes with no weird aftertaste. It doesn't taste exactly like sugar, you might get a cooling sensation on the tongue eating something sweetened with a lot of erythritol. Make sure not to consume too much of it at once as it can cause digestive issues in some people like bloating in higher quantities. All in all, it's a healthier option than white sugar but it's still processed so use it sparingly and always choose whole foods whenever you can.
Monk Fruit is a bit less processed than Erythritol. It's an actual fruit, also known as Luo Han Guo. It's also sold dried and used in herbal teas. I've been using it for years, mostly in liquid form. It's very sweet so a little goes a long way. It doesn't have an aftertaste and no side effects so it's generally safe to consume. It's often mixed with Erythritol or Stevia to cut the costs and to get rid of Stevia's aftertaste. Monk fruit is definitely a better option than erythritol but much more expensive.
I like using Erythritol & monk fruit combo whenever a recipe calls for powdered sugar or when I want to bake something 100% sugar-free. It's great in moderation. Now let's make some crepes! Happy weekend!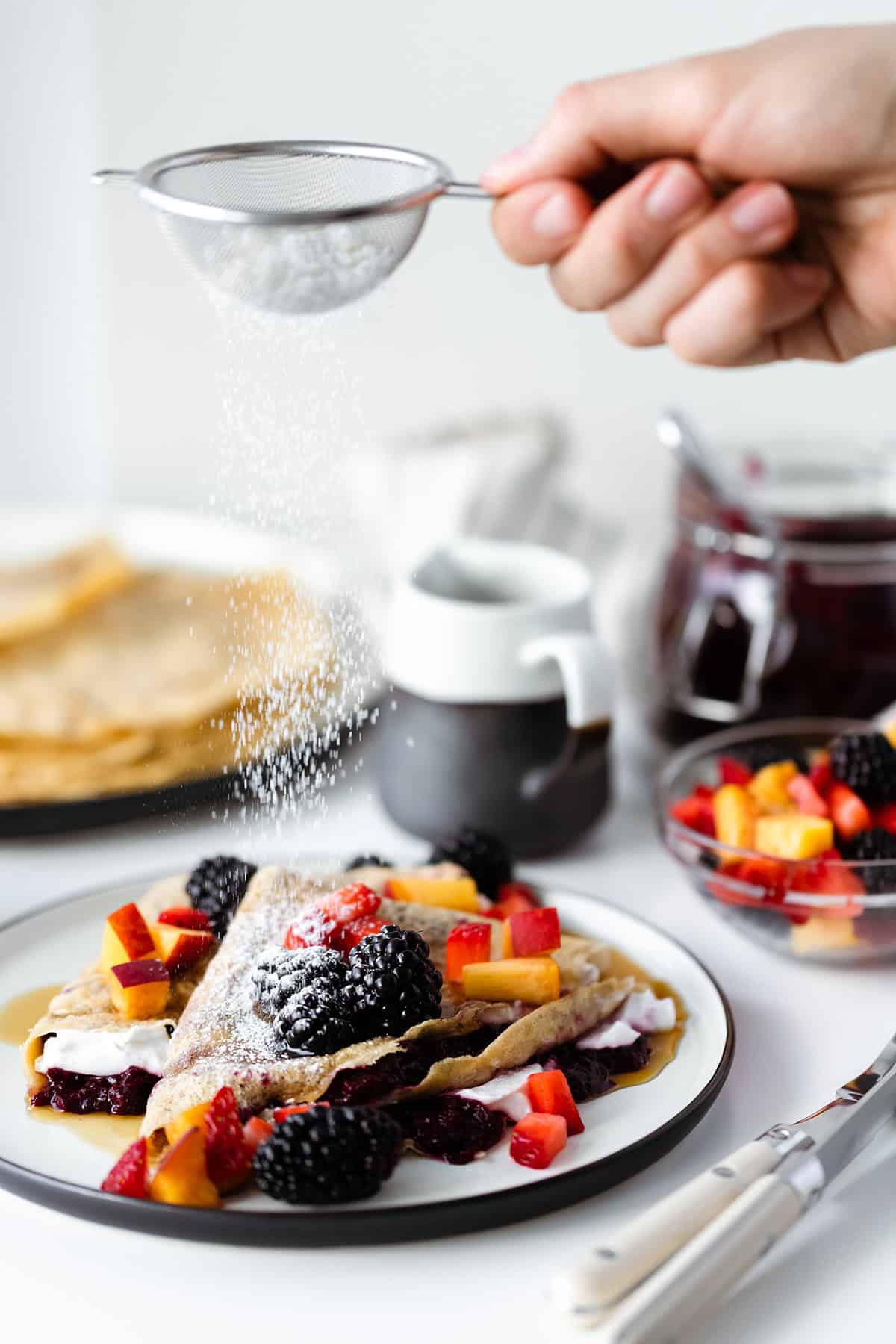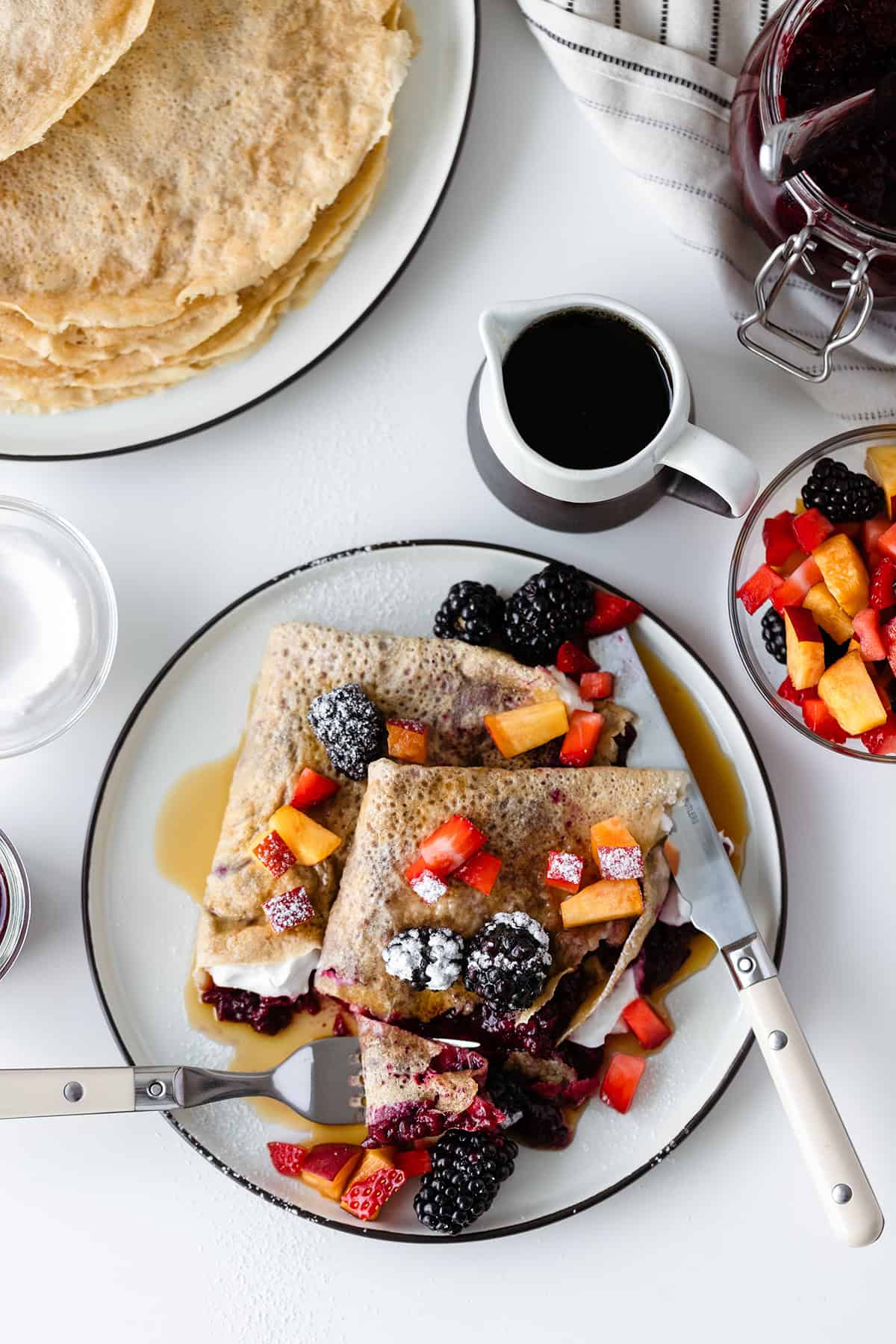 Print
📖 Recipe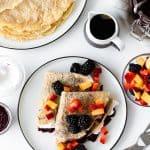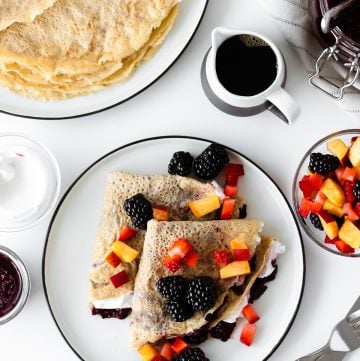 Gluten-Free Crepes with Lavender Blackberry Jam
Author:

Veronika | thehealthfulideas

Prep Time:

10 mins

Cook Time:

20 mins

Total Time:

30 minutes

Yield:

10

crepes

1

x

Category:

Breakfast

Method:

Cooking

Cuisine:

French

Diet:

Vegetarian
---
Description
Simple gluten-free crepes that can be served with any kind of sweet topping you like.
---
½ cup

brown rice flour

⅓ cup

chickpea flour

¼

tapioca flour

¼ tsp

baking soda

¼ tsp

fine sea salt

¼

-

½

teaspoon cinnamon

2

eggs

1 ½ cup

almond milk (cashew, hazelnut or rice milk also works here)

1 tbsp

avocado oil

1 tsp

vanilla extract
avocado oil (for cooking)
Blackberry Lavender Jam
Powdered xylitol sweetener (optional, for serving instead of white sugar)
---
Instructions
Into a large bowl, sift all the dry ingredients and whisk to combine.
In a separate bowl, beat the eggs, add the almond milk, avocado oil, and vanilla extract, and stir to combine.
Slowly pour in about half of the liquid into the dry ingredients while whisking. When it's smooth with no clumps, slowly pour in the rest and keep whisking. Set the batter aside and heat up your pan.
Heat up a shallow crepe pan over high heat and add a teaspoon of avocado oil.
Lower to low heat and pour in about ⅓ cup of the batter (I use a ladle and eyeball it, it depends on how big your pan is), lift the pan up and tilt it in all sides so the batter can spread all over the pan.
Cook for a couple of minutes until the edges start to lift off the pan, flip, and cook for 1-2 more mins on the other side.
Keep your crepes on a plate covered with another one or with foil to keep the crepes warm. Or heat up your oven to 200F (100C) and keep them in there covered.
Repeat for the rest of the crepes adding more oil if needed.
Serve with Blackberry Lavender Jam and maple syrup.
---
Keywords: gluten-free, crepes, blackberries