Comfort food.
Cozy clothes.
Colorful leaves.
Colder weather.
Yep, all those things are upon us and I'm pretty excited about it. I know that in spring, I kept talking about how much I love summer, sunny, days, and fresh food, and while that's still totally true, fall holds a special place in my heart.
Speaking of things that hold a special place in my heart — pasta is definitely one of those. Duh.
If you're craving even more pasta dishes, you can check out my other three pasta recipes I posted in the past: Brown Rice Pasta with Creamy Cilantro Sauce, Roasted Red Bell Pepper Pasta, and Tomato Spaghetti with Vegetables, Beans, and Pine Nuts.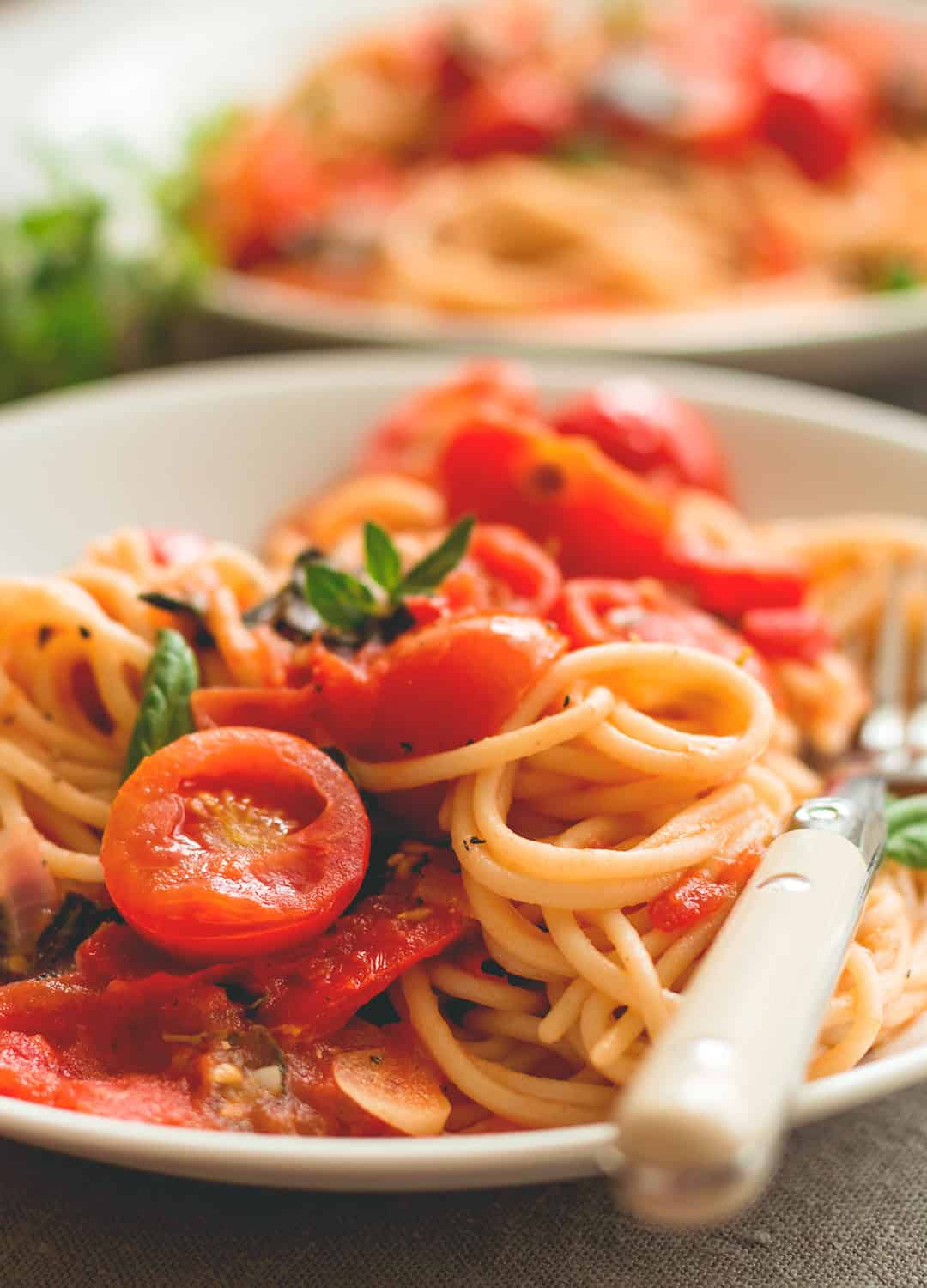 Okay, so here's the thing.
I wrote an awesome post. Then, a few hours later, just when I was about to turn off my computer, I accidentally and without thinking saved an older draft with no text whatsoever. So there's that. I was staring at my computer dumbfounded for a minute or two, then Googled if there's a way to recover it — nope I ain't gonna get that post back. Then the realization settled in and I got pretty upset about the whole thing — in other words, I really wanted to throw my computer out the window.
It's funny because as I was writing the post, I was thinking back to this one podcast I had listened to about saving your work. They talked about writing a post in a word document first and then uploading it to WordPress. That way, if something goes wrong, you have it saved on your computer. But even with this advice in mind, I was like nahhhh that's not necessary. Yeah, right. Facepalm.
The moral of the story is that you should always back up important stuff while you're working on it because you never know what might happen to it. And I should really take my own advice here because this isn't even the first time something like this happened to me.
That was probably more than enough whining for today so I'm gonna move on to talking about comforting pasta and being all comfy and cozy because after all, that's why you're.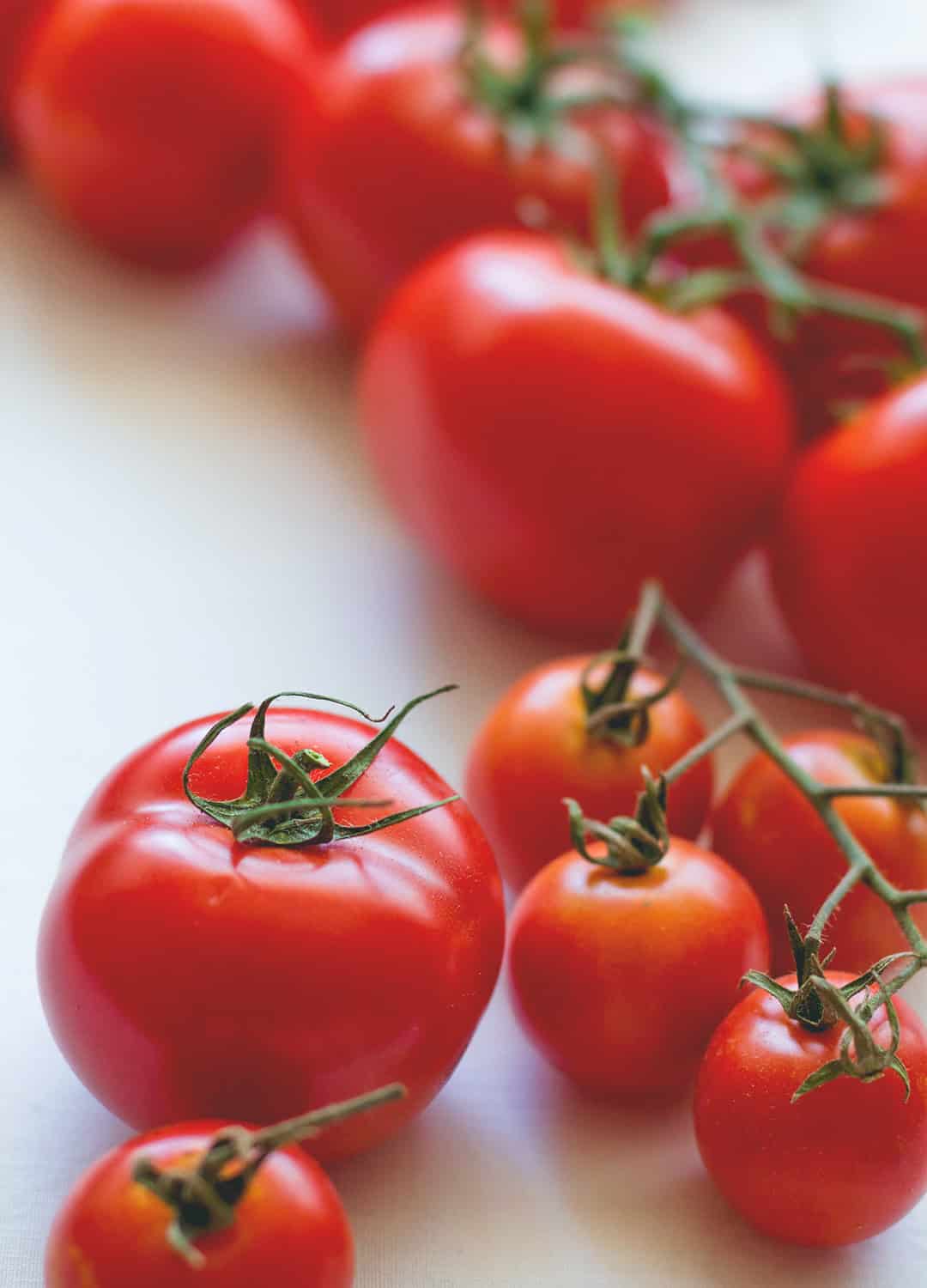 I don't know what it is but September always feels like a new beginning, almost like the New Year except there's no pressure to make New Year's resolutions. I don't know if it's because of the change of seasons or because it's the start of a new school year but when September came around this year I suddenly felt a surge of inspiration and creative energy. It might have been also this new green superfood powder I'm currently trying out. Seriously! The stuff is literally bottled energy and mental focus, I'm not even kidding you guys.
Soooo since I'm getting my daily dose of greens in my morning smoothies, I can indulge in a big bowl of delicious pasta in the afternoon once in a while. It's a win-win,really.
I know tomatoes are coming out of season right now so it'd have been more relevant to post this recipe during the summer months but for me, summer is the time to eat salads on top of salads on top of salads so it makes more sense to post this now. I actually haven't had pasta for 4-5 months prior to this so it's about time!
During summer I love my big salads, huge smoothies, and homemade ice cream. In fall, however, I'm all about 'em comforting, hearty, and filling meals. I already have so many delicious fall recipes planned for the blog for the upcoming weeks/months! Granted, I actually shot two salad recipes two days ago but I promise I do have fall appropriate food planned too. I just don't seem to be able to give up my salads no matter what the season is. First world problems, right?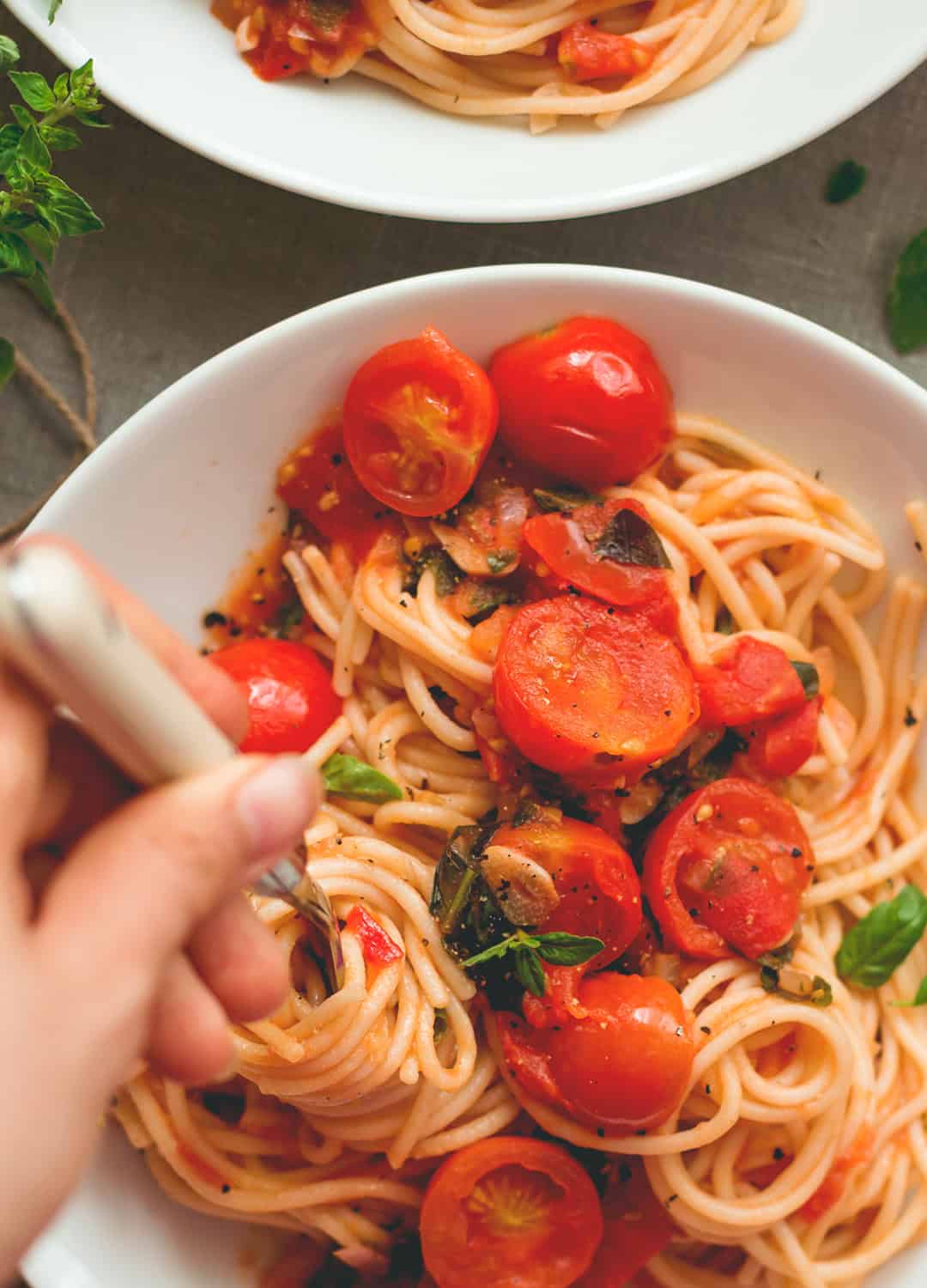 What's your favorite type of pasta? Mine is definitely spaghetti. I always enjoy the twirling of spaghetti on the fork. I can get excited just about anything. It's the small things in life, righttt?
I know I called this recipe Fresh Tomato Pasta but if you don't have fresh tomatoes on hand, you can totally use canned. Just make sure to buy BPA-free cans.
This meal is so easy to make, you gotta make it for dinner today or tomorrow. I know you want to. Well, at least I do. I'm getting hungry just by looking at the picture above. I should show this post to everyone who stares at me at work every day when I'm happily munching on my gigantic salad. People always ask me if I eat chocolate or anything other than salad. Like... yes??? All the time? Just because I'm plant-based/almost vegan doesn't mean I don't have fun with food. I just eat different things. I eat food that makes me happy, gives me energy and nutrients, and doesn't shut me down.
Please let me know in the comments if you deal with this "so what do you eat/do you just eat salads?/where do you get your protein?" extravaganza on a daily basis like me. I'm actually taking my homemade chocolate energy bars (recipe is gonna be on the blog soon) to work tomorrow to show everyone that I actually eat sweets and chocolate. But hey, I'm happy to share. You never know, maybe one of them will feel inspired and starts incorporating healthy food into their diet one day. That's what my aim is anyways — share the message and inspire others. (So deep, I know — it always is after midnight.)
I'm going to sleep now, finally *throws confetti*. Happy cooking, I hope you love the recipe.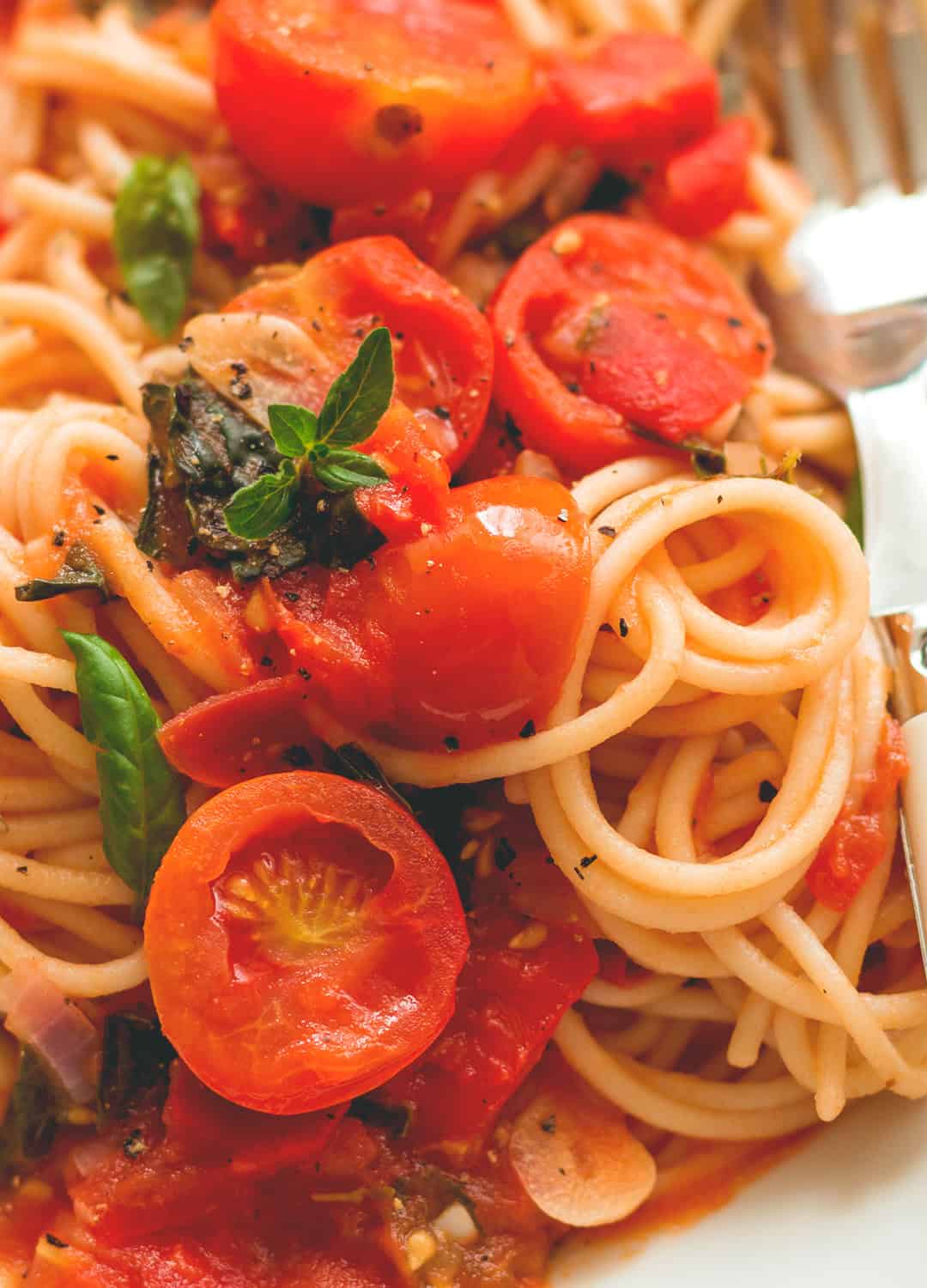 Print
📖 Recipe Fresh Tomato Pasta with Herbs
---
1 tsp

coconut oil (for cooking)

1

red onion, finely chopped

3

-

4

cloves garlic, thinly sliced

3 cups

chopped tomatoes (about

6

medium tomatoes)

¼ cup

water
handful cherry tomatoes, halved

250g

gluten-free brown rice pasta

3 tbsp

chopped fresh basil (or sub

2 tsp

dried)

3 tbsp

chopped fresh oregano (or sub

2 tsp

dried)
sea salt & pepper to taste
---
Instructions
Heat a big pot with the coconut oil over medium to high heat.
When hot, add the onion and saute for 2-3 minutes until translucent. Add the garlic and cook for 1 more minute.
Add the tomatoes and the water and lower the heat to low-medium.
Cook for 10 minutes or until the tomatoes start breaking down. Add the cherry tomatoes and cook for 5-10 more minutes. Near the end, stir in the herbs.
Take the sauce off the heat and season with sea salt and pepper to taste.
Meanwhile, cook the pasta according to package instruction. When done, return to the pot it was cooking in, generously drizzle with olive oil to avoid the pasta to stick together. Add about 1 cup of the sauce to the pasta and toss to coat.
Best enjoyed immediately with more sauce and fresh herbs on top.
---