By now you probably already know how much I love oatmeal. If not from my snapchat (shameless plug: follow me @healthfulideas), then here from my blog.  I mean, there's the latest and greatest, Blackberry Baked Oatmeal, then my personal fave, Chocolate Oatmeal with Orange Zest <33 or this Creamy Carrot Cake Oatmeal just to name a few. You can search oatmeal or porridge to see even more recipes because clearly, I can't get enough of oats (or buckwheat even! And rest assured quinoa porridge is coming your way too because duh). That all being said, I haven't posted a single savory oatmeal recipe on my blog! Well, until now I haven't. Today I present to you this delicious savory curry oatmeal!! It's absolutely amazing and because I'm staring at all these pictures as I'm writing this, I'll probably have to make it for breakfast tomorrow. Since this oatmeal calls only for the basics, I already have all the ingredients in my fridge so this oatmeal is definitely gonna happen tomorrow morning and it's going to be awesome, you guys. You should totally make it with me! What do you say?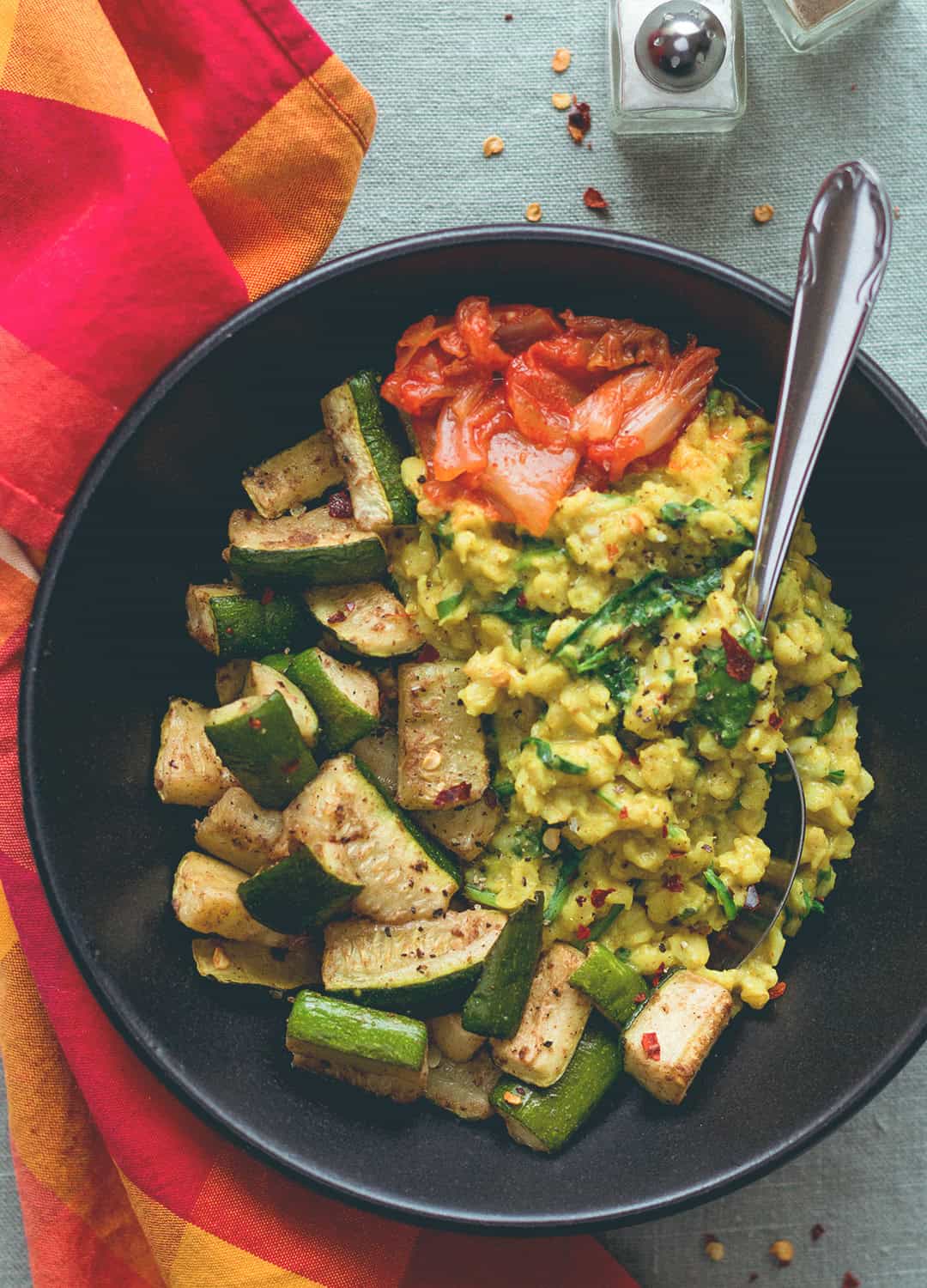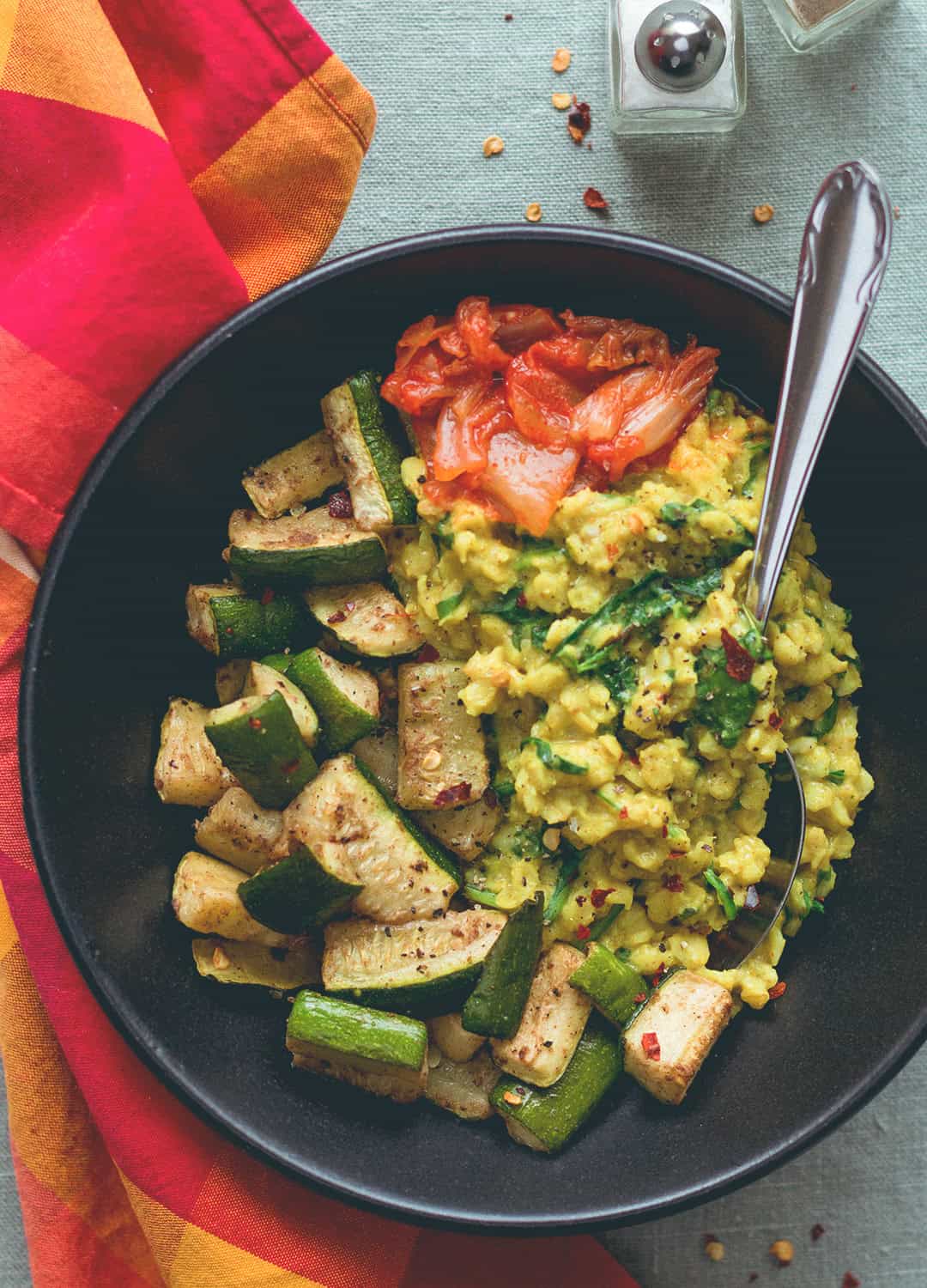 I'm actually pre-writing this (is that what you call it? well, we'll go with it) as this is supposed to be published on November 7th which is actually the first day of my new job!! I'm excited to see what this new experience brings me. As this post publishes at 10am CET I'm already on my way to work so wish me luck!! 10am CET is 4am EST for you folks overseas. Speaking of which, is that too early to post? Although I'm from Europe, most of you are from the US so my posting schedule on here and on all my social media is planned to best suit the US audience. What that means is that I usually post stuff in the evening so that you see it in the morning when you wake up. I've gotten pretty used to it by now and if I were to switch my focus to the European audience, it'd probably get pretty confusing haha. I guess that at the end of the day, it doesn't really matter if I publish my posts at 4 or 5 or 6 am. They'll wait for you on my blog either way so I don't even know what I'm going on about. Let's focus on the oatmeal. Yes, this oatmeal is delicious, it's creamy, satisfying, filling, with just the right amount of spice. Aaaaand (!!) with a side of tandoori masala roasted zucchini and also my recent obsession, kimchi. YUM.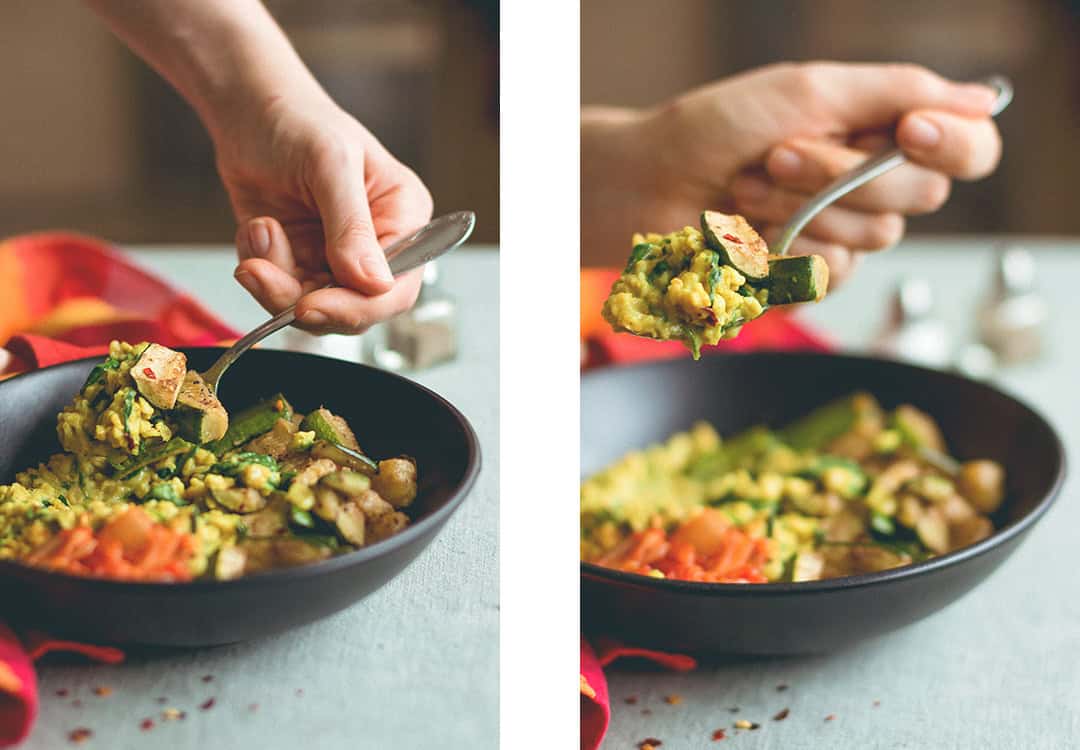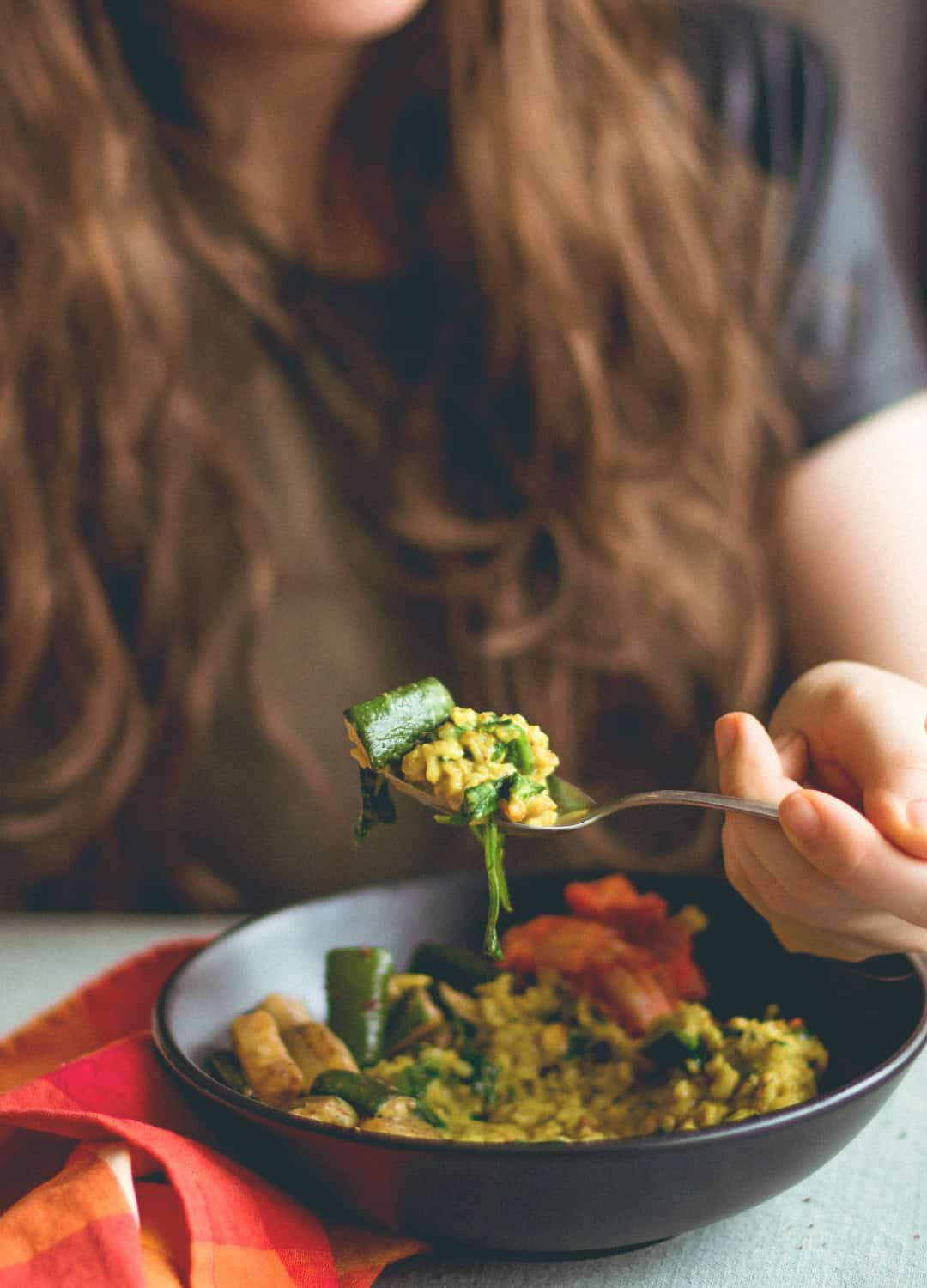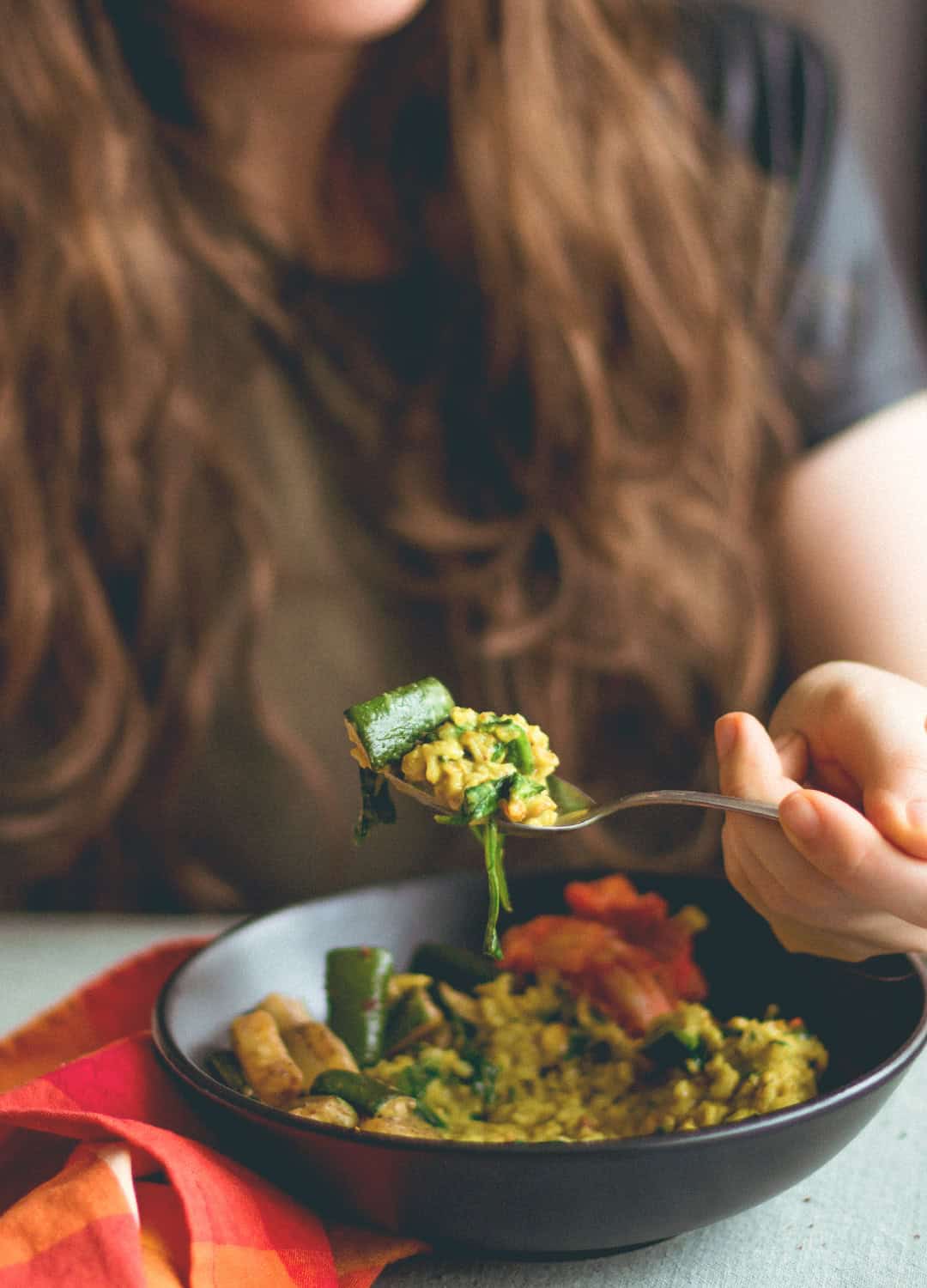 Fun fact about that picture above: yes that's me posing with the oatmeal and yes I also took the picture. Talk about skills lol. With my left hand, I'm acting all casual scooping my oatmeal while looking off into the distance but my right arm is stretched as far as possible to reach the remote and get the shot haha. If you're a solo blogger you can probably relate. It's so much fun, though, being creative with shots like this all by myself, I wouldn't have it any other way! ;)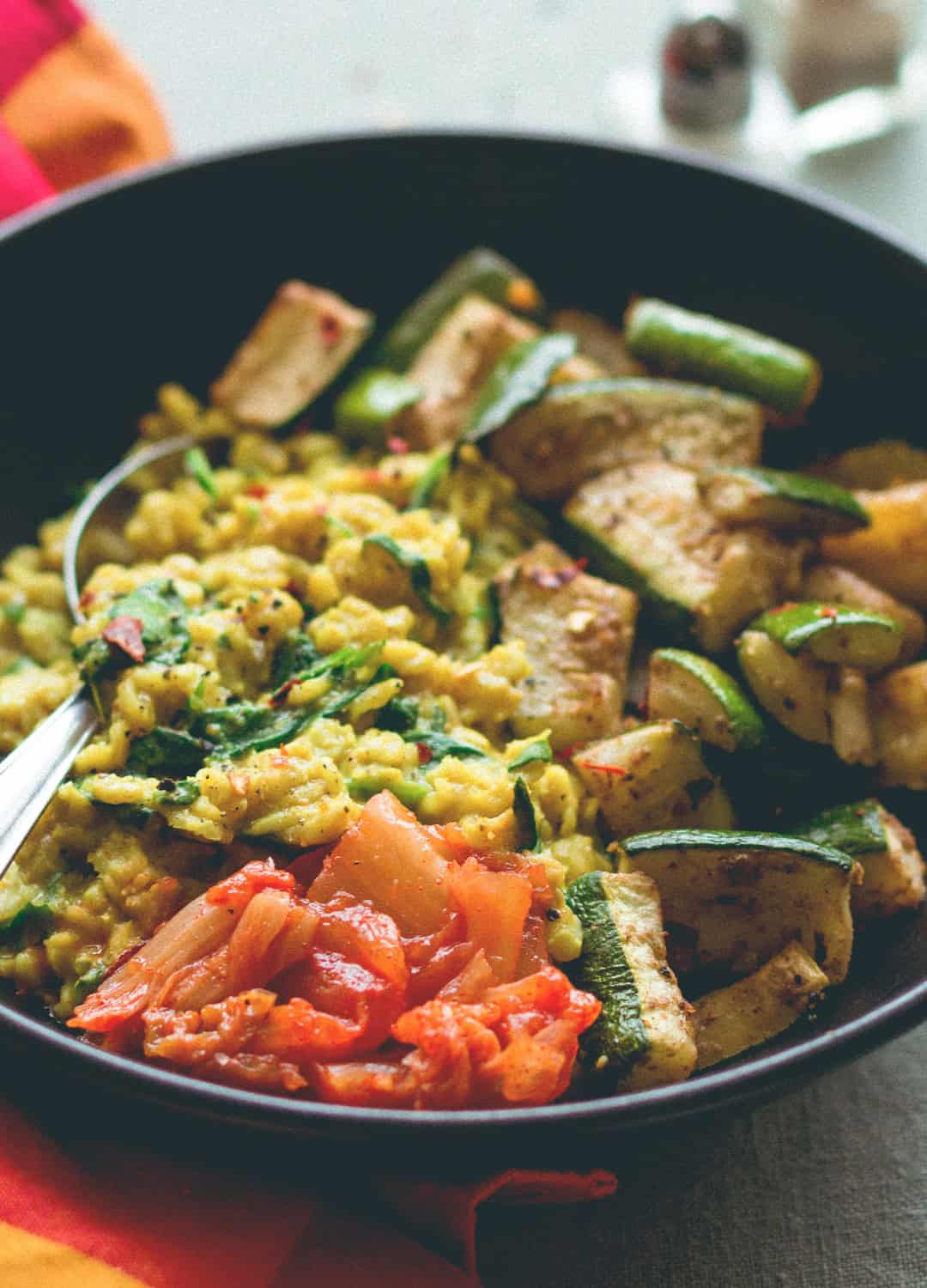 Print
📖 Recipe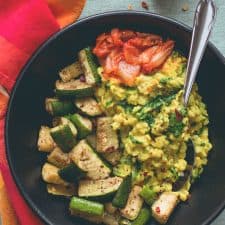 Curry Oatmeal with Tandoori Masala Roasted Zucchini
Author:

The Healthful Ideas

Prep Time:

10 mins

Cook Time:

15 mins

Total Time:

25 mins

Yield:

2

1

x

Category:

Breakfast
---
ROASTED ZUCCHINI:
2

zucchinis, peeled if not organic

¼

-

½

teaspoon tandoori masala

¼ tsp

garlic powder

¼ tsp

onion powder

¼ tsp

chili powder (optional)
sea salt and pepper to taste

½ tsp

coconut oil, melted*
CURRY OATMEAL:

2 cups

almond milk (or any other plant milk)**

1 cup

rolled oats

1 tsp

curry powder

⅛ tsp

garlic powder

⅛ tsp

onion powder
dash turmeric powder (optional)

2 cups

baby spinach
to serve: kimchi, cherry tomatoes, hummus, chili flakes
---
Instructions
Preheat your oven to 200C (392F).
Cut up your zucchini into somewhat bite-size pieces (I did short thick fries, about 2cm long but it doesn't really matter. The smaller they are the less time they need in the oven)
Sprinkle with the seasoning and mix to coat.
Add the coconut oil and mix again to coat evenly.
Roast in the oven for about 15 minutes, tossing once midway through. Turn on the broiler for the last 5 minutes to grill them up a bit but be careful not to burn them,
To make the oatmeal, bring the milk to a boil over high heat, add the oats, lower to low-medium heat and cook for 10 minutes, add the spices and mix well.
Add the spinach and cook for 2-3 more minutes to wilt it. Add more if needed.
Divide the oatmeal between two bowls, add the zucchini, kimchi, hummus, and season with salt and pepper if desired. Best served immediately.
---
Notes
*I always put the oil on the zucchini when it's solid and just place it into the oven for a minute or two to melt it, then I mix it to coat and put back into the oven to cook.
**Or you can do 1 cup milk and 1 cup water.