Happy Easter!! This carrot cake oatmeal is probably as Easter as my recipes will get this year. But oh my is it delicious. I don't know if carrot cake is even a spring thing, I just thought of Easter, which made me think of cute little rabbits and eventually carrots. I think carrot cake is mostly an American thing, isn't it? I've never actually had carrot cake *gasps* and no one in my family has ever made carrot cake either as far as I know. I wonder, do you have experience with making carrot cake, wherever you live? It's such a shame it's not a known dessert here, though! The combination of carrots, the spices and, in this case, oats is absolutely scrumptious.
This oatmeal is creamy, comforting, delicious, spicy, nutty, vegan, healthy, and pretty easy to make! Top it with your favorite berries or other fruits, along with more nuts, seeds, raisins, or anything else you like and voila, you have the perfect breakfast! Oatmeal has really grown on me in the past couple of months and I'm constantly trying to come up with new flavors. And as I've never actually tasted carrot cake, this is pretty much a new flavor to me. Well, okay, I did try to make carrot cake oatmeal last year and googled the spices and what should actually be included apart from the carrots but it wasn't anything special. This time, though, this time, the recipe sends me over the moon!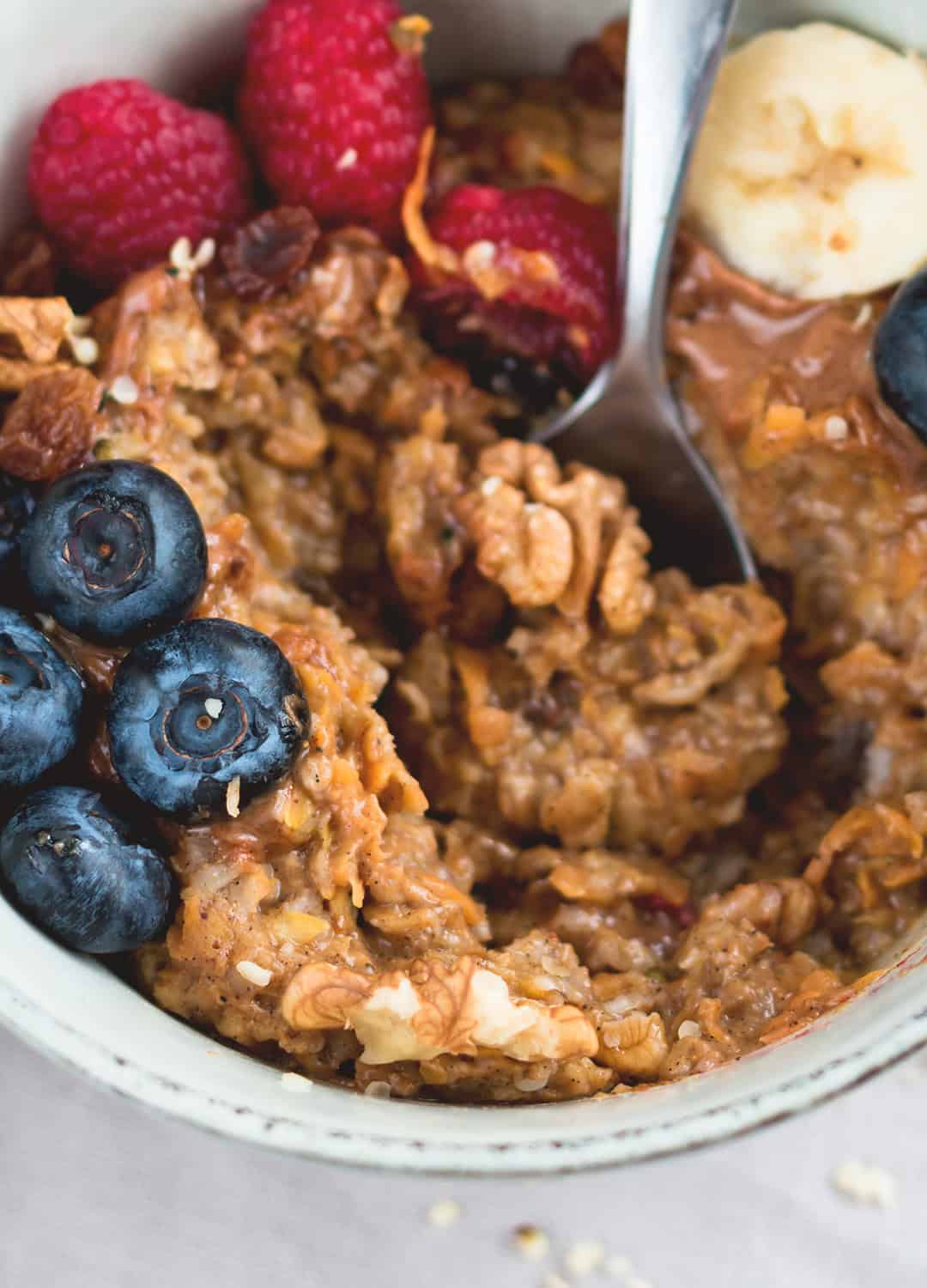 I don't know what it is but I'm not in such Easter mood this year. It's probably because it's still so cold out and I can't wrap my head around the fact that it's already spring. I mean, seriously though! Can you believe it's spring already? I know everyone says this all the time but I can't believe how fast time flies. I still feel like it was New Year's yesterday and the idea of it being 2016 was bananas. Anyways.. I am planning on decorating the house today to make our surroundings all happy and springy. We usually decorate our windows with cute Easter window stickers — it's a tradition, I used to love doing it as a child and I grew up in a house where every holiday was properly celebrated so why not continue the tradition? If you celebrate Easter, what do you decorate your house with? Do you have one special thing that can't be missing during Easter either on the table or hanging somewhere? I'd love to know! :) For me, it's probably these cute little Easter chicks we've had ever since I can remember. They stand on their own on their plastic little feet and I have a whole bunch of them haha.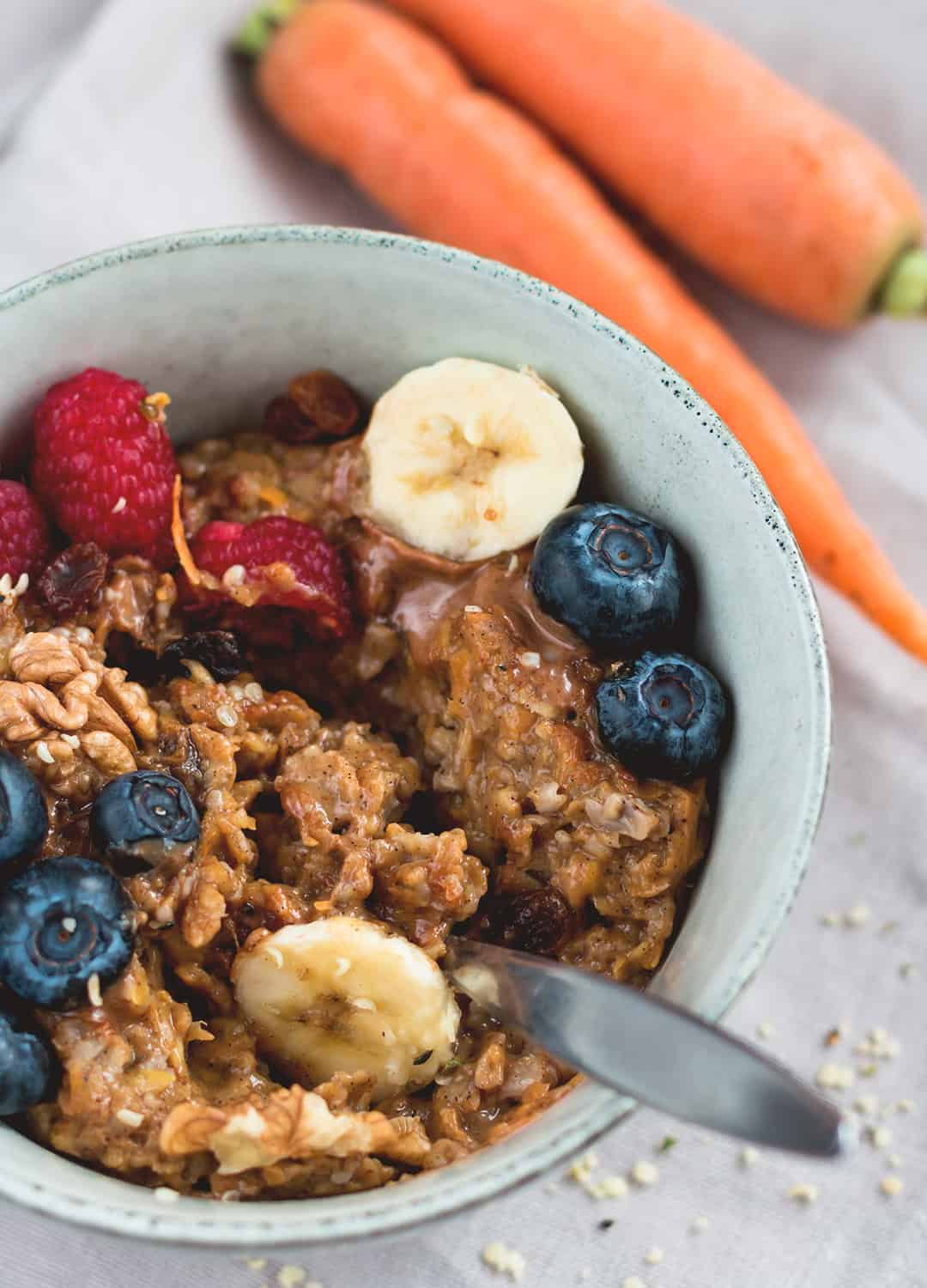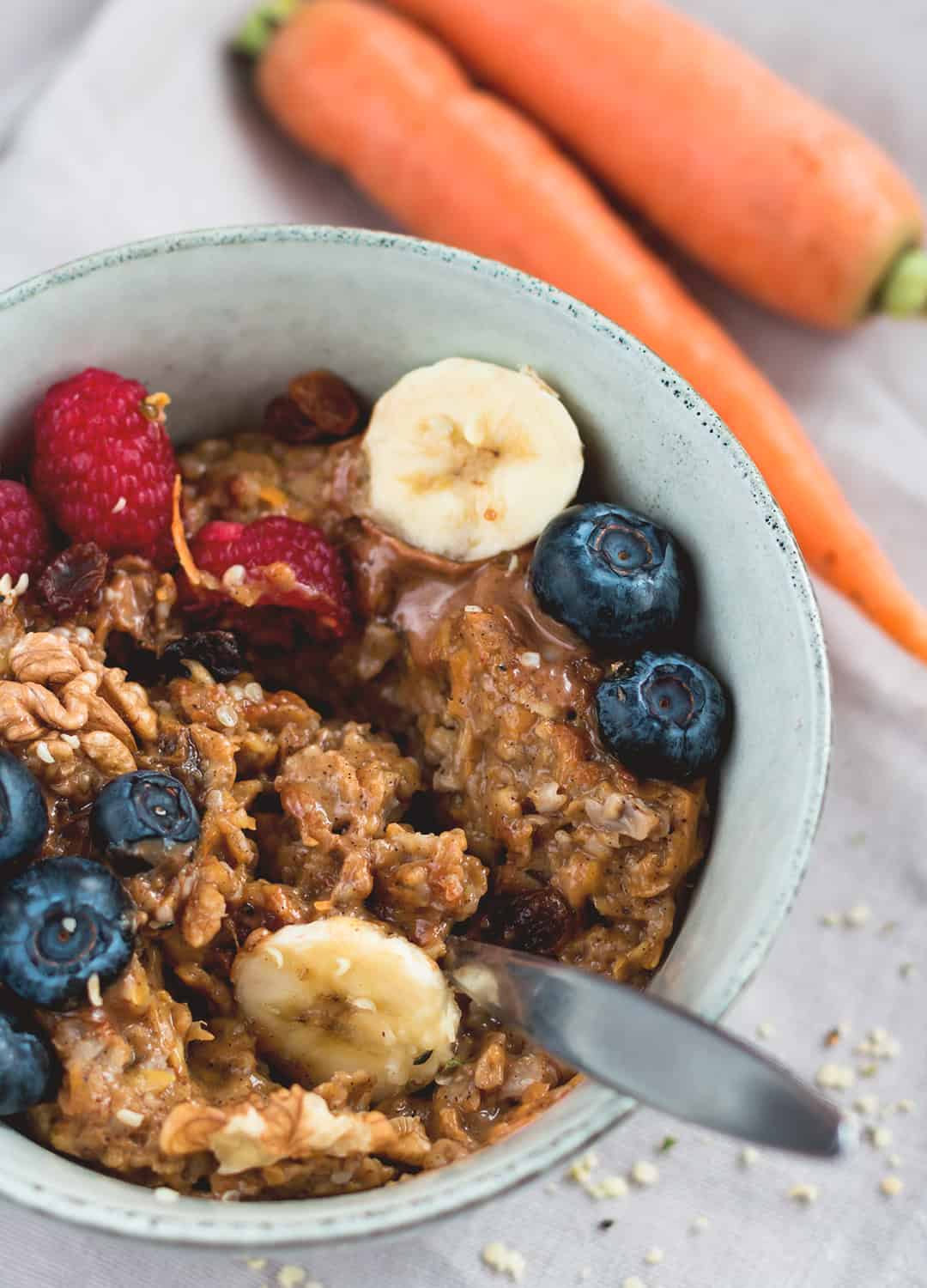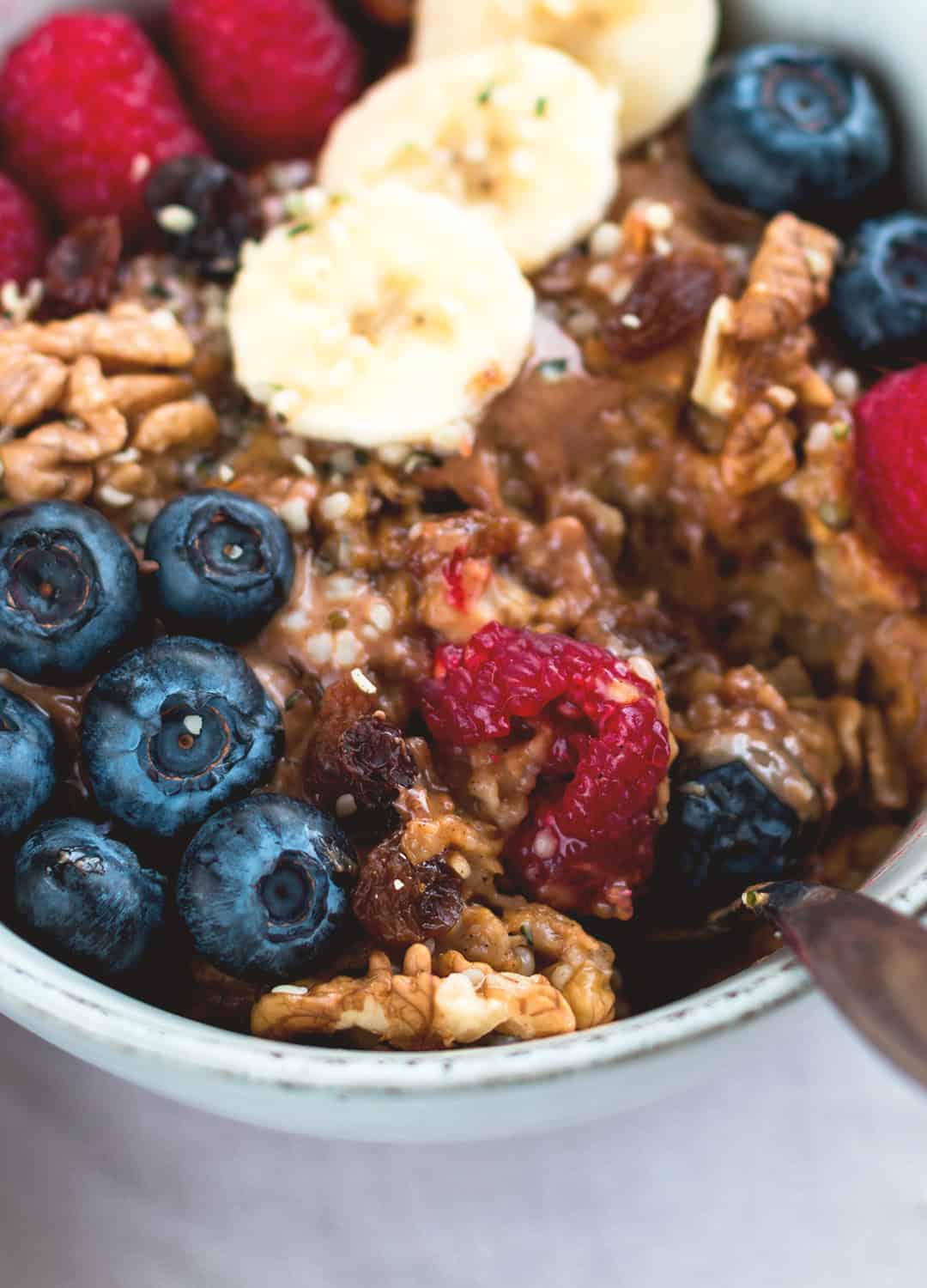 Remember the Apple Pie Oatmeal with Raisins and Goji Berries I posted last fall? Well, this carrot cake oatmeal kind of reminds me of it — probably because of the raisins and the walnuts. And although those two kind of are similar, this carrot cake one is definitely more spring themed. A spring version that is ideal for this year's cold spring mornings, if you ask me. It's packed with delicious sweet carrots, a bit of apple, ginger, allspice, and cinnamon and it's absolutely heavenly. Plus with the berries on top, it's almost summer looking. Speaking of, I can't wait for summer! I can't wait to start making ice cold smoothies again and enjoying them in the sun. Who's with me?
But for now, I'm gonna enjoy this insanely delicious creamy carrot cake oatmeal, or at least the pictures because right now, I'm actually eating next weeks recipe! ;) Anyway, I hope you enjoy this bowl of awesomeness as much as I did. Let me know if you make it, either here in the comments or on any social media, I'm everywhere, really.  xx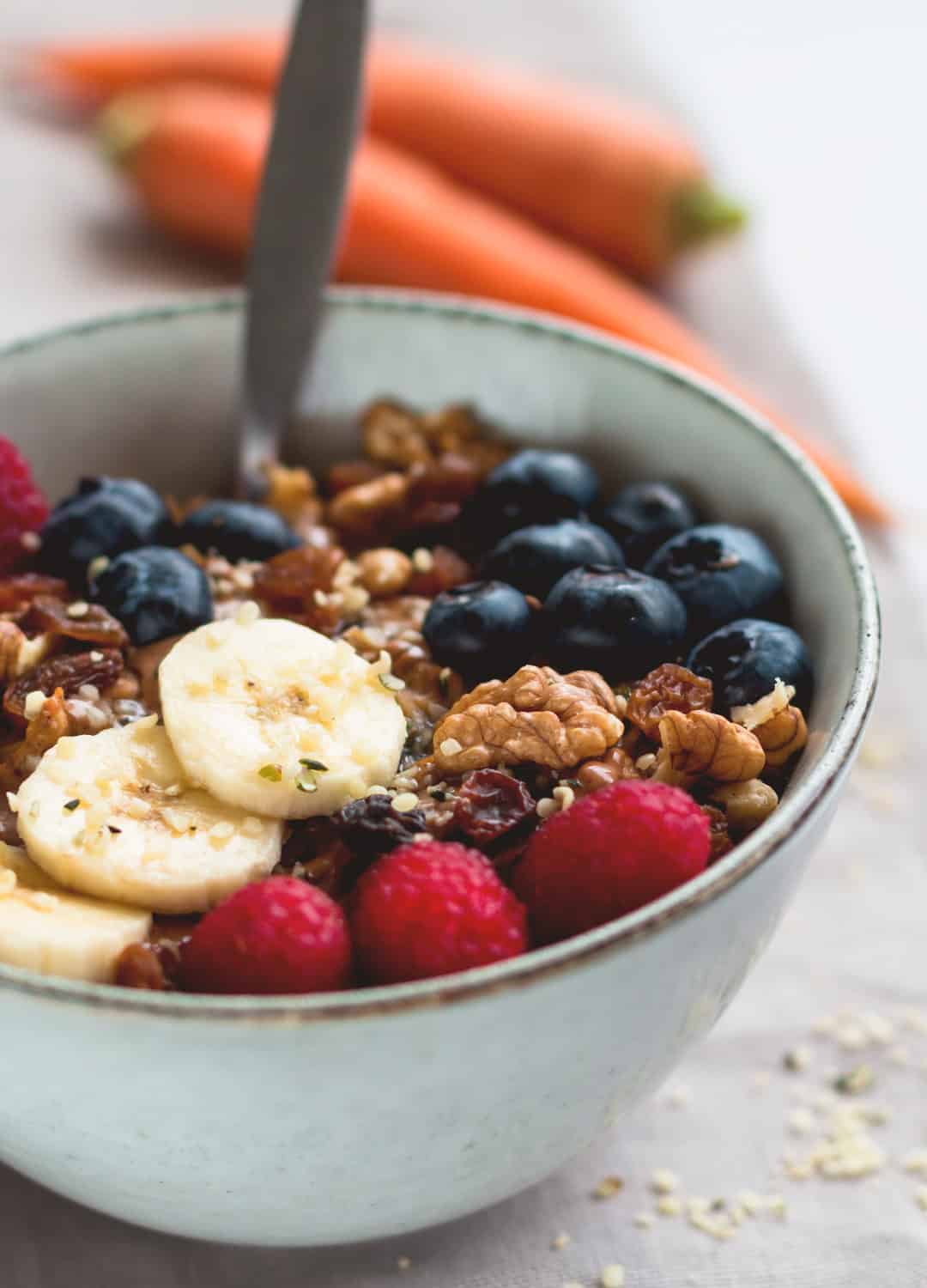 Print
📖 Recipe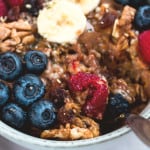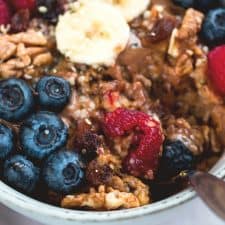 Creamy Vegan Carrot Cake Oatmeal
Author:

The Healthful Ideas

Prep Time:

10 mins

Cook Time:

10 mins

Total Time:

20 mins

Yield:

2

1

x

Category:

Breakfast
---
Description
Delicious zesty vegan oatmeal recipe. I absolutely LOVE this one! It's easy, healthy, and really tasty!
---
1 cup

grated carrot, tightly packed (

2

-

3

carrots)*

1 cup

grated apple (

1

-

2

apples)*

2 cups

plant-based milk (almond, oat, rice, cashew, coconut)

2 tbsp

lemon juice

1

heaping teaspoon lemon zest (from an organic lemon, add less if you don't want it too zesty)

2 tsp

vanilla powder

1 cup

oats

3 tbsp

walnuts (plus more for toppings if desired)

2 tbsp

raisins (again, more for toppings if you want)

1 tbsp

maple syrup or honey if not vegan (or to taste)

2 tsp

ground cinnamon

1 tsp

ground ginger

¼ tsp

ground nutmeg

¼ tsp

ground allspice
---
Instructions
Place the grated carrots, apples, milk, lemon juice, lemon zest, and vanilla powder into a medium-sized pot, mix and bring to a boil.
When almost boiling, stir in the oats, walnuts, and raisins. Stir well so there aren't any clumps. Lower the heat and cook on low-medium heat for 10 minutes or until creamy. Stir every few minutes and if it starts sticking to the bottom, add more milk.
Turn off the heat and stir in the maple syrup. Add the cinnamon, ginger, nutmeg, and allspice, and mix well.
Serve immediately topped with berries, nut butter, banana, seeds, nuts, raisins, or anything else your heart desires.
---
Notes
* I used a box grater to grate the carrots and apples. Grate the carrots into thinner pieces than the apples since they're harder and would need more time to cook.