Ahh chocolate oatmeal. Isn't chocolate oatmeal the best?
No matter how hard I try to come up with different, original breakfast every morning, I somehow almost always end up eating chocolate oatmeal. I just can't help it. Granted, I usually add basically all the superfoods I own to make up for the fact that I'm eating something so sweet and delicious for breakfast. Because when I eat chocolate oatmeal for breakfast, I can't help but feel like I'm eating a dessert. My usual combo is everything I get my hands on cacao, acai, maca, lucuma, mesquite, chlorella, pomegranate powder, goji berries or goji powder, maqui berry powder, camu camu powder, etc. I mean... I do love my superfoods, that's for sure. lol. Sometimes I add all of those, sometimes I skip some of them, and sometimes, I add even more! My oatmeal also usually has berries added to it. Whether it's wild blueberries, cherries, raspberries, or strawberries (or apples), there's always something to make it taste even more amazing. And then there's of course, the topping. Apparently, all the superfoods and a heap of berries aren't enough so I always add more on the top. Goji berries, cacao nibs, fresh berries, frozen berries — you name it, it's on top of my oatmeal. And more often than not, there's so much stuff on top you can't even see the oatmeal.  I can't be the only one with crazy oatmeal habits, right? I'm sure you can relate because let's be real, who doesn't like huge bowls of sweet chocolatey oatmeal??
If you're like me and you can't get enough of chocolate oatmeal, you can check out my other chocolate oatmeal recipes here:
This chocolate oatmeal is a bit different, though. It doesn't have heaps of superfoods but instead, it has orange zest and freshly squeezed orange juice. And the combination of cacao and orange is definitely something you need in your life.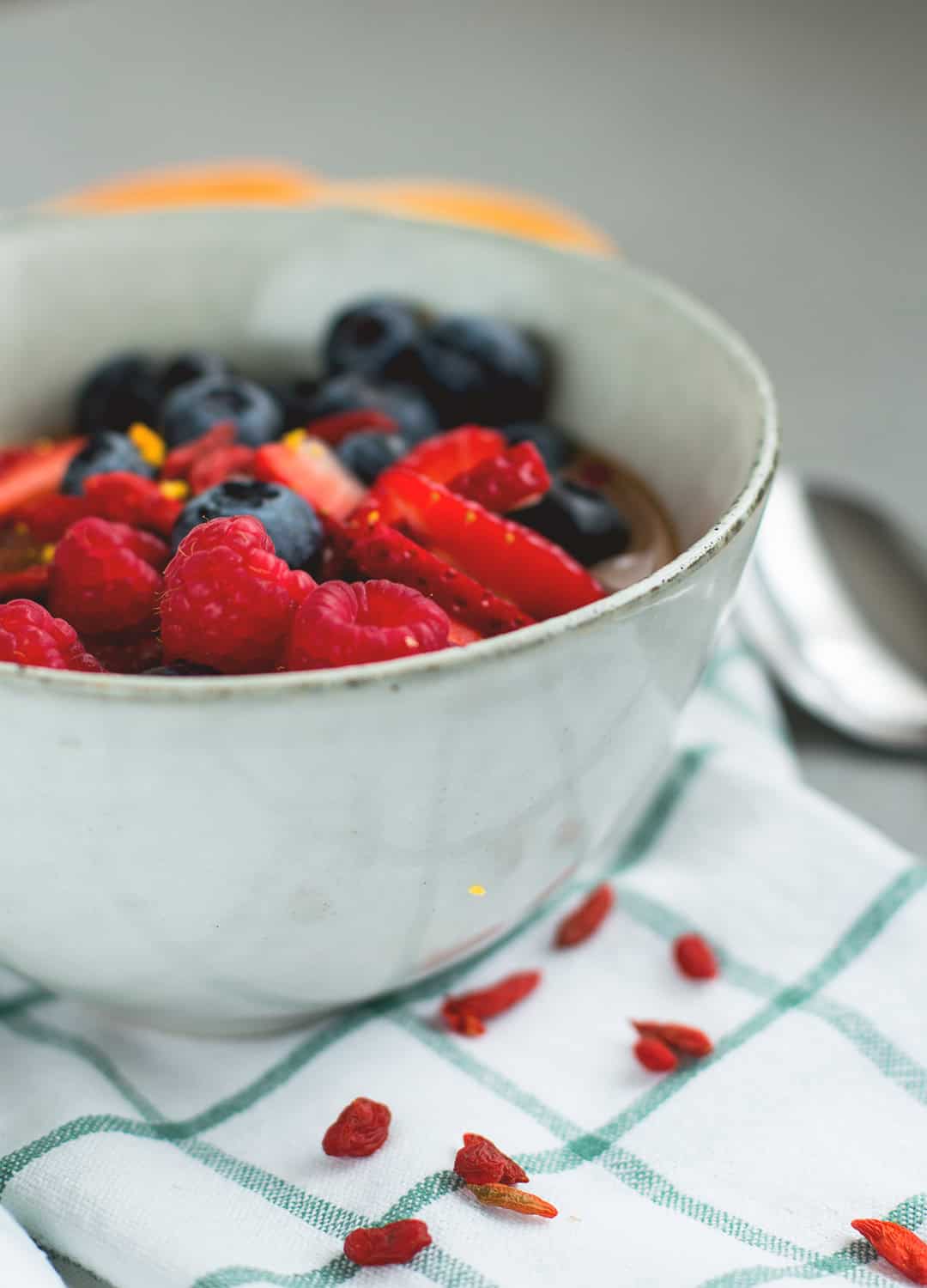 I remember buying candied orange zest in dark chocolate every once in a while in a shopping mall close by. I loved it! I really enjoyed the combination of the sweet chocolate and bitter orange zest and that's how I want to remember it because now, I know that if I went back and tried it again, I wouldn't like it anymore. My taste buds changed and I'd most likely find it too sweet. Now, I have a substitute for it.
This delicious chocolate oatmeal with orange zest.
Well, maybe also Pana Chocolate. One of their raw chocolates is orange flavored and it's to die for. It'd be delicious as another topping for this oatmeal! As if I needed more toppings, right?
I didn't go crazy with the toppings this time so that you can actually see the delicious oatmeal! It's super creamy and hearty, it's bursting with chocolate flavor accompanied by a hint of orange zest and tangy orange juice. It's the perfect combination!!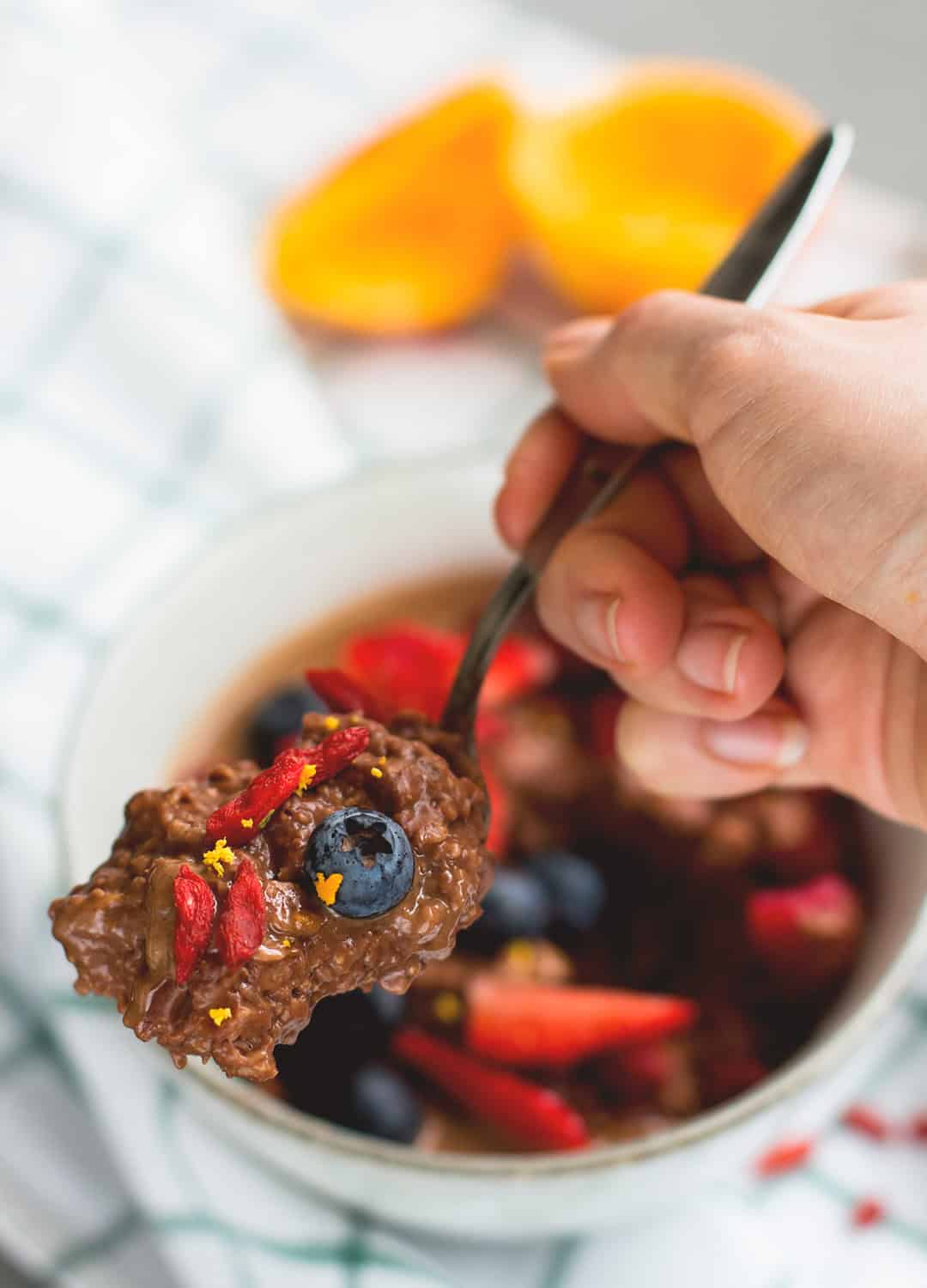 Just look at it! I'd be lying if I said I didn't want to eat this every single day. The fact that it 100% tastes like a dessert makes me feel like I can't eat it every day but why not? It's vegan, it's healthy, it's gluten-free, there's no processed sugar, and with the raw cacao, oats, orange, and toppings, it's actually really good for you! You can sweeten it either with maple syrup as I did, or you can chop 1-2 Medjool dates and stir them into the oatmeal.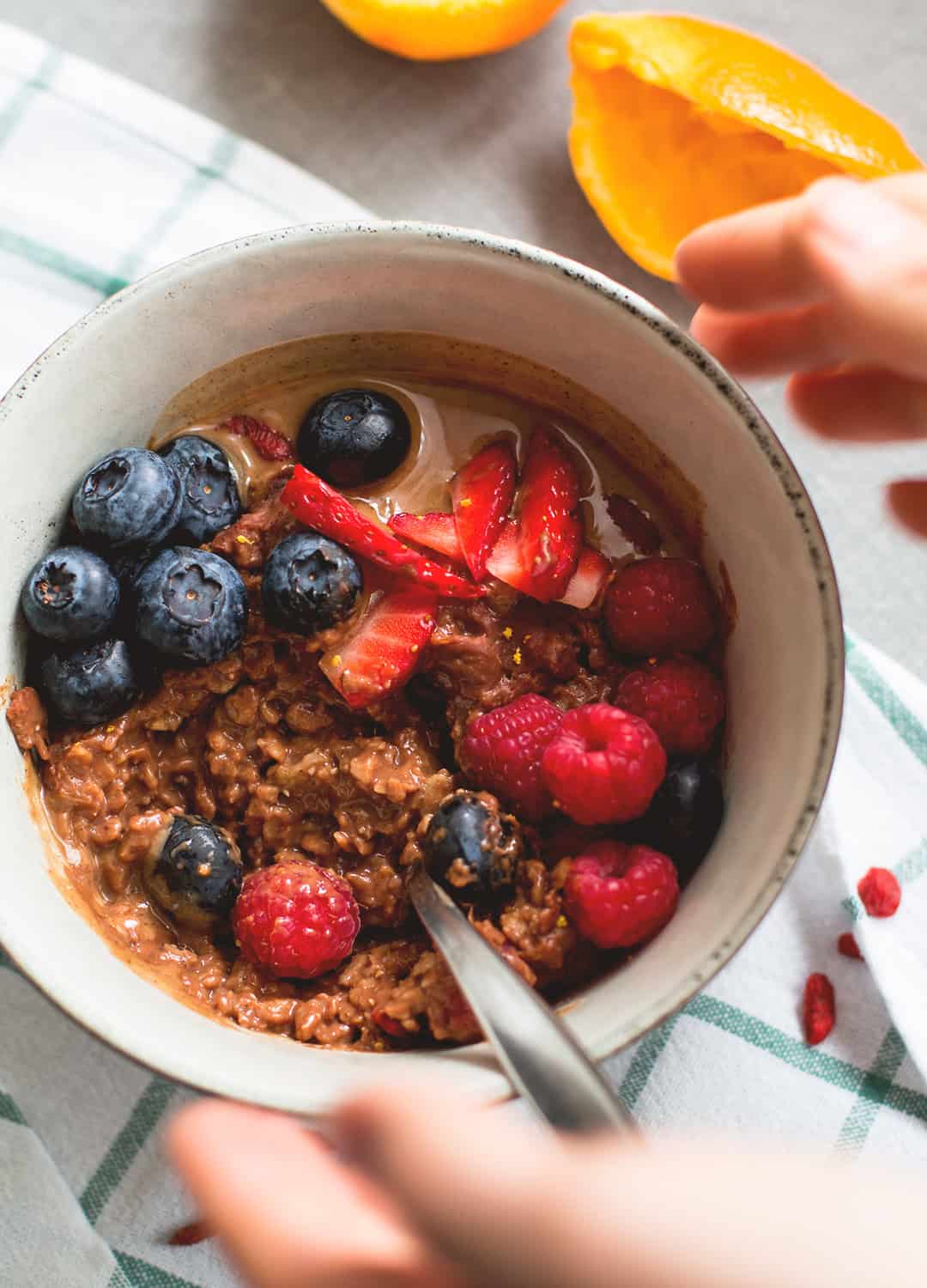 I'll leave you with this last picture that perfectly shows how creamy the oatmeal actually is. And look at the almond butter! I love almond or hazelnut butter on my oatmeal. I do eat roasted nut butter, though I know raw nut butter is generally healthier since the roasted nuts can go bad more easily but to be honest, I don't like raw nut butters. Roasted hazelnut butter doesn't at all taste the same as raw hazelnut butter. Plus raw nuts still tend to trigger my allergies a little sometimes so roasted it the best option for me. It's not like I eat it every single day with a spoon. Who am I kidding? I do.
I'm gonna stop rambling now. Check out the recipe below and definitely make this for breakfast soon! It's really simple and it's incredibly tasty! :)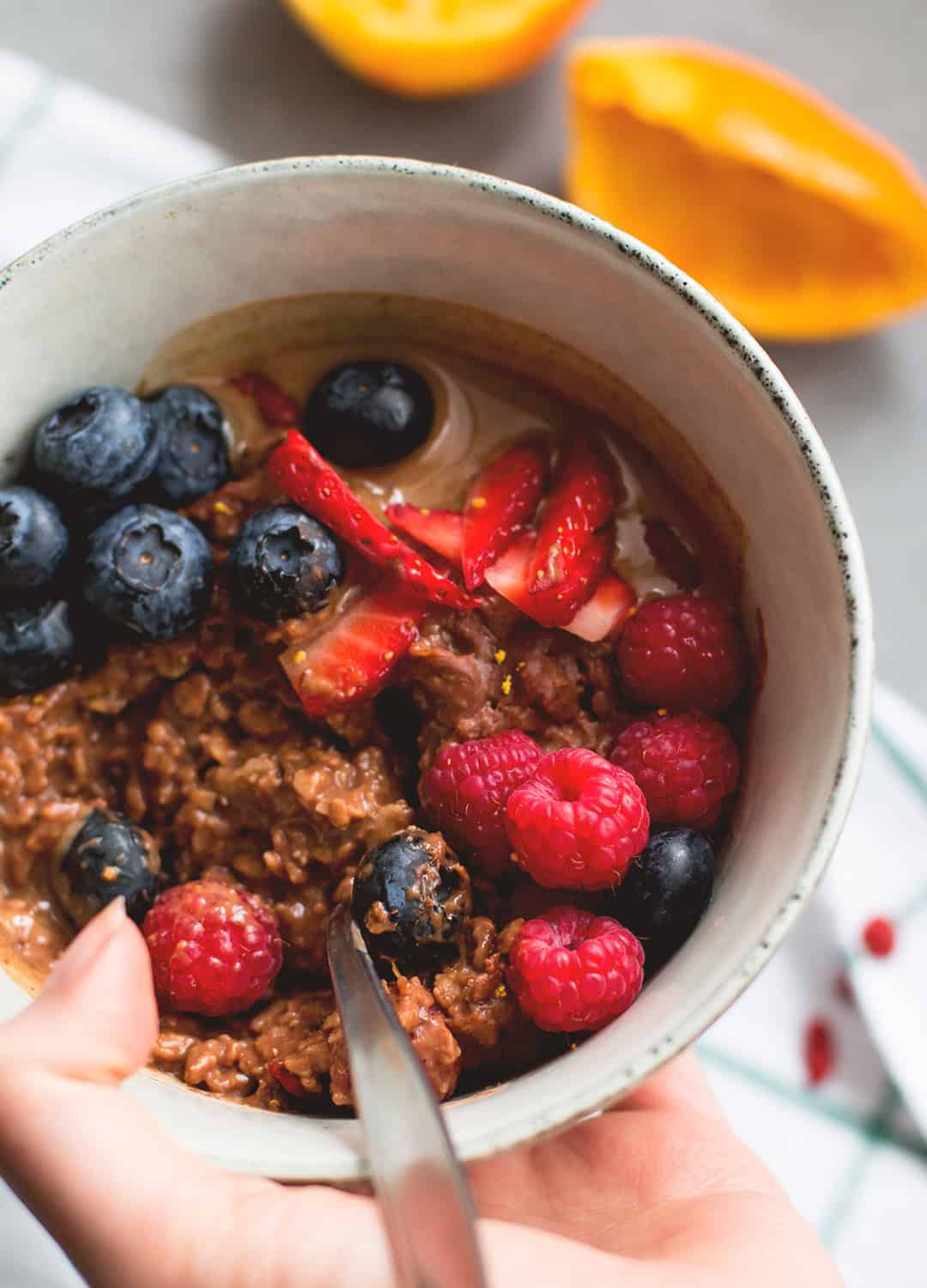 Print
📖 Recipe Chocolate Oatmeal with Orange Zest
Author:

The Healthful Ideas

Prep Time:

10 mins

Cook Time:

10 mins

Total Time:

20 mins

Yield:

2

1

x

Category:

Breakfast
---
Description
Delicious creamy zesty chocolatey oatmeal. The ultimate comfort food!
---
1 tsp

orange zest (from organic very well washed oranges)

1 cup

freshly squeezed orange juice (about

2

oranges)

1 cup

almond milk or other plant-based milk (plus more if needed)

1 cup

rolled oats

1 tbsp

maple syrup (or to taste)

1 tsp

vanilla powder (or vanilla extract)

2

-

3

tablespoon raw cacao powder

1 tsp

cinnamon
possible toppings: berries, kiwi, hazelnut or almond butter, cacao nibs, goji berries, nuts, seeds, etc.
---
Instructions
Put the orange zest, orange juice, and almond milk into a medium-sized pot and bring to a boil over high heat. When almost boiling, stir in the oats, lower the heat and cook on low/medium until thick and creamy (about 10 minutes) and add more milk if it starts sticking to the bottom of the pot.
Turn off the heat, add the maple syrup, vanilla powder, cacao powder, cinnamon and mix well.
Taste and add more sweetener or cacao as desired.
Serve topped with berries, nut butter, or other toppings of choice.
---