When you say Tzatziki, I immediately think of Greece. Especially that one summer trip to Rhodes with my mom around 2008. We stayed for over a week in this sleek hotel in Ixia and I would put a big scoop of tzatziki on my plate every night at dinner as if it were to disappear the next day and I could never eat it again. And well, after that I'd proceed to try all the desserts, of course.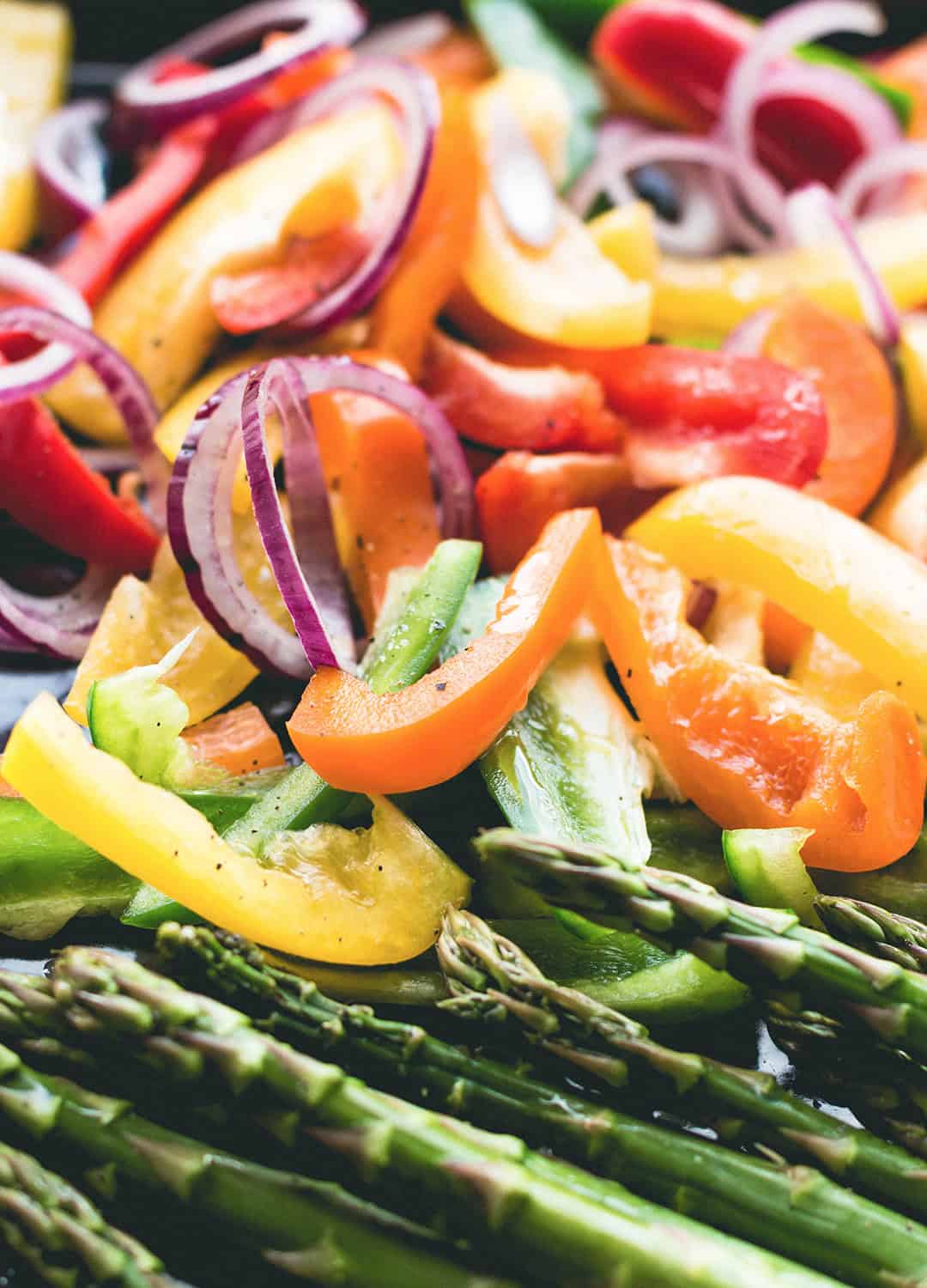 Going to Ixia was a fun trip. We even rented a car and went around the island. Just thinking about it makes me want to travel more. There was this fruit guy by the beach next to our hotel selling local fruits AND gigantic chocolate-glazed donuts every day (think main course plates kind of big) and guess what I chose to buy almost every day and unwillingly shared with my mom... Nope. Not the delicious local fruit. I went after the donuts every time with absolutely no shame. If I were there now though, I'd definitely buy all the fruit he was selling and make myself a smoothie in the NutriBullet I'd probably take with me on the trip because I'm crazy like that.
Between the car rides and giant donuts, I actually experienced my first earthquake two nights in a row. It was a pretty big one and it was scary but the fun thing is, I'd probably sleep through the whole thing if my mom didn't wake me. Talk about a deep sleep!
It hit me the other day that I haven't been on a beach vacation for quite some time now. We used to go every summer when I was younger but then I chose different locations like New York and Toronto because anytime you get the chance to go to NY, you take it (that's what I live by anyway). I miss the sea, though. Hopefully next year, or even earlier - you never know! ;)
Until then, I'm going to make these Chickpea Flour Crepes, add a big scoop of Tzatziki, and pretend I'm sitting by the beach in Greece.
Peace, friends xx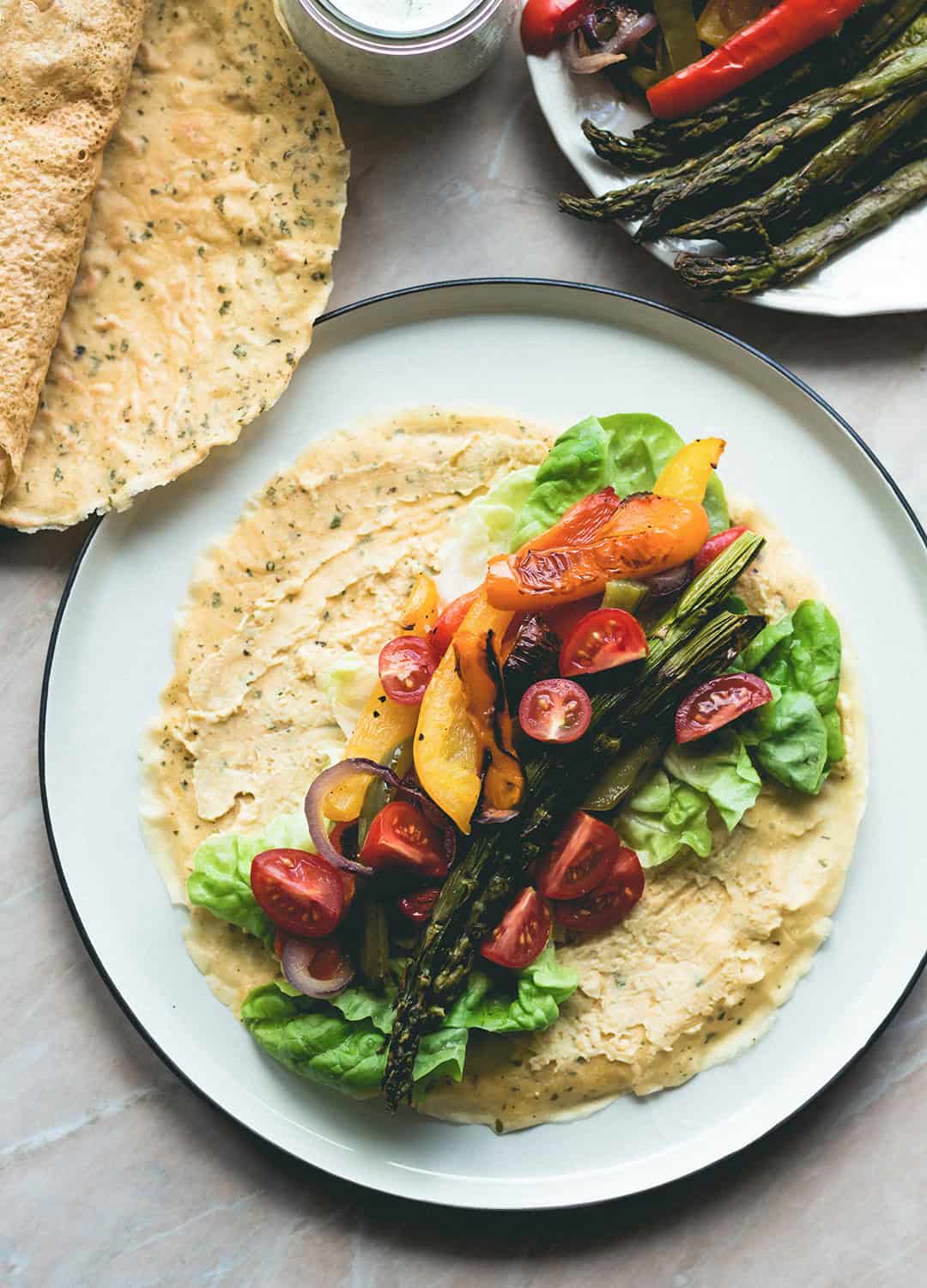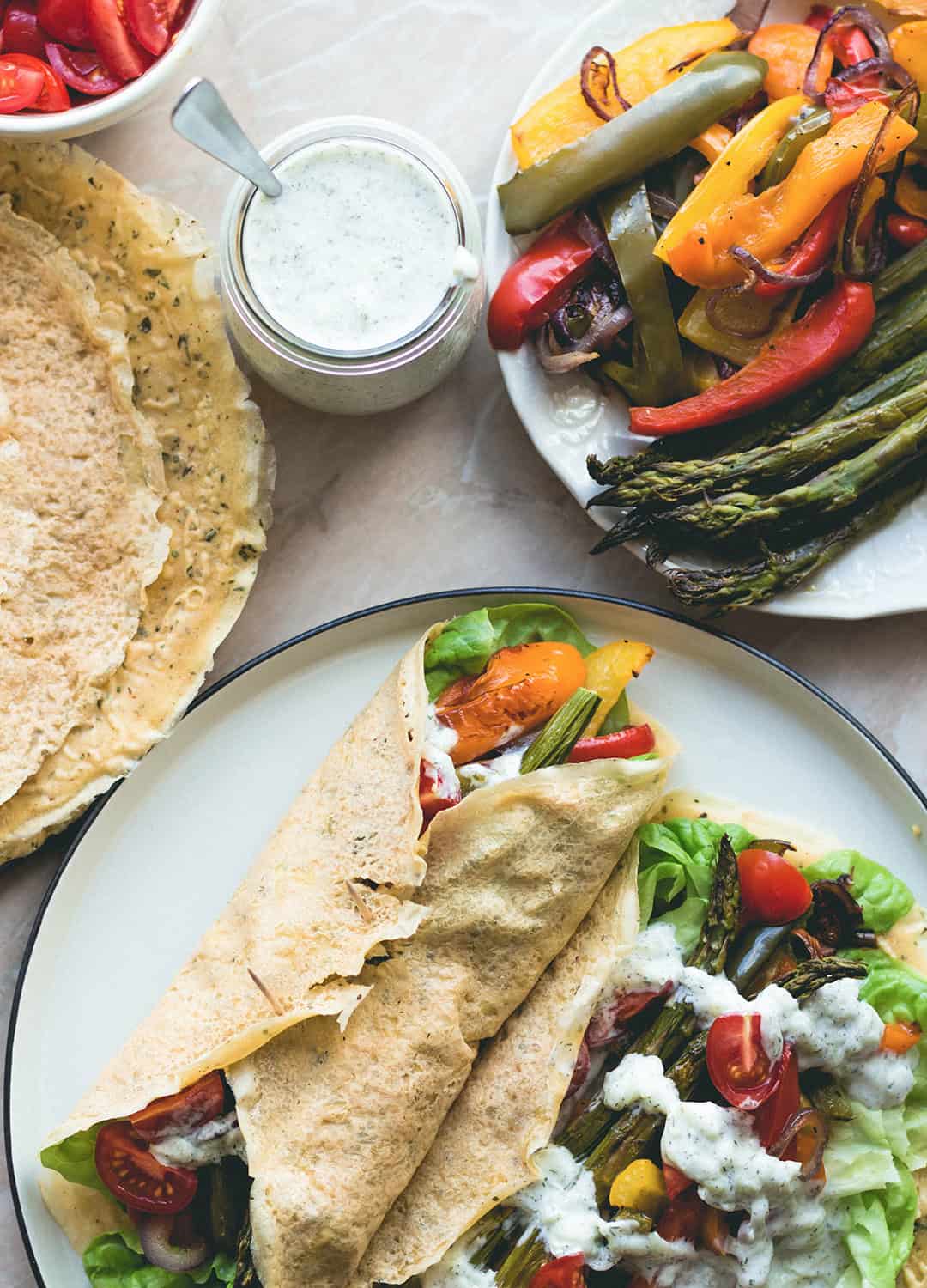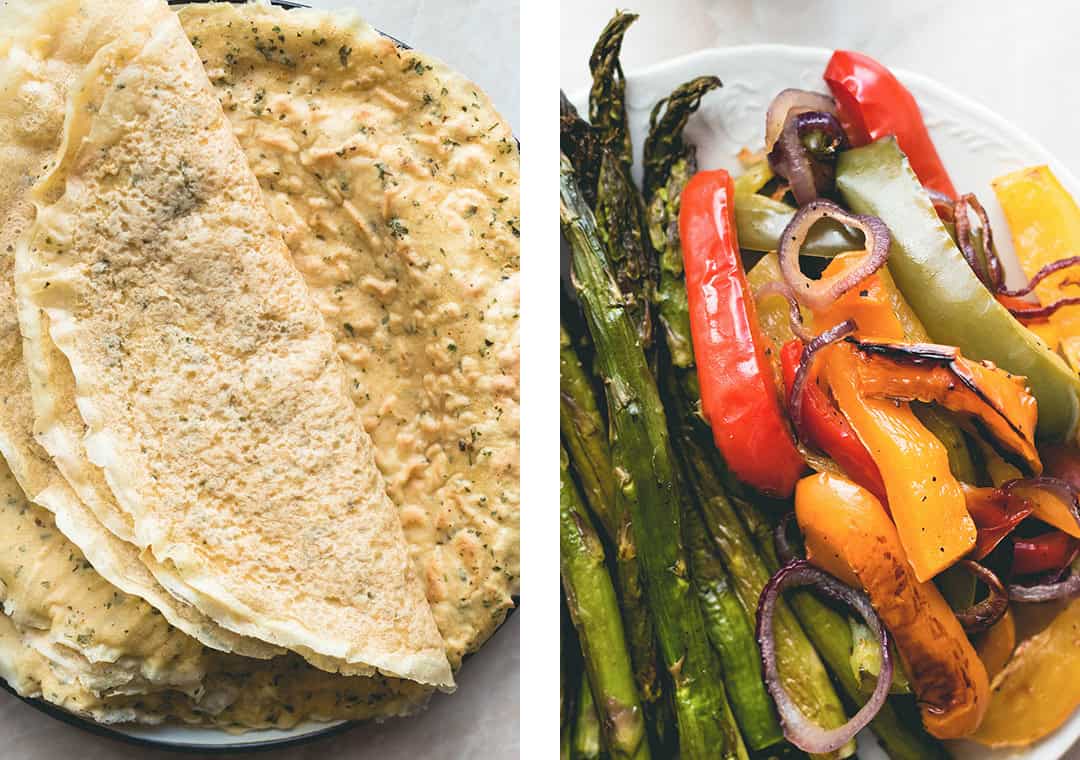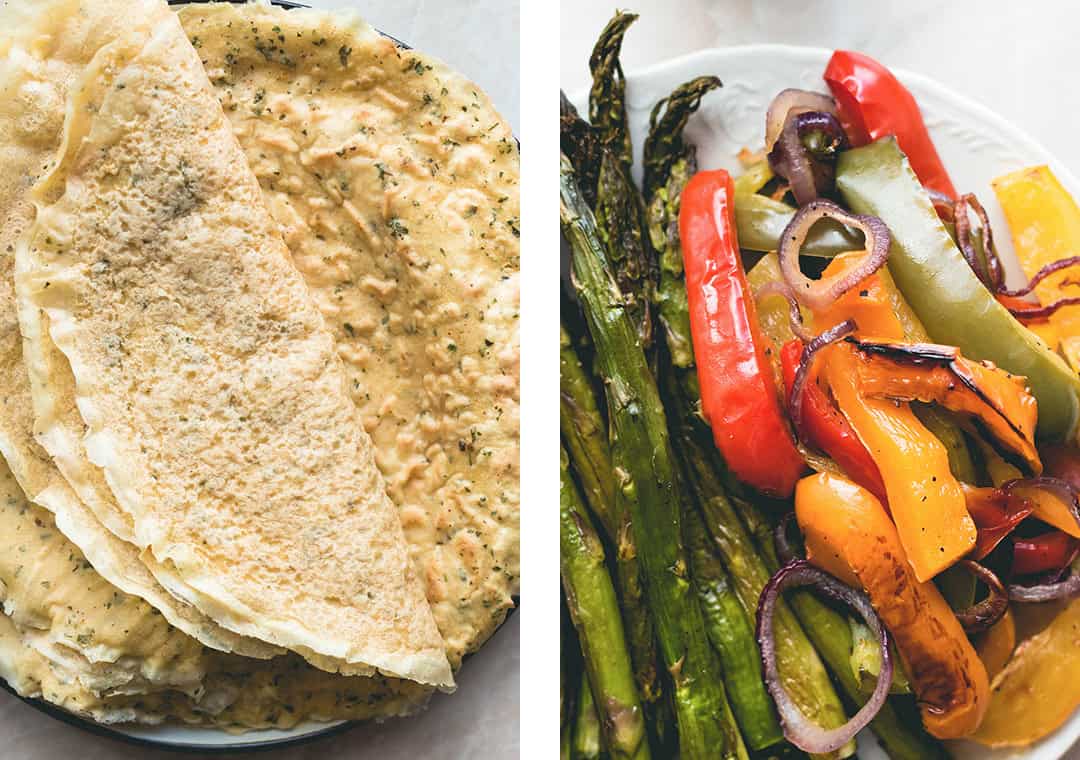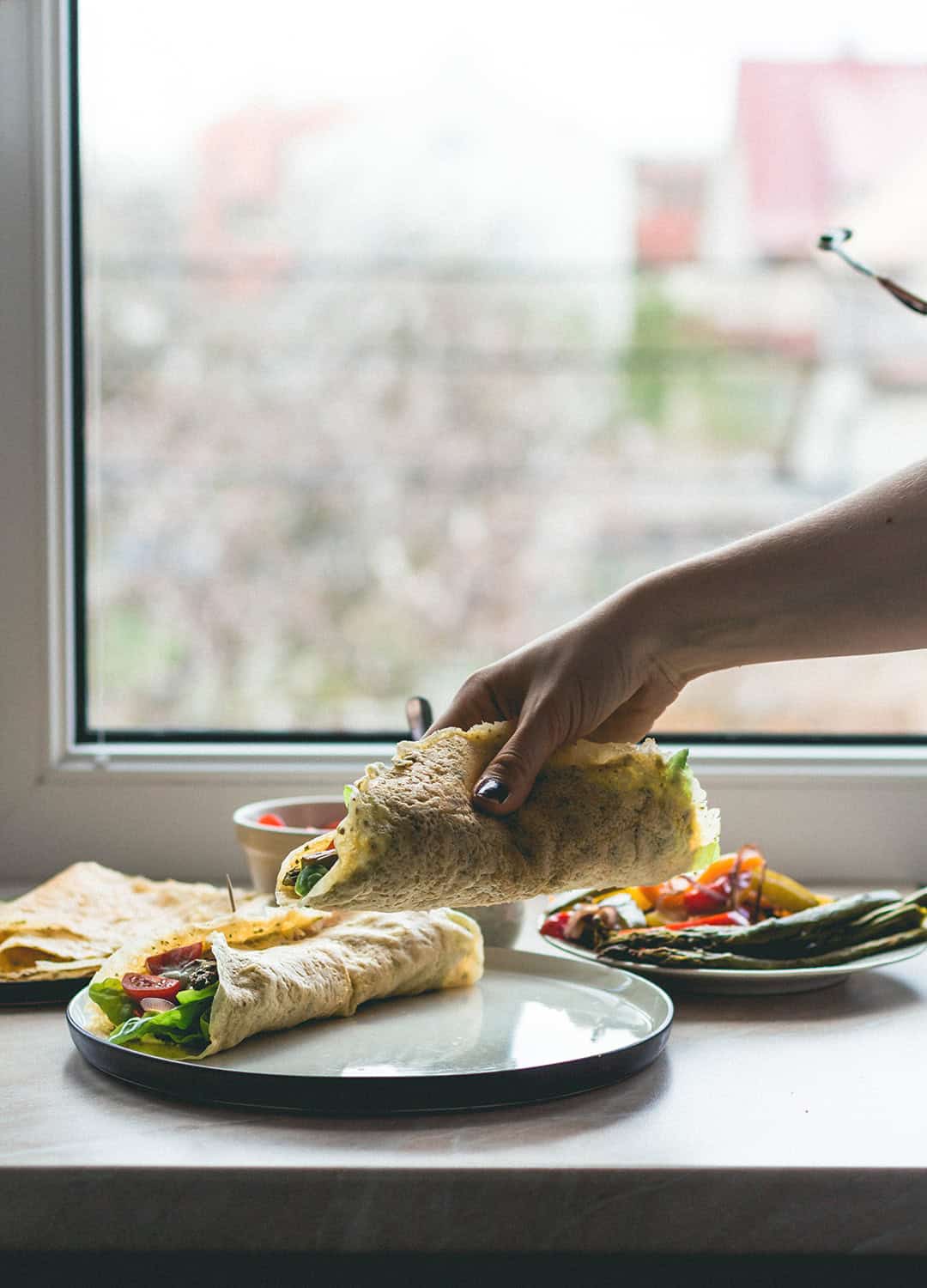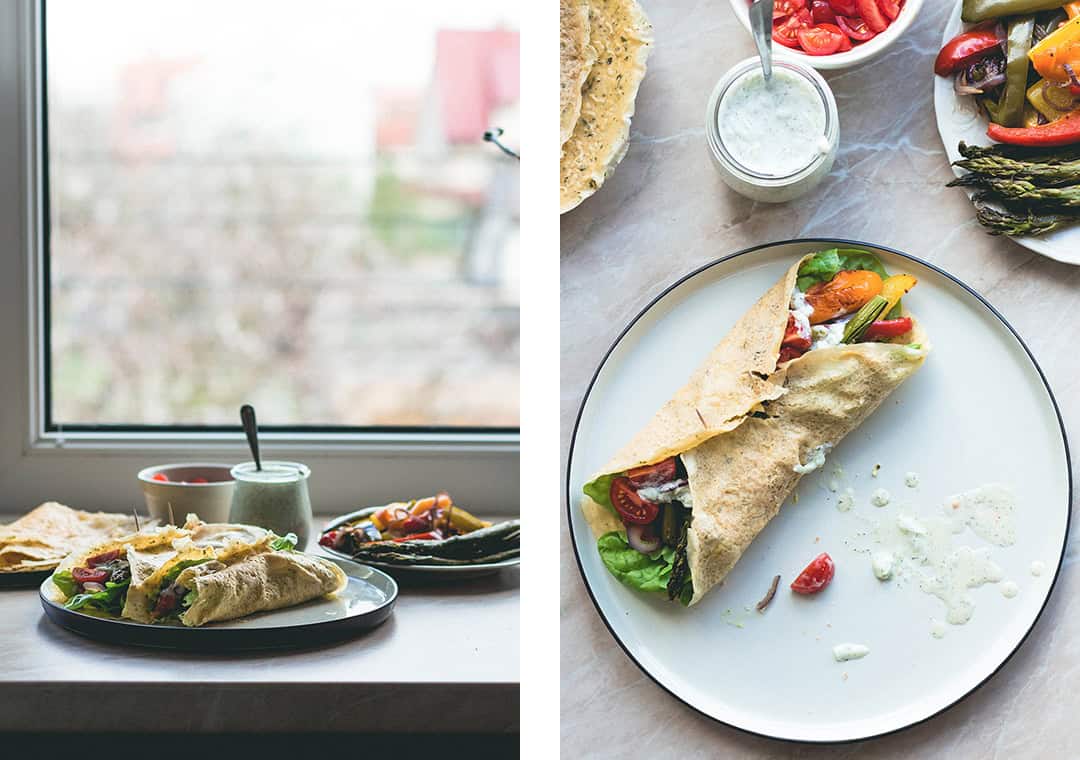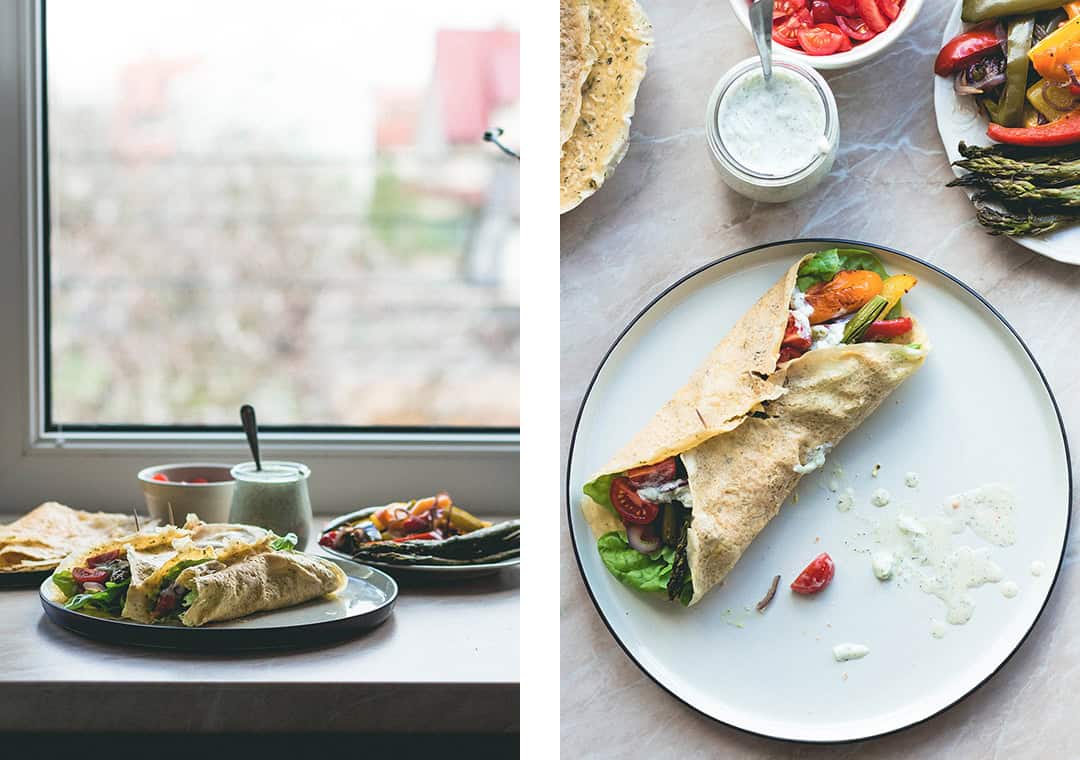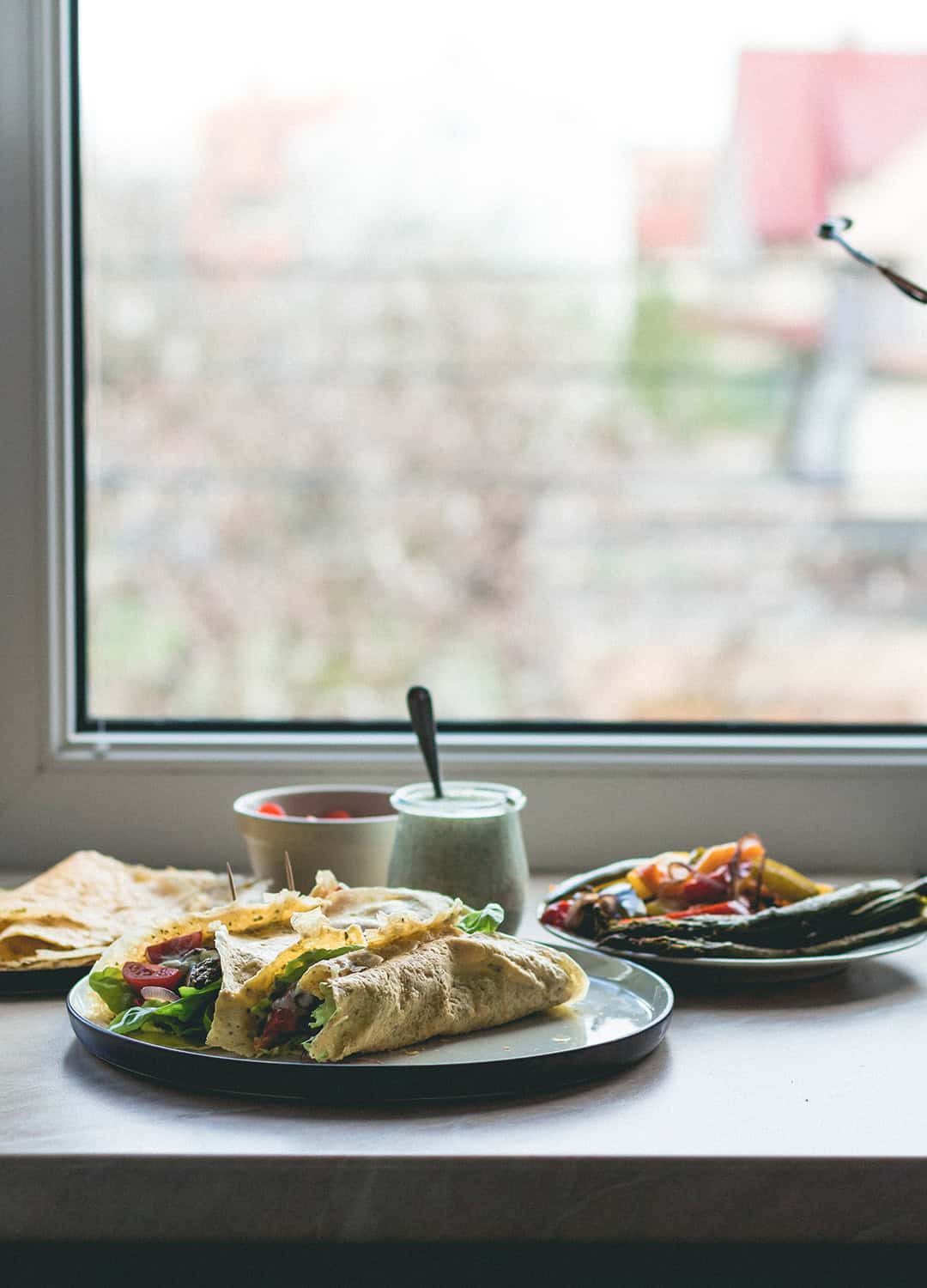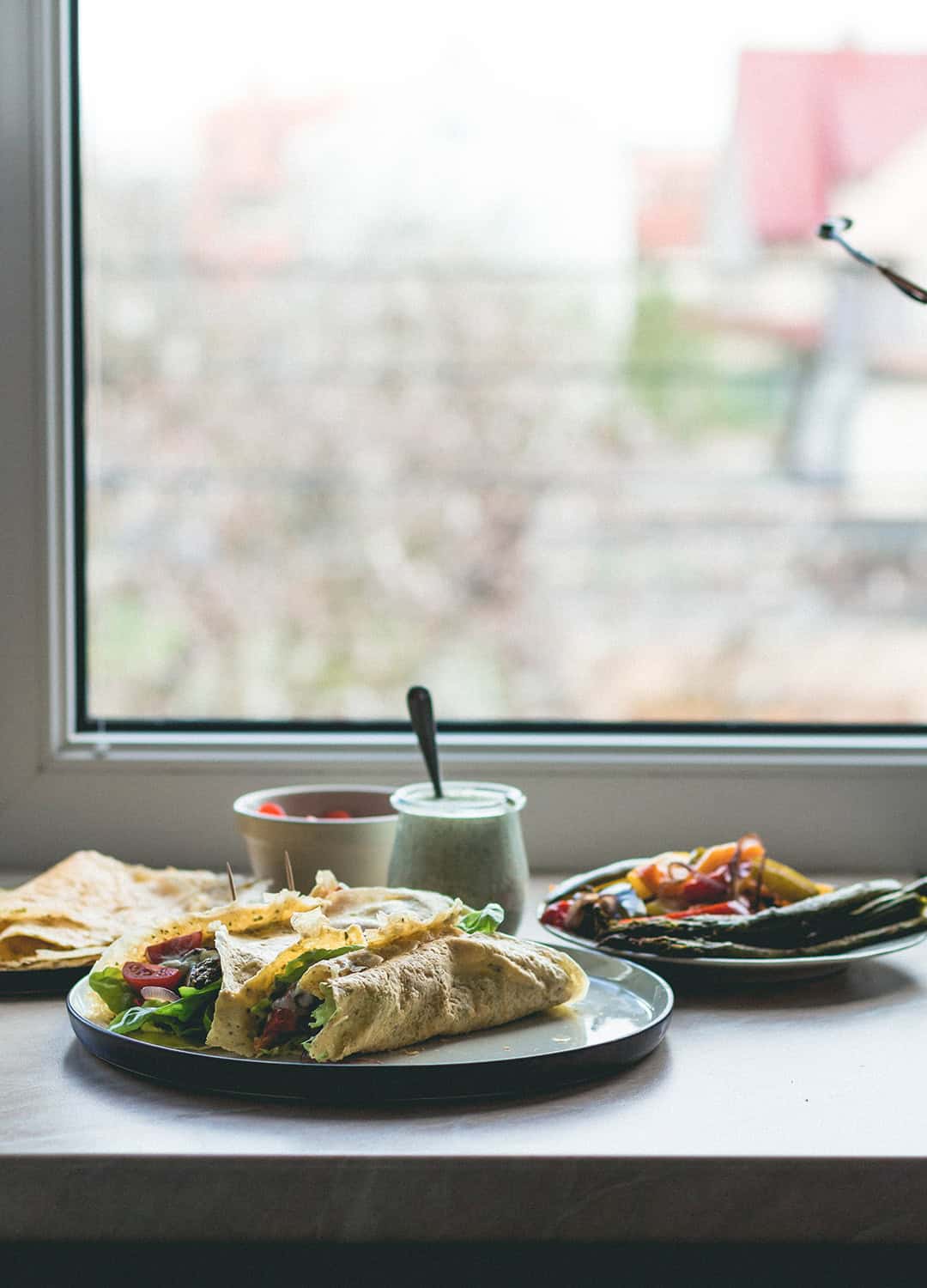 PS: I used Greek style sheep yogurt for the tzatziki because I stay away from dairy but you can totally use regular greek yogurt here. You can even make it vegan by blending two cups of soaked cashews with a pinch of salt, 1-2 tablespoon lemon juice (or more), and enough water to get the consistency you're looking for. Then just mix in the rest of the ingredients and you have vegan tzatziki! It's best to chill the cashew tzatziki overnight before serving so they're thicker.
This recipe was inspired by this recipe by Dolly and Oatmeal. Her blog is so beautiful and her cookbook Chickpea Flour Does It All is still on my wishlist. <3
Print
📖 Recipe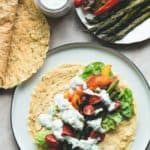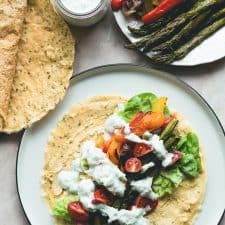 Chickpea Crepes with Roasted Vegetables and Tzatziki
---
Chickpea Crepes:

1 cup

chickpea flour

½ tsp

garlic powder

¼ tsp

onion powder

½ tsp

dried parsley (optional)

1 tsp

dried marjoram (optional)

¼

-

½

teaspoon sea salt

⅛ tsp

chili or chipotle (optional, I added only a pinch of chipotle)

1 ¼ cup

water
Roasted vegetables:
4

bell peppers (I chose all the colors)
A bunch of green asparagus (12 stalks, snap off the ends where they naturally snap off)

1

red onion
Splash of olive oil or coconut oil
sea salt, pepper
Tzatziki:
½

cucumber, grated

½ cup

Greek sheep yogurt

½ tsp

dried dill

¼ tsp

garlic powder
Salt, pepper
Small splash ACV (1-2 tsp)
Lettuce and chopped cherry tomatoes (to serve)
---
Instructions
To make the Chickpea Crepes batter, mix all the dry ingredients together in a big bowl. Then start adding the water about ½ cup at a time to avoid clumps. Whisk until smooth. Set aside.
Preheat your oven to 200°C (400°C). Cut up all your vegetables. Spread them on a baking sheet, drizzle with a little bit of olive or coconut oil. Season with sea salt and pepper, toss, and roast for 20-30 minutes (or less or more depending on how soft or crunchy you want the vegetables) tossing once or twice.
To make the tzatziki, simply mix all the ingredients together in a small bowl and set aside.
Crepes:
Heat about ½ teaspoon of coconut oil on a big low edge pan over medium high heat. When hot enough, lower the heat. Add about ¼ cup of the batter at a time and shake/move/tilt the pan to cover the whole pan and make a round. (This takes practice so don't worry if your crepes aren't perfect)
Cook for 2-3 minutes until the edges start to peel off and the crepes are easy to flip. Cook for 2-3 more mins on the other side until slightly golden.
Continue with the rest of the batter adding coconut oil if needed.
Keep them warm in a preheated oven on a plate covered with another one (70°C or 158°F).
To plate them, top one with some lettuce, the roasted veggies, tzatziki, and fresh tomatoes. You can either eat them like tortillas or put all the toppings on one side and then flip the other side of the crepe over and eat them with a fork and knife (the easier option as they might tear).
---