I would be lying if I said I haven't been making this recipe every morning for two months straight. Well, maybe not every single day, but still pretty regularly.
It's simply too good not to. I love the cherry-blueberry combo. The acai gives it an extra berry antioxidant boost and in combination with the blueberries, the oatmeal is so purple it appears black (high antioxidant allert! might make you feel and look great!!) Also, there's cacao powder, because let's be real — I'm a master at sneaking chocolate into anything and everything.
You can top it with any kind of fruit, really. I usually go for berries—raspberries, strawberries, or even more blueberries. You don't have to have fresh fruit on hand for the toppings, though! More often than not, I use frozen berries! When they thaw on top of your oatmeal, they release sweet juices which is an extra bonus.
If I were to choose only one meal to eat for breakfast for the rest of my life, this would be it.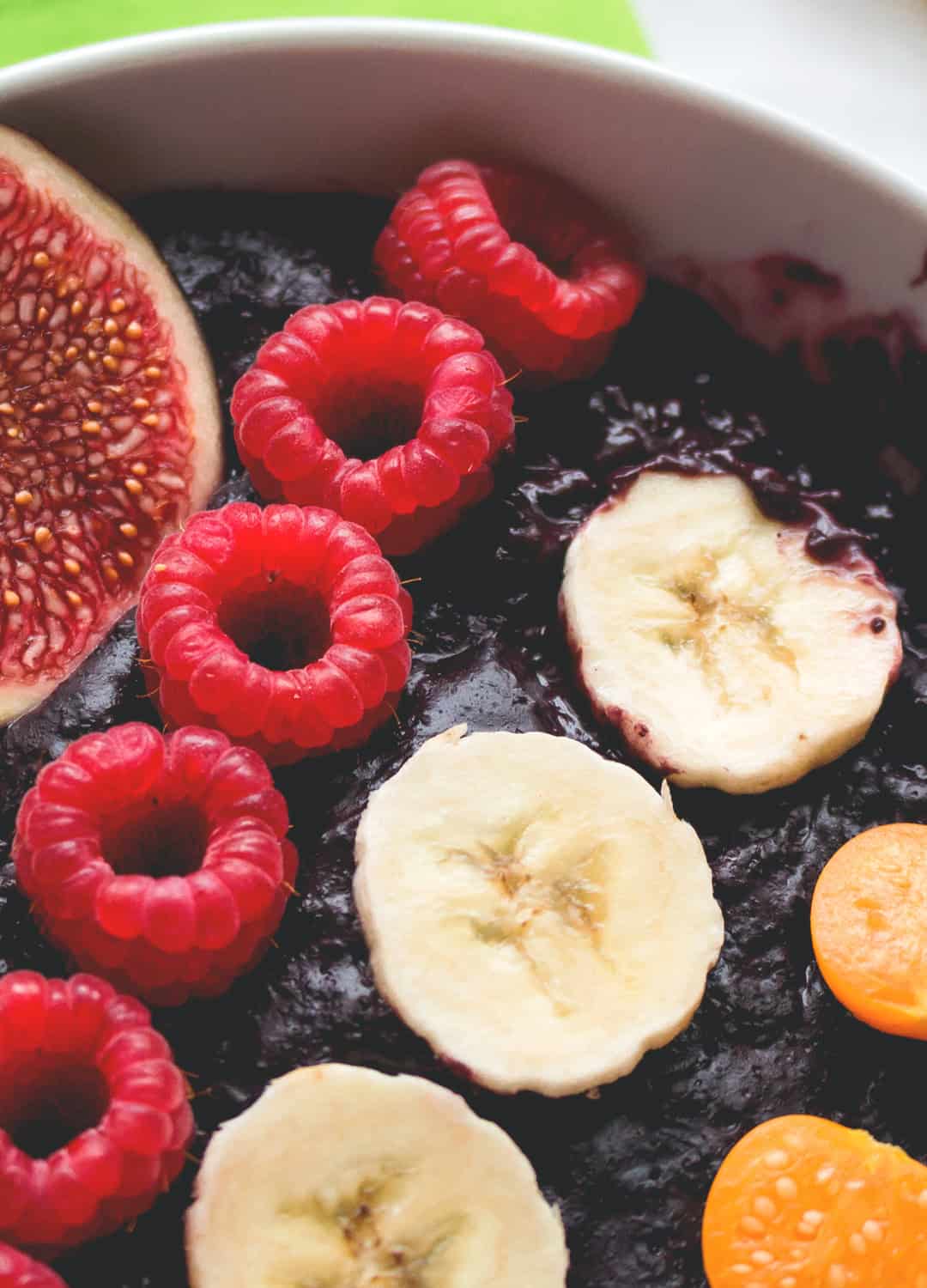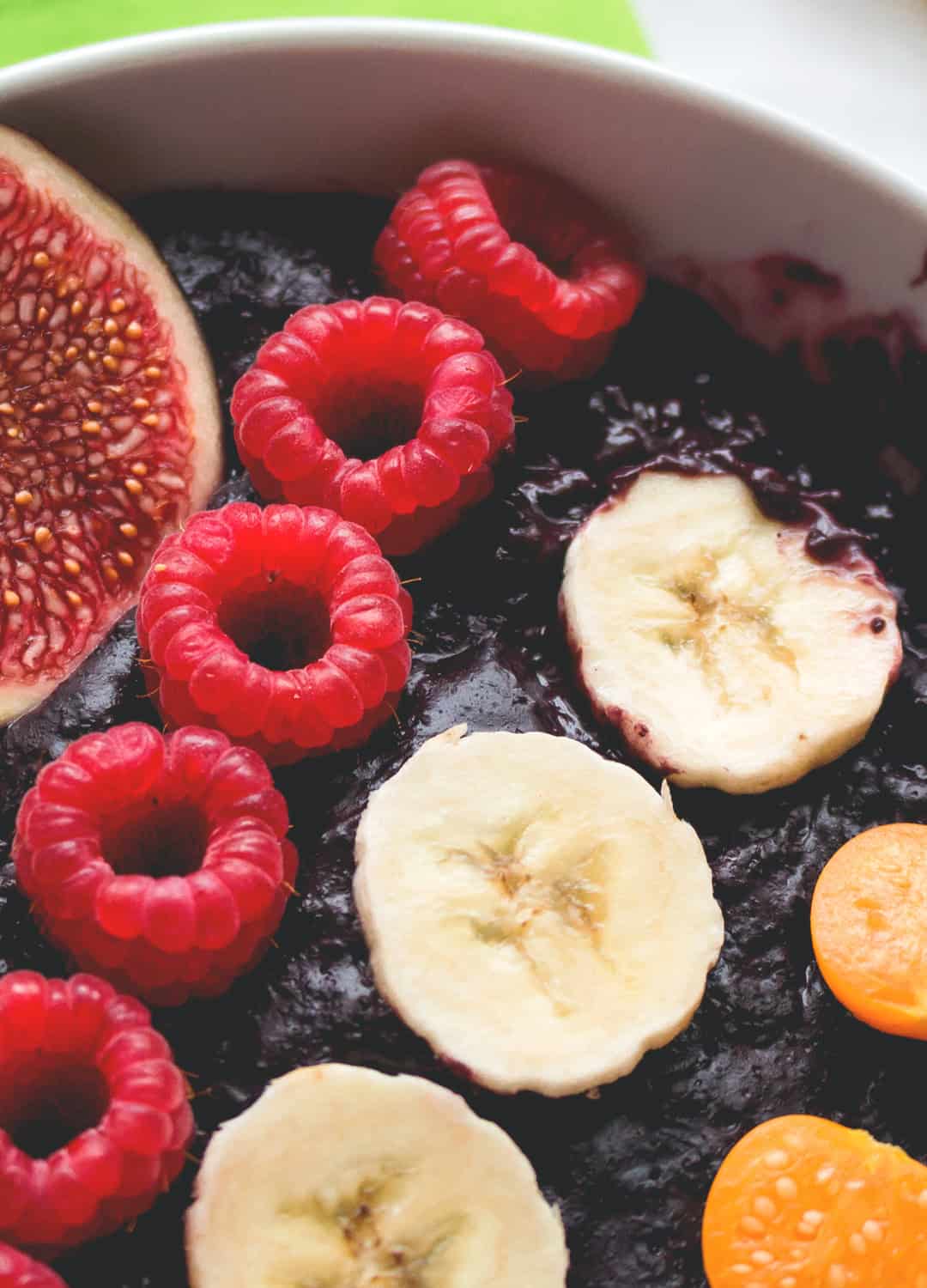 That being said, I do have a confession to make. I used to hate oatmeal. There, I said it. *hides under the bed*
The taste of plain oatmeal and the texture had never appealed to until recently. Until I tried my own version of the oatmeal I was given at school — a sweeter,  chocolatey, and flavorful version. I was hooked. First, there was the double chocolate version with cacao, chocolate chips, and coconut milk. It was thick, gooey and sweet. It felt like eating a dessert for breakfast.
Then I started adding more milk and various berries. That's when I saw how many possibilities there are with oatmeal. You don't have to eat only plain oatmeal with honey and cinnamon all the time. You can add fruit, superfood powders, etc. And no matter how many times you make the same recipe, it always turns out a little different, but equally good.
A month or so ago I posted the recipe for my Cherry Chocolate Oatmeal which was the best kind I made at that time. Now it's time to take it to the next level by adding blueberries and acai!
I really think that each time I cook oatmeal, I get better at it. My first bowl of oatmeal was soo thick that when it cooled down, you had to apply more pressure on your spoon to scoop it in your mouth. Not that I was complaining, having a cookie dough-like bowl of oatmeal for breakfast isn't the worst thing, is it? However, now I like my oatmeal thinner, still somewhat thick and gooey, but not as much as before.
I used to make only the baked version of oatmeal, because it tasted more like a cake than actual oatmeal. And I still do think baked oatmeal is delicious, but I now I prefer regular oatmeal instead. You can check out my Chocolate Maca Baked Oatmeal or Blueberry Baked Oatmeal if you still aren't an oatmeal fan. If a sweet cake-like bowl of oatmeal doesn't convince you oatmeal is the best breakfast ever, what will?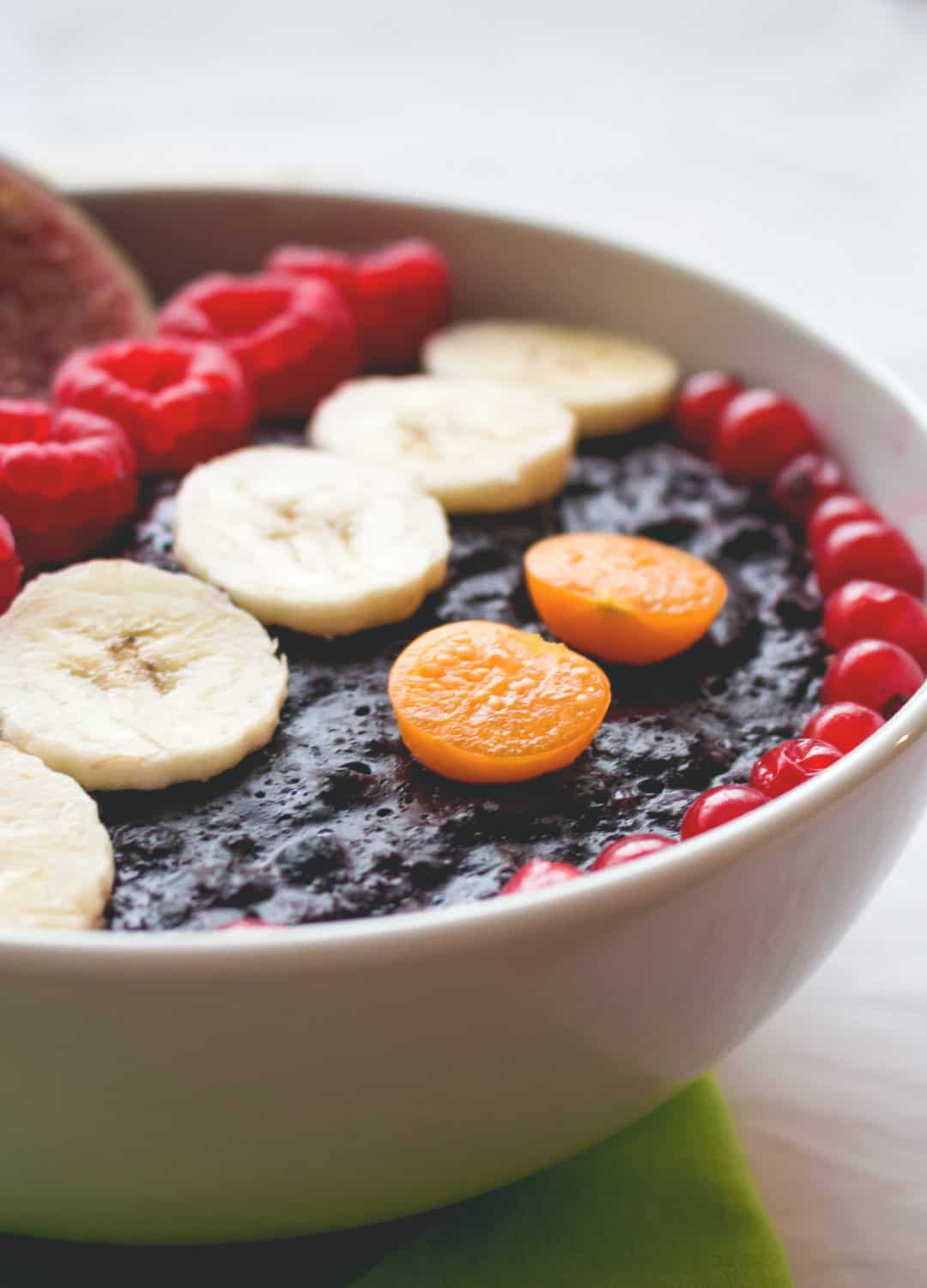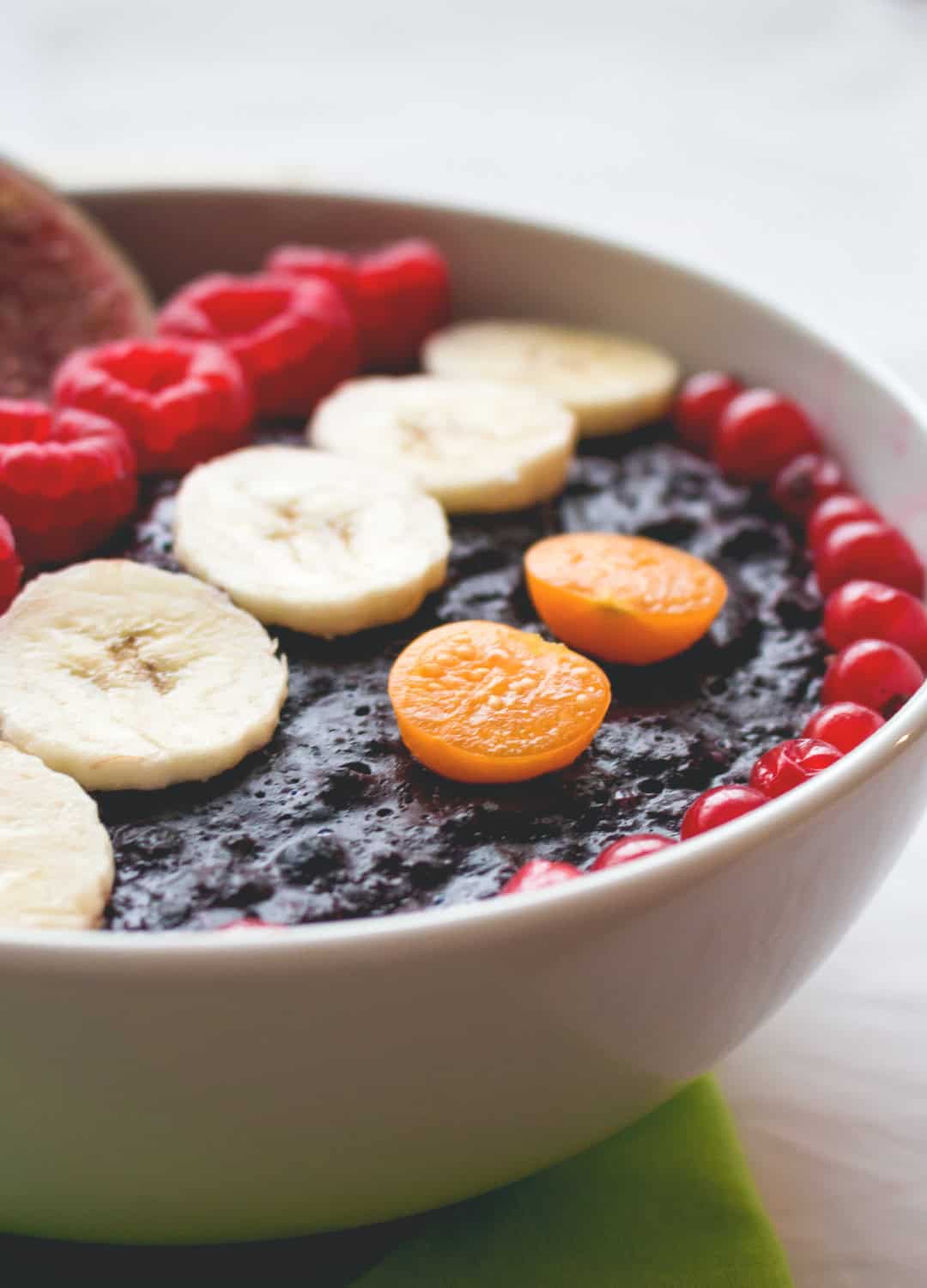 But seriously, try this recipe.
TRY IT.
It couldn't be more simple. Buy some frozen blueberries and frozen cherries and make this for breakfast tomorrow. The recipe serves two, but it can easily be made just for one by dividing the ingredients in half. Or you can follow the recipe as it is, and eat both of the bowls of oatmeal. I wouldn't judge you. If anything, I'd be jealous because you have two bowls of oatmeal and I have none.
The best part about this is if you only have the cherries and blueberries on hand, you don't really have to worry about any other toppings since the oatmeal is already full of fruit—built-in toppings if you will.
If you try it, don't forget to let me know on Instagram, twitter, or Snapchat! I'd love to see your creations!
Print
📖 Recipe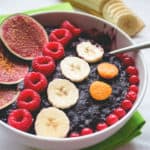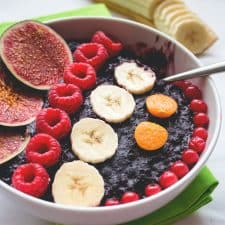 Cherry Blueberry Oatmeal with Acai
Author:

The Healthful Ideas

Prep Time:

10 mins

Cook Time:

10 mins

Total Time:

20 mins

Yield:

2

1

x
---
2 cups

blueberries (frozen or fresh)

2 cups

cherries, pitted (frozen or fresh)

2 cup

coconut milk ( or oat, almond, cashew, rice) + about ½ to add while cooking

1

heaping cup oats

1 tsp

cinnamon

¼ tsp

apple pie spice

2 tsp

honey or other sweetener (optional)

2 tbsp

raw cacao powder

3 tsp

acai berry powder
---
Instructions
Cut the cherries into smaller pieces and add them into a sauce pan along with the blueberries and the milk.
Bring to boil over medium to high heat while stirring occasionally.
When almost boiling, slowly stir in the oats (so they don't clump together).
Lower the heat to low/medium and let it cook for 8-10 minutes. Stir it often so it doesn't burn.
If it starts getting really thick or it stick to the bottom, add a splash of milk.
After it thickens, add the cinnamon, apple pie spice and stir until well incorporated.
Add the honey and mix well. Add more milk if neccessary.
Turn off the heat and add more milk if you like.
Mix in the cacao and acai. (add the acai last so the vitamins don't get destroyed by the heat)
Serve with more fruit on top and/or nut butter.
Enjoy!
---