They say you shouldn't have too many things on your to-do list and they are totally right (whoever they are). Whenever I have too much stuff to do, I tend to just switch off and not do anything at all, procrastinate all day while watching Netflix and telling people I'm too busy "working". Yeah, right. Yep that's the story of my life these past week basically.
Okay, I did do some work these past few weeks. I did a lot actually, I shot 15 recipes! Edited all the photos, uploaded them all into the posts, added recipes, and most of all the other things that go into creating a post. Yet here I am, finishing my post for the next day late again (it's almost midnight). I'm hoping that my time management and the schedule gets better starting next month. I'll be in a new environment and I hear that tends to help with creativity and productivity. If that doesn't help, then the fact that I'm finished (except for the writing) with 15 posts ahead of time is giving me a peace of mind.
About the different environment... It's really happening! I'm moving to Toronto and it's pretty terrifying. I'm also equally excited for the year ahead of me and I can't wait to share it all with you! <3 I'm planning more than just recipes. I want to do reviews of products and restaurants, playlist posts (I've already started this month. Check out my workout playlist for April here), and more! So much exciting stuff coming!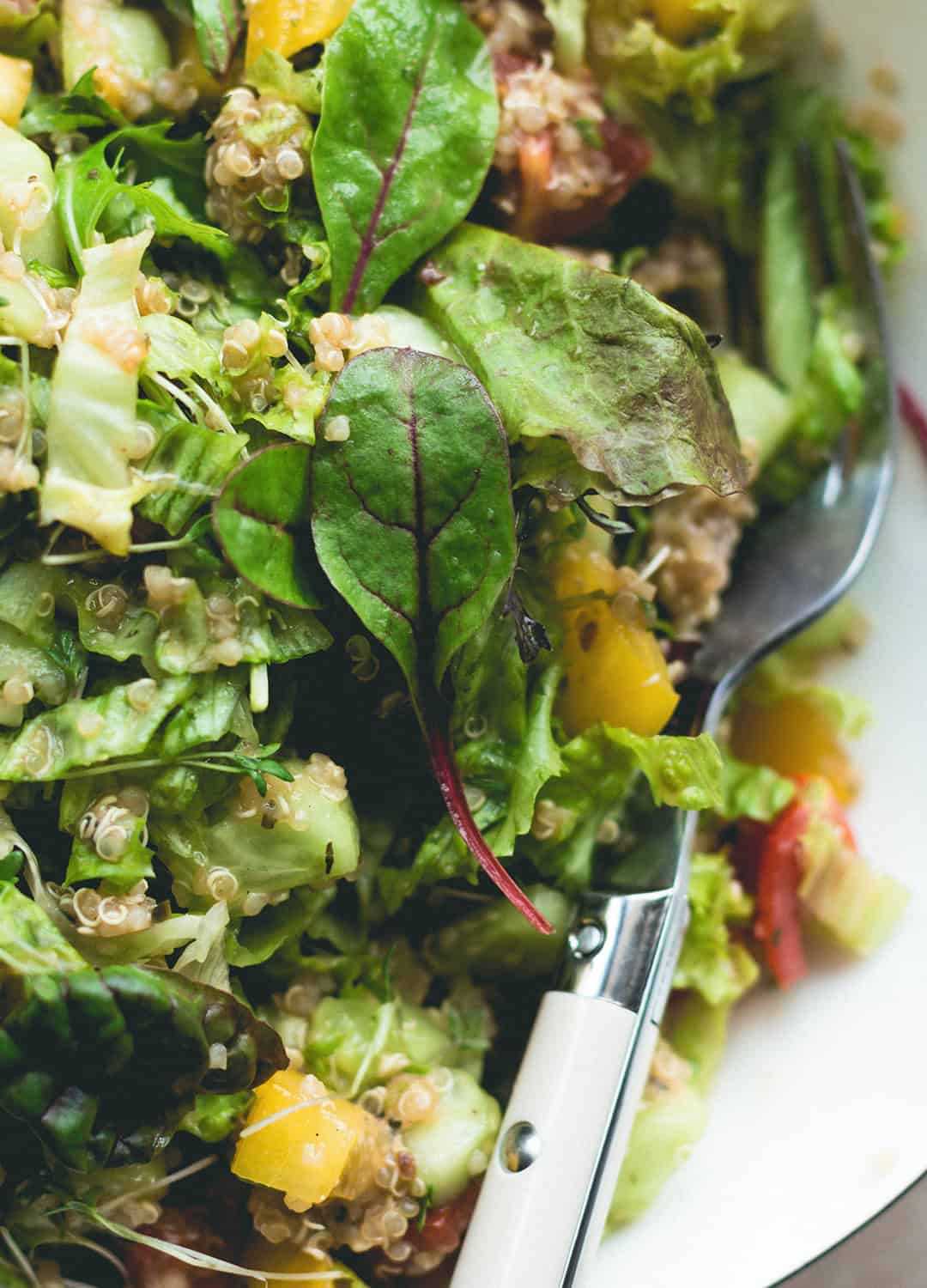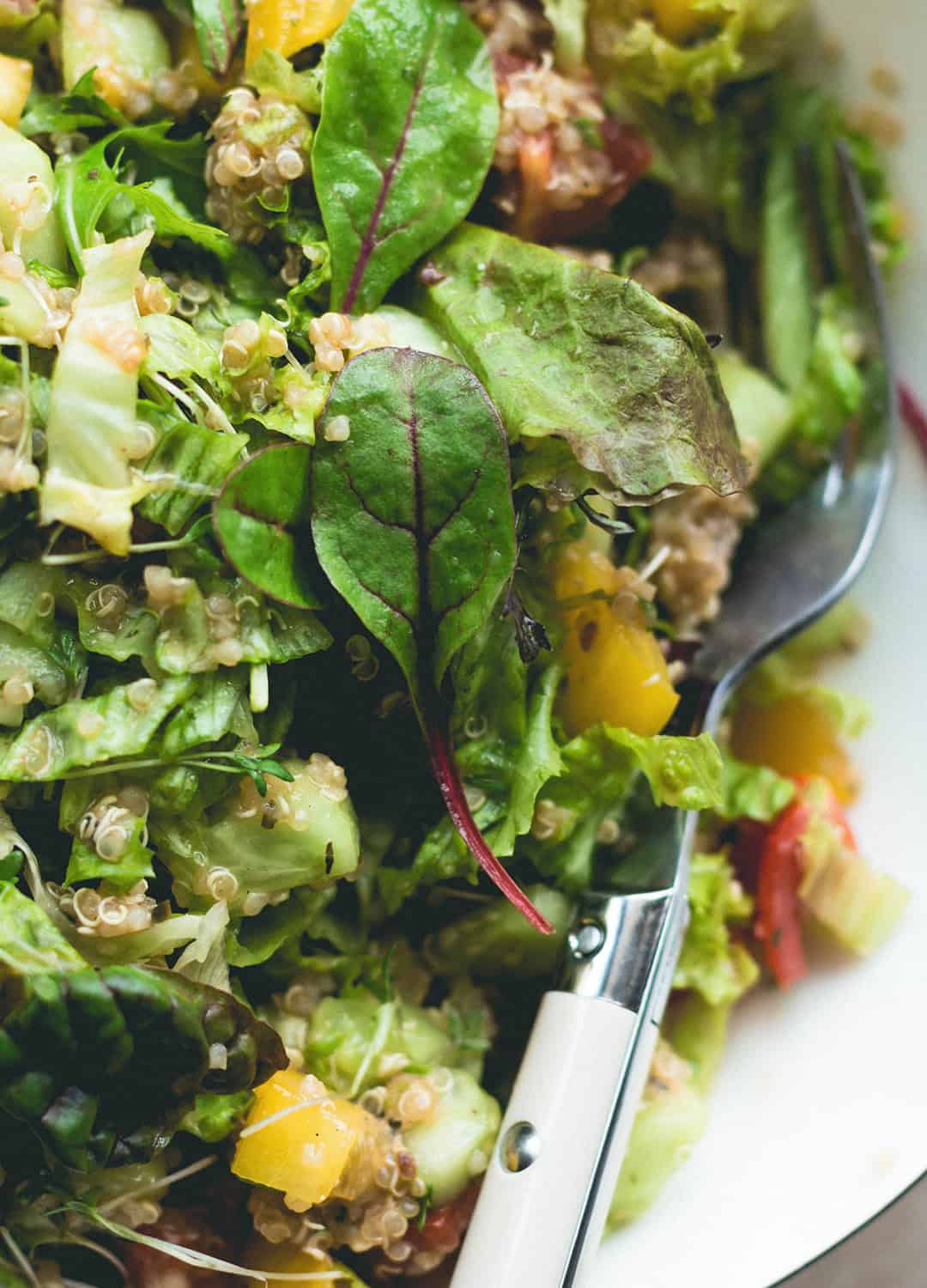 About this weirdly named "Anything You Have Chopped Salad"... I didn't really know what to call this lol. I keep making this kind of mixed salad almost every single day of the week so it seemed weird that I've never shared it with you on here. The thing is, this is a very make-it-yours kind of a salad. I always put different stuff in it. And it's always very very good.
The base is usually: 10 cherry tomatoes, ½ cucumber, lots of greens (any kind) and then the rest is adjustable. I usually add something hearty and filling to it like quinoa, brown rice (or black or red rice), chickpeas, beans, or I just serve it with hummus if I don't have any of those. I also like to add roasted veggies on top, kimchi, goat cheese, said hummus, or anything else I have/am craving that day. Then when I'm done putting it together, I usually just choose olive oil and apple cider vinegar or lemon juice for dressing. It's a classic and it's almost guaranteed that it'll taste well with anything you put into the bowl. I also started using this tasty wild pomegranate vinegar to switch things up a bit (it's by some UK brand, I forgot the name). I either eat it like that or if I'm feeling it, I'll load the salad with any dry or fresh herbs I have. I usually add dried herbs because I always have those on hand. My favorites are parsley, cilantro, basil, oregano, thyme, marjoram, and rosemary. I also like to add a pinch of garlic and/or onion powder, and of course freshly cracked sea salt and pepper. You could even sprinkle on some nutritional yeast if you think it would work with the flavors. The options are literally endless! This is the best recipe to use up all your veggies you don't know what to do with. Roast some fennel, steam some broccoli, roast some okra — whatever it is, throw it in a bowl with some greens, tomatoes, and cucumber and it will be delicious. ;)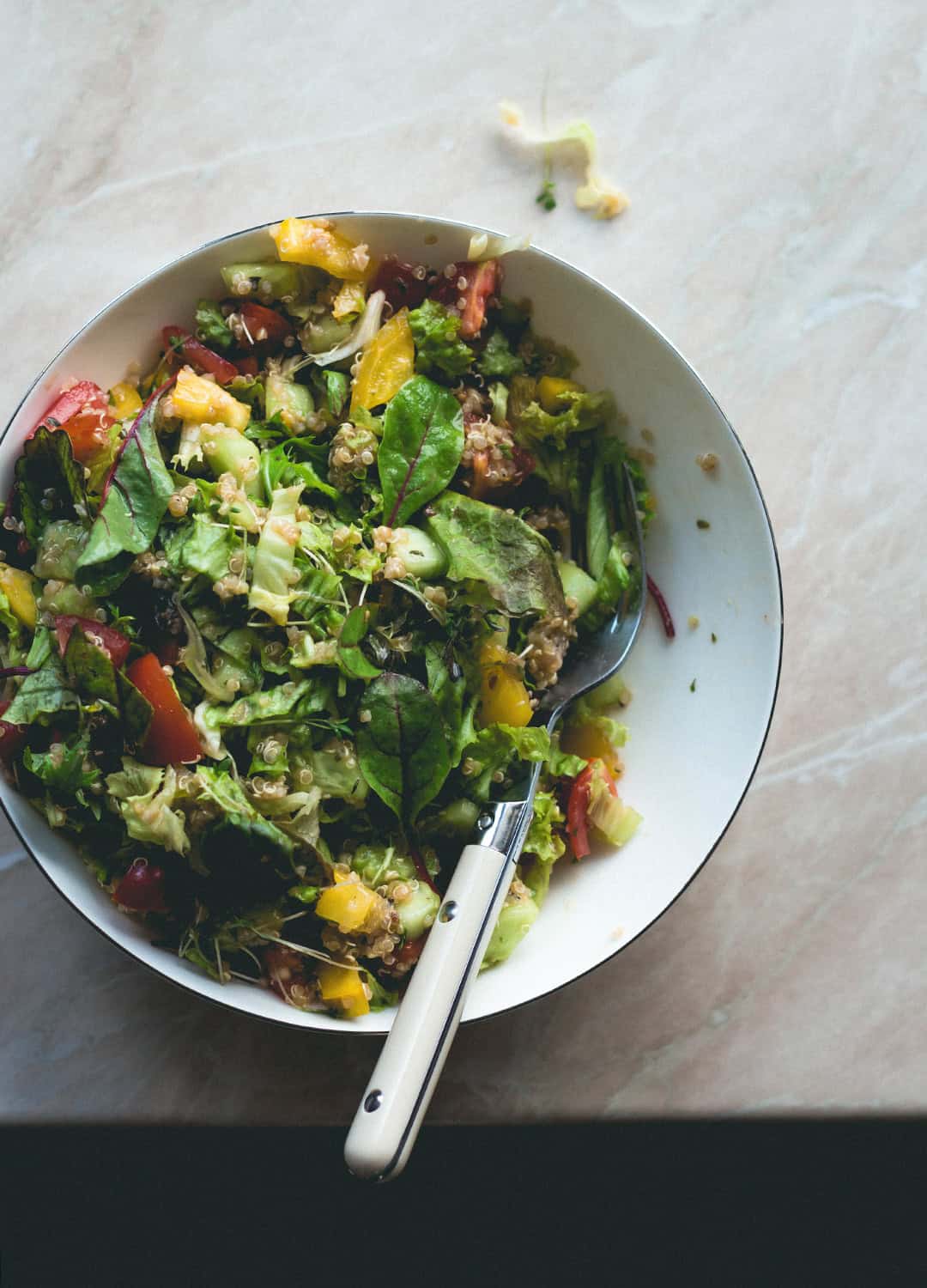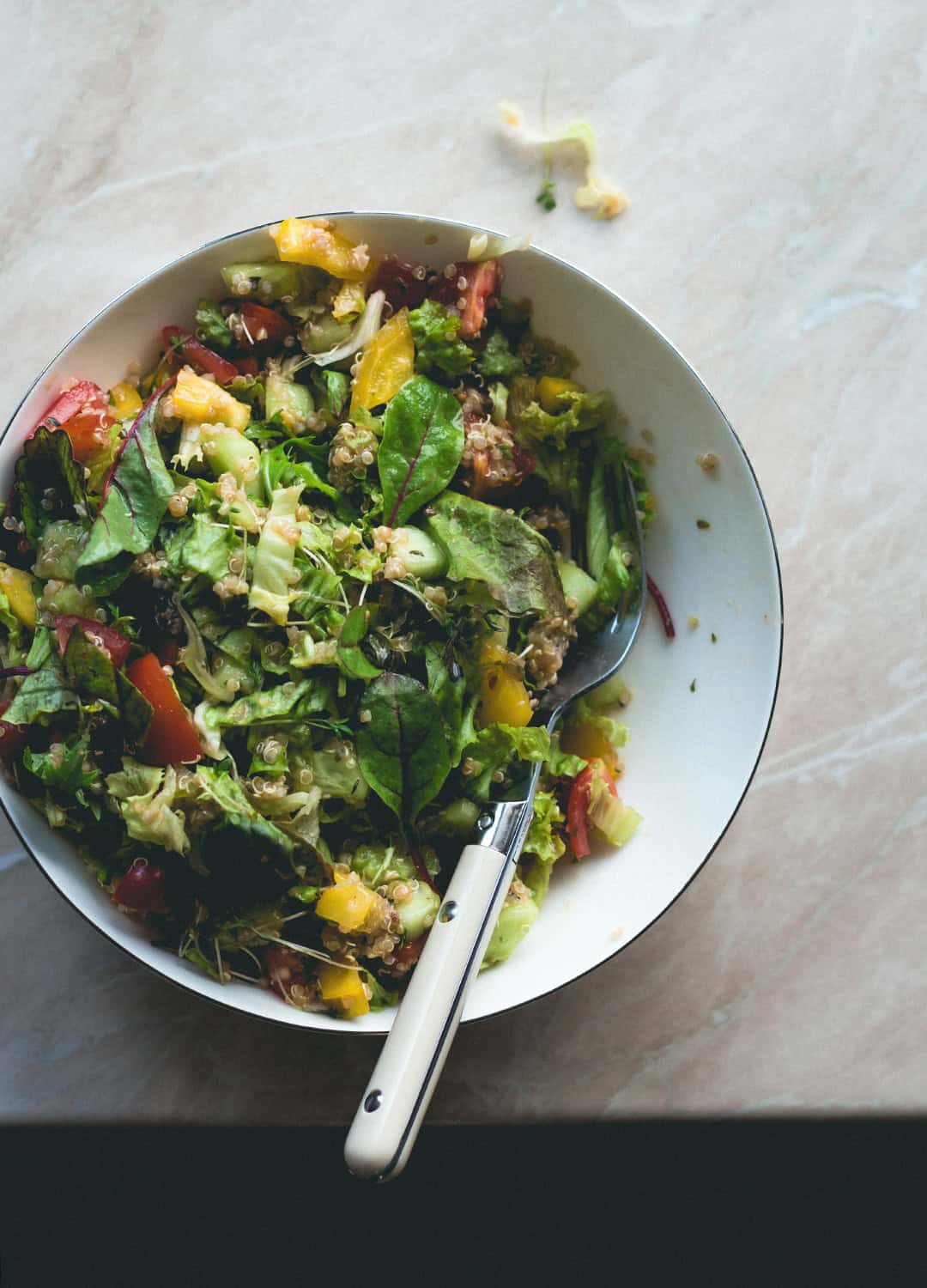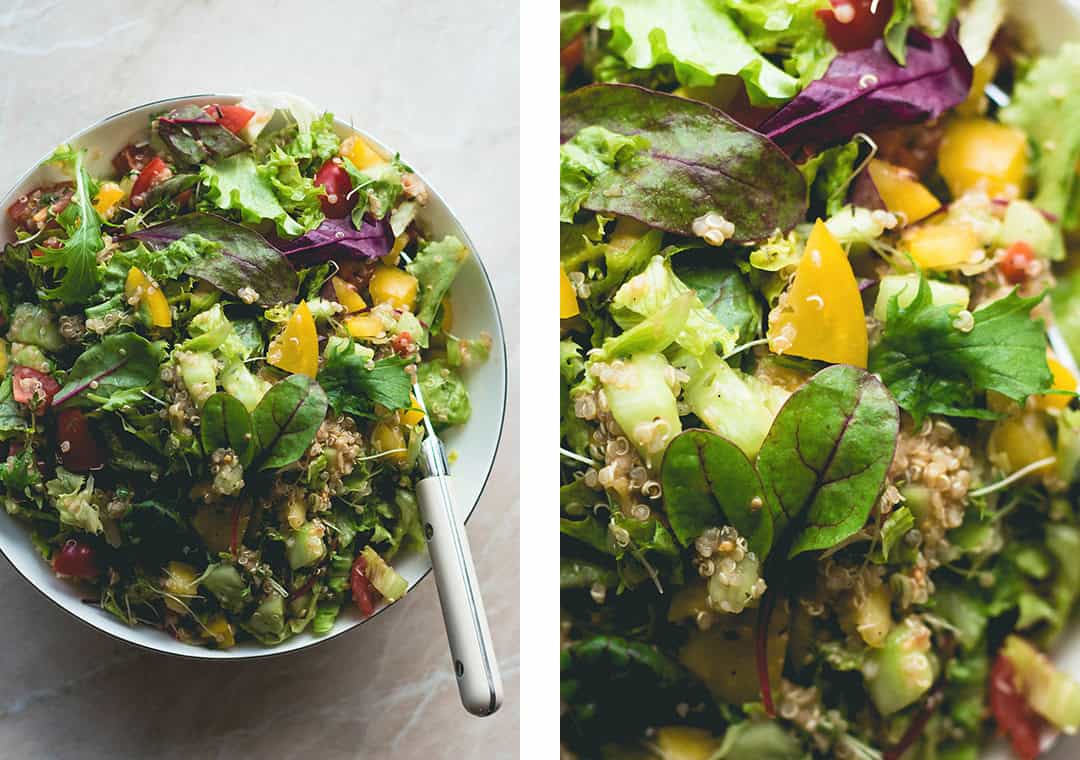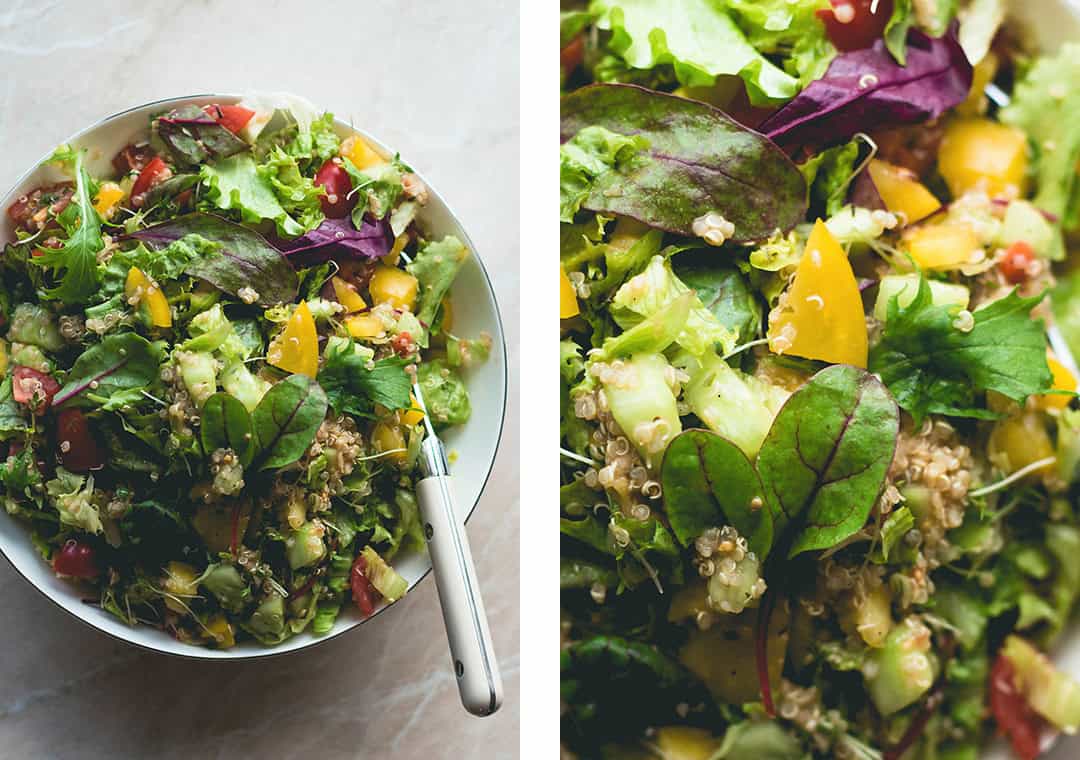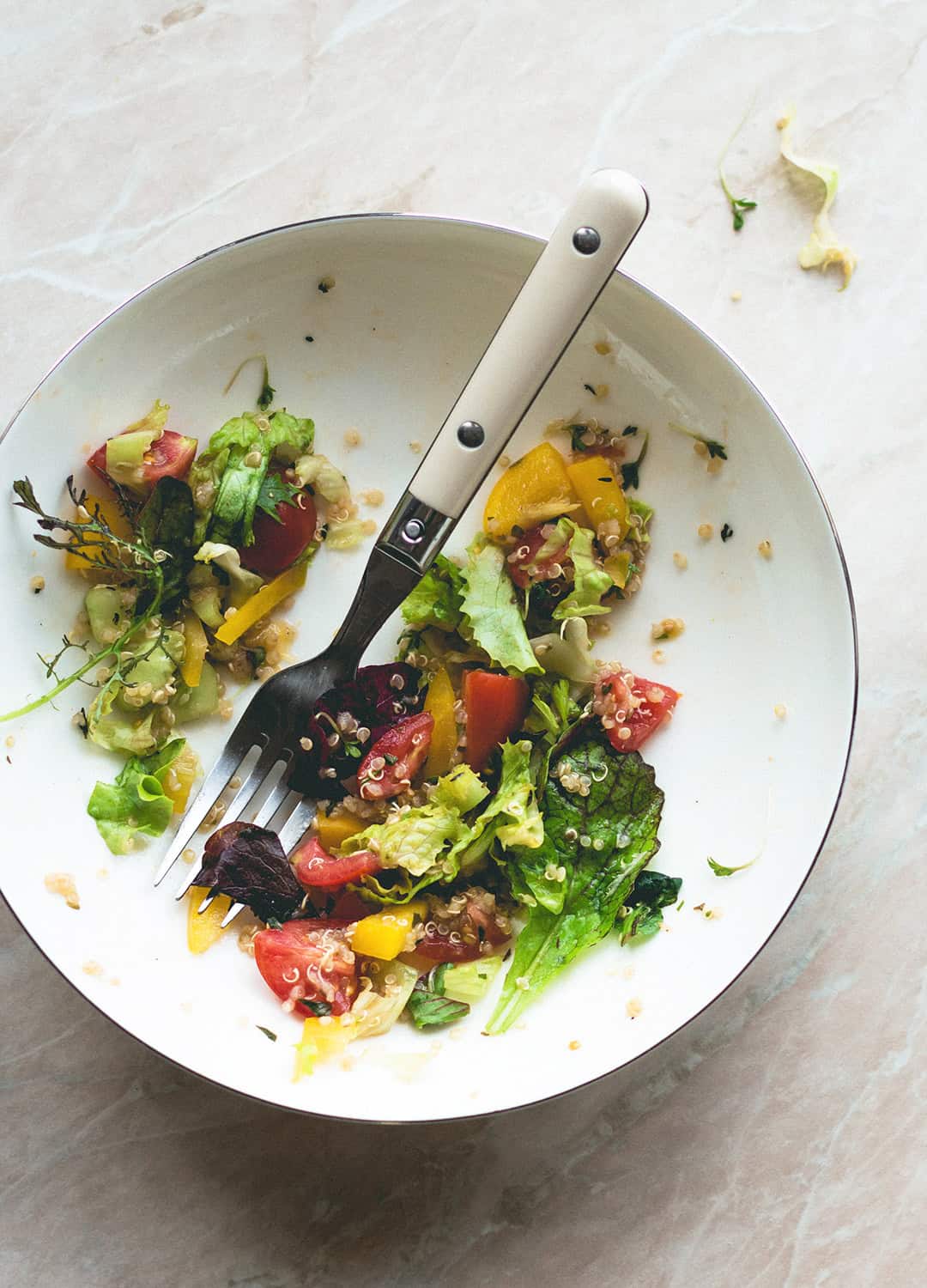 Print
📖 Recipe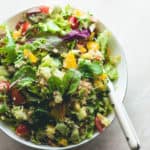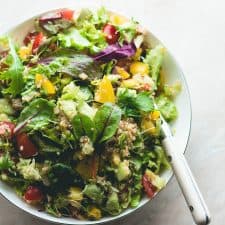 Anything You Have Chopped Salad (my go-to work lunch)
Author:

The Healthful Ideas

Prep Time:

20 mins

Cook Time:

10 mins

Total Time:

30 mins

Yield:

1

1

x

Category:

Salad
---
½ cup

cooked quinoa

10

cherry tomatoes, chopped

½

cucumber, diced

½ cup

diced bell pepper

¼ cup

cooked chickpeas (from a can is fine, just rinse and strain them)

2 cups

or more greens - choose one or a mix (baby spinach, green leaf, red, leaf, kale, romaine, iceberg, arugula, frisee, radicchio, watercress, Boston/butter lettuce, etc. - the options are endless)

¼

avocado, diced
Optional seasoning: sea salt, pepper, a sprinkle of dried or fresh herbs (oregano, cilantro, parsley, or basil), onion and/or garlic powder, chilli or chipotle, or a seasoning mix you like
Other optional add-ins or substitutes: regular tomatoes, red onion, carrots, radishes, roasted vegetables (bell peppers, green beans, broccoli, cauliflower, zucchini, okra, beets, baby corn, etc.), hummus, brown/red/black rice, beans, chopped nuts, hemp seeds, and if not vegan a hard-boiled egg or goat cheese
Dressing: 2 tablespoon extra virgin olive oil, 2 teaspoon ACV or lemon juice (this combo works with everything but you can sub any dressing you might like (see post for links to different dressings)
---
Instructions
If you don't have any leftovers, start by cooking your quinoa. I always like to cook 1 cup dry which yields over 2 cups cooked which lasts me for 2-4 days in the fridge.
Prepare all your ingredients and add them into a big bowl. This really is an anything-you-have chopped salad so feel free to omit or add any vegetables you like.
Toss it with two spoons to mix and pour over the dressing and toss again.
Either enjoy immediatelly or put into a plastic/glass box and take to work/school with you. Lasts 1-2 days in the fridge.
---