It's finally here! Where to Eat in New York? — The post I've been announcing all over the place and couldn't wait to share with you is finally going live!
As you probably already know, I love talking about New York. Therefore, I couldn't wait to share with you my favorite places to eat and tell you a little about each one. All of the restaurants I included are the healthiest spots I could find and each and every one of them make delicious food!
Want to know what my favorite juice/smoothie is? Or what my favorite location is and what I'd improve about the restaurant?
Speaking of juices, can you guess what my favorite place to get cold-pressed juices is? You probably can haha. I think it's more than obvious, I keep going on and on about how delicious their juices are all over social media! Hint: There are two photos from the place in the picture above.
I'd be lying if I said I didn't go to New York for the food.
The food was like 50% of why I flew all the way from Europe to this busy city that never sleeps! I actually am serious! The food is so good, the salads are to die for and do I have to mention I had insanely good vegan sushi made of black rice?? I don't think I have to go on, you should be convinced to visit New York for the food by now. Now let's get into the post! I hope it's helpful! :)
1) Juice Press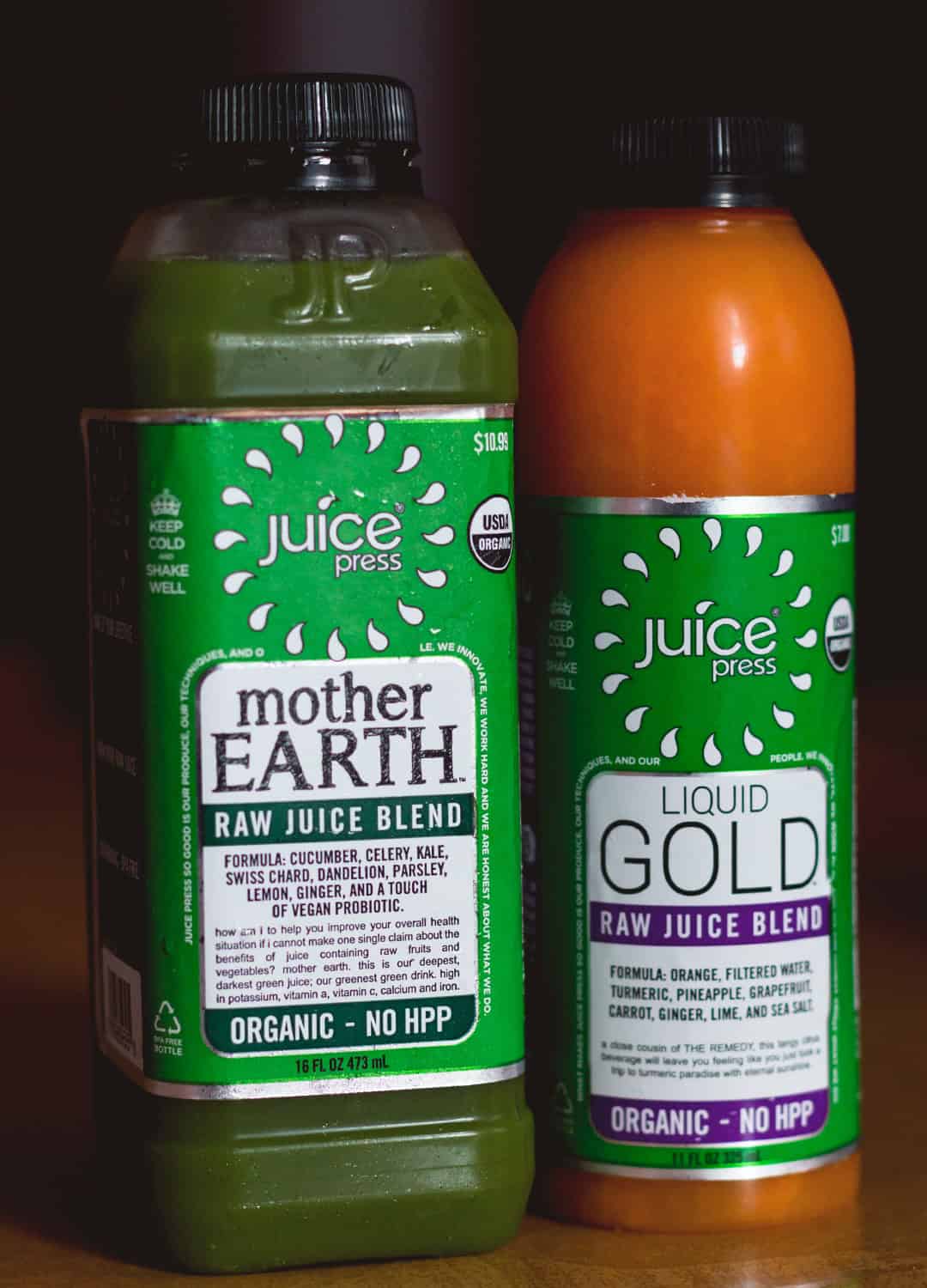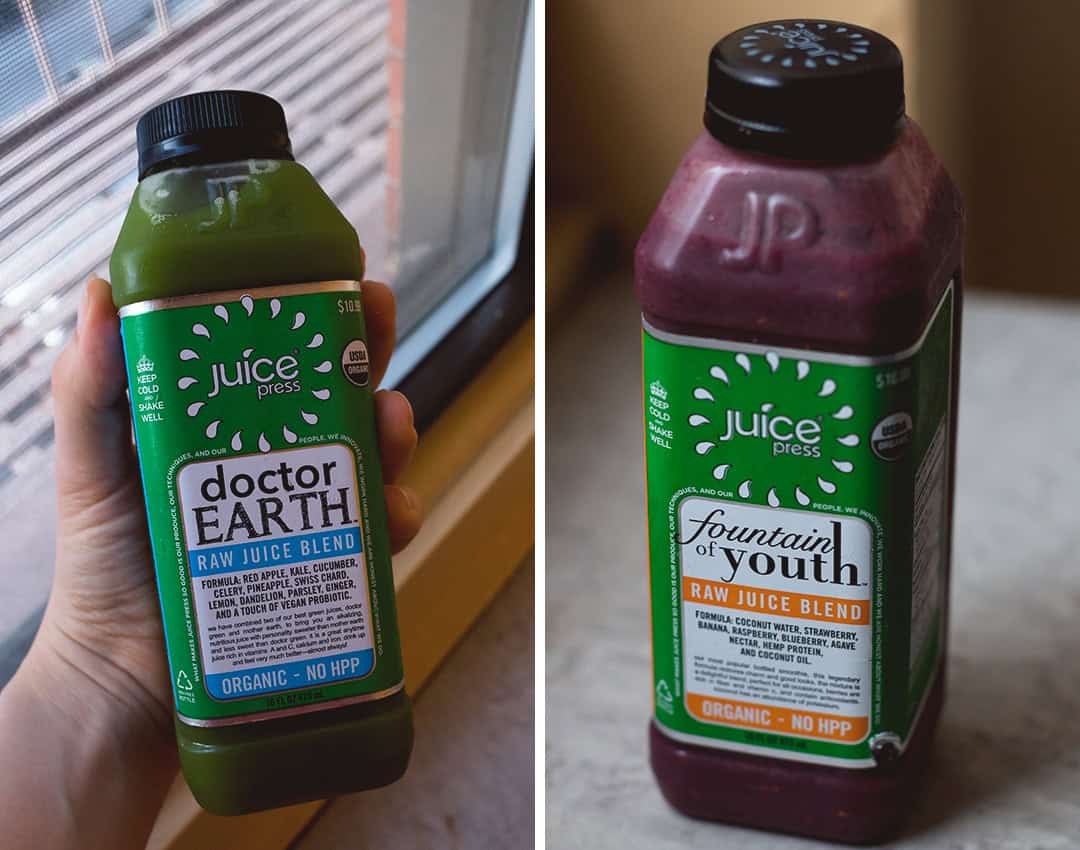 Why I like it
The best juice bar in New York!! I know I can always rely on Juice Press to make a quality juice or a smoothie. All their juices are cold-pressed, everything is organic and vegan. I can't complain about anything really. When I don't know where to go, Juice Press always saves the day. it's the one place I don't have to worry about the ingredients list and just pick what appeals to me knowing it's packed with goodness. I would recommend Juice Press to anyone and everyone! There's a ton of good juice bars in New York but none of them have their juices as on point as Juice Press does.
What could be improved
I'd say step up your salad game but I won't because I want this place to keep focusing on their juices and smoothies. Literally the best smoothies and juices in town. I can go to Sweet Green for a salad!
Oh, I know, there aren't any toilets at any of the locations I visited. Could come in handy.
My go to meal/smoothie/juice
Favorite juices: Liquid Gold, Doctor Earth (my most favorite green juice), Mother Earth, The Remedy with Turmeric Tonic (really hot because of cayenne and ginger, I had to dillute it with water, but great when you're feeling under the weather), Lucky Seven, OMG! My Favorite Juice! (not my top favorite, though), Aloe Water (filtered water with aloe), Coco-V (coconut water with vegan probiotic)
Favorite Smoothies: Advanced Berry Blend (My all time favorite, still as good as it was last year), Raw Chocolate Coffee Oatmeal (This smoothie is on a whole other level. Would travel to NY for this smoothie.) Fountain of Youth, Shake Strawberry Milk (tastes literally like a milkshake)
Breakfast, Desserts, Snacks: Acai bowl, Chocolate Love Quest (raw chocolates), Ebony and Ivory (raw chocolates), Raw Oatmeal (I also love their berry jam!! Sold separatelly or you can get some free with the oatmeal).
Other: I love their Proviotics (vegan probiotics)! They're quite pricey (30 capsules for $40 or travel size of 10 for $15) but they're good quality so it's totally worth it.
My favorite location
I have a few favorite locations
West Village 14th St. 8th Ave. - My most favorite location by far. They seem to be stocked up the most.
Midtown 55th St. between 5th & 6th Ave. - Also very well stocked, always had what I was looking for.
Brookly Heights Montague St. between Henry & Hicks St. - Quite a small store, only went once but they had a pretty good selection.
I went to most of the locations and none of them were any bad but the ones mentioned are the ones I liked the best. The only one I didn't like was the one at Macy's because I went late in the evening and they were almost completely sold out. So if you're planning to go there,  I'd recommend going early in the morning.
Official website
2) Hu Kitchen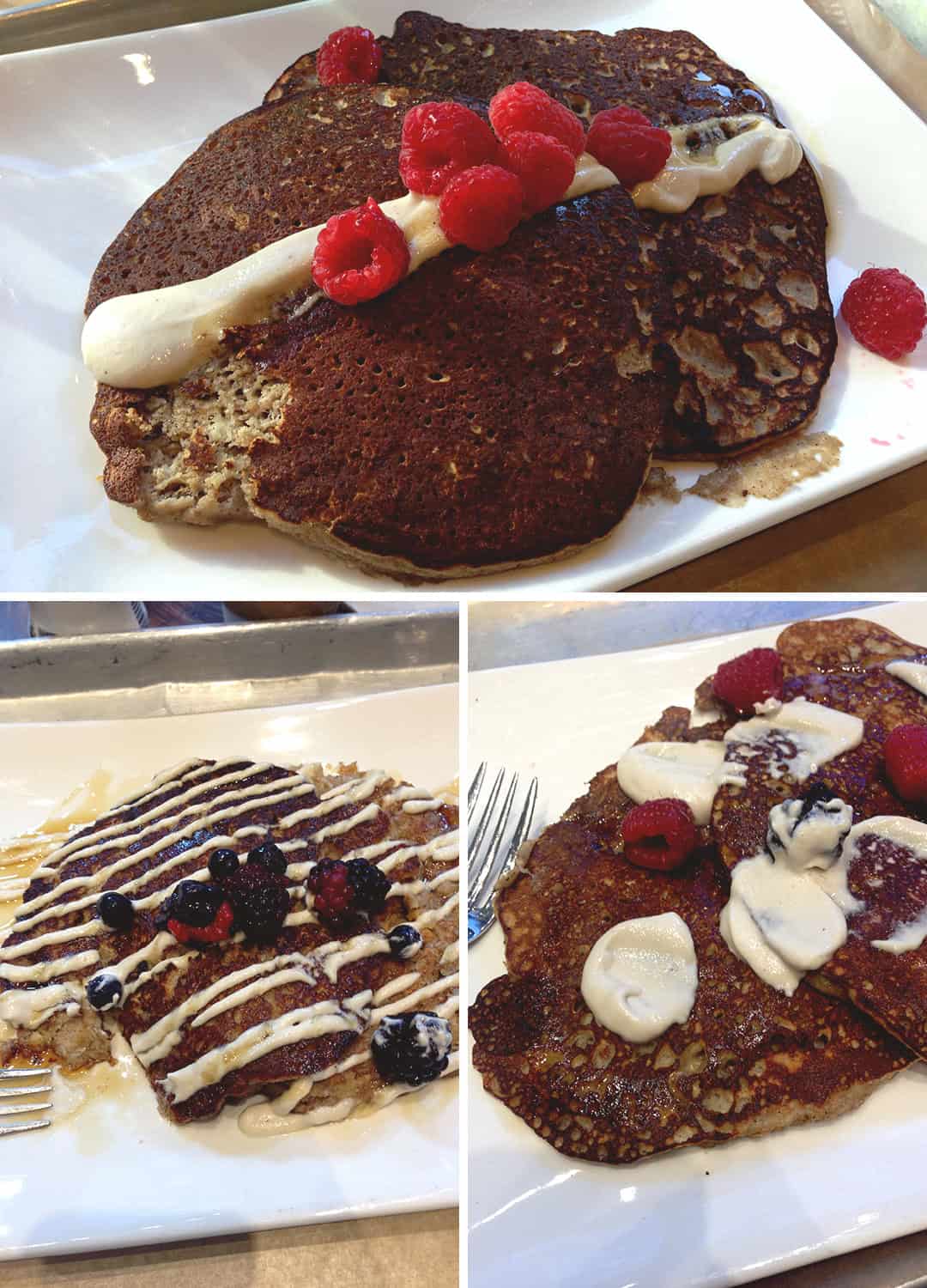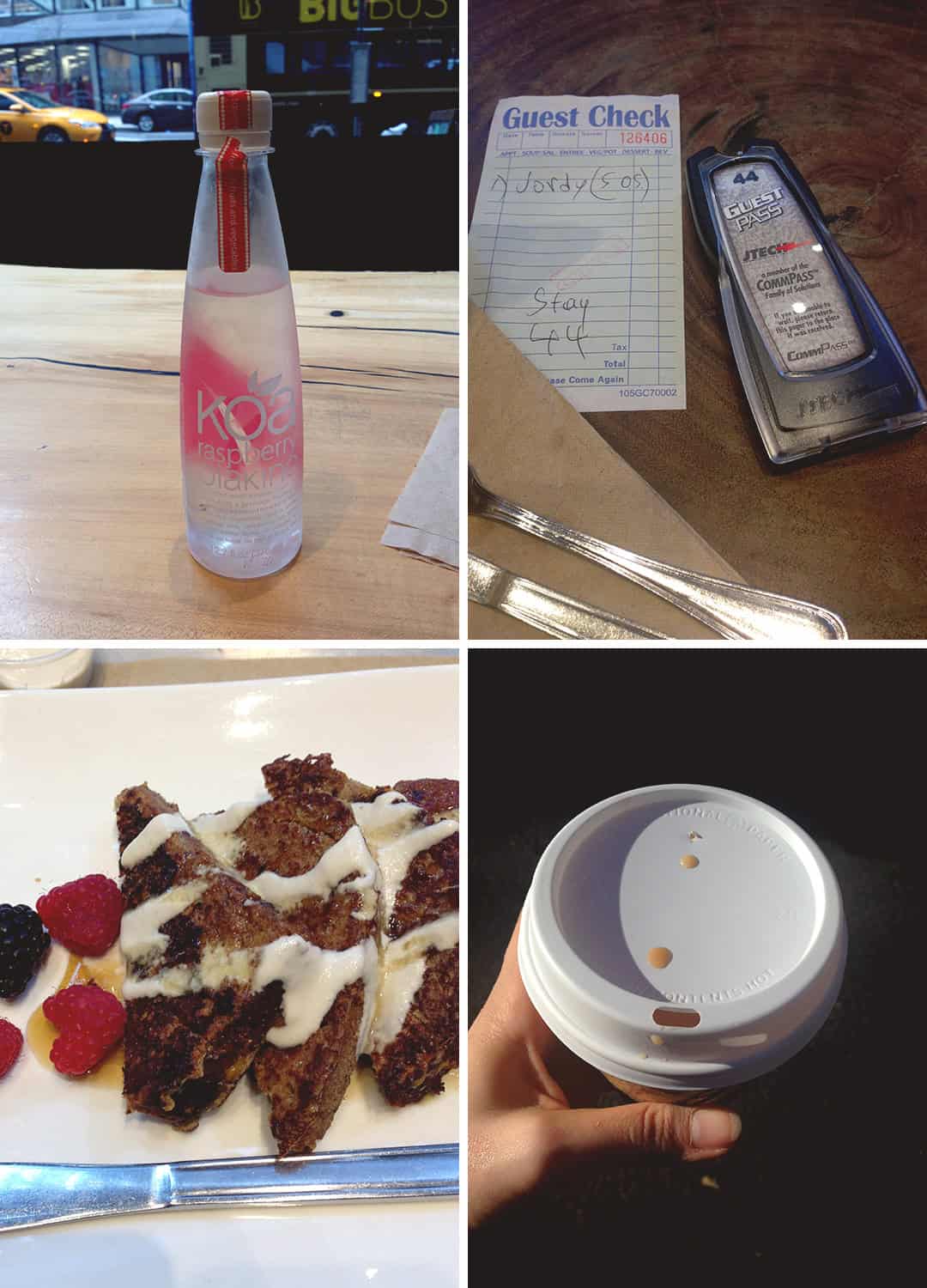 Why I like it
Their meals are simple, paleo, grain-free, gluten-free, dairy-free, sugar-free, they use only sea salt, and coconut oil for cooking. No ingredients you can't pronounce and their food is DEVINE. I would literally be willing to fly all the way to New York just to go to Hu Kitchen. Seriously. And I'd pick up like 10 gallons worth of juice from Juice Press along the way.
What could be improved
I can't think of anything.
My go to meal/smoothie/juice
Breakfast:
Jordy Cakes with Maple Syrup and Cashew Cream
Pumpkin Pie French Toast (As shown in the pictures above along with the Jordy Cakes. I'm all about that sweet breakfast life)
2 eggs with 2 sides and a toast (a grain-free bun), favorite sides: breakfast veggies medley, sweet potato hash
Any of the Muffins
Lunch & Dinner:
Chicken and Quinoa Soup
Grandmaster Veg (veggie lasagna with cashew cheese), sides: asorted market vegetables, roasted sweet potatoes
Prepared food (cold bar): Kale Caesar salad, Wild Salmon Cakes, Roasted Brussels Sprouts
Sweets & Snacks: Cookie Dough Truffles (OMG YOU HAVE TO TRY THESE!! They're almond-butter-melt-in-your-mouth perfection!), Baked Maple Graham Crackers, Pizza Crackers, Chocolate covered hazelnuts and figs
Beverages: Coconut Chai Latte, Maple Water, Koa Raspberry Olakino
and last but definitelly not least, THEIR CHOCOLATE BARS.
To sum it up, I love EVERYTHING on the menu!!
My favorite location
78 5th Avenue (14th St.) Near Union Square - I LOVE LOVE LOVE this place! Great service, great big space, great location, great everything.
Official website
http://hukitchen.com/index.php
3) Sweet Green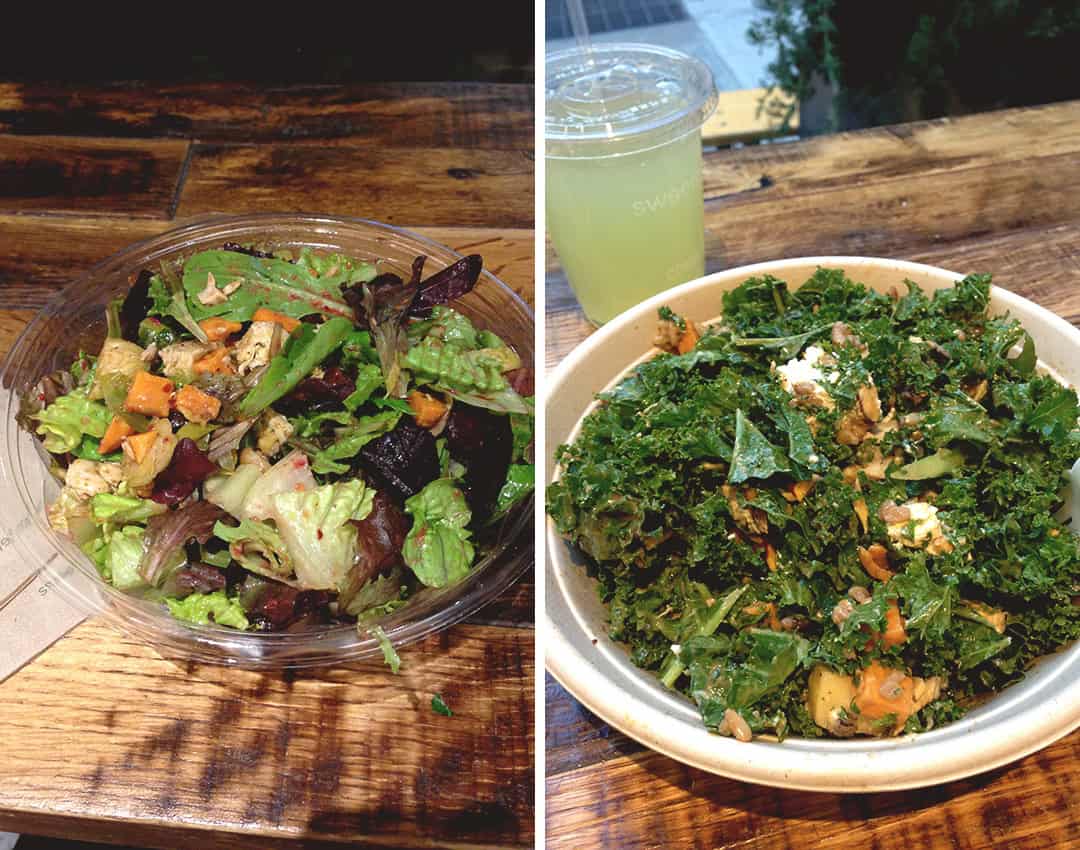 Why I like it
I like that they source their food from local farms and I LOVED their selection of autumn bowls/salads. (And when I say selection I mean two. But they were delicious so it doesn't matter how many there were. As they say, less is more.)
What could be improved
Can't think of anything. — That's how you know it's good. Maybe have a vegan caesar salad dressing available?
My go to meal/smoothie/juice
Harvest bowl (which is included in their signature bowls/salads so you can still get it. YAY!!) and Roasted brussels sprouts with turkey and cranberry vinnaigrette which you can't get anymore as it was seasonal.
My favorite location
1164 Broadway (between 27th & 28th St.) - this one I visited most frequently and the servis was on point each time. Below, I talk about Dig Inn and how their staff could be nicer, but here, they're friendly and there's really nothing I could complain about. At least not during my visit in New York. Even during rush hours, they were "ON". There were so many people going in and out during lunch hours but no matter how long the line was, and sometimes it got LOOOONG, the service was always quick. Well, once there were some new people so that slowed it down a bit but that's understandable. I mean, can you imagine the pressure??
They were even willing to tweak the salad if you didn't want a particular ingredient. One time I didn't want the chicken  and I they told me I could choose three servings of veggies instead!! So I had kale and brown rice as base, then sweet potato, brussels sprouts, more sweet potatoes, cherry tomatoes, more cherry tomatoes, and goat cheese. I mean???? YES.
162 N 4th St (Williamsburg) - This is the first location I went to, again during rush hours. Always. I have the worst timing, I know. But the line was moving quickly and everyone was again very nice!
Official website
4) Dig Inn Seasonal Market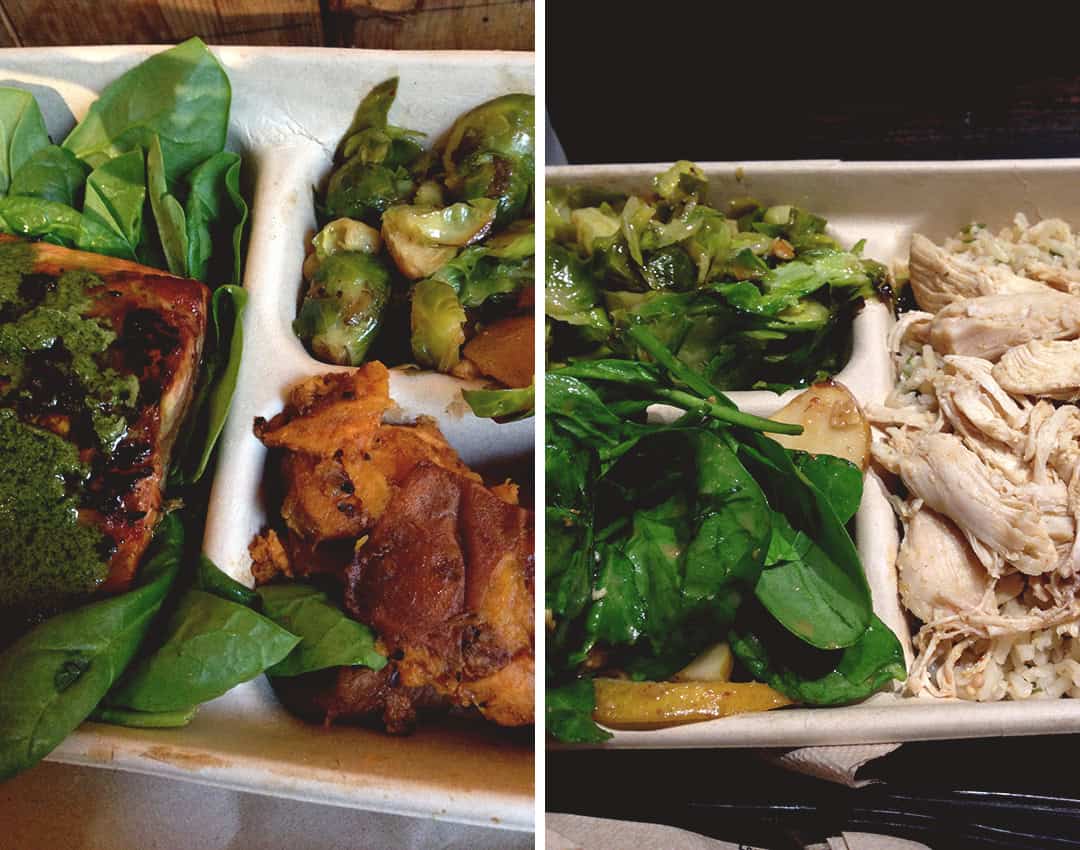 Why I like it
It's a great place to have lunch or qiuck dinner. It's somewhat healthy, meaning I don't exactly know what ingredients they cook with. What oils, etc. But when you're hungry and you know it's near, it's great place to eat with good quality food. Their menu changes depending on the seasons which I think is great as they cook what's in season. I love their sweet potatoes and brussels sprouts. If they're still on the menu, be sure to order them as sides! I didn't really try much, I went three times and ordered pretty much the exact same thing each time. I'm one of those people who when they find something they like, they stick to it and don't want to try anything else haha.
What could be improved
I ordered the salmon at Broad St. and halfway through my meal, I found it had bones so I ate the rest really really carefully so I wouldn't, you know, choke myself to death. Kidding. But I know you can take the bones out of salmon before cooking so that could be something they could pay more attention to.
Also maybe be a little nicer to the customer so people don't feel like they're bothering the staff when they walk in. The servis isn't necessarily bad, but, you know, there's always space for improvement.
And maybe list your ingredients somewhere.
My go to meal/smoothie/juice
Brown rice, sweet potatoes, brussels sprouts, spinach salad with granola (I think that's what it was called), wild salmon
My favorite location
80 Pine Street (corner of Pine & Pearl) - when I went to this location, it was my second time having lunch at Dig Inn and I got there like 10 minutes before rush hour (without realizing it so I ordered just before it got crazy. Everyone seemed nice and I enjoyed my meal!
The first time I ate at Dig Inn was on 80 Broad Street (between Marketfield St. & Stone St.) and during busy hours. The place isn't too big so I ended up standing at a bar-like table which wasn't very comfortable, but it was rush hour so I got over it. I didn't know how it all works before I got there so I was very confused at first and since there were so many people, everything was going quickly. By the time it was my turn I didn't know what to order first — if rice, or salad, or the protein. Plus I always feel preasured when there's a long line behind me and I have to order. If you're confused, you can look at the paper menu that's near the check out (as I found out after I already paid for my order) and decide before you step in line. All in all, the food was obviously good, since I went two more times to other locations.
The third and last time I visited Dig Inn was at 1178 Broadway (at 28th St.). Last because I left New York two days later, not because I didn't like it. That being said, this was my worst experience. I was excited about getting salmon with sweet potatoes and brussels sprouts but I ended up having chicken instead because they were out of salmon (I suppose?). I asked for salmon a couple times, but I couldn't understand the girl behind the counter (my bad, I guess) when she answered (a yes or a no would be enough, but no that's not what she answered with) and she seemed pretty annoyed about it so I just gave up and had the chicken which then ended up being ice cold immediately after I sat down right under AC soooo. — Reading all this over, I feel like I'm just complaing too much. I DID really like the food each time, but it's just those little things that add up and you end up being annoyed with the whole experience. You expect salmon. Ask for it. They answer with a word you've never heard before. Twice. They're annoyed you don't understand. You give up and order chicken. They don't take credit cards. Your food gets cold. You get cold. And then you're like why did I even bother?
Okay, this is turning into a rant. Let me wrap it up. All things considered, the food was GOOD. I would come back and I recommend you give them a try!
Official website
5) Beyond Sushi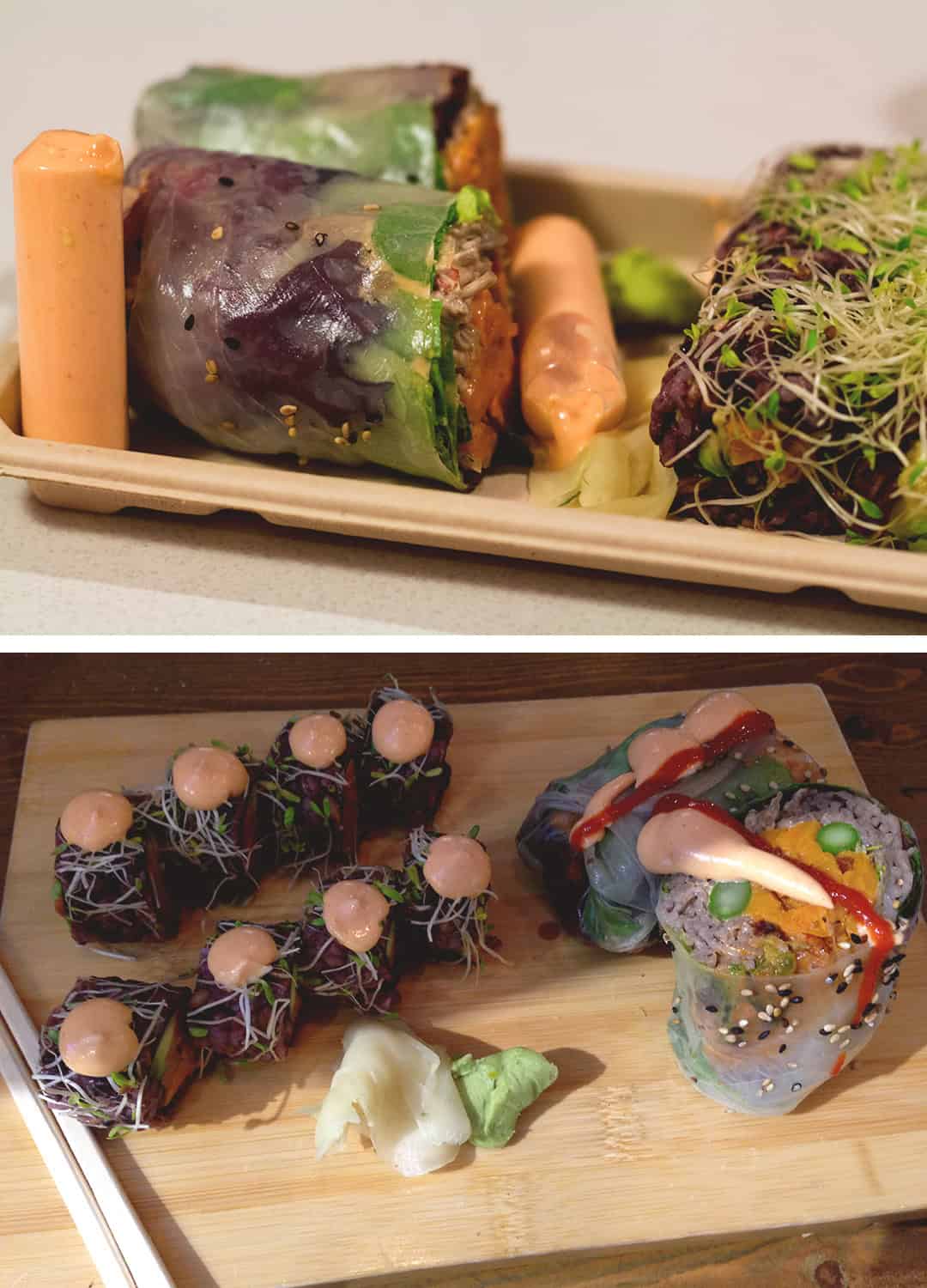 Why I like it
There was no white rice on the menu. There was no raw fish on the menu. It was all vegan, healthy, and the ingredients were written down in the menu.
What could be improved
Honestly can't think of anything. Maybe don't put the sauce in the wraps when I order take out. I don't like food too spicy and my mouth was ON FIRE. Granted, I ordered a roll with toasted cayenne dressing, but still.
My go to meal/smoothie/juice
Sweet Tree Roll and Sweet Angel Wrap
My favorite location
62 W 56th St. (Between 5th & 6th Ave) I didn't really go to any of the other locations so I don't have anything to compare this one to but I loved it there. The staff was lovely, the guy behind the register explained how it all works, that there are combos you can order, what their roll of the month is, etc. Needless to say I came back and ordered the same thing again! However when I ordered it as takeaway, they, as I mentioned before, put the sauce inside the wrap so it was INSANELY HOT and I couldn't finish it even though it was really delicious. So I'd recommend to start putting the sauce on the side as you do with the rolls. Though, I could always ask for the sauce to be left out so it's not that much of a problem, really.
Official website
6) Whole Foods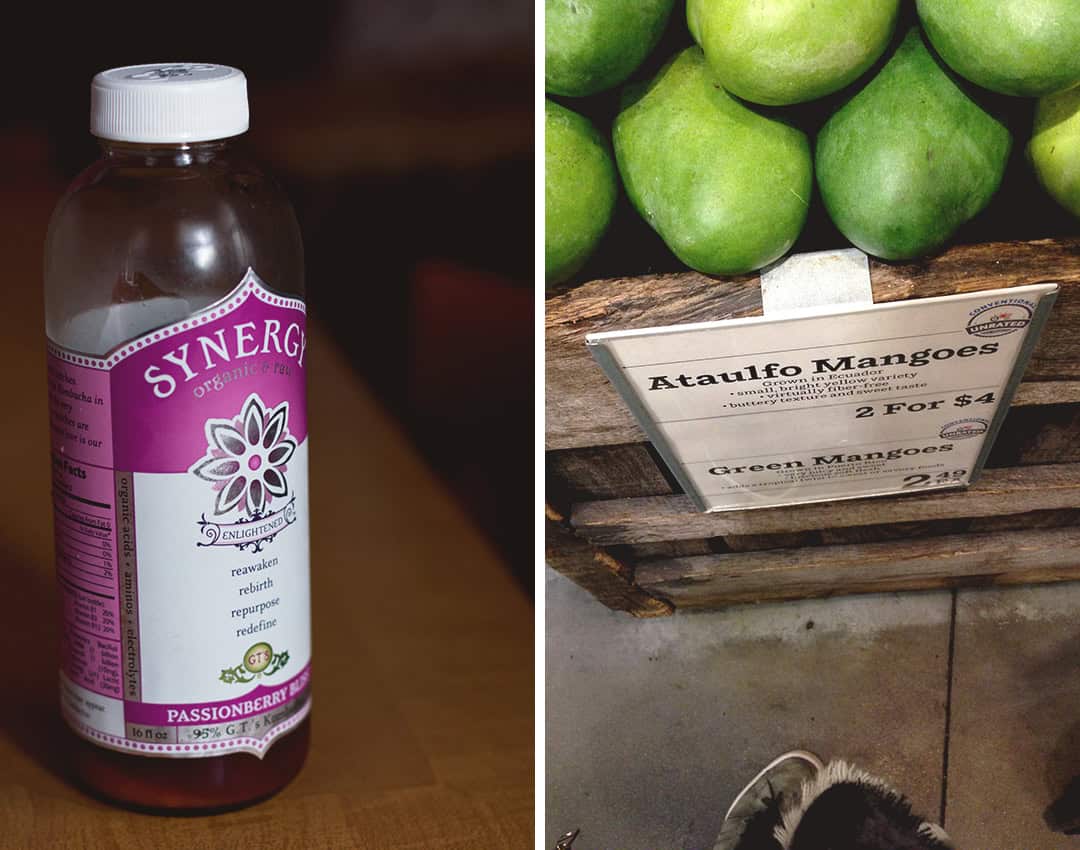 Why I like it
It's the obvious choice. I had to include Whole Foods, I love shopping fruits and veggies there. I go there to buy dry goods they don't sell at grocery stores here in the Czech Republic and I even bought a wooden bowl for my salads!
What could be improved
Last year, I went there almost everyday for lunch and really enjoyed their salad bar. However this year, after better inspection, I couldn't decide on a salad because of the ingredients so I just left with some plain vegetables. I know it's all organic and ''natural'' but some of their salads have soooo many ingredients and I don't understand why. Why does chicken soup have a whole list of ingredients (most of it wasn't even vegetables or chicken) written in tiny font? What do you need all that junk for? That's the number 1 thing I'd improve — the cooked food.
My go to meal/smoothie/juice
I LOVE buying Anita's Coconut Yogurt. It's pretty expensive but it's beyond delicious. It's made only of coconut meat, coconut water, and probiotics! (I also tried Coconut Grove brand which I didn't like at all, it was yellowish and it had weird texture)
Whole Foods also carries Hu Kitchen chocolate bars but they're $2 more expensive than at Hu Kitchen so I don't recommend buying them here. Unless you're like me, going after one they didn't have at Hu Kitchen at that time (ALMOND BUTTER+PUFFED QUINOA=life)
I also like Emmy's Raw Coconut Macaroons. My favorite are the chocolate ones or the chai-flavored ones!
I also like Frontier's Apple Pie Spice which I was really bummed they didn't have at WF this time. I bought Pumpkin Pie Spice instead, though.
Oh, I'd almost forget! I also love Synergy Raw Kombucha! My favorite flavor is Passionberry blend.
This one is kind of random, but I really like Ataulfo mangos! I get excited to buy them in New York, because they aren't sold here.
My favorite location
Columbus Circle 
This is my most favorite locations, even though it's a little off hand for me every time I go to New York. I just feel like there's a biggest selection or maybe it's because I'm used to it. I know where everything is and I can always find what I'm looking for fast whereas at Union Square, I always feel lost.
Union Square
This was a closer location for me, and I do like it here, after all it has two floors. But I can't help it, I just like the Whole Foods at Columbus Circle more.
Official website
http://www.wholefoodsmarket.com/
You can also check out a post about my favorite New York restaurants (not as healthy - includes donuts and macarons YUM) I posted last year on my old blog! (Tumblr) http://thehealthyideas.tumblr.com/post/93768859336/the-best-spots-in-new-york