When I say the word 'patty', I immediately think of Sponge Bob and the Krabby Patty. Anyone else? I haven't exacly cracked the Krabby Patty Secret Formula with these but they're super delicious nonetheless and you definitely have to try them!
Sweet potatoes, quinoa, onion, garlic, dried herbs, spices, and buckwheat four. They're vegan, gluten-free, delicious, filling, hearty, and amazing in salads or in a bun as a burger!
Here are two salads that would go great with these patties: Black Rice Salad Bowl with Tahini Dressing or Baked Falafel Buddha Bowl (just swap the falafel for the sweet potato quinoa patties)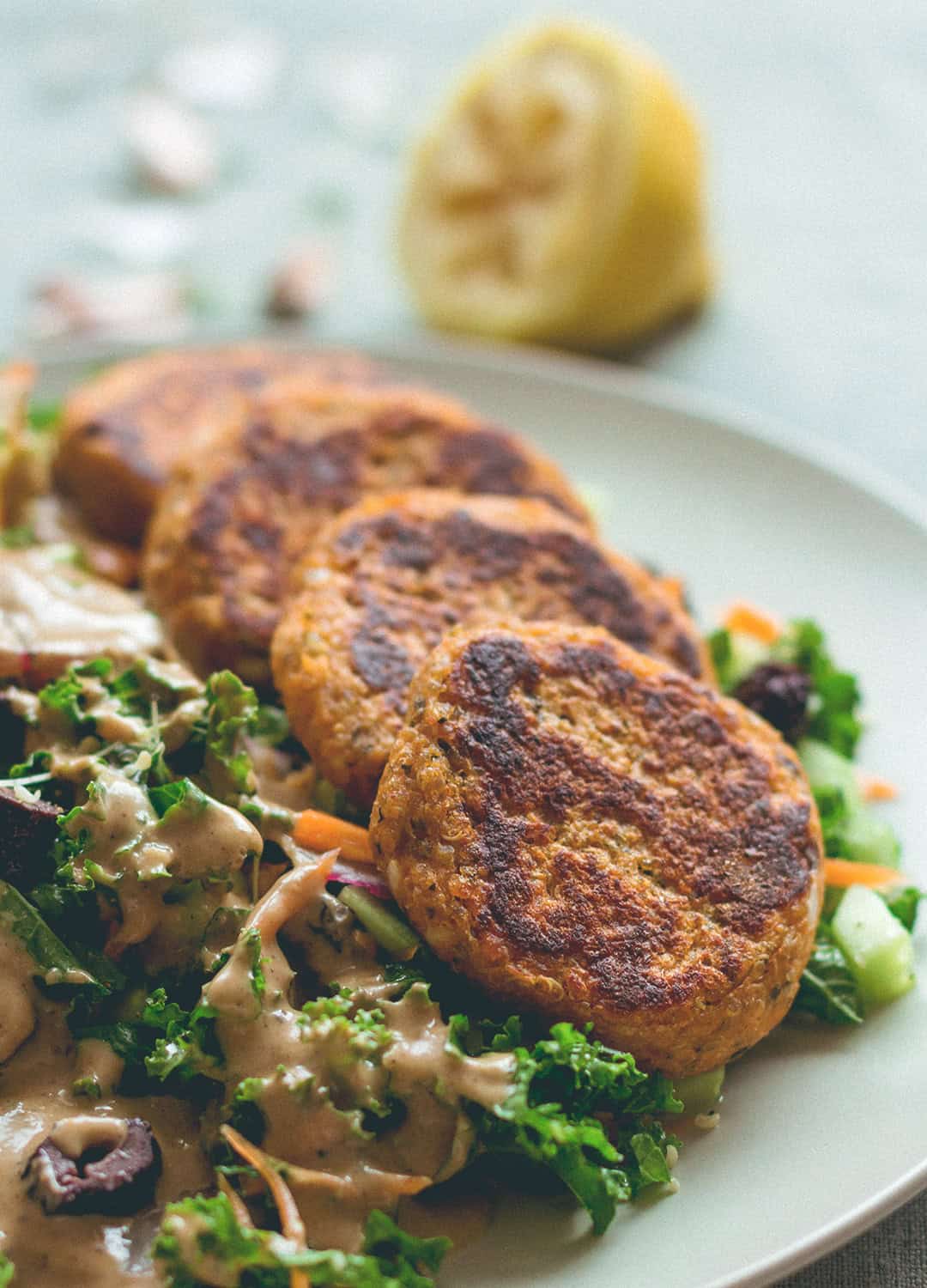 I finally have a day off today you guys!! YAY let's celebrate it with these delicious quinoa patties, what do you say? I haven't stopped since Monday and I'm happy I'm finally sitting down today and writing this post.  I'm drinking a almond milk chai latte and it's bringing up so many New York memories from last Christmas. I'd go to Hu Kitchen and drink a coconut or almond chai latte almost every single day. New York is SO magical during Christmas. If you ever get a chance to go in December, definitely go, it's worth every penny! I'd go back in a heartbeat<3
Speaking of work, I took these quinoa patties to work the first two days I was there because I didn't know if there was going to be a place to eat a regular salad, when, how, etc. and these are the easiest thing to just snack on without any utensils or even sitting down. They're also really filling and nutritious so they'll fuel you for your long work day perfectly.
5 reasons you need these sweet potato quinoa patties in your life ASAP:
they're easy to make — cook quinoa, bake sweet potato, saute some onion and garlic, mix it all together with spices and flour and you can start making patties!
they add great texture and flavor to your salad not to mention they're filling and actually good for you
you can make a delicious vegan burger with these!!
they're great to just have in the fridge for a quick afternoon snack either at home or on the go as they're easy to eat
they're full of quinoa and sweet potatoes and who doesn't love those, right?
also, they're insanely delicious dipped in hummus!!
In the photos, I served them with a quick salad that consists of kale, radishes, cucumber, tomatoes, carrot, and tahini dressing. You can find the recipe for the tahini dressing in this post.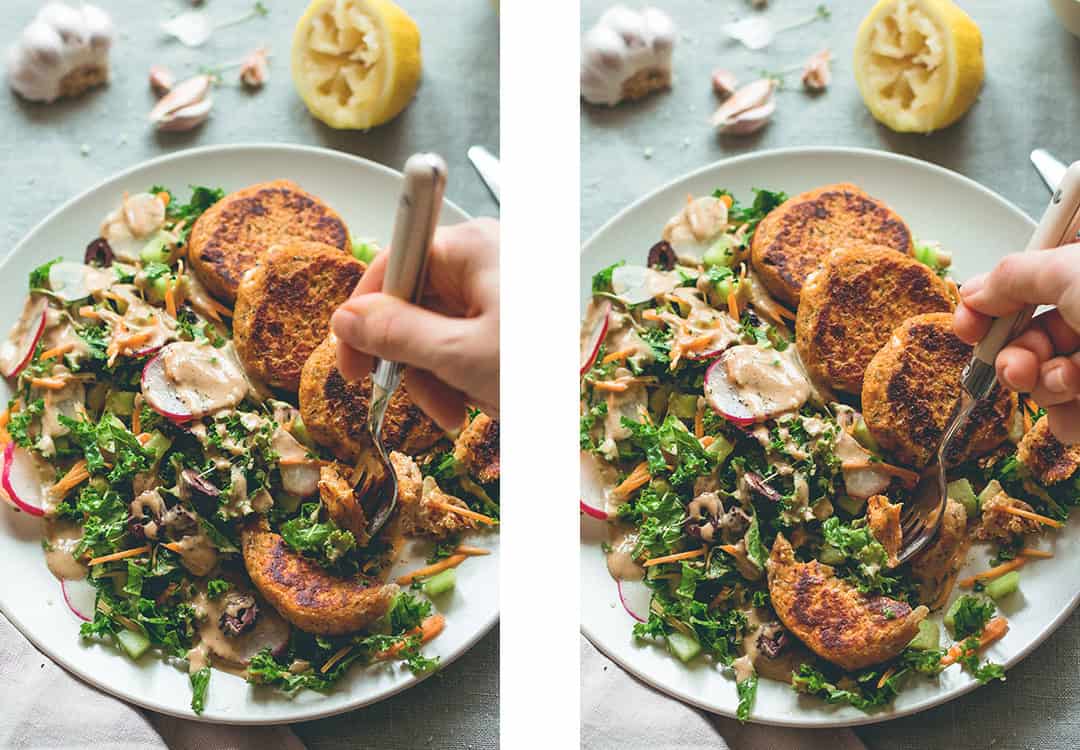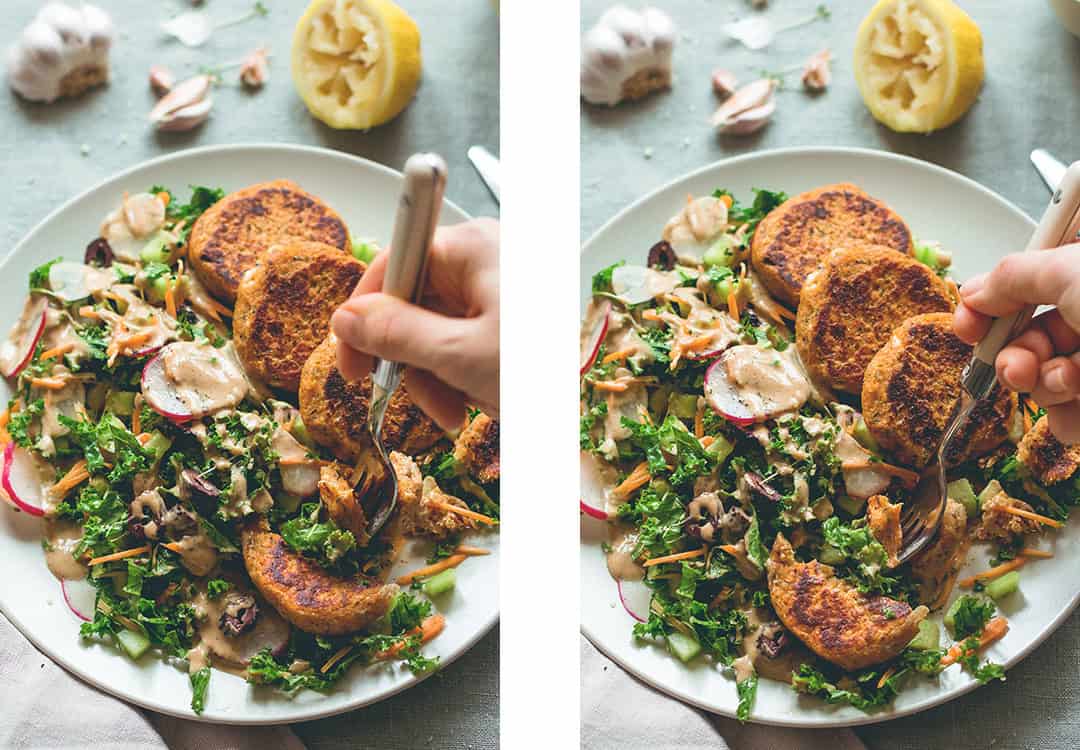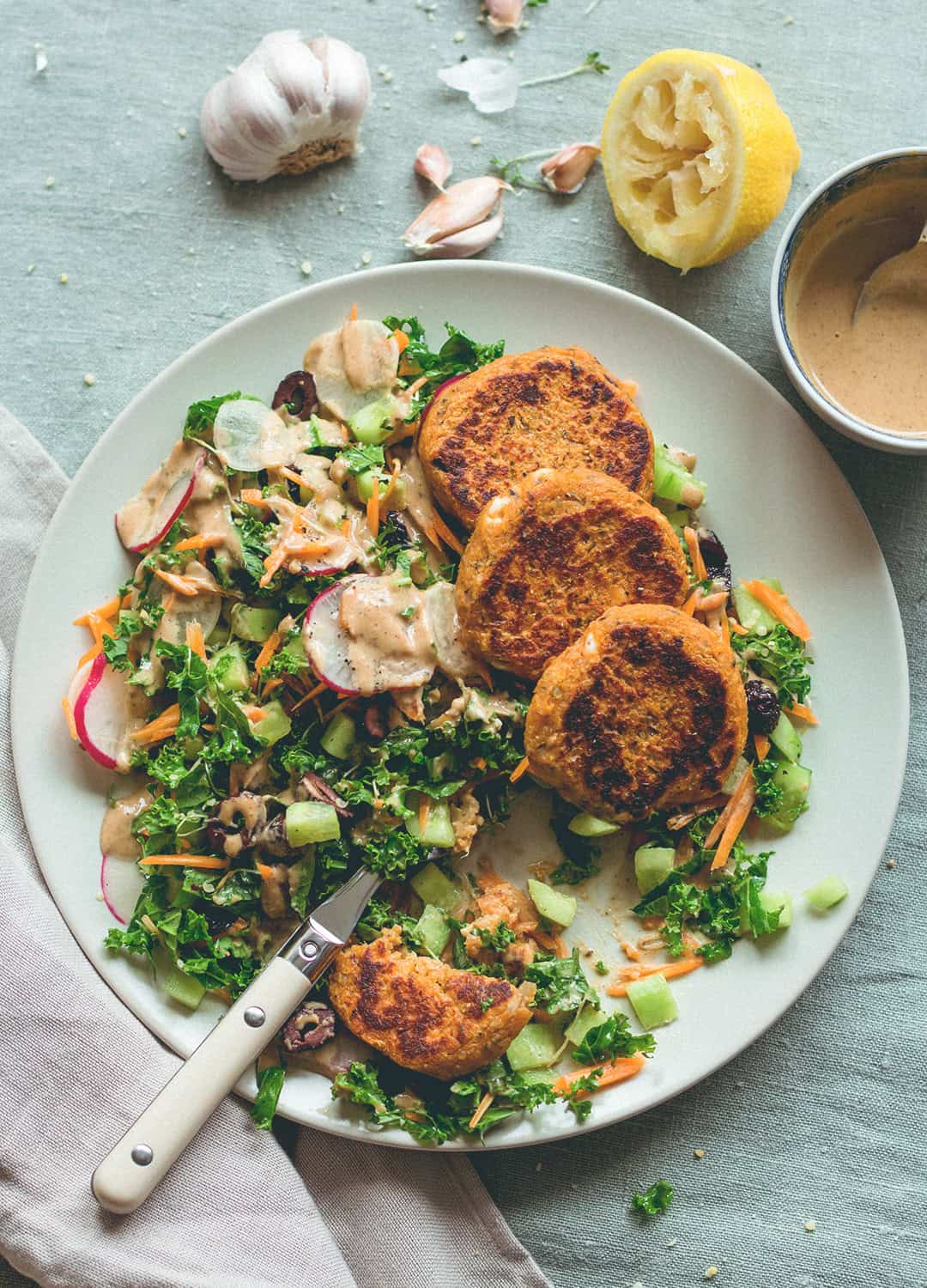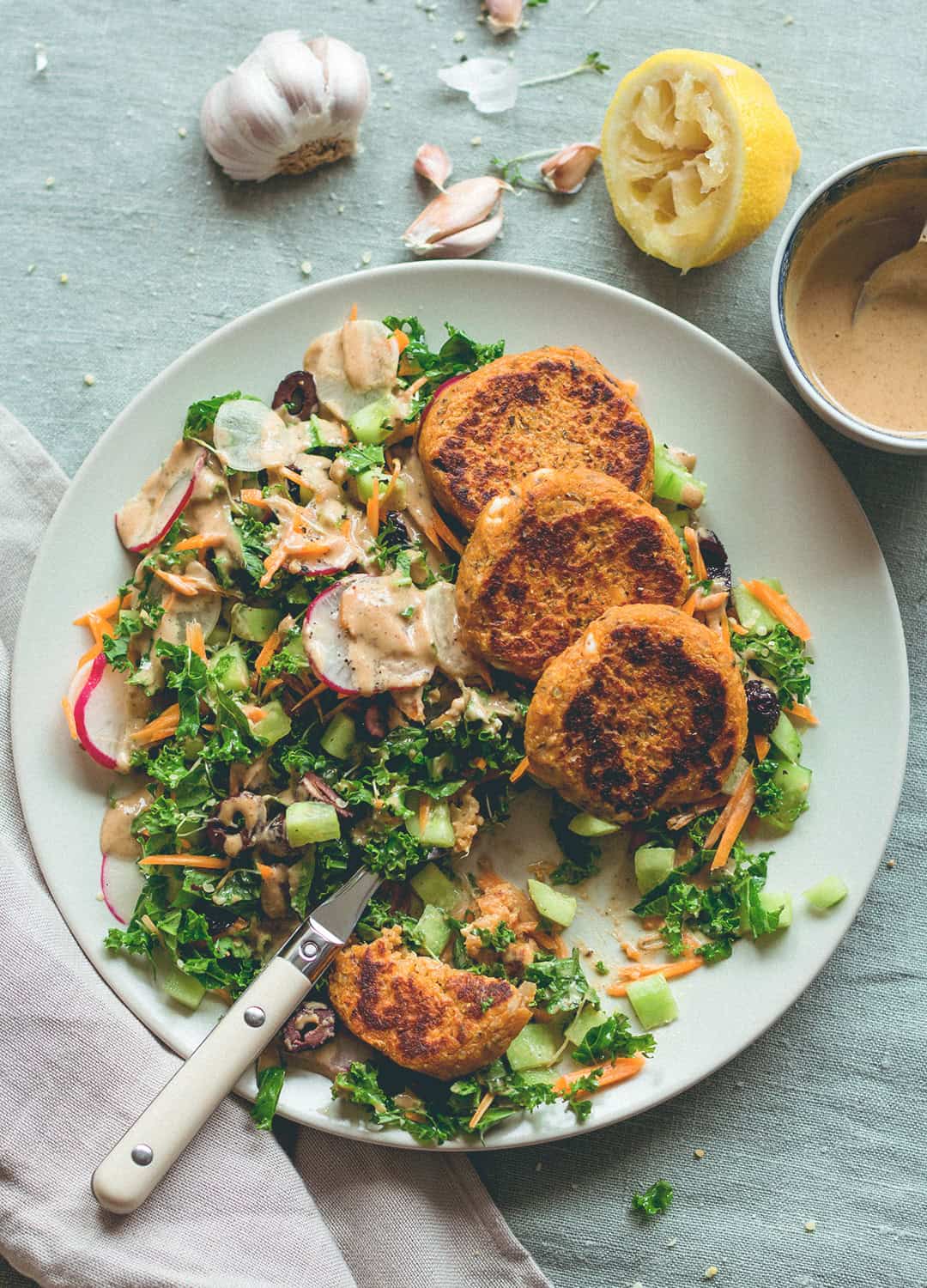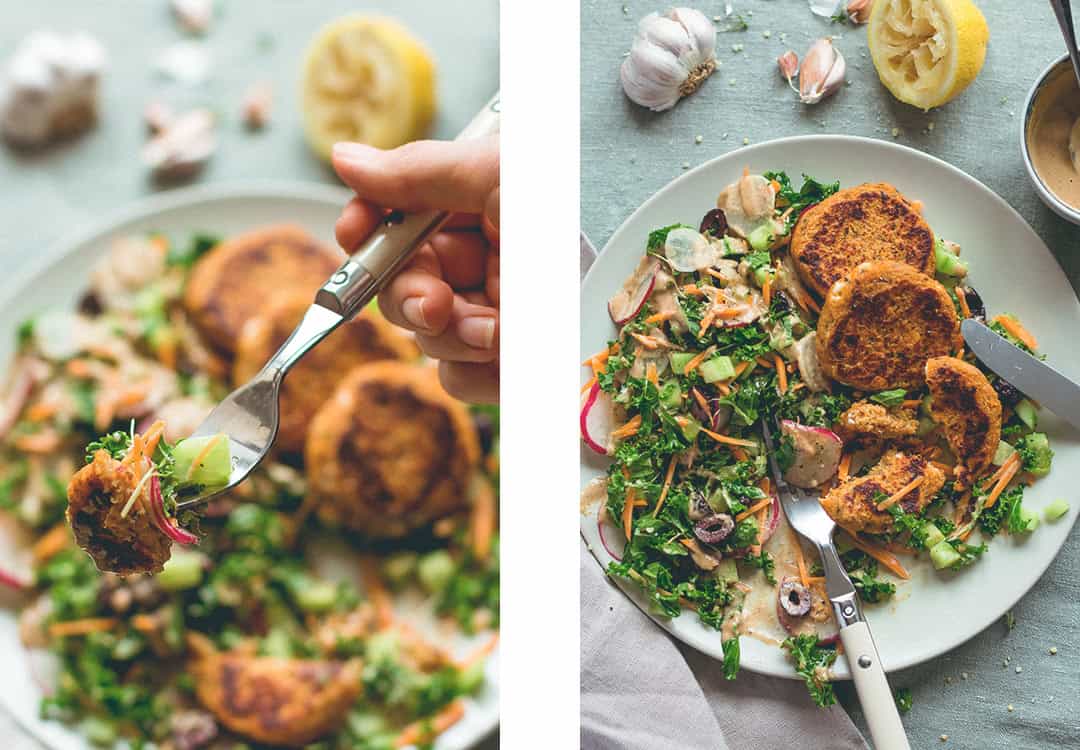 The recipe may be long but believe me, these really are easy to make and fairly quick! When you're baking the sweet potato and cooking the quinoa, you can go do something else because they don't need much supervision. Then you mix them together with sauteed onion and spices and you can start making patties. YUM!
Print
📖 Recipe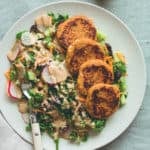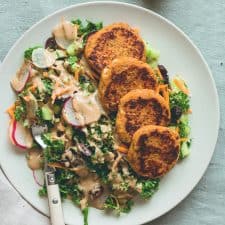 Sweet Potato Quinoa Patties
Author:

The Healthful Ideas

Prep Time:

10 mins

Cook Time:

60 mins

Total Time:

1 hour 10 mins

Yield:

16

patties

1

x

Category:

Main Dish
---
1

sweet potato (

1 ¼ cup

when cooked and mashed)

1 cup

dry quinoa, (you need

2 cups

cooked)

1 tsp

coconut oil

1

red onion, finely chopped

4

cloves garlic, minced

½ tsp

smoked paprika

1 tsp

dried oregano

1 tsp

dried thyme

1 tsp

dried parsley

2 tsp

dried majoram

½ tsp

sea salt
freshly cracked black pepper to taste

⅛ tsp

chipotle powder (optional)

¼ cup

crumbled feta (optional)

½ cup

buckwheat flour
coconut oil (for cooking)
to serve: mixed salad (kale, lettuce, tomatoes, cucumber, radishes, carrot, quinoa), hummus, roasted veggies, etc. or serve in a bun as a burger
---
Instructions
Preheat your oven to 200C (392F).
Cut the sweet potato lengthwise and drizzle with a little bit of coconut or olive oil on both sides.*
Lay it cut-side down on a baking tray lined with parchment paper and roast for 40 minutes or until soft.
While that's roasting, cook the quinoa according to package instructions and sautee the onion and garlic.
In a small saucepan, add 1 teaspoon coconut oil and heat up over medium-high heat. Add the onion and cook for 6-7 minutes until some pieces start to brown. Add the minced garlic and cook for 1 more minute until fragrant. Set aside.
When the sweet potato is cool enough to handle, scoop it into a big bowl and mash with a fork.
Add the quinoa, onion, and garlic, and all the spices and mix well to combine.
Add the buckwheat flour and mix well until well incorporated.
Fold in the crumbled feta if using.
Heat a pan over medium-high heat with ¼-1/2 teaspoon coconut oil.
Wet your hands (the dough is really sticky) and form small patties (about 1-2 tablespoon at a time, smaller for a salad, bigger for a burger).
Cook each patty for 4-5 on each side until golden. Add more coconut oil if needed. The pan gets hotter with time so lower the heat if needed.
Keep warm in the oven and serve with a salad or in a bun as a burger.
Can be stored in the fridge for 2-3 days.
---
Notes
*I literally just melted about ½ teaspoon in the palm of my hand and rubbed the sweet potato with it.