At the beginning of each post, I'm usually torn between talking about my personal life and the recipe I'm posting. What do you prefer? I personally love bloggers who talk about their life in their blog posts as opposed to just going on about how good the meal they're posting it (side note: this sundried tomato pesto pasta is really amazing). I'm currently obsessed with Ashlae's blog Oh Lady Cakes. She does a great job at doing that and many other bloggers do but I find it hard to write an engaging personal post sometimes because English isn't my first language. As much as I love English and have grown to be familiar with it, it's still not the same as being a native. Far from it, actually. So bear with me while I update you on what's currently on my mind and I improve my writing skills in the process.
Topics of today: lots and lots of snow (it's a winter wonderland out there), and a rant about getting knocked down by people and being told you can't do something — I have to talk about that, it's so fresh in my mind and it's vital that I tell you my opinion on this as so many people experience being told they're not enough or competent to do something.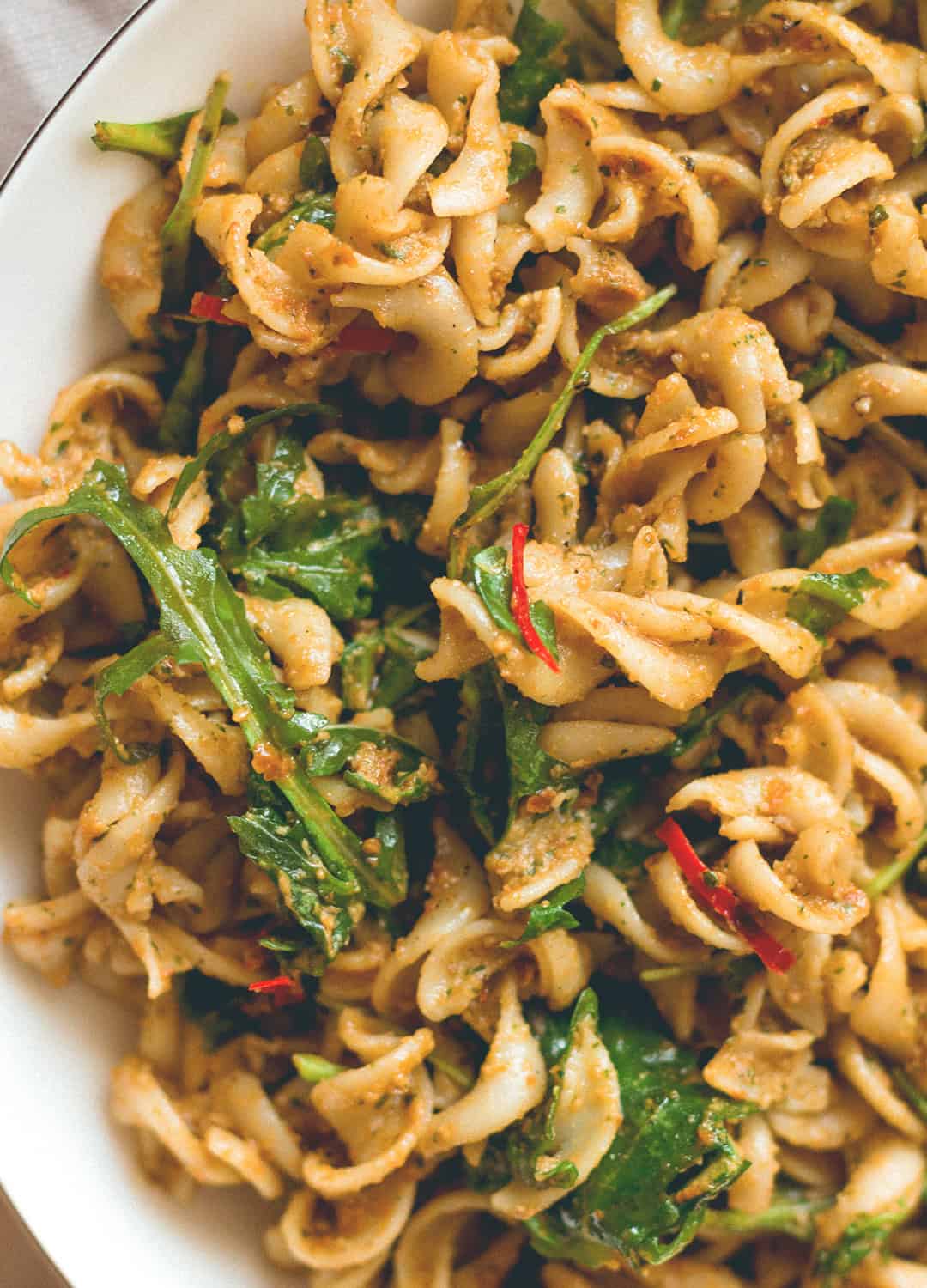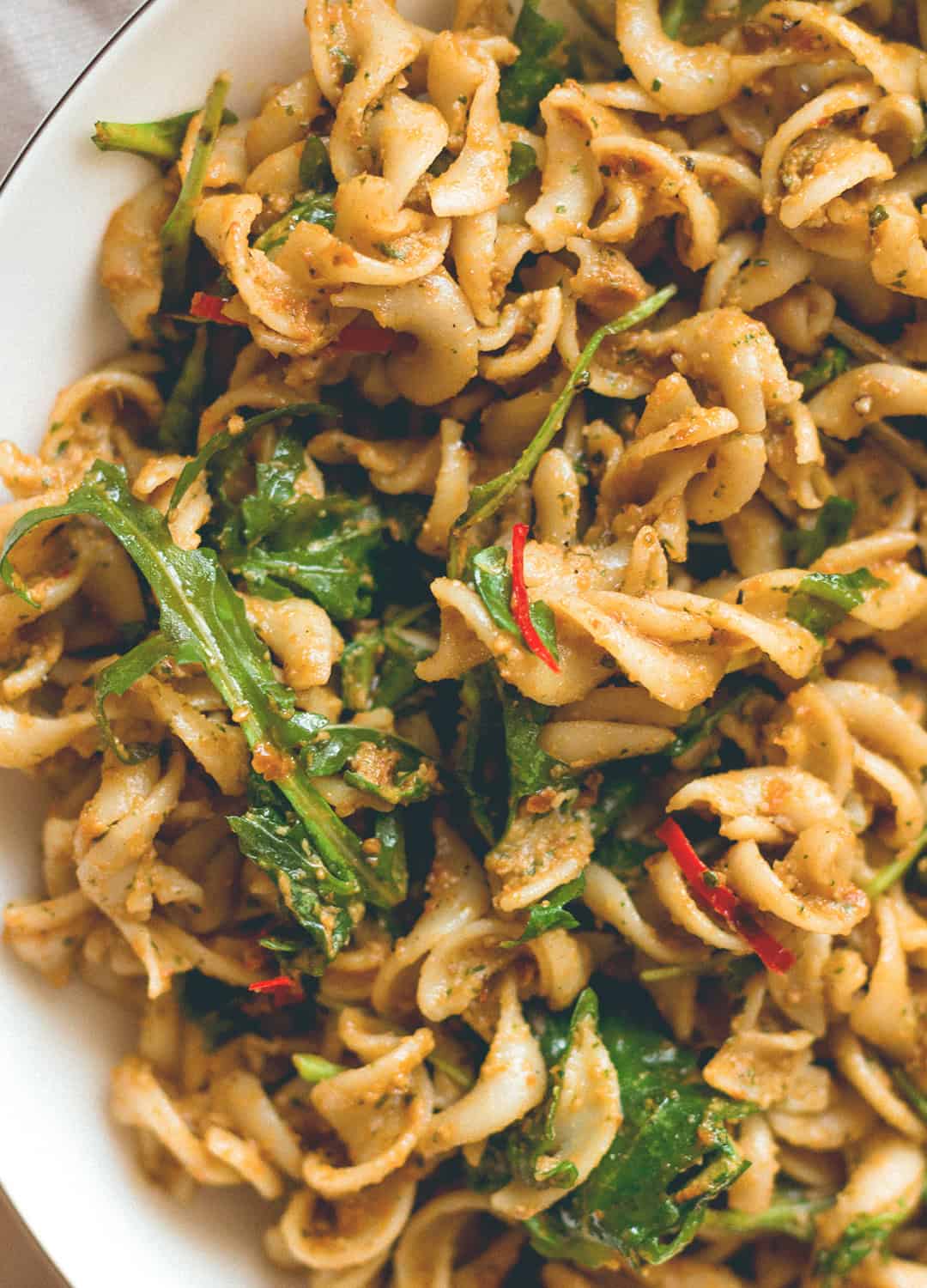 There is sooooo much snow outside you guys. I'm guessing the weather is trying to prepare me for Canada That's good though, because while everyone's acting like they're going to freeze to death at any given moment, I don't complain about it so much. I think that when there is snow, it's somehow always less cold than without it even when the temperature stays the same. You know what I mean? It's always such a bummer when there is no snow during Christmas but by the time January rolls around, there's tons of it. That kind of proves the saying that if you want something, you should let go of it, stop thinking about it so hard, and it'll come to you. I was wishing for snow on the 24th December and what do you know, it arrived when I didn't care anymore on the 5th of January. It's still pretty tho, everything is covered in a white fluffy blanket and it's always fun to see all the cat tracks in the snow in the garden. Besides, snow makes everything quieter and I'm all about that. There's a highway near where I live and it's nowhere as loud at night when there is snow.
The second thing I wanted to talk about today is other people's perception of you. I put off writing this post and went ahead and wrote a very personal email to my previous employer and told her everything I had on my chest and man do I feel better now. It's a long story so I'm not going to bore you with it (besides that would be sharing too much) but the moral of it is that you should always believe in yourself no matter what others say and always speak up for yourself. Have your own opinions, know what your beliefs are, know what you want to do in life and go achieve it. Even if people tell you numerous times you can't do something, still go and do it if you believe you can and want to. I don't want to sound like a book of quotes but you're your only enemy. You decide whether you can or cannot do something. As the quote says "Whether you think you can or can't, you're right.". It's so true! Follow your dreams, follow your passion and please never ever change yourself to fit in or please somebody. Be yourself. It's so important, you have no idea. Even if someone else's opinions suggest that being yourself is bad that you should try to be different. Don't, under any circumstances, ever do that. I'm rambling and I'll stop before this turns into even a bigger rant but if should take away one thing, it's that you should always, ALWAYS stay true to you.
---
I still feel the need to tell you how amazing and delicious this recipe is. It's so good you guys!! The pesto is literally life and I can't wait for my food delivery in an hour so that I can make yet another batch. I love the addition of sundried tomatoes. They go so well with the toasted pine nuts and basil. This pasta is bursting with flavor and it's incredibly delicious and addicting. Besides, it's actually vegan! Yay!! Please go make it. It's the best pesto pasta I've ever had and I'm sure you're going to love it! :)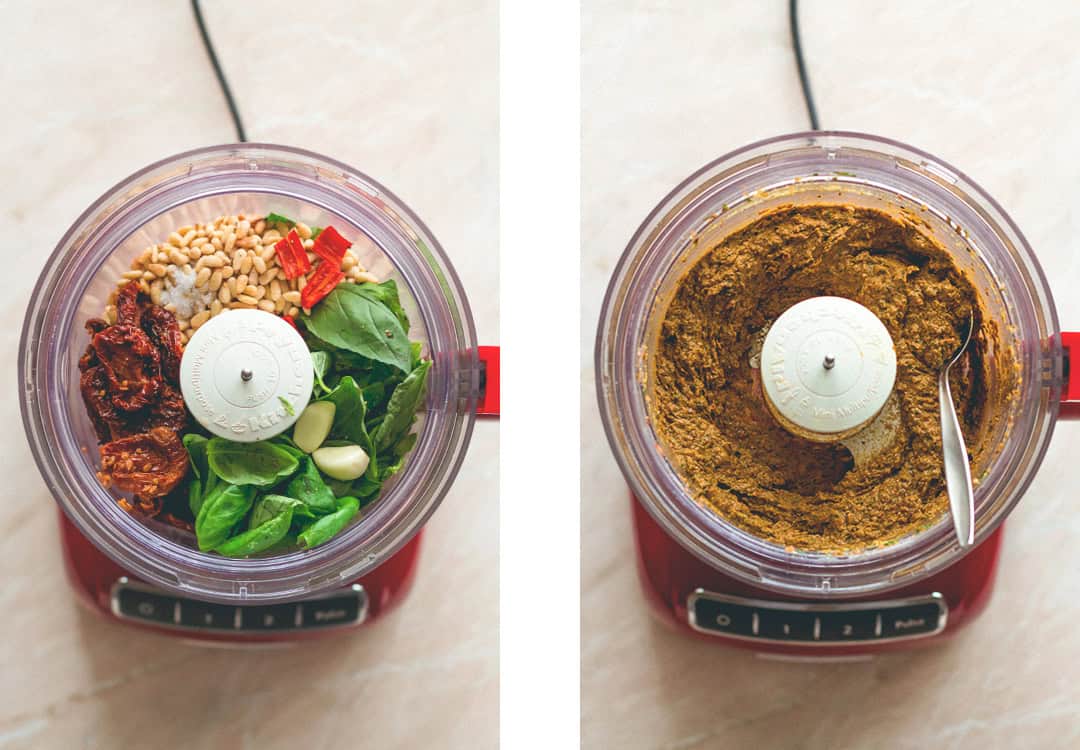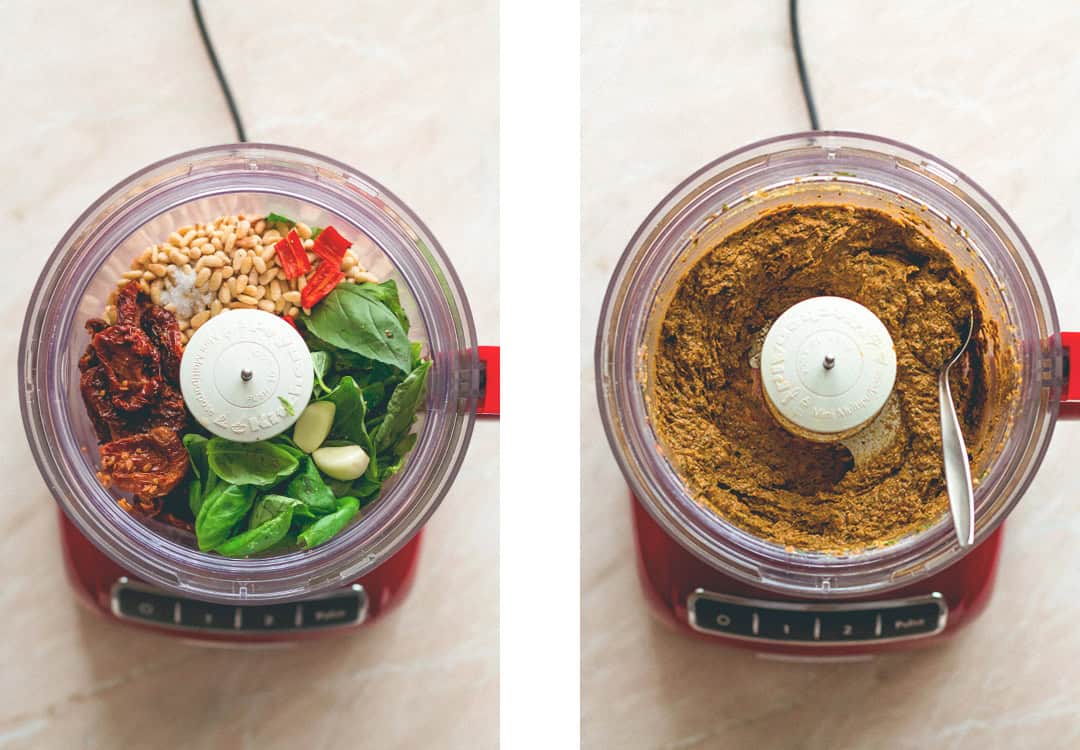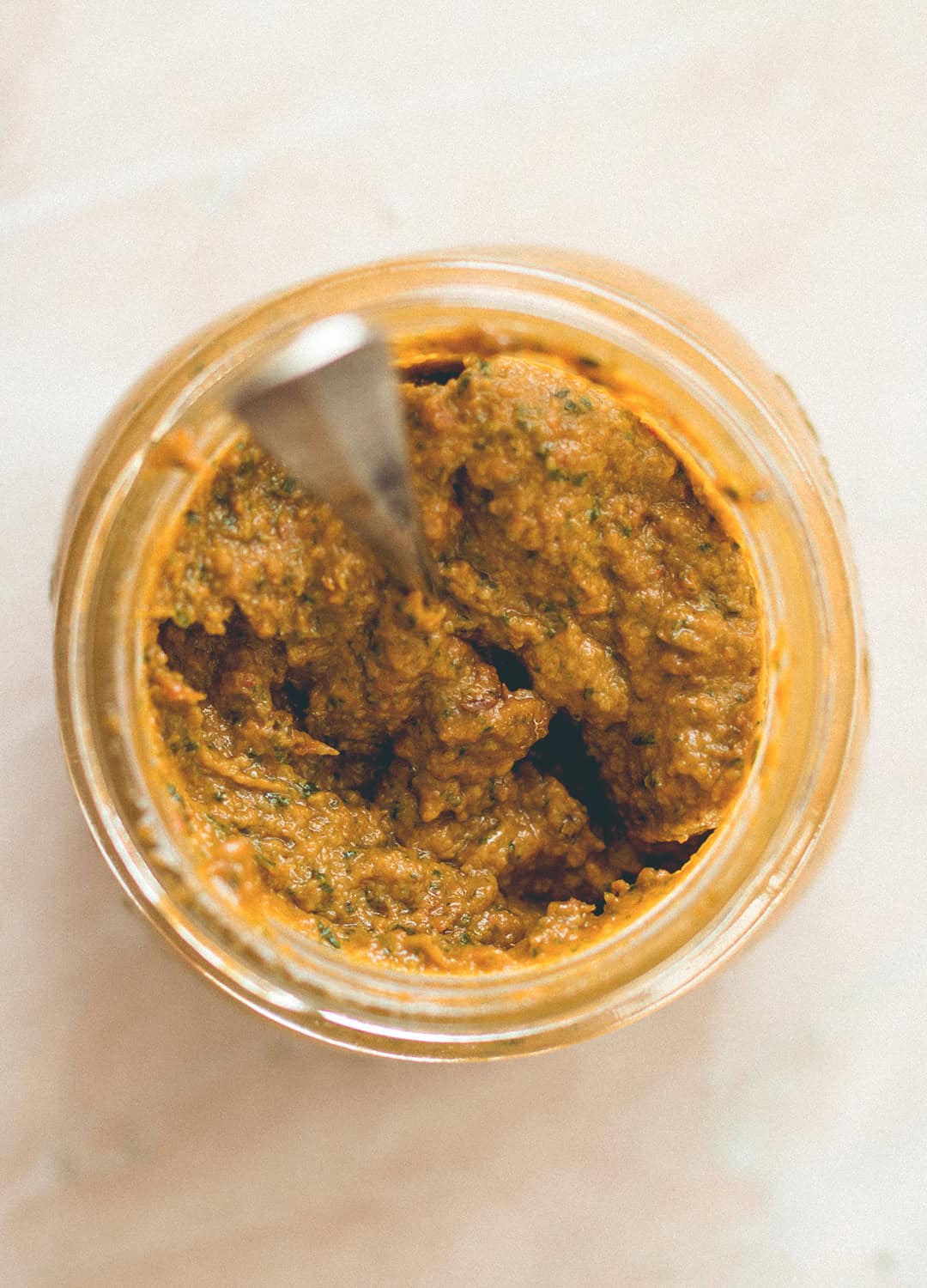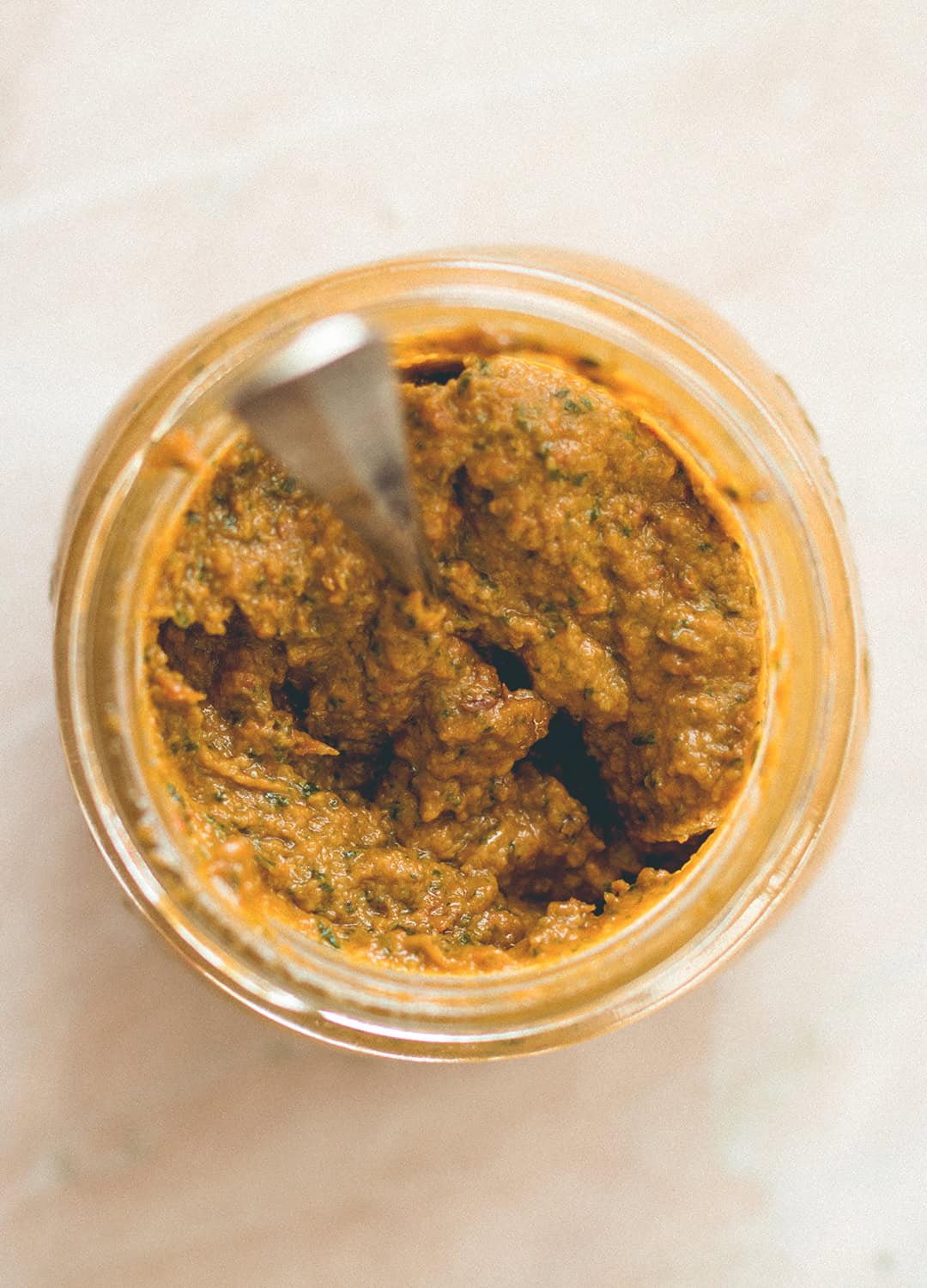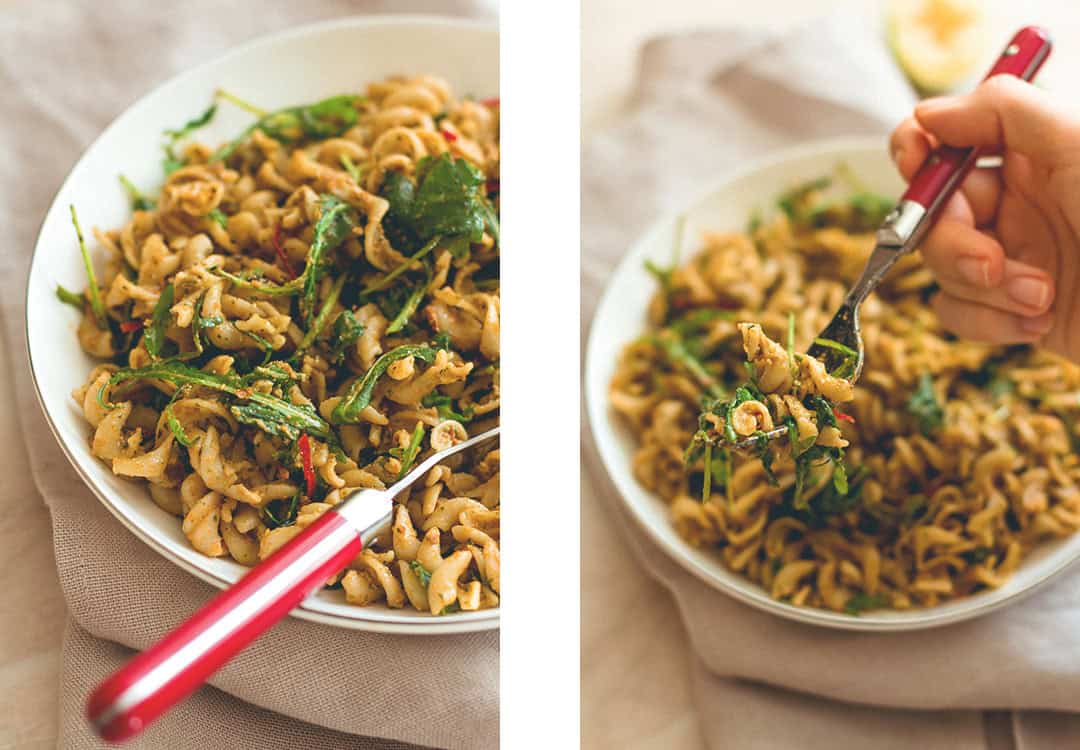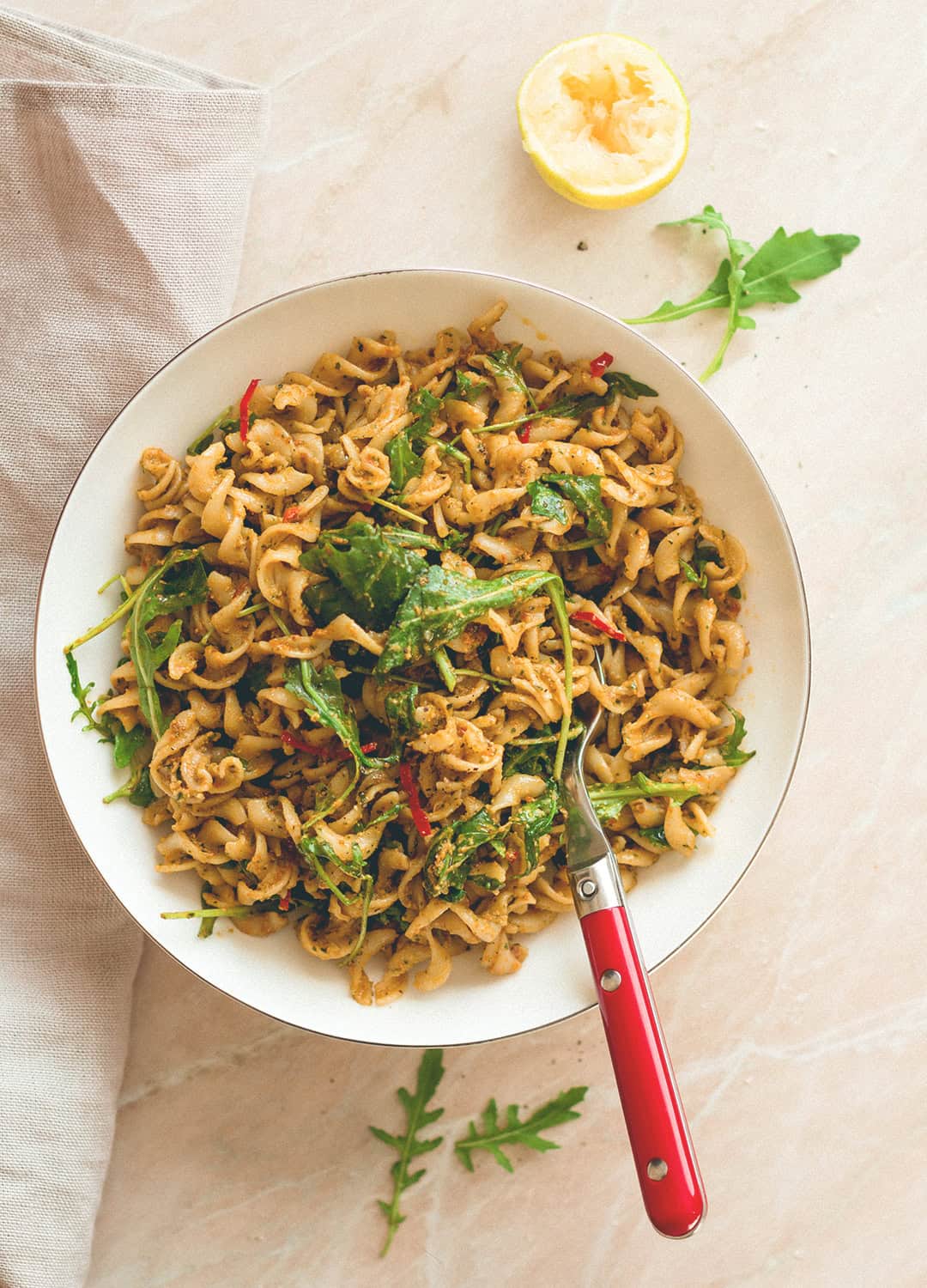 Print
📖 Recipe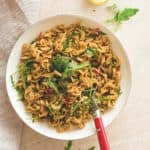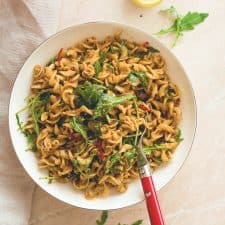 Harissa Pesto Pasta (vegan, GF)
Author:

The Healthful Ideas

Prep Time:

20 mins

Cook Time:

10 mins

Total Time:

30 mins

Yield:

4

-6

1

x

Category:

Main Dish
---
PESTO:
½ cup

tightly packed sun-dried tomatoes

2

-

3

chili peppers, halved & seeds removed (or keep them if you like the heat, I actually ended up adding only

1

to the pesto)

½ cup

pine nuts

1 cup

tightly packed fresh basil

1

-

2

garlic cloves
juice of

½

lemon

2

-

4

tablespoon nutritional yeast (optional)

¼ tsp

sea salt

½

-

¾

cup extra virgin olive oil
enough brown rice pasta for however many people you're making this for

1 cup

arugula for every 2 servings
---
Instructions
Preheat your oven to 200C (392F).
Add the sundried tomatoes into a big cup or a bowl and soak them in hot water for about 20 minutes to soften them. When soft, drain and rinse them.
On the stove, toast the pine nuts in a pan over medium-high heat for about 10 minutes or until they're golden. Be careful not to burn them, you want them golden/brown, not black. It's okay if not all of them are toasted.
Roast your chilis for 10 minutes. Then set aside, you'll add it to a food processor along with the rest of the ingredients.
Put all the ingredients except the olive oil into the food processor (sundried tomatoes, roasted chili, toasted pine nuts, basil, garlic, lemon juice, nutritional yeast if using, and salt).
Process until everything breaks down into rough pesto. You may need to scrape the sides a couple times.
While the food processor is running, start pouring in the oil. I ended up adding ½ cup + 2 tablespoon which made a thick pesto. Add ½ - ¾ cup maybe even up to 1 cup to reach desired consistency.
Store in the fridge for up to one week.
Boil the pasta according to package instruction.
Drain and rinse the pasta and put it back into the pot. Add the pesto (1-2 tablespoon per person or until all the pasta is nicely thinly coated with pesto), stir to coat, then mix in the arugula and serve.
---
Notes
Arugula is perfect for this but if you don't have it, you can also use baby spinach.