I'm SO excited to be taking to you today!! Why? Well, today, I'm sharing with you my first YouTube video ever! After a year of talking about it, I finally filmed one. I decided to start slow so it's a short one with the recipe for this Sour Cherry Chocolate Oatmeal. In my last post I told you I might buy a new mirrorless camera and well, I actually went out that evening and bought a Sony one. I just couldn't wait, it had to happen and I'm so happy I got it!
The reason I bought a small camera when I already have my DSLR is because I really wanted to start vlogging. I have been meaning to start for over a year but I never had the guts to do it. Filming yourself and putting it on the internet for everyone to see is a scary thing and it's a test of your confidence. Especially when your confidence is basically nonexistent and you're a very shy, self-conscious person.
I'm going to film more cooking videos like the one I'm sharing with you today BUT I also want to make different kinds of videos for a separate channel. Videos about what I eat, about travel, restaurants, and anything else I may want to talk about. Most of all, I want to vlog my move to Toronto and I simply just needed a smaller camera for all that — I'm no Casey Neistat to drag a heavy DSLR everywhere I go.
I'll update you on how those more personal videos are coming along later this month or next month so stay tuned! ;)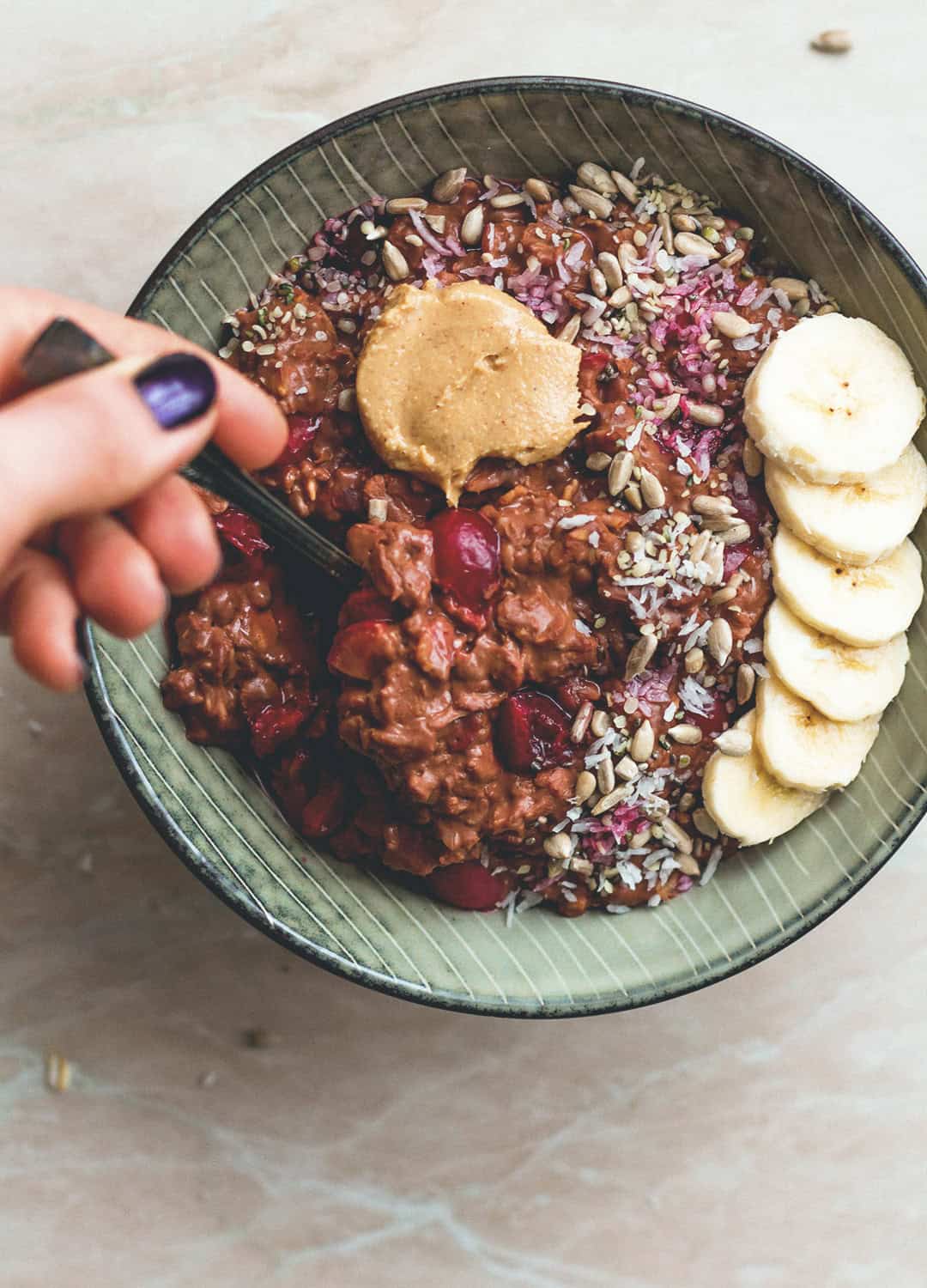 Funny story: about a month ago I was sitting at my desk and randomly wrote a date on a piece of paper. Weird right? It was just a random date that crossed my mind so I wrote it down and kept it in my drawer to see if anything interesting happens that day. Fast forward to yesterday, I totally forgot about that piece of paper but I found it when I was cleaning out my drawer and realized that the date I wrote down was the day I bought my new camera! Crazy, right? Total coincidence that it was exactly that day! I didn't plan it and it was so weird — all of sudden I was like "you know what? I'm just gonna start vlogging! Why not?!" and the next thing I know, I was at the cash register at the camera place paying for a new camera. It was such an awesome feeling to know that I was taking a step towards something I've wanted for such a long time.
It might look that I'm starting a YT channel because everyone else is doing it but that couldn't be further from the truth. I'm not doing it because it's in or because videos are getting big and important even for bloggers. I've wanted to start a YouTube channel around the same time Zoella was filming Lush hauls in her bedroom at her parent's house. It took me what, like, 4-5 years to get to this point? Wow. But, you know, everything happens at the right time. If I had started earlier, my channel would be about something completely different I wouldn't be interested in today.
I even remember that back then you weren't a "real YouTuber" until you had like 100k subscribers and went to the YouTube headquarters to sign a contract to become an official creator or something like that. I remember being super bummed it wasn't available in my country. Now everyone can be a Youtuber, you can have ads on your channel from day one and you can start making money right away. All you need to do is start.
Anyways, here is my video! Please let me know if you liked it and if there's anything you'd change to make it better. I value your opinion so much. If you like it, you can subscribe because I'll definitely be making more videos soon. I enjoyed the editing process more than I thought I would. I dare to say I enjoy it even more than editing photos.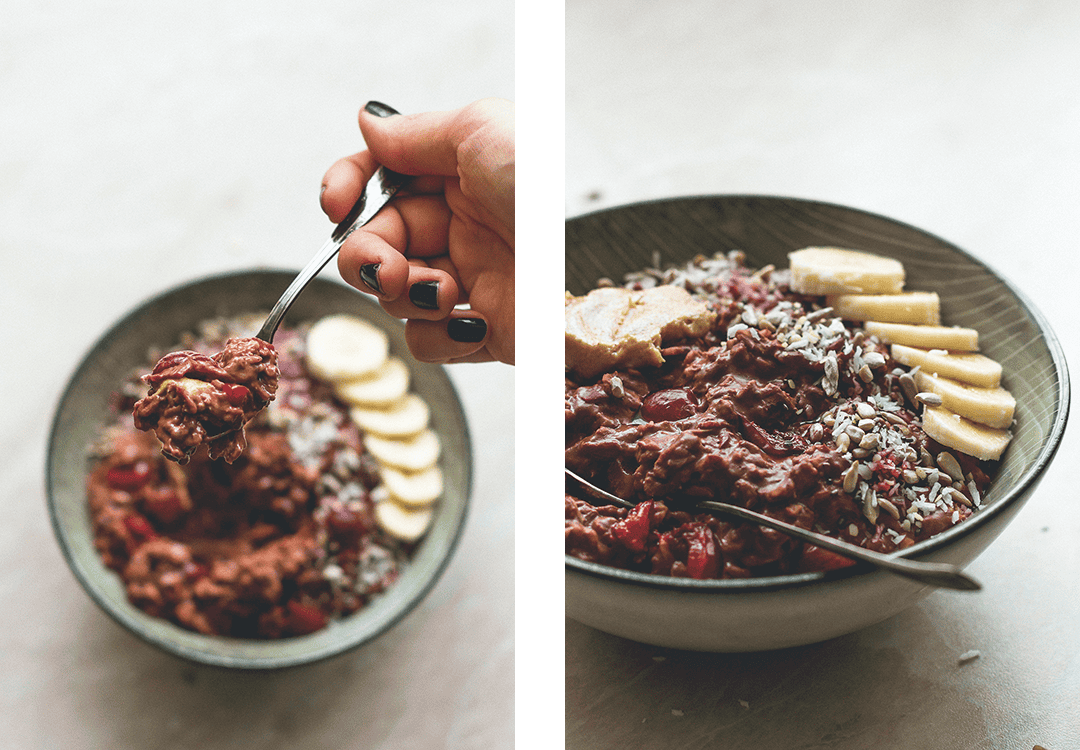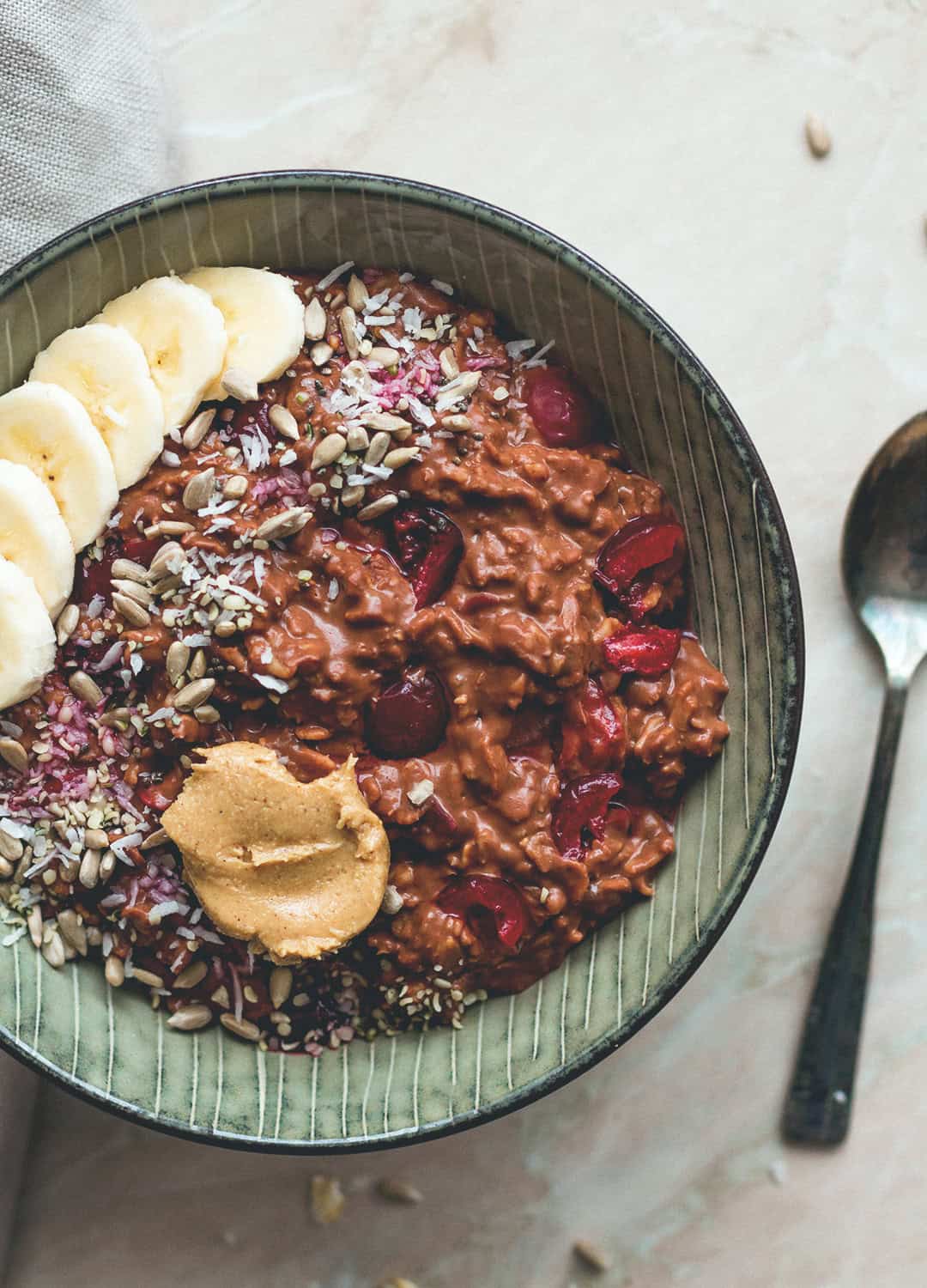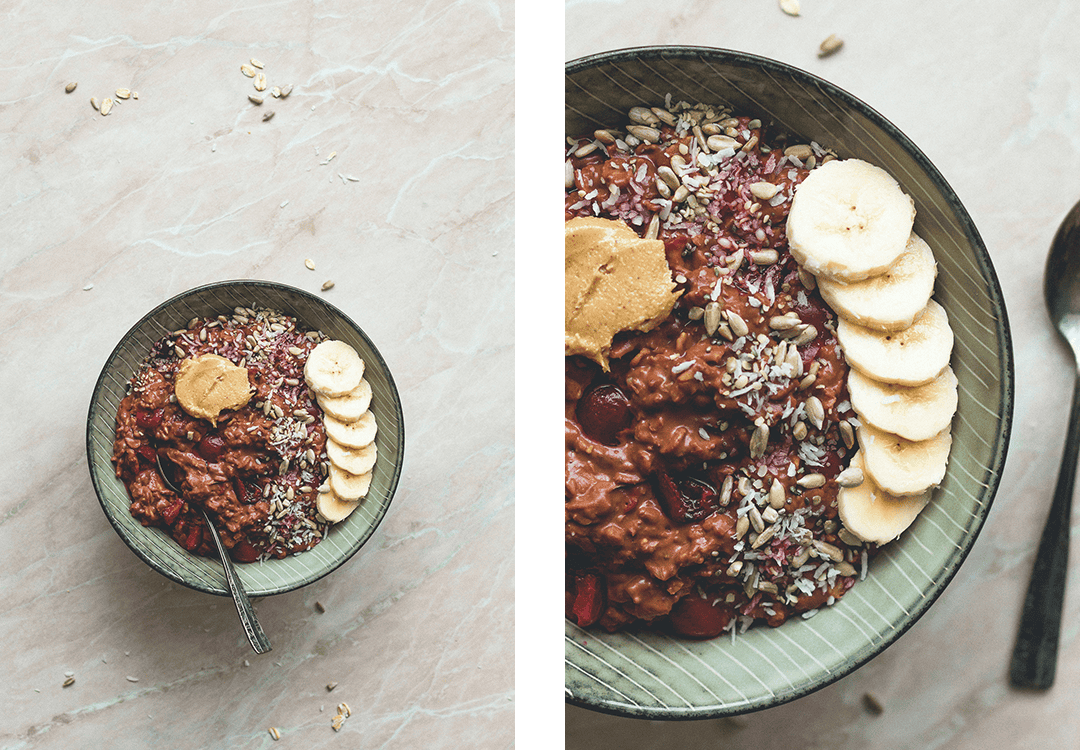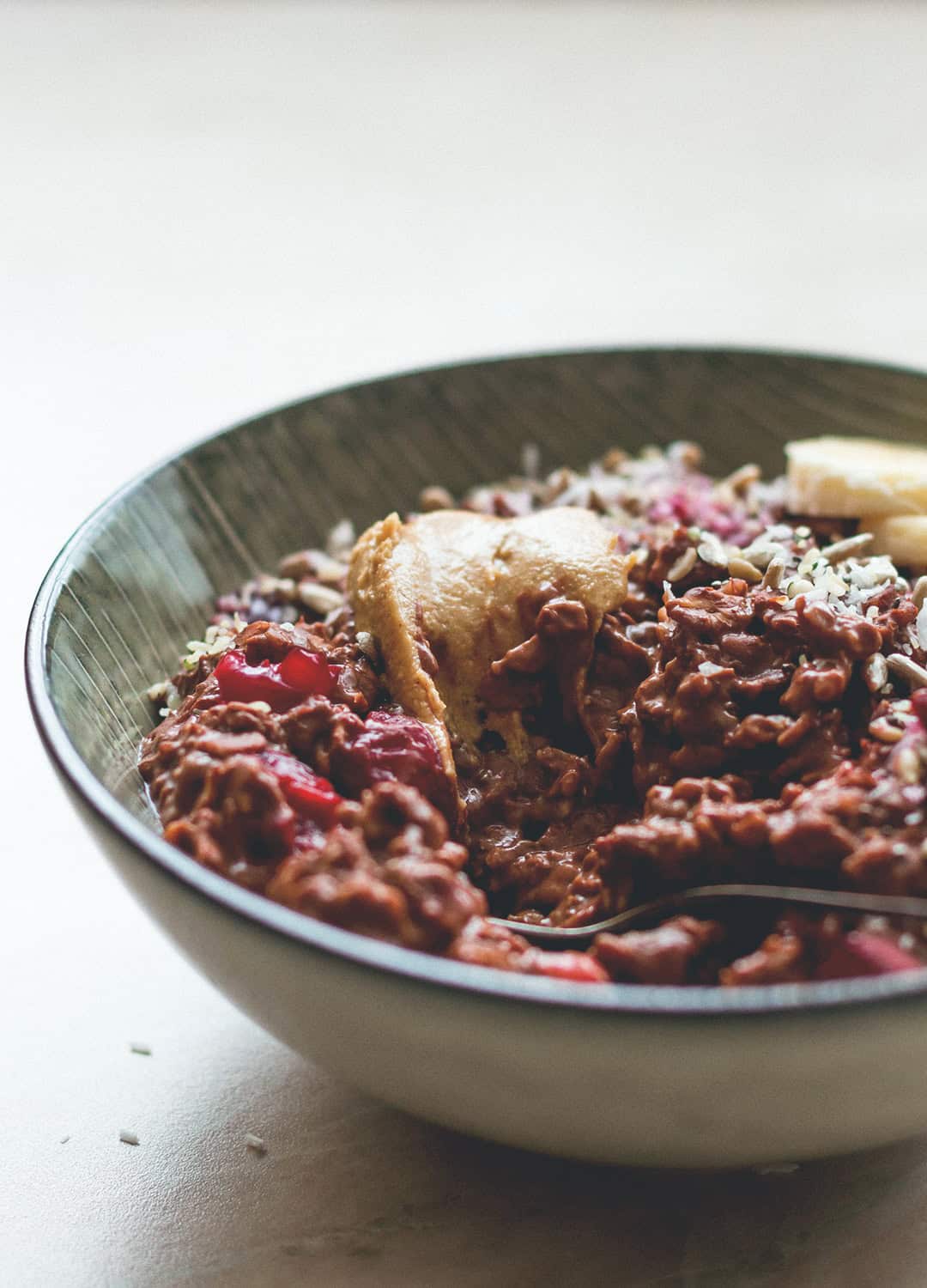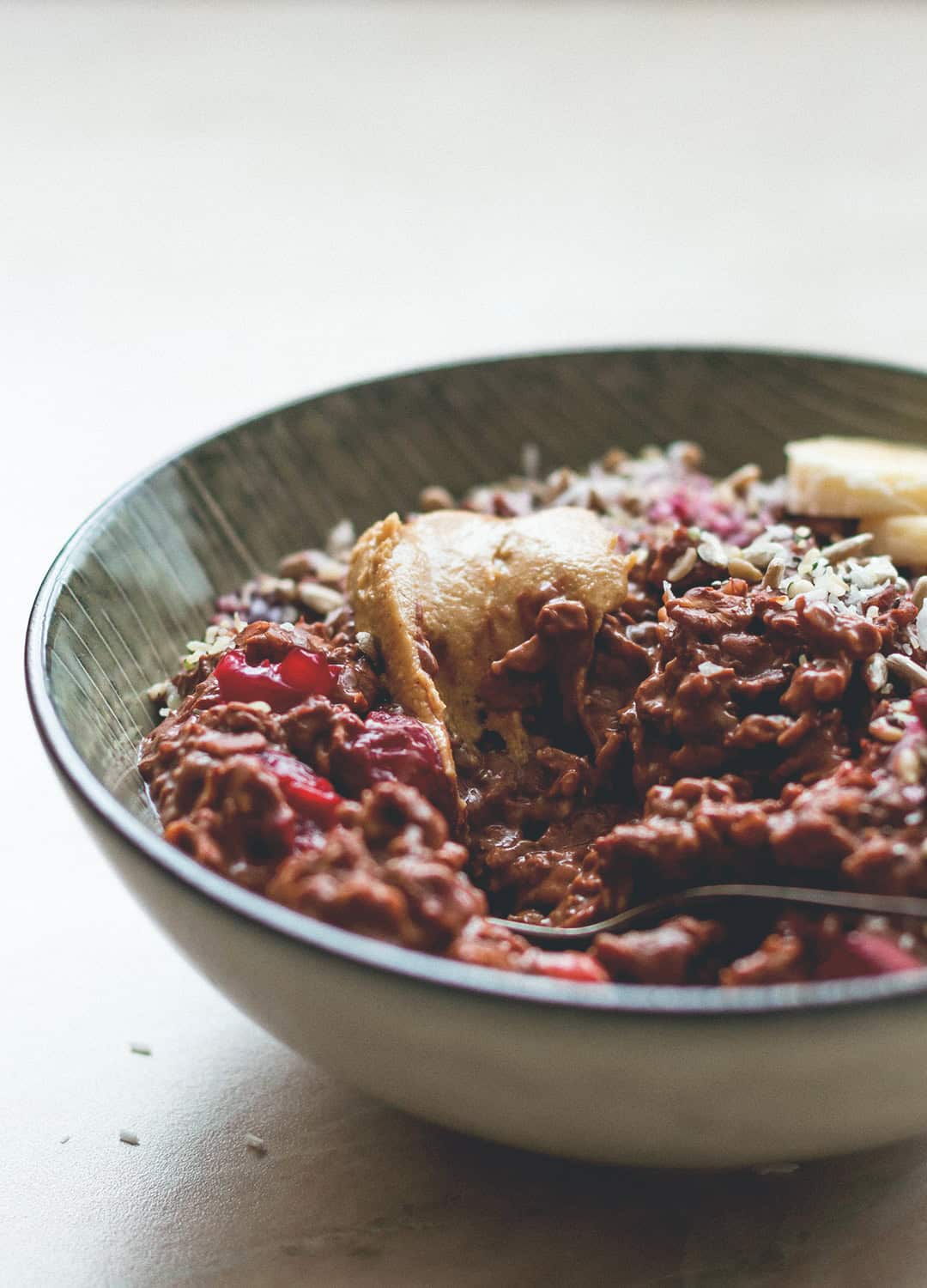 This recipe is one of my absolute favorites. I love the sour cherry & chocolate combo, I think it's absolutely magical. The oatmeal in the video looks different than these pictures because I filmed it after I already had the pictures ready. For the video, I added a tahini chocolate sauce which makes the oatmeal even more amazing. I had some leftover tahini chocolate and added almond milk to make it runnier and it resulted in the most amazing chocolate sauce ever. The recipe for it is in the video description but there's going to be a separate video showing how to make it soon along with a blog post so stay tuned! :)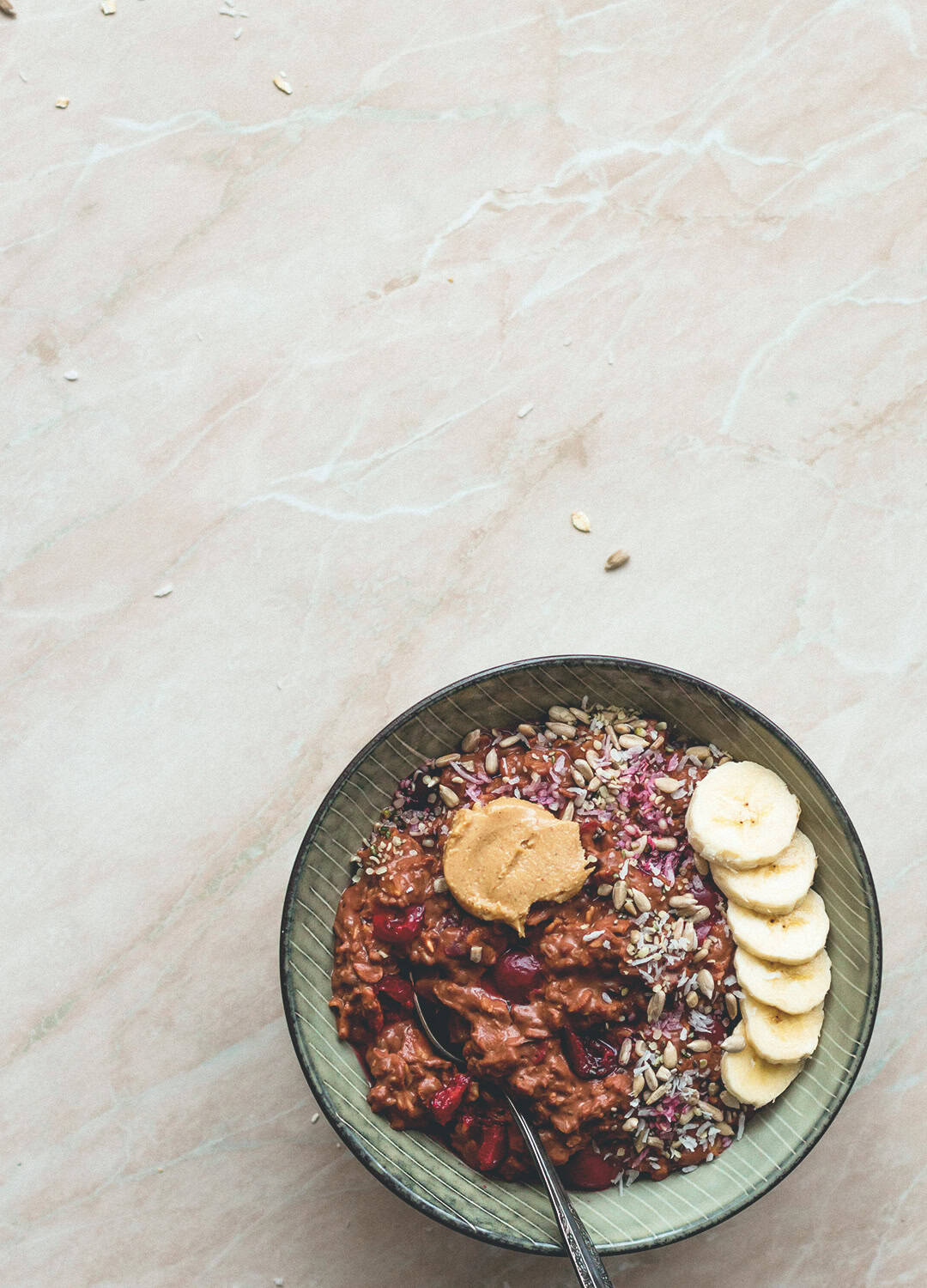 Print
📖 Recipe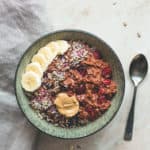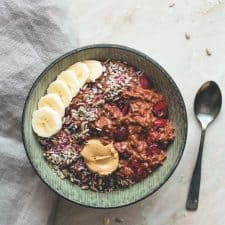 Sour Cherry Chocolate Oatmeal
Author:

The Healthful Ideas

Prep Time:

10 mins

Cook Time:

10 mins

Total Time:

20 mins

Yield:

1

1

x

Category:

Breakfast
---
1 cup

almond milk (or other plant milk or even just water)

½ cup

rolled oats (use certified gluten-free to make sure this recipe is 100% GF)

¼ tsp

vanilla powder (or extract)

1 tbsp

maple syrup or coconut sugar

½ cup

halved pitted sour cherries (fresh or frozen)

1 tsp

maca powder (optional)

1

-

2

tablespoon raw cacao powder (add as much as you want basically)

¼ tsp

cinnamon (optional)
homemade chocolate sauce (recipe in the description of this video)
---
Instructions
Place the milk, oats, vanilla powder, and maple syrup into a pot, stir and bring to a boil. Lower the heat and cook for 5-7 minutes or until creamy. Add more milk or water if needed. I added about ¼ cup water.
Add the cherries and cook for 1-2 more minutes just to heat it back up if they were frozen.
Stir in the cacao, and cinnamon, and serve. Top with your favorite berries, a mix of nuts and seeds of choice, nut butter, and/or the chocolate sauce I linked if desired. Enjoy!
---