Valentine's Day is coming up and even though I'm not one to pay too much attention to it, maybe I'd feel different if there was someone willing to cover me in chocolate hearts but anyways, I notice, because Valentine's Day is an excuse to either make chocolates or and bake anything from cookies to a big cake. So much for the New Year's resolution to eat healthy, right?
This time I baked these cute little chai muffins. I bought a mini cupcake pan the other day and couldn't wait to use it. You can bake these in a regular cupcake pan, or even a muffin pan if you have one. These are so cute and tiny, though!
I've been baking with rice flour lately and everything has turned out pretty good so far. I'm always trying different combinations of gluten-free flours as I noticed that they work best when you combine a few together instead of using just one. These are made with rice and almond flour and they're absolutely delicious! They're also dairy-free and there's no refined sugar whatsoever. So in conclusion, these muffins are basically as healthy as baked goods can get! Seems like you can have these and still keep your resolution. YAY!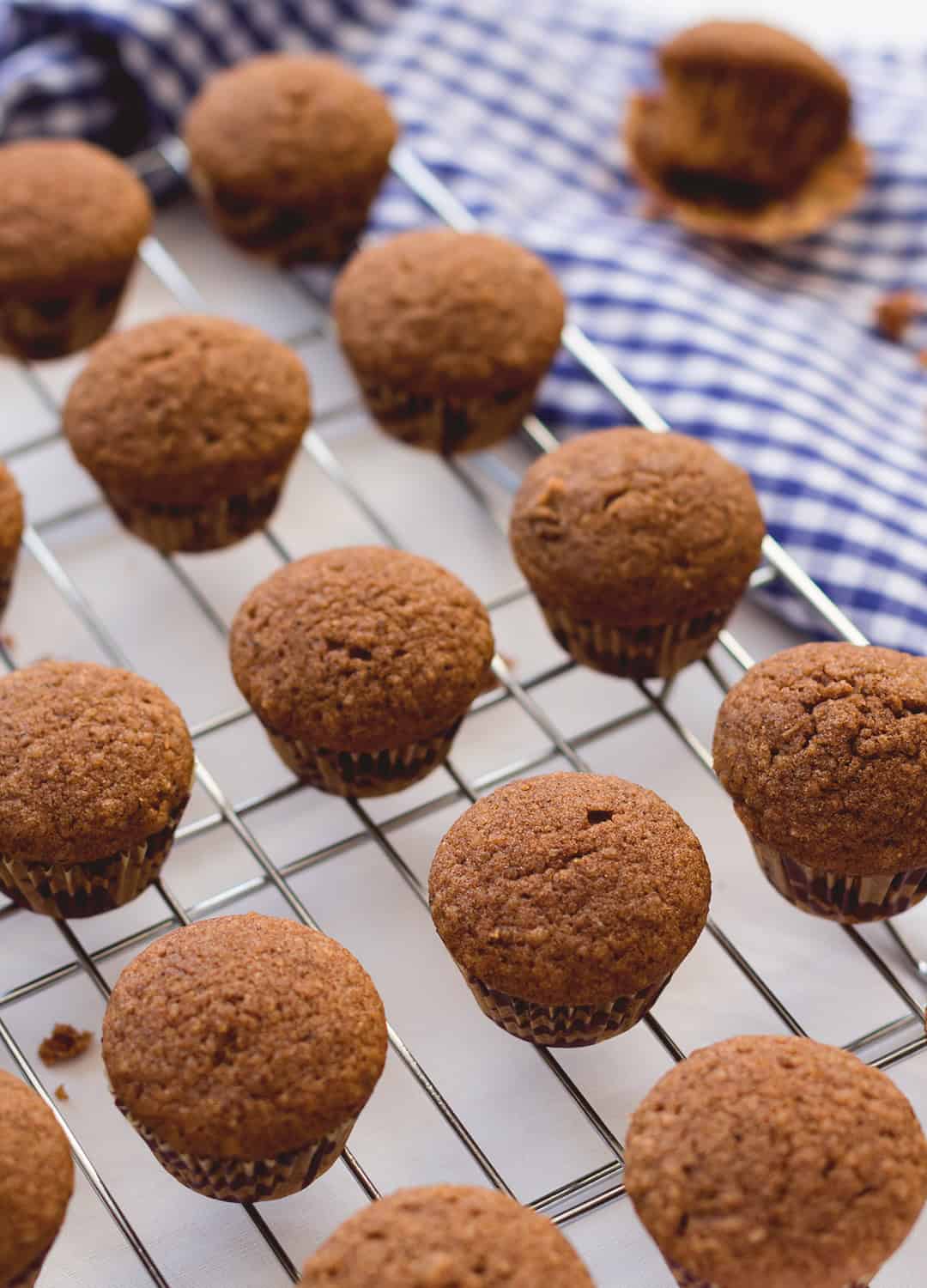 Okay these aren't filled with chocolate or sprinkled with pink hearts but they can still make someone happy on Valentine's Day. Especially someone like me who isn't into anything with sugar, milk, butter, or wheat flour. Whenever I talk about not eating those ingredients, I always remember that one episode of Friends with Brad Pitt where he plays Monica's friend who used to be fat. I don't know which episode it is exactly, but it's on Thanksgiving and he knocks on the door and when he enters he gives Monica a pie and goes "It's no fat, no sugar, no dairy, it's no good, throw it out." And then I'm sitting here, laughing, with my 30 muffins with no dairy, sugar, and well, some fat (the good kind) and loving life!
These are sooo good! You'll love them if you like Chai tea or my personal favorite, coconut milk chai latte! What would I give for one more coconut chai latte from Hu Kitchen! If you haven't read the post about my top 6 favorite places to eat in New York, you should definitely check it out! http://thehealthfulideas.com/where-to-eat-in-new-york/
Ever since December when I visited NY and drank my fair share of coconut chai lattes, I've been craving everything chai flavored. I've tried everything possible. Chai muffins, chai pancakes, chai cake, chai ice cream, chai cookies — you name it, I tried it all. And although it's quite possible I'll post more chai recipes, these muffins are my favorite of the lot and I've made them so many times I almost remember the recipe by heart!
They're everything you want from a good breakfast muffin.
They are:
fluffy
nutty
spicy, but not too much
sweet
crumbly
It's only occurring to me now that I could've dipped the tops of the muffins in chocolate! I mean, wouldn't that be amazing?! I drown basically everything I get my hands on in chocolate so it's a surprise I didn't think to do it with these! Note to self: next time you make these chai muffins, melt some chocolate and dip away!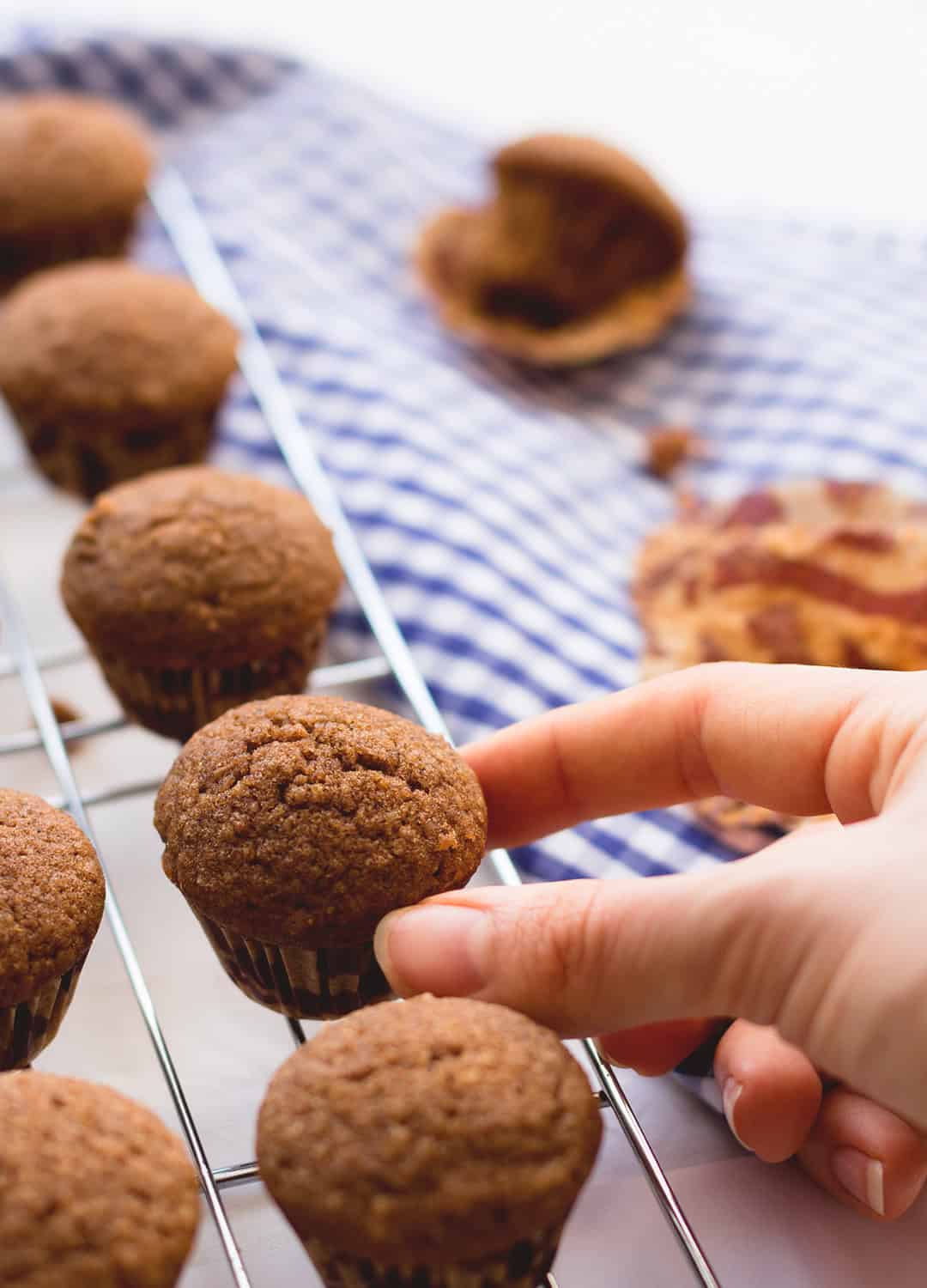 If you want to use chai spice mix instead of mixing the spices together yourself, you totally can! That is if such thing as chai spice mix exists because I've never actually heard of it haha! But making it all yourself from scratch is actually fairly easy and fun and it makes you feel good about yourself so why not make it as homemade as possible!
The cooking time for these mini muffins is 12-14 minutes and 15-20 minutes for regular ones. If you bake them in a muffin pan, not a cupcake one, they're probably gonna be higher and therefore they'll need even more time. If you're not sure, insert a toothpick in the middle of the muffin and if it comes out clean, they're done!
When you're making cupcakes, the recipe always says to fill only ¾ of each cup but with these, I filled them all to the very top of the paper cups so that when they raise, they're higher.
The almond flour I used was more like almond meal though the package said almond flour. It wasn't as fine as regular flour at all so don't worry if your almond flour is grainy. You don't have to sift it. I actually liked the occasional nut "lumps" in the finished muffins!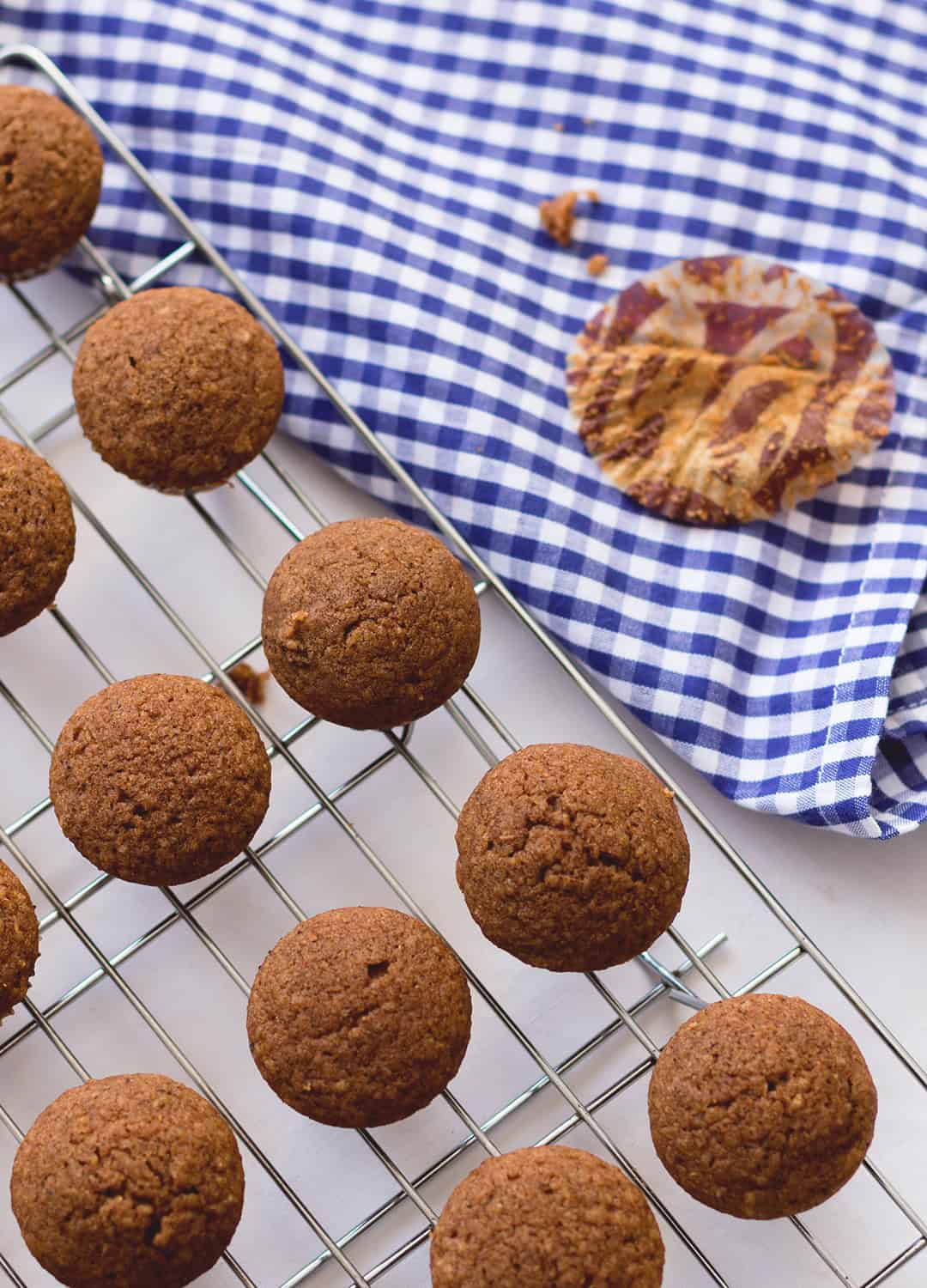 Print
📖 Recipe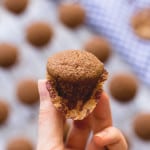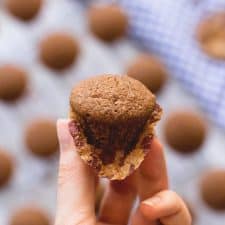 Simple Chai Muffins
Author:

The Healthful Ideas

Prep Time:

10 mins

Cook Time:

15 mins

Total Time:

25 mins

Yield:

35

mini cupcakes

1

x
---
1 ¼ cup

almond flour

¾ cup

rice flour

1 tbsp

maple sugar (or coconut sugar)

1 tsp

baking powder

½ tsp

baking soda

2 tsp

ground cinnamon

1 tsp

ground ginger

1 tsp

+

¼ tsp

ground cardamom

1 tsp

ground fennel

½ tsp

ground star anise

½ tsp

vanilla powder (or the seeds scraped from

½

vanilla pod)

¼ tsp

ground cloves

¼ tsp

fine sea salt

⅛ tsp

freshly ground pepper

2

eggs

½ cup

plant-based milk (oat, rice, almond)

½ cup

maple syrup

¼ cup

coconut oil, melted

1 tsp

apple cider vinegar
---
Instructions
Preheat your oven to 180C (or F). Prepare a muffin pan either lightly greased with coconut oil or lined with baking cups.*
Add all the dry ingredients into a big bowl and mix with a whisk.
Crack the eggs in to a mug and beat as if you were making scrambled eggs (to mix the yolk and egg whites together).
In a small bowl, mix the eggs, milk, maple syrup, and coconut oil together. (add the coconut oil last so that it doesn't harden if the rest of the liquids are cold).**
Pour the liquid mixture into the bowl with the dry ingredients. Mix well with a whisk so everything is well incorporated and there aren't any lumps.
Spoon about a tablespoon into each cup to fill it to the top. (If you want to make cupcakes instead, fill the cups only to ⅔).
Bake for 12-14 minutes if you're making mini muffins, or 15-20 minutes for regular-sized muffins. They should be lightly browned on the edges and a toothpick inserted in the middle should come out clean.
Let them cool still in the pan for 10 minutes, then cool completely on a cooling rack.
Store at room temperature for 5 days.
---
Notes
*I used a mini muffin tin, but the recipe works for regular-sized muffins too. They'll just need more time to bake. (see instructions for baking time)
**If you don't feel like mixing the liquid ingredients in a separate bowl, you don't have to. Just pour the eggs, maple syrup, milk, and coconut oil into the dry ingredients and mix.