These Salted PB&J chocolate cups are soooo easy to make. They only take about 30 minutes to make these and that includes the time they chill in the fridge! Are you a salted or unsalted peanut butter person? I'm definitely pro salted. I sweetened these with some maple syrup instead of using sweetened peanut butter (I've never actually tried sweetened peanut butter! I've always used natural peanut butter and I love it!). I buy raspberry jam that's only sweetened with apple juice which makes this recipe even healthier! Winning.
Now let's make some salted PB&J chocolate cups!

You only need 4 ingredients! Well, 5 if you count the sea salt flakes. These are so easy to make and it only takes like 15 minutes total for the chocolate to set! I like to chill these in the fridge as opposed to the freezer because I find the whole cup comes together better in the fridge. I put it in the fridge 3 times in this recipe and it only takes like 5 minutes each time you put it in there. So quick and easy!
I was going to use cacao butter, cacao mass, and powder to make the chocolate but then realized that it's too much work even for quarantine cooking, let's be real haha. If you want to make your own chocolate, more power to you! I might do that next time, but for now, I just used quality organic 85% chocolate bars.
Ingredients for these salted PB&J chocolate cups:
Natural unsweetened peanut butter
Unsweetened berry jam, I used raspberry here (or make my Strawberry Vanilla Chia Jam!)
Maple syrup
Dark chocolate (I used 85% chocolate)
Sea salt flakes
I like using Maldon sea salt flakes to decorate anything like cookies, these chocolate cups, or anything that has chocolate in it honestly haha. It's meant to be used as a finishing touch to decorate something, rather than in cooking. You can always use regular sea salt or Himalayan pink salt instead if you don't have sea salt flakes on hand.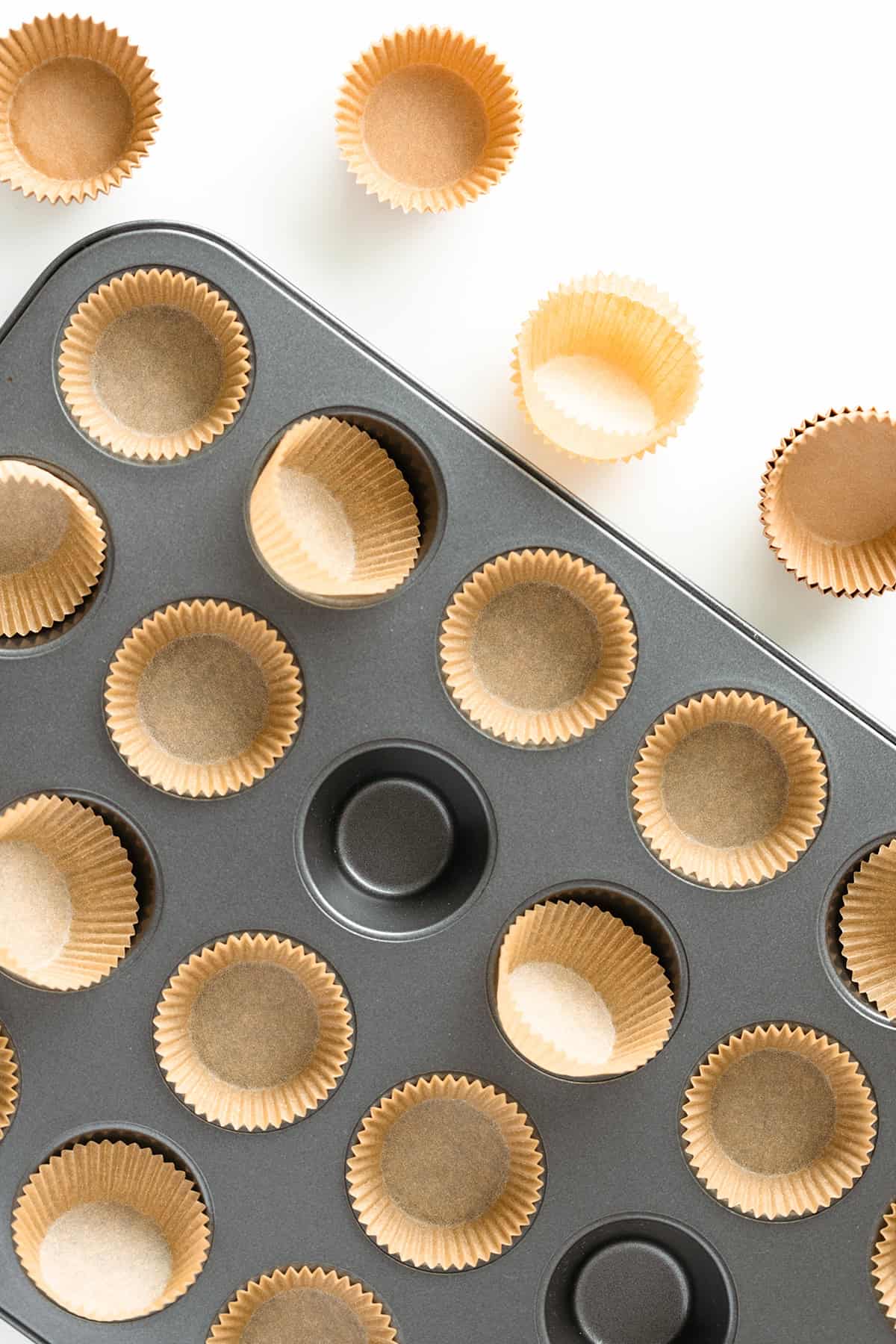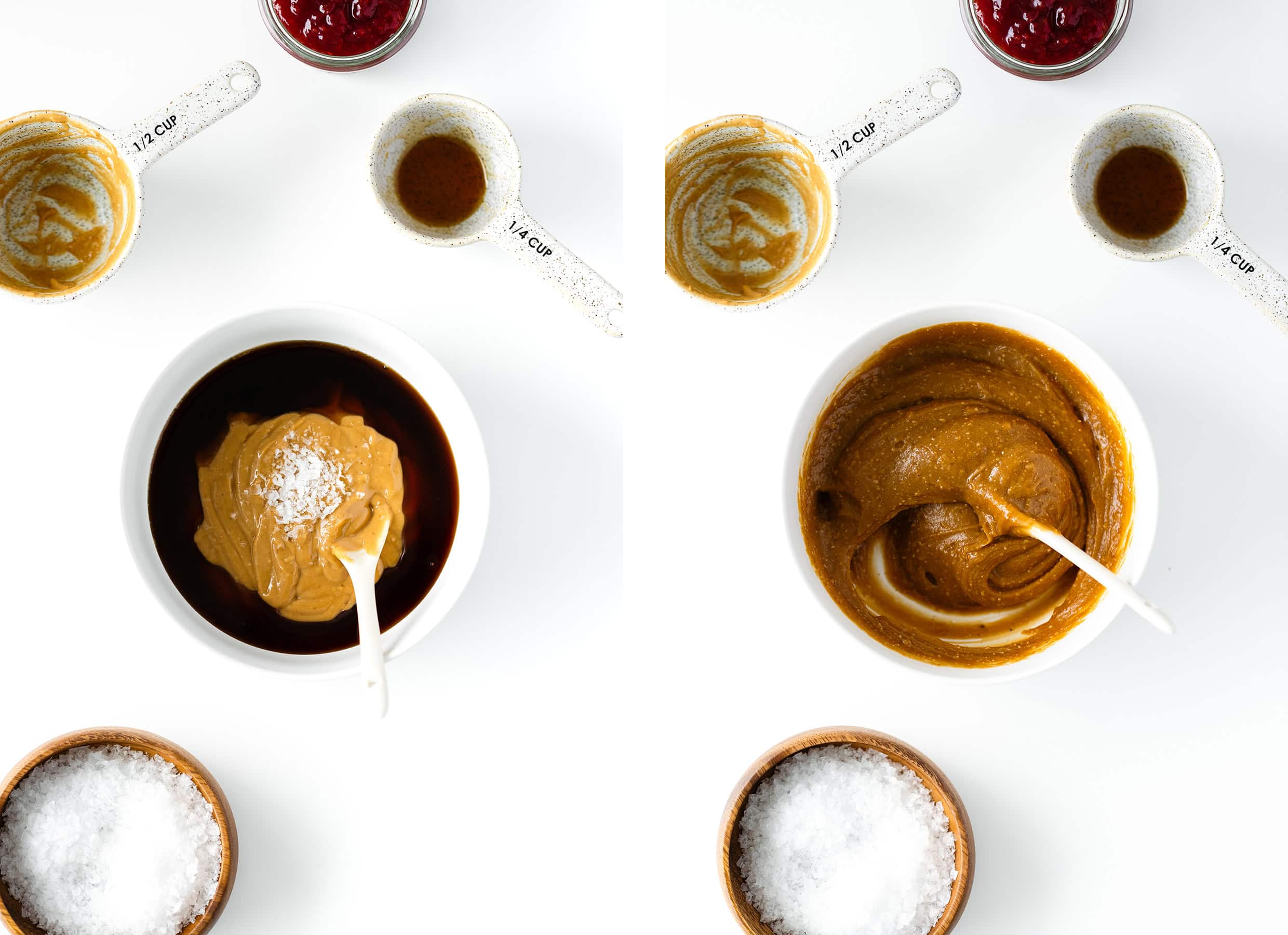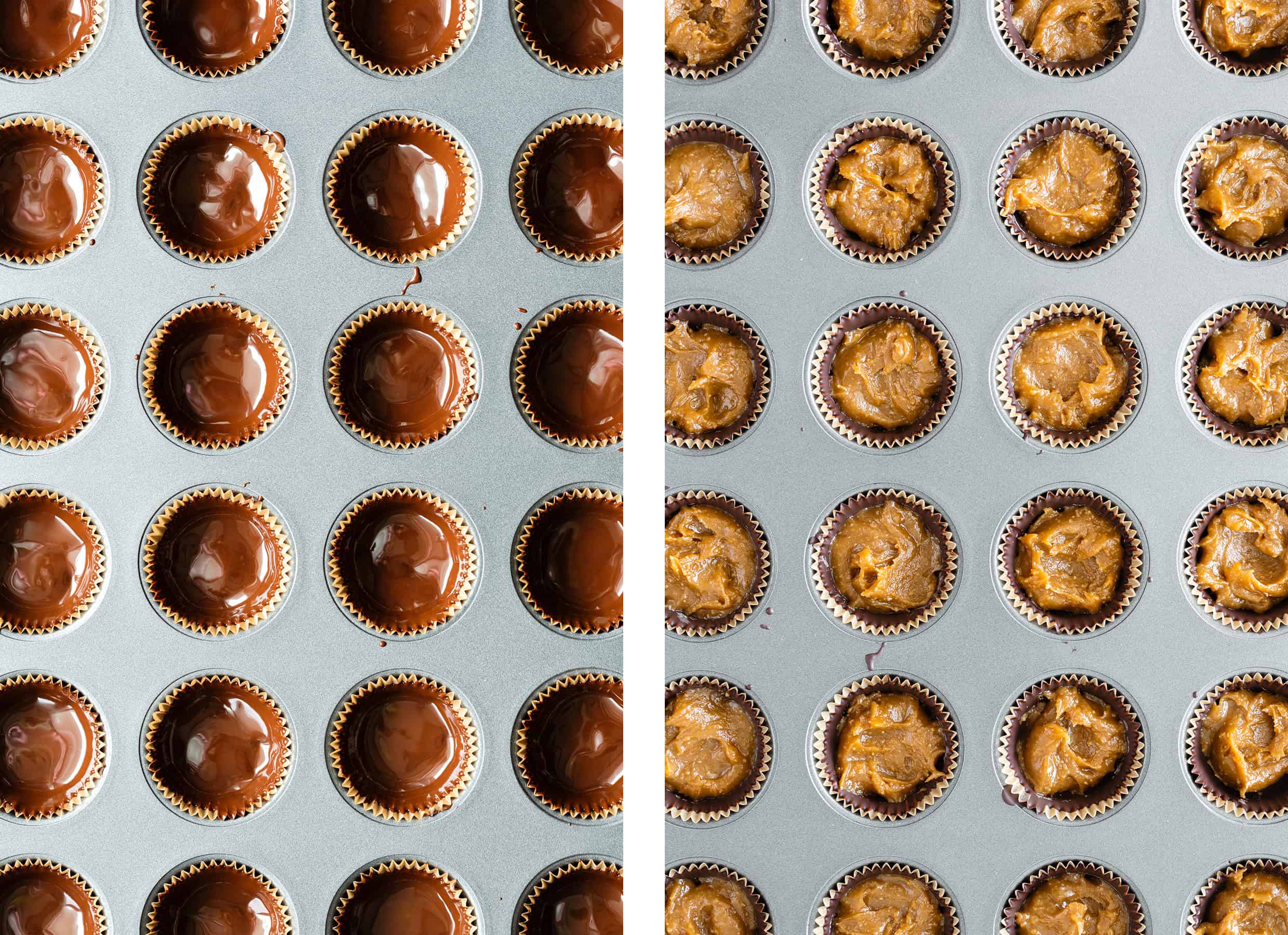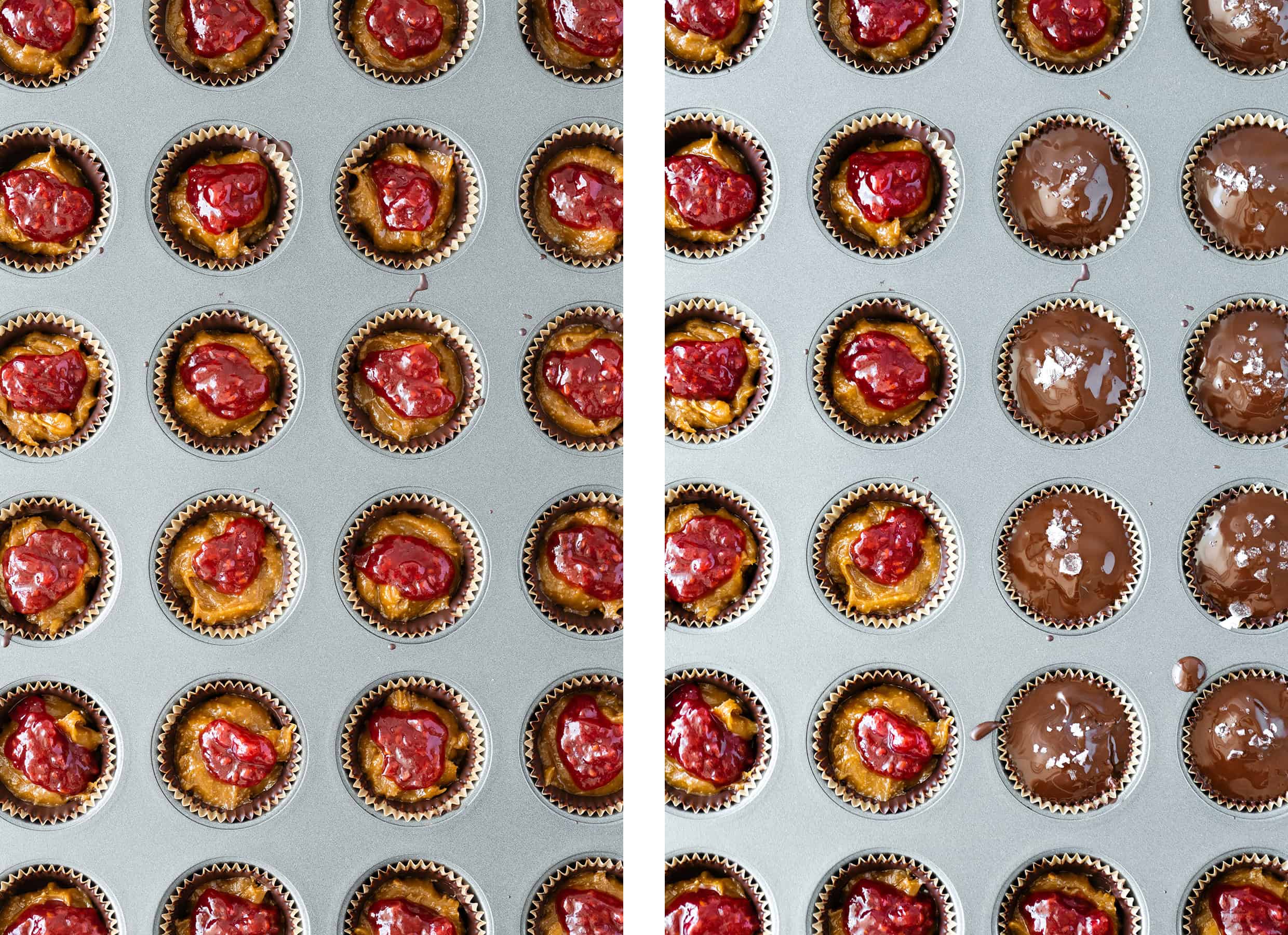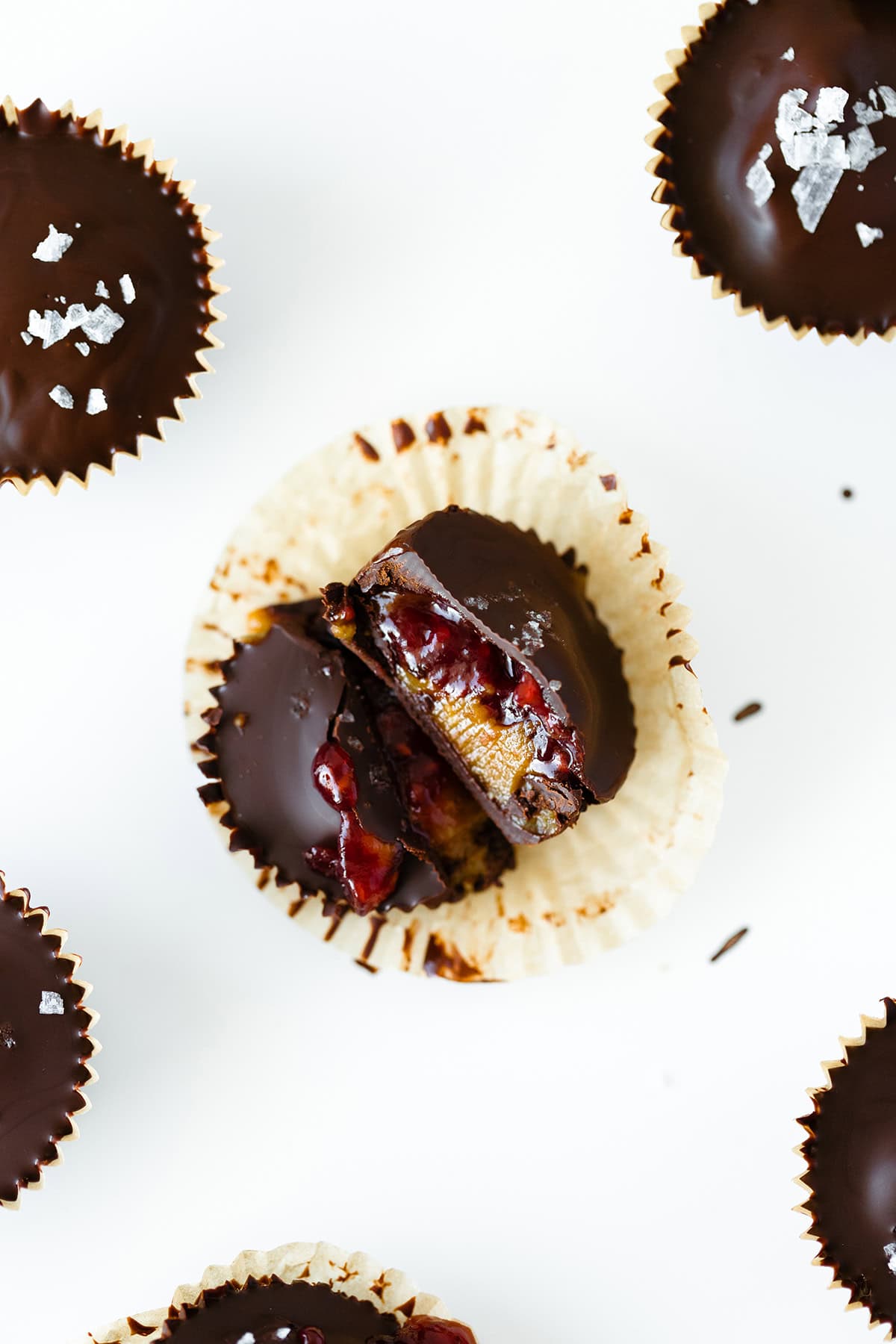 Print
📖 Recipe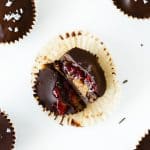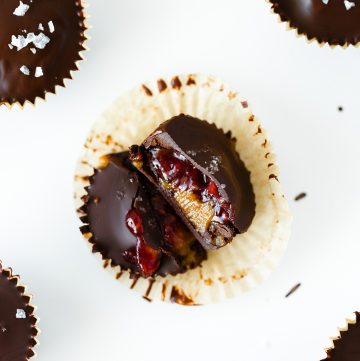 Salted PB&J Chocolate Cups
---
Description
A healthier vegan version of regular pb&j chocolate cups with a sprinkle of flaky sea salt.
---
360g

dark chocolate(I did 85% chocolate to keep the sugar content low), roughly chopped (

4

chocolate bars*)

½ cup

Natural unsweetened Peanut butter

¼ tsp

sea salt or Flaky sea salt, plus more for decoration at the end (Maldon sea salt)

¼ cup

maple syrup (or another liquid sweetener of choice)

⅓ cup

Raspberry jam (unsweetened) or try my homemade Strawberry Vanilla Chia Jam

24

Mini baking cups
Mini muffin baking sheet (optional - easier to handle the cups)
---
Instructions
Start by melting the chocolate in a Bain Marie - place a glass bowl over a pot filled with 1 inch of boiling water, making sure the bowl doesn't touch the water. Turn the heat down to low and add the chopped chocolate. Let the chocolate melt, stirring a few times to help it melt quicker. 
While that's melting, in a small bowl, mix the peanut butter, maple syrup, and sea salt, and set aside. 
Line a mini muffin pan with mini baking cups and spoon about 1 teaspoon to each cup, enough to cover the bottom. 
Use the spoon to pull the chocolate up the sides of the each cup. If there's not enough chocolate on the bottom add a little more. 
Place in the fridge to set for a few minutes. 
Spoon about 1 teaspoon of the peanut butter mixture into each cup and lightly smooth it out.
Add about ½ teaspoon of the jam into each cup and transfer the pan back into the fridge for a few mins again as this tends to melt the chocolate a bit. 
Use the remaining chocolate to cover the cups. If the chocolate in the bowl hardened a bit, place it over the pot with water again to melt.
Lightly shake and tap the pan against your counter to prevent air bubbles. Sprinkle with flaky sea salt and transfer the pan back into the fridge to set. 
Store in an airtight container in the fridge for up to 5 days.
---
Notes
*You need about 3 ½ bar of chocolate but it's better to have more than less. 3 bars of chocolate make about 20-21 chocolate cups.
Keywords: chocolate cups, peanut butter, PB&J