In my last post, I said how I was trying different recipes in order to decide what the best ideas for a Christmas menu are. Well, I've been doing just that. I've been brainstorming because I really don't want to have fried fish and potato salad with mayonnaise for dinner on Christmas eve. I've always loved that meal, but I've moved on, so to speak. And since I eat neither fried food nor dairy, I really need to craft a healthy, but a delicious menu which even those, who still vote for the fried fish, will enjoy.
First up—side dishes.
I have two up my sleeve. I'll share the second one in a different post, but for now, let's talk about these delicious roasted sweet potatoes and brussels sprouts. Yes, I'm really trying to wow my family with brussels sprouts on Christmas eve. But before you judge my favorite vegetable (again—yes, really), hear me out. With the right seasoning, even brussels sprouts can, in fact, be delicious.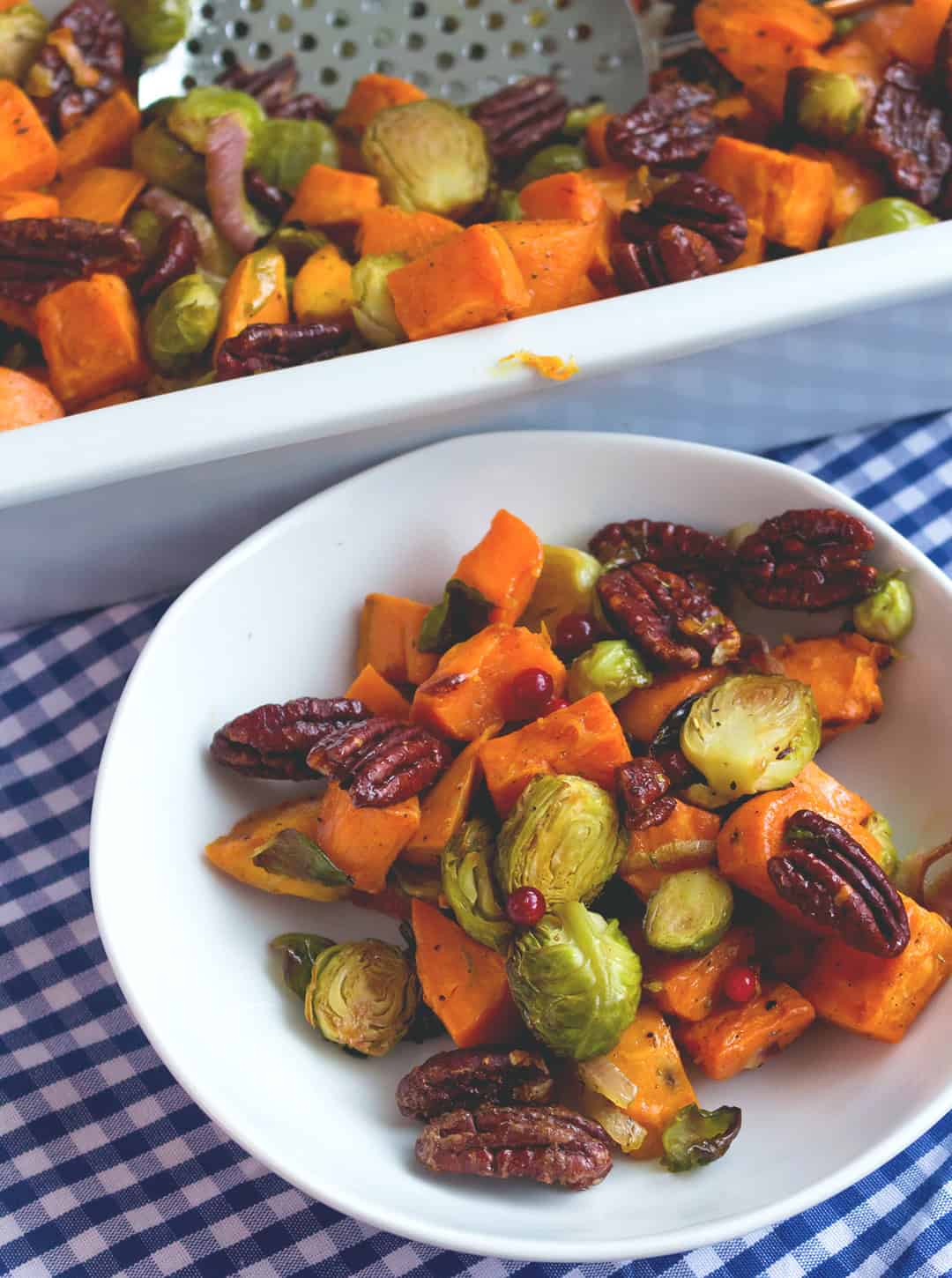 They say hate is a strong word. And it is, however, in this case, it's only fitting. I used to hate Brussels sprouts. Like really hate them, with great passion. I remember this one time my mom made some for dinner, for herself, and I tried one. You know, to see if I still hated them. And yep, I sure did.
But something changed and now I love them. I honestly don't know what made me change my opinion on Brussels sprouts. It might have been the rather drastic change in my diet—I enjoy pretty much all vegetables now. I "blame" it on the lack of processed food in my diet (hello, table salt), which made my taste buds more sensitive to fresh produce. If I didn't love chocolate so much, I'd probably snack on plain lettuce. Well, actually I do sometimes.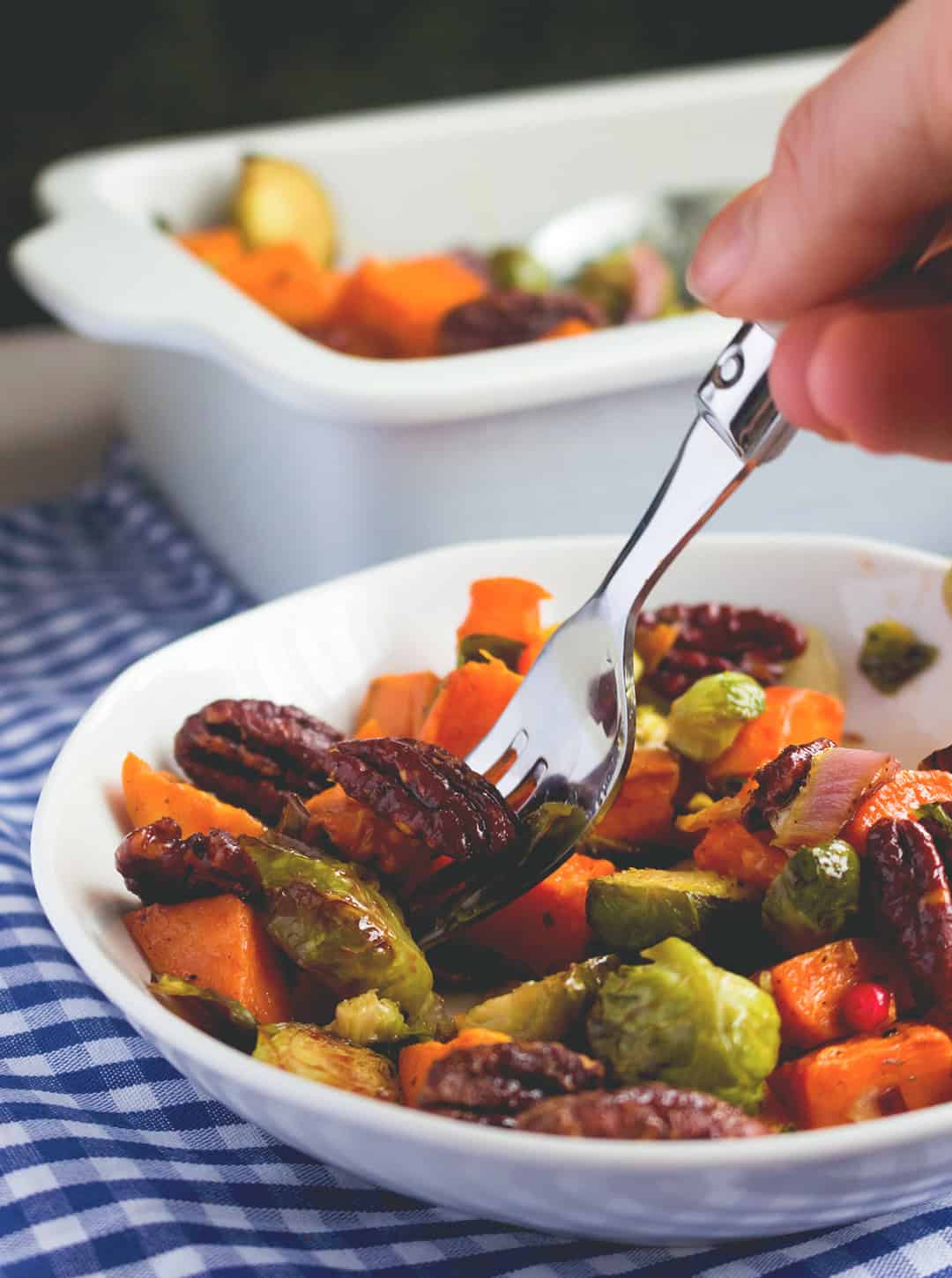 Before I'd have a bunch of bananas on my kitchen table and I'd probably eat one or two before they'd turn too black and then I'd throw them out. Another fun fact—I used to hate spotty dark bananas, I always ate only those hard, starchy, light yellow ones. I call it the "pre-banana bread/banana ice cream" stage.
Anyways, my mom would always buy fruits or veggies that'd sooner or later end up in the trash because I took so long to actually eat them. The only way I'd eat an apple was if someone cut it up into wedges for me and put it in front of me so I had no choice but to eat it. Don't get me wrong, I did like apples, but I just couldn't be bothered, I was too lazy to care. Opening a bag of chips is just so much easier, right?
Well, it turns out, washing the humble apple takes just about the same amount of time as opening a bag of chips does. It's all about the choice you make.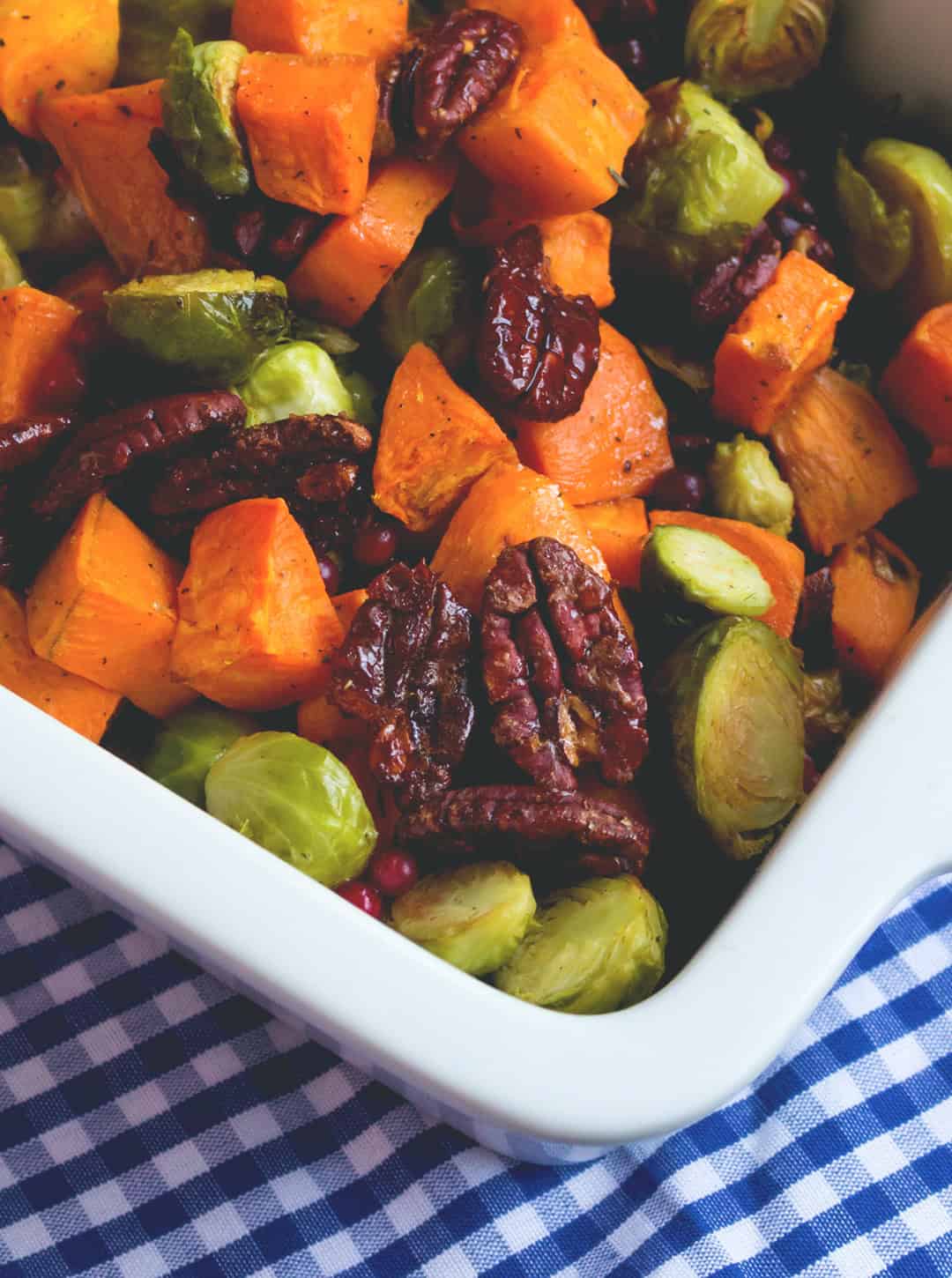 So, what exactly is the moral of the story, you ask? Well, that's a hard question, I admit I got a little carried away thinking about banana ice cream. Ditch the processed foods in hope you'll end up liking brussels sprouts after a few months? No. My point is, make the right choice. Choose the healthier option. I created my blog to share healthy AND delicious recipes with you that you can enjoy with others. Healthy food is no longer about steamed vegetables and rice crackers. (Yep, those brussels sprouts mom made all those years ago were steamed too, and from the freezer.)
With everything available to us nowadays, there's so much we can experiment with, food wise. All the different seasonings, vegetables, tropical fruits. The combinations and hundreds of different flavors we can create with those—that's not boring to me. Nope. It's exciting, fun, and really tasty (unless, you mix the wrong flavors together that is. But everyone has to learn somehow, right?).
People ask what's the easiest way to eat healthily? What's the quickest meal? Well, it depends on how you look at it. For me, it's all fairly easy and quick. The truth is that opening a bag of chips, a packet of cookies or heating up a frozen dish in the microwave is always going to be faster. But don't you want to make the effort? Cooking my own meal brings me joy. I mean, I no longer want to just heat up stuff someone else cooked for me in a big factory. It seems kind of scary, actually. I want to know where my food comes from and how it was prepared. Cooking this doesn't really take much time, none of my recipes do. It's not like I'm not cooking beef broth for hours and hours. I'm literally just putting vegetables in a baking dish and roasting them for an hour. And it's worth it, it's worth the effort.
AND you could double the recipe if you want leftovers! I love batch cooking! There's nothing better than coming home after a long day and having a delicious meal ready for you—one that you actually cooked yourself.
To sum it all up I'll just say this.
COOK THIS NOW, THANK ME LATER. Okay? Okay.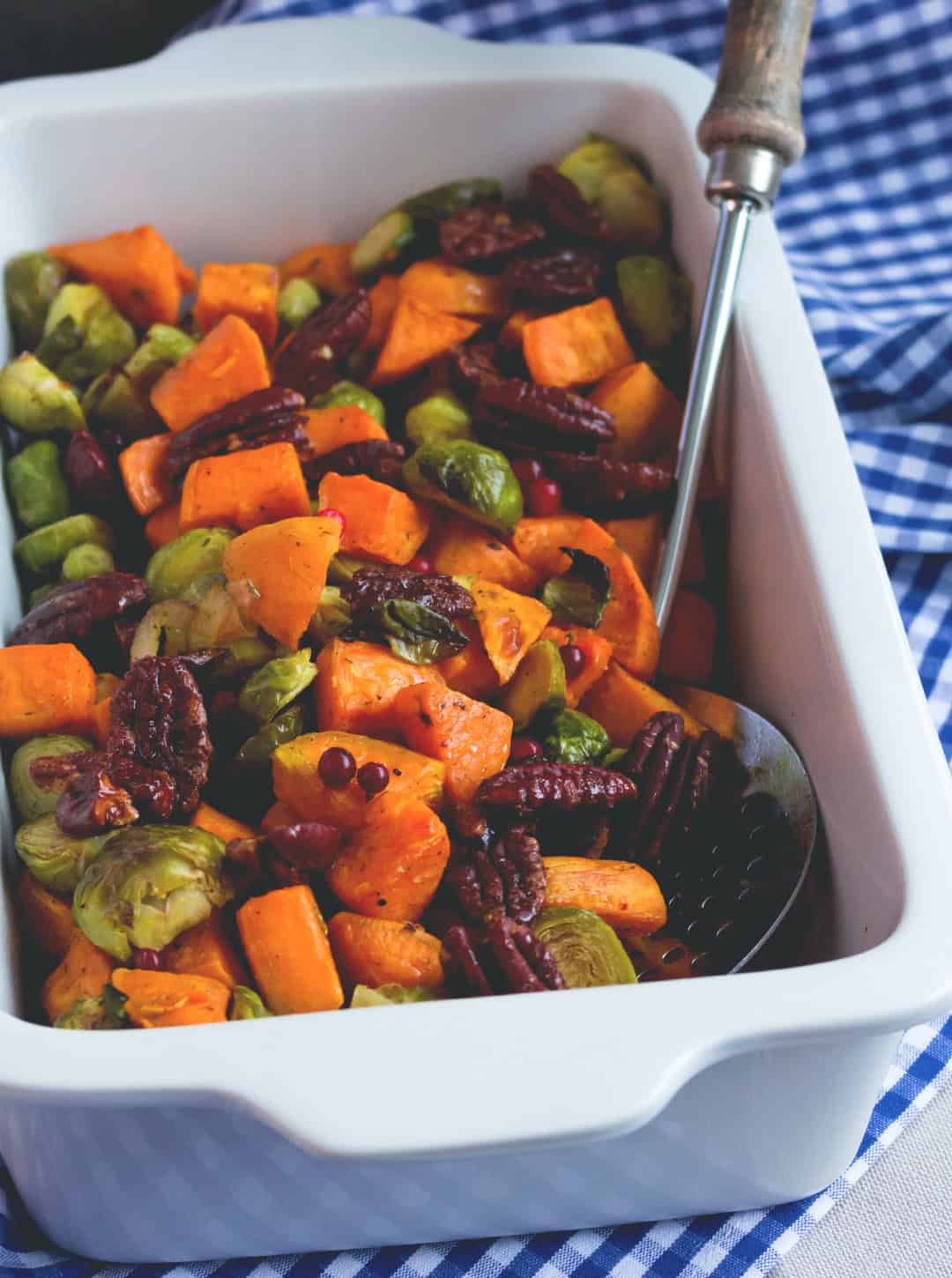 I mean, seriously. If you're still not on board because you don't feel good about the brussels sprouts cook it because of the delicious sweet potatoes. Or the caramelized pecans. Yep, there are caramelized pecans and maple drizzle. What are you even waiting for anymore?? Pecans? Maple Drizzle??? Delicious tender sweet potatoes???
There's apple cider vinegar involved which helps if you find brussels sprouts too bitter. It makes a great sweet & sour dressing in combination with the maple syrup and a little bit of olive oil.
Another easy, quick recipe. No fancy ingredients involved. Sweet potatoes, brussels sprouts, garlic, onion, apple cider vinegar, maple syrup, pecans. That's it, combine all those delicious ingredients and you've got yourself a glorious side dish!
It's time to dig in, enjoy!

Print
📖 Recipe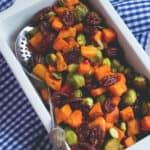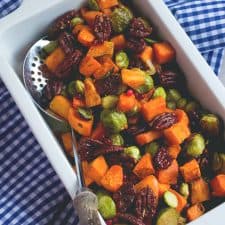 Roasted Sweet Potatoes and Brussels Sprouts with Pecans and Maple Drizzle
Author:

The Healthful Ideas

Prep Time:

15 mins

Cook Time:

1 hour

Total Time:

1 hour 15 mins

Yield:

3

-4

1

x

Category:

Sides
---
CARAMELIZED PECANS:
½ cup

pecans

2 tbsp

maple syrup

¼ tsp

cinnamon
a pinch of sea salt
ROASTED SWEET POTATOES AND BRUSSELS SPROUTS:
5 cups

sweet potatoes (about

3

sweet potatoes)

1 tsp

coconut oil

½

red onion

3 cups

brussels sprouts
dried herbs of choice (optional) - for example, oregano, rosemary, parsley,basil, thyme
sea salt, pepper

1 tbsp

fresh cranberries for decoration (optional)
MAPLE DRIZZLE:
2 tbsp

maple syrup

1 tbsp

olive oil

2 tsp

raw apple cider vinegar
---
Instructions
Preheat your oven to 175C (347F).
CARAMELIZED PECANS:
Put the pecans into a small bowl and mix with the maple syrup.
Put them onto a baking sheet lined with parchment paper and put them in the oven for about 10 minutes until crispy and caramelized.
Make sure they don't burn so they aren't bitter.
Take them out of the oven and let them cool.
ROASTED SWEET POTATOES AND BRUSSELS SPROUTS:
Keep the oven preheated.
Peel the sweet potatoes if not organic and dice them into bite-sized pieces.
Peel and roughly chop the onion. Coat the sweet potatoes with 1 teaspoon of coconut oil and put them on a baking sheet lined with parchment paper along with the chopped onion and place in the oven.
Roast them for about 30 minutes and stir occasionally with a wooden spoon.
While they're roasting, prepare the brussels sprouts. Wash them, cut off the stems and peel any bad looking leaves. Cut them into halves, season with sea salt and pepper and add some dried herbs if you want to.
After the 30 minutes, add the brussels sprouts to the sweet potatoes and mix to combine.
Roast for another 25 minutes. Then turn on the overhead oven grill (broiler) and grill for 5-10 minutes. Keep an eye on it as it can burn easily. (if you don't have a broiler, simply roast the vegetables for another 10 minutes or until tender)
MAPLE DRIZZLE:
Add the Maple Drizzle ingredients into a small bowl and mix well with a spoon.
Put the vegetables and caramelized pecans into a serving dish and pour the dressing over it. Mix well so that everything is well coated.
Decorate with cranberries and enjoy!
---