Well hello there! Long time no see. I'm sorry for being MIA for so long. I've been posting on here but I've been totally inactive on social media (apart from when I'm promoting new posts) and I miss it so much. Until last week I was managing to post one post a week on here even though I had no home internet which made things extremely difficult, especially when everything you do is online. I had my phone data and any wifi connection I could find but it's just not the same. I admire how some people can just sit at Starbucks for and work because I just can't concentrate with so many people around me.
Not having the internet at my fingertips at home has some upsides (well just one) - I'm able to be more productive when I'm writing a blog post because no internet = no distractions, just a blank canvas. It's been so frustrating not being able to go online, though. For over two months now! Wow, has it really been that long? You don't realize how used to and addicted you are to the internet unless you're without it for so long. You'd think I'd be more productive without it as a distraction but I'm not because all I can think about is how to finally get it.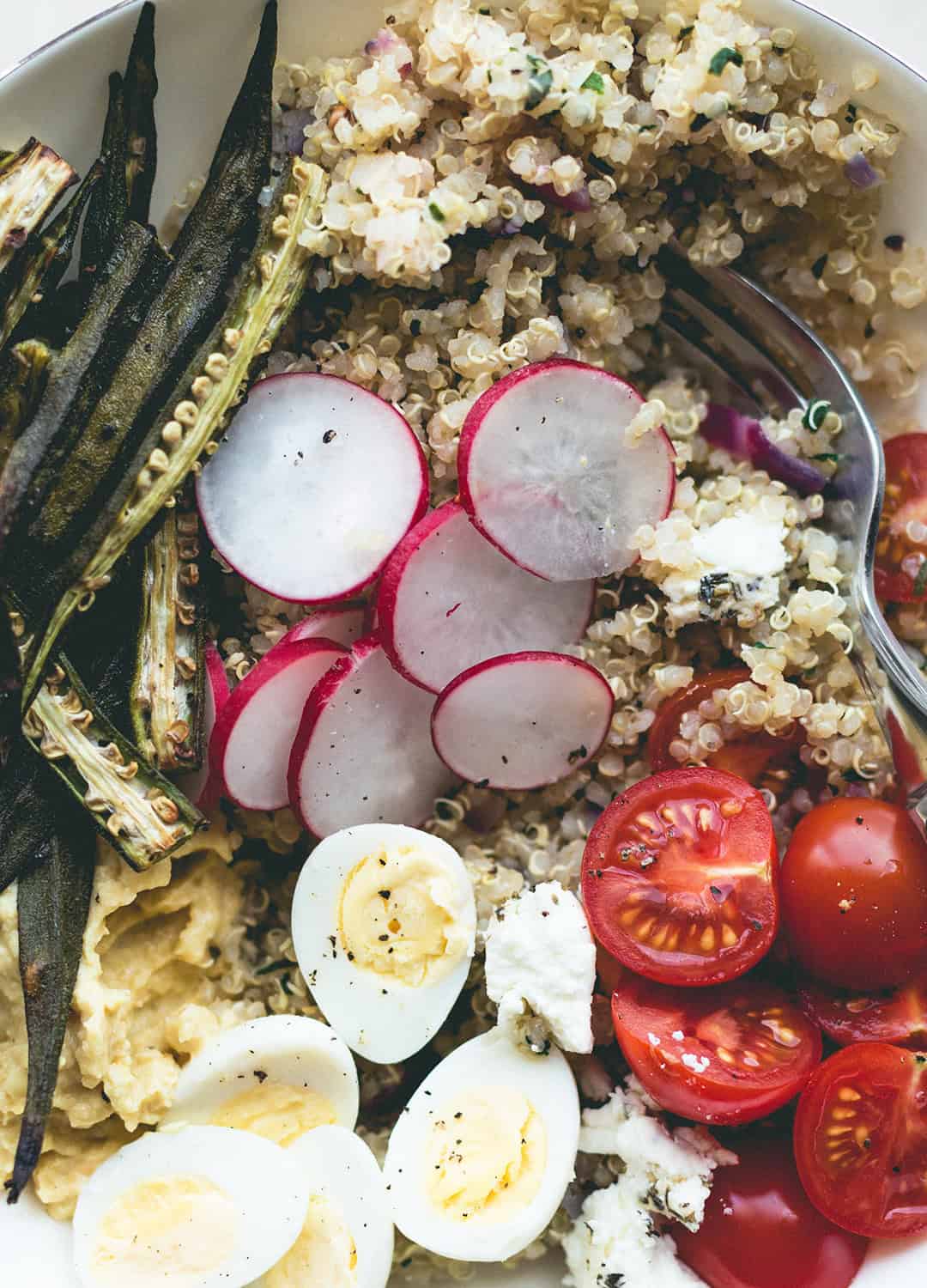 Why don't I have home internet again? Well, here's a quick backstory for you. It's been difficult because I'm not a resident and I don't have a credit card which they need in order to check my credit score. My bank refused to give me one because my visa isn't valid for more than one year so I tried going with a company that only acts as an intermediate because those don't need the credit check. Nope, didn't work out. I tried two and they both canceled my plan saying it's not available in my building. I mean, come on. I'm sure there is some kind of Internet connection available here otherwise how do you explain the 20 WI-FIs around me? Fast forward to two days ago, I applied for a random credit card and was accepted! Yay! But now I gotta wait for them to send me something which I'll bring to a branch and then wait again for my card to arrive and THEN I'll finally apply for *drumroll* home internet. So hopefully by the beginning of September, I'll FINALLY have an internet connection.
I'm sorry I didn't post last week but I wasn't myself, felt absolutely miserable (and was definitely trying to eat my feelings away - *spoiler alert* it doesn't work) and just didn't have anything positive to say so I figured it'd be better if I didn't say anything at all. The world ain't gonna end if I miss one post, right?
Anyways, I'm past that and I actually have exciting news!
I'm going to the Buffer festival in Toronto for a Travel & Adventure screening on September 28th and for the Awards on October 1st. It's all about YouTube creators and I couldn't be more excited! Actually, to be honest, I didn't even know the event existed a few hours ago lol. But then I watched one of Peter McKinnon's videos on YT (check him out, he's awesome) and decided to go. I'm only going to the screening he'll be at and the award show because I don't know most of the other people attending but I'm sure it'll be so much fun! I'll tell you all about it after.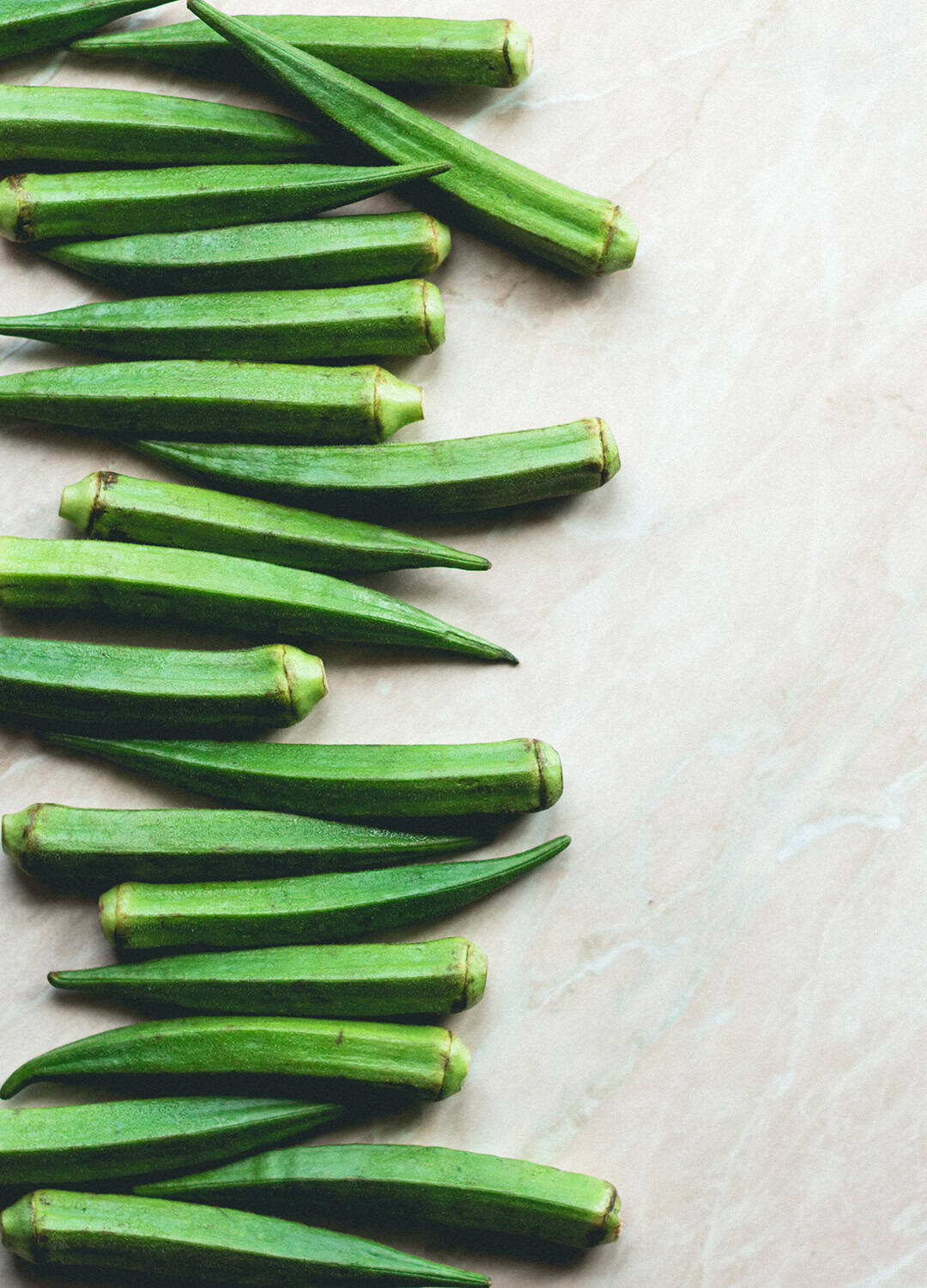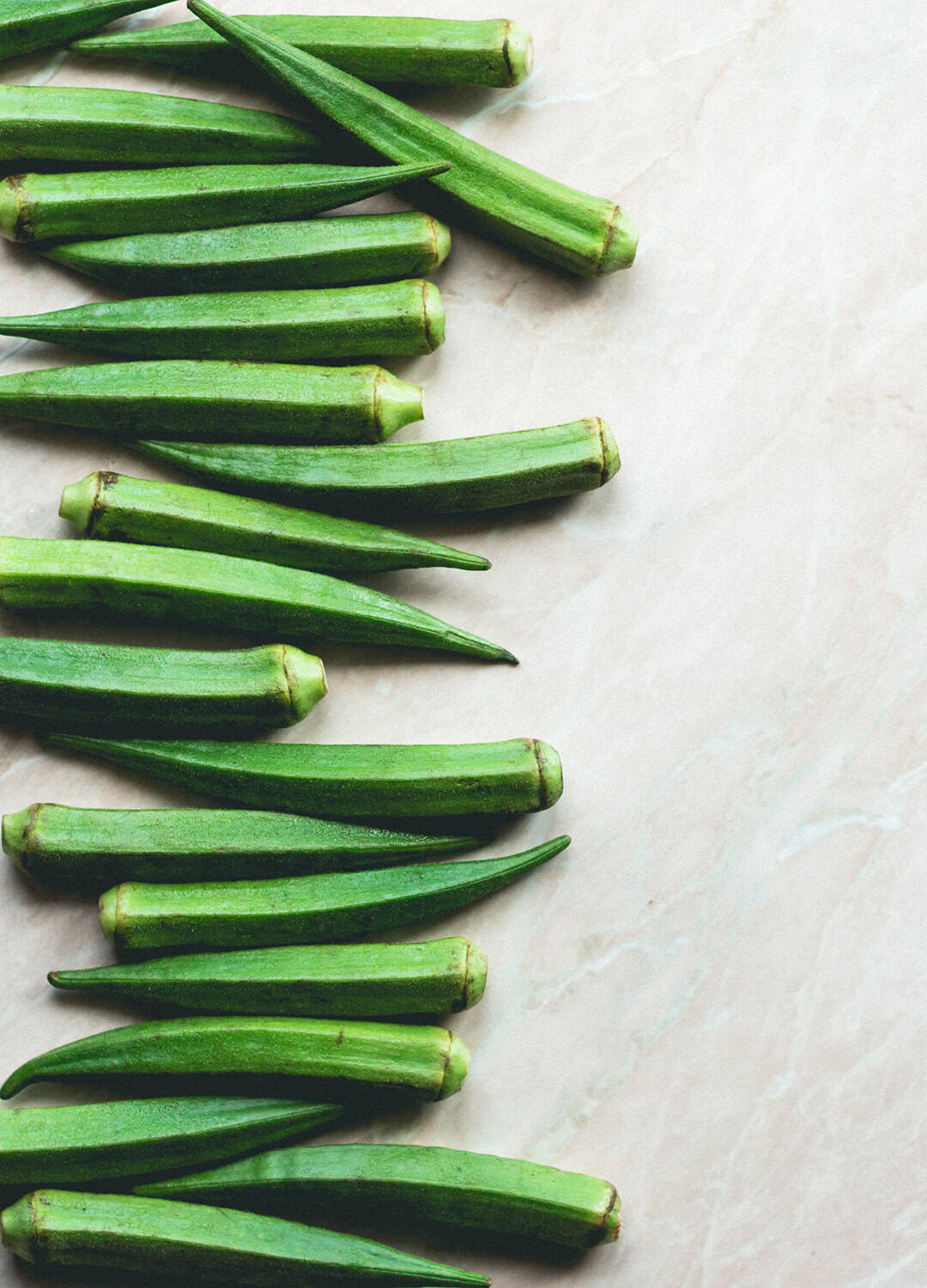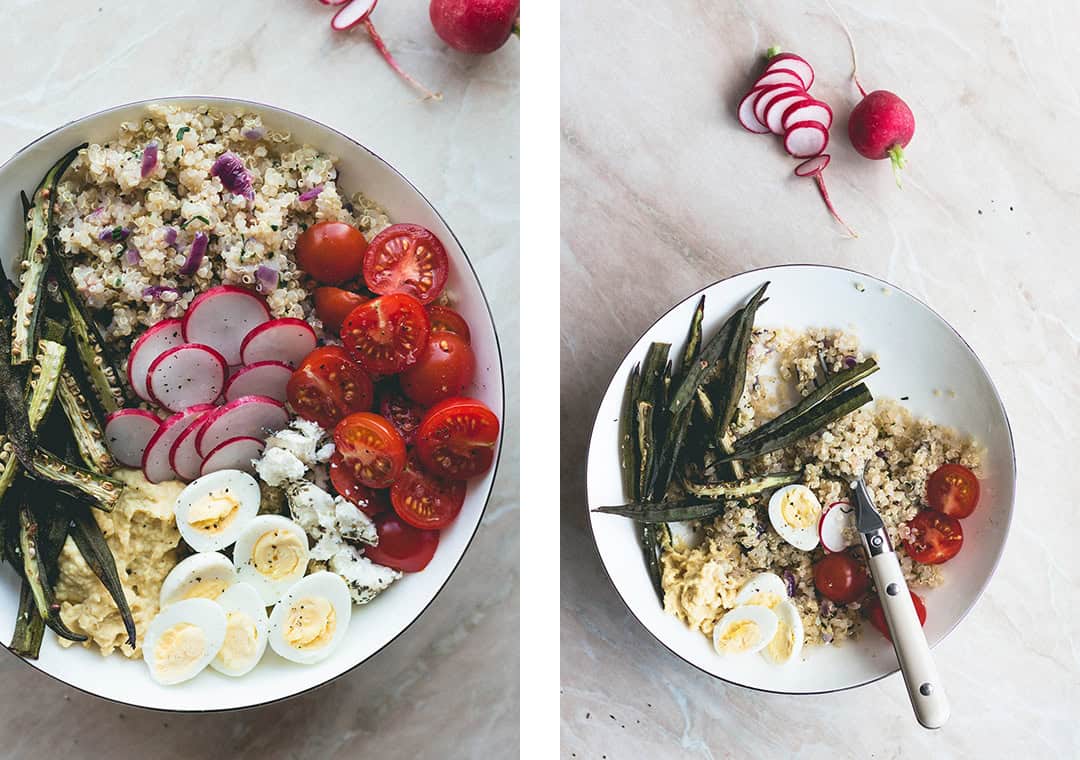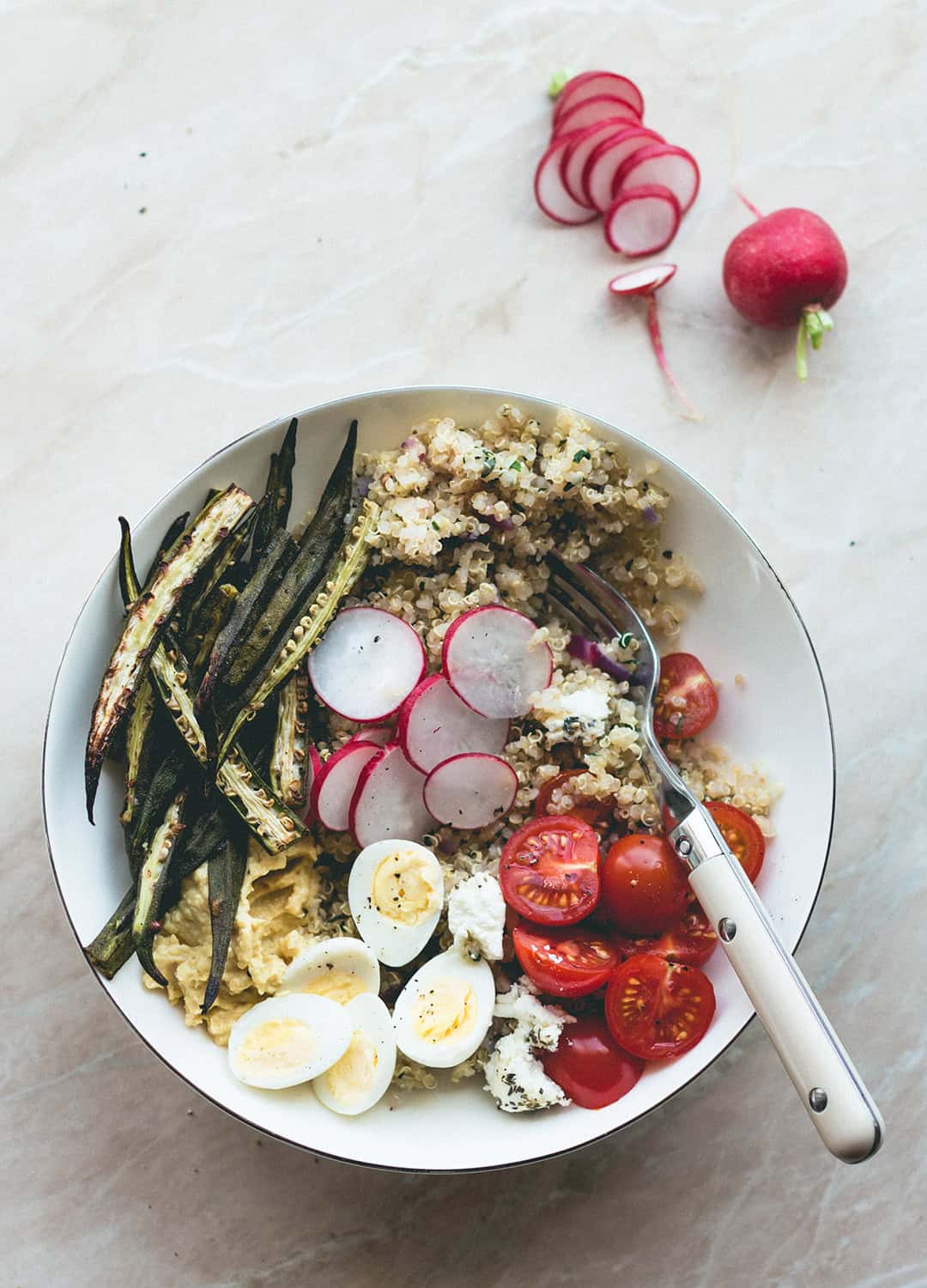 tex
It just occurred to me that I haven't talked about the recipe I'm sharing with you today yet lol. Roasted Okra, Quail Eggs, and Herbed Quinoa Bowl - what a mouthful. I love okra. I used to be weirded out by it because it gets super slimy when you cut it open but as long as you slice i and throw it on the baking sheet immediately and roast it at high temperature for a short amount of time, it'll be super delicious and not slimy at all. It's best eaten immediately, otherwise, it loses the crunch and becomes chewy. It's so good with all these other toppings though. I've been really into quail eggs lately for some reason, they're so good. Though to be honest, I shot this back home in Prague and I haven't had any quail eggs since I got here. I need to get some at the farmer's market on Saturday.
It'd also be really delicious on a simple salad made with any type of vegetables or by itself as a movie snack! Give it a try, I promise you'll enjoy it. ;)
Until next week, xo.
Print
📖 Recipe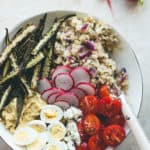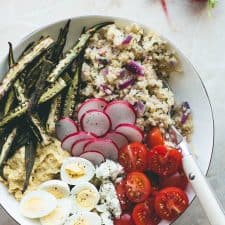 Roasted Okra Quail Eggs and Herbed Quinoa
Author:

The Healthful Ideas

Prep Time:

10 mins

Cook Time:

30 mins

Total Time:

40 mins

Yield:

2

-3

1

x

Category:

Main
---
1 cup

dry quinoa

1 tsp

coconut oil

1

red onion, finely chopped (sautee on medium heat for

5

-

6

mins with 1 teaspoon coconut oil, then add garlic for 1 min)

3

cloves garlic, minced

1 tsp

dried marjoram

2 tbsp

fresh chopped chives
sea salt and pepper

20

-

30

okras (About

10

per person)
Salt pepper, coconut oil 1 teaspoon drizzle
Handful radishes, thinly sliced
Handful cherry tomatoes, chopped
Hummus (a dollop each)
Avocado (¼ avocado per person) or goat cheese or other toppings
---
Instructions
Preheat your oven to 210°C (410°F).
Cook the quinoa according to package instructions.
In a small pan heat up the coconut oil over medium-high heat.
Cook the onion for 5-6 minutes stirring often. Then add the minced garlic and cook for 1 more minute until fragrant.
Add the onion, garlic, marjoram, chives, salt and pepper into the cooked quinoa and mix. Set aside.
To make the roasted okra, cut off the stems (the top of the okra), slice them lengthwise and spread them onto a baking sheet lined with parchment paper.
Roast for about 20 minutes, turning on the broiler for the last 5 mins.*
To serve, add about ½ cup or more of the quinoa on each plate, top with the okra, radishes, tomatoes, hummus, avocado, or other veggies of choice.
---
Notes
Or you cook only grill the okra with the broiler in the oven for about 10 minutes (less or more depending on how hot your broiler is, keep an eye on it! If you broil it instead of roast, the okra is crispier and better) If you don't have a broiler, roasting is ok too,.