It's Thanksgiving Day tomorrow!! Okay, to tell you the truth, I actually don't care about that because we don't celebrate it here and I've never experienced it anywhere else. BUT if you do celebrate Thanksgiving and are looking for a very last minute recipe, you'll love these Quinoa Stuffed Bell Peppers! There's a good chance you already have all the ingredients in your kitchen!
More Thanksgiving ideas:
well, first off, I don't really know what you're supposed to eat on Thanksgiving Day but here are some recipes I love ↓↓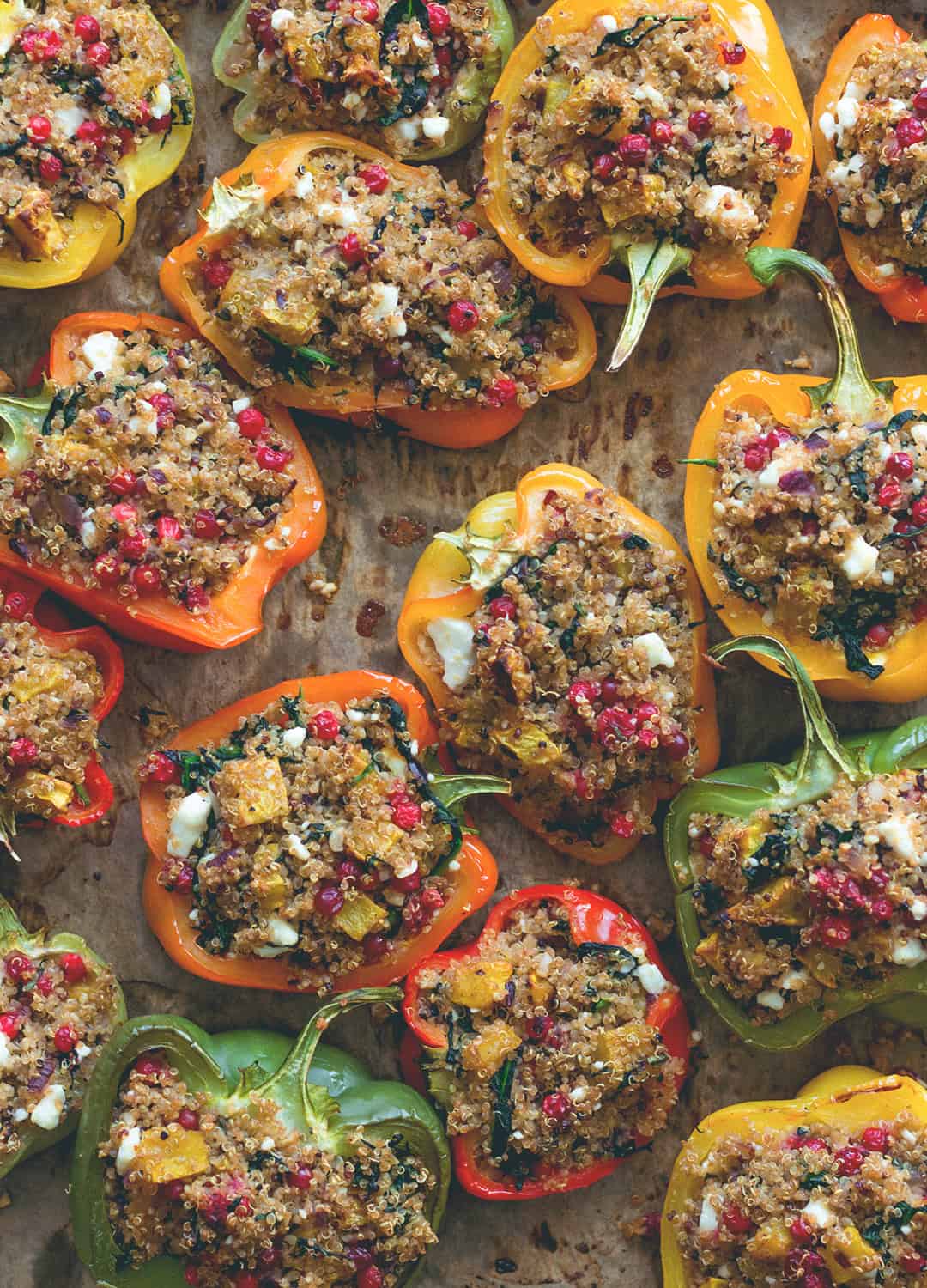 I only now realize that the cranberries in the filling totally look like red currants! I actually used wild cranberries which are much smaller than regular cranberries and probably more nutritious as all wild food is (I have no idea if you have these in America). They're delicious and I absolutely love them. I really like adding wild fruits into my diet. My all time favorite are of course wild blueberries along with wild strawberries. The downside of liking wild fruit so much is that you literally have to either go pick them yourself into the woods or buy them from a small vendor but they're not sold in regular grocery stores because they only grow in the wild. Wild strawberries are especially hard to find so eating them is a big occasion (at least for me — you're probably thinking I'm just a crazy person freaking out about wild foods). You can totally use regular cranberries in this recipe but if you're able to find wild cranberries, more power to you!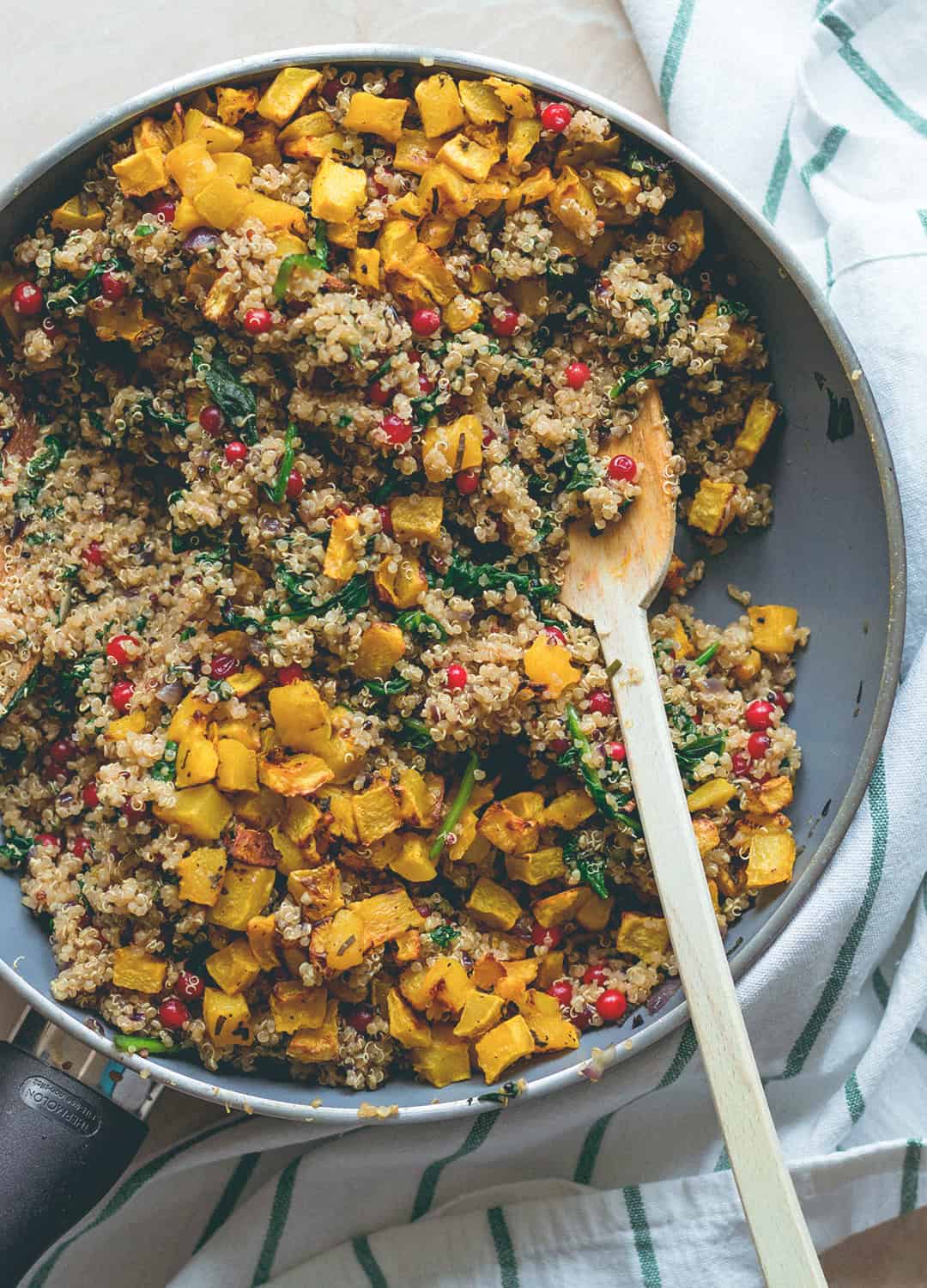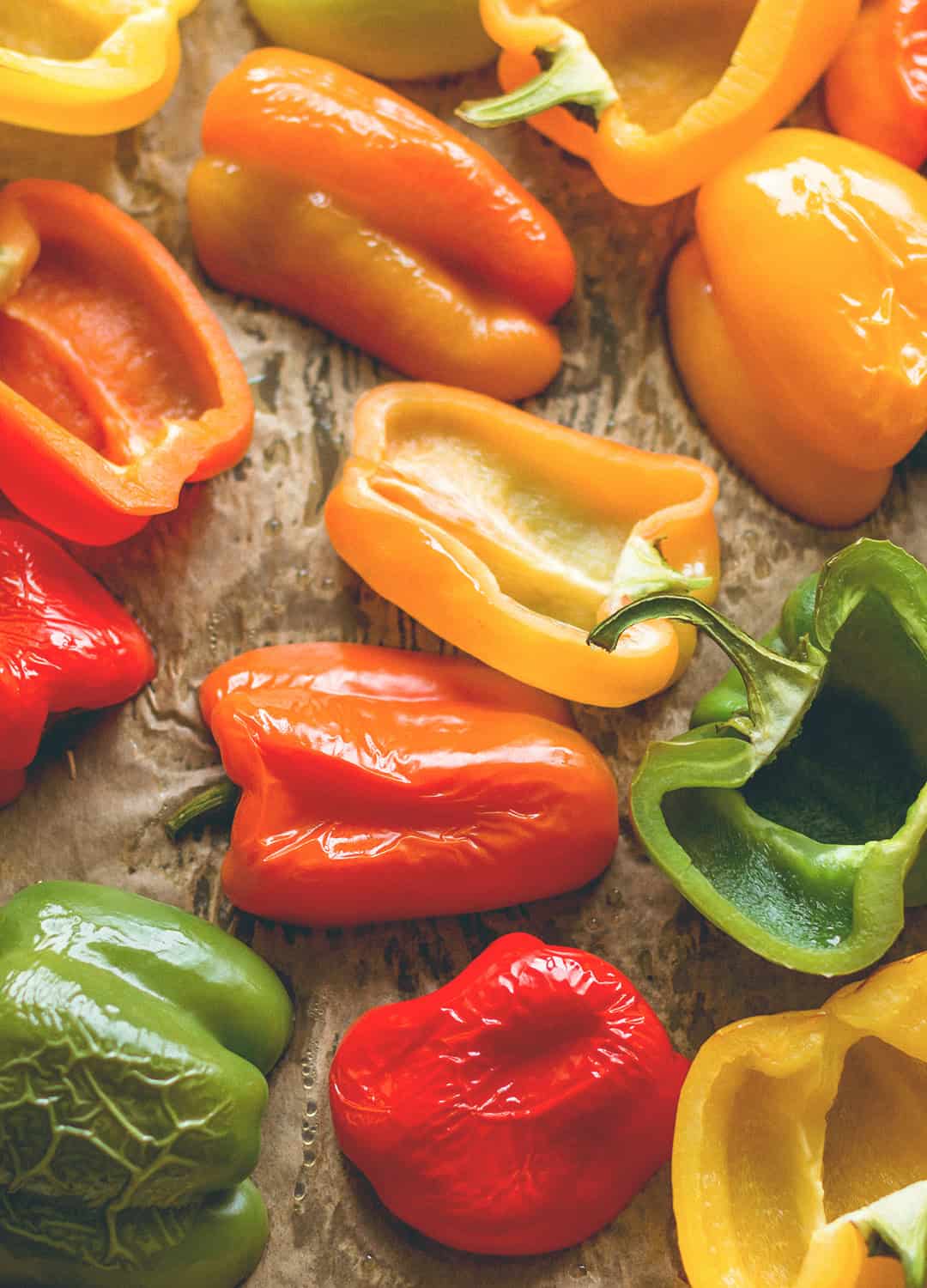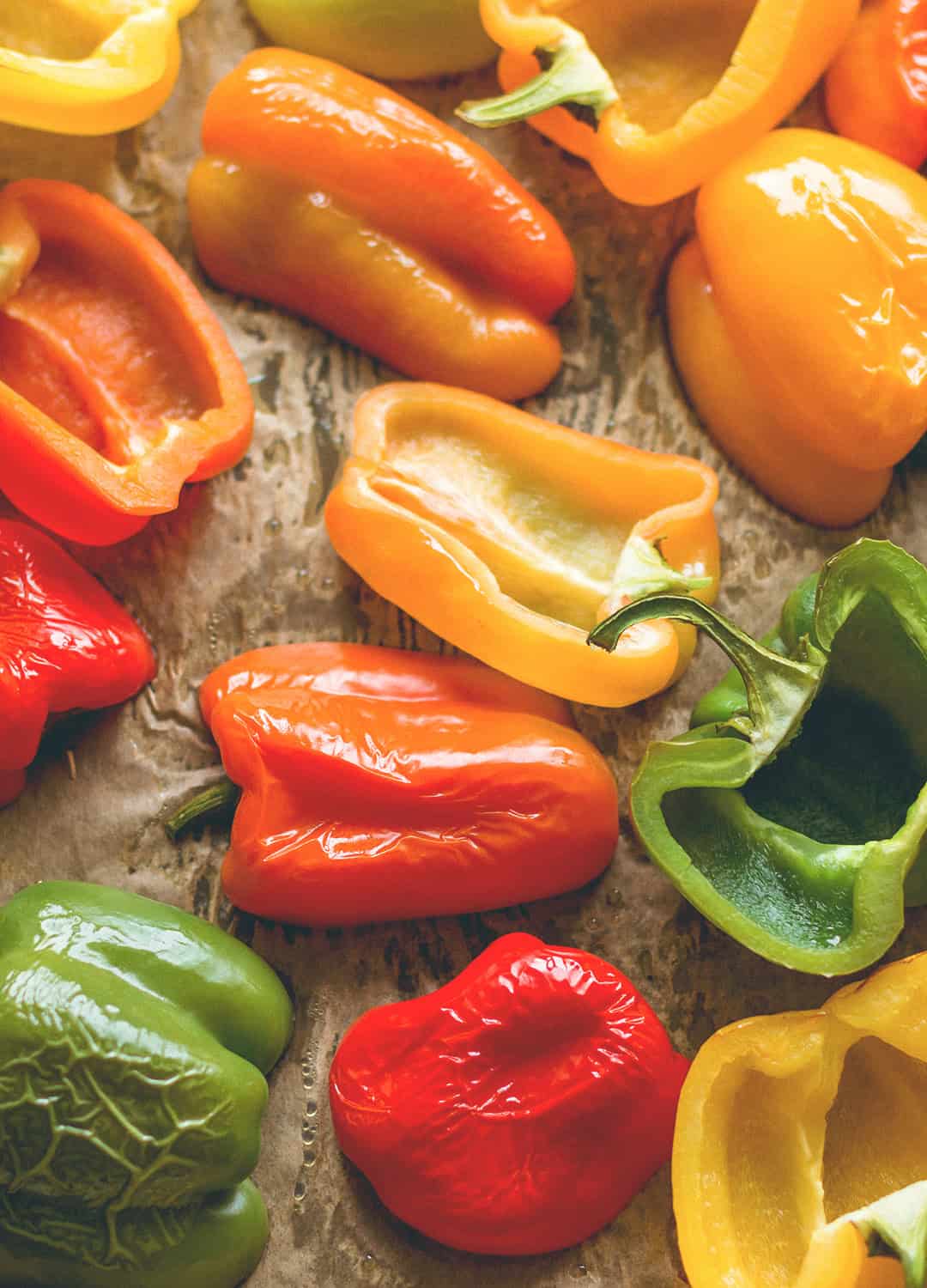 If you haven't read anyof my latest posts and you're wondering why I'm posting on Wednesday and not on Thursday — I've changed my posting schedule from one post a week on Thursday to two posts a week on Monday and Thursday to eventually THREE posts a week on Monday, Wednesday, and Friday! I'm going to be posting three recipes a week all December and then I'm probably going to go back to two recipes a week in January (it all depends on how busy I am with my day job by then). So there's loads of deliciousness coming your way in the upcoming weeks!! ;)
Okay, now let's talk more about these Quinoa Stuffed Bell Peppers.
Well, they're amazing — that's the first thing you should know. I've never actually made stuffed bell peppers before and I can say these were love at first bite. They're a bit more time consuming but it still is an easy recipe! It's literally just about cooking the quinoa, the butternut squash, and the peppers and then mixing together the quinoa, squash, baby spinach, cranberries, and seasoning and then stuffing the peppers with it! I roast the peppers before stuffing them even though I put them back into the oven again once stuffed. That way they're soft and easy to eat.
The cranberries and the butternut squash give the dish an awesome autumn feel and the spices bring it to perfection. I added allspice, cloves, cumin, and nutmeg and when it all comes together with the veggies, sage, and feta cheese (which can be easily omitted to keep it vegan), it's absolutely scrumptious and bursting with flavor.
On a completely different note, the white plate I served these quinoa stuffed bell peppers on is giving me major Medditerantian feels. Right??! Maybe it's the feta or the peppers but it looks really appropriate for a fall meal by the sea somewhere in Greece or Italy or something. Let's all make this dish and pretend we're eating it in Greece. Yep, I'm going to do just that.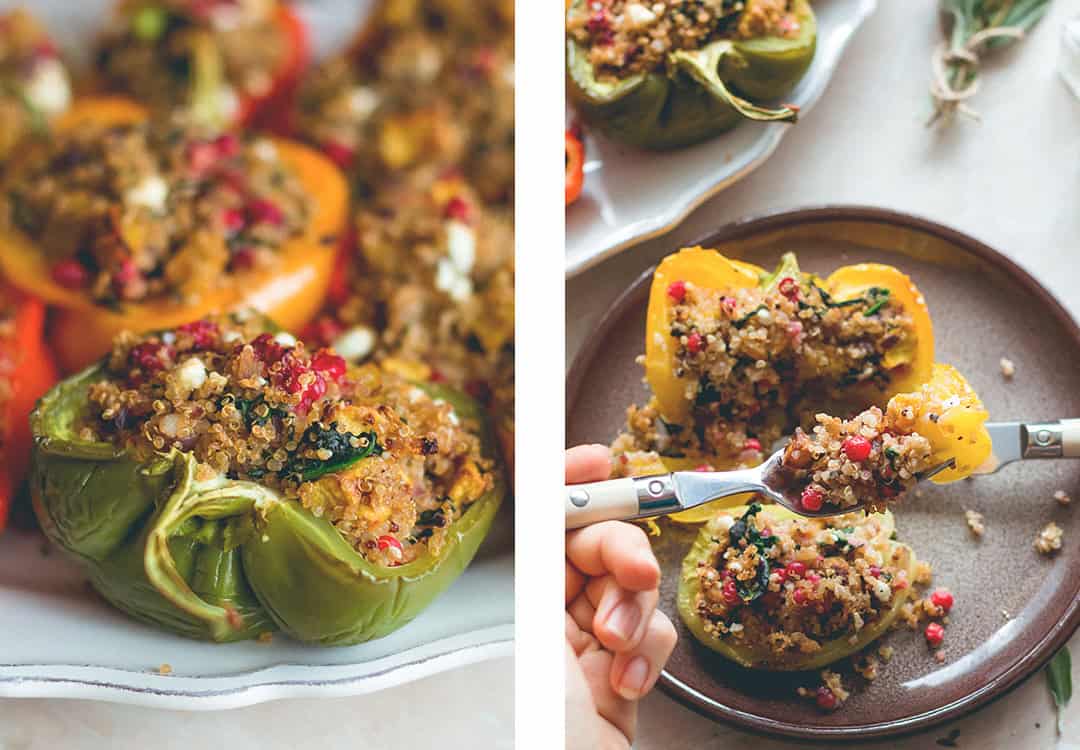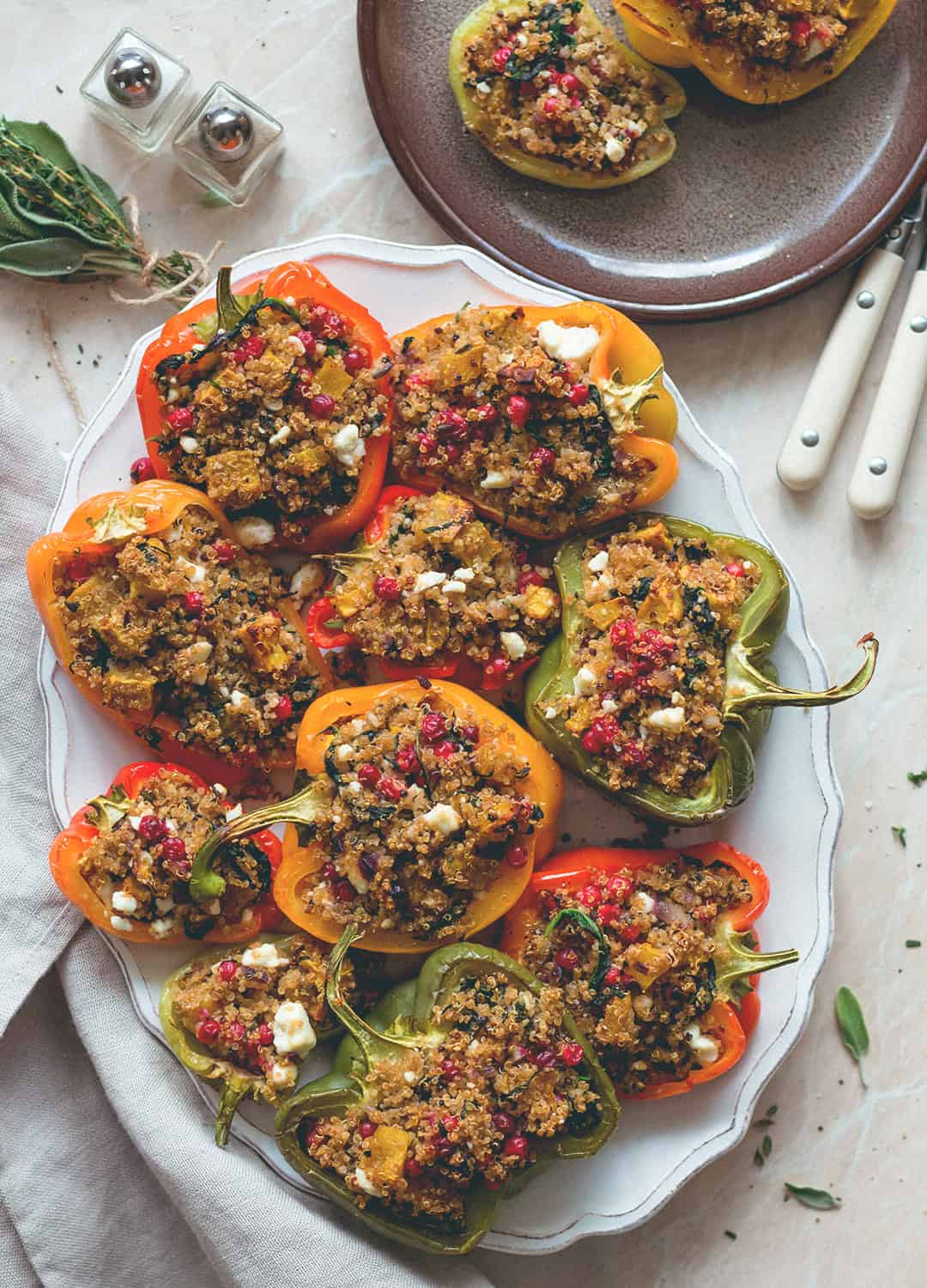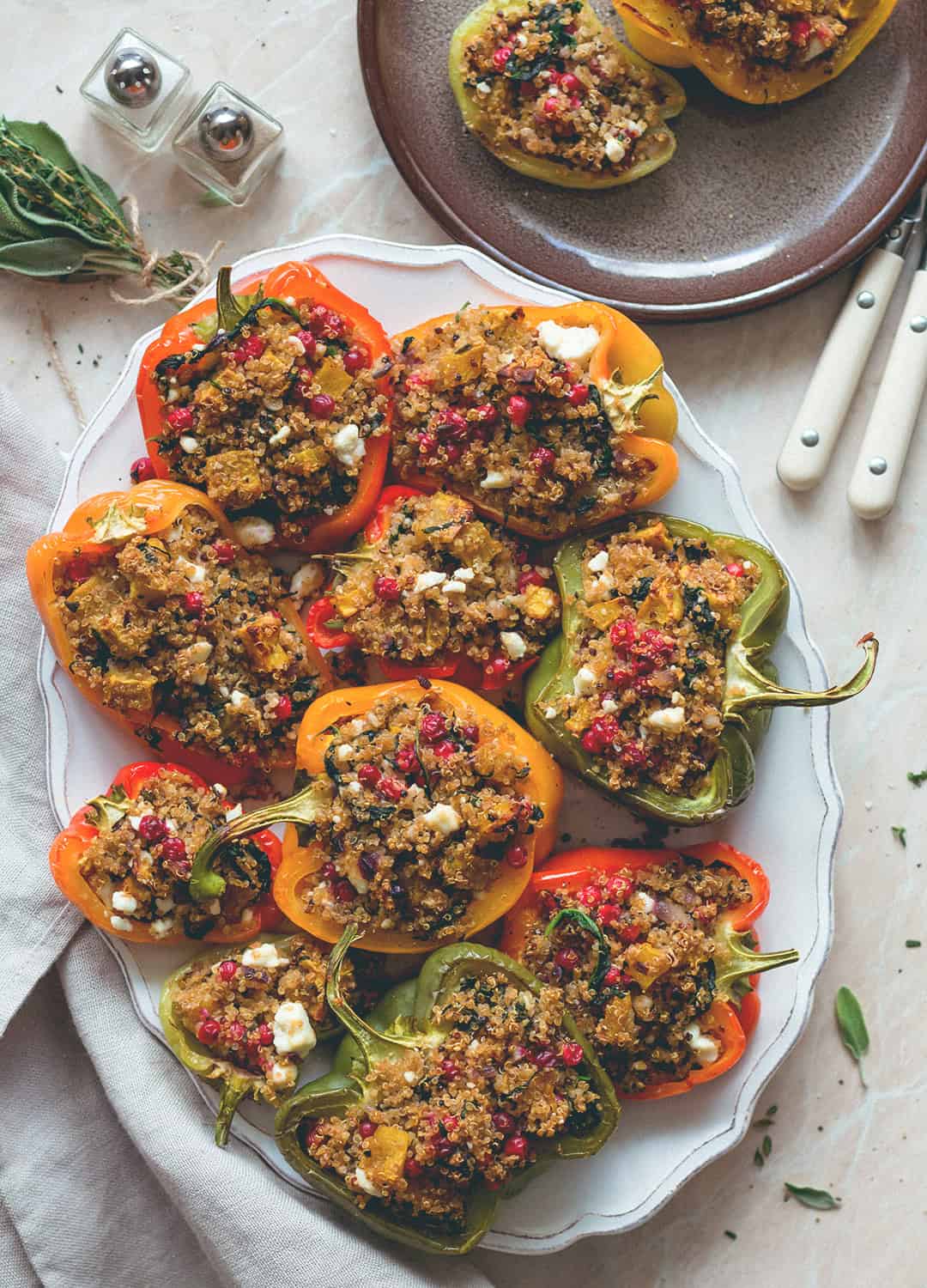 Print
📖 Recipe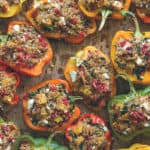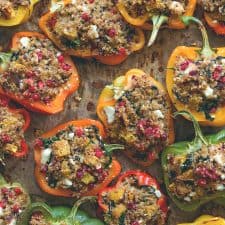 Quinoa Stuffed Bell Peppers with Squash and Cranberries
Author:

The Healthful Ideas

Prep Time:

10 mins

Cook Time:

65 mins

Total Time:

1 hour 15 mins

Yield:

3

-5

1

x

Category:

Main Dish
---
1 cup

quinoa, uncooked

½

butternut squash (or whole if it's small,

4 cups

when chopped), diced into bite-sized pieces

½ tsp

coconut oil, melted
sea salt and pepper

1 tbsp

(+

1 tbsp

more for later) chopped fresh sage leaves

½ tsp

coconut oil

1

red onion, finely chopped

3

cloves garlic, minced

4 cups

tightly packed baby spinach

⅛ tsp

nutmeg

¼ tsp

cumin

¼ tsp

allspice

⅛ tsp

cloves

1 tsp

fresh thyme (or

½ tsp

dried)

1 tbsp

tamari

1 tbsp

maple syrup

1 cup

cranberries (I used wild cranberries but you can use regular ones)
handful crumbled feta cheese (optional)

6

-

7

bell pepper, cut in half lengthwise, seeds removed
---
Instructions
Preheat your oven to 200C (392F).
Put the diced squash on a baking tray lined with baking paper, drizzle with the oil and mix. Season with salt and pepper and add the chopped sage. Mix again to evenly coat.
Roast the squash for 30 minutes or until tender. The cooking time can vary depending on how small you diced the squash.
While that's roasting, cook the quinoa according to package instructions. Set aside.
Heat about ½ teaspoon of coconut oil in a big pan over medium-high heat. When hot add the chopped onion and saute for 4-5 minutes, then add the garlic and saute for 1 more minute until fragrant. Lower the heat and add the spinach. Cook for a couple minutes just to wilt it down.
Turn the heat off and add the quinoa and all the spices including the tamari and maple syrup and mix to coat everything well.
Stir in the cranberries and the feta if using.
If the squash is done, fold it in the quinoa filling.
Roast the bell peppers upside down in the preheated oven for 15 minutes. You can brush them with a little bit of coconut oil before cooking.
Flip them and stuff with the quinoa filling.
Roast the stuffed peppers in the oven for 7-10 minutes. You can turn on the broiler for the last 5 minutes making sure not to burn them.
Serve alone or with a salad, roasted sweet potatoes, or anything else you want to feast on.
---
Pin Quinoa Stuffed Bell Peppers with Squash and Cranberries ⇓⇓