This Starbucks copycat Iced Matcha Lemonade is made with only 3 ingredients and in less than 10 minutes! It's the perfect drink for a hot summer day!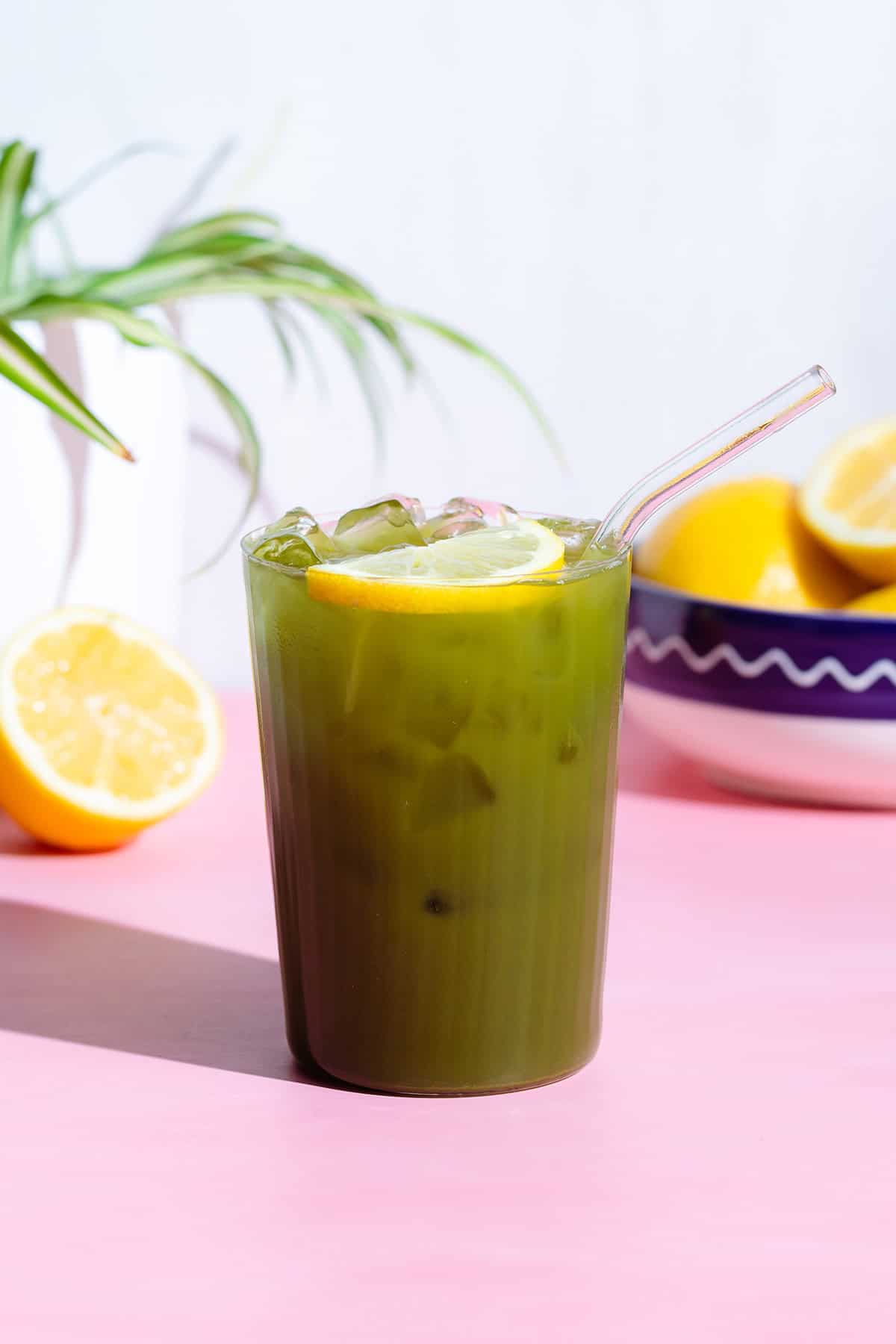 Jump to:
Why This Recipe Works
Perfect for the summer - Lemonade is the ultimate summer drink and adding matcha to it just makes it more fun and turns the lemonade a beautiful green color. If you don't want it to be an energy drink, add less matcha to still have the flavor and color but less caffeine.
Just like Starbucks - This drink is very similar to the one you'd get at Starbucks. It's a very simple drink that requires only a few ingredients so it's a breeze to make it at home. It saves you money and you can enjoy it any time you want without having to go to Starbucks!
Less sugar - Starbucks uses sweetened matcha powder. This recipe calls for unsweetened matcha which is usually better quality than the sweetened versions and helps you avoid those sneaky hidden sugars.
Healthier than coffee - Green tea is generally believed to be healthier than coffee. It's usually a more stable source of energy than coffee and I personally don't get the jitters from matcha as I would from coffee. Coffee usually has more caffeine and gives you more energy but matcha is a great option if you want to lower your coffee consumption.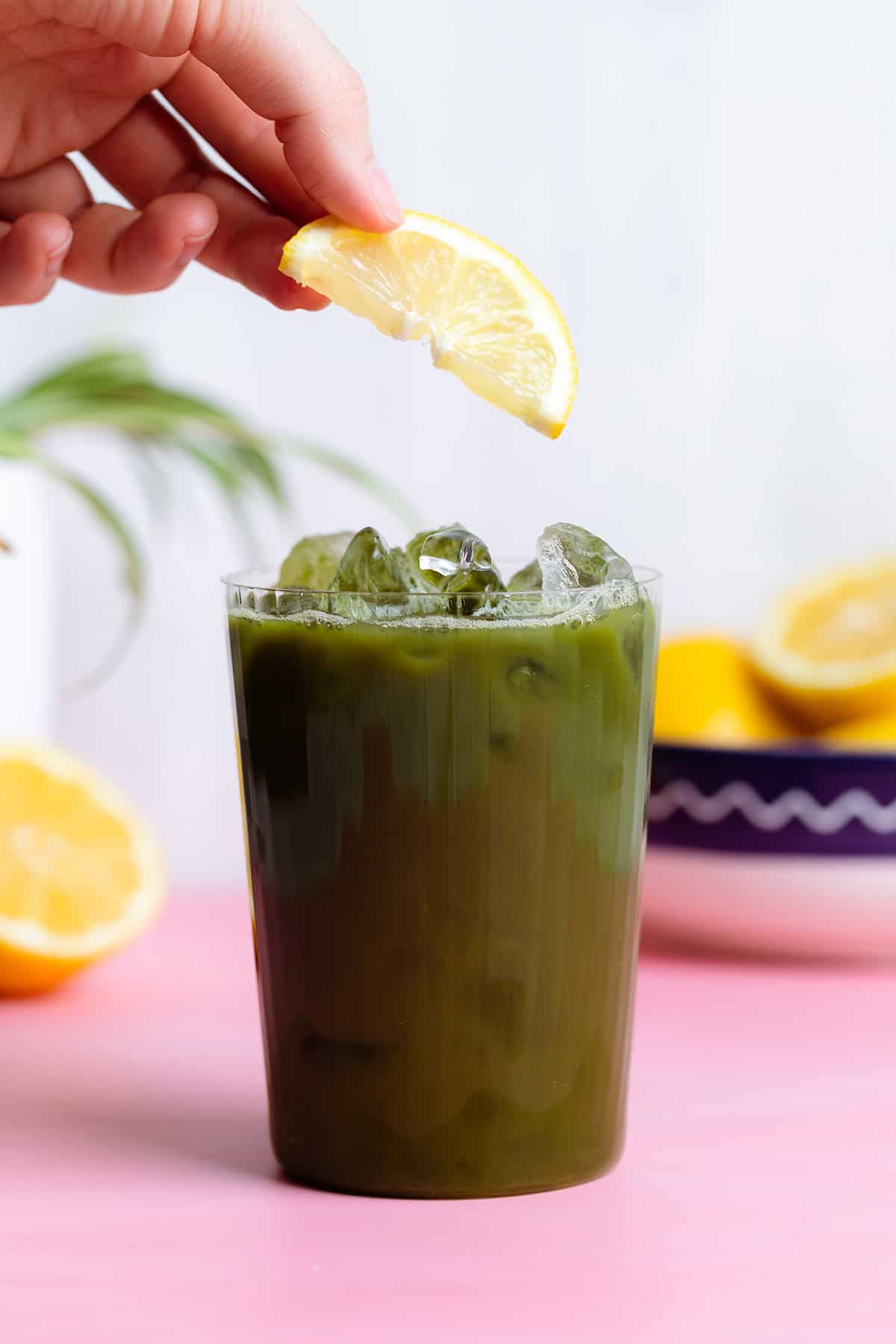 Ingredients Notes
Matcha powder - I recommend using unsweetened matcha powder. That way you can control exactly how much sugar there will be in your drink and the unsweetened ones are usually much better quality.
Lemonade - You can use store-bought or homemade. The recipe card includes instructions for both options. Homemade lemonade is just a mix of water, lemon juice, and sweetener so I highly recommend making your own. I like the Kiju brand when using premade.
Lemon juice - If you're making your own lemonade, you will need freshly squeezed lemon juice, or even if you're using store-bought lemonade, you can add a squeeze of lemon for some extra freshness.
Sweetener - This is for the homemade lemonade. I like using maple syrup, honey, or cane sugar. If you're using store-bought, you don't need to add any sweetener to the drink, the lemonade should have enough sweetener to sweeten the drink.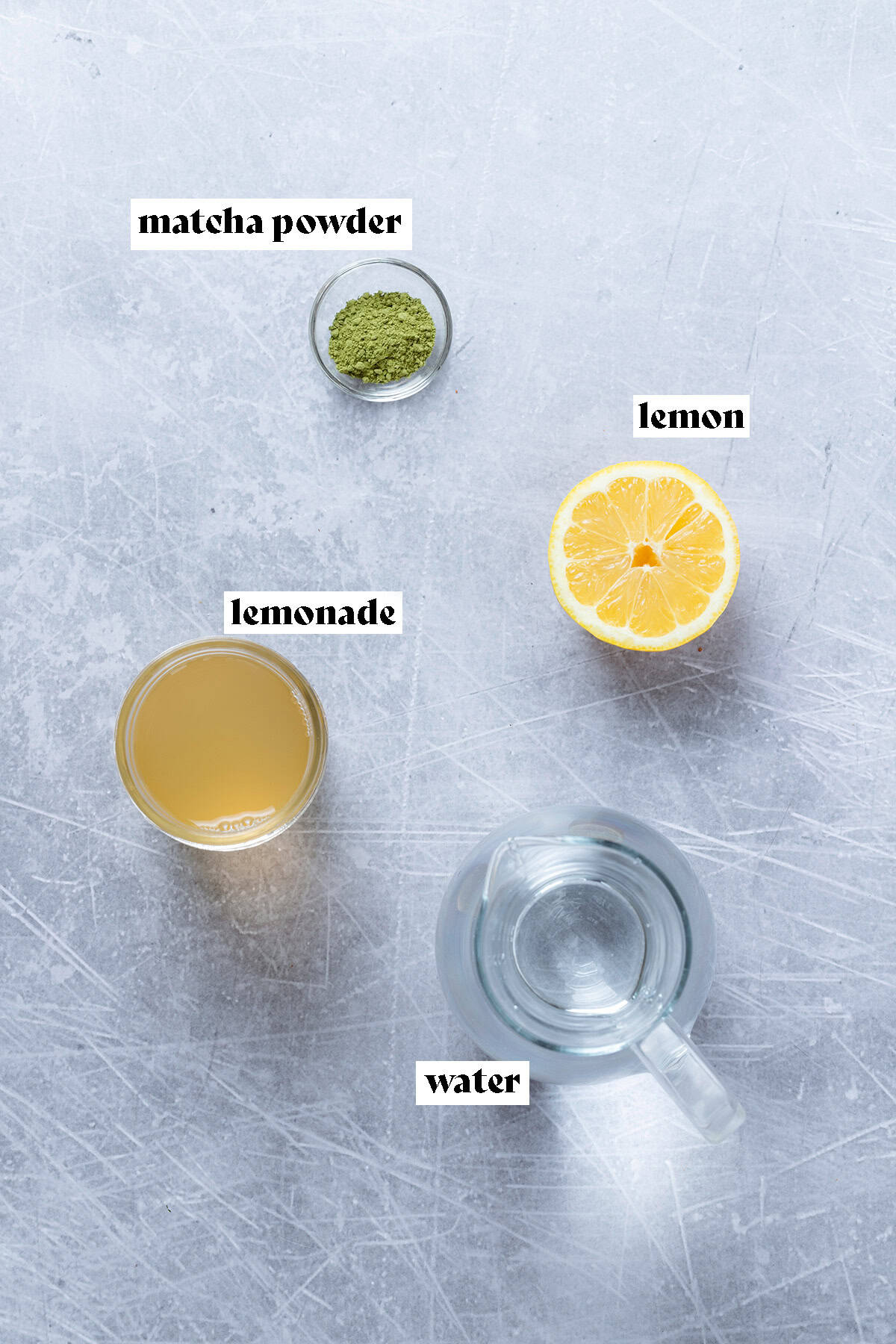 Step-by-Step Instructions
Depending on whether you're using store-bought or homemade lemonade, you'd first make the lemonade before you make the matcha tea.
To make the lemonade, add sweetener to room temperature water and allow it to melt or dissolve. Cane sugar will dissolve in water no matter the temperature, it will just take longer if it's cold. Stir in the lemon juice and the lemonade is done! Set aside until ready to serve.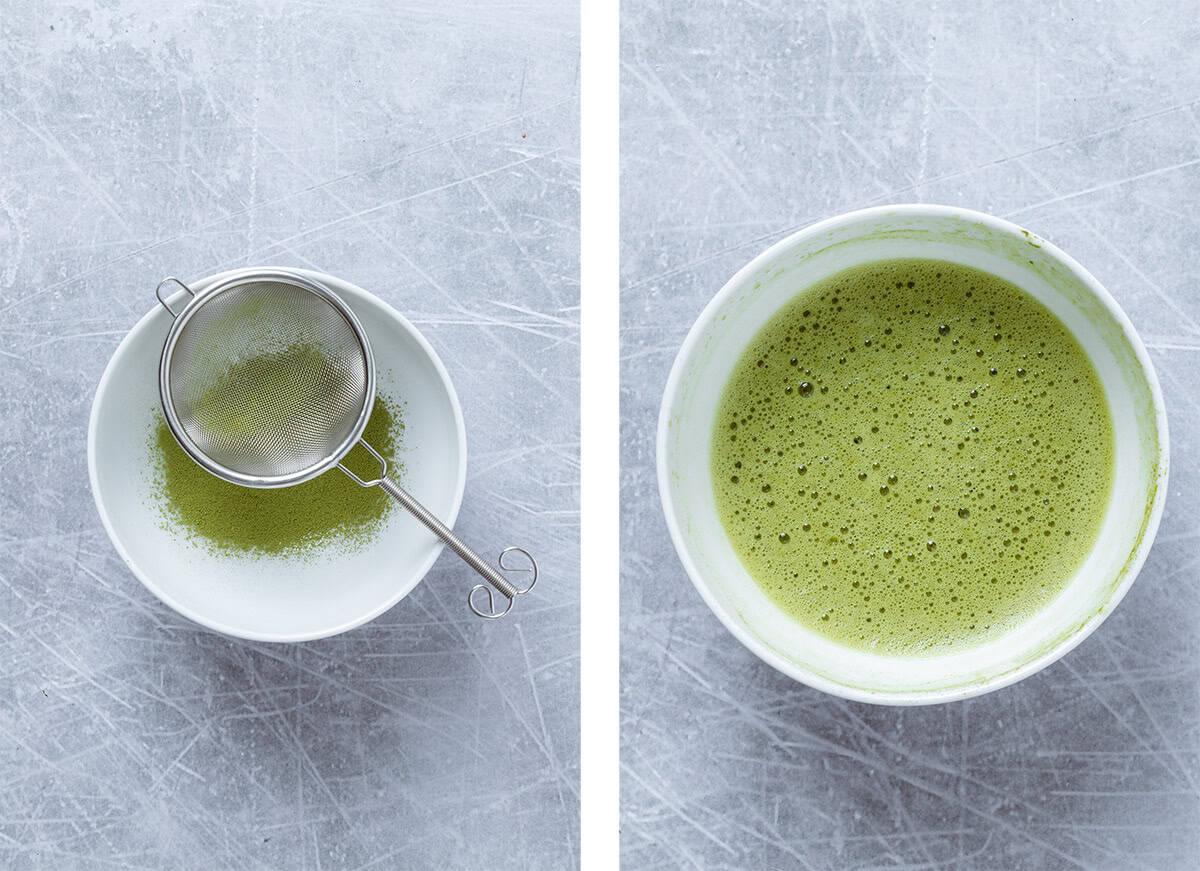 To make the matcha tea, sift your matcha into a bowl or a cup. This step is optional but makes the matcha smoother and helps to avoid clumps. Use a matcha whisk or a handheld milk frother to mix the matcha with the water.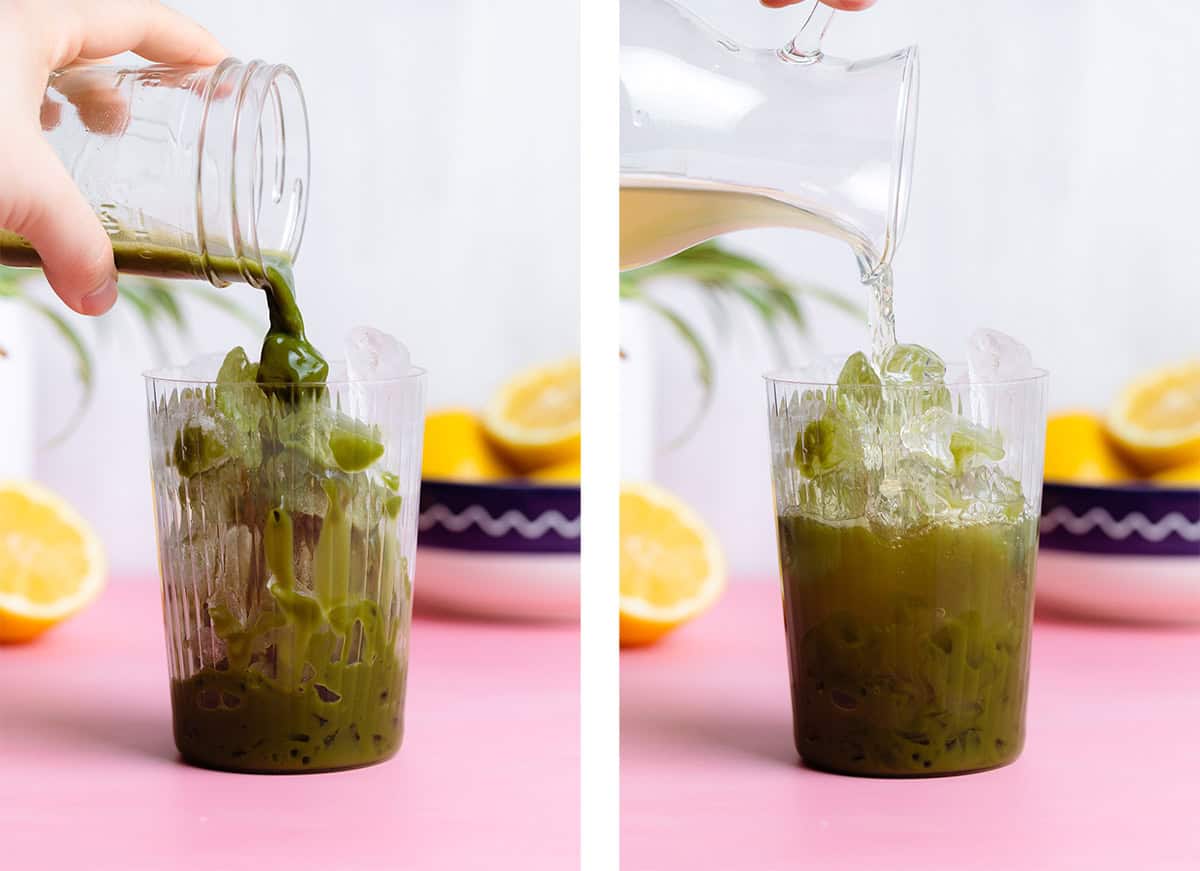 Pour your whisked matcha into a tall glass filled with ice. Top up your glass with the lemonade you made earlier and serve! You can also add some sparkling water if you'd like but that's optional, there's only lemonade in the original Starbucks version.
Serving
Whether you're serving the matcha in a pitcher or single-serving glasses, once you add the ice, it's best served right away before it melts into the drink. You can garnish the drink with a slice of lemon and serve it with a straw.
Storing
This drink comes together in just a few minutes so it's best made right before serving. You can make the lemonade a day in advance and keep it in the fridge in an airtight container overnight but I highly recommend making the matcha fresh.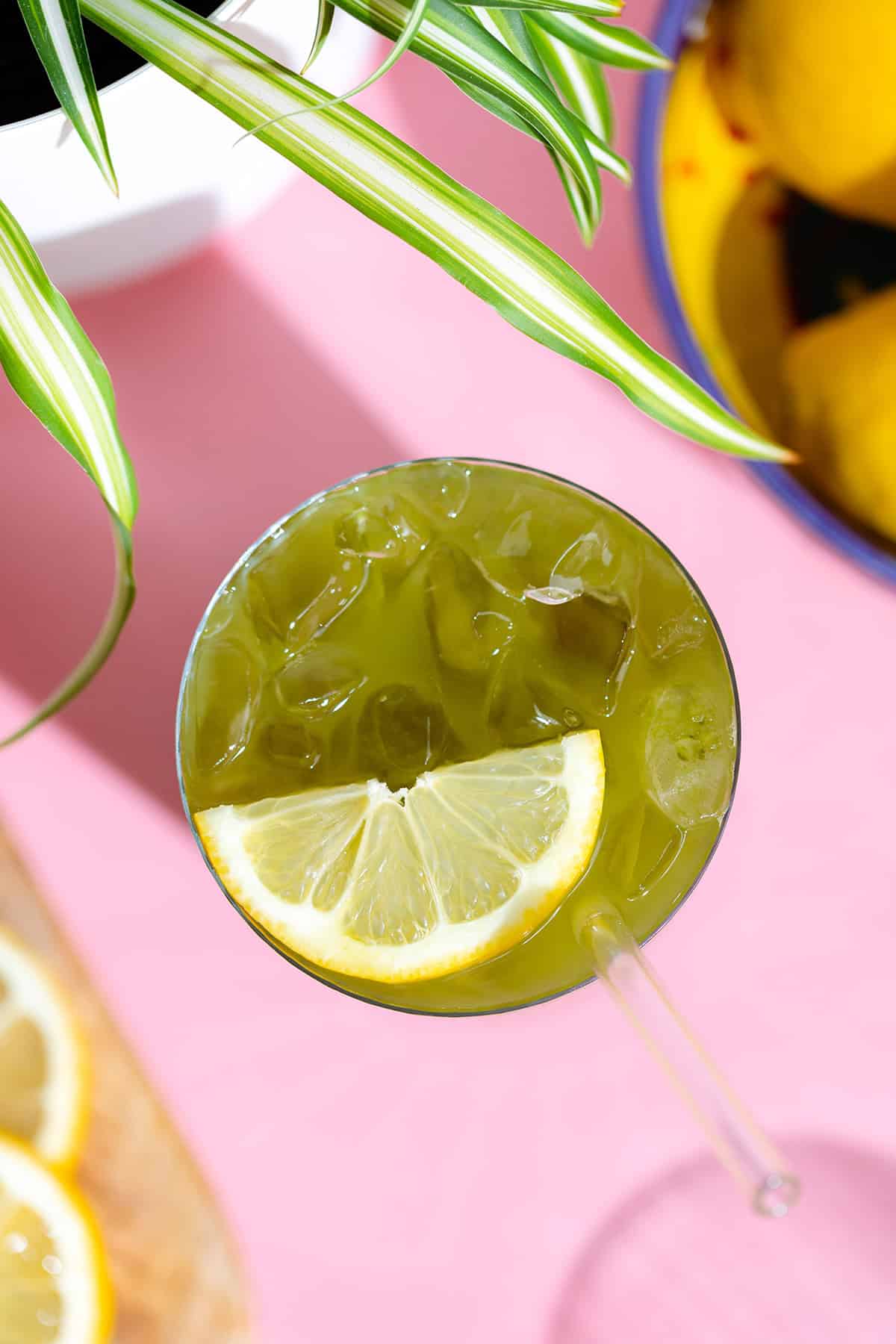 FAQs
Does matcha have caffeine?
Yes, matcha is a green tea powder so it naturally contains caffeine. The amount varies based on the source and freshness of the matcha powder you use. In general, 1 teaspoon of matcha has approximately 65mg of caffeine. In comparison, one shot of espresso has about 40-80 mg of caffeine.
Can I make it in a pitcher?
Yes, just multiply the recipe by however many servings you need. For example, 6 servings would call for 1 tablespoon of matcha.
Can I make it sugar-free?
You can make an unsweetened version of the drink by just mixing the matcha with water and lemon juice. Super simple with no added sugar!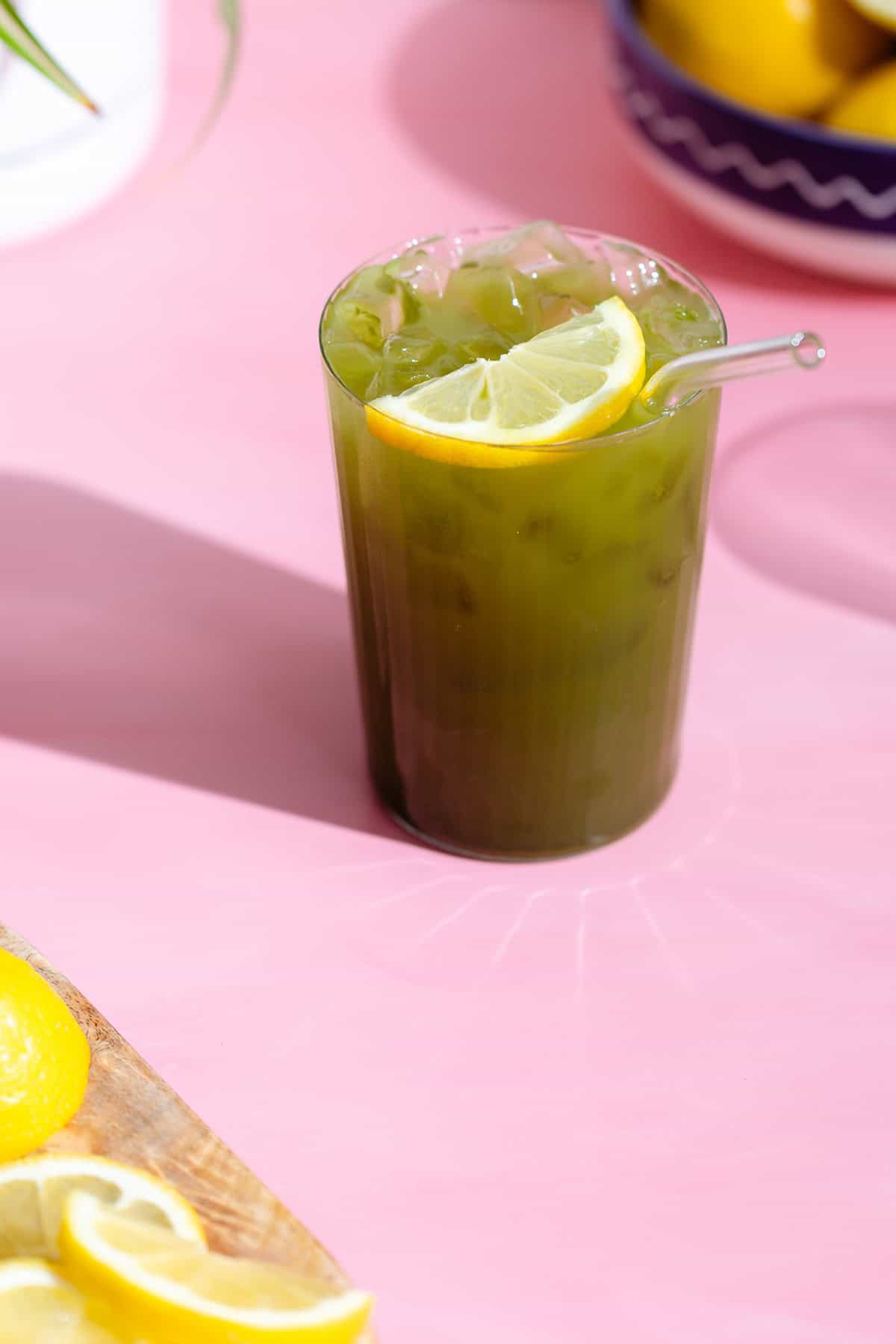 More Starbucks Drinks That Aren't Coffee
If you're like me and prefer Starbucks drinks that don't have coffee in them or like them just as much as the coffee ones, I have a few you'll enjoy! Here are my four favorites but I'm always adding more so definitely check out the Starbucks Drinks category to find the latest ones!
Print
📖 Recipe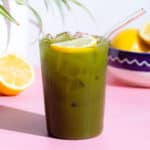 Iced Matcha Lemonade
Author:

Veronika | thehealthfulideas

Prep Time:

5 mins

Cook Time:

5 mins

Total Time:

10 minutes

Yield:

1

1

x

Category:

Drink

Method:

Mixing

Cuisine:

American

Diet:

Vegan
---
Description
This Iced Matcha Lemonade is the perfect refreshing drink for a hot summer day. Matcha is a green tea powder and contains caffeine
---
Homemade lemonade:
1 cup

water

1 cup

sweetener (cane sugar, honey, maple syrup, agave, etc.)

4 cups

water

½ cup

freshly squeezed lemon juice (? lemons)
Ice
Iced Matcha Lemonade:
½ tsp

matcha powder (unsweetened)

½ cup

water

1 cup

ice

1 cup

lemonade (or more to taste, homemade or store-bought)
Lemon slices for garnish (optional)
---
Instructions
Homemade lemonade:
In a small saucepan on the stove, mix 1 cup of water with ¼ cup sweetener of choice. Let the mixture warm up over medium heat stirring constantly just until the sweetener is dissolved. It doesn't have to boil or simmer. Take off the heat.
Pour the remaining 4 cups of water into a large pitcher. Add lemon juice and the sugar and water mixture. Set aside until ready to serve. You can make this the day before and store it in the fridge in an airtight container overnight.
Iced Matcha Lemonade:
Sift your matcha powder into a small bowl or cup. Warm up the water (this is optional, I find it mixes with the matcha more easily when it's a little warmer) and add a splash to the matcha.
Use a matcha whisk or a handheld milk frother to mix the matcha. Add the rest of the water and whisk again.
Pour the matcha over ice into a tall glass and top up with lemonade.
Garnish with a slice of lemon if desired and enjoy!
---
Notes
Starbucks: Starbucks uses sweetened matcha powder so their drinks will always be sweeter than when you make them at home. Alternatively, you can buy sweetened matcha powder if you'd like, I just prefer unsweetened to be able to control the sugar content.
Homemade lemonade: The lemonade will last in the fridge in an airtight container for 1-2 days. When mixing the sugar and water, you can use room temperature water without heating it up. Cane sugar will always dissolve in water but it will just take slightly longer in cold water.
Keywords: matcha lemonade, starbucks matcha