Whenever I say the word 'banana', I immediatelly think of Despicable Me and Minions. BANAAANA. BANANA BANANA BANANA!
No? Only me? Well, okay then. But there's definitely one thing we have in common — thinking of banana bread when we say banana. Don't deny it! Everyone loves banana bread. And this one is extra special because it's HEALTHY. Well, as healthy as banana bread can get. It's gluten-free and there's no dairy, though there's eggs because I'm not brave enough to bake anything vegan on my own without following a recipe yet. BUT if you want to, you can try to make it vegan by adding chia or flax "egg" instead of actually eggs.
But seriously though, this bread is freaking delicious and you should really make it. Your overripe bananas you have no other use for will thank you.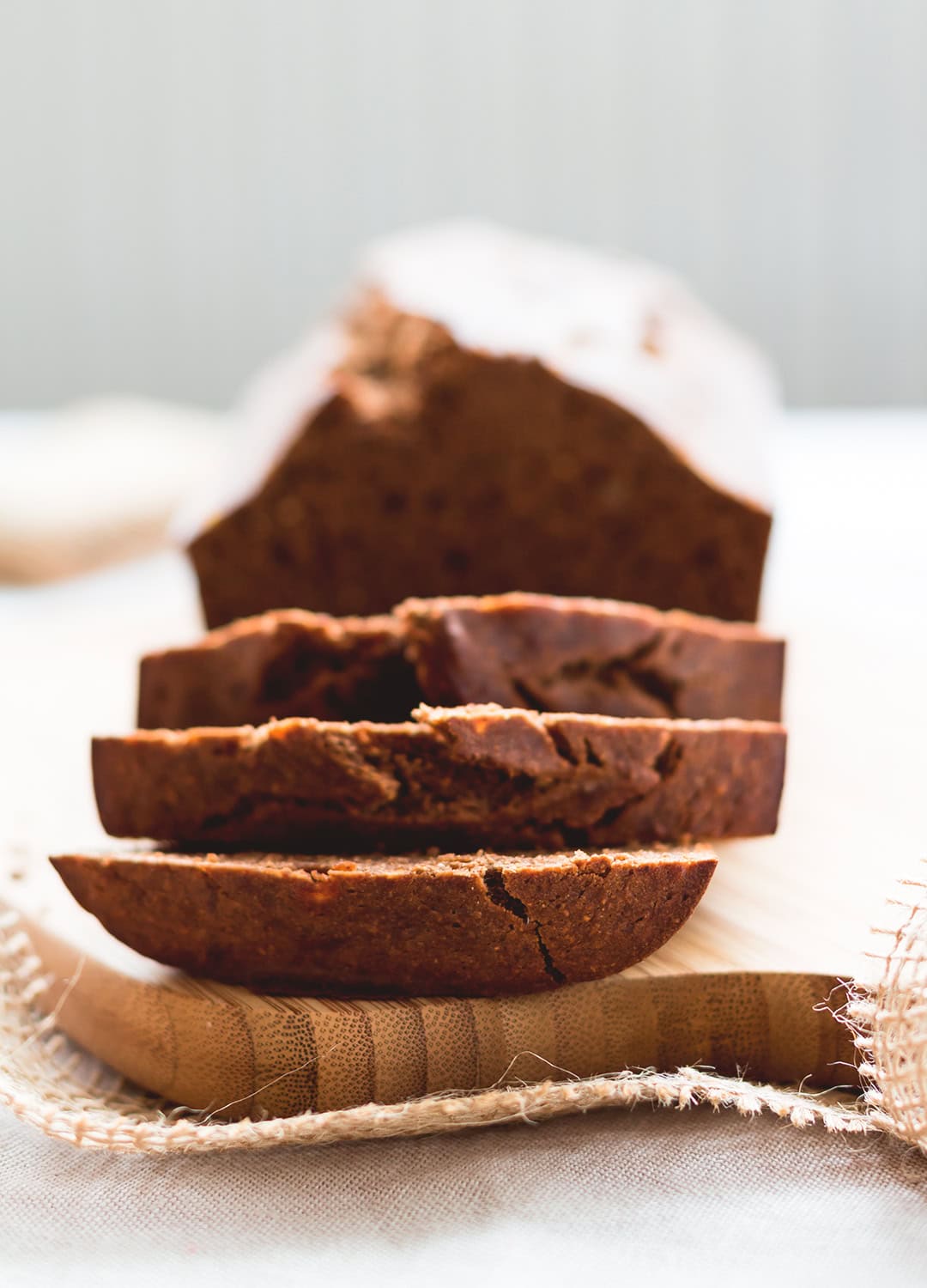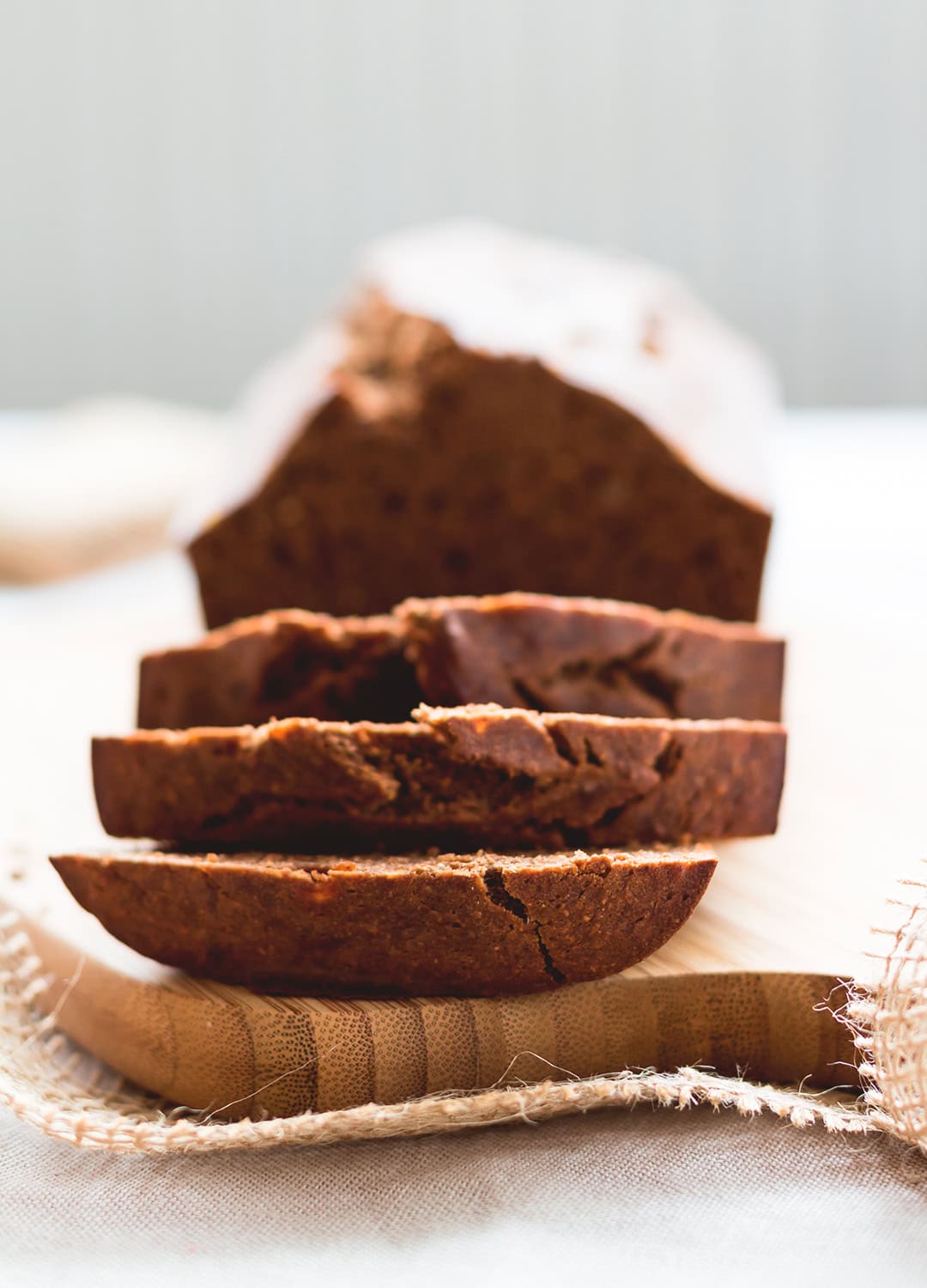 It's been getting so cold lately and it was snowing ALL day yesterday. I finally came to the conclusion that I'm a summer person 100%. Maybe spring/summer. I'd be fine with cold weather if it lasted only a few weeks and I was in a small cottage in the countryside snuggled up by the fireplace doing nothing (except maybe eating banana bread, obviously). But having to actually go out and do stuff while it's snowing or raining and wearing ten layers of clothing isn't really my thing. And even with the freezing weather, when I'm rushing somewhere I get too hot but can't unzip my jacket since it freezing. The struggle is real in the winter and I bet you can relate.
What makes the gloomy weather bearable? Sleeping in when you have a day off, sipping hot tea while it's snowing outside and you don't have to go anywhere. Eating warm hearty oatmeal snuggled up in your bed before you have to leave the house, and last but not least, this banana bread. I love having it for breakfast, or a snack at any time of the day. It's great topped with coconut yoghurt, sheep yogurt, homemade jam, leftover raw vegan frosting (see picture below, it's from My New Root's cookbook and it's delicious). And I'd almost forgot about how delicious it is with my Cherry Compote (can it be cherry season already please and thank you) OR my Healthy Nutella!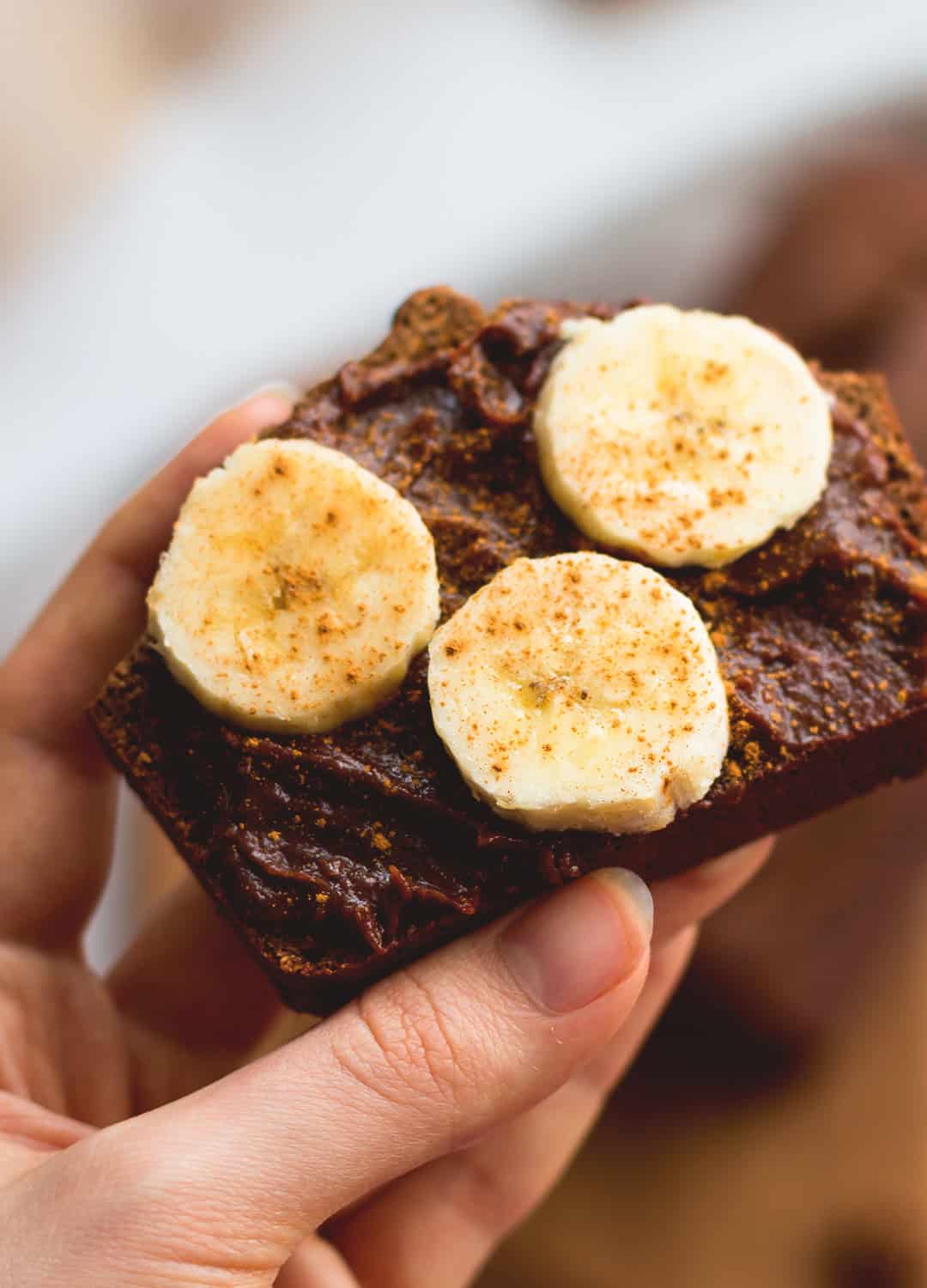 If you like really sweet and moist banana bread, you can add 1-2 tablespoon of maple syrup to make it sweeter. It's not so much that it'd throw the whole recipe off, it'll literally only make it sweeter and softer. That being said, I really like how the original recipe turned out. I tried it a couple times, each time adding more maple syrup or milk. I like it because the bread holds its shape well and it's not too sweet that you can't top it with a sweet spread like "nutella" (homemade) or my personal favorite, raspberry chia jam. It doesn't have soft and cake-like texture, it's like regular bread only rich in banana taste, sweet, and satisfying. Just the way I like it. The crust is the best part if I'm being honest, it always is.
The bread keeps well at room temperature for 3-4 days. After that, it starts drying out. But honestly, it never lasts me that long anyways.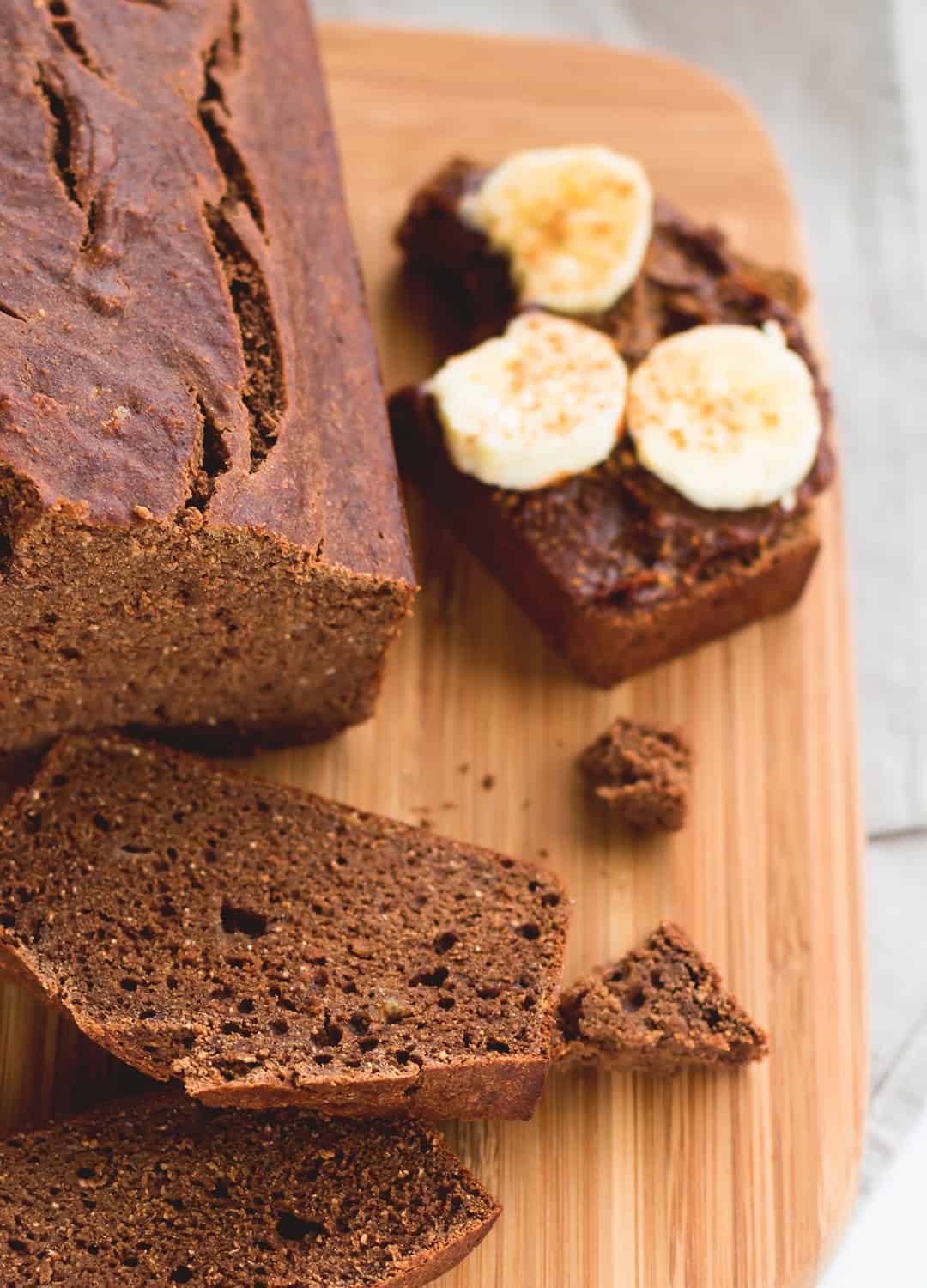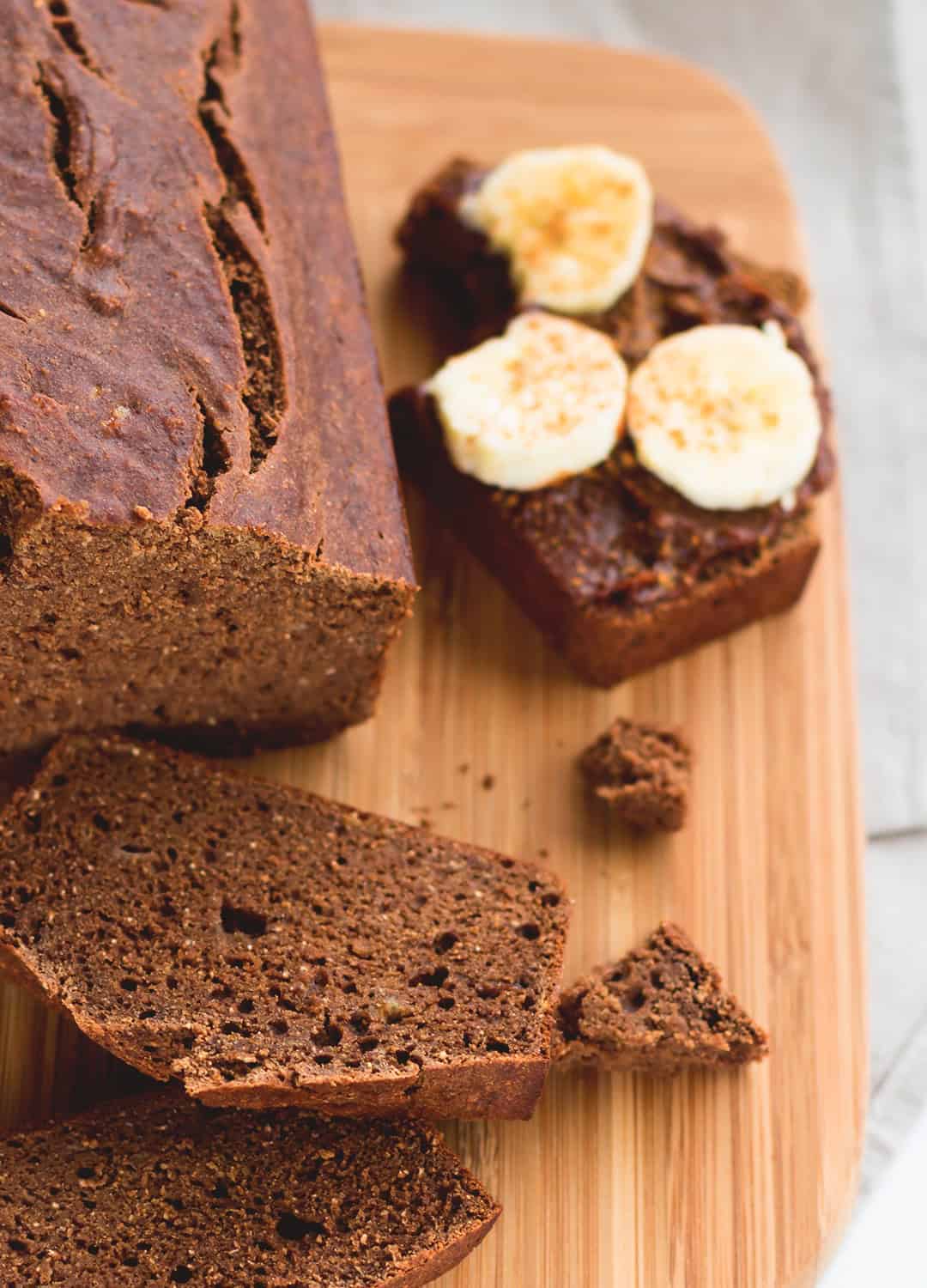 Now I need to finish this post and finally go to the kitchen and make a different version of this bread! This recipe is like the basic one and now I can start experimenting with adding blueberries, raspberries, chocolate chips (that is if I ever find a brand that uses coconut sugar instead of regular sugar). I'm excited! :)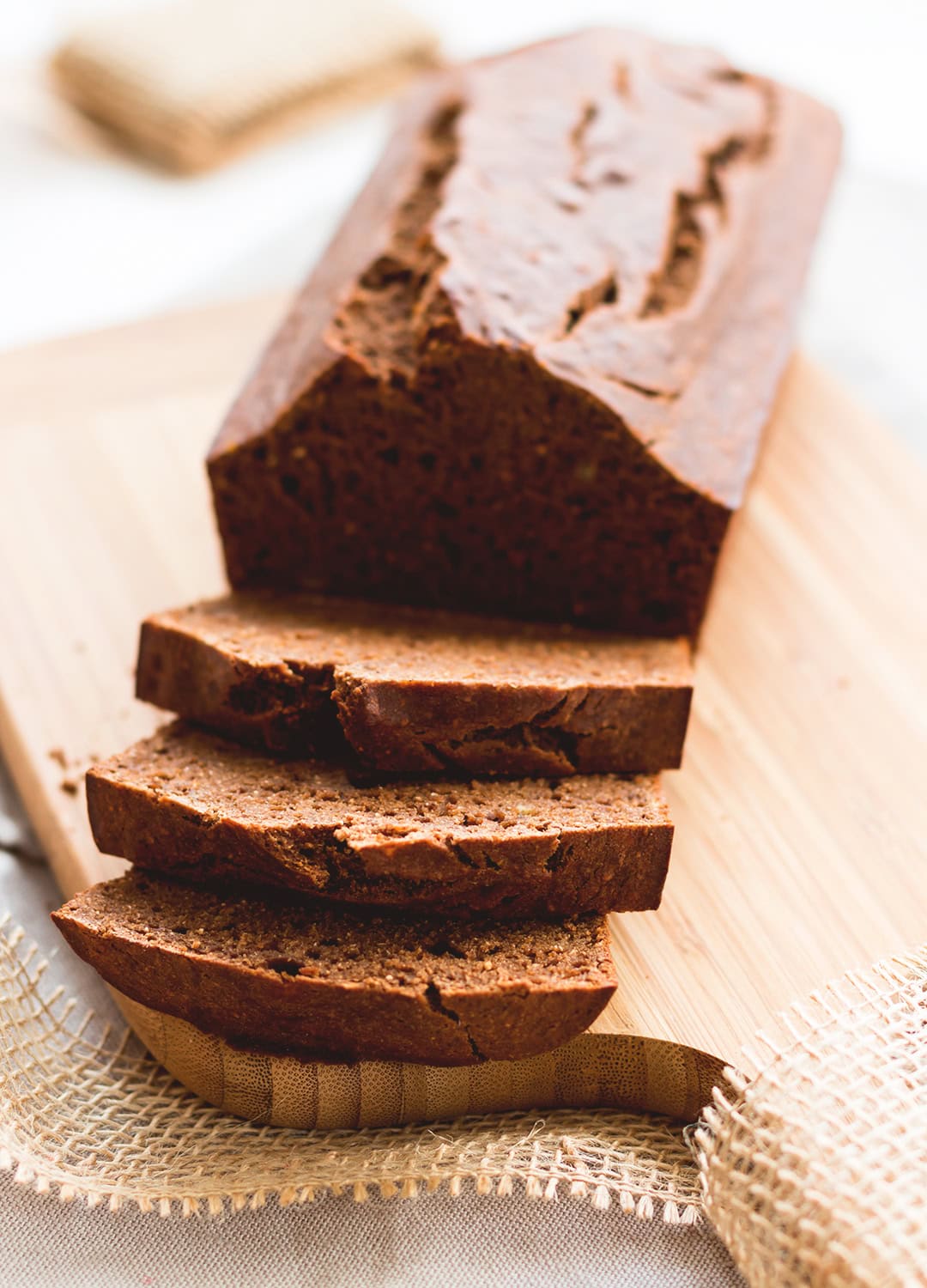 Print
📖 Recipe Banana Bread
Author:

The Healthful Ideas

Prep Time:

10 mins

Cook Time:

45 mins

Total Time:

55 mins

Yield:

1

loaf

1

x
---
1 cup

buckwheat flour

½ cup

brown rice flour

¼ cup

coconut flour

¼ cup

cacao powder

¼ cup

+

1 tbsp

coconut sugar

¼ tsp

baking soda

¼ tsp

sea salt

1 tsp

baking powder

1 tsp

vannilla powder

1 tsp

cinnamon

1 cup

mashed ripe bananas (about

2

medium bananas)

3

eggs

4 tbsp

maple syrup

2 tbsp

plant-based milk

1 tbsp

coconut oil, melted (plus more for the pan)
---
Instructions
Preheat the oven to 175C (F) and lightly grease a loaf pan with coconut oil.
Add all the dry ingredients into a big bowl and stir to combine.
In a separate combine the wet ingredients.
Pour the wet ingredients into the dry ingredients and whisk until well combine.
It should be fairy thick
Bake for 40-45 minutes or until a toothpick inserted in the middle comes out clean.
Let it cool in the pan for 10 minutes, then take it out of the pan onto a cooling rack and cool completely before slicing.
Store at room temperature for 3-4 days.
---