It's Asparagus season, everyone! What does that mean? Grilled asparagus party! I actually can't believe it's already June!! I mean, it was December just yesterday, right? Time flies by so quickly, it's hard to keep up sometimes. I really enjoy this time of the year (summer is definitely my favorite season) because first, the weather is much better and second, my favorite produce is in season! Strawberries, raspberries—any time of berries, CHERRIES (from my own garden yay!), FIGS, any kind of tropical fruits tropical fruits are easier to get, peaches taste the best in summer, and last but not least, asparagus is in season!
I have to admit. Asparagus never used to be a vegetable I looked forward to every year as I do with the fruits I listed above. In fact, this year is my first time ever trying asparagus! Asparagus is one of those vegetables that's just kind of there and most people don't even know how to prepare it to make it taste good. However, cooking green asparagus is really easy!
This recipe is my new favorite go-to quick lunch. It looks fancy but doesn't require too much work!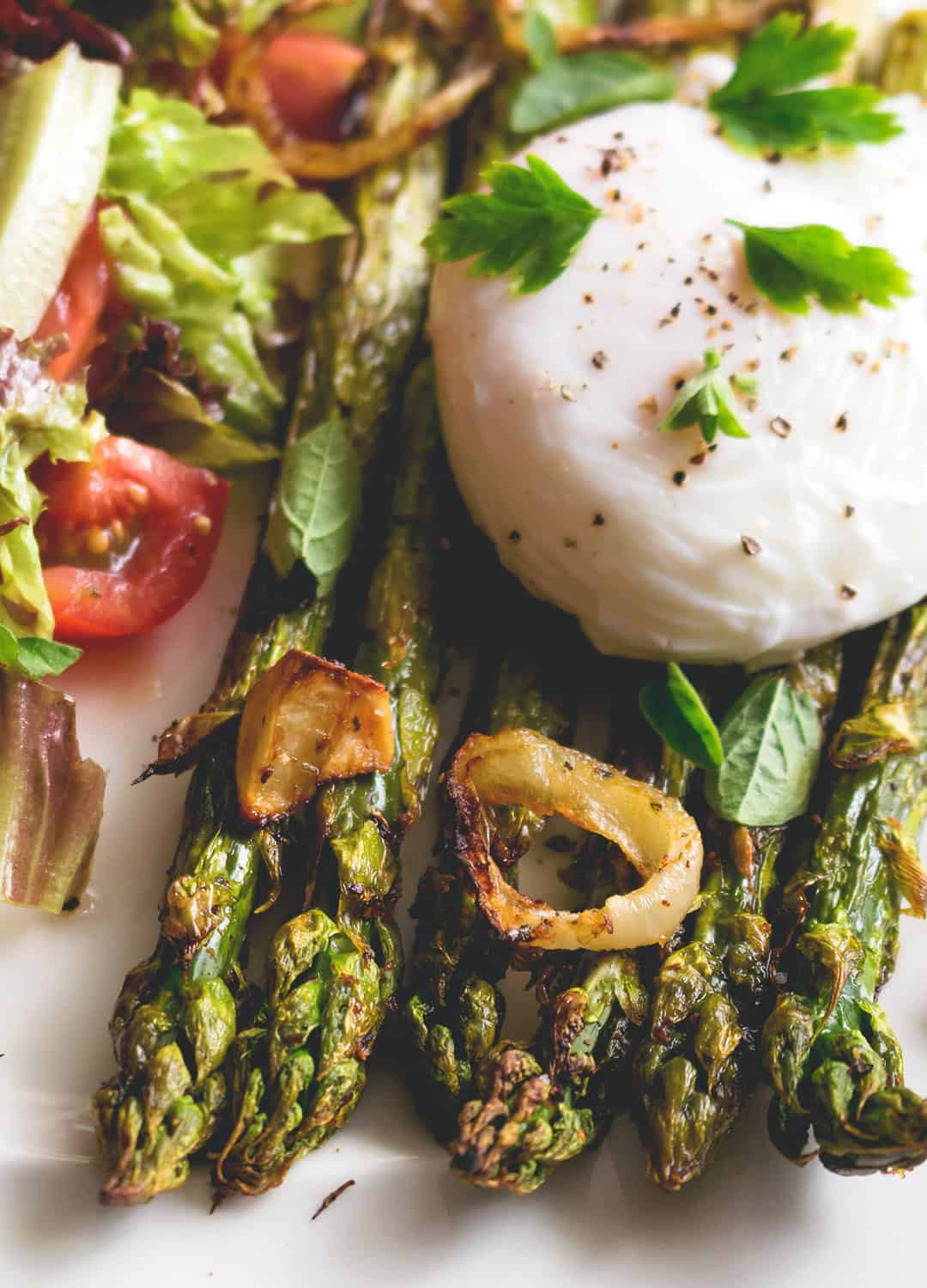 Quick tip:
Some people are afraid asparagus gets chewy and fibery (is that a word? you know what I mean—moving on) when cooked but that's totally not true when prepared right.
When you wash your asparagus, hold it with one hand somewhere in the middle of the root and snap the bottom end of the root with your other hand. What it does is that it gets rid of the chewy dried out part of the asparagus and you're left with only the tasty part. The trick is to do it with your hand, not with a knife, because when you hold it and snap off the end, it breaks exactly where the chewy part ends. If you were to cut the ends off with a knife, you'd never know if you cut too much or too little.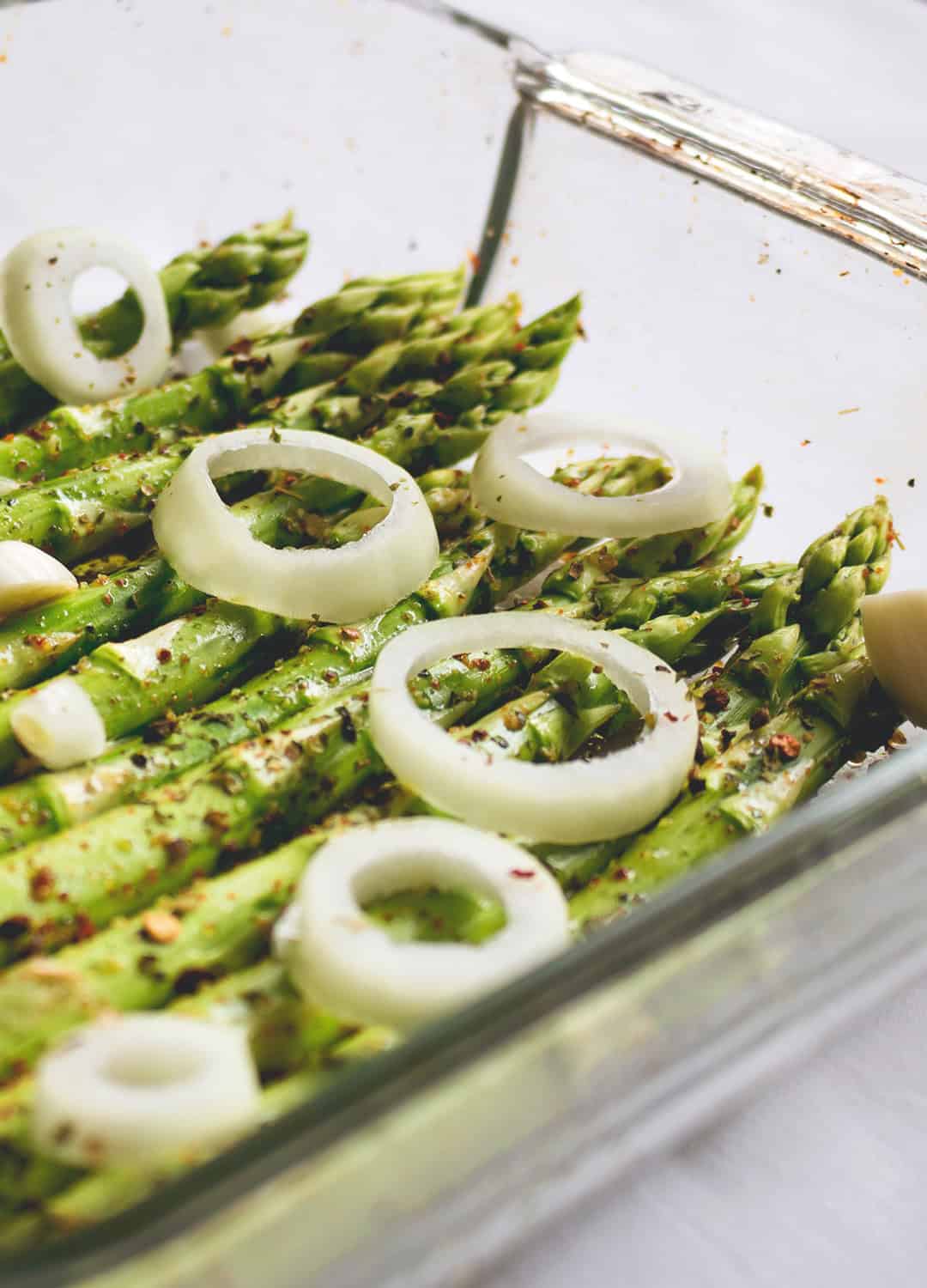 I usually sautee my asparagus on the stove or roast it in the oven—it's delicious either way. Today I chose to broil it in the oven. If you don't know what a broiler is, it's basically an overhead grill inside your oven. If you don't have an oven with a broiler, don't worry, you can simply roast it at 200C/400F for the same period of time.  I love grilled asparagus because it's soft, yet kind of crunchy.
This whole meal is extremely easy. I snapped the ends of the asparagus, put it in a baking dish, seasoned with some herbs, chilli flakes, sea salt, and pepper, cut up some garlic and onion on top, and drizzles with olive oil.
Then I set it aside while I made the salad. I wanted to keep it simple so the salad is made of only greens, cherry tomatoes, olive oil, sea salt, and pepper. Done.
Then I placed the asparagus under the broiler and while it was grilling, I made the poached egg. Now, that's probably the most tricky part for most people, but I swear, once you get the hang of it, it really isn't that hard. My favorite way to make poached eggs is to bring water to boil with some sea salt, turn off the heat, swirl the water with a spoon in a clockwise motion, crack the egg in the middle, and cover with a lid. I like to crack the egg into a small cup first to avoid any small pieces of shell falling into the water.
The number one thing is to turn the heat off before adding the egg into the water, believe me, I learned that the hard way. If you add the egg while it's still boiling, the egg whites spread all over the saucepan and instead of poached egg, you have a big mess.
If you'd like to see a video on how to poach an egg, there's a great one HERE by Jamie Oliver where he shows you 3 ways how to do it!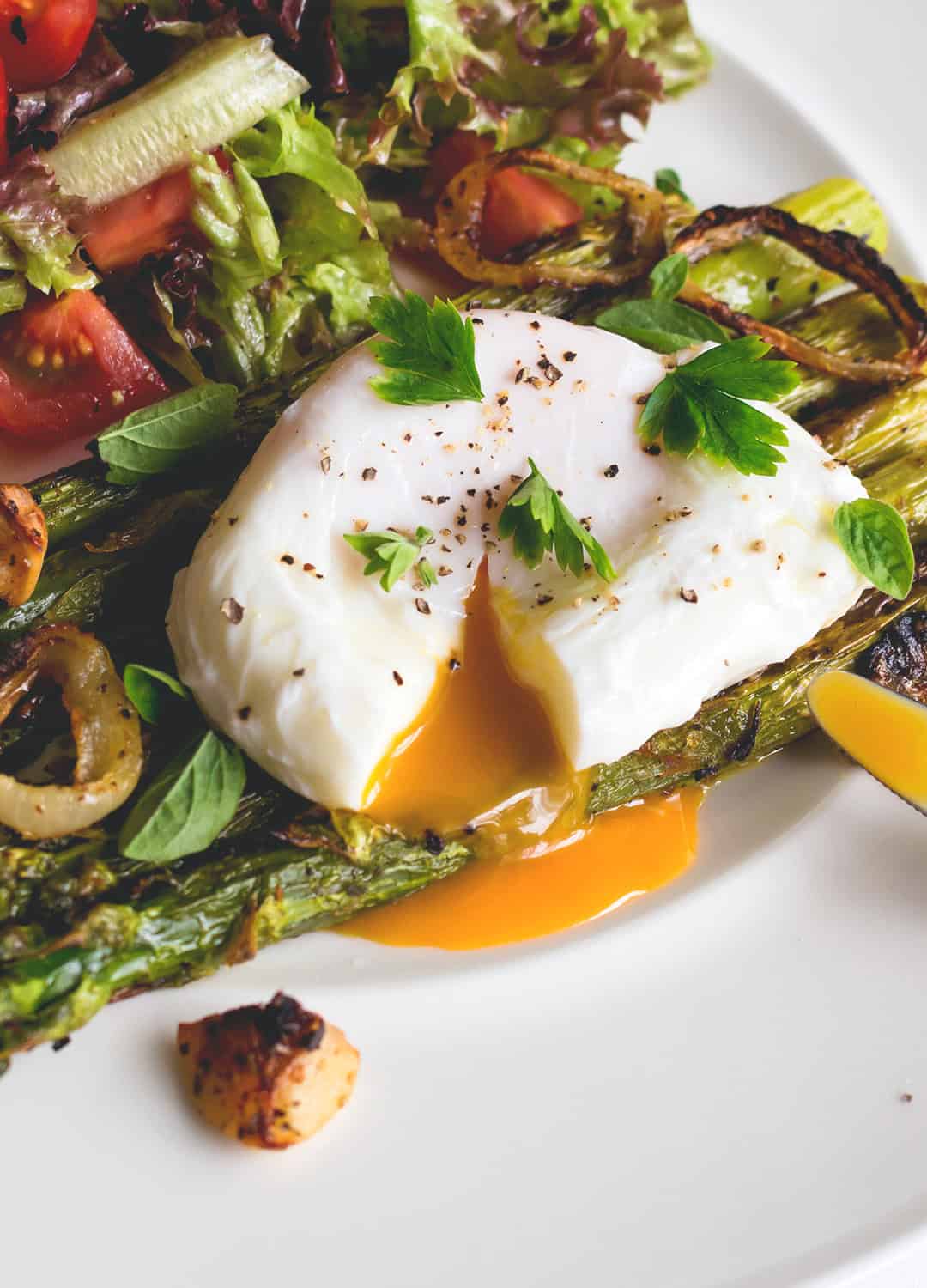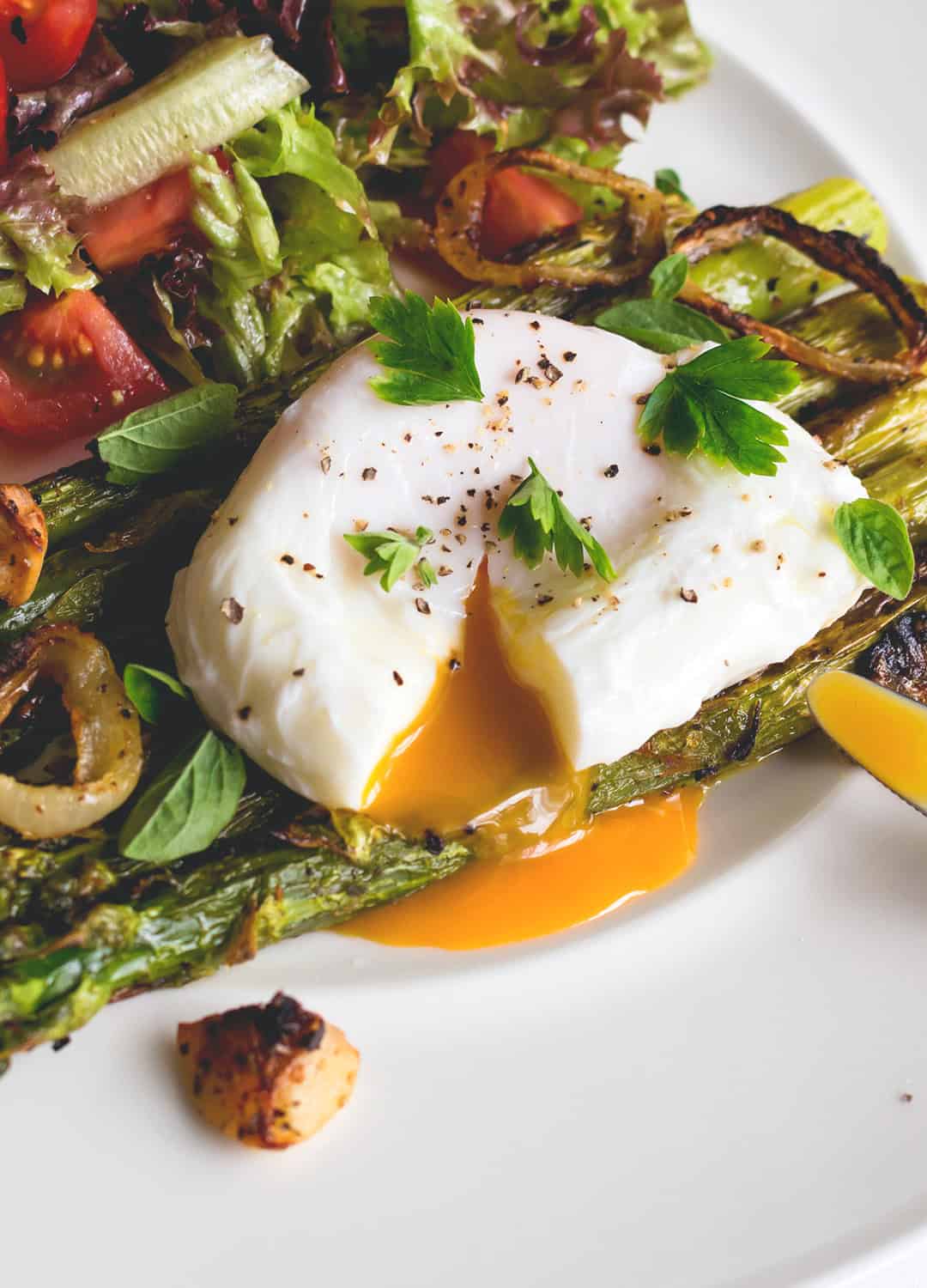 Print
📖 Recipe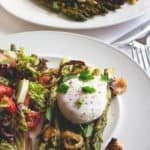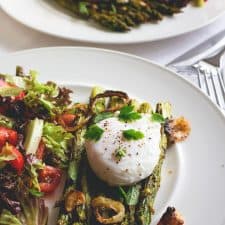 Grilled Asparagus with Poached Egg and Greens
---
Description
Most people tend not to like asparagus but when you cook it right, it's super delicious and satisfying. This dish is great for a quick lunch or Sunday brunch.
---
12

asparagus spears
mixed herbs

¼ tsp

chilli flakes or to taste

1

small yellow onion

1

clove garlic
extra virgin olive oil (if you don't want to roast with olive oil, add avocado or coconut oil instead)

1

head of lettuce of choice

10

cherry tomatoes
garlic powder (optional)
sea salt, pepper

2

eggs
fresh herbs for decoration - oregano, parsley (optional)
---
Instructions
Wash your asparagus and snap off the ends. Put them in a baking dish and season with dried herbs, chilli flakes, sea salt, and pepper. Roughly cut up 1 clove of garlic, slice the onion and spread it on top of the asparagus.
Drizzle with olive oil and set aside. Preheat your broiler to medium heat.
Wash your cherry tomatoes and greens of choice and dry the greens with a paper towel a little so they're not so wet.
Cut the cherry tomatoes into quarters and the lettuce into small pieces. Add both to a bowl, drizzle with olive oil, and season with sea salt, pepper, and garlic powder to taste.
Pop the asparagus into the oven and broil on medium for 15 minutes or until crispy and toss every 5 minutes.
Meanwhile, poach the eggs.
Crack the eggs into two separate cups.
Bring some water with a pinch of sea salt to a boil and turn off the heat.
Simply add the eggs into the water and cover with a lid and let it poach for 3-4 minutes.
If you're making only 1 egg, you can swirl the water with a spoon and drop the egg into the middle of the sauce pan.
Divide the salad into two parts, put it onto a plate along with the grilled asparagus and poached egg.
Top with fresh herbs and enjoy!
---