This Frozen Vegetable Stir Fry is the perfect dinner to make when you need something quick and easy but still packed with flavor. This dish can be ready to eat in as little as 15 minutes!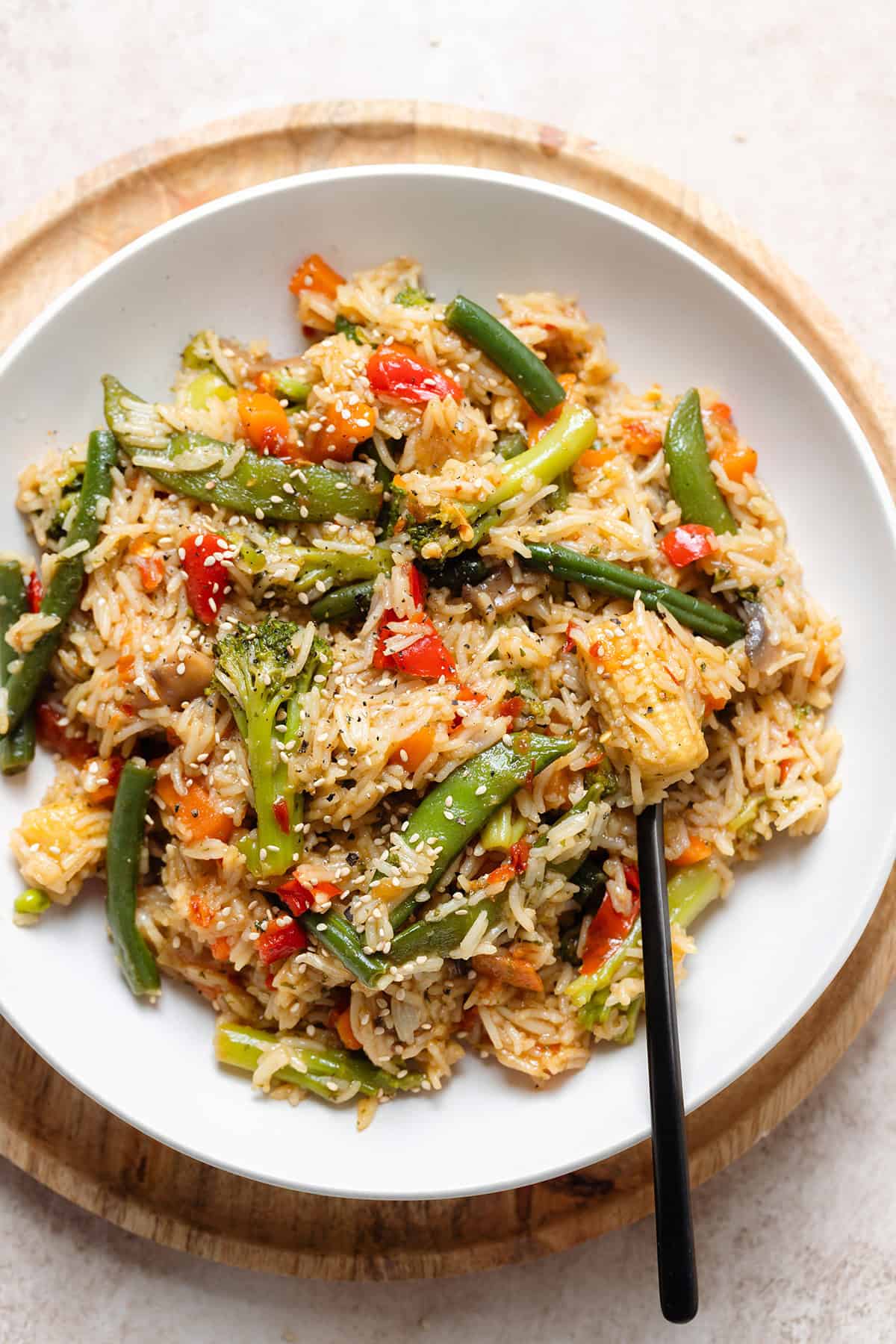 Jump to:
Why This Recipe Works
Quick and easy - This recipe takes only 15 minutes to make which is why it's my favorite meal to make when I don't want to spend any time in the kitchen. All you do is empty a bag of frozen vegetables into your pan, cook some rice, stir up the sauce in a cup, and add it to the cooked vegetables. Simple, easy, and so very good!
Homemade sauce - The sauce is really what makes this stir fry! Its main components are tamari, oyster sauce, chili garlic sauce, and toasted sesame oil. The combination of salty, spicy, sweet, and umami flavors really works in this dish. The sauce gives the veggies and rice a ton of flavor and makes the dish just the right amount of saucy.
Protein optional - Most of the time, I keep this dish simple as is but if I feel like cooking protein to go with it or have any leftovers, I definitely add some to make the dish more filling. You can add roasted or sauteed salmon, shrimp, chicken, or tofu. To keep it simple, use canned salmon or canned tuna.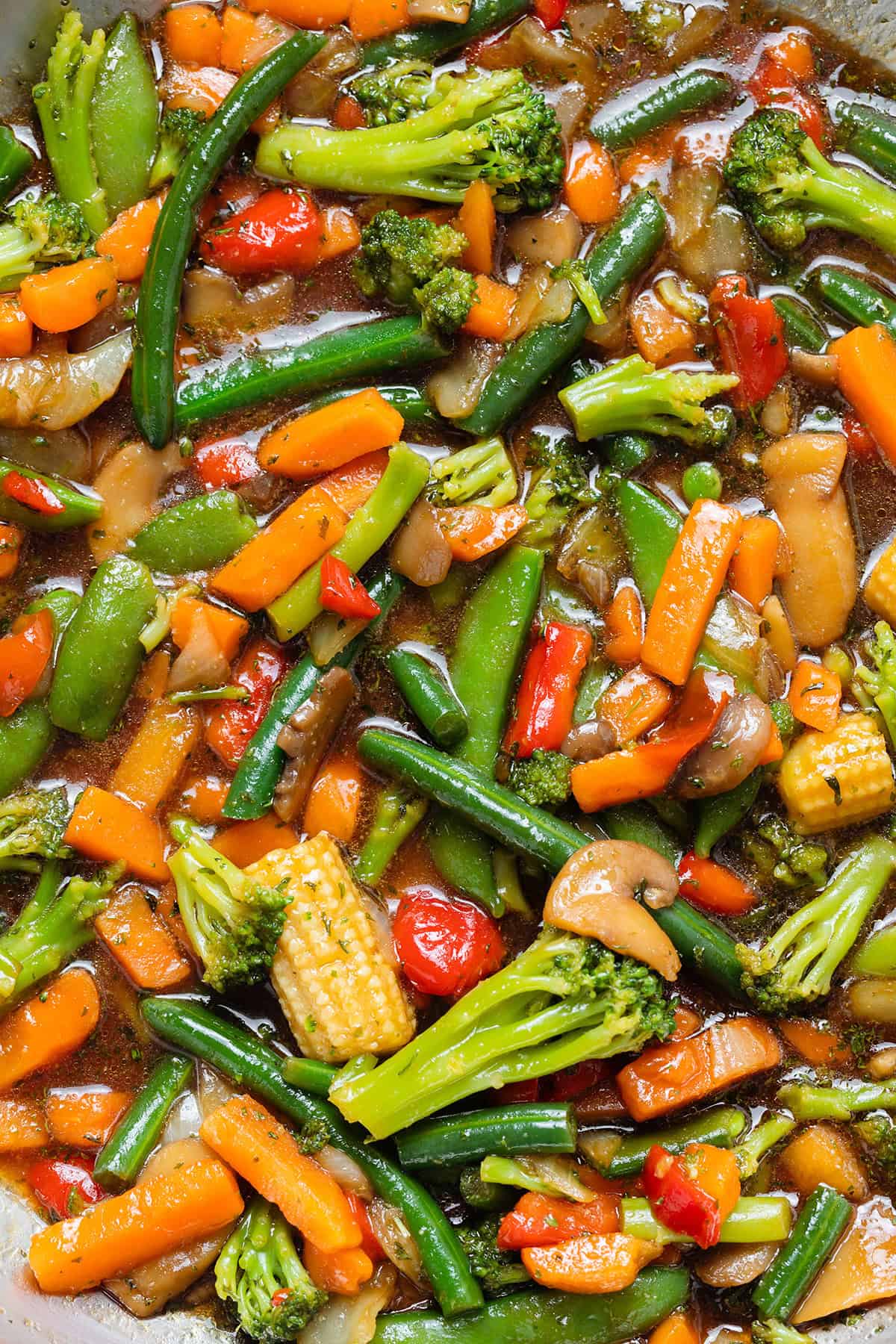 Ingredient Notes
Frozen vegetables - Any Asian-style frozen vegetable mix works here. I use a "Bangkok-style" vegetable blend from my local grocery store that's made with broccoli, carrots, green beans, baby corn, red bell peppers, onions, mushrooms, and sugar snap peas.
Rice - White basmati rice is what I use most often here because it keeps its shape and cooks really quickly (Tilda is my favorite brand). Brown rice also works great if you want a whole grain with more fiber but it will take longer to cook.
Tamari - I recommend tamari over soy sauce because it doesn't have any additives and it's gluten-free. You can choose regular or reduced-sodium tamari
Oyster sauce - This adds saltiness, sweetness, and umami to the dish. If you can't eat oysters, go with a vegan oyster sauce, there are a lot of them on the market these days! You can skip it but I highly recommend it if you can eat shellfish.
Rice vinegar - Rice is one of the mildest vinegar and it adds just the right amount of tang without overpowering the sauce. I highly recommend it, it's used in lots of different Asian sauces and it's a staple in my kitchen. You can also use white wine vinegar if needed.
Mirin - Mirin is a rice wine that's typically used in Japanese cuisine. It goes really well with the flavor in this dish. You can't specifically taste it but it adds that little something. If you don't have any, you can substitute it with 1 tablespoon of rice vinegar with 2 teaspoon sugar but I highly recommend trying mirin. It lasts a long time and it's used in a ton of Asian dishes.
Tapioca starch - Both tapioca starch and corn starch work interchangeably. I opt for tapioca to avoid processed corn but both work great! You can skip it if you don't have any but it helps thicken the sauce slightly. It's important to mix it with a little bit of water first before adding it to the rest of the sauce to help it mix in properly.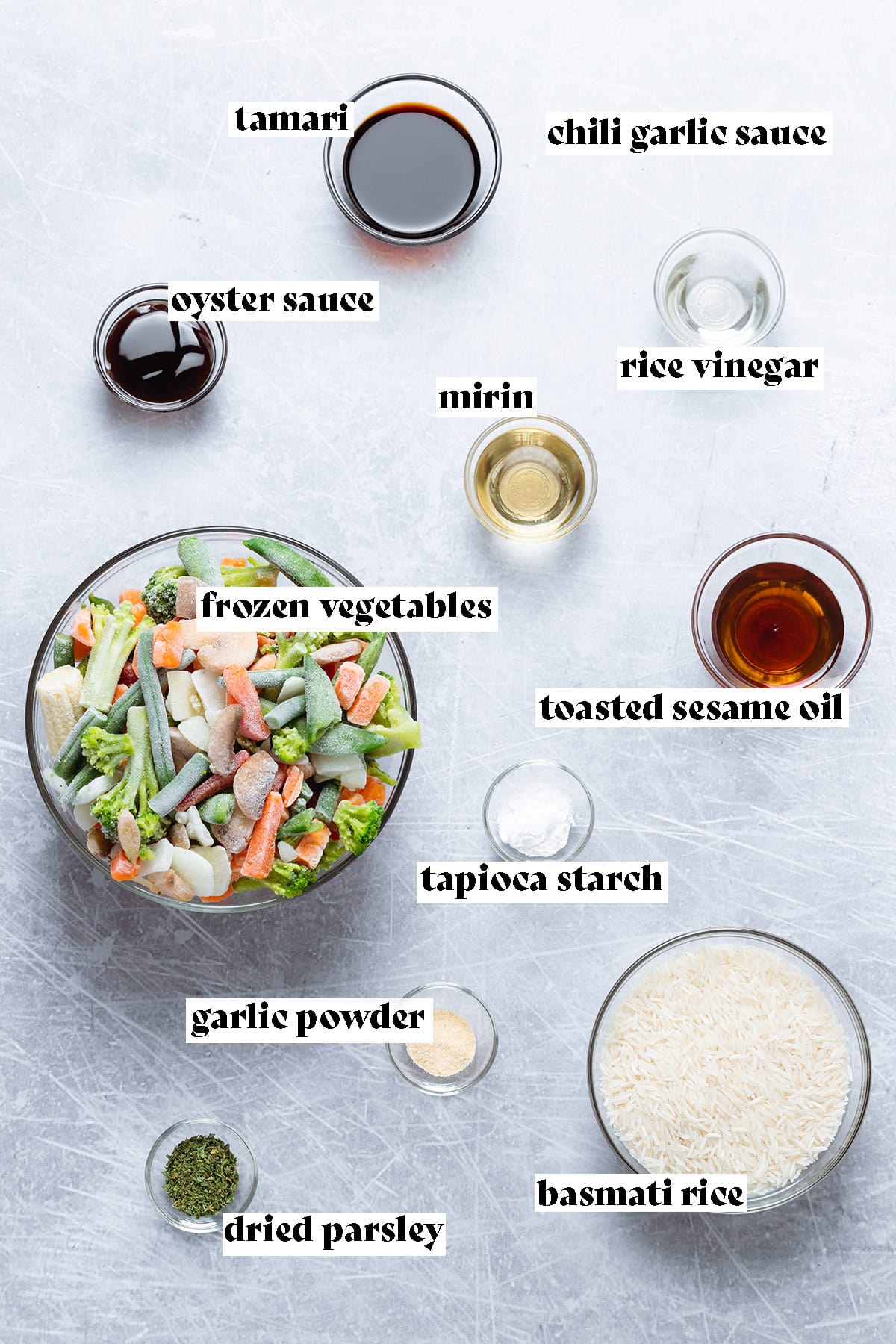 Step-by-Step Instructions
Cook the rice: First, rinse the rice thoroughly and cook it while you prep the rest. I like to rinse the rice right in the pot I'll be cooking it in and change the water 2-4 times until it's clear. This prevents the rice from being clumpy.
Cook the rice with water in a 1:2 ratio for 10-12 minutes. Take it off the heat, fluff with a fork, and cover with a lid to let steam for 5 minutes.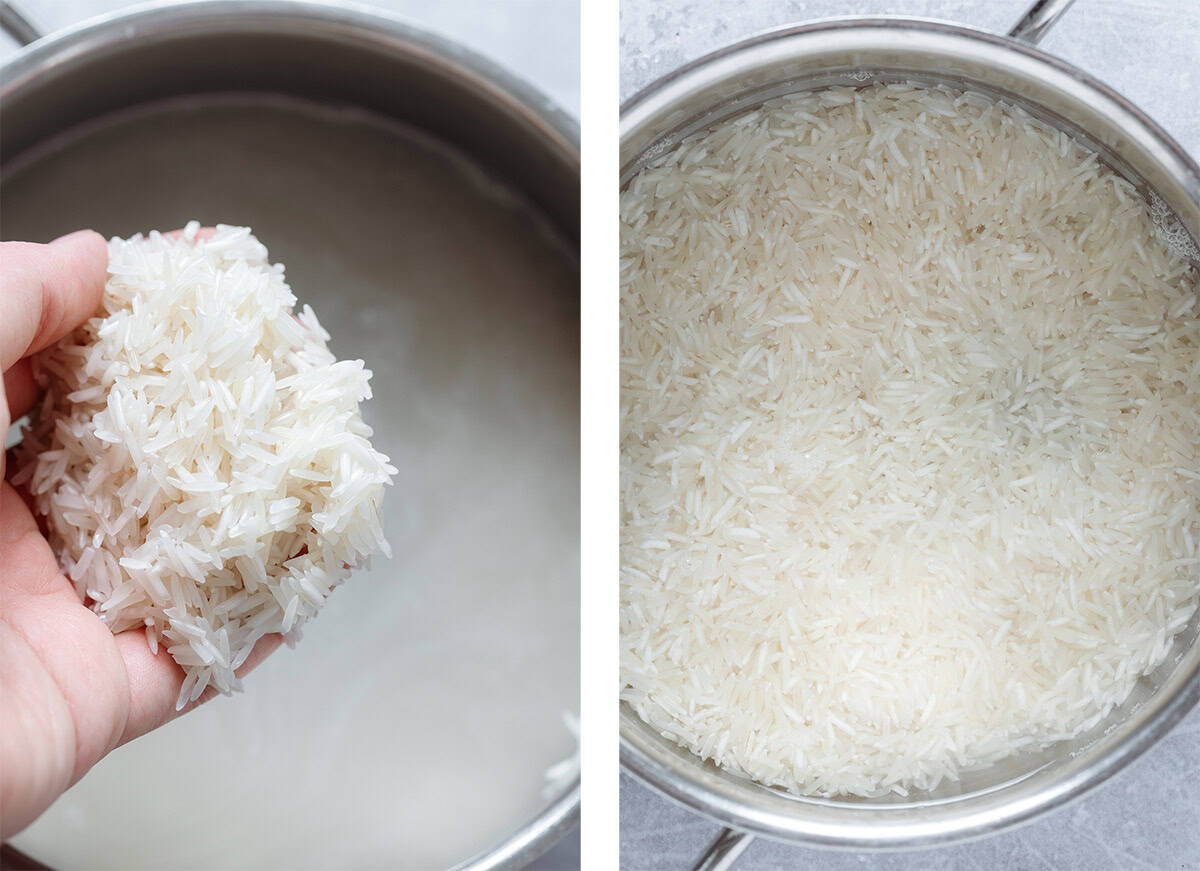 Make the sauce: I like to add the vegetables to a large pan and set it over high heat first and then make the sauce so it defrosts and starts to cook while I prep the sauce.
In a cup or a bowl, whisk together tamari, oyster sauce, rice vinegar, mirin, toasted sesame oil, garlic powder, and dried parsley. In a separate small bowl, mix tapioca starch with a splash of water. Whisk it into the sauce. Mixing it separately helps it mix better with the sauce. If you don't mix it separately, the sauce will be clumpy.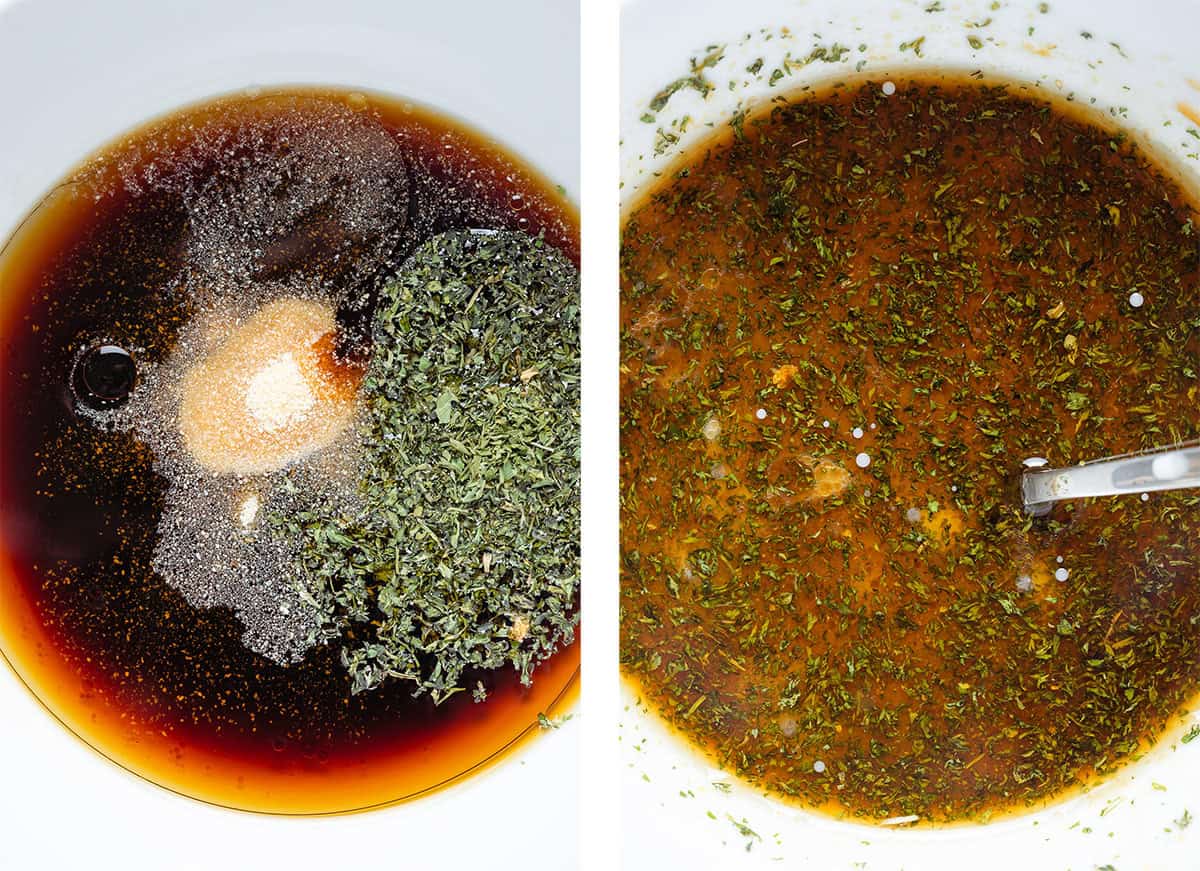 Cook the vegetables from frozen on high or medium heat for 5-10 minutes or until completely defrosted and heated through. Add the sauce, stir, and let simmer for 2-3 minutes until the sauce thickens. It should be thick just enough to cover the back of a spoon and glossy.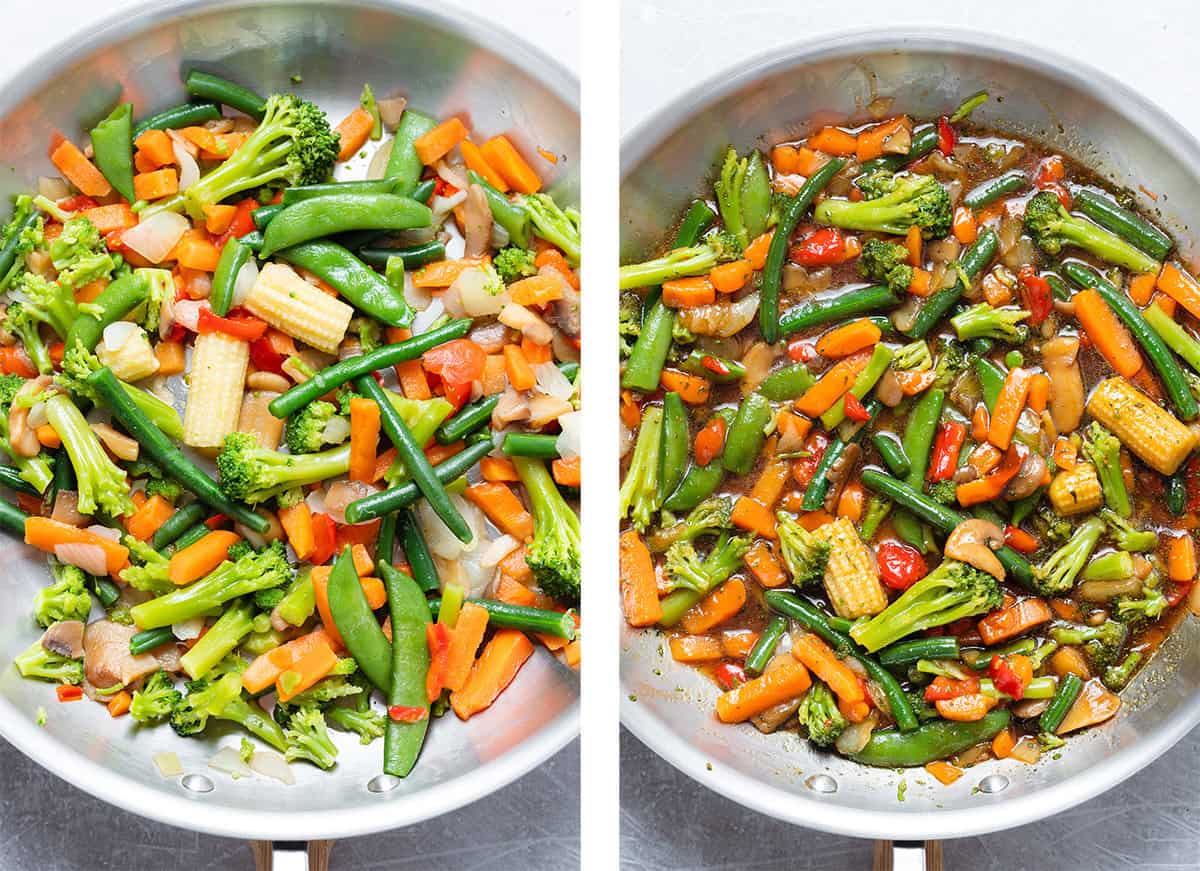 Once your rice is done cooking, add it to the vegetables and take the pan off the heat. Mix everything up and serve! You can serve it as is or with a sprinkle of toasted sesame seeds and some back pepper.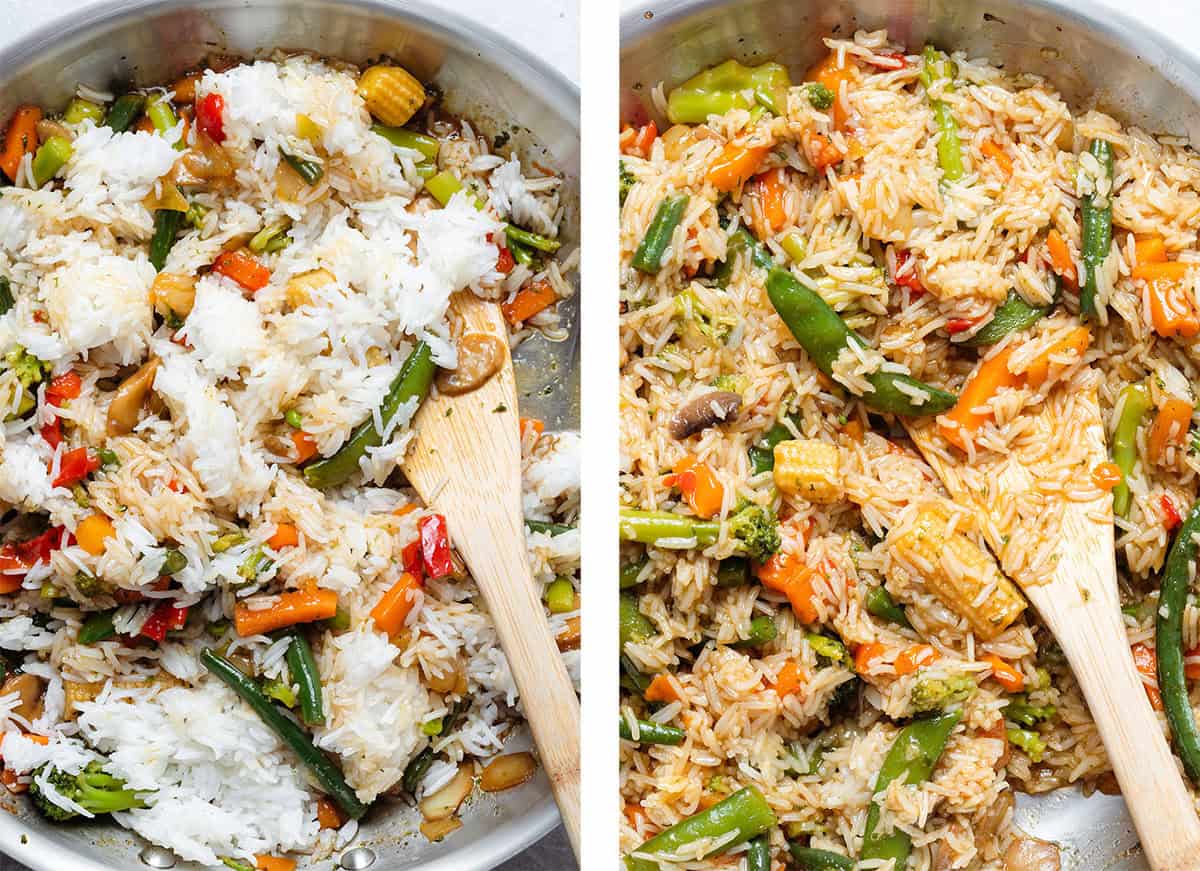 Serving and Storing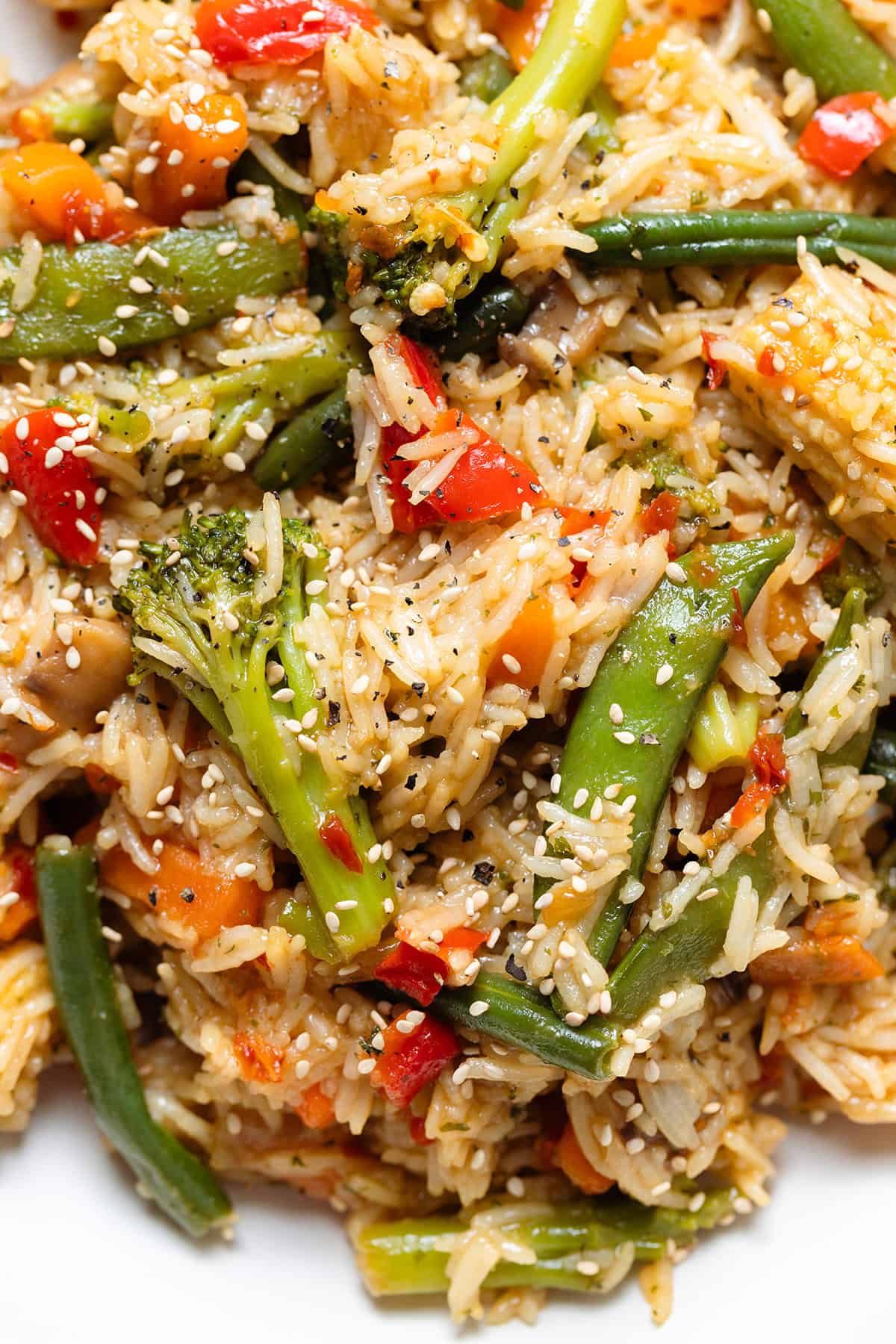 FAQs
Do I need to defrost the vegetables before cooking?
Nope, no need to defrost them! I always cook them from frozen. They don't take more than 5-10 minutes to defrost and warm up.
Is this dish vegan?
Oyster sauce is made with oysters which are shellfish so this dish is not vegan. You can use a vegan oyster sauce to keep this recipe vegan-friendly.
Can I use fresh vegetables?
Using fresh vegetables instead of frozen will always yield better flavors but this recipe calls for frozen veggies to keep it simple and quick. I use a frozen vegetable blend made with broccoli, carrots, green beans, baby corn, red bell peppers, onions, mushrooms, and sugar snap peas. You can get those fresh and make your own mix if you prefer.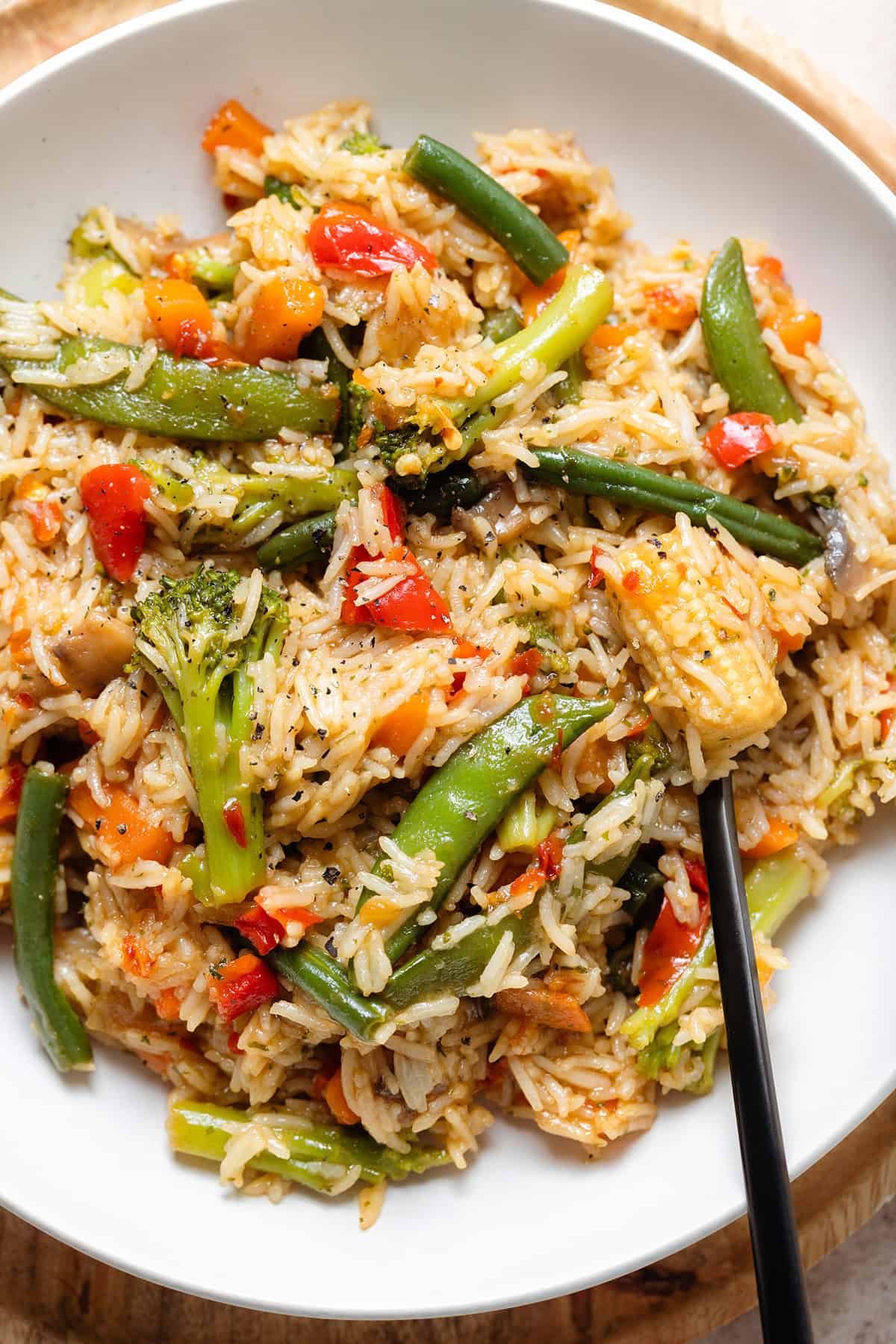 Similar Recipes
Below are four recipes with similar flavors I recommend you try if you like this stir-fry! The roasted veggies with ramen are especially my favorite! Head over to the Main Course category to see all the latest recipes.
Print
📖 Recipe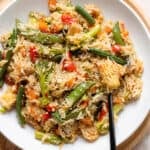 Frozen Vegetable Stir Fry
Author:

Veronika | thehealthfulideas

Prep Time:

5 mins

Cook Time:

15 mins

Total Time:

20 minutes

Yield:

2

-3

1

x

Category:

Main Dish

Method:

Stovetop

Cuisine:

American

Diet:

Vegetarian
---
Description
Using frozen vegetables makes this stir fry quick and easy. Homemade sauce is simple but makes it all taste amazing! Ready in 15 minutes.
---
1 cup

white basmati rice

2 cups

water

500g

(

1

bag) mixed frozen vegetables (I used a mix of broccoli, carrots, green beans, baby corn, red bell peppers, onions, mushrooms, and sugar snap peas)

3 tbsp

tamari

2 tbsp

oyster sauce

1 tbsp

rice vinegar

1 tbsp

mirin

2 tbsp

toasted sesame oil

½

-

1

teaspoon chili garlic sauce

1 tsp

dried parsley

½ tsp

garlic powder

1 tsp

tapioca starch (or corn starch)

1 tbsp

water
Toasted sesame seeds and black pepper for garnish (optional)
---
Instructions
Start by rinsing the rice. I do this in the pot I'll cook the rice in. Add water and swirl the rice around and drain. Repeat until the water runs clear.
Add 2 cups of water to the rice, cover with a lid, and bring to a boil. Cook partially covered for about 10 minutes. Take off heat and set aside covered to steam for 5 minutes.
While the rice is cooking, add your frozen vegetables to a large skillet. Cook from frozen stirring over medium-high heat until heated through (5-10 minutes). Stir often so it everything defrosts evenly. No need for oil.
While the vegetables are cooking, in a mug or a bowl, whisk together the tamari, oyster sauce, rice vinegar, mirin, toasted sesame oil, chili garlic sauce, dried parsley, and garlic powder.
In a small bowl, mix tapioca starch and a tablespoon of water to make a slushie. This makes it easier to mix into the sauce. Add the tapioca slushie into the sauce and stir.
When the vegetables are heated through and fully defrosted, add the sauce. Stir and cook for 2 minutes over medium heat or until the sauce thickens slightly.
Add the cooked rice to the skillet and stir to combine everything.
Serve immediately sprinkled with toasted sesame seeds and black pepper if desired.
---
Notes
Protein: This stir fry can be served as is so you can add protein to it. Crispy roasted tofu, chicken, salmon, shrimp, or even tuna are great options. I like adding canned tuna or canned salmon to keep this recipe quick and easy.
Storing: Store any leftovers in an airtight container in the refrigerator for 2-3 days.
Reheating: Reheat leftovers in a large skillet with a splash of water until heated through.
Keywords: vegetarian stir fry, frozen vegetables