TIME FOR COOKIES!
If you could taste all the Christmas magic in just one bite, these cookies would be what you should bite into!
It's always a good time to have a cookie, right?
And not just any cookies! These babies are gluten-free, dairy-free, with no processed sugar whatsoever. Nonetheless, these are the best cookies I've ever had. At least until I create cookies with even better flavor, which seems impossible right now.
These taste like gingerbread, they're soft and chewy in the middle and crunchy on the edges — they're basically everything I'm looking for in a cookie.
I LOVE  the combination of the spices and dried cranberries. Before I put these in the oven I had the idea to drizzle nut butter on them so it'd sink in and they'd come out all delicious like chocolate brownies with peanut butter swirl. The sinking obviously didn't happen since the texture of the dough is completely different from brownie batter but they ended up being delicious either way. You can omit the nut butter, if you don't like it, or you can simply mix it into the dough if you don't want your cookies sticking together too much.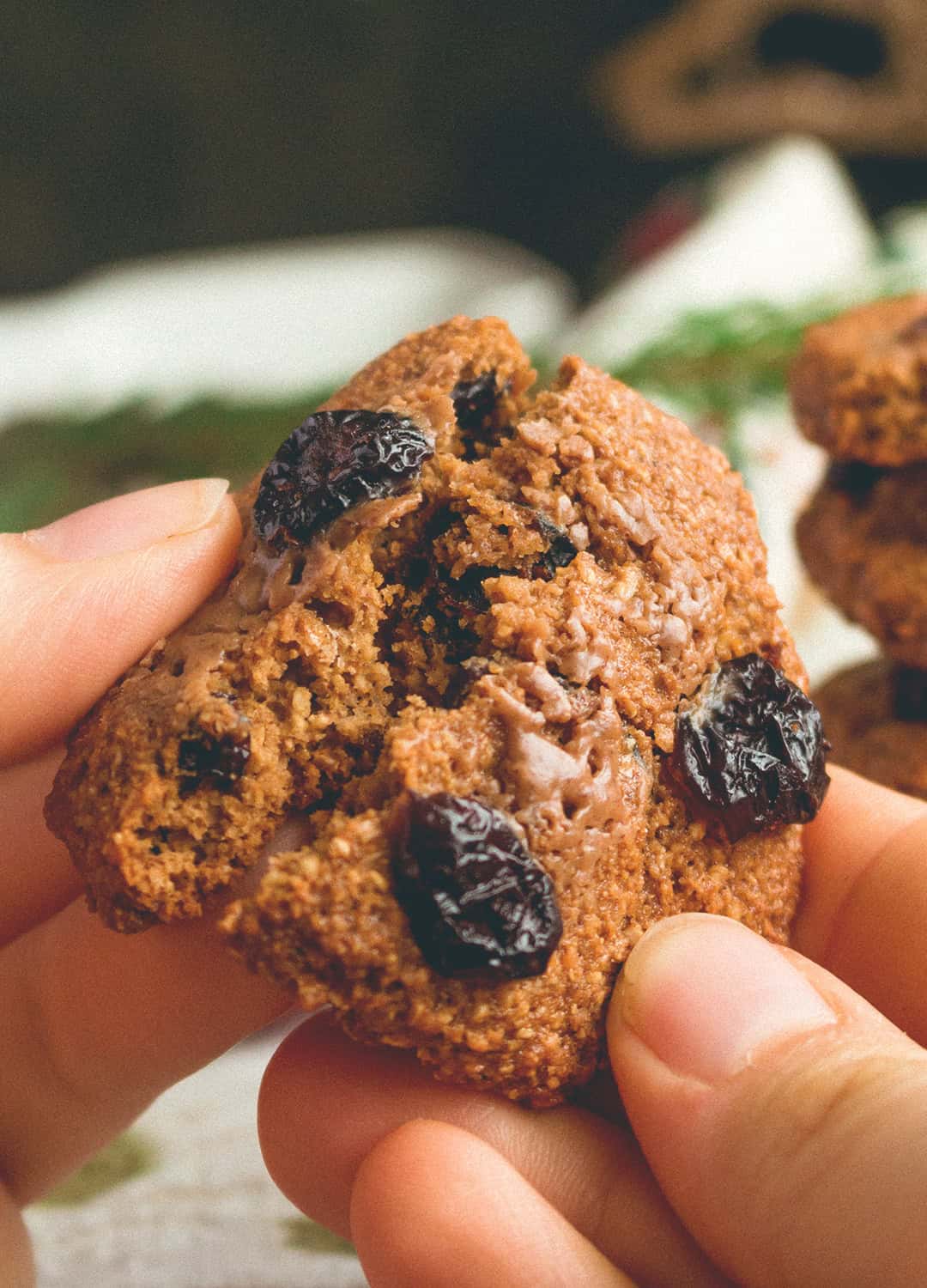 You may be wondering what I'm doing, baking Christmas cookies when Christmas is almost over.. Well, I know baking cookies should be a pre-Christmas thing to do but I find that I have more time for cooking and baking during the holidays than I have the weeks before that.
This Christmas I was in New York on vacation until December 17th so I haven't spent much time in my own kitchen this month. And as much as I like cooking and baking Christmas food, I don't regret being away one bit. I mean, it's New York. I don't think it needs more explanation.
And even if I were home all December, Christmas preparation takes up so much time it's crazy. All the cooking, buying everything from Christmas presents to bread, wrapping presents, cleaning the house, etc. — Christmas prep can be a little hectic and stressful so when it's all finished and done, I love to just take it slow and bake something delicious. And these cookies? Oh, these really are somethin' else.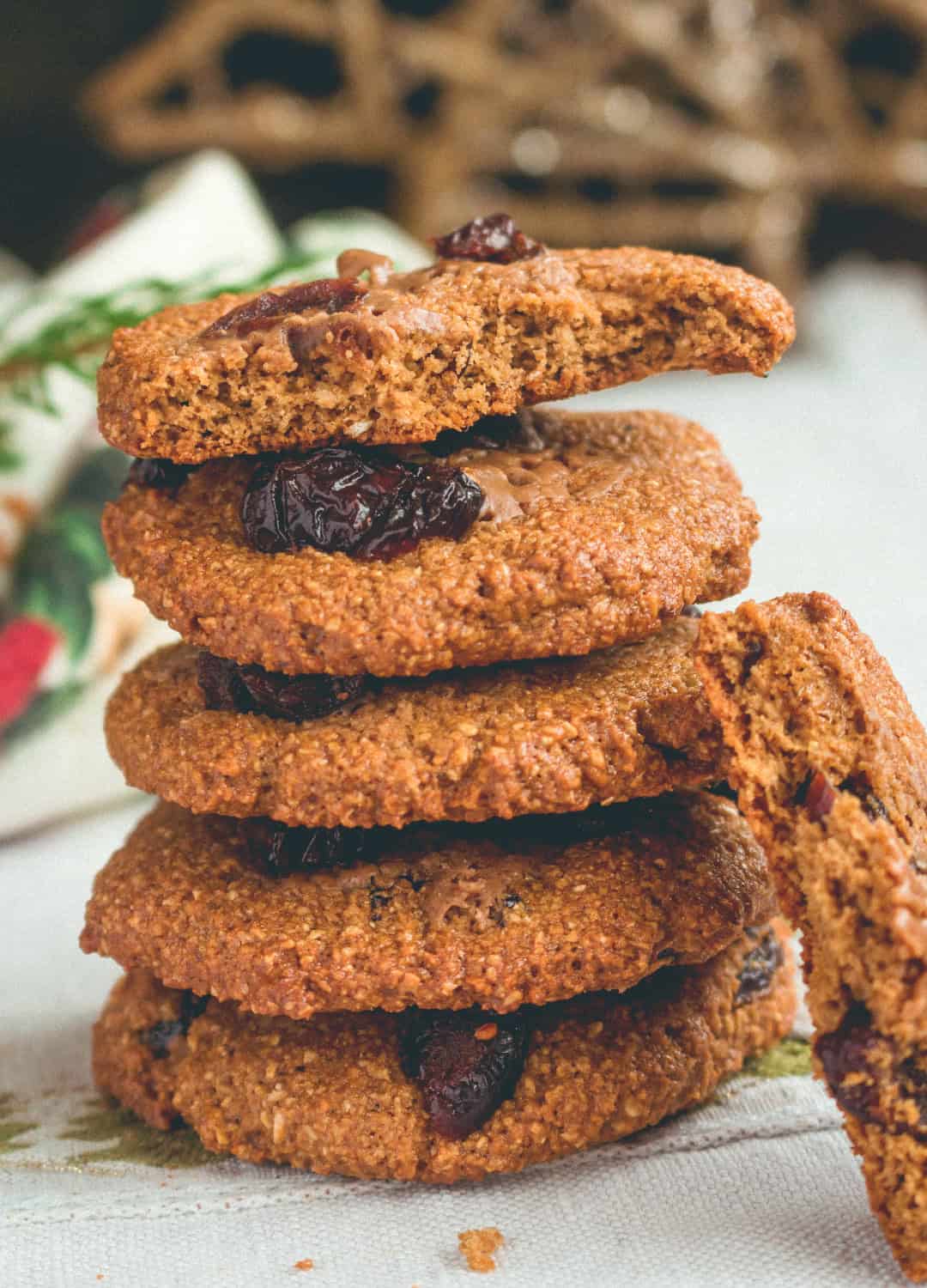 You can see the texture of the cookies in these pictures, I mean, do I even need to elaborate? They speak for itself, don't they? These are P-E-R-F-E-C-T-I-O-N. Well, they say nothing is perfect, and I agree, but these delicious Cranberry Oat Cookies come reallyyyy close.
These come out better and better the more I make them. And I do make them a lot..but shh.
Now, when I roll them into balls and flatten them onto a piece of parchment paper, I try to make them more round with my fingers to make them even prettier. It's not a necessary step but it make a noticeable difference and they look as if you bought them from a professional baker!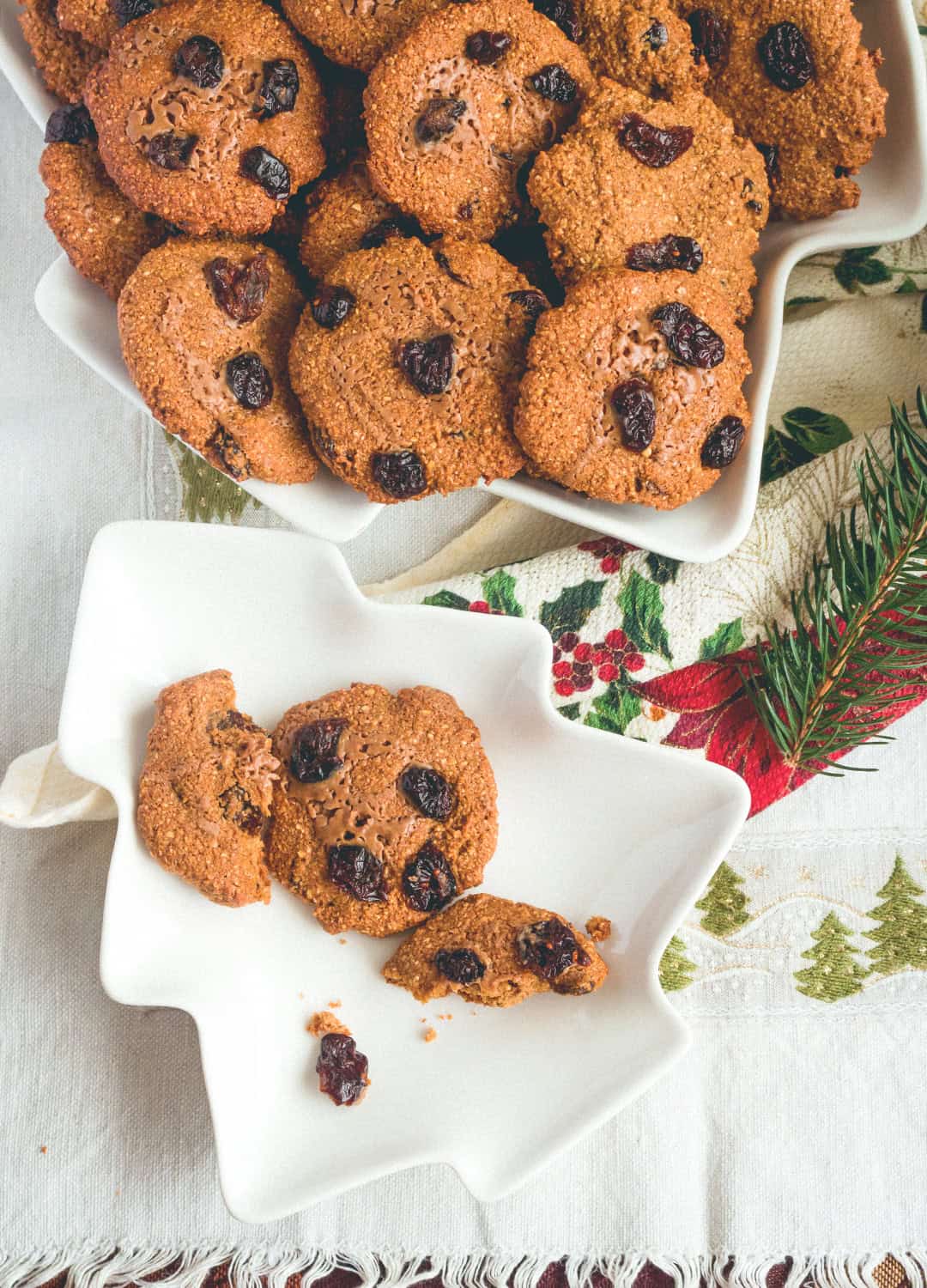 I hope every one of you had lovely Christmas and I wish you only the best in 2016!! This year's been great and I can't wait to see what 2016 brings! :) I've had this blog for a total of 9 months and this is my 32 post. I can't believe it's already been so long, I feel like it was yesterday when I was choosing a domain name! Time flies by soo fast and the more fun you have the faster it seems.
To wrap it up, I want to thank you for reading my blog, it means the world to me. I hope you enjoy this recipe and everything that's to come in the following months. I love posting, cooking, taking pictures and I can't wait to get back to it and share it all with you!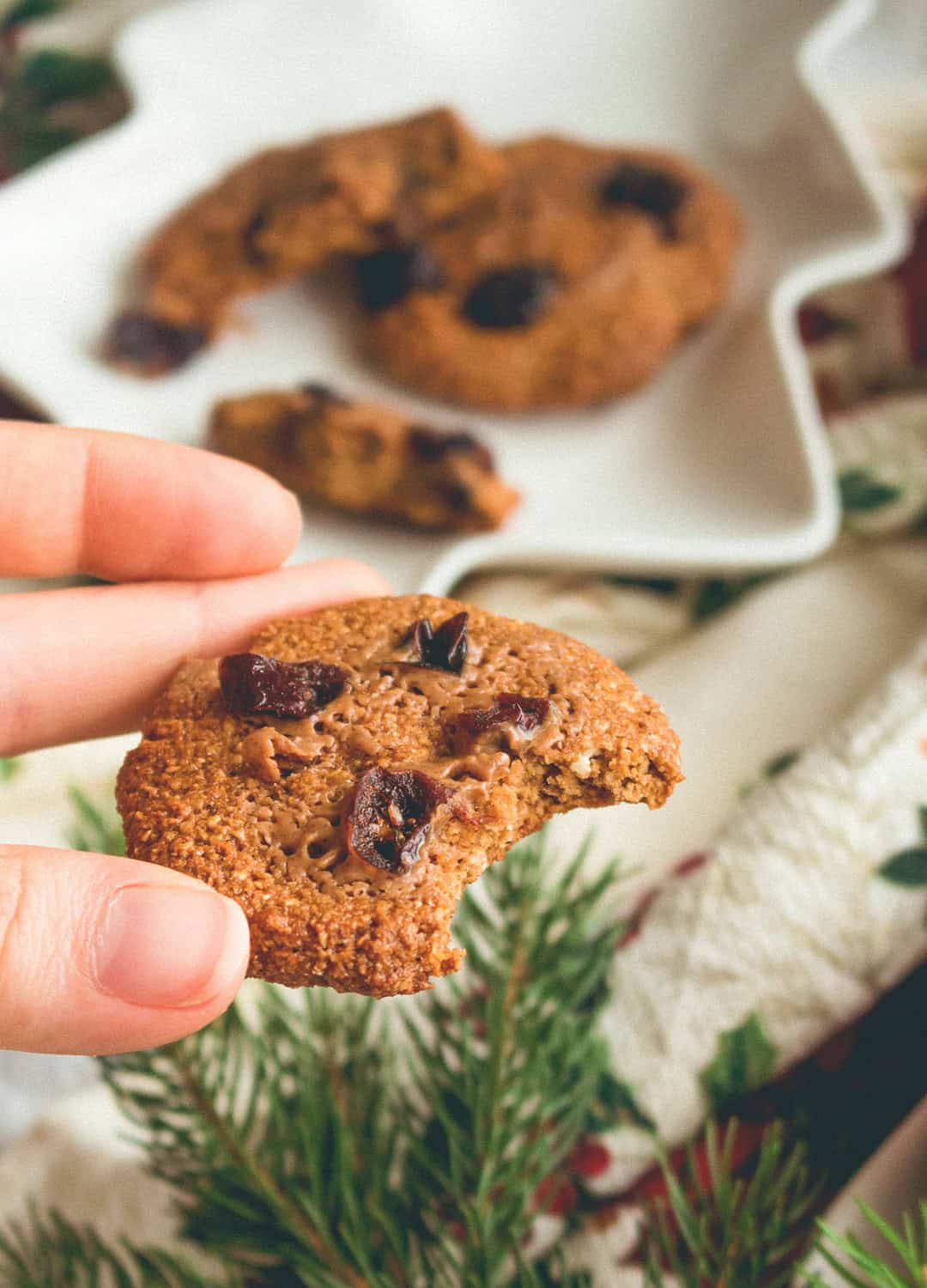 Print
📖 Recipe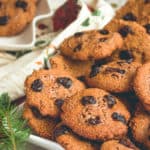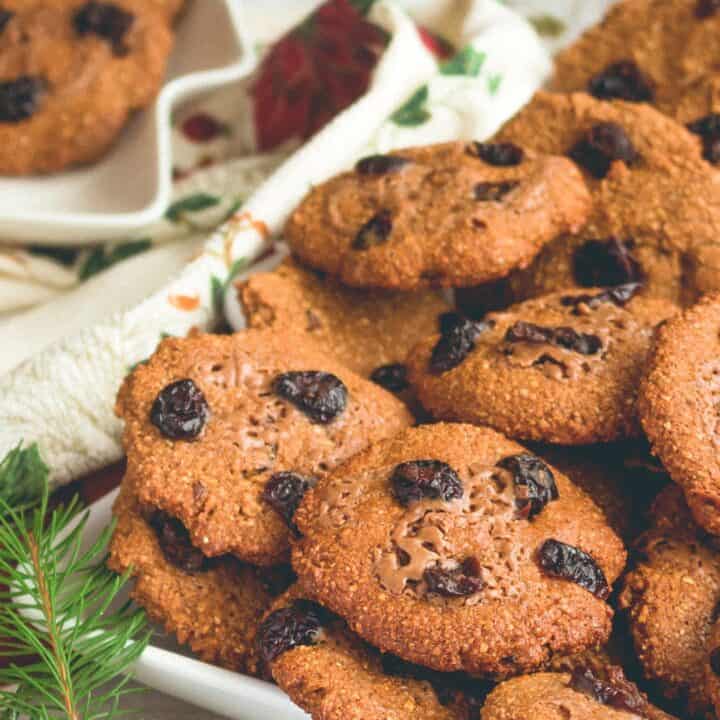 ---
1 ¼ cup

oat flour (grind up old fashioned oats)

¾

almond flour

¼ cup

coconut flour

1 cup

coconut sugar

½ tsp

sea salt

½ tsp

baking soda

1

heaping teaspoon cinnamon

½ tsp

ground ginger

½ tsp

vanilla bean powder (

2 tsp

vanilla extract)

½ tsp

ground cloves

½ tsp

ground allspice

¼ tsp

ground nutmeg

2

eggs

3 tbsp

coconut oil, melted

½ cup

+ ½ cup cranberries (first half to add to the dough and the second half to put on top of the cookies)

1 tbsp

hazelnut butter (optional, drizzled on top of the cookies before baking)*
---
Instructions
Preheat the oven to 180C (370F).
Add all the dry ingredients into a big bowl, except the cranberries.
Mix well until everything is well incorporated.
In a separate bowl, whisk the eggs and mix in the coconut oil.
Pour into the dry ingredients and mix well with a wooden spoon.
The dough is really sticky and wet so you won't kneel by hand. Just keep mixing it thoroughly with the spoon until combined.
Set aside for 5 minutes so that the coconut flour absorbs all the moisture and mix again.
If it's too runny, add a tablespoon or two of the oat flour. It's not as thick as a regular cookie dough but not as runny as cake batter.
Fold in ½ cup of the cranberries.
Let the dough chill in the fridge for at least 15 minutes.
Line a baking sheet with some parchment paper, otherwise the cookies will stick to the bottom.
Scoop about a tablespoon of the dough onto the sheet and flatten it with your fingers.**
I made each cookie about 0,5cm (0,2in) thick. They will rise and expand as they cook.
Drizzle each cookie with a tiny bit of hazelnut butter if desired.
Top with more cranberries and press them lightly into the cookies.
Bake for 12-15 minutes or until golden brown. The edges should be golden and hard and the middle still a little soft. They will harden as they cool.
Take them out of the oven and let them rest on the baking sheet for 5-10 minutes. Then transfer them to a cooling rack and cool completely before storing.
Store in an airtight container.
---
Notes
*You could also mix the hazelnut butter into the dough. Simply add it in with the eggs and coconut oil and mix well.
** It's easier to flatten it when you keep your fingers wet so they don't stick to the dough.
If you make them in batches, place the dough back into the fridge between each batch. Also, let the baking sheet cool down a bit before putting dough onto it again.