Yesterday, I finally had a day off which meant relaxing afternoon doing anything I wanted. So naturally, I cooked. The weather has been crazy these past few days, I mean, it's raining one minute and the next thing you know, your garden is covered with snow. And in April? Maybe the weather decided to play an April Fool's Day joke on us all, huh. That being said, I love the sight of snow, or even rain for that matter, falling down as long as I don't have to go outside. With all the snow, it suddenly felt like Christmas again and as I was listening to Christmas carols I decided to make myself some Christmas-themed colorful pancakes.
Don't judge, I just love Christmas too much & I can't stop listening to Christmas songs to save my life. Does Frank Sinatra's New York, New York count as a Christmas song? Probably not, but whenever I listen to it I think of Christmas, Times Square covered in snow & the midnight ball dropping and shed a tear. I actually already can't wait for Christmas. But shh, don't tell anyone.
These pancakes are one of the best ones I've ever made! So fluffy and delicious. I was going for red & green pancakes but they turned out pink and light green, so it was a sort of a fail but also not really because it makes them look more Spring appropriate. Plus, who'd say no to pink pancakes?!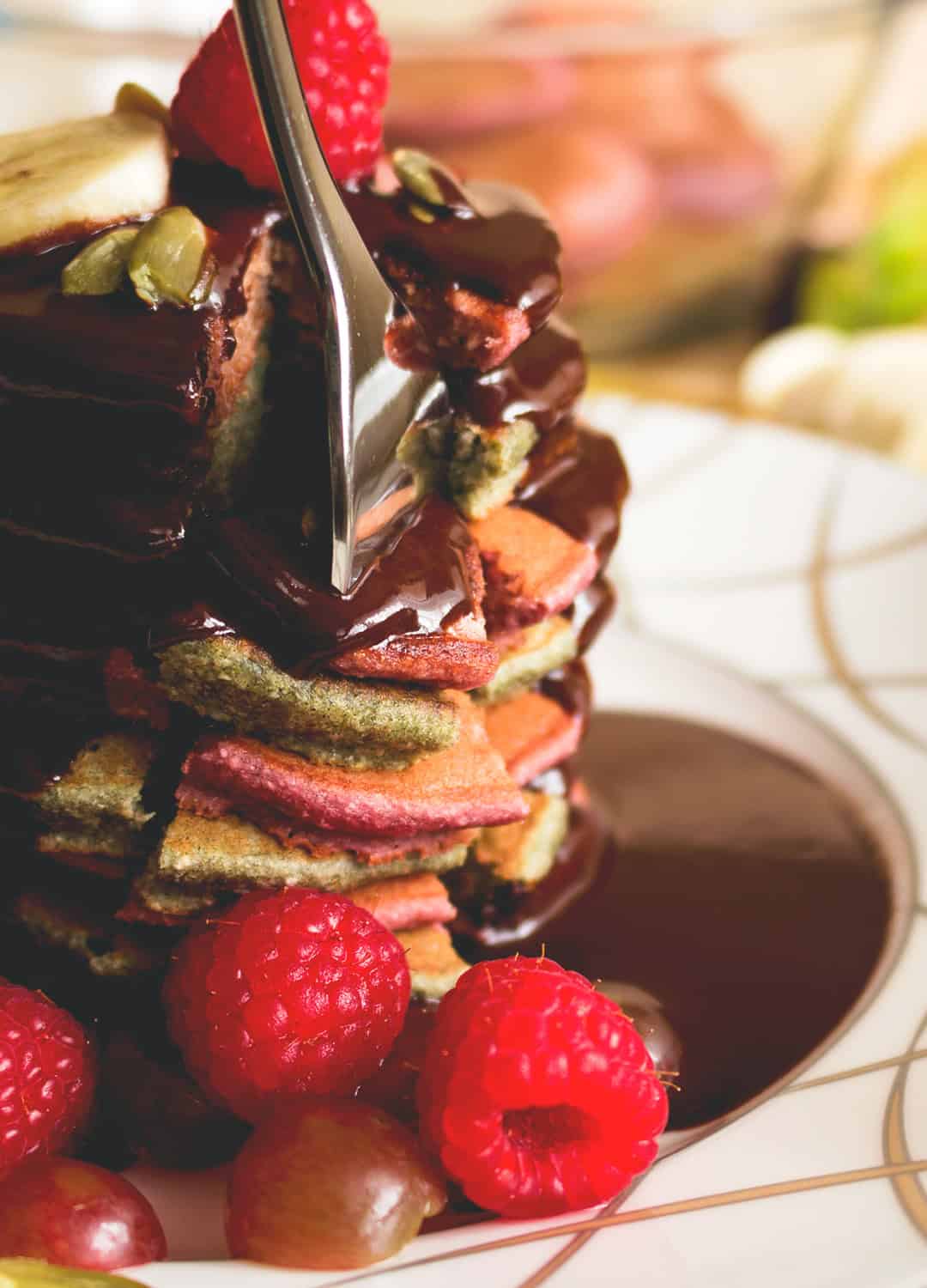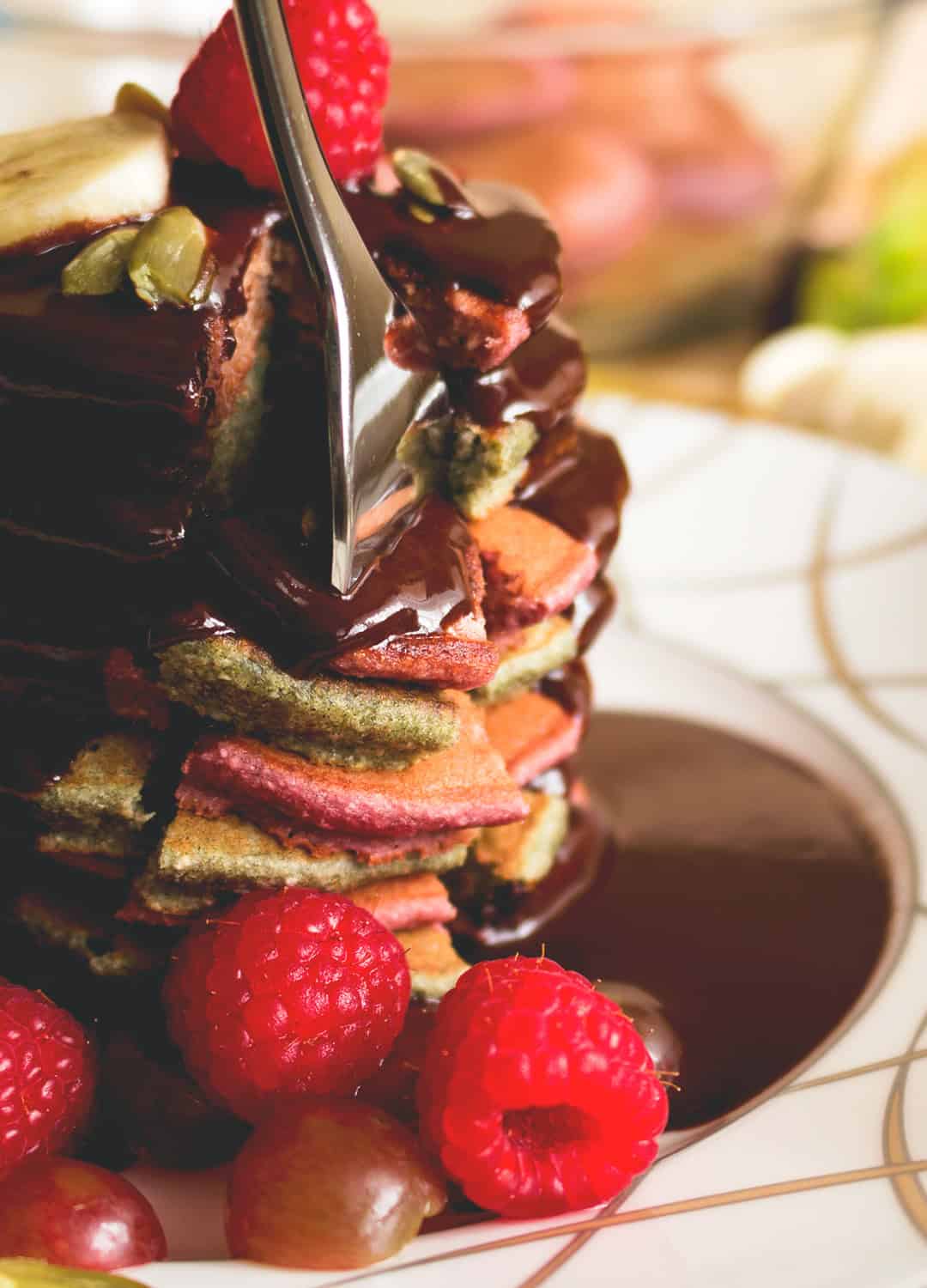 Not only are these delicious, but they're also gluten, dairy, and nut-free!
I did use eggs to make these because for me, making vegan pancakes tends to be pretty hard work and I just don't have the time. But if any of you folks out there want to make them vegan, feel free to substitute the eggs. I haven't tried that, though, so I can't tell how they'd turn out.
For the pink pancakes, I added beet juice. I simply juiced a medium beet, used 2 tablespoon for the pancakes and drank the rest. Yep, I drank pure beet juice. I'm one of those people who eat plain spinach and enjoy it. You could use pomegranate powder here, but beets have much deeper color.
For the green pancakes, I added ½ teaspoon chlorella powder. You could use any other green superfood powder, chlorella is simply what I had on hand & honestly it doesn't get greener than chlorella.
The best part is you can't actually taste the beet or the chlorella! The cooking obviously destroys most of the nutrients, but you still have a chance to hide at least some of the good stuff into a meal even a spinach hater will eat.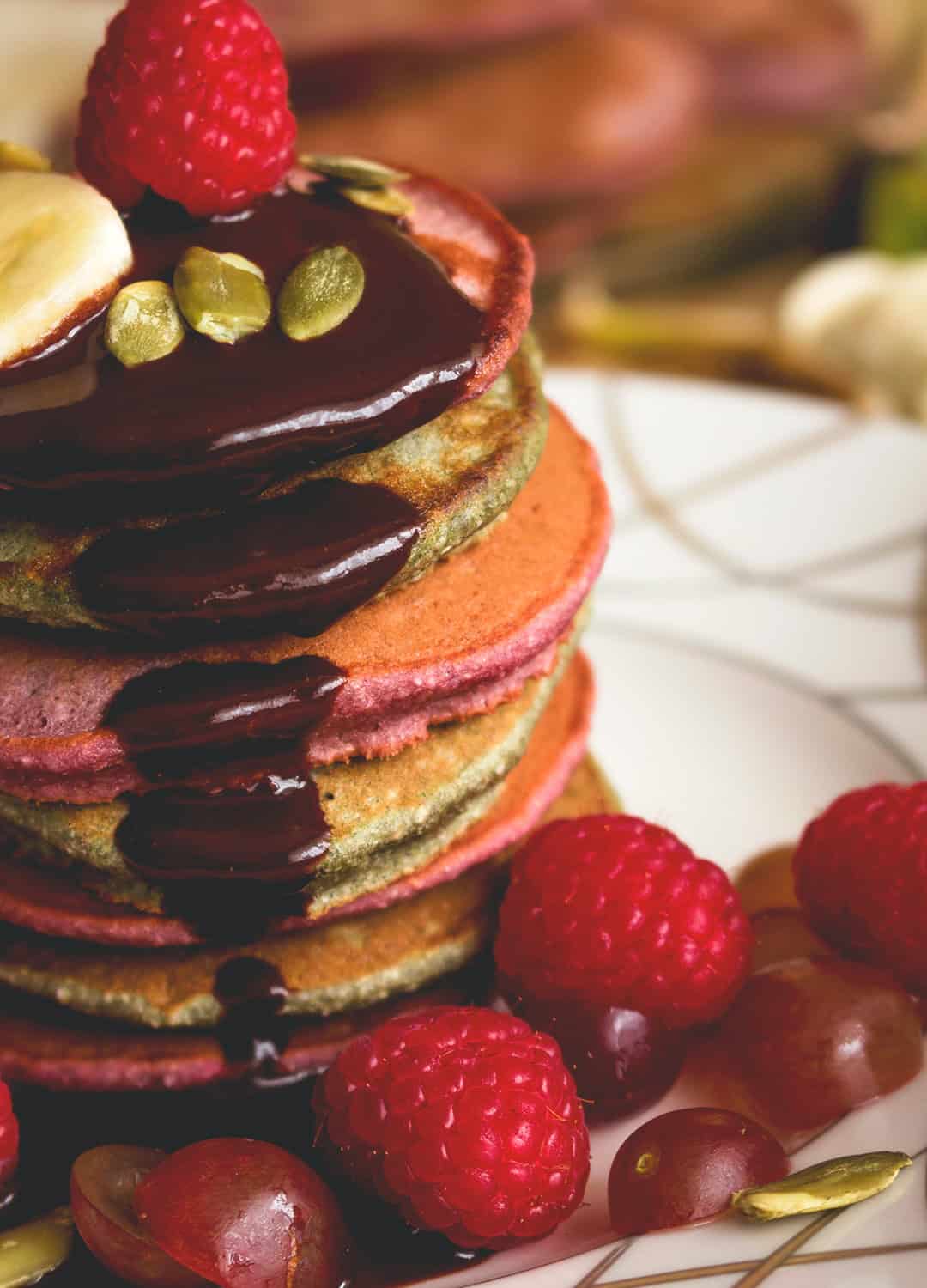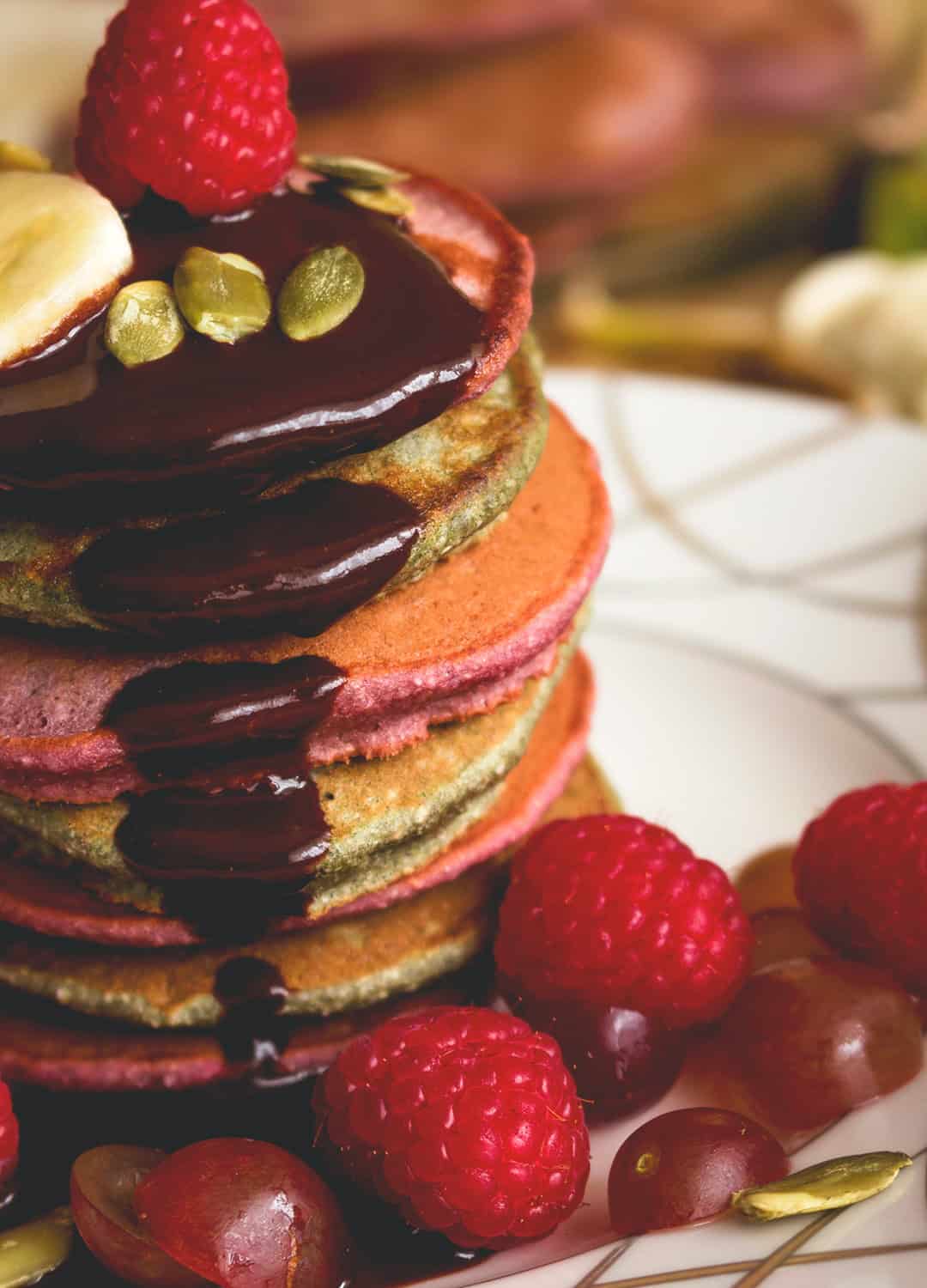 For this recipe, I chose buckwheat flour (ground up shelled buckwheat) but you can substitute that for oat or any other flour you have on hand. The gluten-free flour I'm using is a store-bought mixture of rice, buckwheat, tapioca, maize, and potato (by Doves Farm). You could mix up your own, buy one that's available to you, or simply add any other flour you have. I find that a mixture of flours is the key for the best result when using gluten free flour. That's why I added also coconut flour. You can always substitute the coconut flour for any other flour although you might want double the amount (2tbsp) since coconut flour thickens up a lot and you always need much less of it.
Also, I hid some raspberries into the pink mixture for added flavor, but you can totally skip this step.
The batter should be runny enough so you don't have to flatten in when you scoop it onto the pan. However, it shouldn't be as runny as crepe batter, hence, me saying scoop, not pour. - Excuse my inability to explain the consistency of something.
Quick tip: When I'm done making the pancakes I like to pop them into the oven so they stay warm while I make the chocolate sauce and cut up my fruit.
Try topping these pancakes with my raw chocolate sauce! SO GOOD.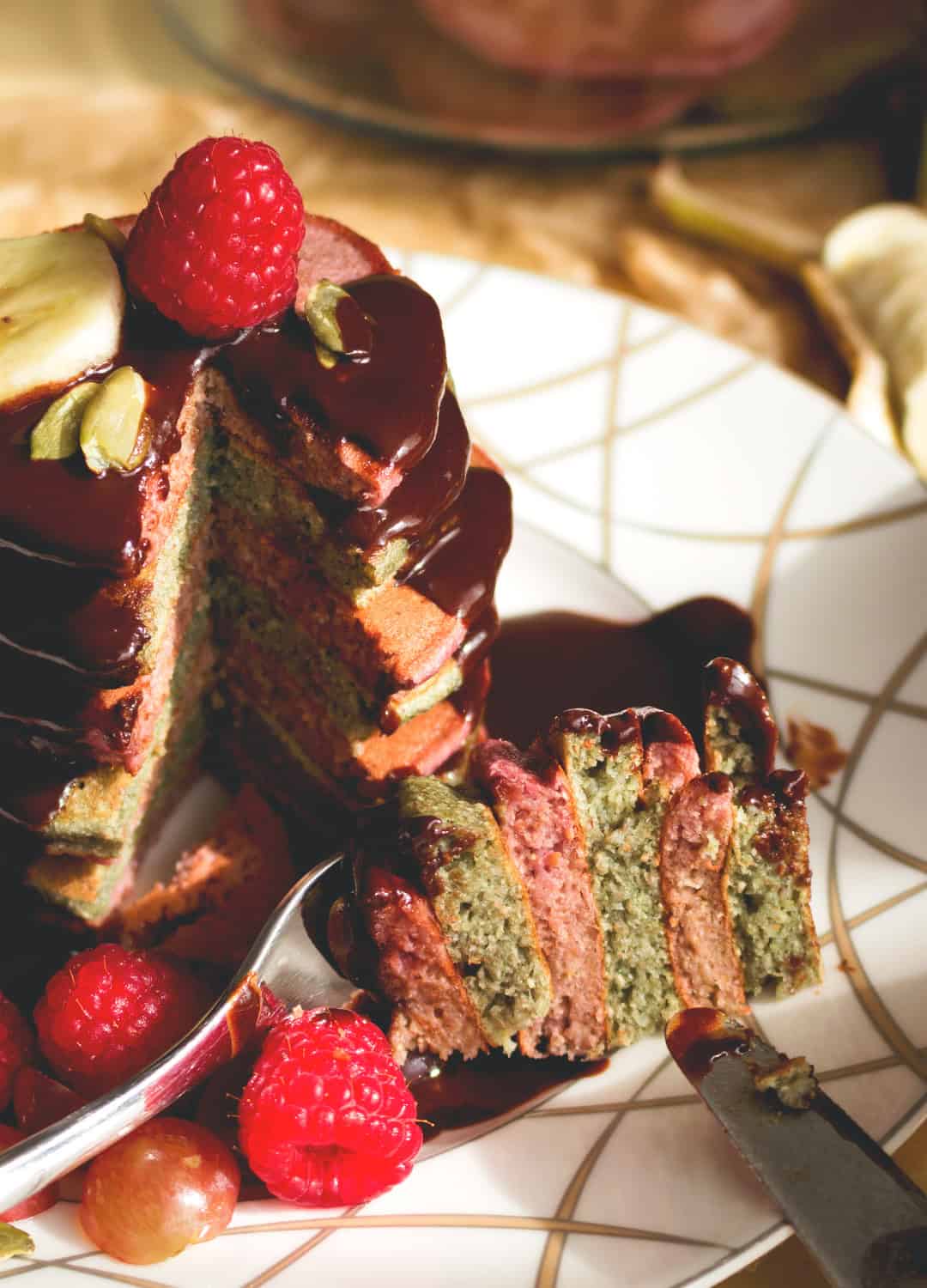 Print
📖 Recipe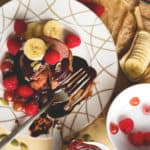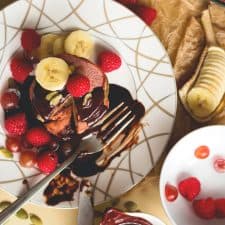 Colorful pancakes with chocolate sauce and berries
---
Description
Delicious, fluffy pancakes with a hidden superfood. An ideal breakfast for a Sunday morning. Double the recipe for 3 or more people.
---
2

eggs, beaten

2

very ripe bananas, mashed

1 tsp

vanilla extract

1 tbsp

maple syrup (optional)

½ cup

buckwheat flour

¼

gluten-free flour mix

1 tbsp

coconut flour

¼ tsp

baking soda

¼ tsp

sea salt / Himalayan pink salt
coconut oil for frying
Pink pancakes:

2 tbsp

beet juice

2 tsp

gluten-free flour mix or buckwheat flour

3

raspberries, mashed (optional)
Green pancakes:

½ tsp

chlorella or other green superfood powder
---
Instructions
In a big bowl, beat the eggs, add in the mashed banana, vanilla extract and combine.
Add the dry ingredients and mix until smooth and well incorporated.
Divide the batter evenly into two bowls and add the beet juice into one and chlorella into the other.
Mix both well.
Add the additional flour into the pink mixture to thicken it up a bit and fold in the berries.
Add a teaspoon of coconut oil into a pan over medium-high heat. I like to start off with medium-high heat to speed up the heating process but turn it down to low-medium when it's hot enough, you don't want to burn your pancakes.
When heated up, add a tablespoon of the batter at a time and try to make a circle.
I like to do max. 4 pancakes at a time. Don't overcrowd your pan.
Cook for a few minutes on each side (when bubbles start to appear, flip the pancake).
You can put them into the oven in a baking dish to keep them warm at ca 70C/158F.
Stack them on a plate and top with whatever you like. I chose berries, a banana, grapes, and pepitas. Pour some of my raw chocolate sauce on top and enjoy!
---