This Coconut Lime Rice is the perfect side dish for any Asian-inspired dish. It requires only 4 ingredients and it's ready to eat in just 15 minutes!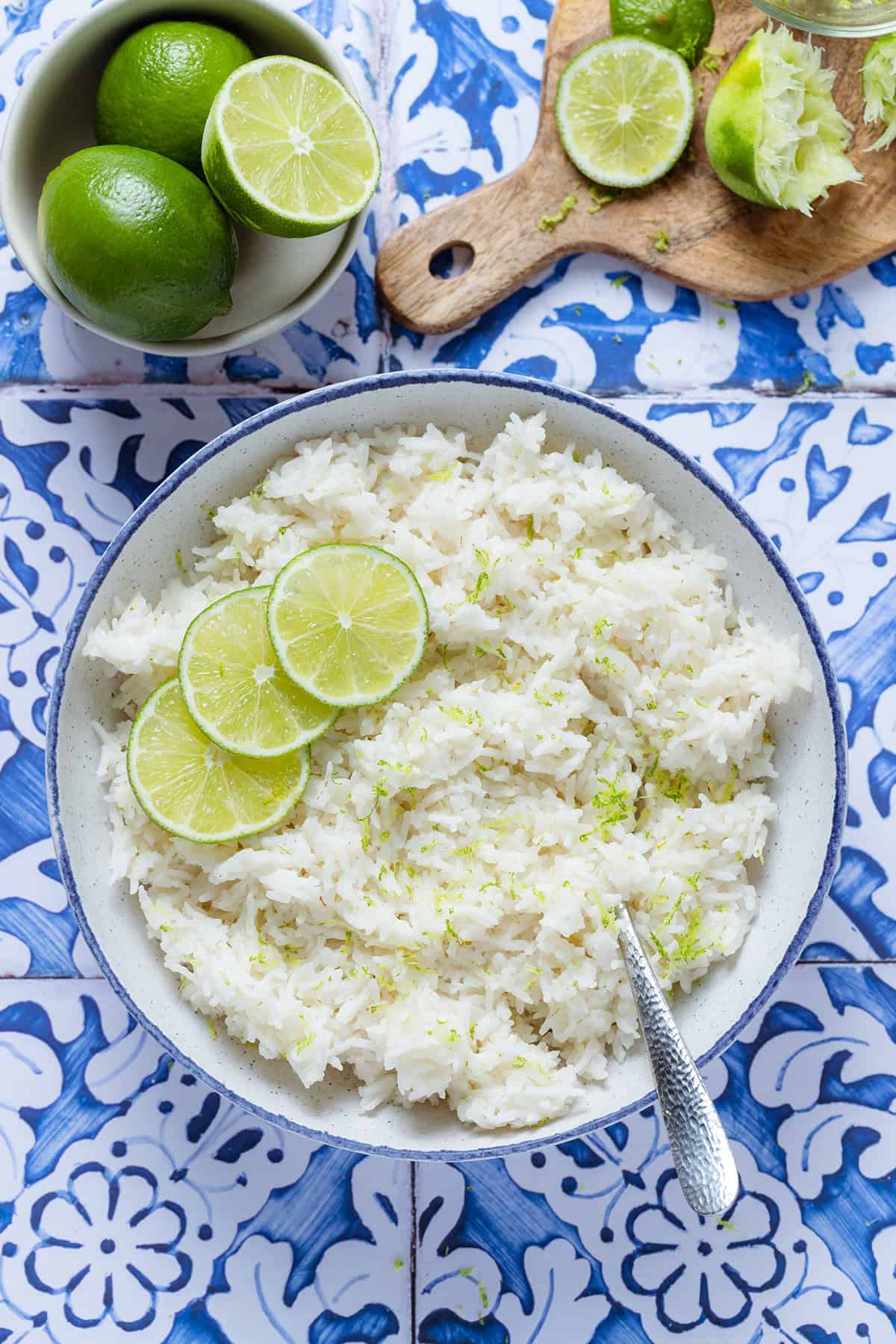 Jump to:
Why This Recipe Works
Simple yet flavorful - Coconut and lime go together really well with a ton of dishes you'd serve with regular rice. It's easy to make and it can be a nice change if you're used to only making plain rice as a side. Check out my Cilantro Lime Rice for a similar recipe but without the coconut milk.
Only 4 ingredients - No need for any unusual ingredients, all you need is rice, coconut milk, and a couple of limes!
Don't skip the lime - A lot of coconut rice recipes call for only coconut milk and no lime juice but I highly recommend adding both lime juice and lime zest. It's always a good idea to cut fats with acid (think lemon juice or vinegar in dressings, sauces, or dips) to make them lighter and balance the flavors. Freshly squeezed lime juice shines in coconut rice and makes it go from good to amazing.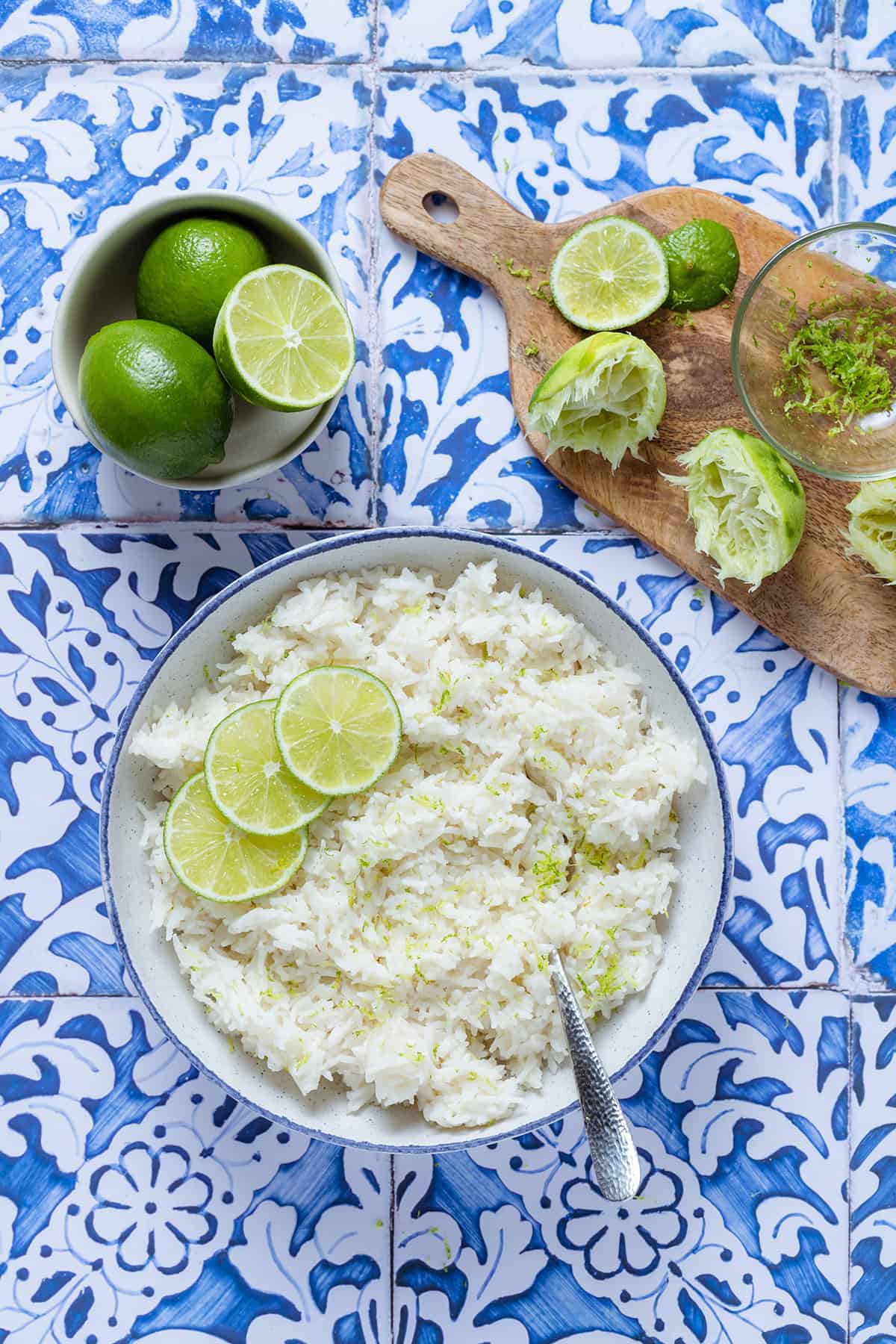 Ingredients Notes
Basmati rice - White basmati rice is what I recommend because it yields flavorful rice that doesn't stick together and takes less than 15 minutes to cook. You can also use brown basmati rice or jasmine rice. If you use brown rice, you'll have to adjust the cooking time accordingly. Always rinse your rice well before cooking to prevent it from sticking together.
Coconut milk - I like using light canned coconut milk to avoid the rice being too thick but you can use any coconut milk you have on hand. If you don't want the rice to be too heavy, use only ¼ cup of coconut milk instead of ½ cup, and substitute the other ¼ cup with water.
Lime - The recipe calls for both the juice and the zest and so I highly recommend using a fresh lime, organic if possible since you're zesting it. Adding both gives the rice a ton of flavor and balances out the coconut milk perfectly. If you're out of lime, you could add lemon juice but it won't have the same flavor so use lime whenever possible.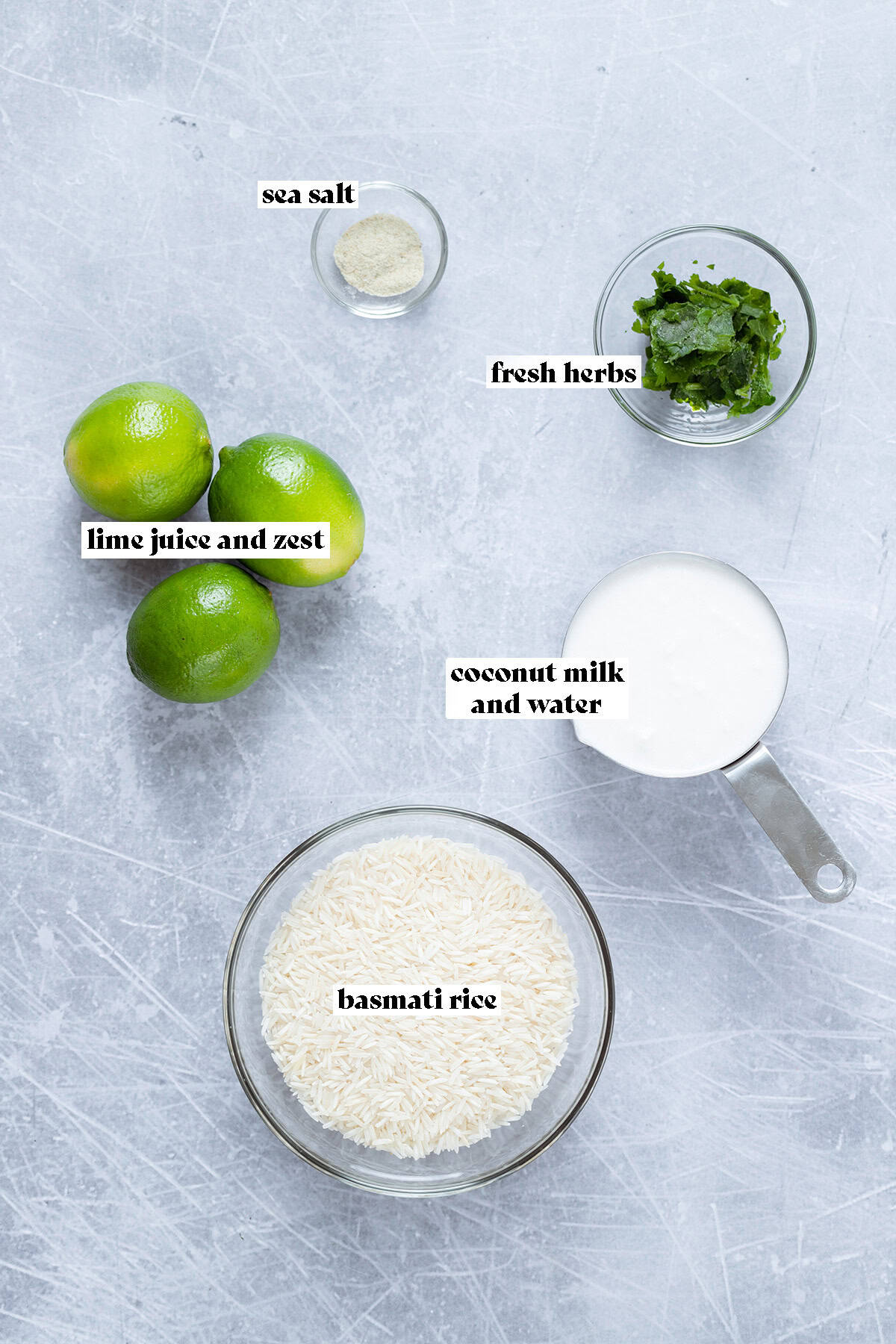 Step-by-Step Instructions
Before you cook the rice, I highly recommend rinsing the rice very well. This step adds extra 5 minutes to the prep time but I'd say it's absolutely necessary if you want to get fluffy rice that doesn't stick together.
I do this in the pot I plan to cook the rice in to make things easier. I recommend rinsing the rice 3-4 times until the water is clear. When you swirl the rice around the water will turn white and muddy at first but will eventually stay clear after a few rinses.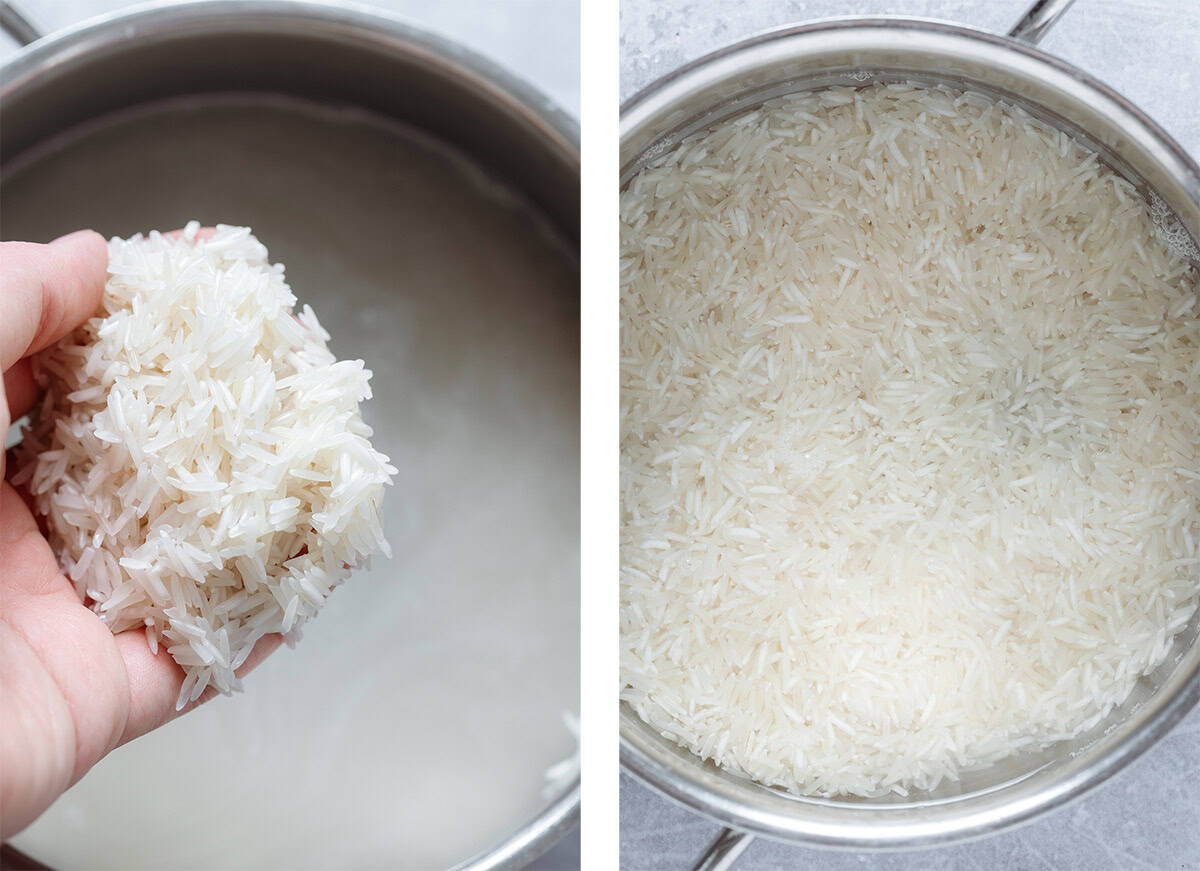 After you rinse the rice, add the water, coconut milk, and sea salt. Cover with a lid and bring to a boil. Lower the heat and simmer for 12-15 minutes. Take it off the heat, fluff with a fork, add lime zest and lime juice and cover again. Let the rice rest for 5-10 minutes.
I find I have to stir the rice a few times while bringing it to a boil to prevent it from sticking because the coconut milk makes it thinker than just water would. It's recommended to cook rice covered but the coconut milk likes to rise more than water does so I tend to cook it partially covered or uncovered.
You can also add chopped fresh herbs to the rice like cilantro, parsley, or chives. I like to add those right before serving the rice because fresh herbs tend to wilt and brown quickly in hot rice.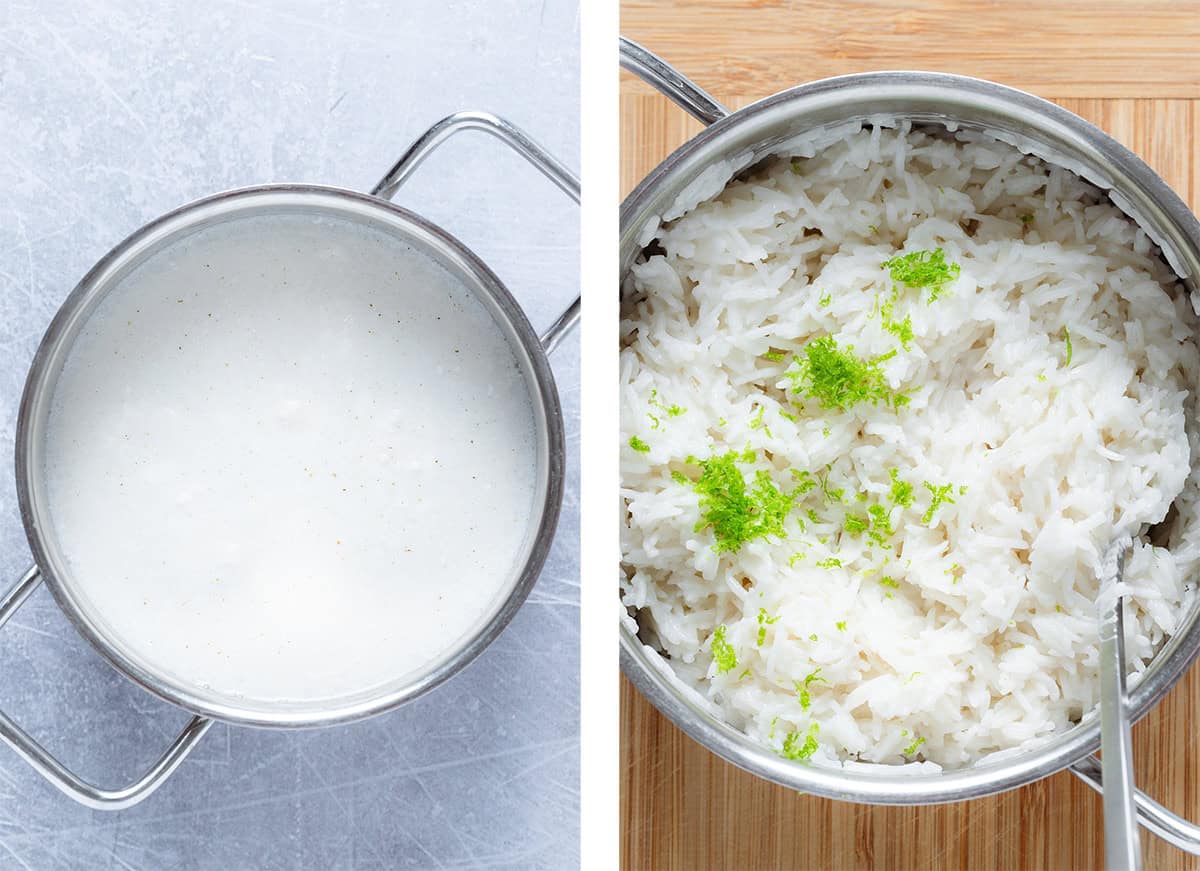 What to Serve it With
Coconut lime rice is served in many parts of the world and goes with many different cuisines and practically any dish. There are many variations of this dish depending on the country where it's served but it's a popular side dish in most places where coconuts can be grown like Thailand, India, the Caribbean, Latin American countries, Southeast Asia, South America, and East and West Africa.
Stir-fries and curries - I like serving this rice with veggies sauteed with tamari, mirin, chili garlic sauce, and sesame oil. It balances out the saltiness and spiciness of the sauce and adds freshness thanks to the lime zest. It will shine in any stir-fry or curry!
Seafood and fish - This rice goes really well with roasted shrimp (try the ones from these Spicy Shrimp Tacos with Creamy Cilantro Sauce) or roasted salmon (with BBQ, teriaki, or any spicy sauce)
Meats and poutry - If you eat meat, this rice makes a great side for practically any animal protein with a lot of flavor. The rice is very mild and nutty so it pairs really well with spicy foods.
Tofu - Coconut rice makes a great side for tofu with practically any sauce you like, add it wherever you woul regular plain rice!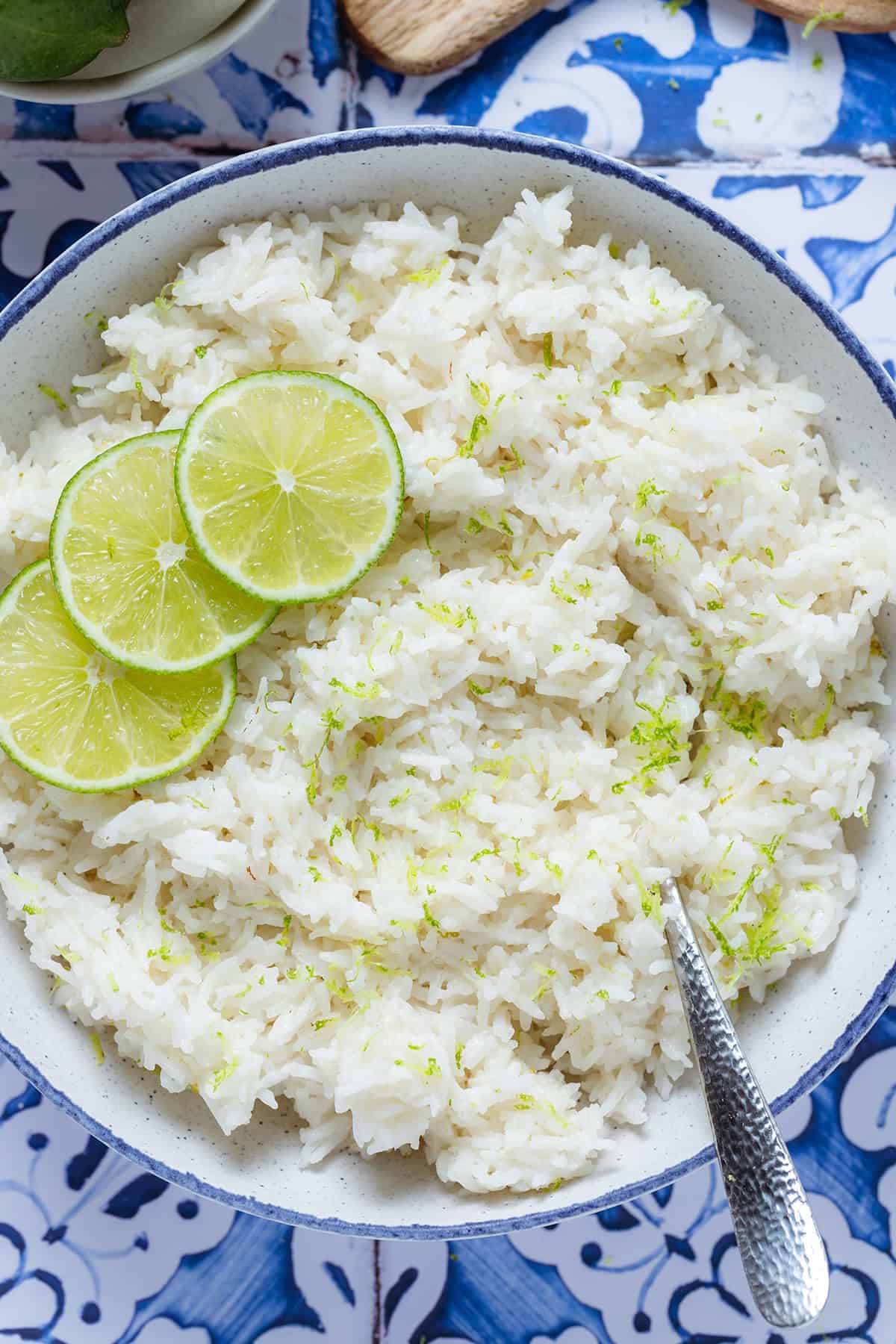 FAQs
How do I prevent rice from sticking together after cooking?
Always rinse your rice in water before cooking until the water runs clear to get rid off the starch that makes it sticky. Add the rice and water to a saucepan. Drain and repeat 3-4 times until the water is clear. This doesn't apply to sushi or arborio rice.
I rinsed the rice but it still clumps together, why is that?
A huge factor in this is the quality of your rice. Look for rice that doesn't include broken up pieces because those will release starch and make the cooked rice sticky.
What goes into coconut lime rice?
It only requires a few simple ingredients. You need basmati or jasmine rice, water, coconut milk, lime juice, lime zest, and sea salt. You can add fresh herbs like cilantro but that's optional.
What's the difference between coconut lime rice and cilantro lime rice?
Both have lime juice but cilantro lime rice is made with just water whereas coconut lime rice is made with coconut milk and water.
Print
📖 Recipe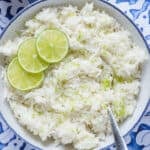 Coconut Lime Rice
Author:

Veronika | thehealthfulideas

Prep Time:

10 mins

Cook Time:

15 mins

Total Time:

25 minutes

Yield:

2

-4

1

x

Category:

Side

Method:

Cooking
---
Description
Coconut lime rice is the perfect side for practically any dish. Serve it with your favorite protein and a side of vegetables.
---
1 cup

basmati rice

1 cup

water

1 cup

coconut milk (from a can, I use light coconut milk)

¼ tsp

sea salt

1 tsp

lime zest

2 tbsp

lime juice (

1

-

2

limes, or more to taste)

1

-

2

tablespoon finely chopped fresh herbs (optional, cilantro, parsley, or chives are all great options)
Lime slices, more fresh herbs, or lime zest for garnish
---
Instructions
Rinse rice thoroughly in water until the water is clear. I do this in the pot I will cook the rice in and 3-4 times.
Add water, coconut milk, and sea salt. Cover and bring to a boil over medium-high heat. Lower the heat to medium and let the rice simmer for 12-15 minutes or until tender. 
When all liquid is absorbed, take off heat, fluff with a fork, add lime zest, lime juice, and fresh herbs if using. Gently stir to combine, cover and let sit for 10 minutes.
Serve garnish with more lime slices, herbs, or a sprinkle of lime zest.
Store in an airtight container in the fridge for 2 days.
---
Notes
Sometimes the coconut milk makes everything thicker than just water would so I stir it a few times while cooking to make sure the rice doesn't stick to the bottom of the pot.
The rice is done when all liquid is absorbed but the rice will still be very "wet". That's desired, the rest of the liquid will absorb when the rice sits for 10 minutes after you take it off the heat.
Keywords: coconut rice, lime coconut rice