Oh hi there! I can't believe it's actually Thursday again. It's as if the time moves quicker here in Toronto. I've been here for over 2 months now which is crazy because it totally doesn't feel like it. Though, I'm sure that if I listed all the things I've done and dealt with here, I'd be surprised I even fit it all in into two months. Either way, today is the day I share these chickpea flour crepes with you!
I shot these pictures back home in Prague but I can remember it like yesterday. These were so good. SO good. If there's one recipe you should try from my blog, it's these Chickpea Flour Crepes. Tbh, there's probably a dozen other recipes I'd say this about but for right now, my no.1 are these chickpea crepes.
I gotta say, figuring out a gluten-free, vegan, AND processed sugar-free crepe recipe is quite the science project. You keep mixing ingredients together, vigorously testing all kinds of variations with messy results but then one recipe magically works out and it's the most joyous moment.
And yes, savoring a plate of those beautiful crepes with homemade jam while still covered in flour and batter is mandatory in this kind of a situation. ;)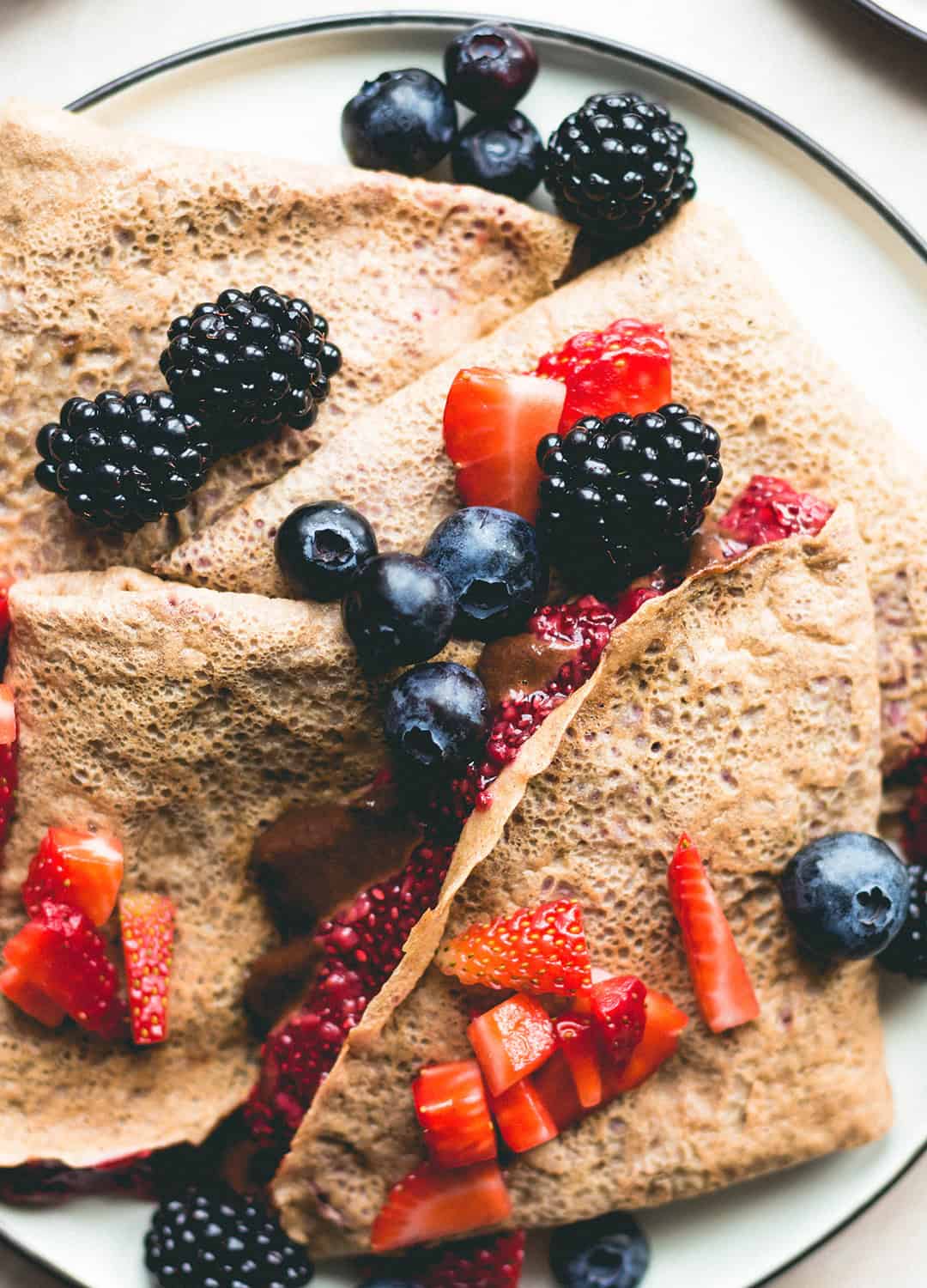 Just looking at all those berries makes me hungry. Raspberries are finally in season right now and I'm going to the farmer's market in a few so I'm hoping to stock up on those as well as buy lots of goodies for meal prep. I missed my regular Saturday farmer's market because I was at work so I've been basically living on take-out for the past few days which was delicious but I can't wait to get back into making my own meals.
I find meal prep is a really important habit to have. I rely greatly on meal prep, much more than I used to actually. I love making my own meals and I try to resist buying food on my way from work as much as I can because even though those meals are vegan and healthy, you still don't really know what's inside unless you make it yourself. Sooo - farmer's market here I come! (I wish it was sunnier though - Toronto weather just doesn't seem to make up its mind)
What are you doing today? Fingers crossed I can finally figure out how to get home internet here because it's been wayyyy too long.
Have a great day and I'll see you next Thursday. xo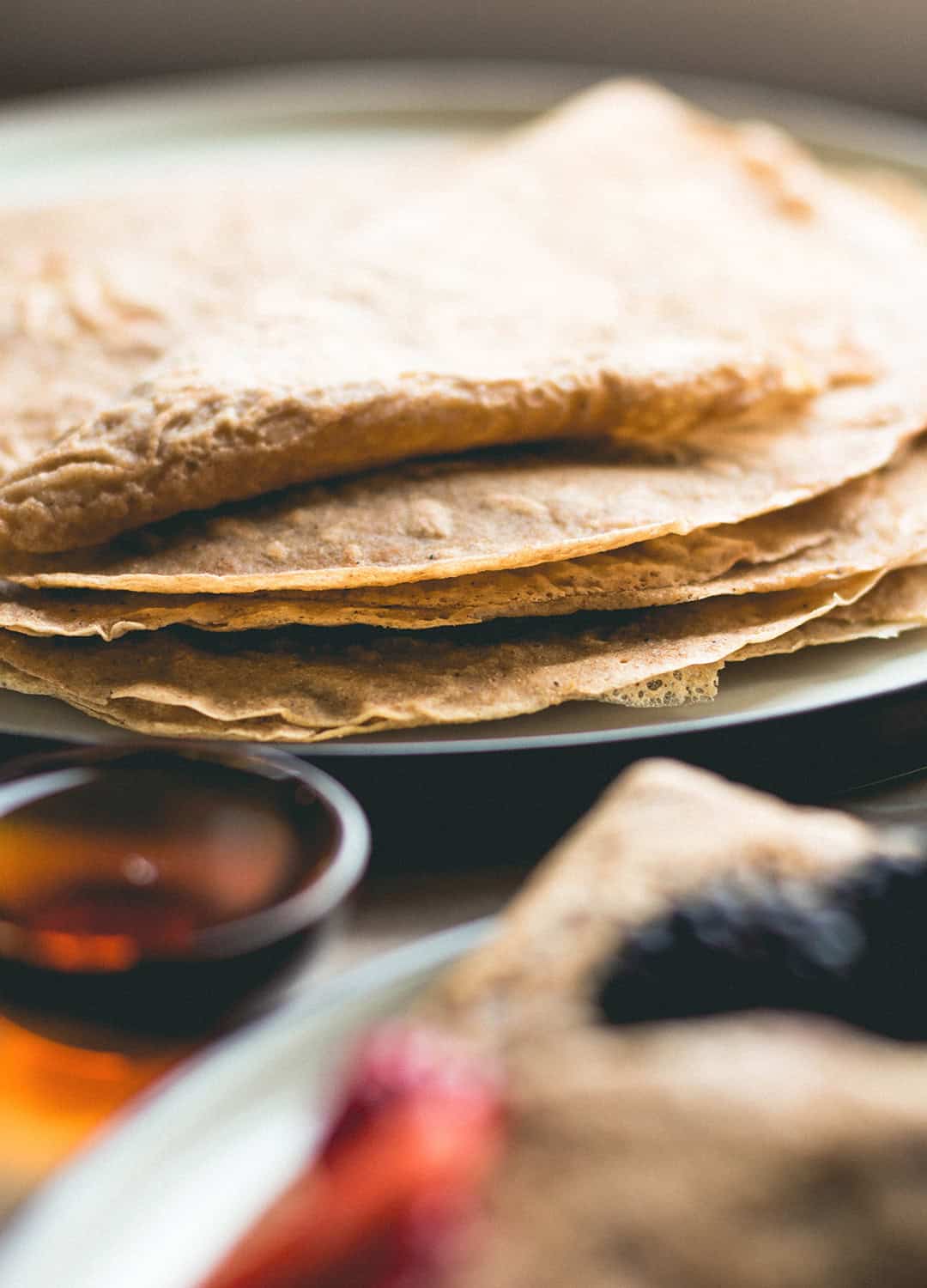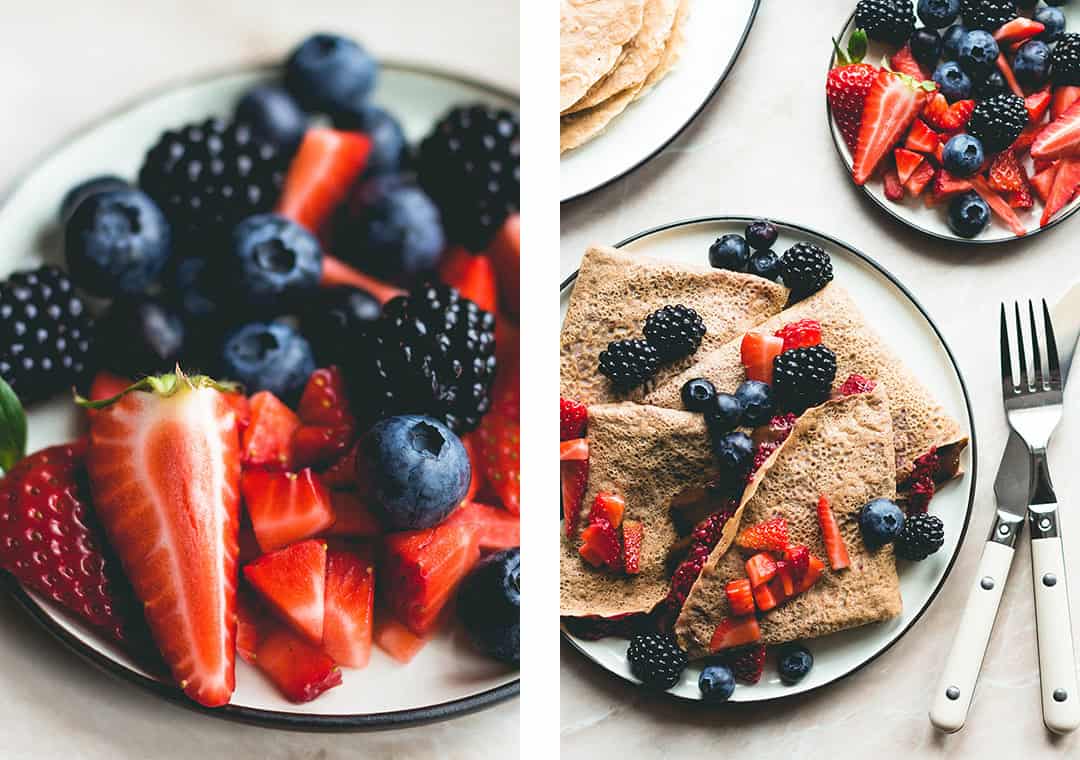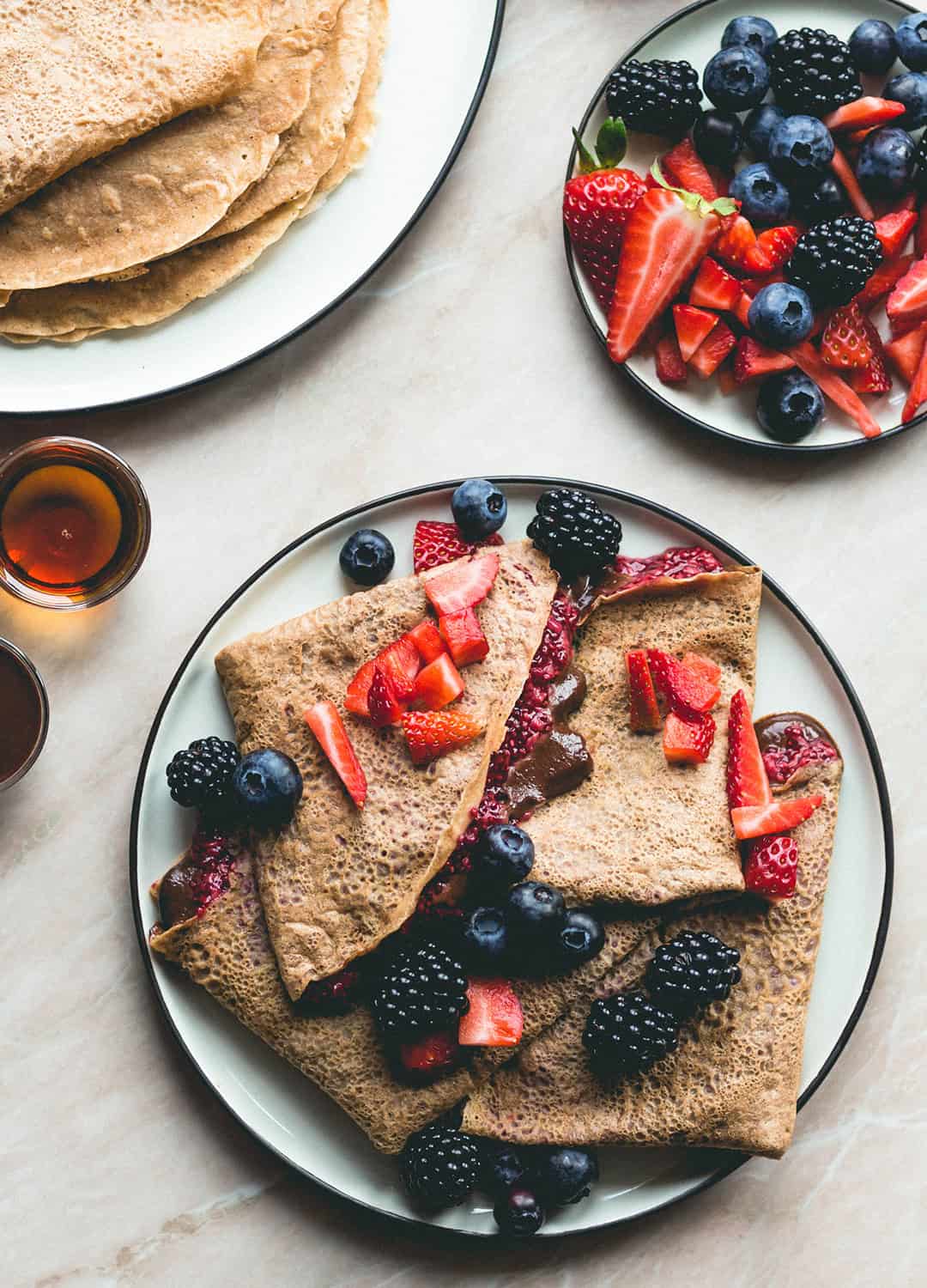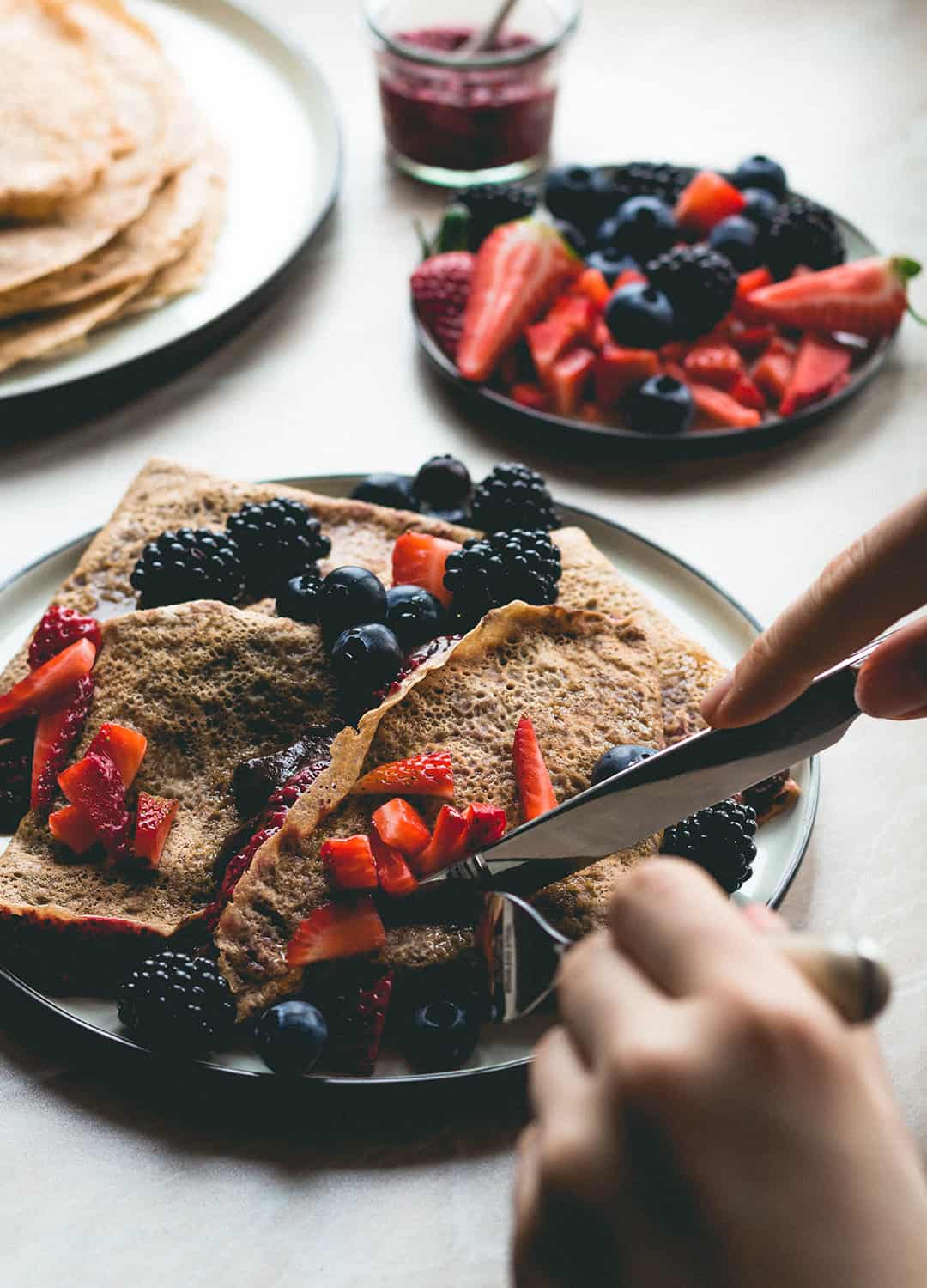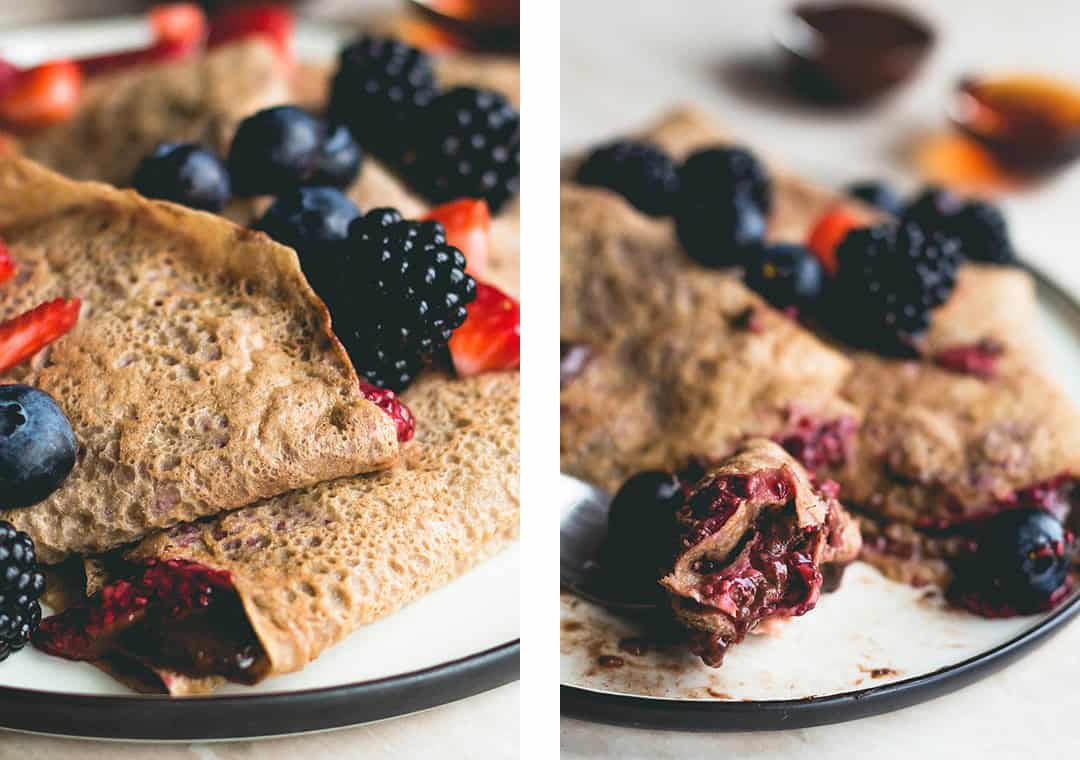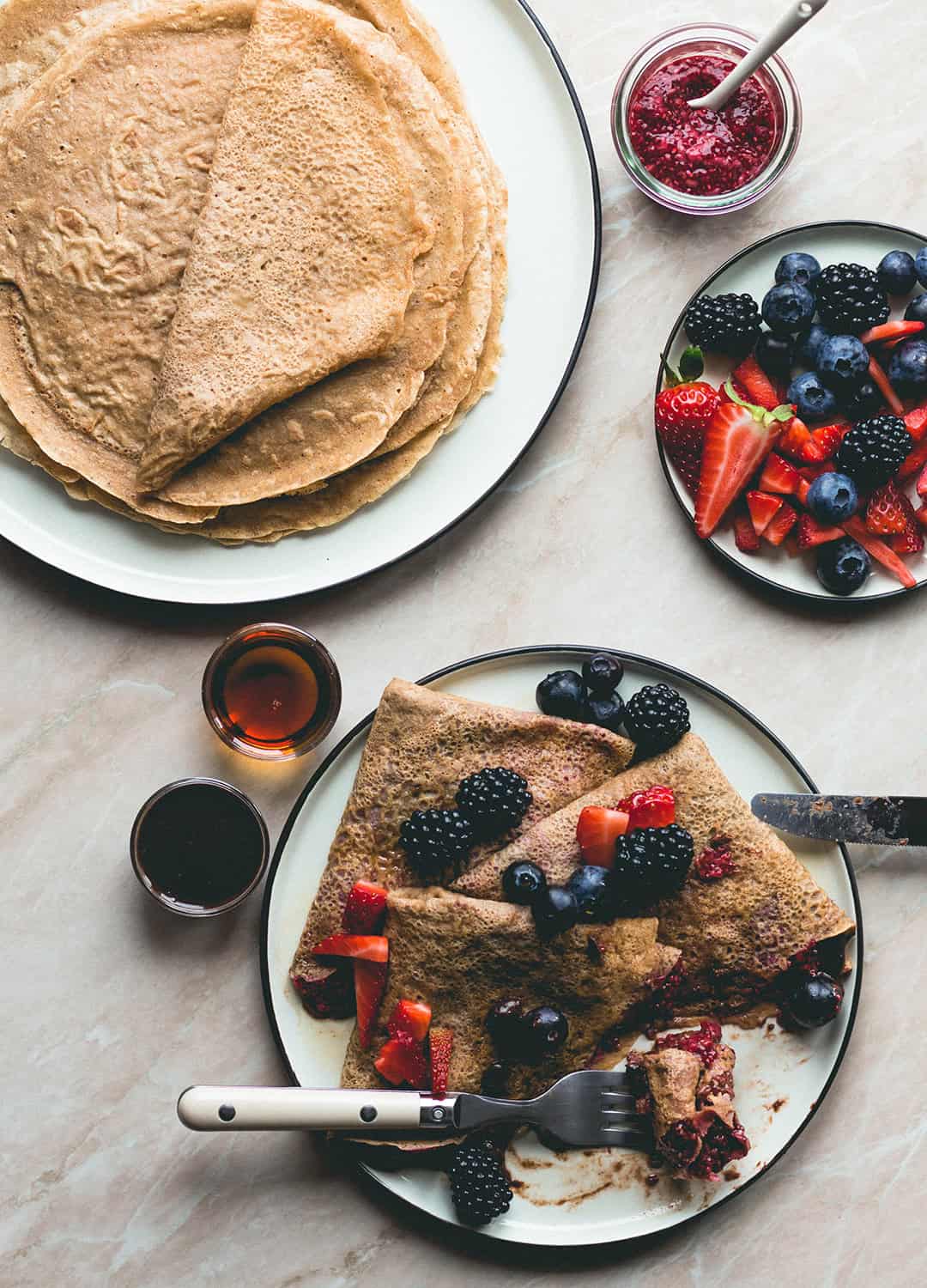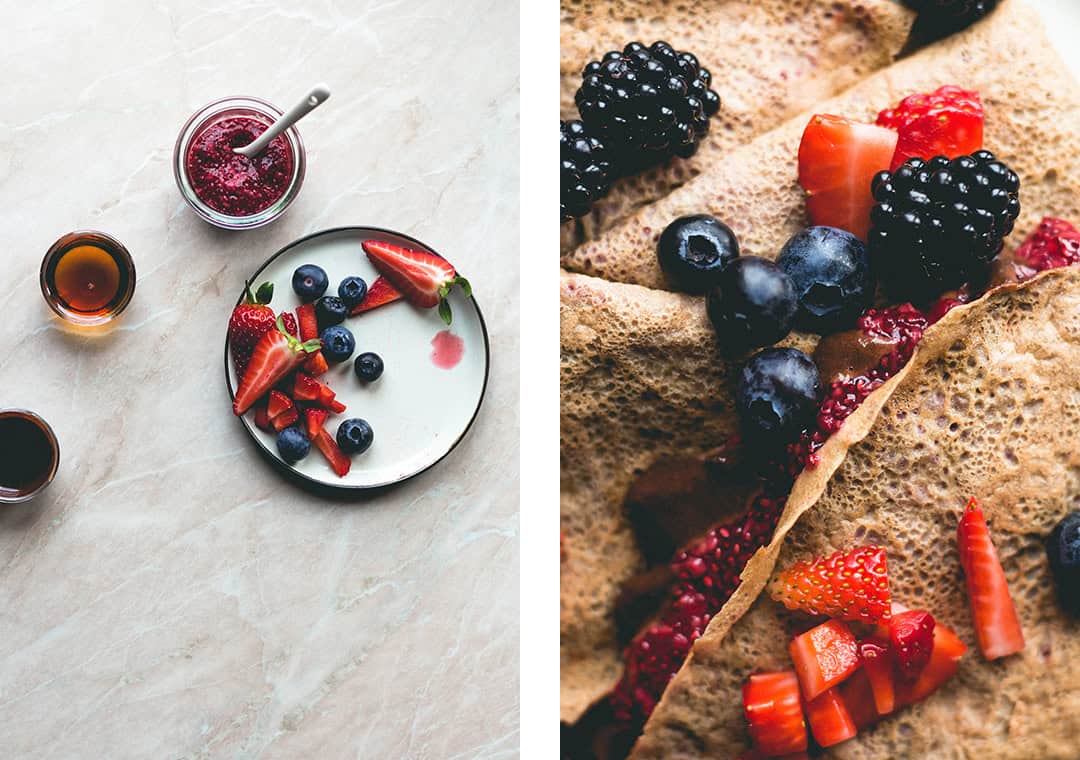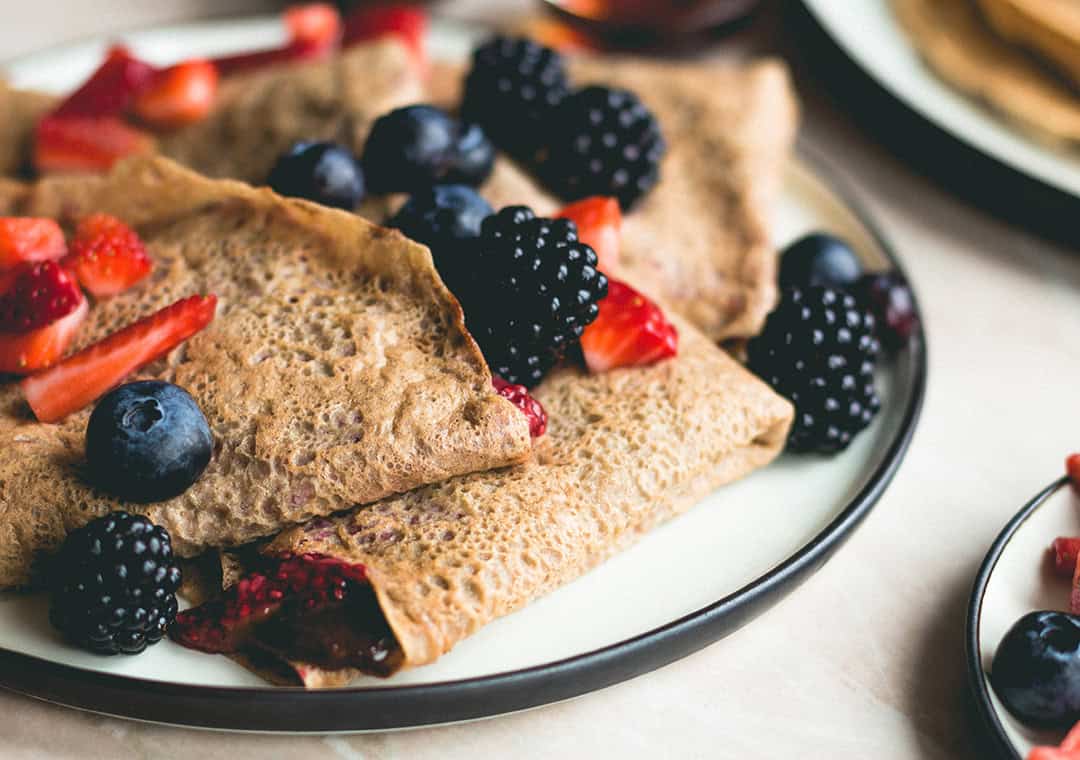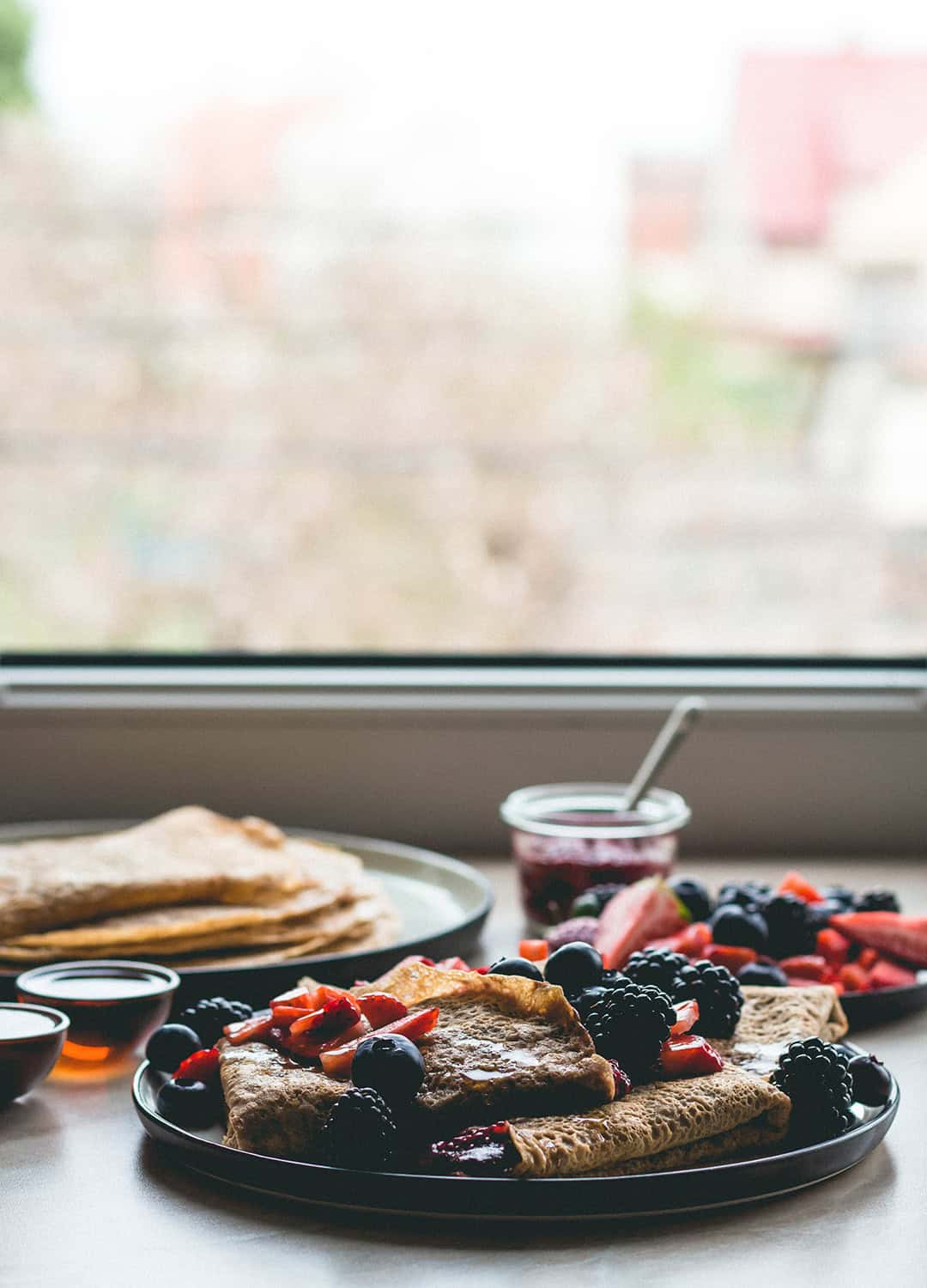 Print
📖 Recipe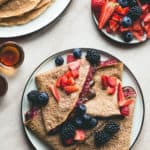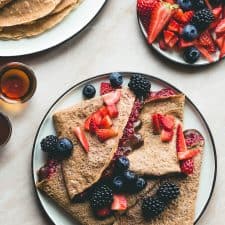 Chickpea Crepes with Chia Jam and Chocolate Syrup (v, gf)
Author:

The Healthful Ideas

Prep Time:

10 mins

Cook Time:

40 mins

Total Time:

50 mins

Yield:

16

-

17

crepes

1

x

Category:

Breakfast
---
1 cup

chickpea flour

¼ cup

tapioca starch

¼ cup

buckwheat flour

3 tbsp

coconut sugar

2 tsp

baking powder

1 ½ tsp

cinnamon

3 tbsp

quinoa flour

¼ tsp

sea salt

¼ tsp

ginger (optional)

¼ tsp

vanilla powder (optional)

1 ½ cup

water

1 ¼ cup

almond milk
coconut oil (for cooking)
Strawberry Chia Jam (recipe here)
Tahini Chocolate Sauce: (feel free to double the recipe if needed)
2 tbsp

tahini

2 tbsp

maple syrup (or to taste)

2 tbsp

cacao powder
pinch of cinnamon
pinch of vanilla powder (optional)
enough water to reach desired consistency (start with 2 tbsp)
---
Instructions
Preheat your oven to low heat (to keep the crepes warm) - I did 70°C (158°F).
In a big bowl, mix all the dry ingredients together. Then slowly start adding the liquid, about ½ cup at a time and whisk until you reach thin batter consistency. Set aside to rest for 10 minutes, then stir again.
Heat a big low edge crepe pan over medium high heat with about ¼-1/2 teaspoon coconut oil. Lower the heat to low-medium.
Pour in about ¼ cup of the batter at a time (this depends on how big your pan is) and shake and lean/move the pan so that the batter spreads and creates a circle (I learned how to do this right testing this recipe about 5 times so don't worry if they're not perfectly round, it takes practice.)
Cook for 2-3 minutes, until the edges start to rise and peel off the pan and the crepe is easy to flip, cook for additional 2-3 minutes on the other side until slightly golden (again, this depends on how thick your crepe is).
Do the same with the rest of the batter adding coconut oil in between crepes if needed.
Put them all on a big plate, cover with another plate (preferably a higher one - for soup or sth) and keep them in the oven to keep them warm until you're ready to eat them.
Enjoy with some berry chia jam, tahini chocolate sauce (recipe below), and fresh berries.
Tahini Chocolate Sauce:
Mix all the ingredients for the sauce in a small bowl except the water.
Start adding the water 1-2 tablespoon at a time until you reach desired consistency.
---