I can't believe it's almost the end of November! I swear it was September yesterday??? I know we all say this at the end of every month but lately, I feel like the older you get the shorter the months become? I always have so much to do and I never seem to find the time for it all. When I was younger I counted the days till Christmas and the wait was always tedious. I was impatiently waiting for the time to pass and now that I'm older it's like two months pass before you even turn around. Do you ever do more than one thing at once hoping to accomplish twice as much but in the end, you end up achieving nothing because you took too much on your plate? What I find helpful, is to write down what you want to do in a day and the time it'll take. Don't try to do more than you can, you only have so much time in a day. When you see what you're planning to do, along with the time it'll take written down, you realize you can't physically fit more in so you won't be disappointed in yourself if you don't do the extra thing. Am I making sense? You don't have to do this every day, of course, just once in a while to see how much time the things you do every day actually take time. I know, I'm such a control freak. I'm one of those 'always with a diary and a to-do list' people, but hey, being prepared and organized never hurt anyone, right?
Anyways, what I'm getting at is take some time to just relax and do nothing. If you're procrastinating and simply can't push yourself to do the work, just don't do it. The holidays are close and you should be enjoying this time of the year. Don't stress too much over cleaning the house, buying Christmas presents, work, or anything else. If it's not a life or death situation, just let it be, kick your feet up and enjoy a bowl of this delicious Apple Pie Oatmeal while watching Christmas movies, you deserve it. You'll feel so much better afterward. This oatmeal is the perfect breakfast to have on a Thanksgiving morning if you're celebrating it. And in case you're not, it's a great autumn comfort food either way. It literally tastes like apple pie and it's heavenly. So quit running around, sit down and eat up! YUM.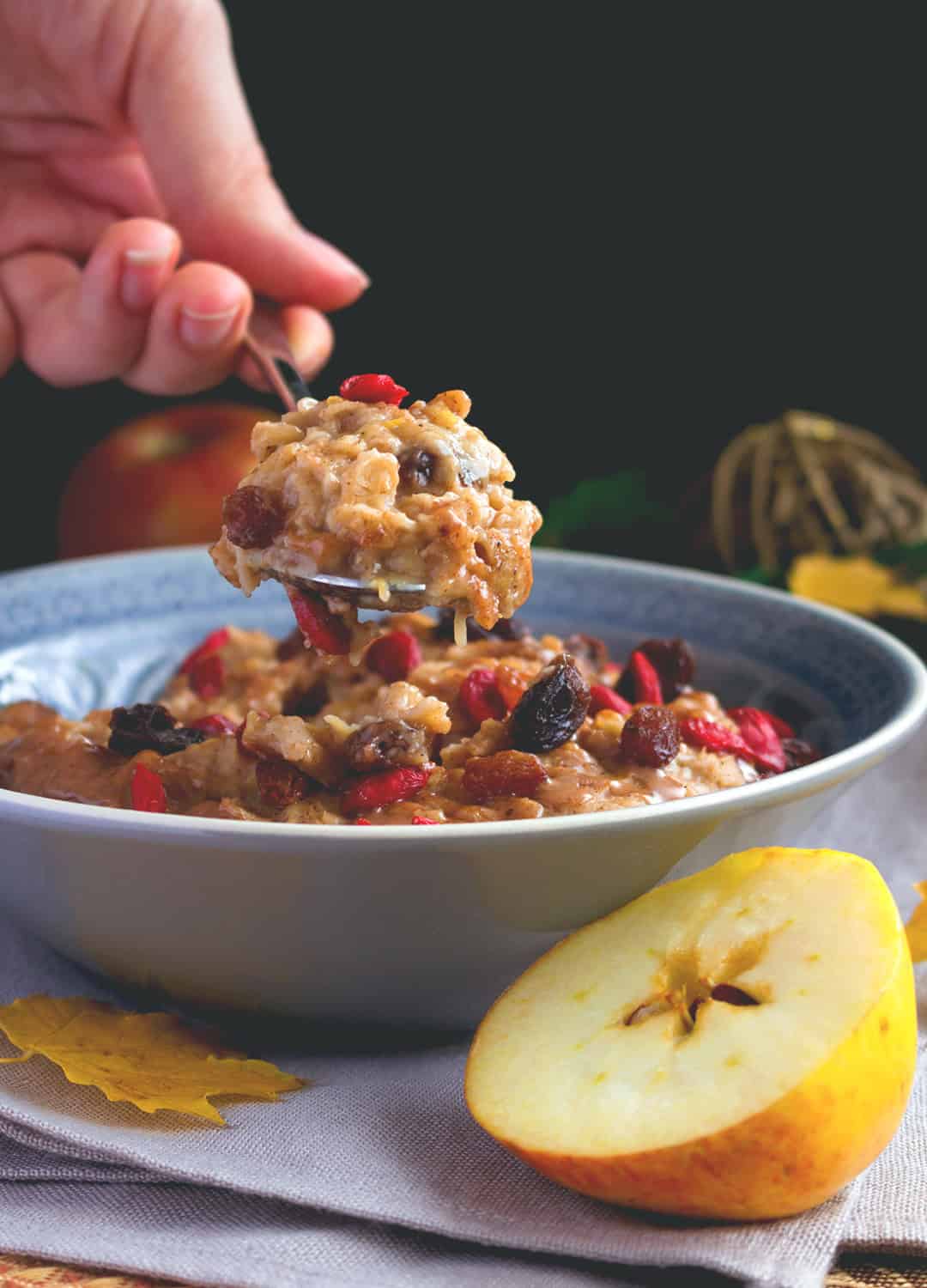 Take me, for example. I was supposed to post this on Monday because I'm posting every Monday and Thursday, but I just couldn't get myself to write the post. I decided I wasn't going to push it and instead of forcing the words out of me, I let it go and decided I'll only post on Thursday this week. And look, I have so much to say. I want to be consistent with posting but when I don't have anything to say, I won't post anything. I want it to be natural and fun and if I don't have anything to say, it always shows—it's usually just 500 words of me rambling about nothing in particular. I often just keep saying "oh this recipe is so delicious" or something like that because I literally have nothing else to say. Speaking of delicious, this oatmeal is really delicious! Haha kidding. But no, really, it's good, like crazy good. You don't wanna skip this one. Please enjoy the close up below. Hazelnut butter. Raisins. Gojis. Oatmeal. YES PLEASE.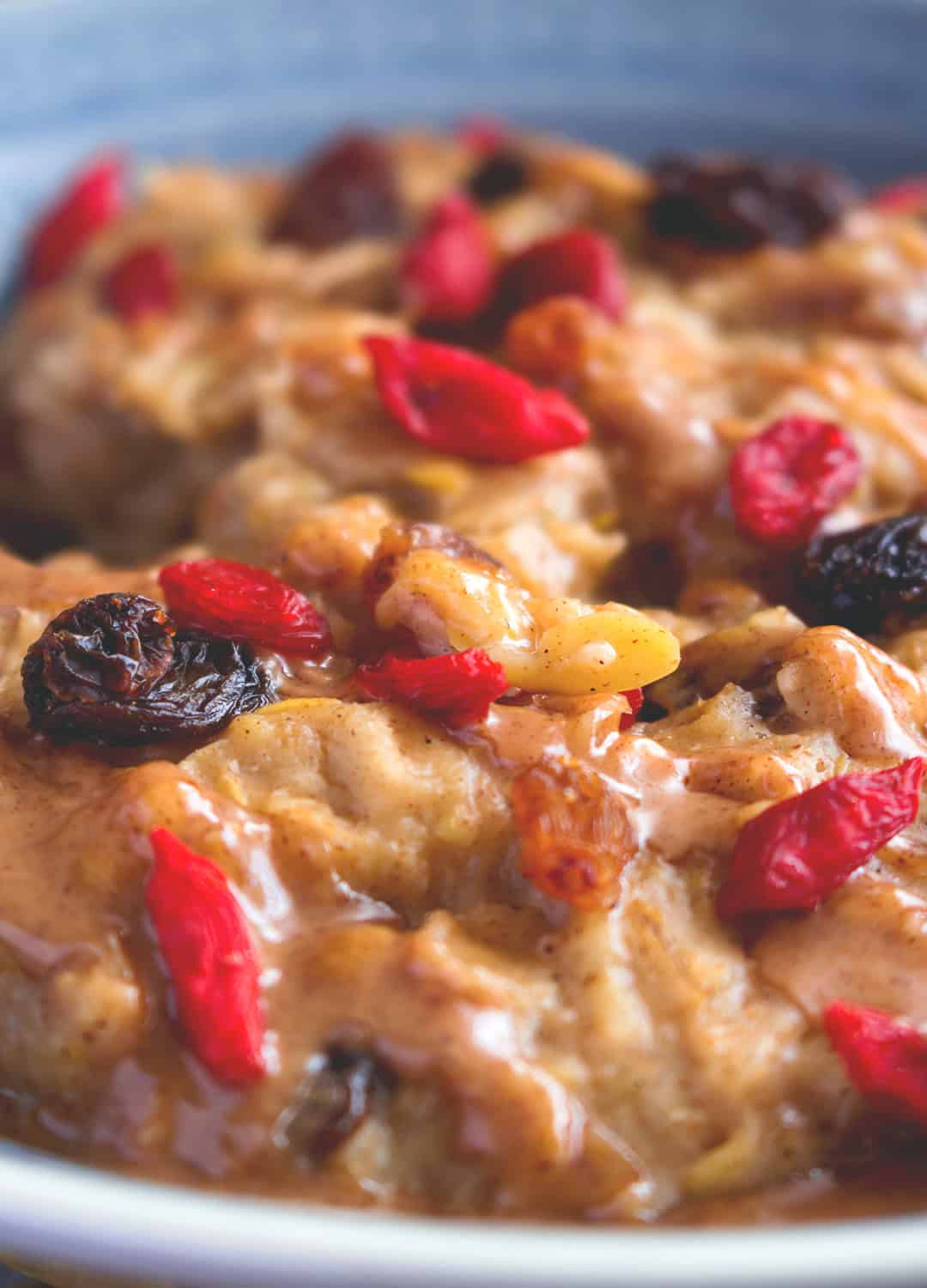 I can't even think about food right now I'm so excited about next month! Wait, scratch that. I can think about food, I do a lot of thinking about food every day, let's be real. What I can't think about is creating new recipes and writing new posts because I'm going to New York next month and I'm just too excited and nervous to do anything else aahhh. It's sort of nerve-racking because first, I'm home alone (my mom is on a month-long work trip). I mean I don't mind being alone in our house, I'm not a child, but it's the stuff you have to do all by yourself when you're left alone that stress me out. I have to secure the house, turn off the heating, water, etc. And I have to pack my suitcase without it being overweight which is ALWAYS a struggle. I literally feel like Kevin from Home Alone haha (such a fun movie—my all time favorite Christmas movie, in fact!). To top it all off, I'm quitting my job at the end of the month so that'll take some adult thinking and running errands. I'm going to leave out my crazy  dentist appointment yesterday because ain't nobody want to hear anything about dentists. Am I right, or am I right? And oh my God the actual flight to New York??? 8 hours on a plane flying coach is literally the worst. What's keeping me sane is after all of that, I'll get to spend 13 days in New York. In December, when all the Christmas lights are on and the city is (hopefully) covered in snow. YAY!!
I've never been to New York during Christmas. Only in spring or summer and I can't wait because I'm sure it'll be MAGICAL. I'm staying in Brooklyn which I'm also pretty excited about since I'll probably spend most of my days in Manhattan so it'll be nice to get away from the noise and to Brooklyn. The place isn't too far, though, it's the perfect spot and it's only a few blocks from a beautiful view of Manhattan, which I'm looking forward to. I can't wait to take pictures of the skyline at night. The last time I was in NY last summer, I went for a nighttime hop-on-hop-of bus ride to Brooklyn. And I gotta tell you when the bus was crossing the Manhattan Bridge... I was speechless, nothing beats the view of the Brooklyn Bridge and the Manhattan skyline behind it. It really was magical. And if you want to see it, here is my Instagram post https://www.instagram.com/p/2NqePMzeO2/.
Another favorite photo of mine is this one of the Statue of Liberty with the Sun setting behind it https://www.instagram.com/p/5FUosvQe_V/ it was last year, 4th July and I bought a boat ride to see the fireworks. The boat first made a quick trip around Lower Manhattan before it stayed at one place so we could see the fireworks. I was so happy I this picture!
I really do love New York. Some people say it's too noisy or too dirty and yes, it is, but I don't choose to see the bad stuff. I choose to see the magic of Manhattan. The fact that it's full of people who came there to accomplish something, people with dreams and ambitions. I love that in New York, almost anything is possible. New York will always have a special place in my heart. It's like a second home to me and I can't wait to get back there.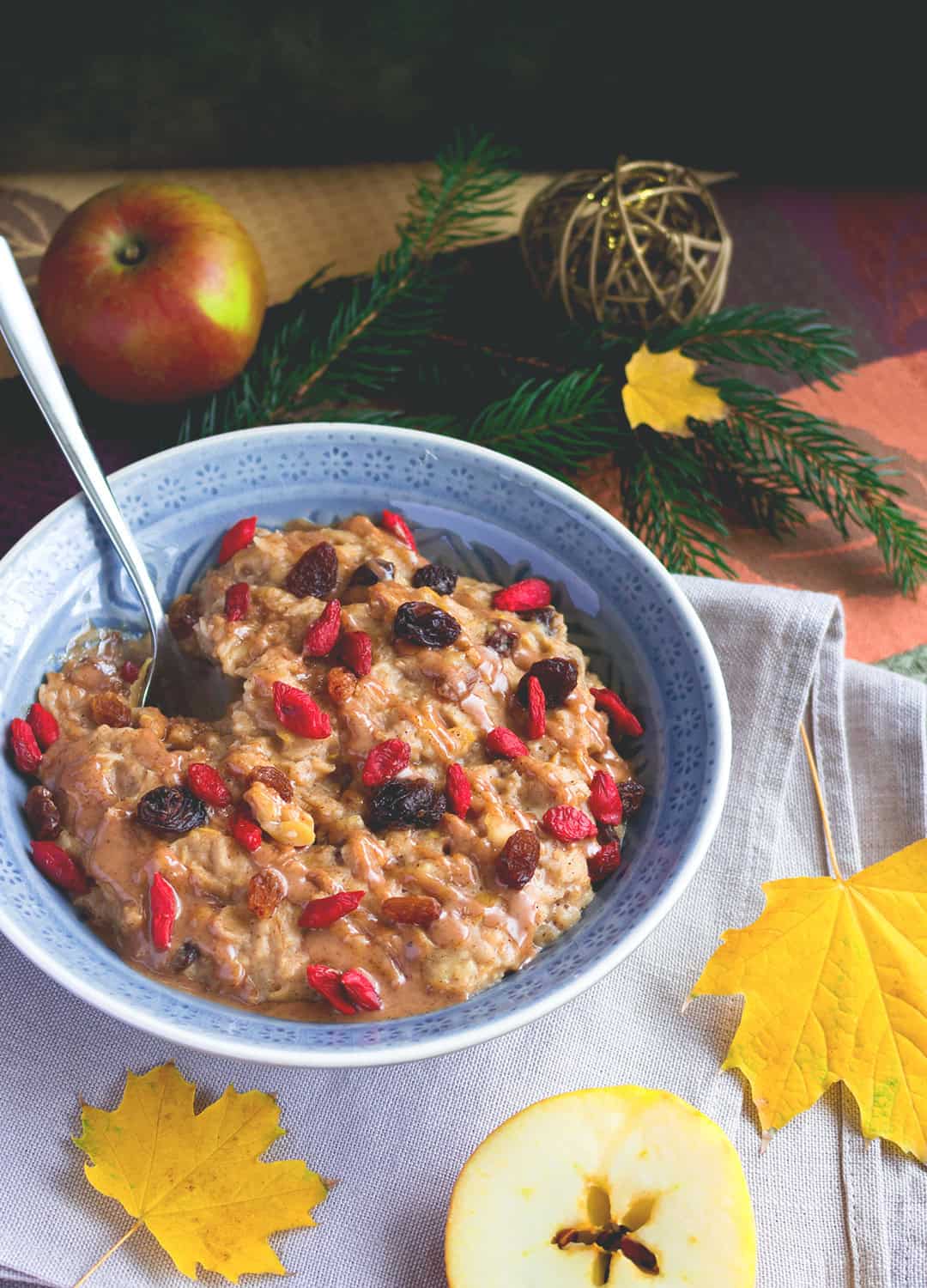 Since I'll be gone most of December, I won't be able to make any Christmas cookies and properly enjoy the Christmas spirit at home as I always do, but I think it doesn't matter because the trip to New York is worth it. Besides, I'm sure the city is overflowing with Christmas spirit. I'm leaving for New York because I don't really know what I would do at home alone during Christmas. I'd probably get lonely all by myself so I decided to make a fun trip to my favorite city. God, I can't wait!! :)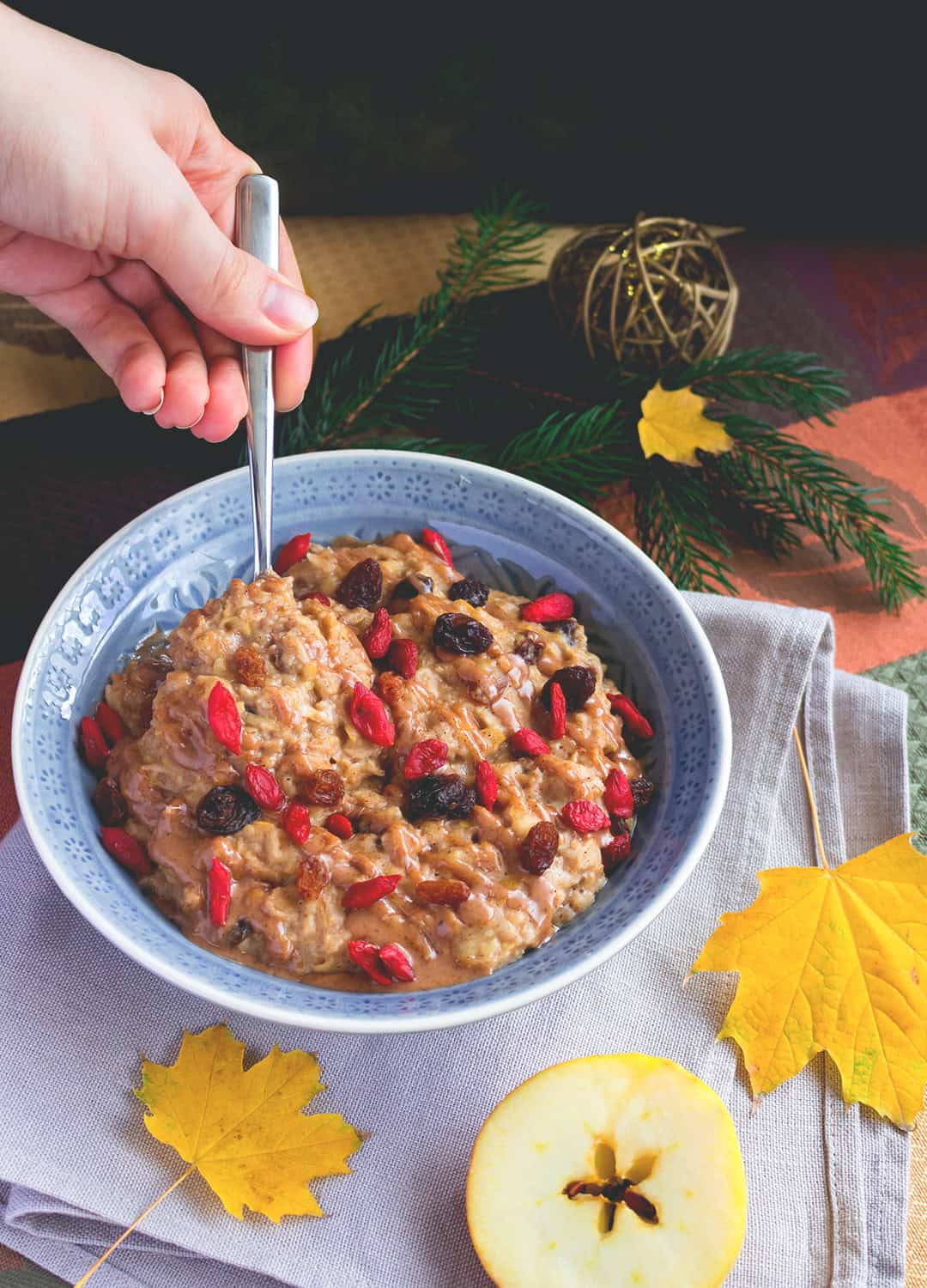 Look at this oatmeal, though. Especially the picture below—I love how creamy oatmeal always is and I love drizzling nut butter on top. Oatmeal, nut butter, and berries are the ultimate combo. This one has apples, apple pie spice, raisins, goji berries, vanilla—basically everything you need to make an oatmeal worth serving to all of your friends and family. It's so good I bet even those who don't like plain oatmeal will savor this bowl in the blink of an eye. Cook it, serve it to the oatmeal haters and wait. You'll see. They won't want to eat anything else! It's so sweet, creamy and comforting. And if they don't like it? That's okay because there'll more for you to eat!
Plus think of all the nutrients you're going to get from the goji berries! These superfood berries are full of vitamins and minerals! Vitamin C, vitamin A (they're full of beta-carotene), vitamin B2, zinc, iron, calcium, you name it. Oh and as any other fresh fruits or veggies, they also contain potassium! There's also protein so they'll keep you full for longer. They're full of fiber, which we all need more of in our diet. Eat a small handful a day to keep the doctor away. It's true!
I like to use oat milk for my oatmeal, but feel free to use almond milk if you prefer, or any other plant milk. I don't like to use just plain water to cook the oats because then the oatmeal isn't as creamy as I want it to be. When you use milk, the texture is better, the oatmeal is richer and more delicious. If you don't have a full cup of milk, you can use ½ cup milk, ½ cup water, that should still be ok, but it's best to use only milk. Don't be afraid of the fat! It's good fat, from plants! Embrace it and stuff your mouth with this delicious creamy oatmeal! Enjoy! :)
Oh, wait! Before I go, let me give you a quick tip. ALWAYS add cinnamon to your oatmeal AFTER you finish cooking it because if you add it too early, the oatmeal gets slimy. I used to add cinnamon a few minutes after I added the oats and it was okay but then I bought cinnamon from a different brand and it seemed to be much fresher—that's the one that made it slimy. It doesn't always happen, but it's better to be safe, than sorry! Nobody likes slimy oatmeal. ;)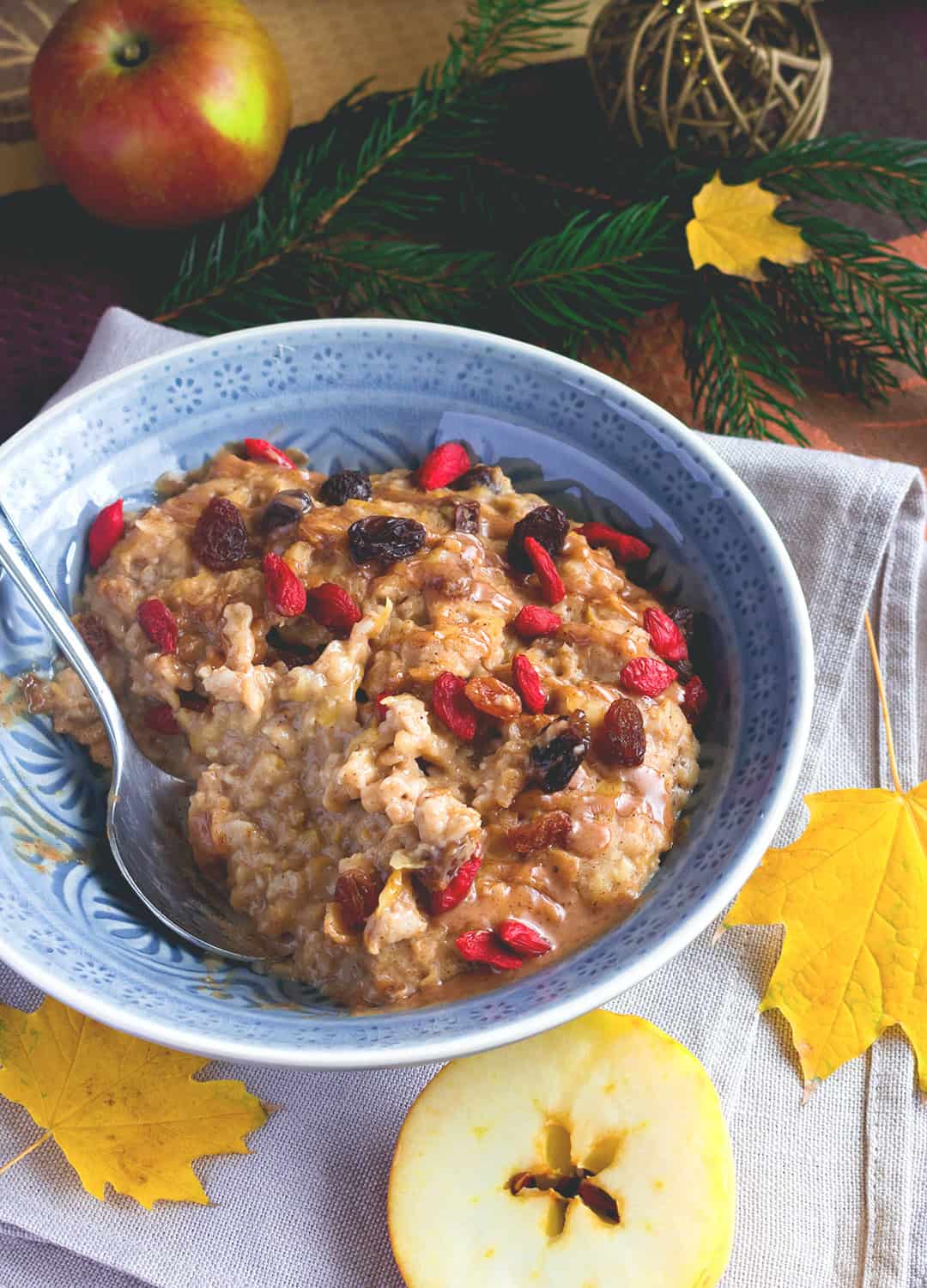 Print
📖 Recipe Apple Pie Oatmeal with Raisins and Goji Berries
---
2 cups

plant-based milk of choice (oat, almond, coconut, rice, etc.)

2

apples, shredded*

1 cup

old fashioned oats

2

-

3

tablespoon maple syrup

3 tbsp

raisins

½ tsp

vanilla powder

1 tsp

cinnamon

½ tsp

apple pie spice
toppings: more raisins, goji berries, and nut butter of choice
---
Instructions
Add the milk and the shredded apples to a sauce pan and bring to boil.
When it starts to boil, stir in the oats and turn down the heat to low-medium.
Simmer for 7-10 minutes and stir every other minute to make sure it doesn't stick to the bottom. Add more milk if necessary.
Add the maple syrup and raisins, mix well and turn off the heat.
Add the vanilla powder, cinnamon, and apple pie spice. Mix again so it's well incorporated.
Taste and add more sweetener or apple pie spice if needed.
Serve with more raisins on top, goji berries, nut butter, and/or any other fruit you like. Enjoy!
---
Notes
* You can peel the apples if you want. I didn't peel mine because I don't think it really matters, plus there's a lot of nutrients in the skin.