In my last post, I promised you more strawberry recipes and this one really is somethin'! These Strawberry Rhubarb Breakfast Oat Bars are the perfect combination of sweet & tart, they're chewy and really satisfying. The combination of maple syrup and almond flour gives them soft of a marzipan taste which really is just a bonus to their overall awesomeness!
Check out my Strawberry Coconut Sugar Cookies if you haven't yet. They're amazing!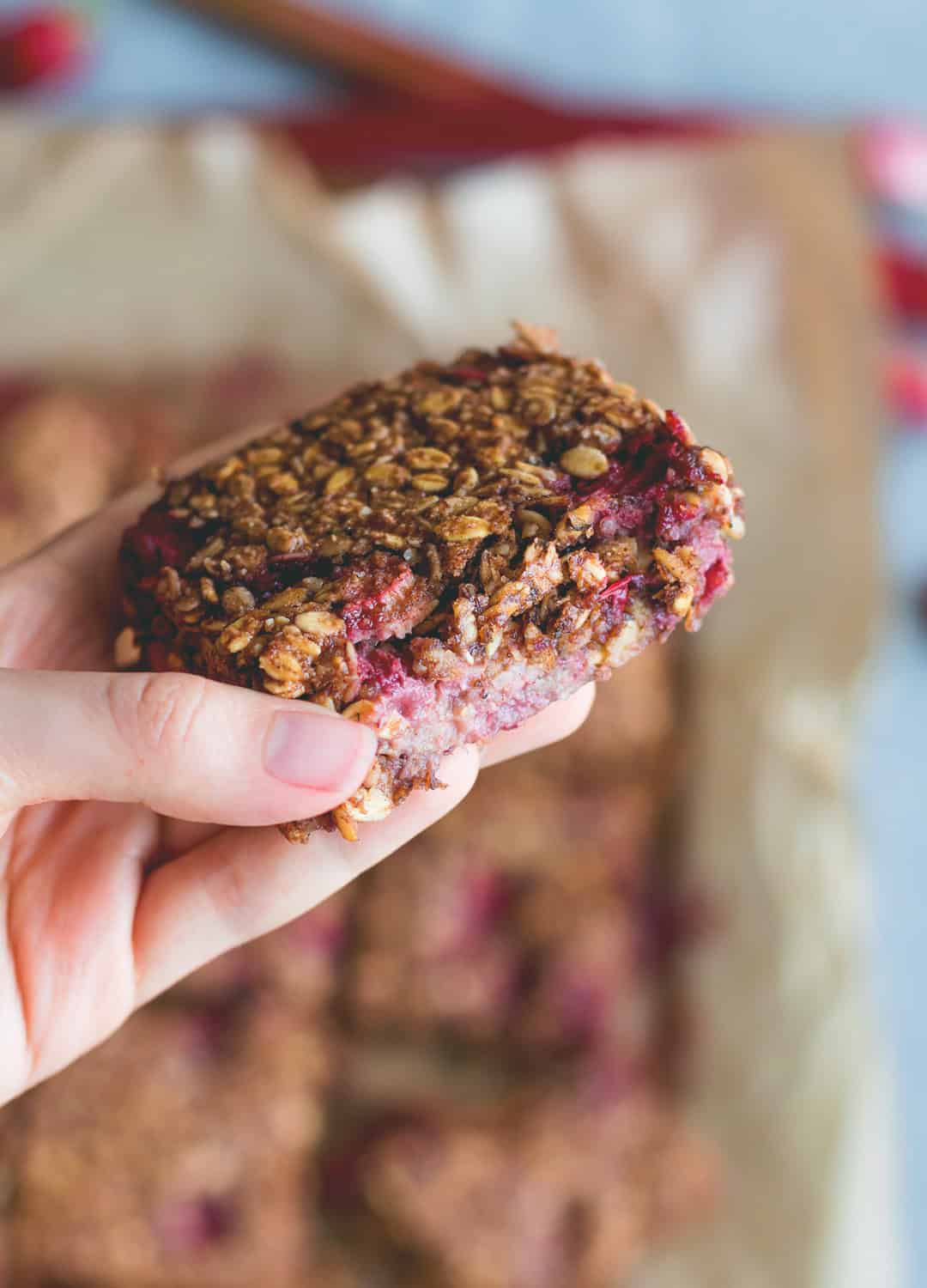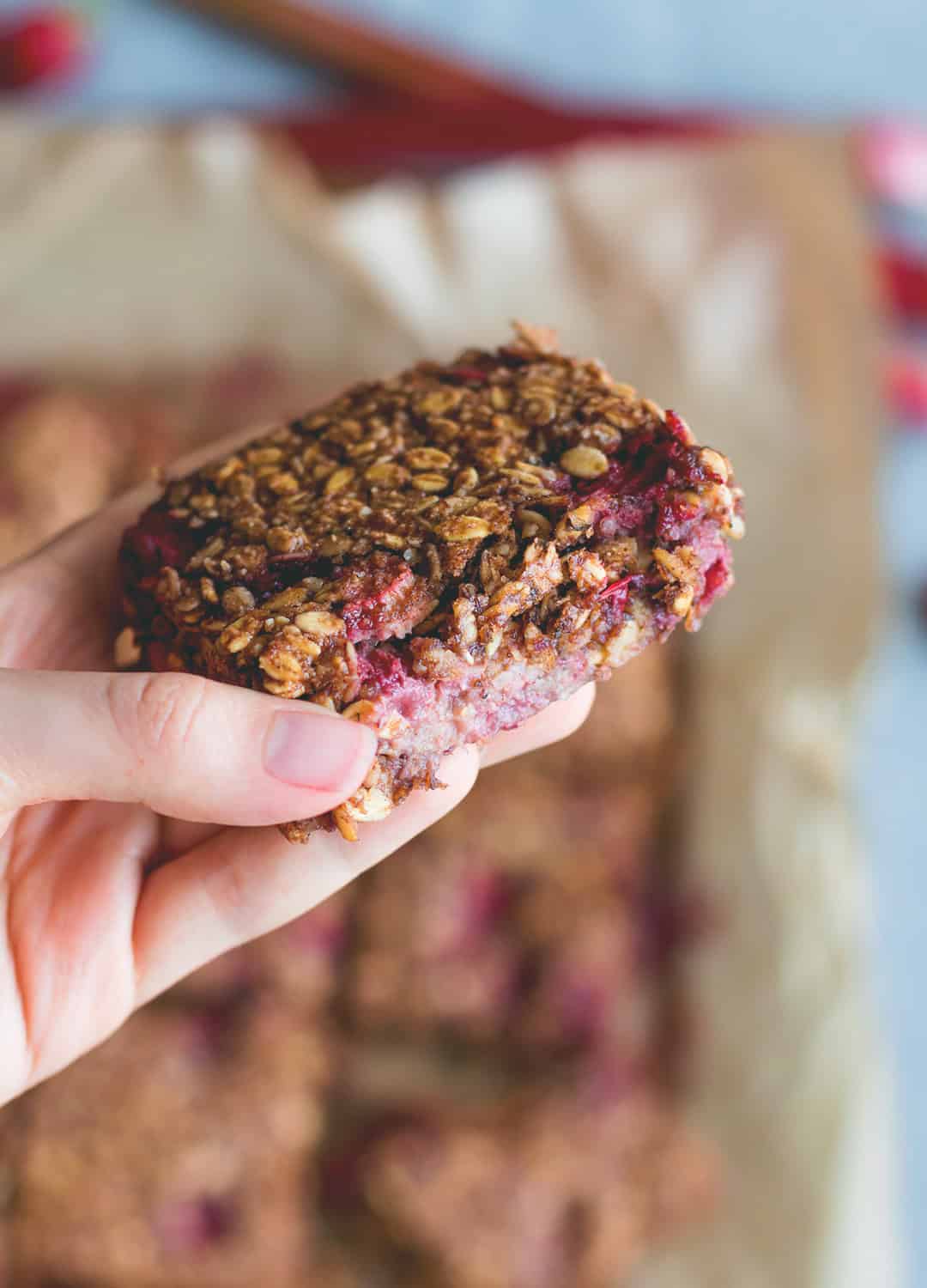 And okay, these breakfast bars may not be your most healthy and nutrition-packed breakfast but they're really delicious and it's worth it to treat yourself to something sweeter once in a while, right? I'm not saying you should go out and buy a pack of Oreos or any other highly processed non-food, I'm just saying that you don't have to have a green smoothie or a nutrition packed oatmeal every morning of your life. Treat yourself with some waffles, breakfast oat bars, pancakes once in a while and have the time of your life eating them! These bars still are somewhat healthy, though! There's no cane sugar, only maple syrup, and coconut sugar. There's no gluten, only oats and almond flour. There are also homemade almond butter and coconut oil binding it all together. And the result? Pure heaven!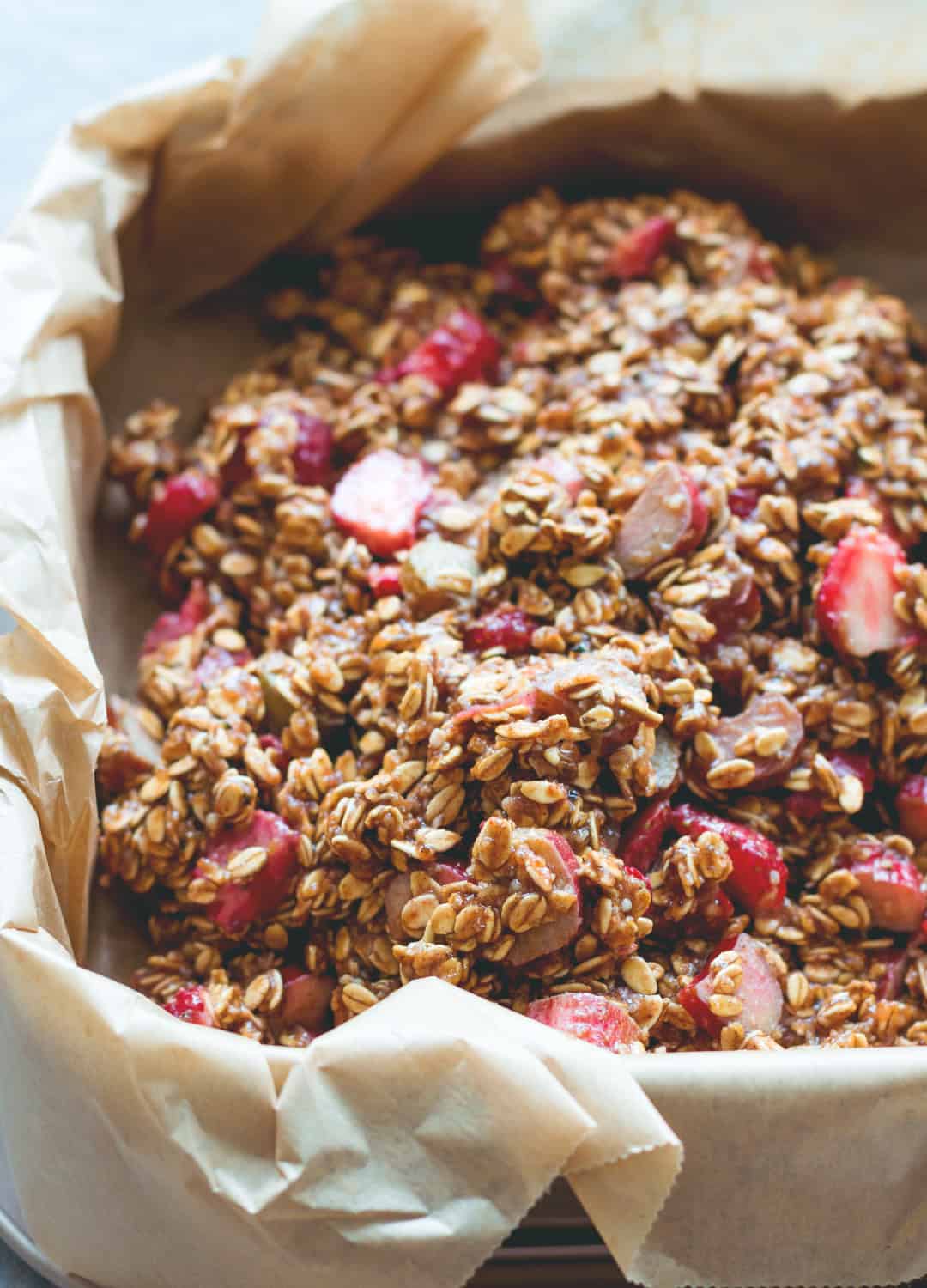 It's really easy to make, too! All you do is basically just dump all the dry ingredients into a big bowl. Then in a small sauce pan, melt the coconut oil, add the maple syrup and almond butter to it, and heat it up just a little bit to prevent the coconut oil hardening again since the maple syrup and almond butter are most likely really cold from the fridge.
Then you pour the wet ingredients into the dry, mix with a spoon until everything is well covered. Lastly, you fold in the strawberries and rhubarb and you're done with the dough!
Side note: feel free to use either only rhubarb or only strawberries if you want. The rhubarb is actually really delicious in this and if I make it again, I'll probably double up on the rhubarb because I really enjoy the tartness.
Anyways, let's continue cooking. Now that you have the dough ready, scoop in into a square spring form or any kind of baking pan you like preferably lined with baking paper because the dough tends to stick a lot.
Bake it at 175C (347F) for about 35 minutes until golden brown on the top and you're done! Let it cool down completely before cutting into it (believe me on this, it will fall apart on you if you cut it while it's still hot) and enjoy! Store it at room temperature for a couple of days covered with a washcloth or something to keep out the flies.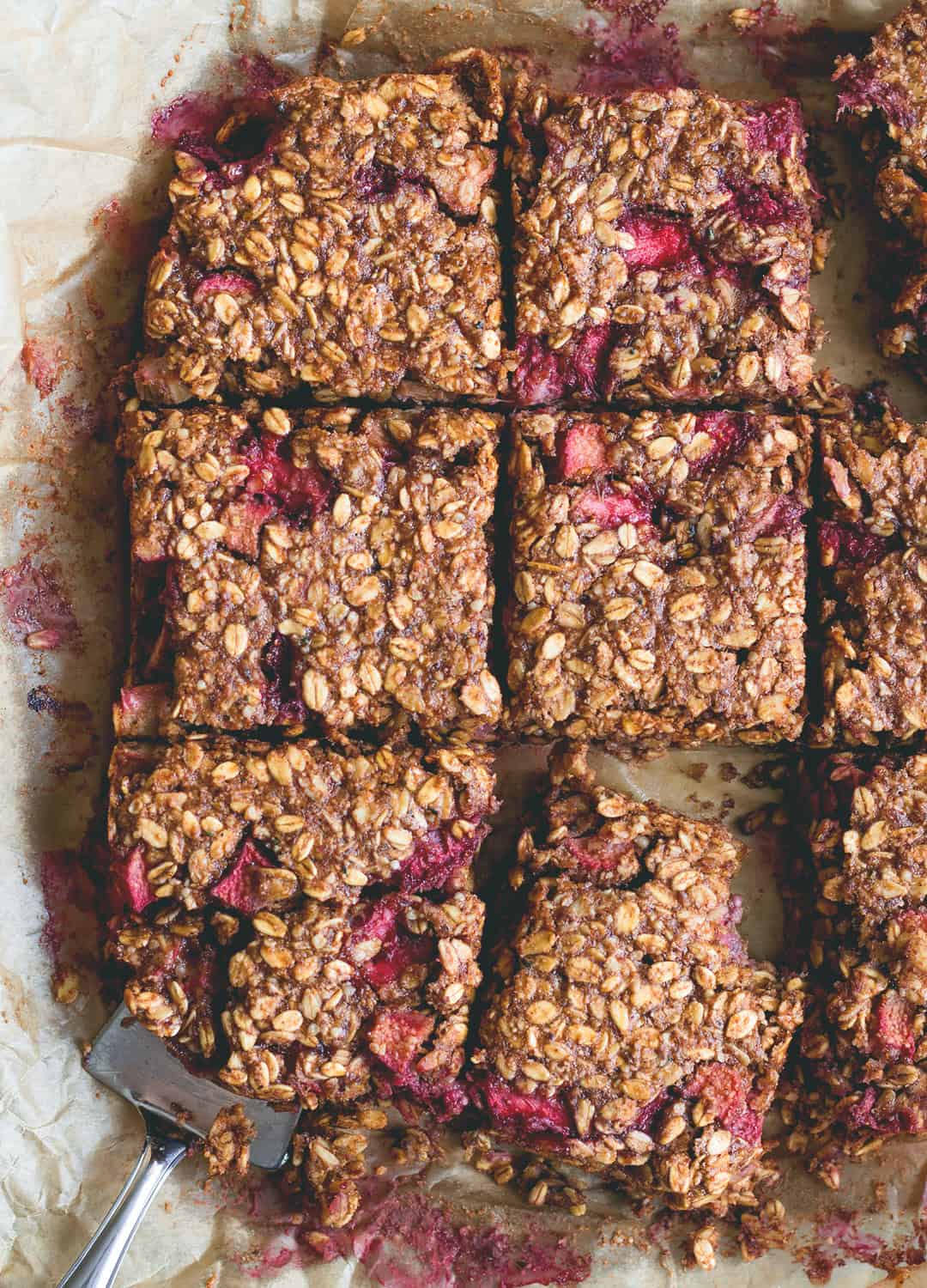 Just look at it, it's so beautiful. Crispy on the outside, soft on the inside. And about the marzipan flavor? There's just something about the combination of almonds, maple syrup (maybe also coconut sugar, though I added maple sugar to this one), and rhubarb that makes it taste like marzipan. This isn't actually my idea, though, it was my mom who thought of marzipan and I think it's spot on. What else to say? It's delicious, try it!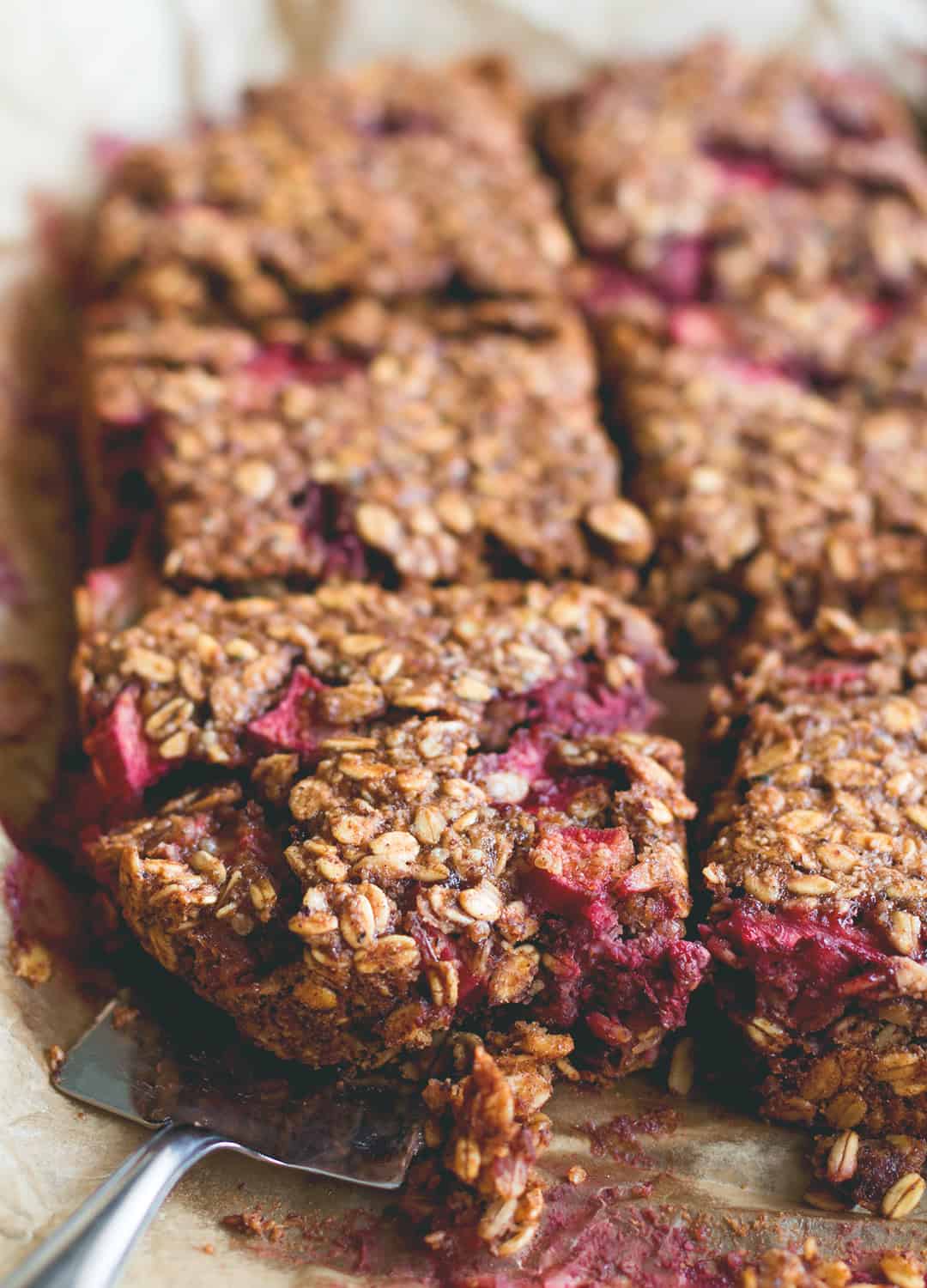 Print
📖 Recipe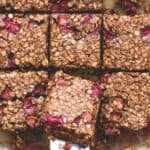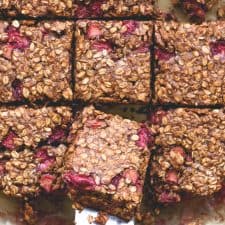 Strawberry Rhubarb Breakfast Oat Bars
Author:

The Healthful Ideas

Prep Time:

15 mins

Cook Time:

35 mins

Total Time:

50 mins

Yield:

9

bars

1

x

Category:

Breakfast
---
2

flax eggs (see notes)

2 ½ cups

Rolled oats

1 cup

almond flour

¼ tsp

hemp seeds

2 tbsp

coconut sugar (I added maple sugar for more maple flavor)

½ tsp

baking soda

¼ tsp

fine sea salt

2 tsp

cinnamon

1 tsp

vanilla powder (or sub

2 tsp

vanilla extract)

¼ cup

coconut oil

½ cup

maple syrup

¼ cup

almond butter

1 cup

sliced rhubarb (about

2.5

stalks)

1 cup

chopped strawberries (I cut bigger ones into quarters and smaller ones in half)
---
Instructions
Preheat your oven to 175C (347F). Prepare a springform pan with parchment paper and set aside.
Start by making the flax egg by mixing the water and the ground flax. Set aside to soak.
In a big bowl mix all the dry ingredients together with a spoon.
In a small saucepan, melt the coconut oil, add the maple syrup, almond butter, mix, and slightly heat it all up over very low heat just so that the maple syrup and almond butter aren't cold enough to solidify the coconut oil again.
Add the soaked flax egg into the wet mixture and stir to combine.
Pour the wet ingredients into the dry and mix with a spoon until everything is well coated.
Fold in the chopped rhubarb and strawberries.
Transfer the dough into your pan and press it down with the spoon.
Bake for 35 minutes or until golden on top. You know it's done when the dough starts peeling off the sides of the parchment paper.
Cool down completely before cutting. (believe me on this - it will crumble if you cut it too soon)
Store at room temperature for 3-4 days.
---
Notes
To make the flax eggs, you need 2 tablespoon ground flax seeds and 5 tablespoon water (1 egg= 1tbsp ground flax + 2.5 tablespoon water). You mix that together with a spoon and set aside to soak for about 10 minutes.