I wanted to call this loaf a 'Christmas Spiced Bread' but that sounded like I added Christmas to it, which with all the spices I basically did, but I decided to name this one a Spiced Christmas Bread instead.
This bread has all of the best winter cozy spices like allspice, clove, ginger, cinnamon, star anise, nutmeg, and probably also something else I'm forgetting. At the last minute I added a mix of dried fruits and nuts to the batter and oh my I'm so happy I did, you guys! It wouldn't be the same without those. The nuts give it a crunch and the fruits an extra flavor and sweetness.
If you also want to make some banana bread, you can try my Healthy Banana Bread recipe! That one has eggs in it but I'm going to post a vegan Gingerbread Banana Bread next week so stay tuned for that, it's gonna be a good one! I honestly can't choose which bread I like more. This spiced one or the gingerbread one. It's almost the same recipe actually! I just tweaked this one a bit and added the nuts, dried fruit, and different spices. This bread is also full of hemp seeds which give an extra protein boost.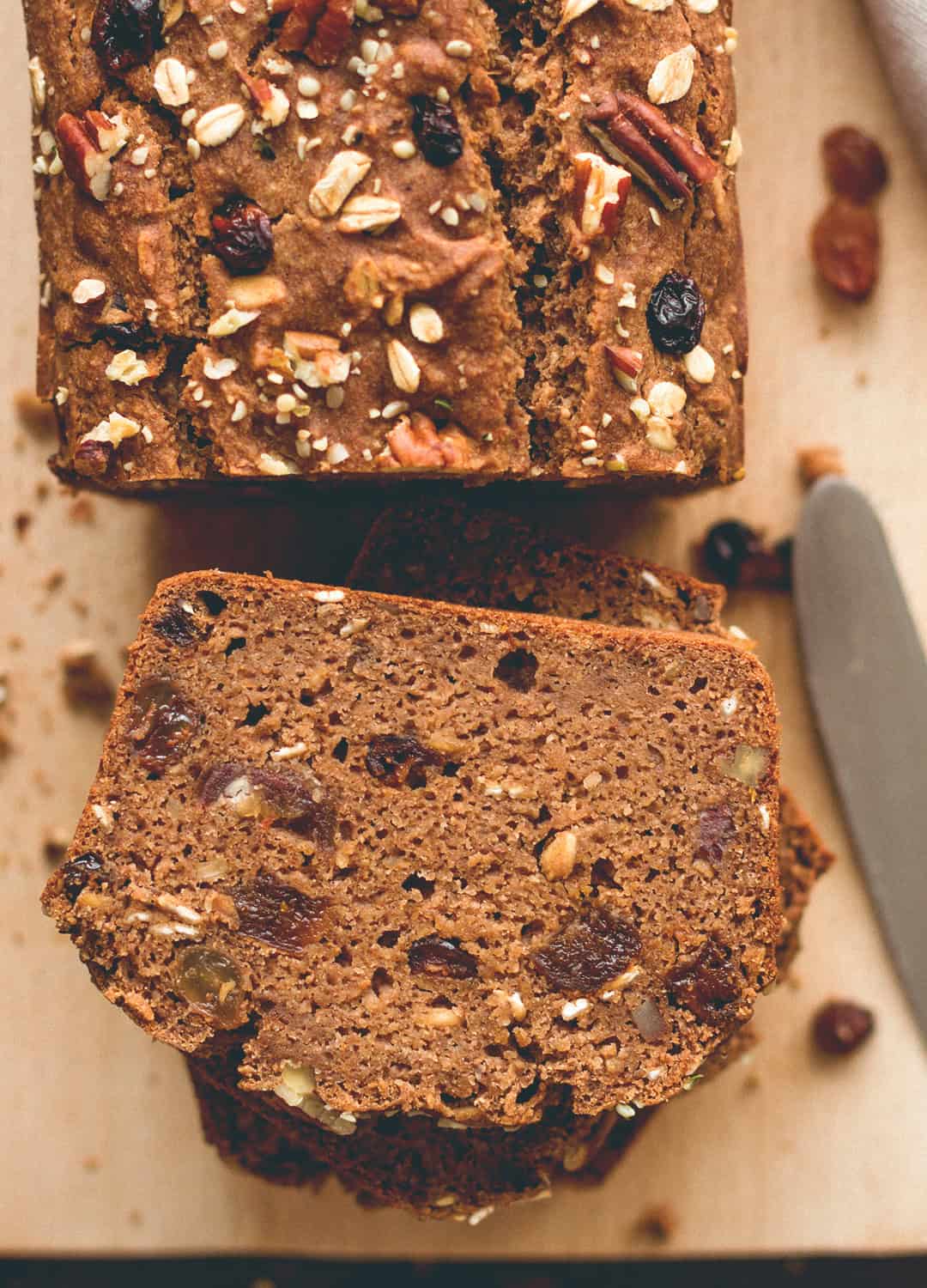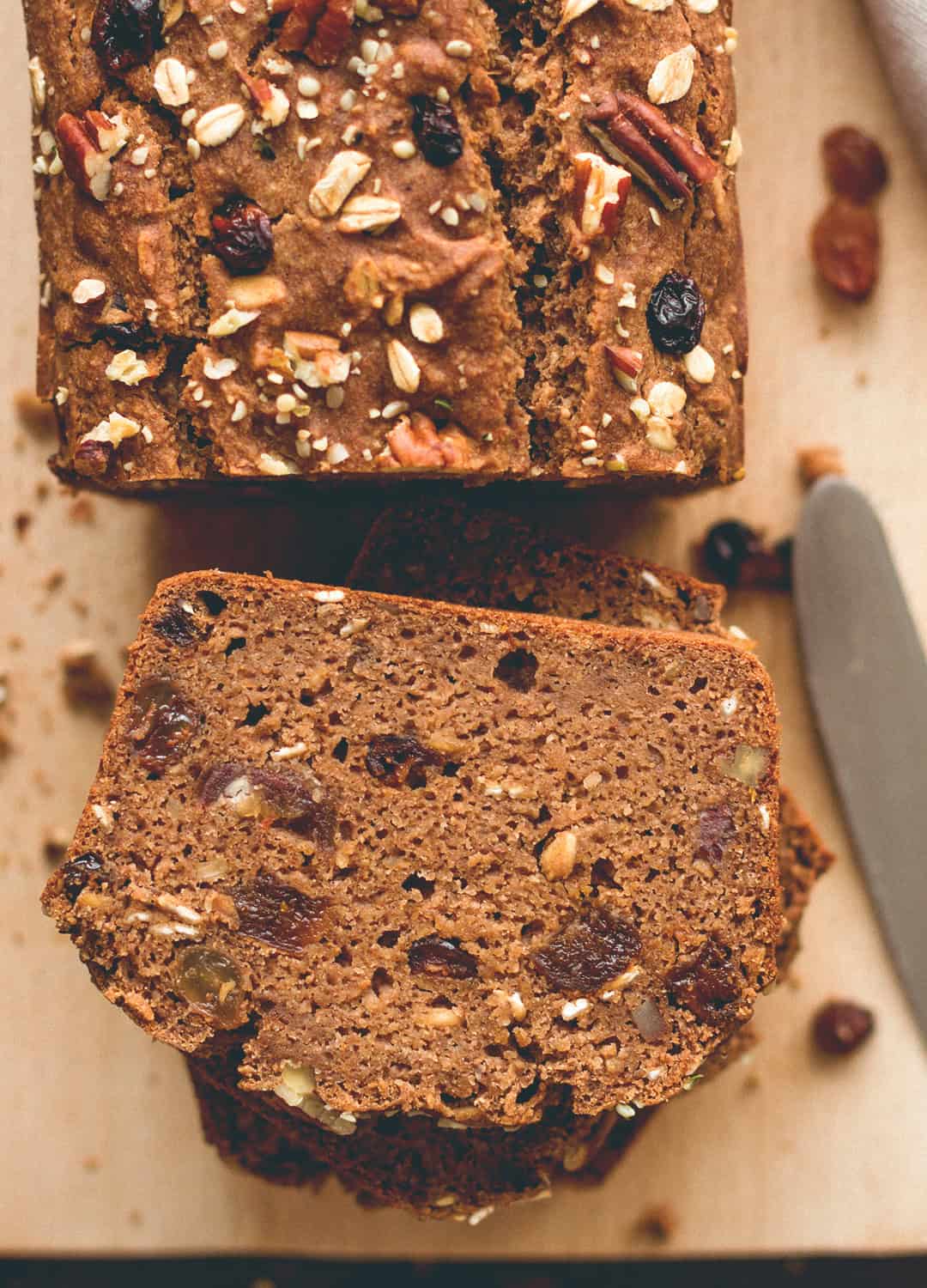 This spiced bread is dense but soft and fluffy and you would've never guessed it's vegan and gluten-free if I didn't tell you. Plus, when you put all the ingredients in a bowl together, it looks so prettyyyyyy. Just look at it! I feel like cooking is such art sometimes all the time. I find such joy in mixing and stirring and pouring and cooking and baking and creating. You get me, right? Even if you work full time during the holidays, it's important to find small moments of joy spent in the kitchen creating something delicious. It's almost therapeutic, a kind of a meditation for me even. When I'm cooking, I'm concentrating on the moment, on cutting the onions or mixing the dough or whatever else I'm doing and listening to the sounds of the food cooking on the stove. That's what meditation basically is, right? It's about paying attention to the present moment and who says you have to sit straight on a yoga mat to meditate properly? Make it yours!
I actually wanted to make a spiced christmas bread with walnuts only but I could not find walnuts anywhere. It was like they fell off the face of the earth. Sooo I ended up using pecans instead and the recipe turned out even better with those. YAY!! You can still use walnuts, though, they're also totally awesome in this recipe. Next time I want to do a mixture of both to make it extra special.
Whether you end up adding walnuts or pecans, I really hope you enjoy this recipe and if you do don't forget to let me know ;) Have a great start of December guys and I'll see you with another post on Friday!<3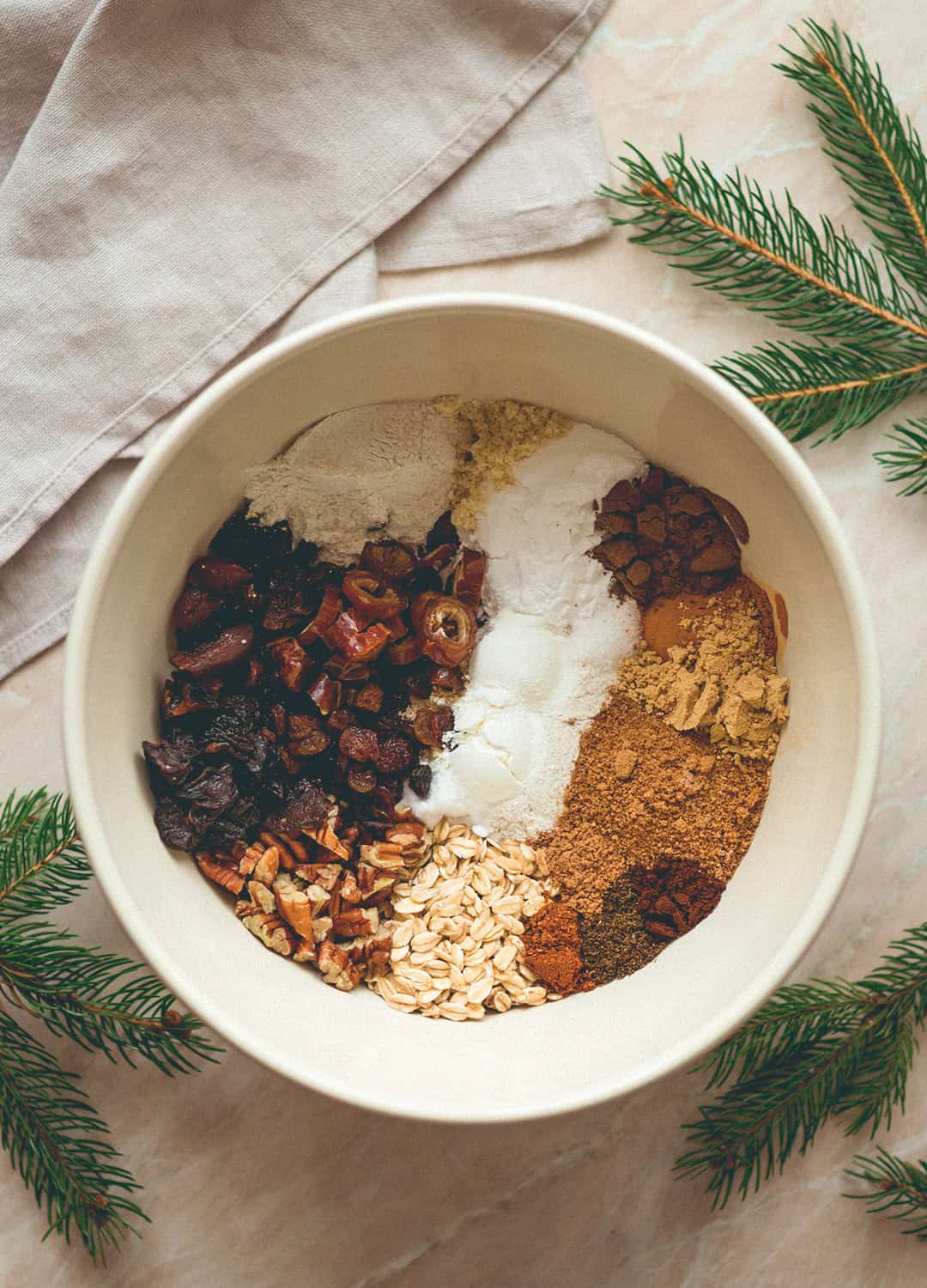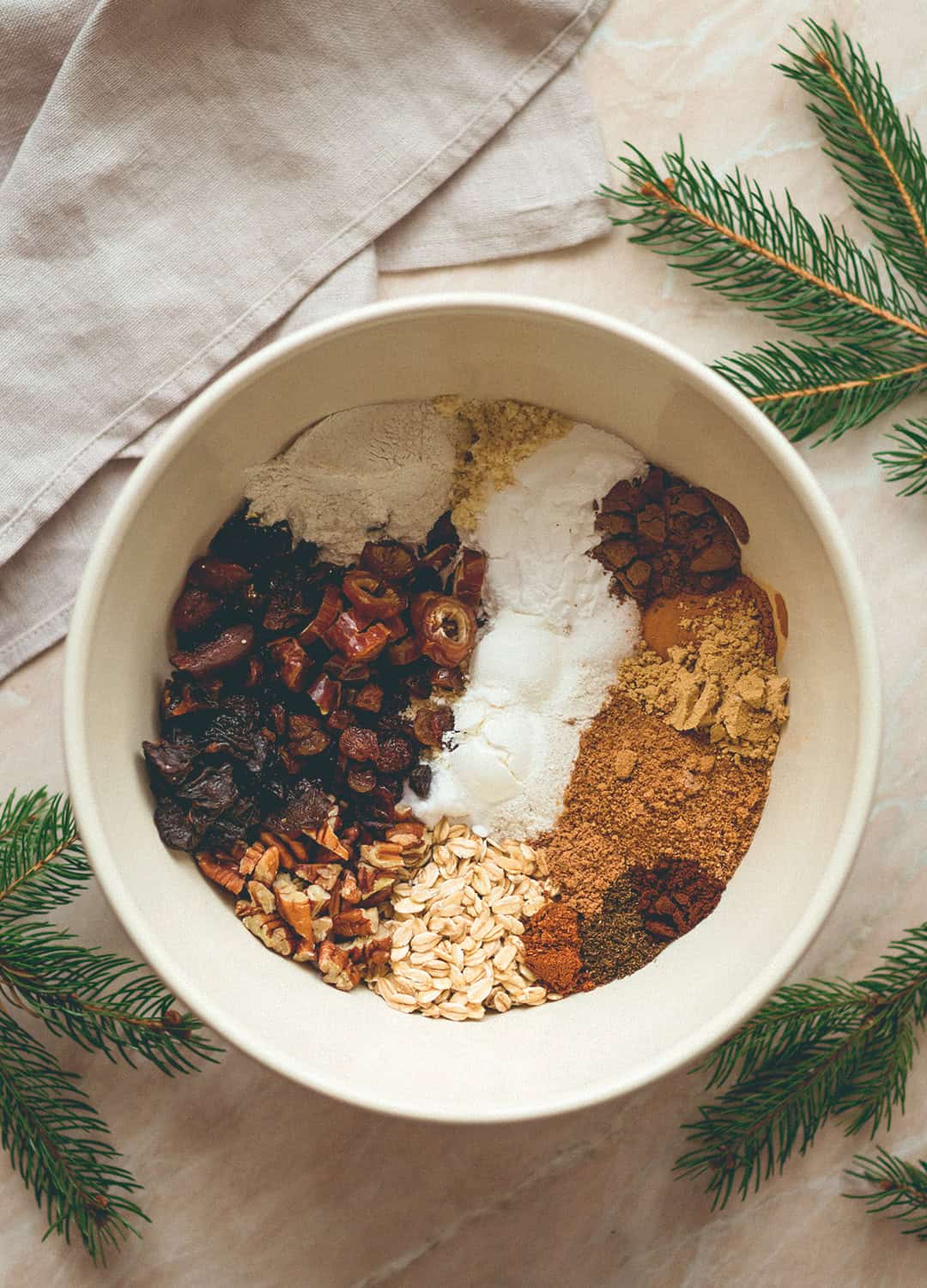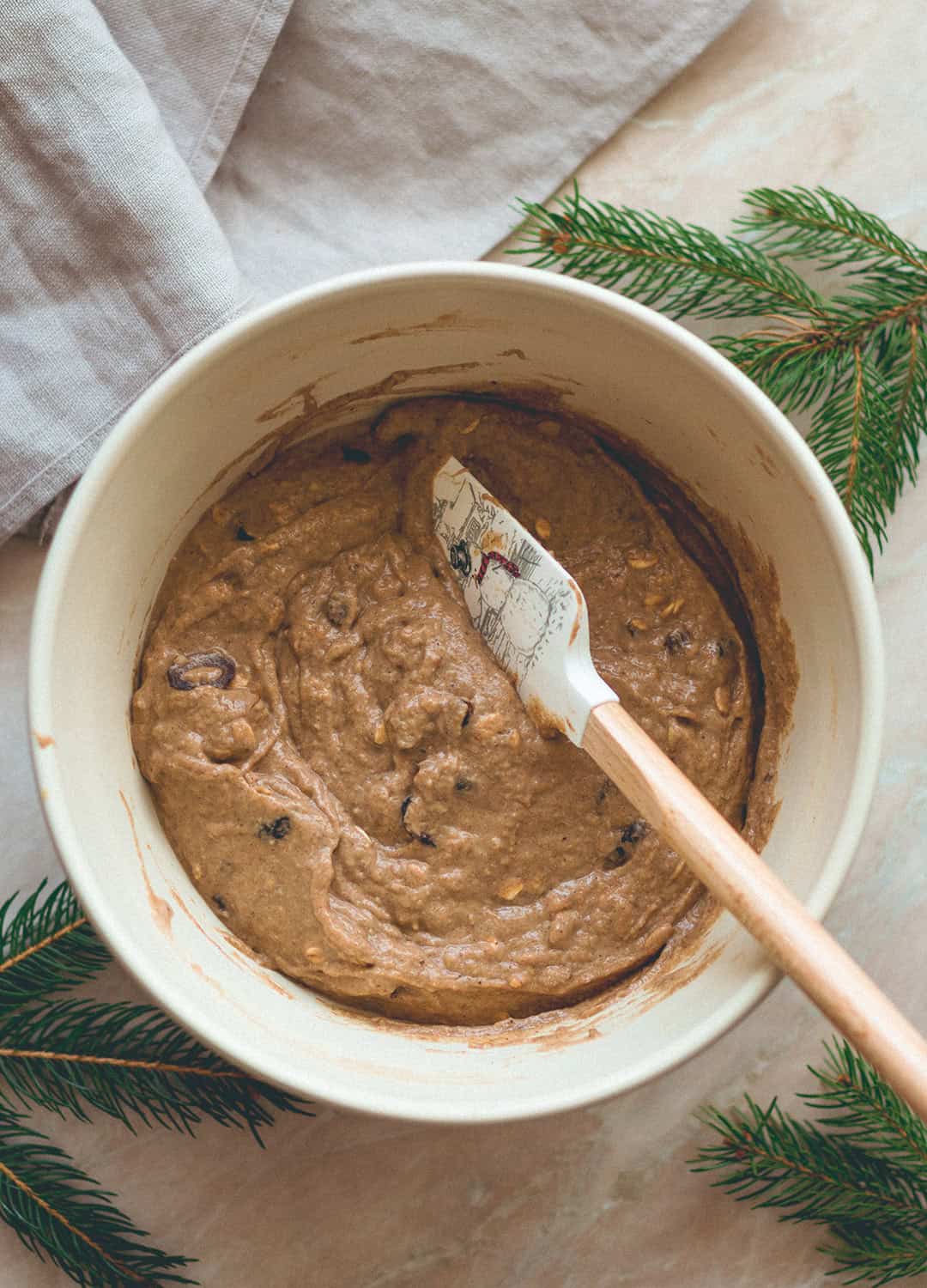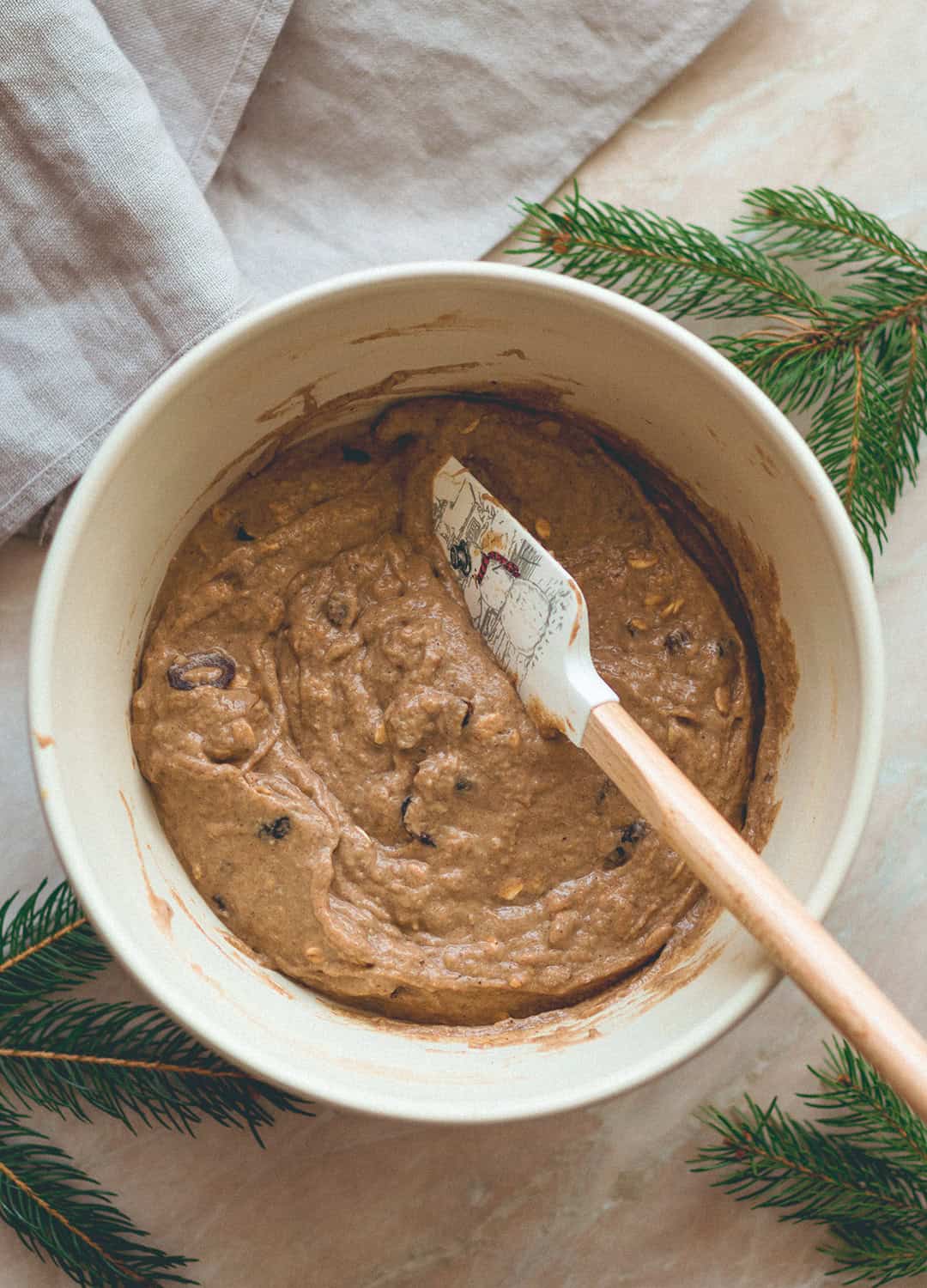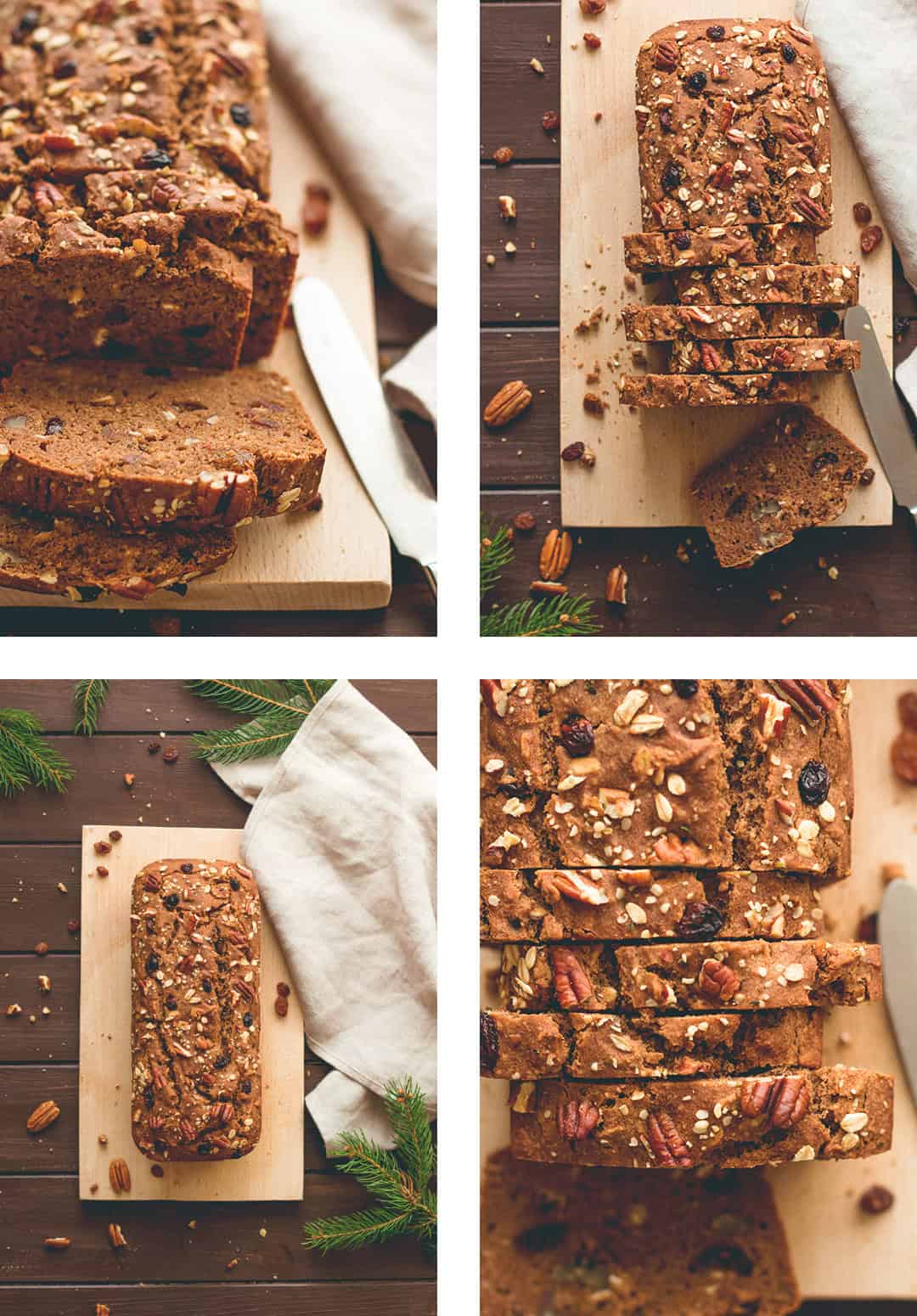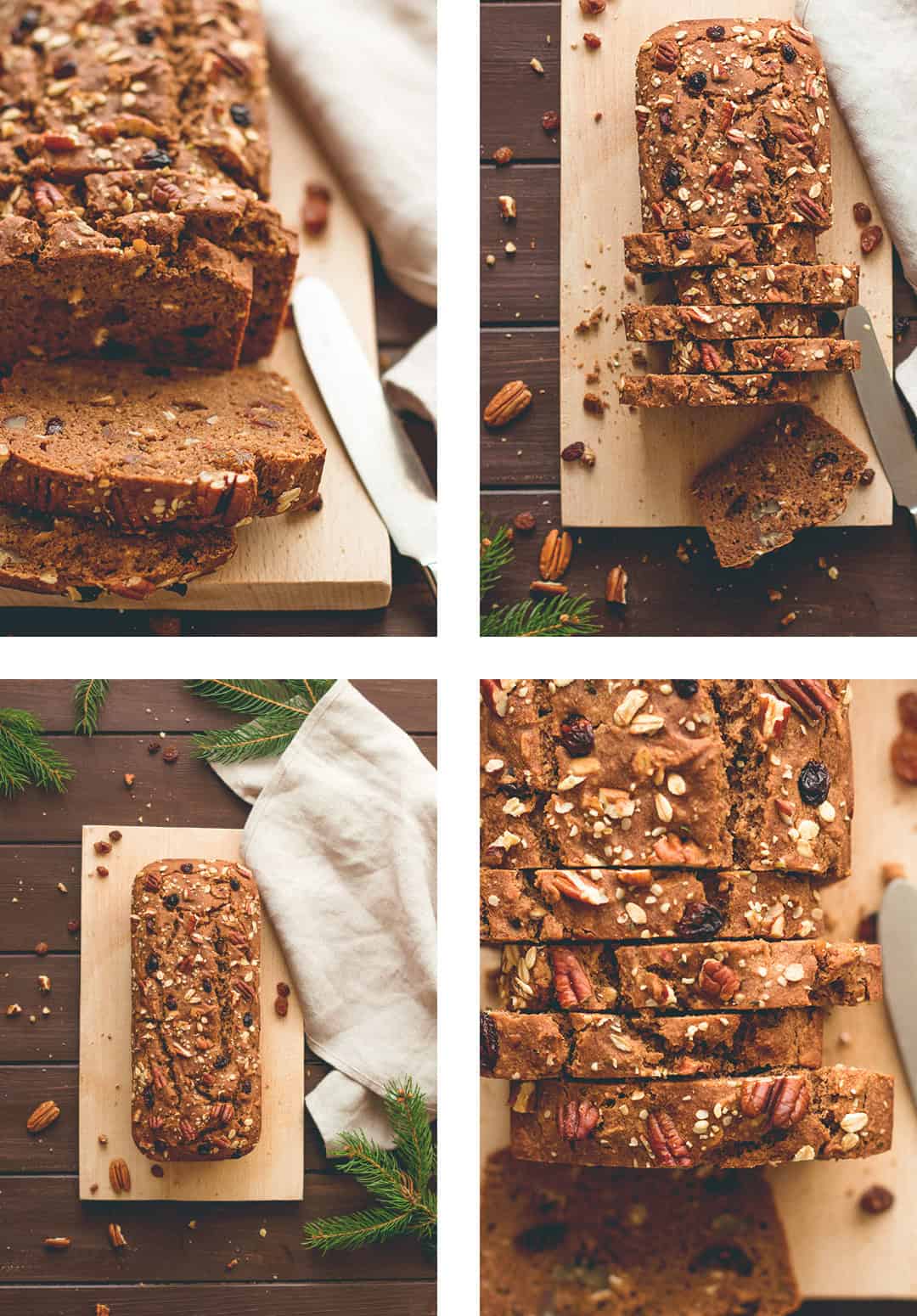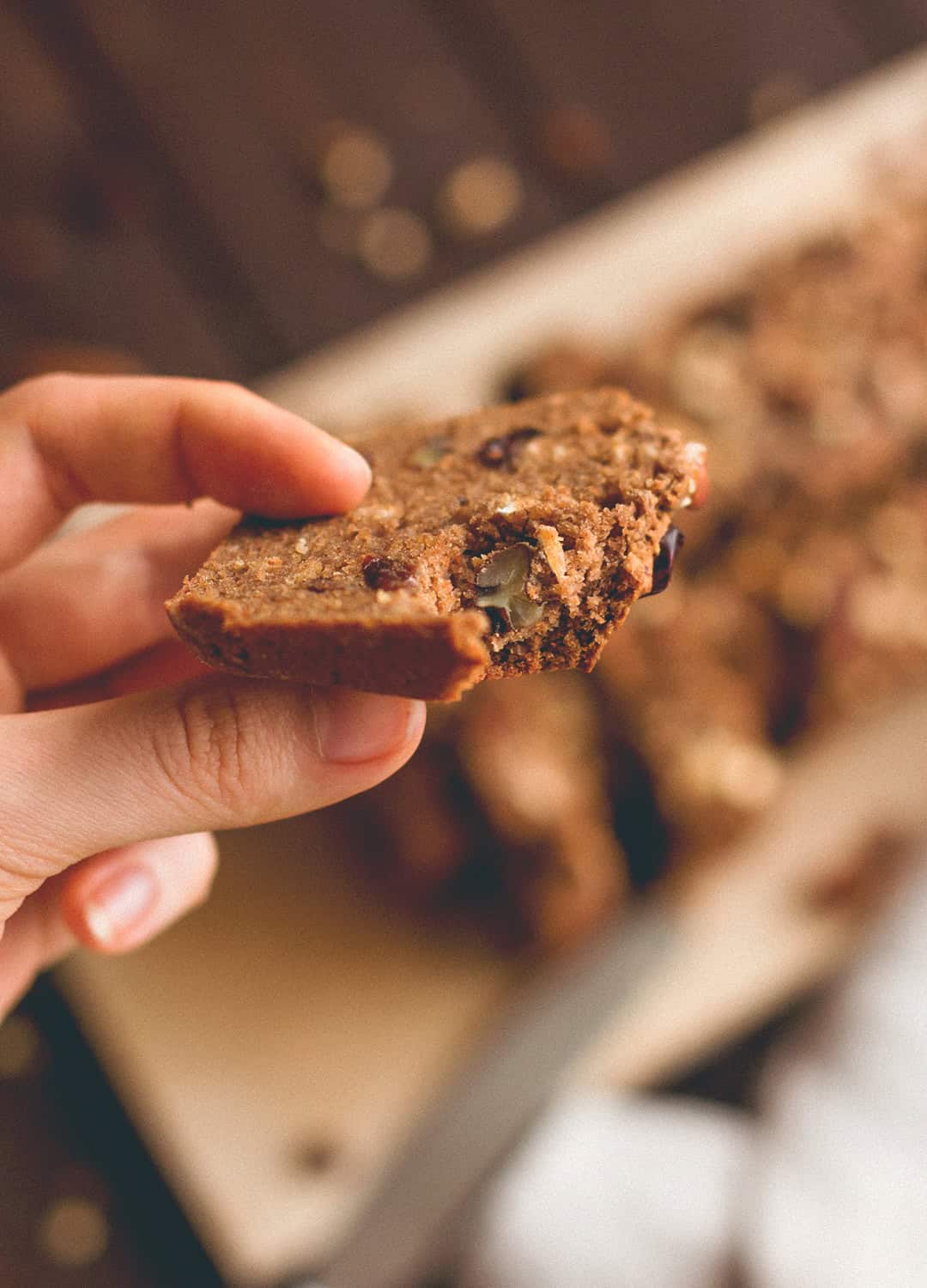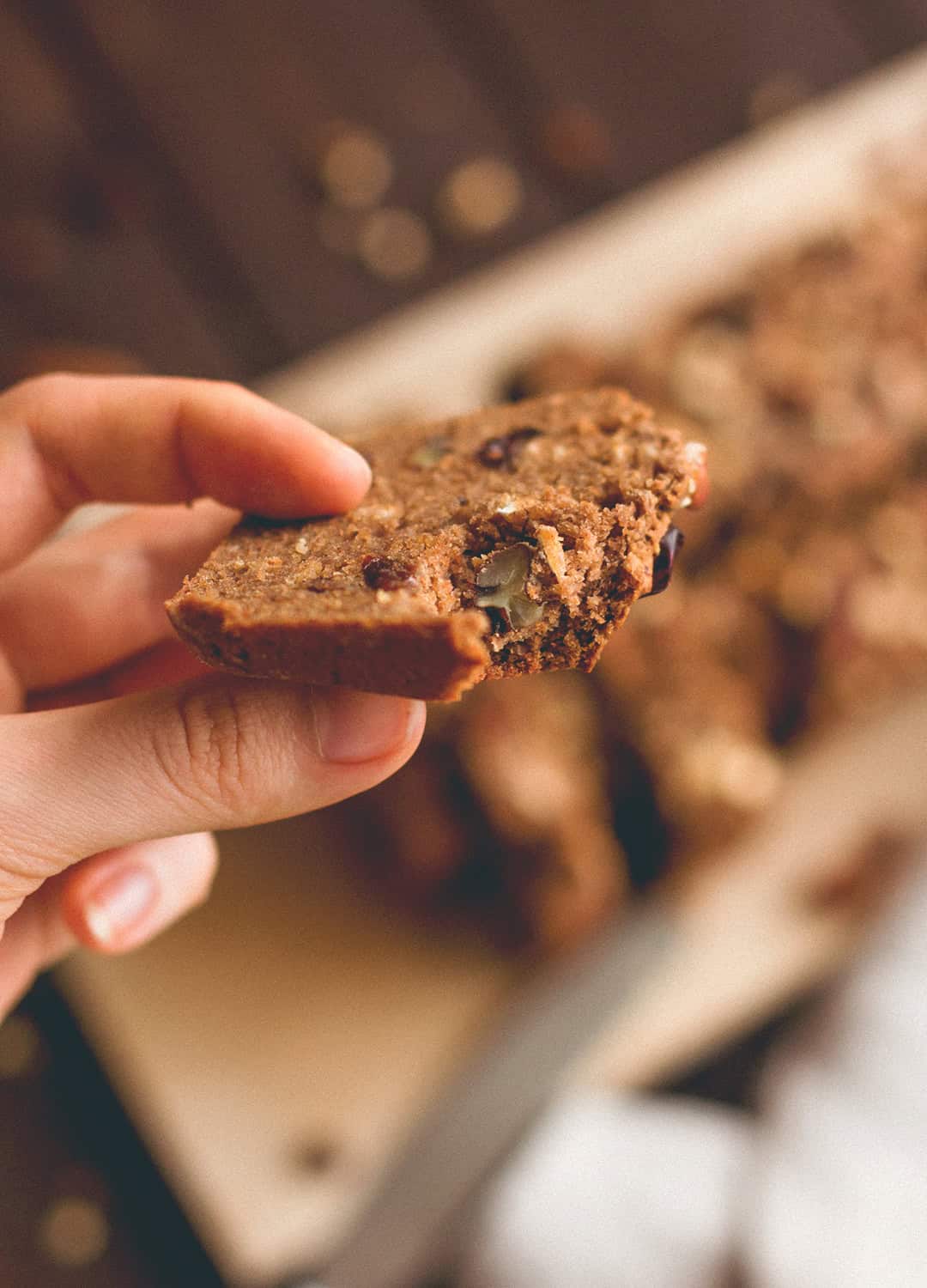 Print
📖 Recipe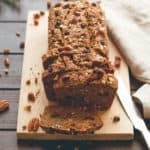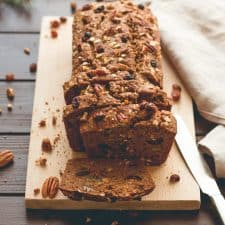 Spiced Christmas Bread with Nuts and Dried Fruit
Author:

The Healthful Ideas

Prep Time:

15 mins

Cook Time:

55 mins

Total Time:

1 hour 10 mins

Yield:

1

loaf

1

x

Category:

Baking
---
1 cup

+

2 tbsp

buckwheat flour

1 cup

almond flour

¼ cup

coconut sugar

¼ cup

rolled oats

¼ cup

tapioca flour

2 tsp

baking powder

½ tsp

baking soda

½ tsp

sea salt

2 tsp

ground cinnamon

1 ½ tsp

ground ginger

1 ½ tsp

ground allspice

½ tsp

ground star anise

½ tsp

ground fennel seeds

¼ tsp

ground nutmeg

¼ tsp

ground cloves

2

-

3

dates, pitted and chopped (the drier kind, not Medjool)

2

dried apricots, chopped

2

dried plums, chopped

2 tbsp

dried cranberries

2 tbsp

raisins

¼ cup

chopped pecans (or sub walnuts)

2

flax eggs (see notes on how to make this)

½ cup

+

2 tbsp

almond milk

¾ cup

apple puree

¼ cup

maple syrup

1 tbsp

melted coconut oil (plus more greasing)
---
Instructions
Preheat your oven to 175C (347F) and lightly grease a loaf tin.
In a big bowl, mix all the dry ingredients together except the dried fruit and nuts.
Add the nuts and dried fruit and mix to incorporate.
In a separate bowl, mix all the liquid ingredients - flax eggs, almond milk, apple puree, maple syrup, and coconut oil.
Pour all that into the dry ingredients and mix with a whisk until everything is well incorporated.
Pour the batter into the prepared loaf tin and top with oats, hemp seeds, raisins, and pecans if desired.
Bake for 50-55 minutes or until a toothpick inserted in the middle comes out clean.
Take the loaf out of the oven and let cool in the tin for about 10 minutes.
Remove it from the tin and cool completely before slicing (or at least for as long as your patience lets you).
Store at room temperature for 3-4 days.
---