Stuffing my mouth with pak choy has recently become a new hobby of mine.
No, but really it's SO delicious! Sauteed pak choy is extraordinary and I'm not exaggerating. Well, maybe a little, but it's definitely tasty and worth trying if you never have!
What is pak choy exactly? Don't you mean bok choy?
Funny story — when I bought pak choy a couple weeks back for the first time I was under the impression it was bok choy and I was actually going to call this recipe "Sauteed bok choy and brussels sprouts with eggs" until I decided to google it and found out that it's in fact called pak choy and that bok choy looks a lot different. I mean, before that, I once googled the difference between bok choy and pak choy but didn't pay too much attention to it and thought they were exactly the same but they're quite different although both fall into the "Chinese cabbage" category — it's a cruciferous vegetable.
There are two pak choys (? or two pieces of pak choy? What is the right option?) in this recipe and the meal would turn out different if you added two bok choys (? again) instead because they're like two times the size!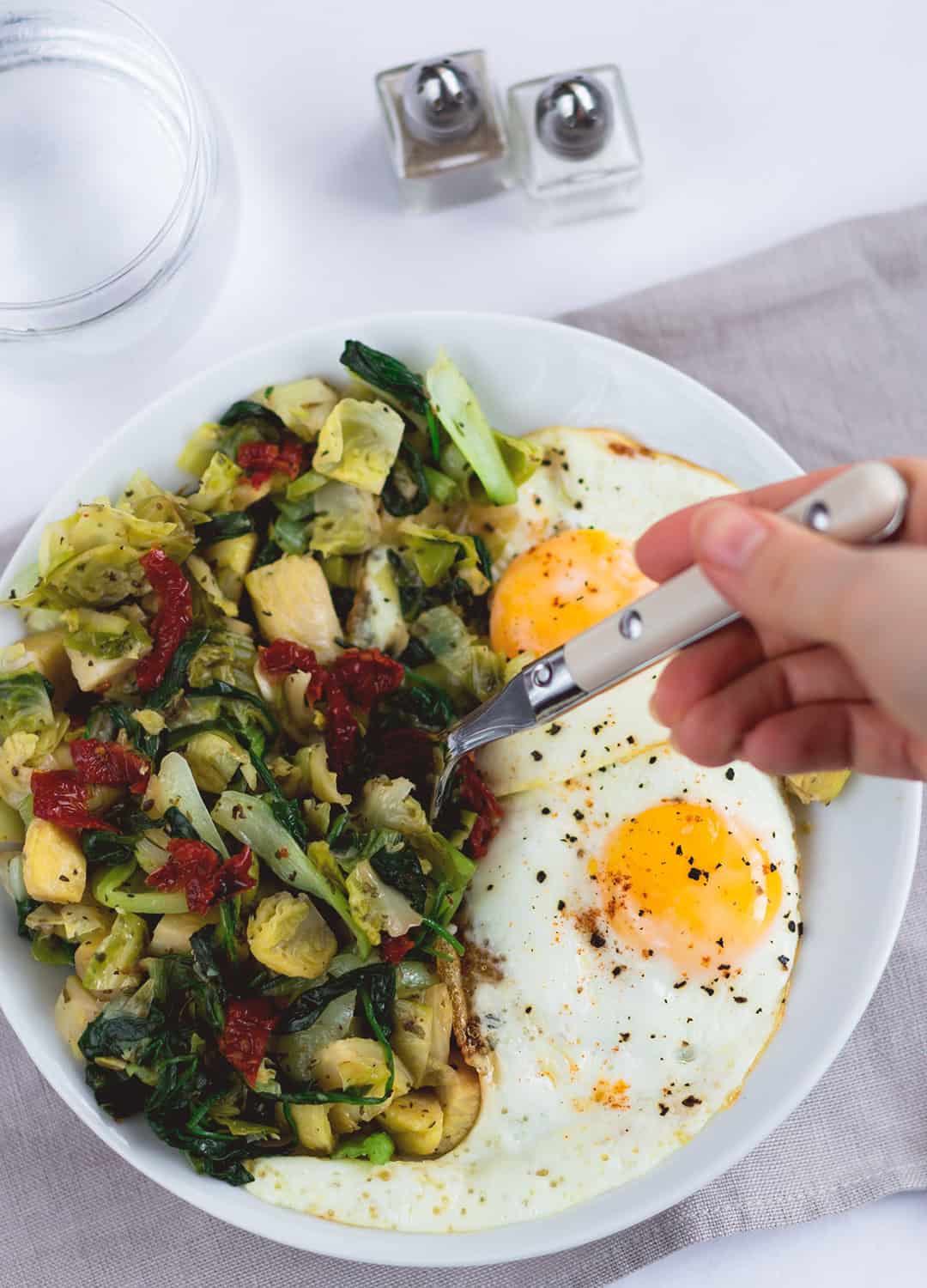 The main difference between the two varieties is that bok choy has white stems and darker leaves and Pak Choy is overall green, but lighter and also much smaller.
And if Pak Choy and bok choy isn't confusing enough, there's also Baby Bok Choy (which looks similar to Pak Choy but has white stems), Gai Choy, Choy Sum, Baby Choy Sum, and probably many others.
Let's stay with Pak Choy. It has a decent amount of vitamin A and C, although those are most likely destroyed while cooking. It's also a nice source of calcium, iron, and magnesium. It has minimum calories, virtually no fat, mainly carbs and protein (it's obviously not as good of a source of protein as other plants but every gram counts, right?).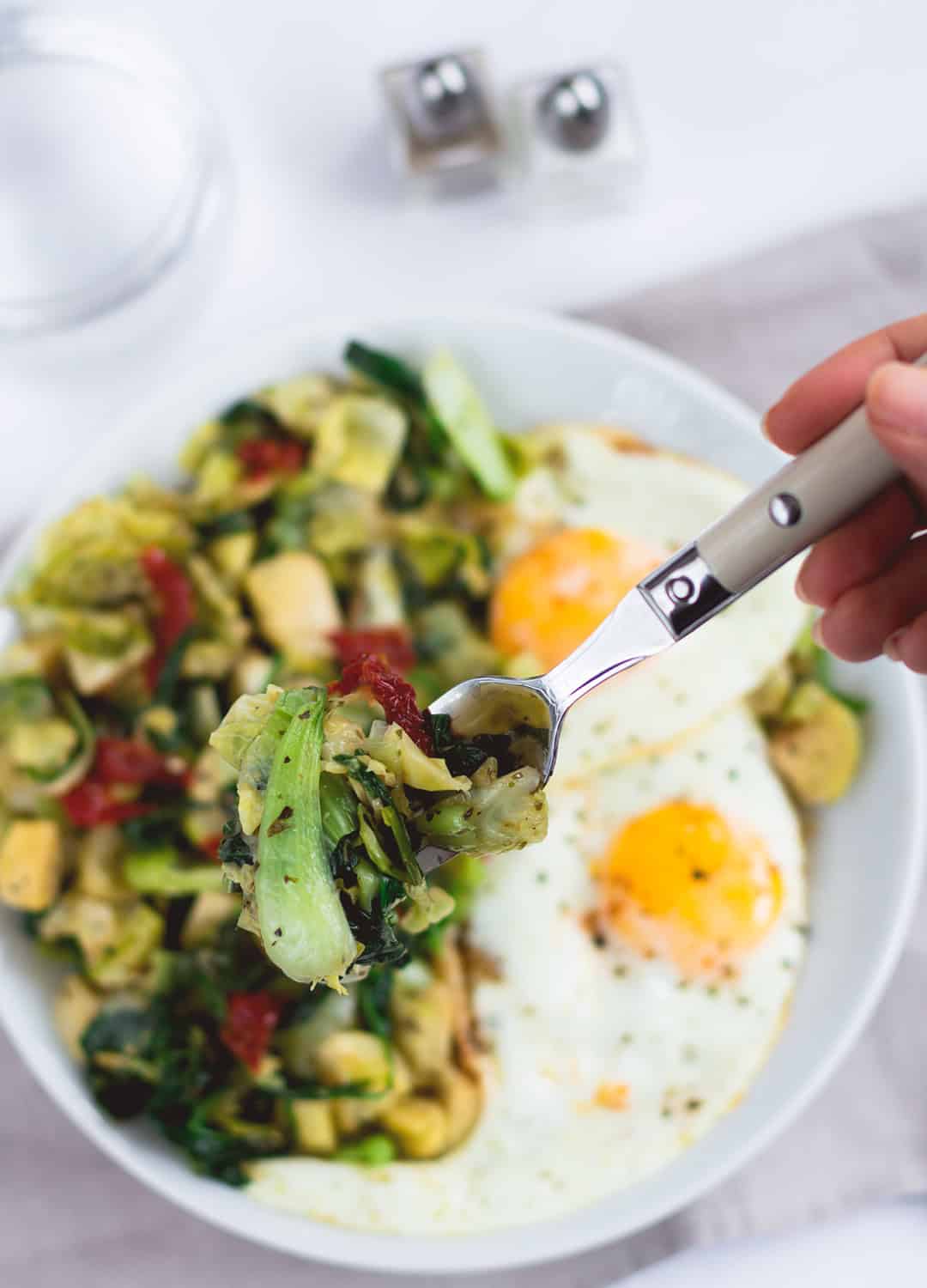 Speaking of protein there're two eggs for each person which is a good protein source on itself. For this recipe, I made them sunny side up, although lately I've been making them over easy/medium because I'm not into the raw yolk so much anymore. If I were making this for breakfast I'd definitely do the eggs over medium but for the sake of the photos, I made them sunny side up simply because eggs over medium aren't this good looking.
If you're a vegan, you can skip the eggs and add anything else you like. This dish would be delicious for lunch or dinner with some rice, quinoa, and a mix of other fresh veggies. I love the brussels sprouts and pak choy combo with a sneaky addition of spinach to add even more green goodness to the meal! I topped the whole thing with sundried tomatoes (in extra virgin olive oil) to add a different flavor to it, but that's optional so don't worry if you don't have those on hand.
This really is the best savory breakfast I've had in a long time (probably since my visit to NY in December—Hu Kitchen, I miss you—quick shout out to my Where to Eat in New York? post in case you're in the area looking for food)
I hope you enjoy this deliciousness as much as I do! If you make it, don't forget to let me know how you liked it. :)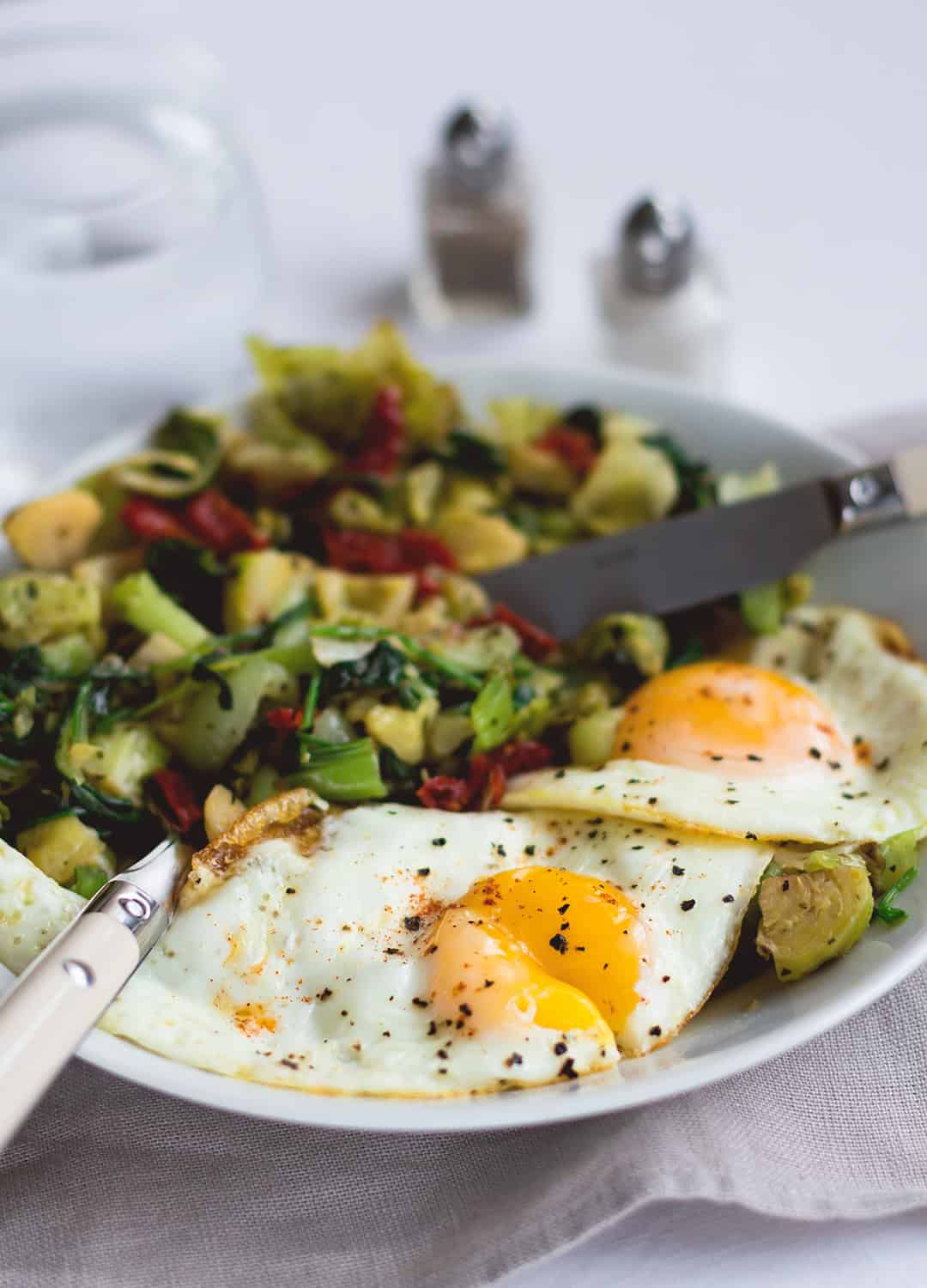 Print
📖 Recipe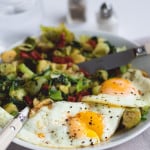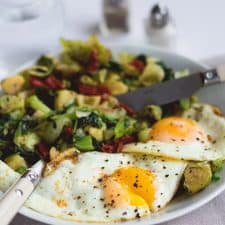 Sauteed Pak Choy and Brussels Sprouts with Eggs
Author:

The Healthful Ideas

Prep Time:

10 mins

Cook Time:

20 mins

Total Time:

30 mins

Yield:

2

-3

1

x
---
1 tsp

extra virgin olive oil

1 tsp

apple cider vinegar

2 tsp

maple syrup

1 tsp

coconut oil or ghi

1

spring onion

12

big brussels sprouts

2

bunches of pak choy (or bok choy, but you'll probably want to use only

one

since it tends to be bigger)

1 tsp

dried basil

1 tsp

dried oregano

1 tsp

dried parsley

4

eggs + more coconut oil for cooking (about

1 tsp

, add less if you're making less eggs)

2

large handfuls baby spinach
sea salt, pepper
cayenne pepper (optional)
a few sundried tomatoes in olive oil, drained
---
Instructions
Start by making the dressing. In a small bowl, mix the olive oil, apple cider vinegar, maple syrup, stir and set aside.
Finely chop the spring onion and move aside. Remove the stems of the brussels sprouts and chop them into quarters (or halves if they're small).
Heat the coconut oil (or ghi) in a big pan over medium-high heat. When hot add the onion and cook for a minute or so. Add the brussels sprouts and toss. Add a splash of water and cover with a lid. This way it sautees and steams at the same time.
Let that cook for 10 minutes and stir occasionally. While that's cooking, chop the pak choy.
Lower the heat a bit and add the pak choy along with the dried herbs. Mix with a spatula and add another splash of water and cover.
Cook for 10 more minutes.
Meanwhile start on the eggs. Heat some coconut oil on a big pan.
When hot add the eggs, season with salt and pepper and let them cook for 5-10 minutes depending on how done you like them. If you cook them covered they'll cook quicker.
Add the spinach to the pan with pak choy and cook covered for 1-2 minutes just until the spinach becomes wilted. Turn the heat off, add the dressing and toss. 
You can dust the eggs with a little bit of cayenne pepper if you like before serving.
Serve with a few sundried tomatoes, fresh tomatoes, or other veggies of choice.
---