Potato salad is such a traditional Christmas side dish in the Czech Republic but it's loaded with mayo and yogurt which I don't eat so I figured I need to make a vegan alternative.  Granted, this potato salad is nothing like the original one but it's delicious nonetheless and I'm definitely making it on Christmas eve.! My mom is probably still going to make the traditional fish soup, and fried carp with potato salad but I'll also make some dishes for myself and for anyone who wants to try them.  Quinoa Stuffed Bell Peppers, along with this roasted potato salad, and
The menu so far consists of these Quinoa Stuffed Bell Peppers, along with the roasted potato salad from this post, probably these Sweet Potato Quinoa Patties, and a simple mixed salad on the side. And I'd also probably make some butternut squash red lentil soup which I made the other day just by throwing stuff in a pot and it turned out amazing so I'm really excited about that. I'll probably share that one with you too in the future.
I'm also planning to make these amazing Chai Spiced Pancakes for the next morning because I just can't get enough of them. So good! What are your plans for Christmas eve? Are you cooking too? If you're looking for any last minute Christmas recipes, I shared a roundup of 12 sweet recipes last week. You can check the post out here. There's oatmeal, cookies, granola, fudge bites, energy balls, pancakes, hot chocolate, and more!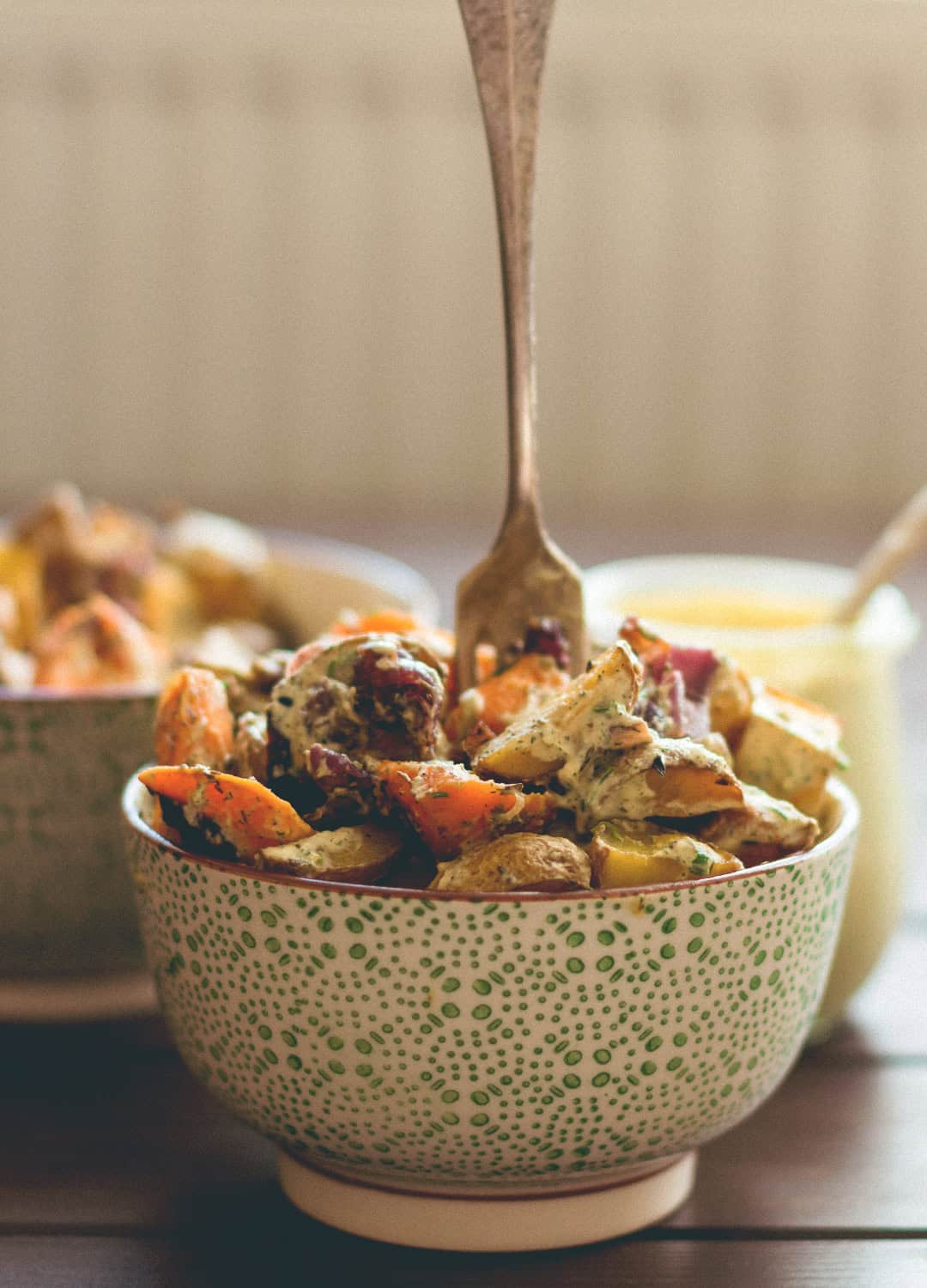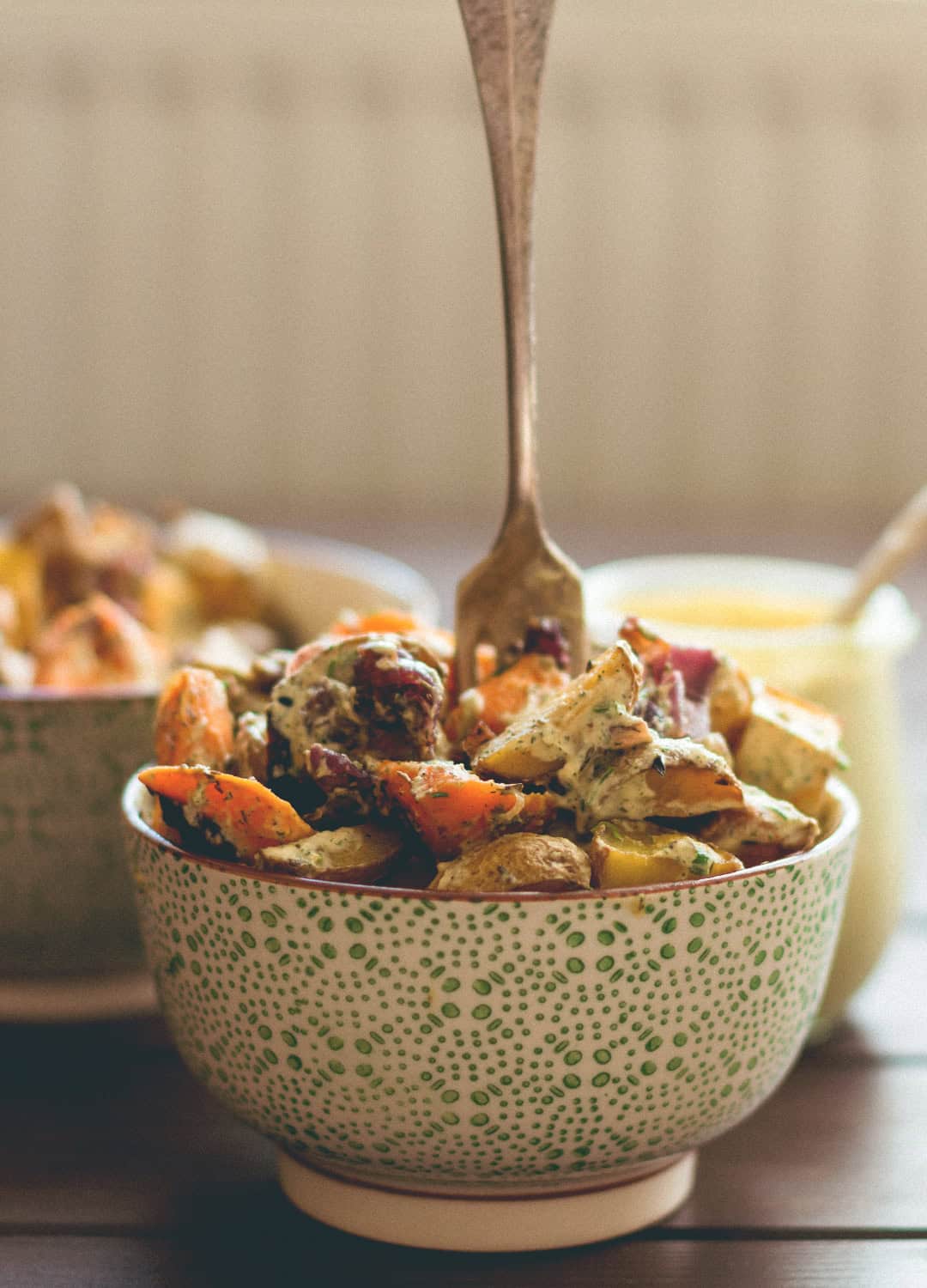 It's such a lovely sunny day today which makes me really happy since it's been gloomy the whole past week. I actually can't wait for the sunset because it's always so pretty and colorful when the sky is clear. As much as I like the moody winter weather, I really miss the longer summer days when you could go for a run outside at 8PM and the sun was still shining. Especially when I try to take photos these days it's tricky because the sun literally starts setting at 2PM, I'm not even kidding. It's pretty, though, so all is forgiven.
December is the month of hot steaming bowls of food for me. Just as I don't like hot hearty meals during summer, I can't eat cold food during winter. And when I say cold I mean freezing because that's what I become after eating something cold during the winter months. I pretty much said goodbye to smoothies in October because I always make them with frozen fruit which makes them freezing cold and turn my stomach into north pole.
Don't get me wrong, I still do eat my salads but there's nothing better than a bowl of steaming hot pasta or vegetable chili or anything hot and cozy on a cold winter evening. This roasted potato salad isn't steaming hot exactly, but it can be eaten while the potatoes are still slightly warm instead of fridge-cold. I don't eat potatoes very often, hardly ever to be honest but that only makes these better and more special. They're not hot but they definitely fall into the cozy, hearty, and filling category, which I'm all about.
I can't wait to make these for Christmas and I hope you do too! These would be a great side to any veggie dish, fish, or turkey. Happy holidays!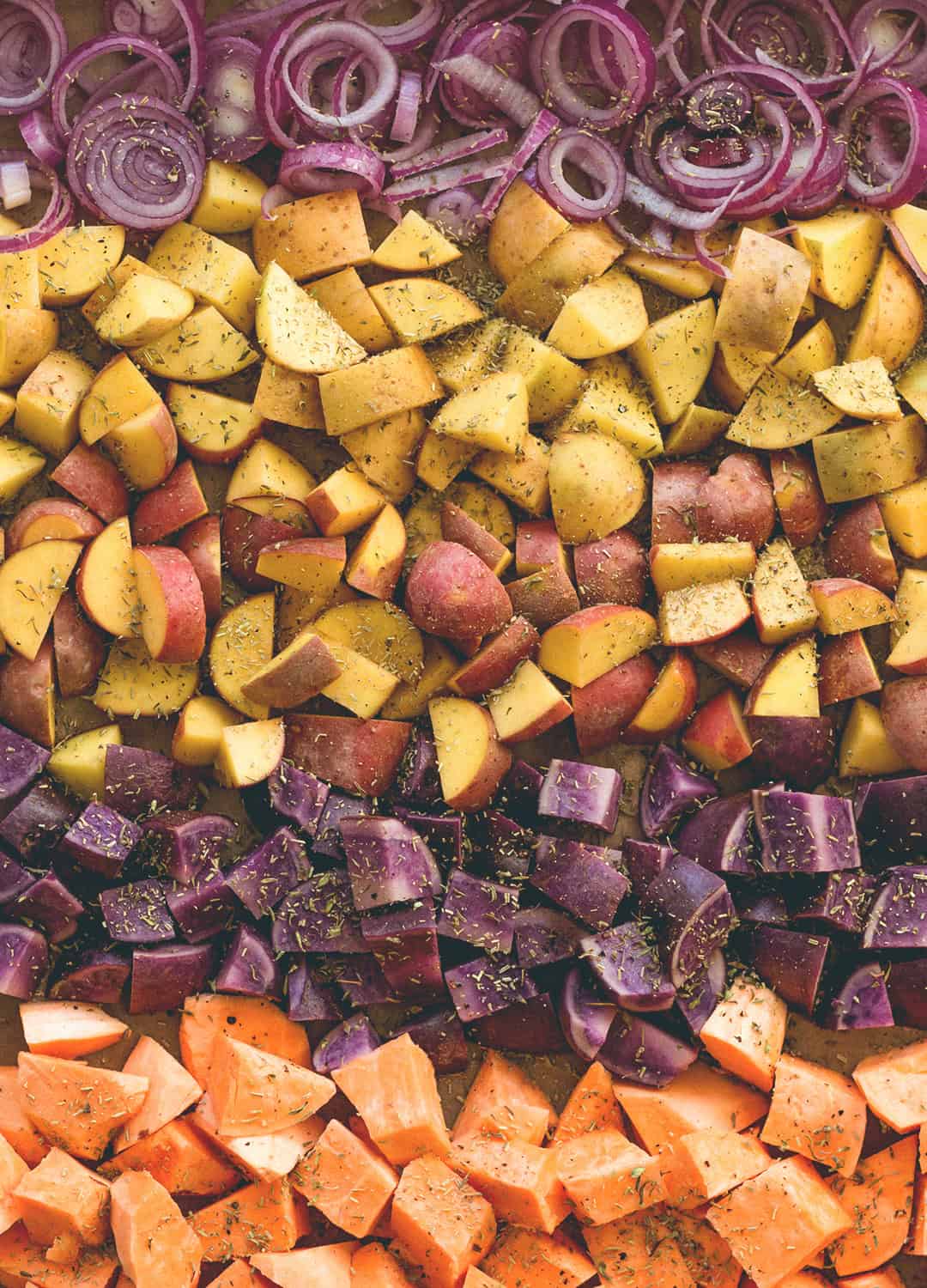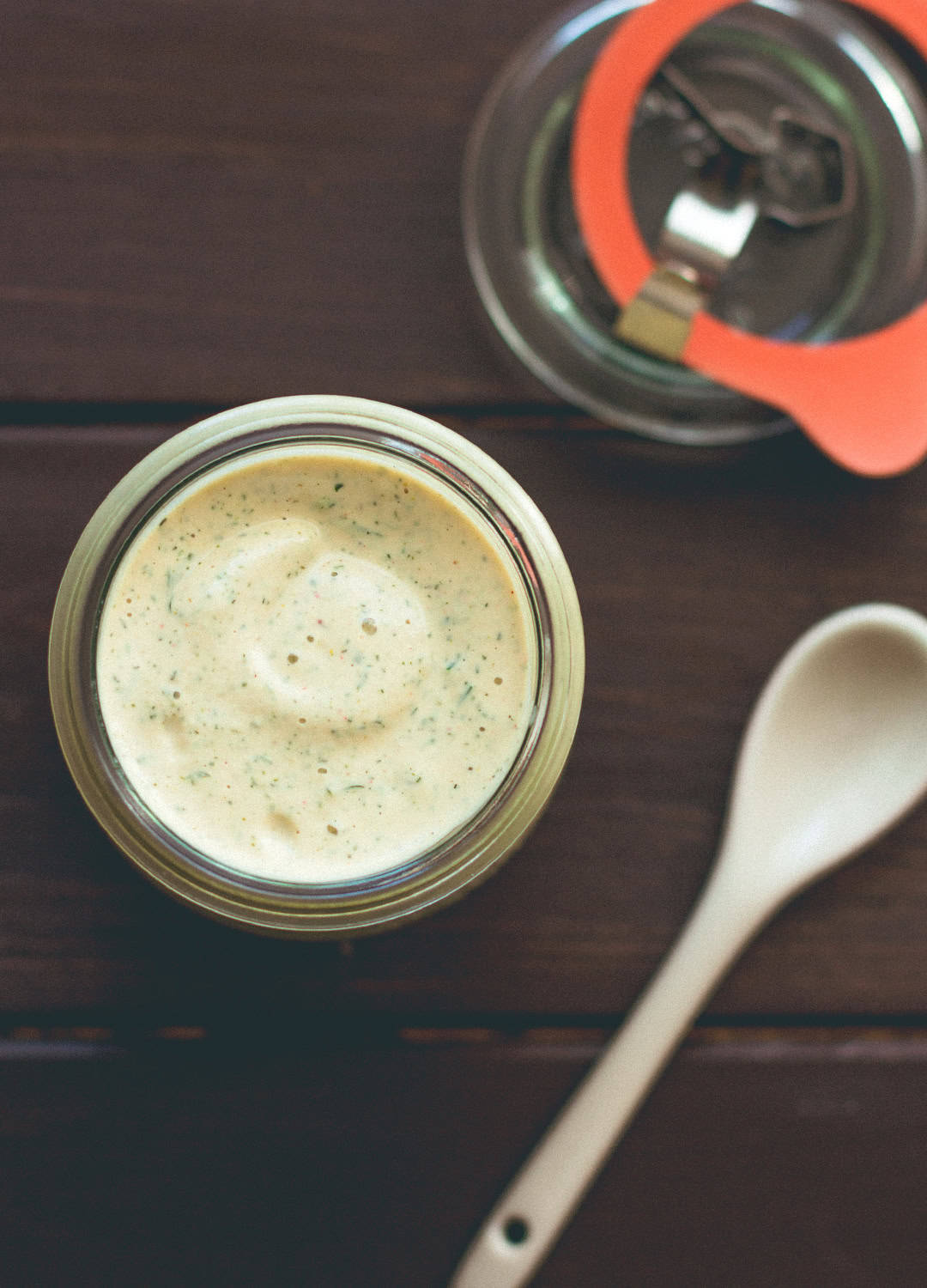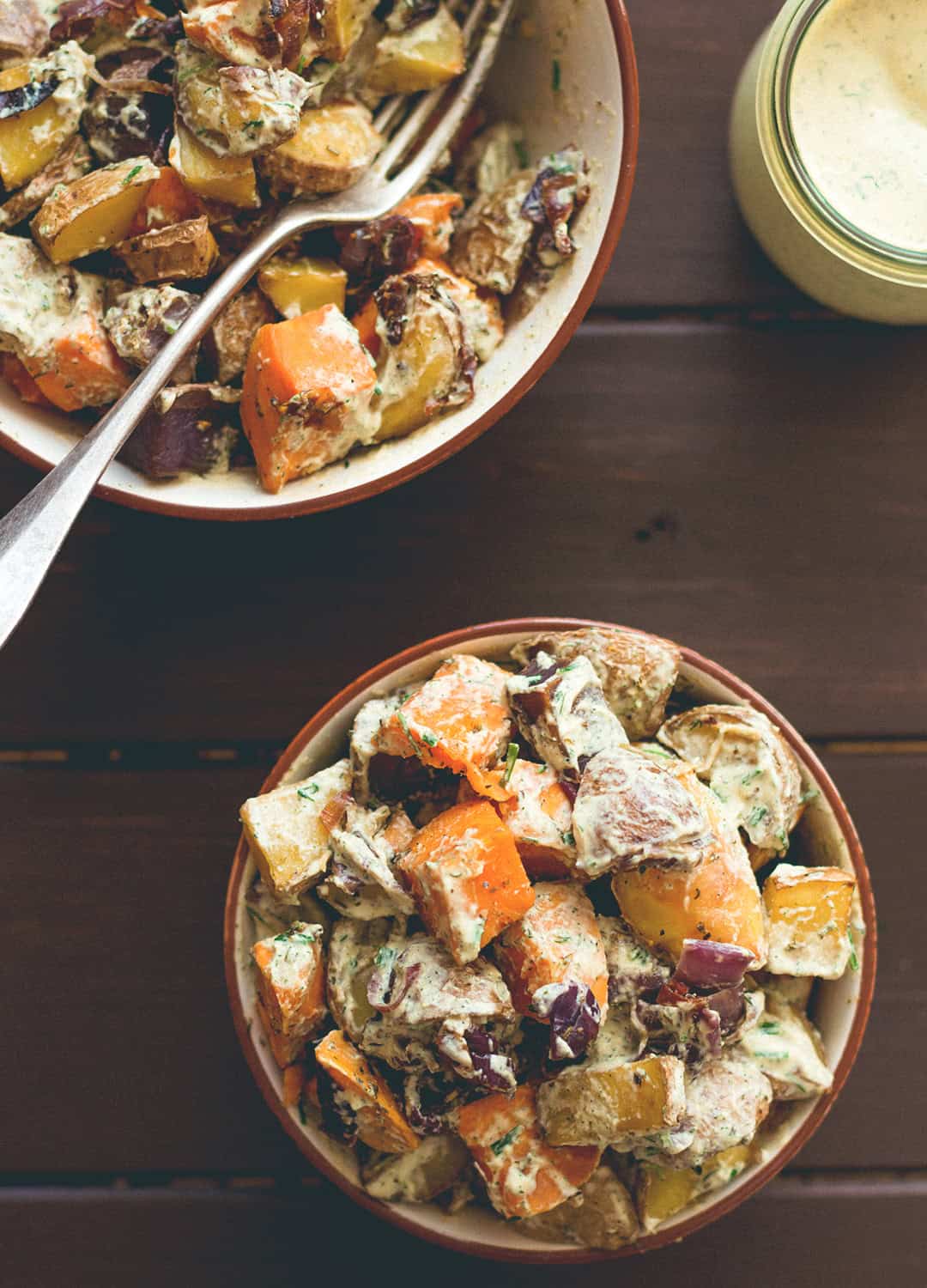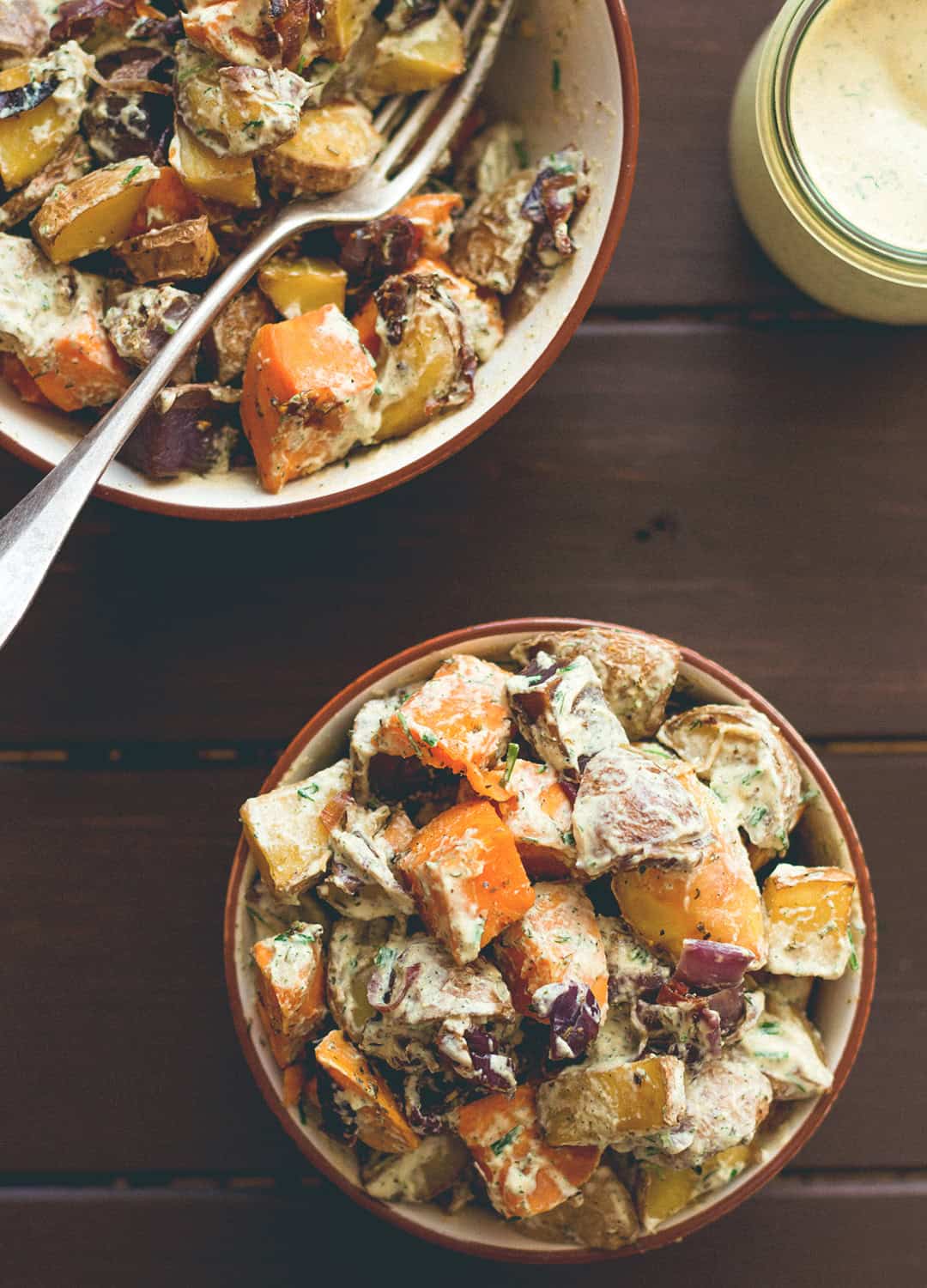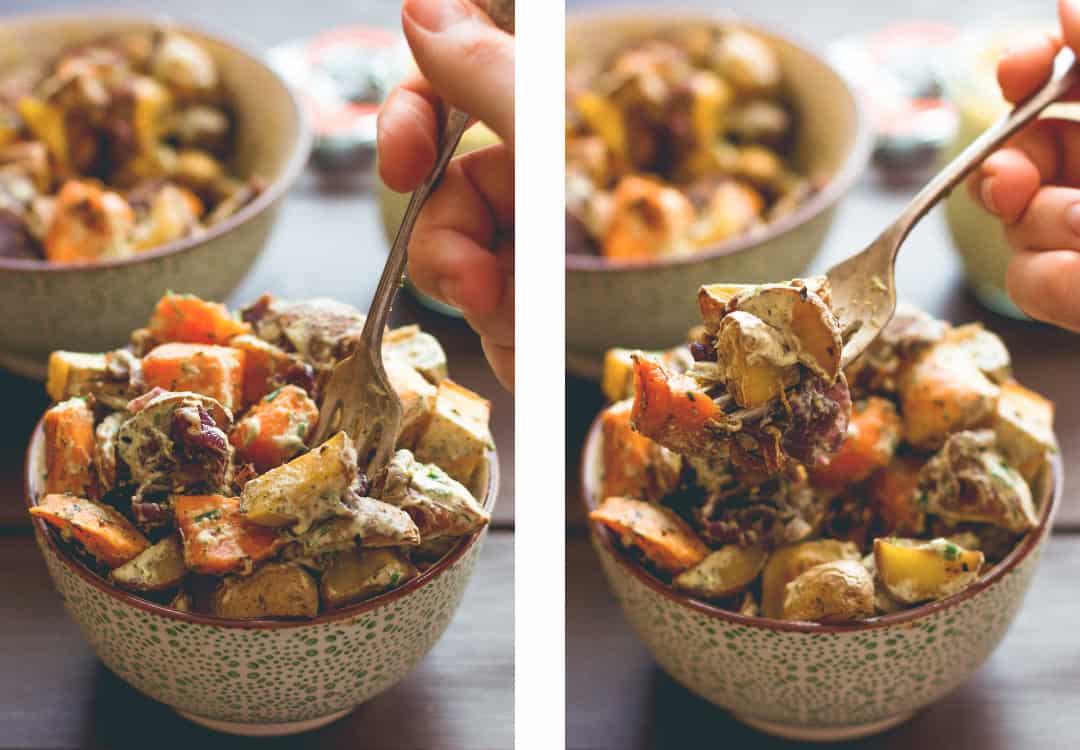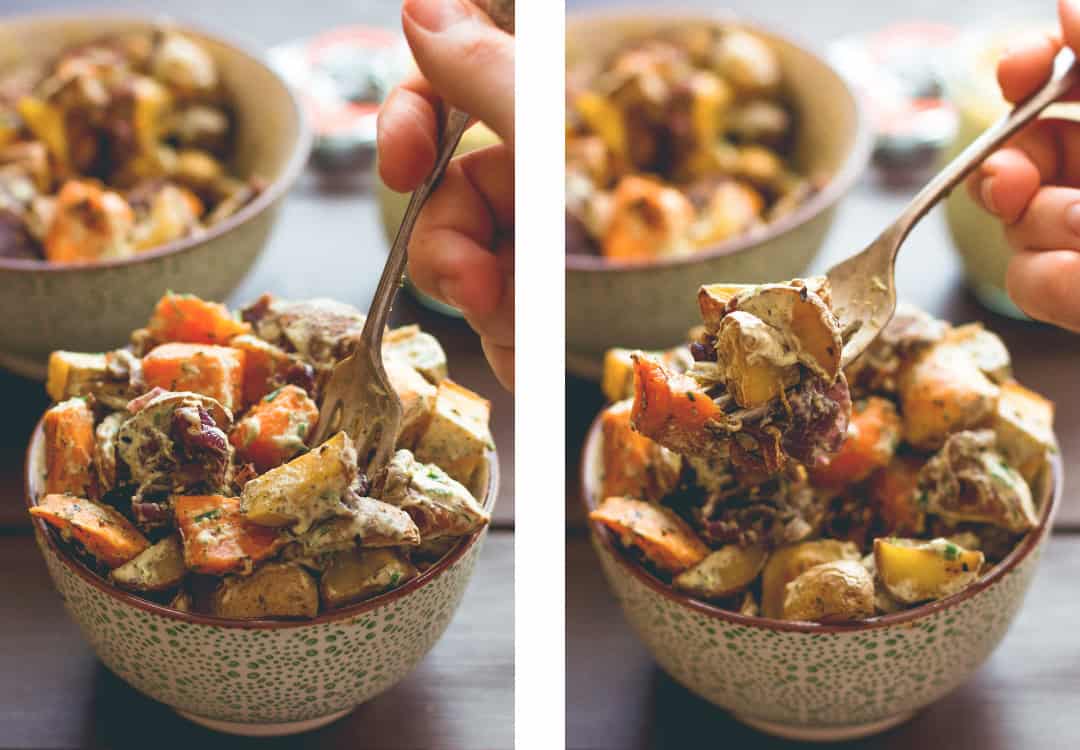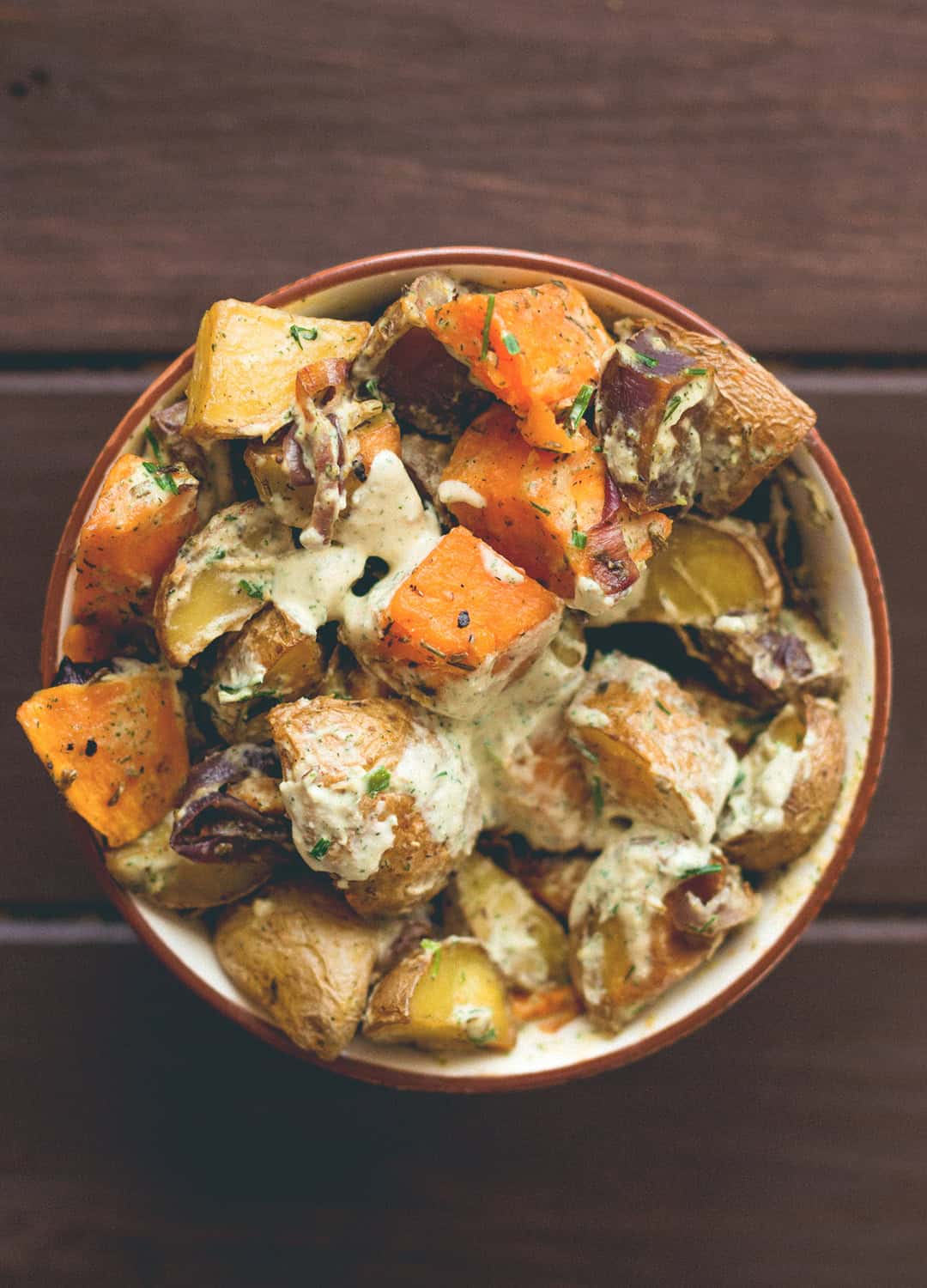 I chose not to peel the potatoes this time but if yours aren't organic I suggest peeling them to get rid of the pesticides. I think peeling them actually takes less time than just cleaning them because I always spend my youth over the sink trying to get off the dirt. You can add any other herbs you like to the potatoes, it's really up to you. I chose thyme and rosemary but parsley, majoram, or oregano would also be great.
Print
📖 Recipe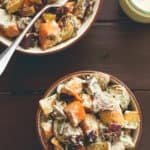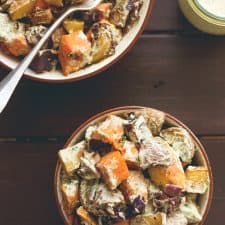 Roasted Potato Salad with Dill Cashew Dressing
Author:

The Healthful Ideas

Prep Time:

30 mins

Cook Time:

65 mins

Total Time:

1 hour 35 mins

Yield:

2

-4

1

x

Category:

Side
---
Cashew Dressing + add 2 teaspoon dried dill (or 2-3 tablespoon fresh)

2 cups

diced red potatoes, peeled if not organic (the same goes for the rest of the potatoes)

2 cups

diced white potatoes

2 cups

diced purple potatoes

1

red onion, chopped

3

-

4

cloves garlic, chopped

2 cups

diced sweet potatoes

1 tsp

each dried thyme and dried rosemary
sea salt, pepper

1 tsp

coconut oil, melted
fresh chopped dill and/or chives for decoration (optional)
---
Instructions
Make the cashew dressing following this recipe but at the end blend or stir in the dill and set aside. (you won't need the whole thing, keep the rest in the fridge)
Preheat your oven to 200C (400F).
Line a baking tray with parchment paper. Put the potatoes, onion, and garlic on the tray (you'll add the sweet potatoes later, the normal ones cook longer).
Season with thyme, rosemary, salt, and pepper and toss to coat.
Add the coconut oil, toss again to coat evenly and put into the oven.
Roast for 20 minutes, then add the sweet potatoes, season with a pinch more of salt, and pepper and add coconut oil if needed and toss.
Roast for 40-45 more minutes or until tender, tossing once or twice.
Take them out of the oven and let them cool before coating with the cashew dressing.
Pour the cashew dressing over the potatoes (¼ - ½ cup) and mix to coat everything.
Store in the fridge in an airtight container for 3-4 days.
---