Cheesy?! Didn't I say I don't eat dairy?
Okay, hold on, before you run away, let me explain.
Technically there's NO cheese involved, they just taste as if there were cheese. I'm tempted to call them vegan but since they're called egg muffins, and there obviously are eggs involved, I'll call them Healthy Fake Cheese Incredibly Delicious Breakfast Egg Muffins. You'd never believe there isn't actual cheese!
No there's no vegan cheese palm oil soy nonsense. And there aren't any cashews either. These are nut-free (YAAY!). Well, what makes it then taste like cheese if there's none of those?
NUTRITIONAL YEAST!
Nutritional yeast is quickly becoming a staple in my kitchen. I like adding it to anything and everything savory. Dressings, sauces, dips, baked goods, and now also egg muffins. It's full of vitamins B (especially vitamin B12 which is important to add to your diet if you don't eat meat). It's got sort of a cheesy, nutty, salty flavor so it's a great addition to basically anything you'd normally put cheese into.
With nutritional yeast, you have to find the right balance, though. Well, I say that, but I know some people don't even measure it, they just pour it onto stuff as if their life depended on it.
Personally, I like to go slow when it comes to nutritional yeast. If you add too much, it's overpowering, but if you add too little, you can't even taste it. Don't be afraid of it though — it's no baking soda! It's not like if you put ¼ teaspoon more, it's gonna be inedible. In fact, it might get even more delicious. I love nutritional yeast so what am I even going on about?
Add a few tablespoons and stuff your mouth with this cheesy goodness!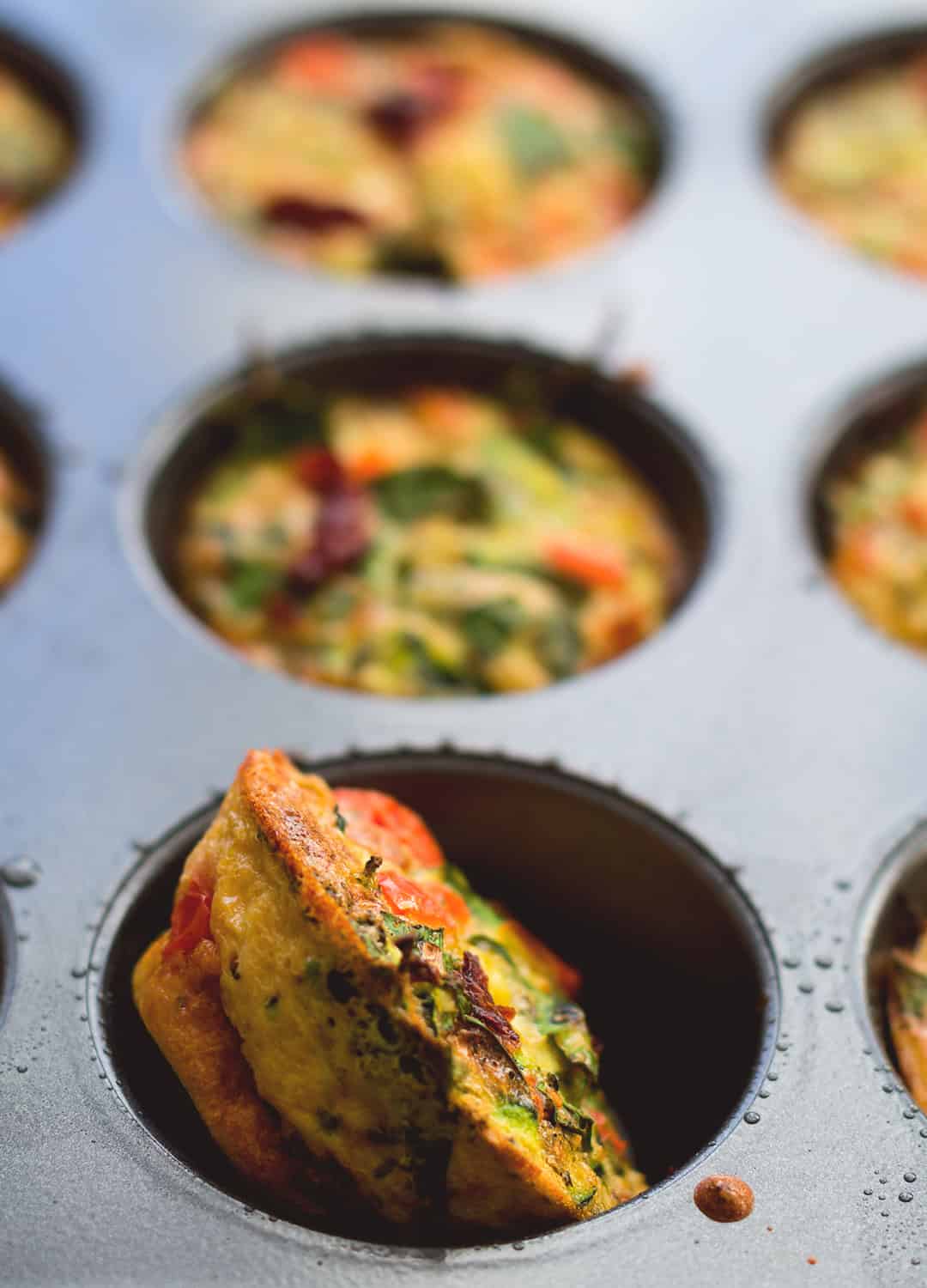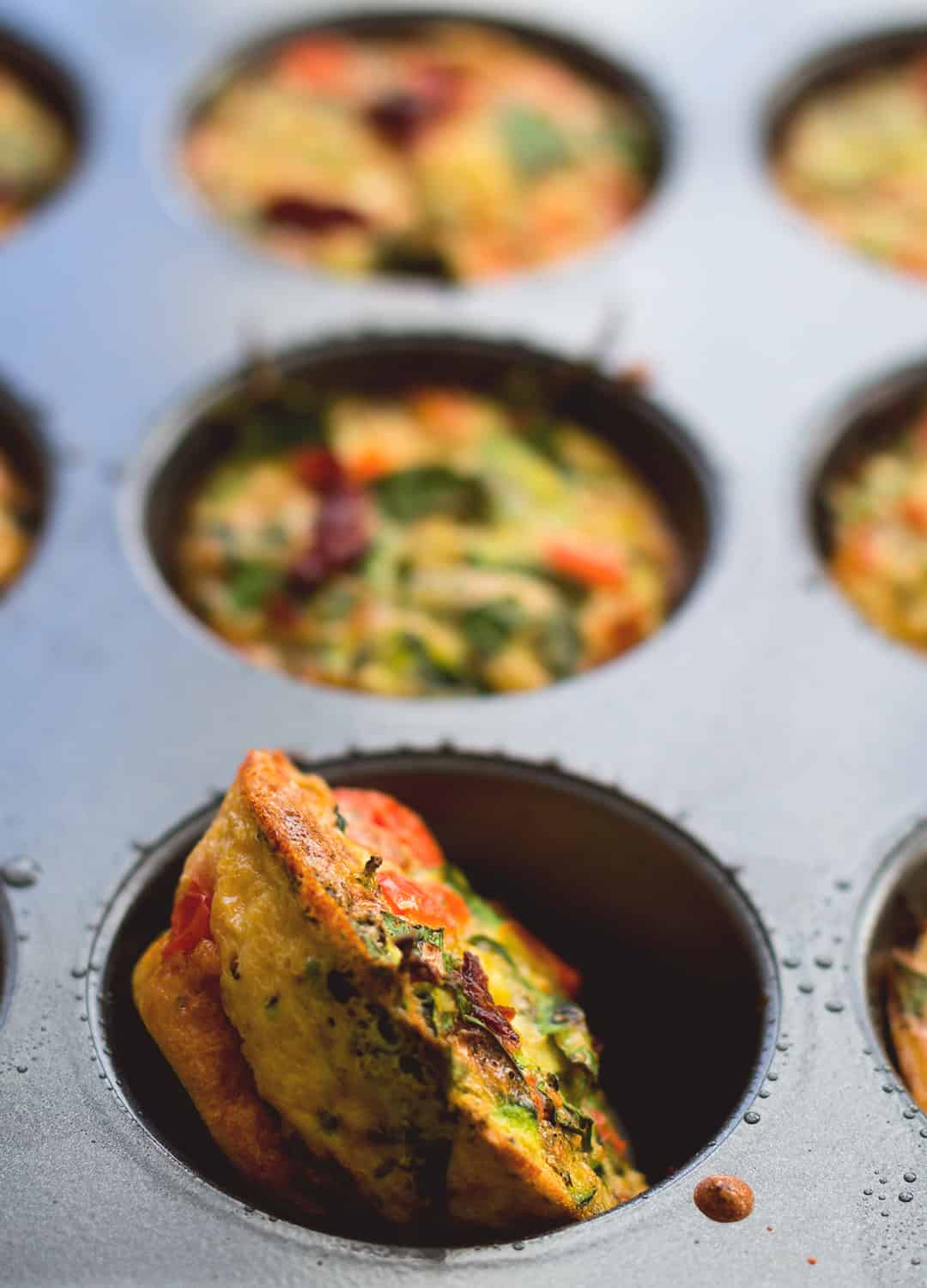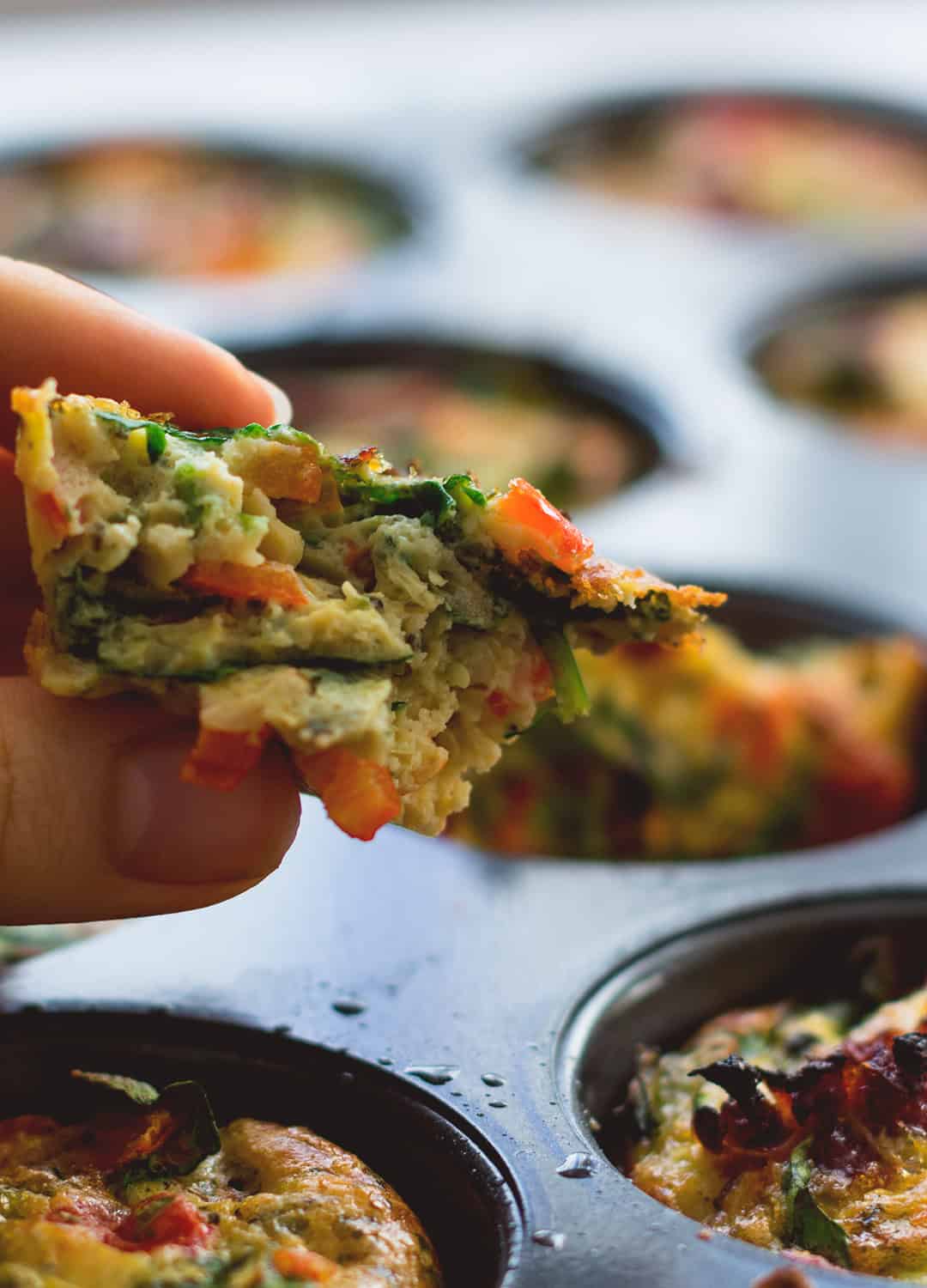 I have to admit I'm more of a sweet breakfast kind of person. I know I should probably eat more greens in the morning and cut down on the (natural) sugar a little bit. I should... Yeah, who am I kidding? I love oatmeal in the morning. Especially this Apple Pie Oatmeal. I've been making either regular rolled oats or steel cut oats which I'm new to. Or even quinoa ''oatmeal'' which is also delicious. BUT, that being said, these eggs muffins really grew on me.
They're so good.
filling
delicious
satisfying
CHEESY
savory
full of delicious veggies
HEALTHY
they're everything you want from savory breakfast AND they're healthy as a bonus.
So if I were to cheat on oatmeal with something savory for breakfast, it'd be these beauties!
You can add any veggies you have on hand to the batter. Bell peppers, onion, garlic, spinach, tomatoes, zucchini, even some mushroom if you like! But if you're adding mushroom, I'd sautee them on the stove first before adding them to the mixture.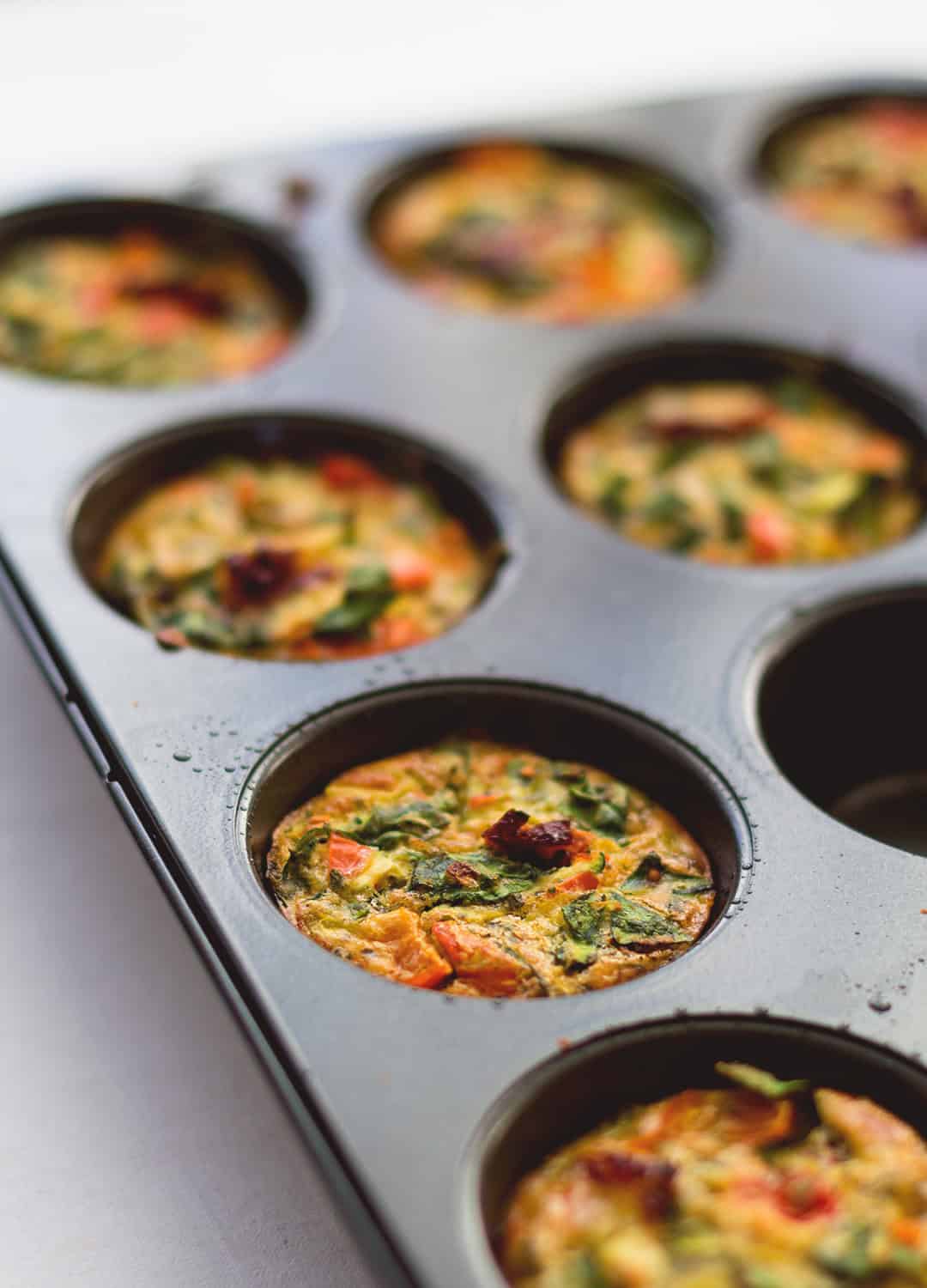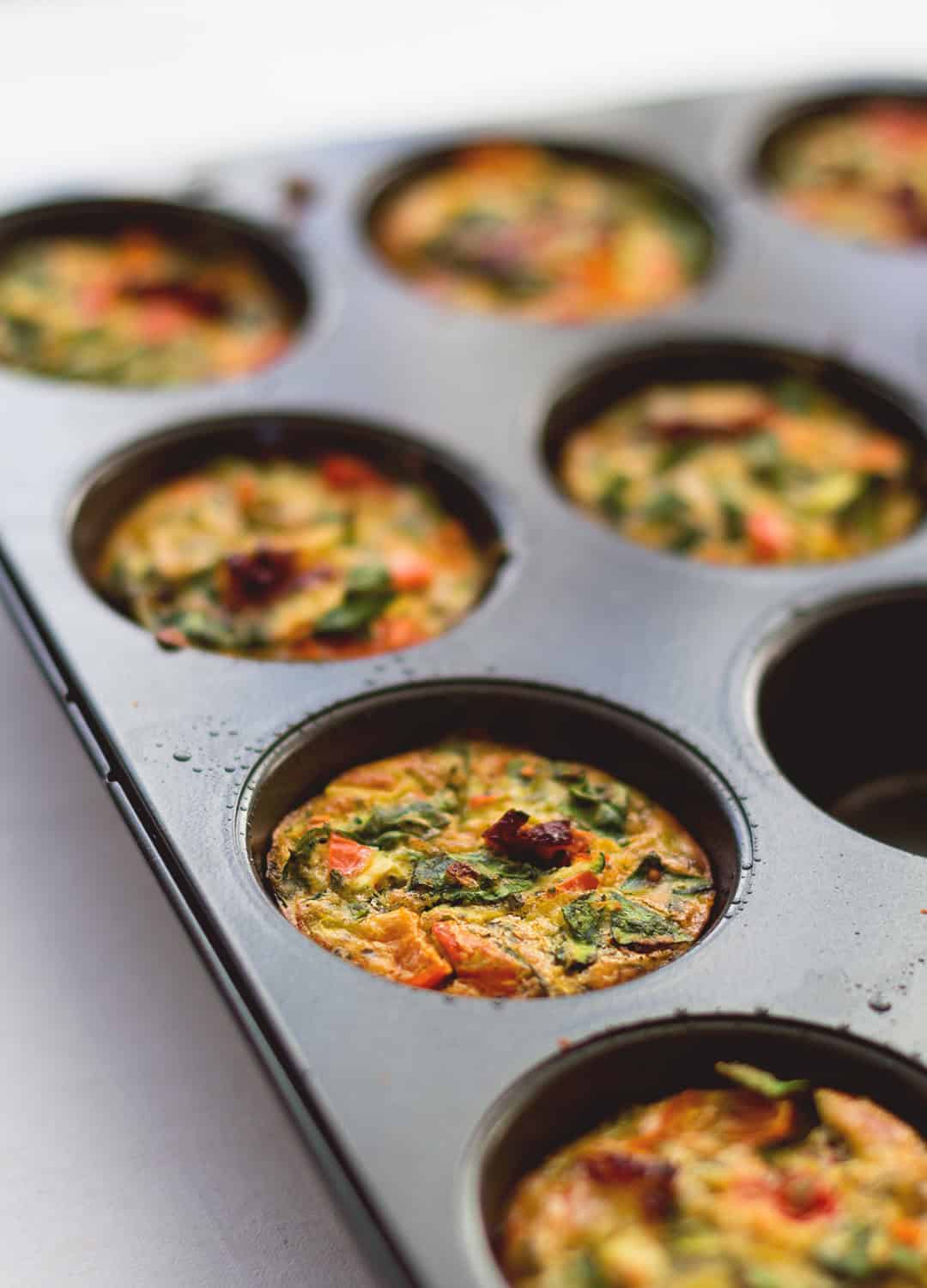 At the last minute, I decided to put sundried tomatoes in the mixture. SO GLAD I DID. They give it that extra something and the result is beyond delicious.
You can either add them to the mixture along with the other veggies or top each muffin with a few pieces before they go into the oven.
This recipe yields 12 muffins which is enough for 3-6 people, depending on how much food you have along with these. As a side for this you could have an avocado on toast, hummus, sweet potato hash, sauteed vegetables, or even a small simple salad (yes, even for breakfast)!
Try not to eat all of them at once (I know I'm guilty of eating like 6 at one sitting — ops) because after all there's 6 eggs in the recipe. The ideal amount is two eggs per person, which means this would be enough for 6!
In case you have any leftovers, you can keep them in the fridge for 2-3 days and have a muffin with some salad for lunch or dinner! If you make them, don't forget to let me know how you liked them! :)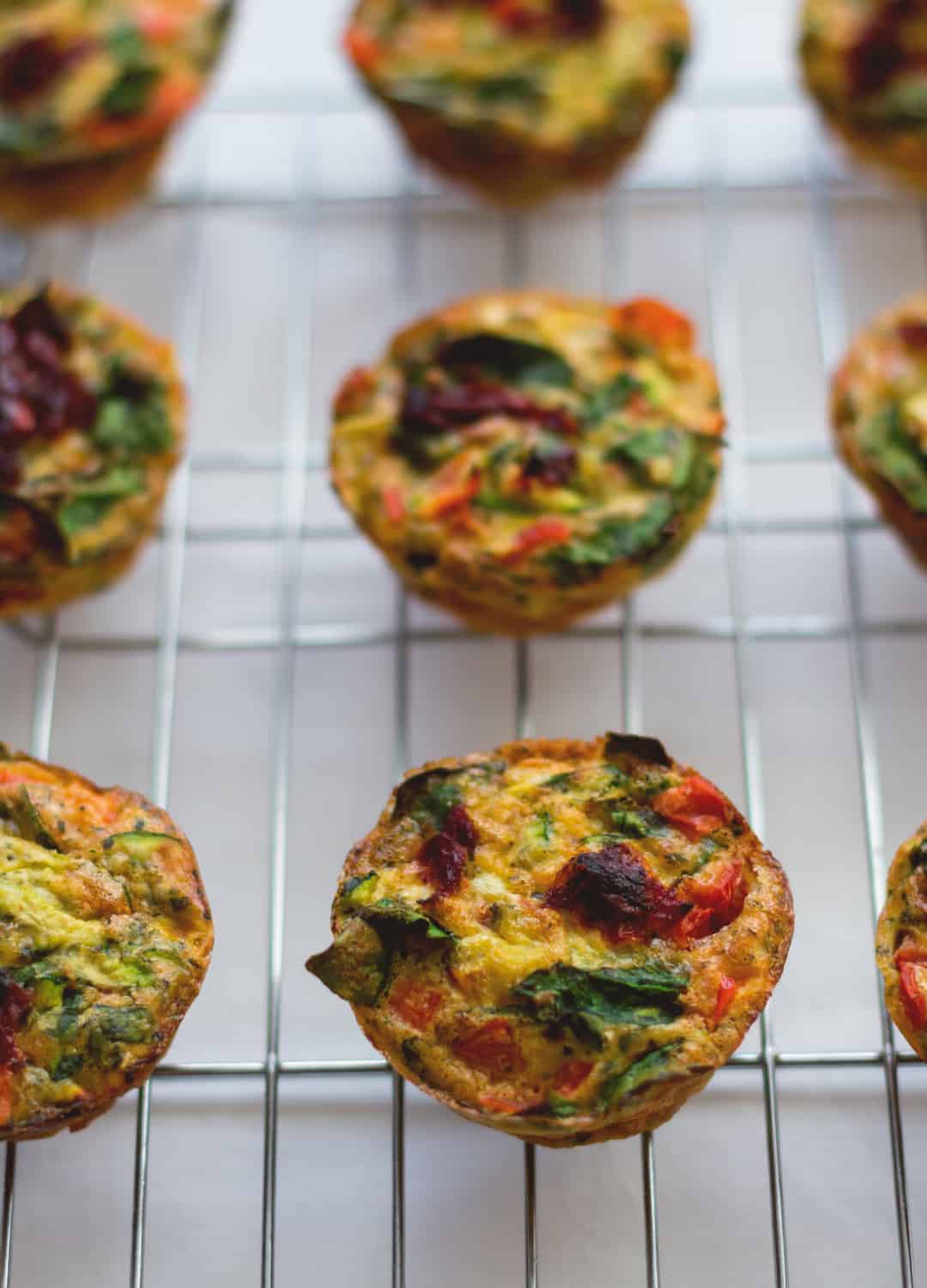 Print
📖 Recipe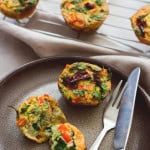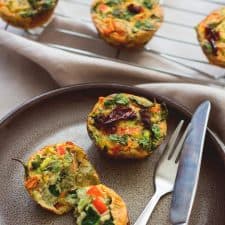 Breakfast Egg Muffins
Author:

The Healthful Ideas

Prep Time:

10 mins

Cook Time:

30 mins

Total Time:

40 mins

Yield:

12

muffins (3-6 people)

1

x

Category:

Breakfast

Method:

Baking

Cuisine:

American

Diet:

Gluten Free
---
Description
Delicious breakfast egg muffins, perfect for a busy morning.
---
Coconut oil for greasing the muffin tin

6

eggs (free-range, if possible)

3 tbsp

plant-based milk (almond, oat, coconut, cashew, rice)

½ tsp

garlic powder

½ tsp

onion powder

1 tsp

dried parsley (or

1

heaping tablespoon chopped fresh parsley)

½ tsp

dried basil (or

1 tbsp

chopped fresh basil)

3 tbsp

nutritional yeast

4 tbsp

rice flour (or any other gluten-free flour - oat, buckwheat, quinoa, if using coconut add only

2 tbsp

)
sea salt and pepper to taste

2

spring onions or ½ leek (only the while and light green parts), finelly chopped

1

small zucchini, shredded

10

cherry tomatoes, cut into quarters

1

bell pepper, diced

1 cup

(tightly packed) baby spinach, roughly chopped
---
Instructions
Preheat your oven to 190C (375F). Lightly grease the muffin tin with coconut oil so the muffins don't stick to the bottom and set aside.
In a large bowl, whisk the eggs with the milk.
Add the garlic powder, onion powder, parsley, basil, nutritional yeast, rice flour, salt and pepper and whisk until well incorporated.
Add the spring onion, zucchini, cherry tomatoes, bell pepper, and spinach and mix well so everything is well coated with the eggs mixture.
Use a small ladle or a spoon to devide the mixture evenly into the miffin tin.
Place it in the oven and cook for 25-30 minutes or until golden brown. You can turn on the broiler for the last minute or two to brown the tops of the muffins but make sure not to burn them.
Best served warm. Keep leftovers in an airtight container in the fridge for 2-3 days.
---