Spring is finally here you guys!! *happy dance* I honestly feel like I'm the only one actually happy about daylight saving time. I mean, longer days?? More sun? Anyone?
I never thought I'd say this but I love getting up early. I used to get up so so so late when I wasn't at school or at work. Usually around twelve or even 1pm. It's not that I don't like sleeping in sometimes but when I get up early I get more stuff done. Unless I go to bed super late, I set my alarm clock for around 7:30am. If I plan on doing something productive before lunch time but forget to set my alarm clock the night before and I oversleep, I feel like my whole day falls apart.
Can you relate? Are you an early bird too or are you more productive at night? I know everyone has different opinions on what "early" means. If you asked me two years ago, getting up at 9am would be early for me. Now? Whenever I get up at 9am, the next thing I know it's noon and I haven't accomplished a thing.
For some people, 7am is late, believe it or not. If you're one of them I do have deep respect for you! I'd love to get up before 6am during the summer months. The sun comes up so early in the morning and sets really late and I'd love to get the most out of the day. You know you feel the same way.
I can't wait to ditch the piping hot oatmeal, soups, and stews and instead eat an abundance of fresh seasonal fruit and vegetables.
Gimme all the salads!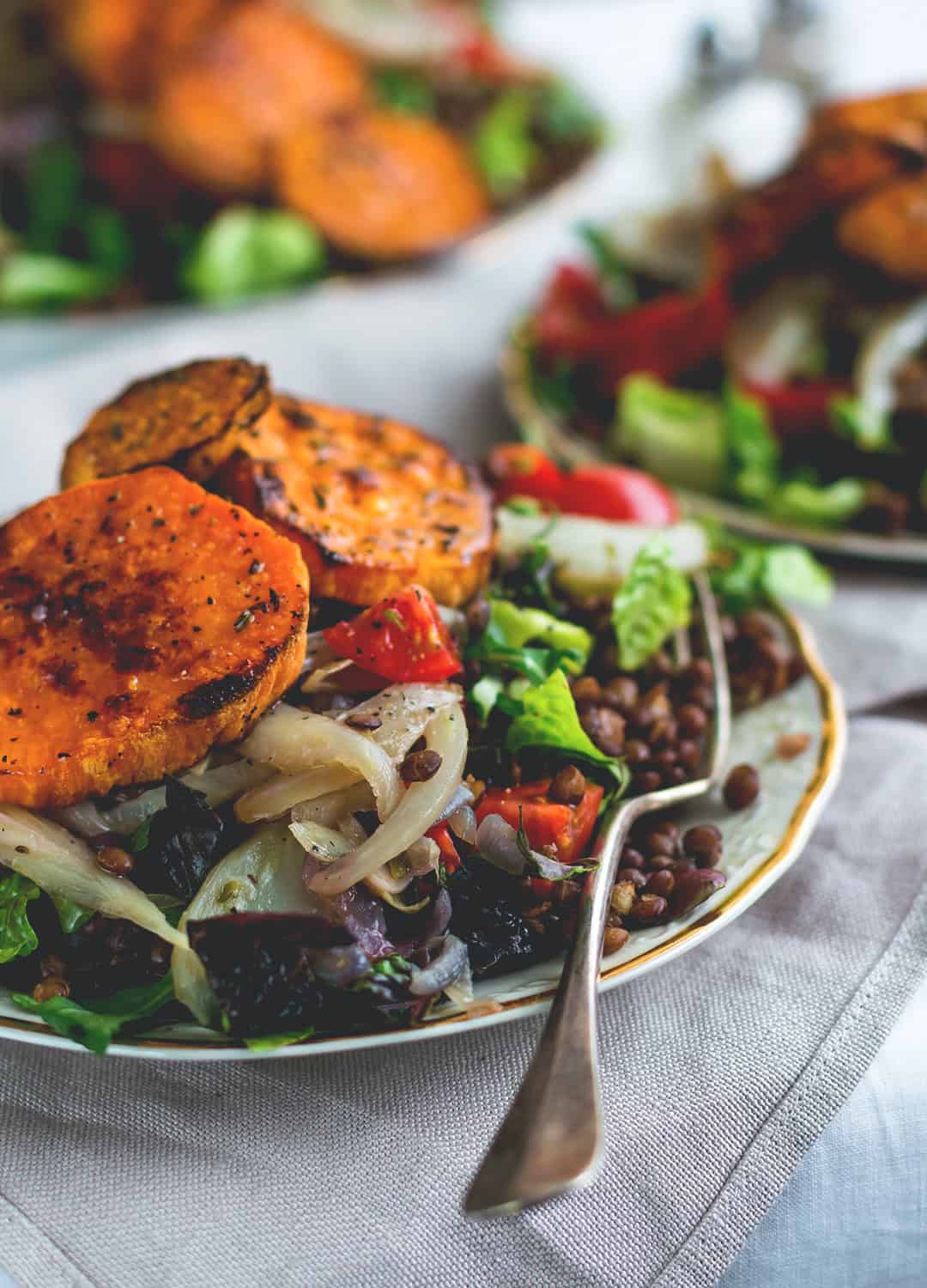 I'm guilty of eating the same salad over and over again almost every single day. It always revolves around the same ingredients — greens, cherry tomatoes, cucumber, bell peppers, spring onion, sprouts of some kind, cooked legumes, maybe some goat cheese, if I'm not too lazy also some red rice and sweet potatoes and my basic dressing made of olive oil, apple cider vinegar or balsamic ACV, and seasoning. And even though I eat that kind of salad with basically the same ingredients all the time, I haven't got tired of it, I still love it and enjoy it every single time. That being said, it's always good to make things interesting and try something new and exciting. And this Du Puy Lentil Salad is exactly that!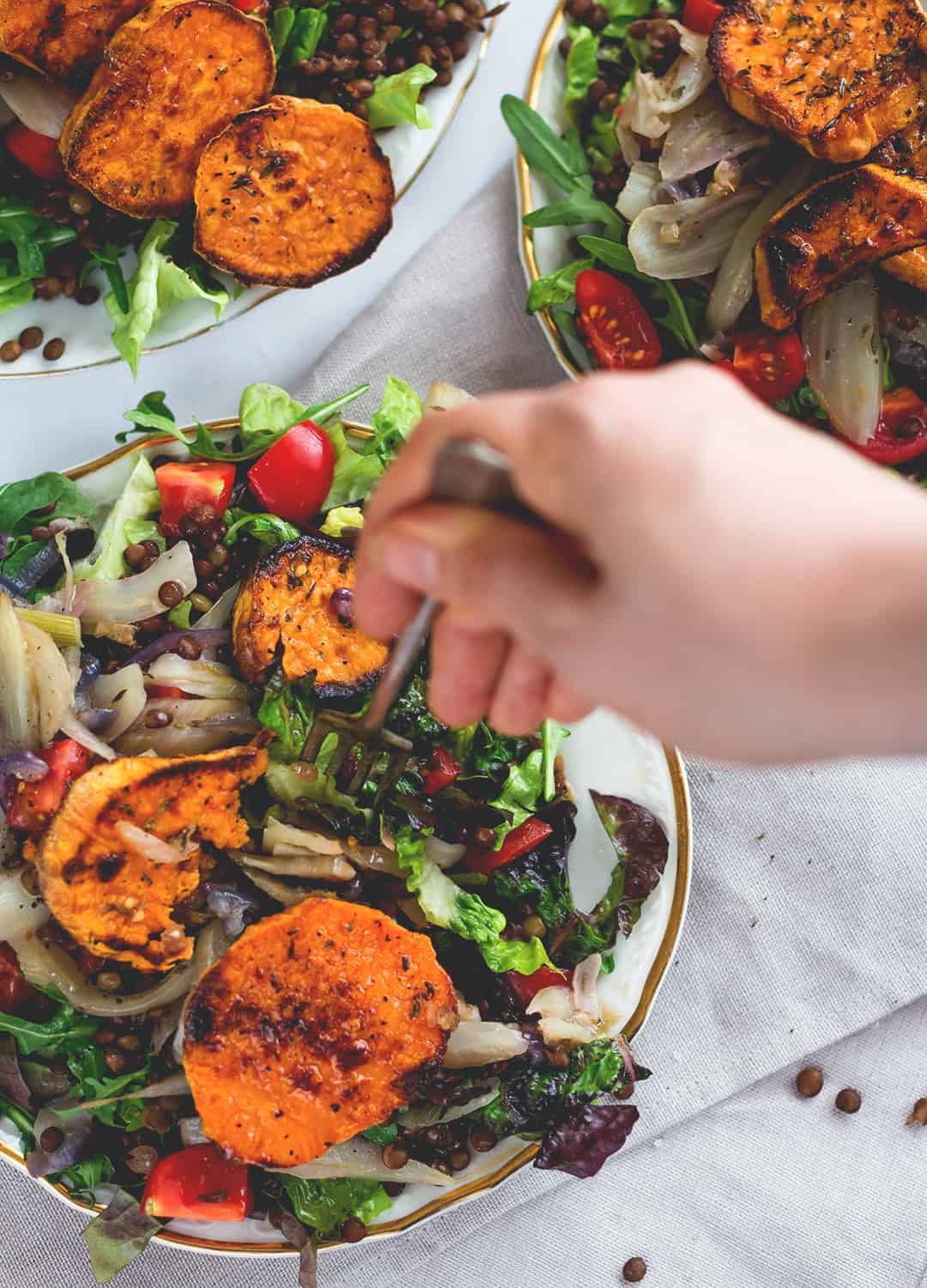 I found out about the existence of Du Puy lentils only recently and immediately went out to buy them, salad ideas already in my head. These lentils are the best lentils I've ever had. No joke. They are nutty and delicious, they hold their shape well so they're ideal for salads and in the combination with the sweet potatoes and fennel, they're heavenly. I haven't actually tried fennel in salads before and I heard that it's great sauteed so I gave it a shot and boy was it a great idea.
This salad is hearty, filling, flavorful, and really good for you. It's nothing like any basic tomato, cucumber, and lettuce salad you've ever had. It has so much flavor and it's so good I could literally eat it every single day.
You have to soak the lentils for about two hours beforehand but you can do that while you're making breakfast and believe me, when you make this salad, you'll know that soaking them was worth the wait!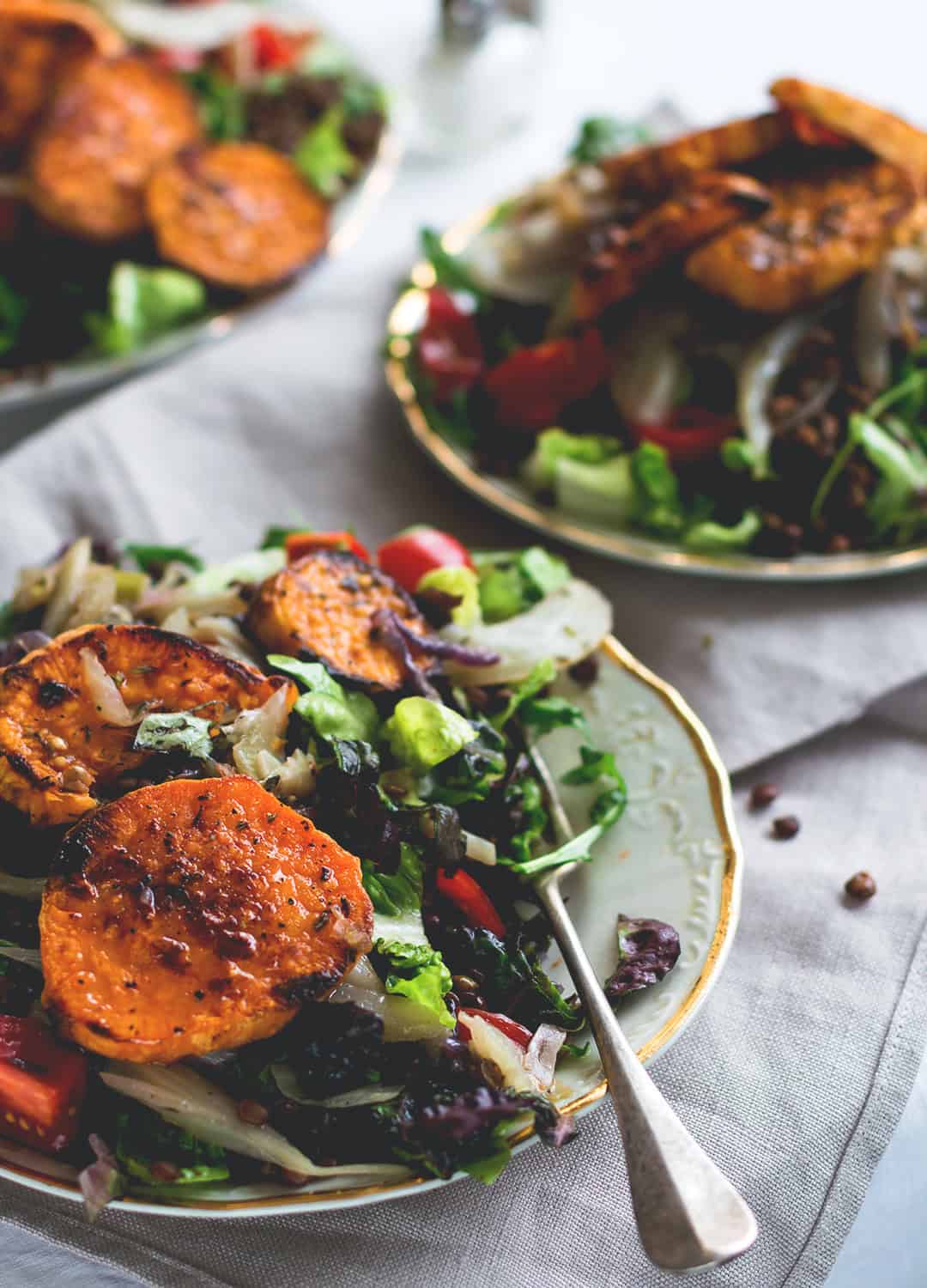 Print
📖 Recipe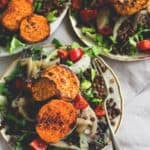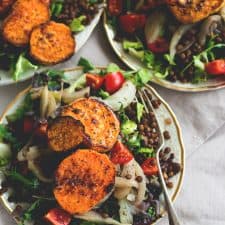 Du Puy Lentil Salad with Fennel and Sweet Potato
Author:

The Healthful Ideas

Prep Time:

2 hours

Cook Time:

40 mins

Total Time:

2 hours 40 mins

Yield:

2

-4

1

x

Category:

Salad
---
Description
Du Puy Lentil Salad with Fennel and Sweet Potato - delicious vegan salad, great as an appetizer or main course! Fancy, yet very easy to make.
---
1 cup

Le Puy lentils (use brown lentils if you can't find Du Puy variety), soaked for at least 2 hours

2

sweet potatoes, peeled if not organic

1 tsp

coconut oil, melted

½ tsp

onion powder

½ tsp

garlic powder

2 tsp

dried thyme (for sweet potatoes)
sea salt, pepper

1 tsp

coconut oil, melted

1

medium red onion, cut sideways, then thinly sliced

4

-

5

garlic cloves, chopped

2

small fennel bulbs or

1

big

1 tsp

dried thyme (for fennel)

3 tbsp

extra virgin olive oil

2 tbsp

lime juice (

1

lime)

1 tsp

honey
lettuce of choice (I chose red oak, romaine, and arugula)
handful cherry tomatoes
---
Instructions
Soak the lentils for at least 2 hours prior to cooking them.
Preheat your oven to 200C (392F).
Slice your sweet potatoes into about 0,5cm thick slices (just slice them up, don't measure it) and coat them in the 1tsp coconut oil.
Lay them on a baking sheet lined with baking paper and sprinkle with the onion and garlic powder, thyme, sea salt, and pepper evenly on both sides.
Roast for 40 minutes or until tender in the middle and crispy on the edges. You can turn on the broiler at the end of roasting to crisp them up even more. Keep an eye on them under the broiler though so they don't burn.
Drain and rinse the lentils and put them in a medium pot and cover with water (approx. 5cm above the lentils).
Cook for 15-20 minutes or until tender (depends on soaking time). Turn off the heat, add ½ teaspoon sea salt, stir, and let them rest in the salty water for 10-15 minutes, then drain and rinse.
Slice thinly the two fennel bulbs. (see notes for how to do it) Set aside.
Add 1 teaspoon coconut oil to a big pan and heat over medium-high heat. When hot add the sliced onion and sautee for 5 minutes until fragrant and translucent.
Add the chopped garlic and sautee for another 1-2 minutes.
Add the fennel, 1 teaspoon thyme, and toss to incorporate well. Add a splash of water and cover with a lid. Sautee on medium heat for 15-20 minutes until tender. Season with sea salt and pepper.
Make the dressing. Combine the olive oil, lime juice, honey in a small bowl, season with salt and pepper to taste and set aside.
Wash and chop your lettuce of choice and the tomatoes.
Serve either in a big bowl, a big serving plate or separate plates.
First, add the lettuce, then the lentils, followed by the tomatoes, fennel, and top with the sweet potatoes. Drizzle with the dressing and enjoy!
---
Notes
Cut off the green part and the bottom of the bulb. Start slicing it thinly from the side. When you get toward the middle, cut out the hard part on the bottom of the fennel (as you would with a cauliflower). Continue slicing, the thinner the slices the shorter cook time. You can chop any bigger pieces into smaller stripes. I know it sounds difficult if you've never cooked fennel before but I promise it's super easy once you get the hang of it.